These apple and blackberry flapjack bars are soft, golden and so delicious. They are full of Autumnal flavours and go very well with a cup of tea or for a quick mid afternoon energy boost.
Now it's September I'm in full swing with Autumnal recipe testing.  Not being a huge fan of Summer, I welcome this month with open arms – it can still be sunny and warm, but without that stifling humidity of hot Summer days.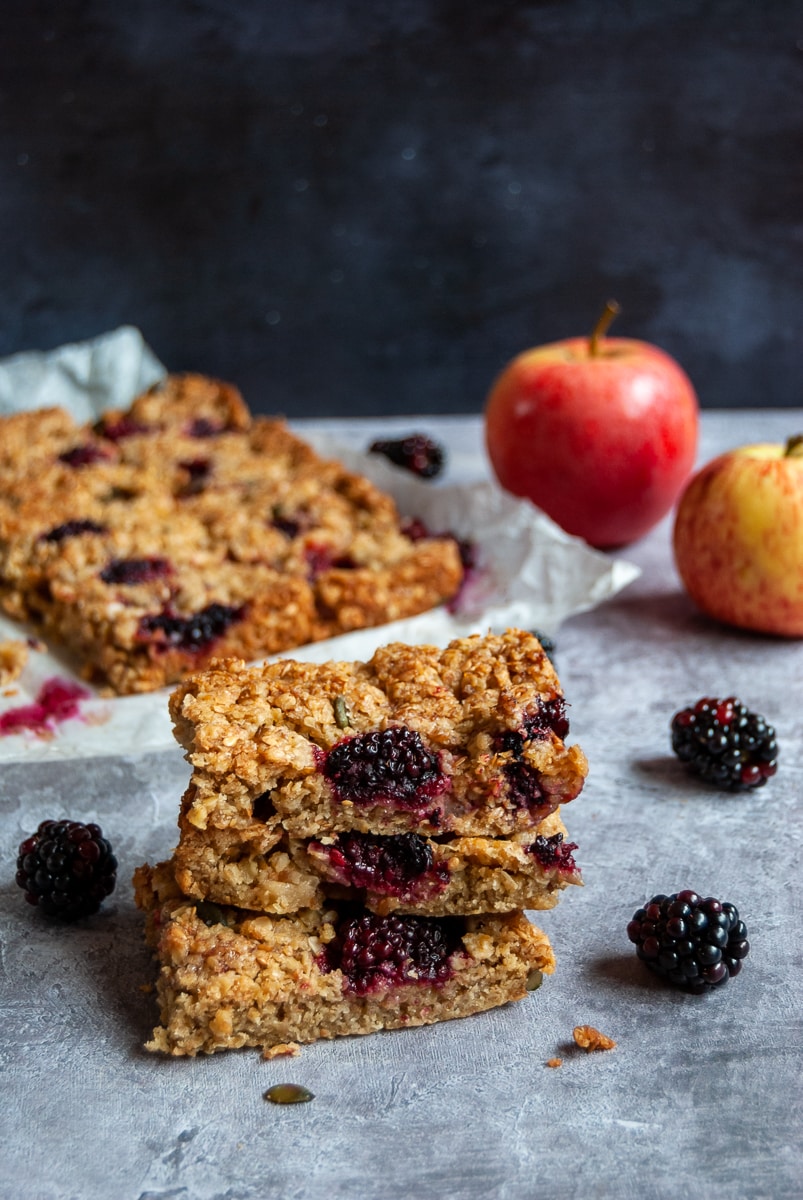 It's the month that we start thinking about baking cinnamon rolls,  comforting soups and stews and my absolute favourite – pumpkin spice lattes!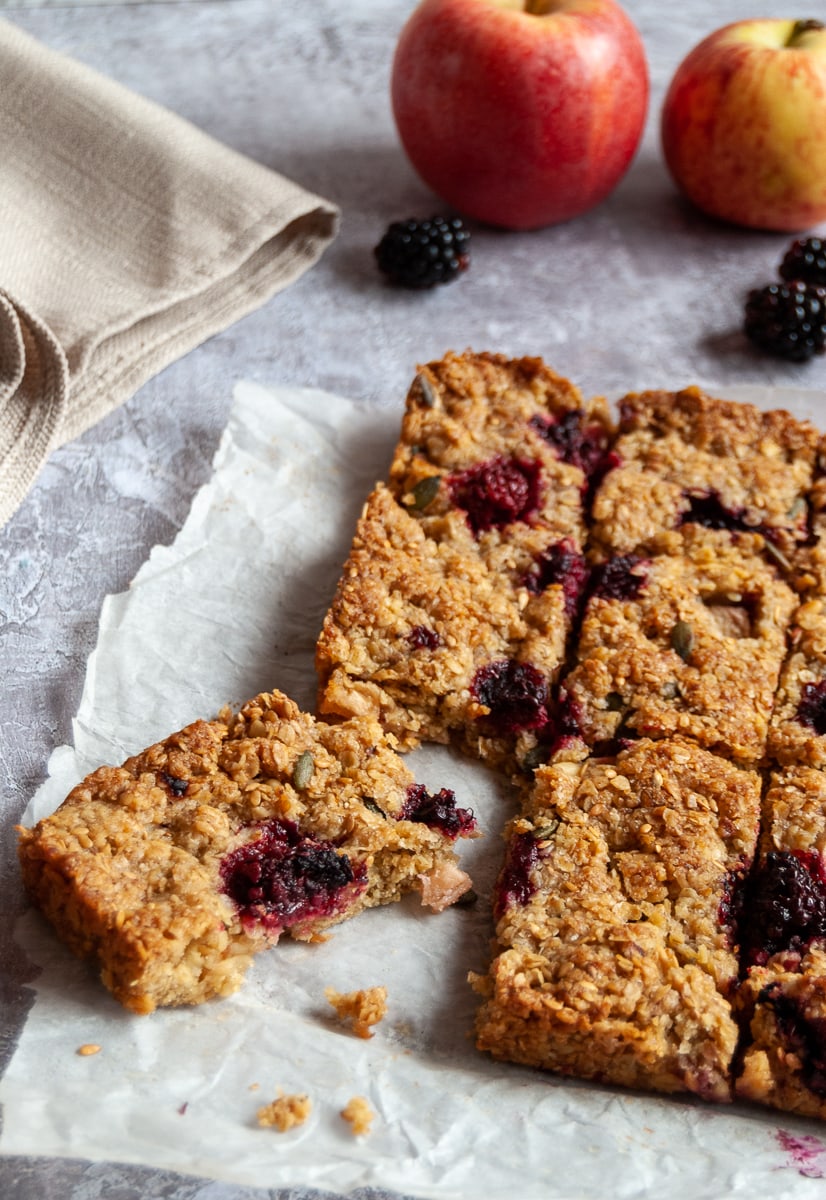 more autumnal apple bakes
If you've ever had a look around this blog, you might have noticed that I'm pretty fond of apple bakes! If you ever find yourself with a glut of apples to use up, you're in the right place!
Check out my recipes for apple crumble cake, apple and blackberry cake, apple and blackberry crumble, toffee apple crumble, classic apple pie, caramel apple Bundt cake, vanilla apple cake, apple cinnamon scones with salted caramel glaze, bramley apple and custard cake, Eve's Pudding (apple sponge cake) and these stunning apple caramel cheesecake bars. Told you I had lots!
So now I've hopefully got you in the mood for some Autumnal baking, let me tell you about these apple and blackberry flapjack bars.  They are based on my popular fruity flapjack recipe which is pretty much the most foolproof flapjack recipe I've ever made. They are super easy and work every time.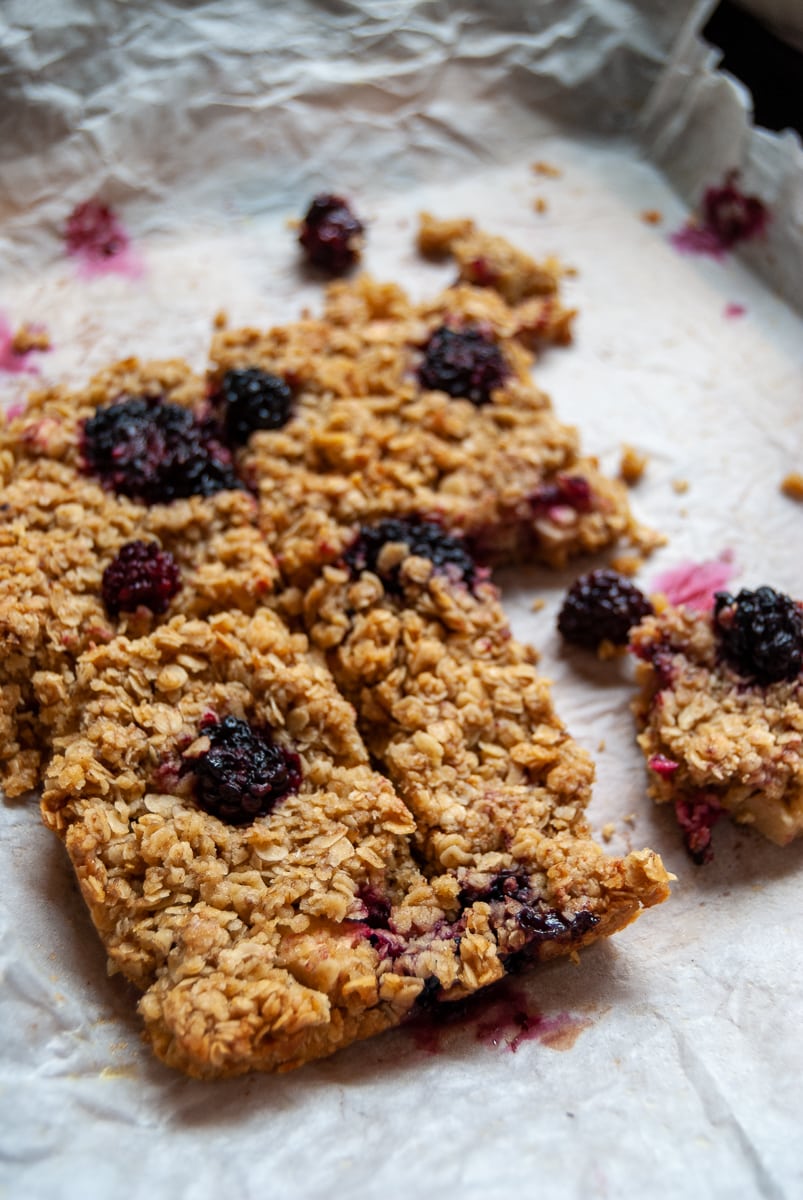 ingredient list
Butter.  I've made flapjacks with both proper block butter and margarine, and block butter wins every time.  
Demerara or soft light brown sugar – either will work but bear in mind that the soft brown sugar will make the flapjack even softer.  Demerara sugar is my first choice for making flapjacks.
Maple or golden syrup.  Honey will also work fine – use whatever you have.
Rolled oats. I mostly use Scott's medium porridge oats.  
Golden Linseeds. You don't have to add these, but I like to sneak them into recipes whenever I can – they are high in fibre and are a good source of protein.
Pumpkin seeds, sunflower seeds and sesame seeds
chopped diced apple.  Any eating apple will work in this recipe, but please note that the moisture content of apples can vary, which can affect the texture of the flapjack. I used Royal Gala apples for the flapjacks in these photos.
Fresh blackberries – it's best if the berries are ripe but firm – not mushy or over ripe.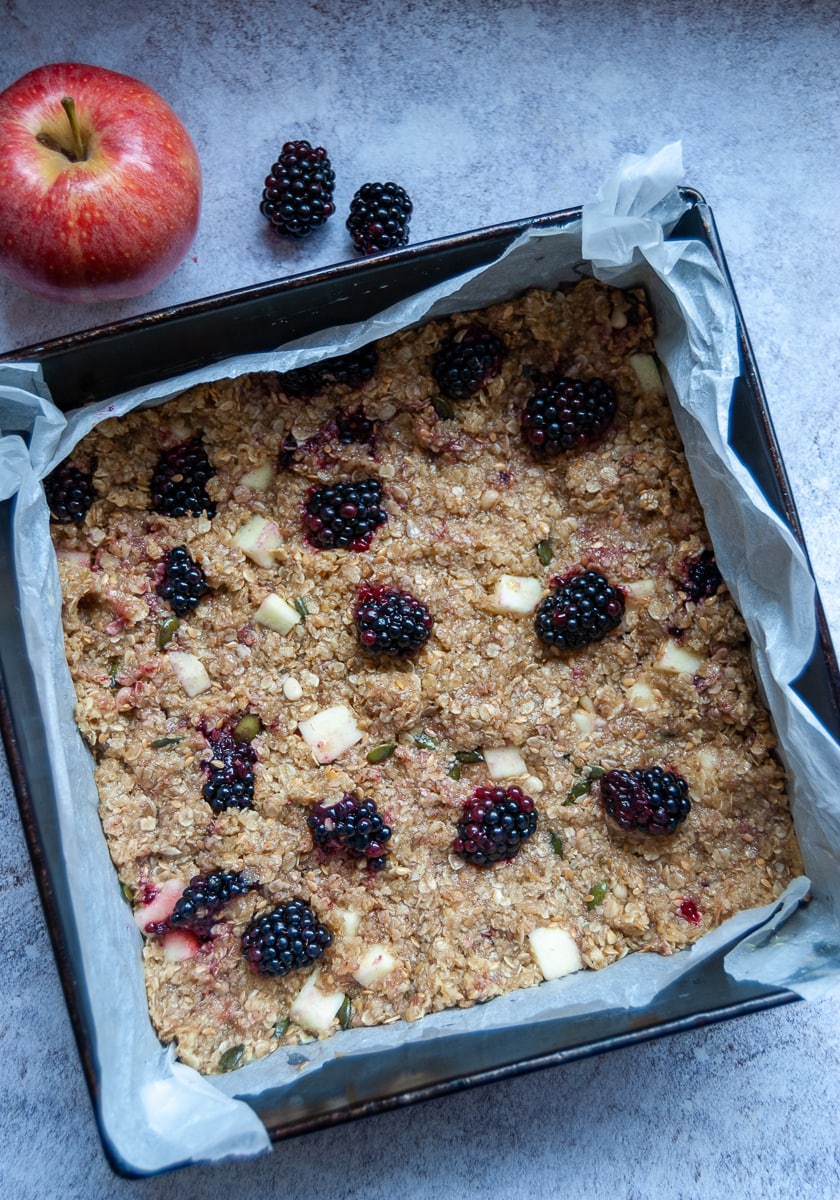 are these apple and blackberry flapjacks soft or crispy?
Because of the moisture in the fruit, these flapjacks set quite soft.  If you only like hard, crispy flapjacks, this recipe probably isn't for you!
how long do these flapjacks keep for?
Because of the moisture content in the fruit, the flapjacks don't keep for quite as long as a normal flapjack recipe. They will keep for 2 or 3 days in an airtight tin.  They also freeze very well for up to 3 months.
trouble shooting and commonly asked questions
My flapjacks are too hard.
This recipe makes quite a soft set flapjack. If the flapjacks are too hard and crunchy, they've been baked for far too long.  I bake them for 30 minutes and they are just right, but they might need 5 minutes more or less in your oven.  I would start checking them after 25 minutes.  
the flapjack mixture crumbled after it was baked.
It's important to press the oat mixture firmly into the tin before baking – this will help the mixture to stick together.  Not adding the correct amount of syrup can also make the flapjacks crumbly and dry.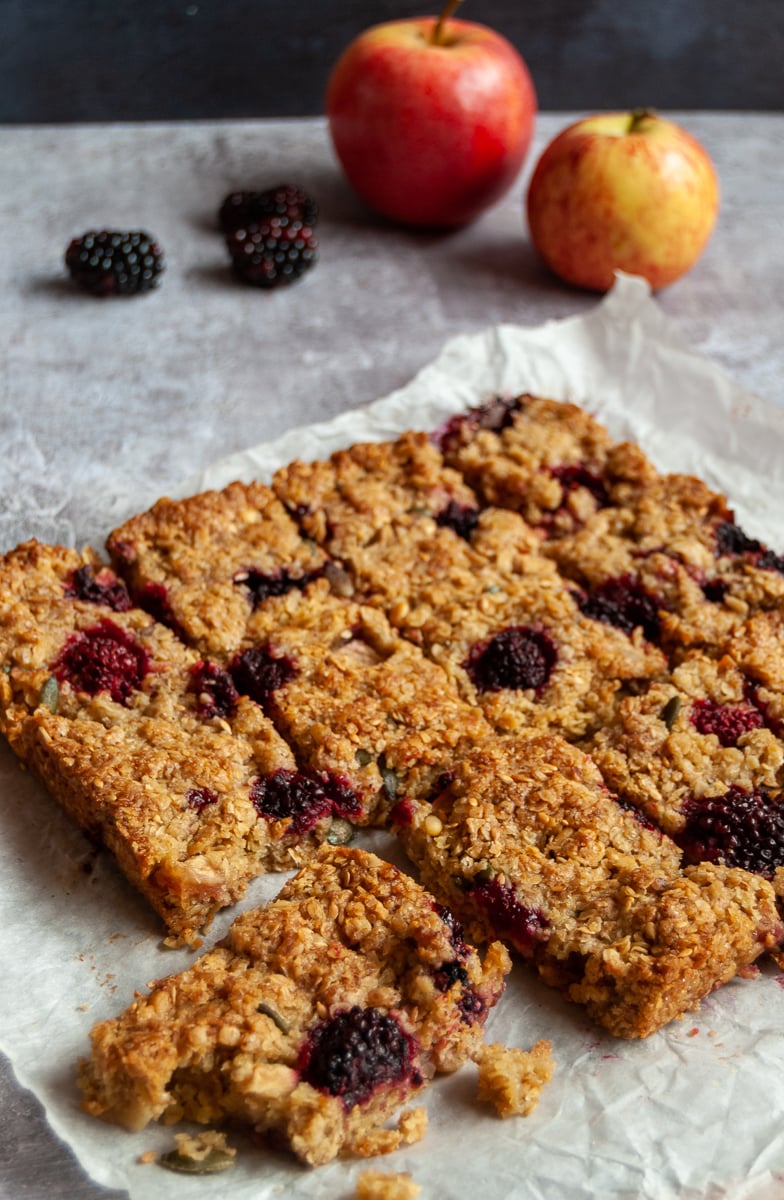 did you make this recipe?
I would love to hear what you thought! Leave a comment below and please rate the recipe out of 5 by clicking on the stars in the recipe card below. 
If you have taken a photo of your flapjacks, I would love to see them. Tag me on Instagram #sweetsavouryblog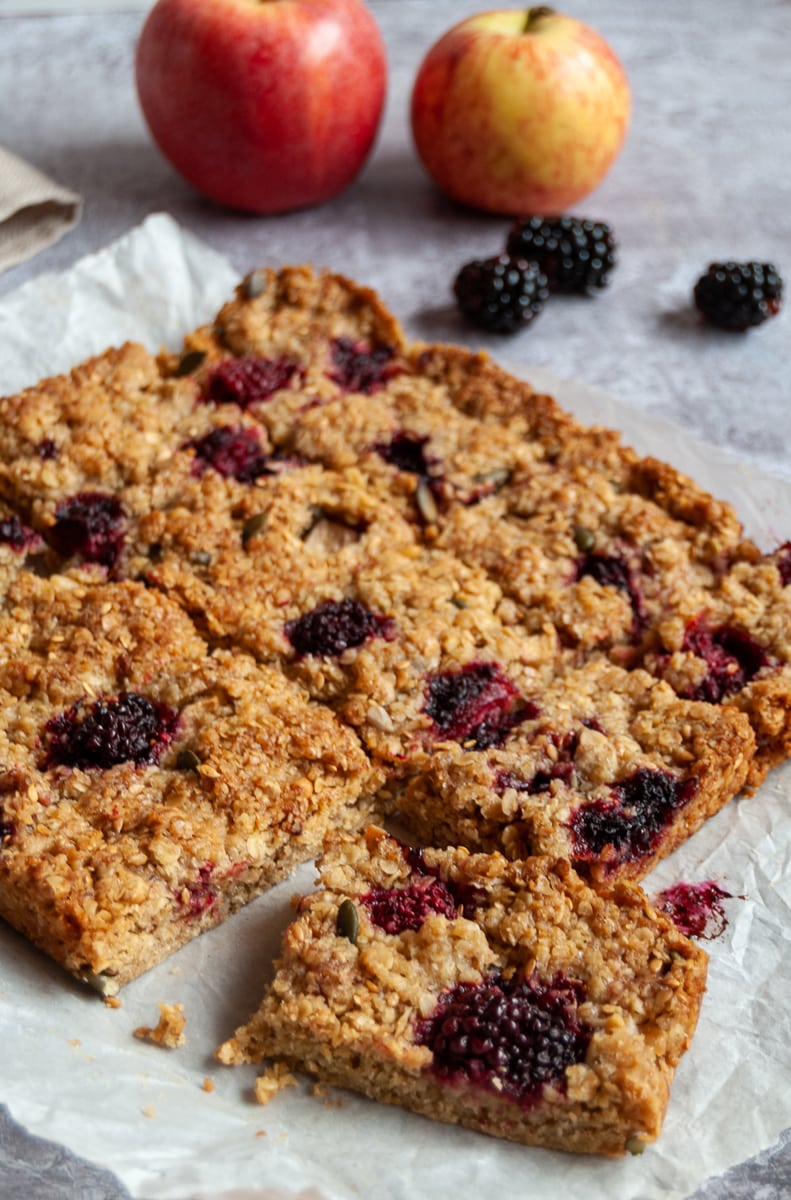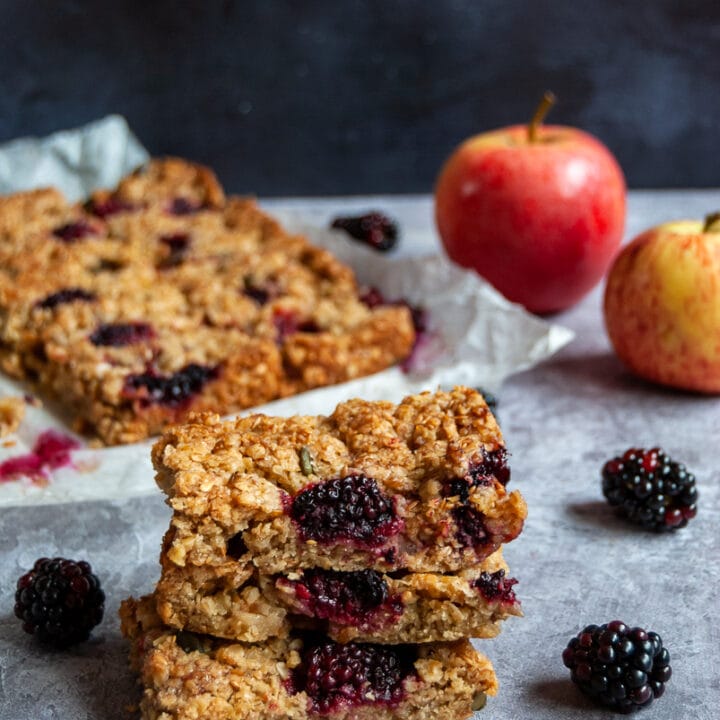 Apple and Blackberry Flapjacks
These apple and blackberry flapjack bars are soft, golden and delicious. They are packed full of Autumn flavours and go very well with a cup of tea or for a quick mid afternoon energy boost.
Ingredients
175g butter
175g Demerara or soft light brown sugar
2 tablespoons honey, maple or golden syrup
1/2 teaspoon vanilla extract
250g rolled oats (not jumbo oats)
25g golden linseeds
25g mixture of pumpkin, sesame or sunflower seeds
125g peeled and chopped apple (eating apples are best for this recipe)
100g fresh blackberries
Instructions
Preheat the oven to 180C/160Fan/Gas mark 4. Grease and line a 22cm square baking tin.
Melt the butter, sugar, honey/maple/golden syrup and vanilla extract in a large saucepan over a low-medium heat, stirring occasionally.
Once the butter/syrup mixture has melted and the sugar has completely dissolved, tip in the oats and seeds and stir well to mix.
Fold in the chopped apple and most of the blackberries. Tip this oaty mixture into the tin and using a spoon, firmly press the mixture to even it out. Place the reserved blackberries on top, lightly pressing them into the mixture. Don't be too worried if they get slightly squashed - this adds to the rustic charm of the flapjacks.
Bake for 25-30 minutes or until the flapjacks are golden around the edges. They will still be quite soft in the middle but will firm up a little when cooled. These flapacks have quite a soft texture because of the fresh fruit. Using a sharp knife, mark the flapjack into squares (but don't cut right through) while still warm. Once the flapjacks are completely cold, cut through the lines you made. However, please note that you won't get perfectly square pieces - these flapjacks are rather soft and crumble easily. They are extremely delicious though!
Nutrition Information:
Yield:

12
Serving Size:

1
Amount Per Serving:
Calories:

336
Total Fat:

19g
Saturated Fat:

8g
Trans Fat:

0g
Unsaturated Fat:

9g
Cholesterol:

31mg
Sodium:

745mg
Carbohydrates:

40g
Fiber:

4g
Sugar:

22g
Protein:

5g
Calories and Nutritional information are provided by a third party application and should be viewed as indicative figures only.