Did you know today, 5th February, is World Nutella Day? The day when Nutella lovers all around the world unite in celebration of the sweet, nutty, chocolate spread.
So I thought that it would only be right to choose today to share my new recipe with you – browned butter Nutella chocolate chip blondies.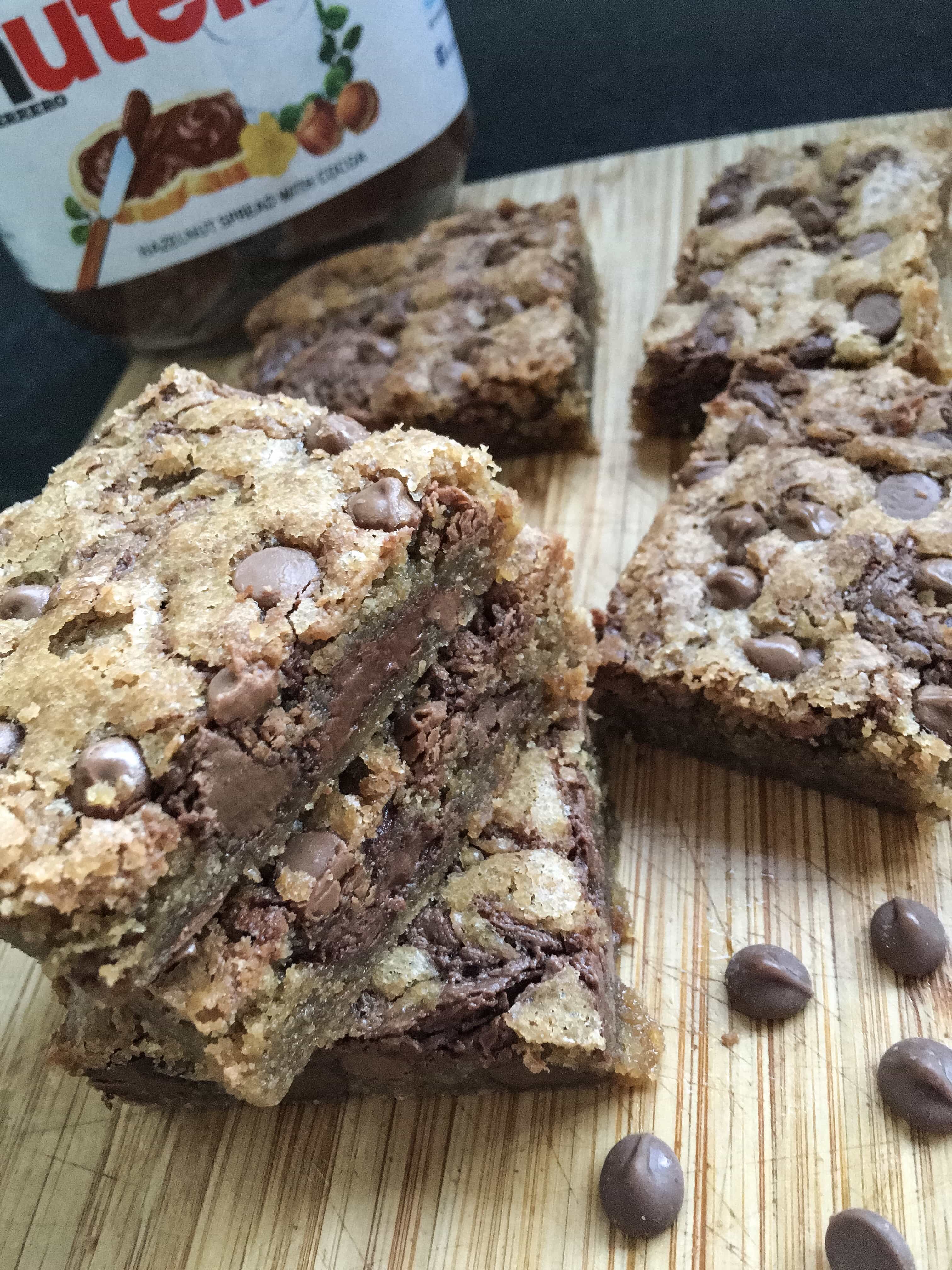 I decided that it was about time that I had a blondie recipe on here. I'm kind of a big fan of the brownies lighter cousin – they are like big fat, chewy cookie bars and what's not to like about that?
These brown sugar blondies have the best of both worlds – they are slightly crispy and chewy around the edges and so soft in the middle. Plus they are packed full of Nutella and milk chocolate chips!
You absolutely do not have to brown the butter for these, but it does add amazing flavour. They are still damn good blondies if you don't though.
Browned butter Nutella chocolate chip blondies
Gooey brown butter blondies with chocolate chips and molten Nutella swirls!
Ingredients
110

g

butter

210

g

soft light brown sugar

1

large egg

1

tsp

vanilla extract

125

g

plain flour

Pinch

of salt

70

g

Nutella

measured out into blobs and frozen for at least 15 minutes

75

g

chocolate chips plus a few more for sprinkling

More Nutella for swirling over the top of the blondies

about 25g
Instructions
Grease and line a 20x20cm square baking tin
Measure out 70g Nutella in little teaspoon sized blobs. Place on baking parchment and pop in the freezer.
Melt the butter in a small pan. Swirl the pan around a few times. After a couple of minutes, the butter will start to foam and spatter a little. Keep it on a medium heat and when the sizzling subsides and brown bits are appearing, remove from the heat and pour into a large heatproof bowl. Leave to cool completely before proceeding with the recipe.
Preheat the oven to 180C/160Fan/350F.

When the butter has cooled, add the sugar to the melted butter and beat well. Add the egg and vanilla extract and beat well until the mixture is shiny. Add the flour and salt and mix until well combined. Stir in the chocolate chips.

Place half of the blondie mixture in the tin and smooth it out as best as you can (I find it easier to use my hands here)

Take your frozen Nutella and place them on top of the blondie. Imagine the blondies once they are baked and sliced – you ideally want them all to have a generous portion of Nutella inside them!.

Top with the remaining blondie batter, trying to smooth out the top as well as you can and ensuring the Nutella in the middle is covered. Again, I found it easiest to place spoonfuls of the batter over the top and spread it out with my hands.

Finally, top the blondie withthe 25g Nutella, dropping it over the top in little teaspoons.

Take a skewer or tip of a knife and swirl gently, trying not to disturb the Nutella in the middle. Finish with a sprinkling of chocolate chips.

Place in the oven and bake for 20-25 mins or until the edges look set and the middle is slightly firm.

Remove from oven and cool completely before cutting into squares.
Happy World Nutella Day!
I shared this post with the following link ups –
We should Cocoa hosted by Tin and Thyme
#CookBlogShare hosted this month by Easy Peasy Foodie
Recipe of the week hosted by A Mummy too