Wild garlic leaves are the star seasonal ingredient in this easy roast lamb with wild Garlic and Rosemary.
It's perfect for an easy, stress free Sunday lunch.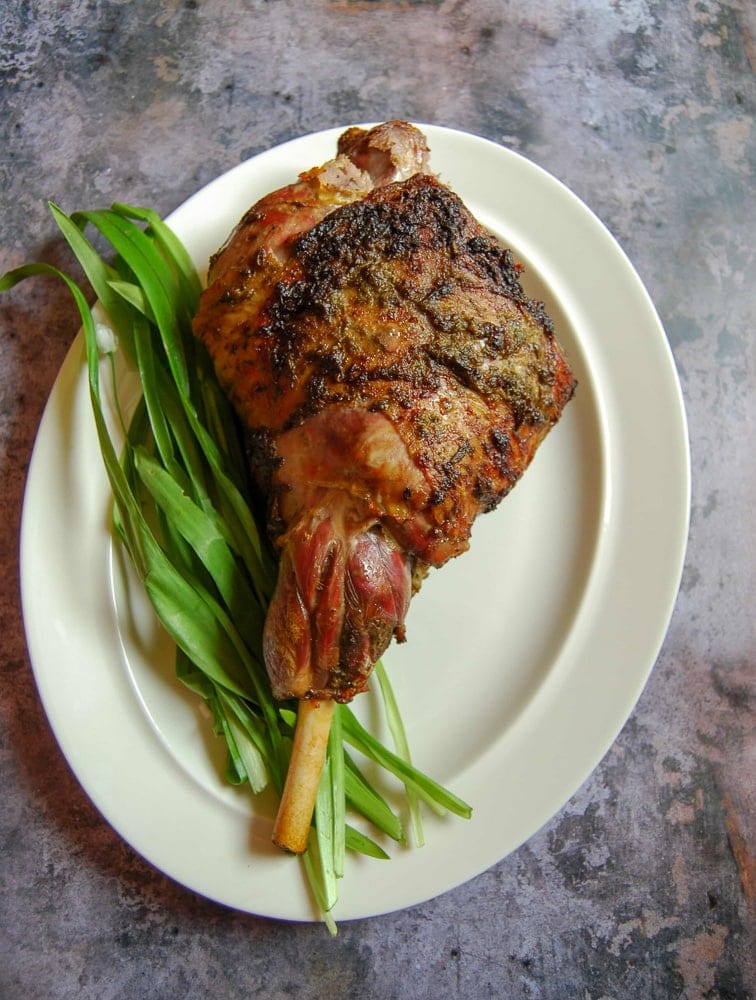 Roast Lamb is a fabulous choice for a really delicious Spring lunch, but I've often heard people say that they don't know how to cook lamb so they tend to stay away from it, opting for the usual roast chicken or beef instead.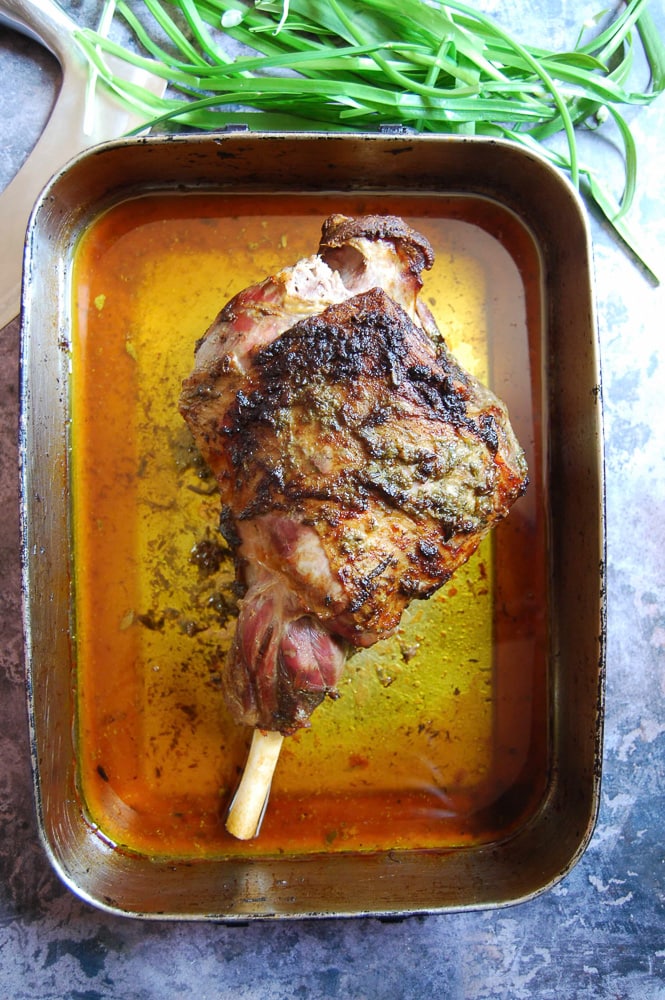 It seems to have a reputation for being a little bit tricky to cook, but I can tell you now that is absolutely not true! It's certainly no more difficult than cooking a joint of beef or pork – I promise.
If you follow this recipe for my simple marinade, you will end up with roast lamb that is tender, succulent and full of flavour.
ingredients
WILD GARLIC
(or 3 large cloves of garlic if you can't find wild garlic)
FRESH ROSEMARY
OLIVE OR RAPESEED OIL
ANCHOVY FILLETS
If you aren't a fan of anchovies, please don't let it put you off this recipe – once the lamb has cooked, you won't notice them. They provide a deep savoury note that is not at all fishy!

how to make the garlic and rosemary marinade and tips
You simply blitz the marinade ingredients together, make little slits in the lamb joint with a sharp knife and rub the marinade all over the lamb.
Try and get as much of the marinade in the holes as possible – you want it to penetrate the meat for maximum flavour.
You should ideally leave the lamb for a minimum 2 hours before cooking if possible – you could let the marinated lamb sit in the fridge overnight if it makes life easier.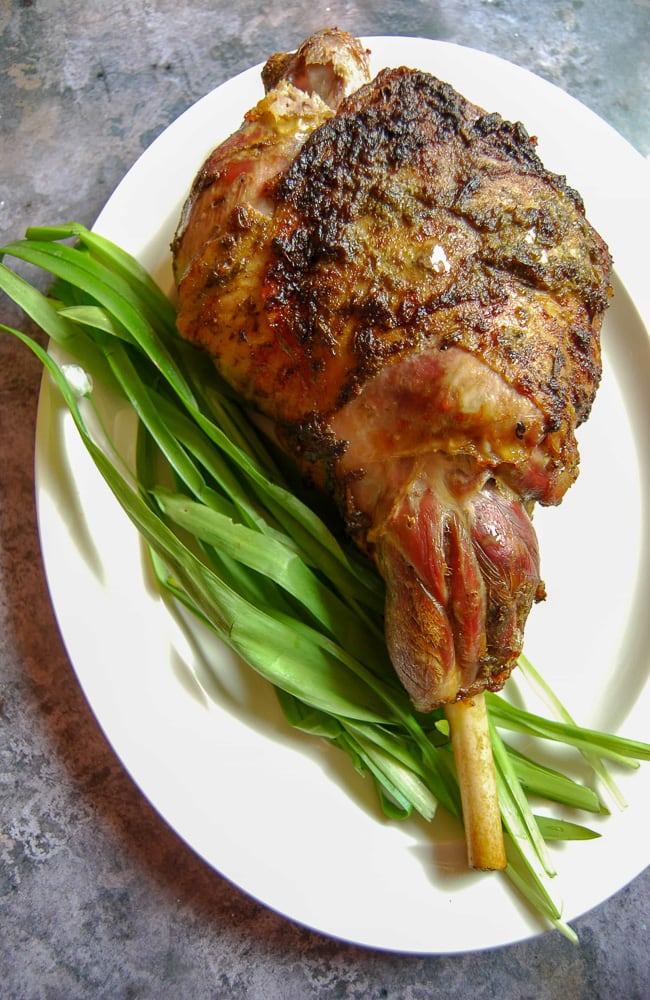 where can you find wild garlic?
Wild garlic grows in woods and riverbanks all over the UK between March and June. If you're out on a walk, there's a very high chance you'll smell it before you see it! It often grows near patches of bluebells. It looks like very thick, long chives. If you're out foraging, NEVER pick anything that you're unsure of. You can also find wild garlic in Farmer's Markets across the country in the Spring Time.
It has a very fleeting season, so if you do find some, it's definitely worth picking up. It really has a wonderful flavour – it smells very strong, but the taste is somewhat milder and less pungent than garlic bulbs.
It's very versatile – you can make soup with it, serve it raw in salad, make wild garlic pesto or chop it up and mix with butter to serve on top of steak or vegetables.
While you can also use normal garlic in this marinade, it's definitely worth trying with the wild stuff if you can your hands on some.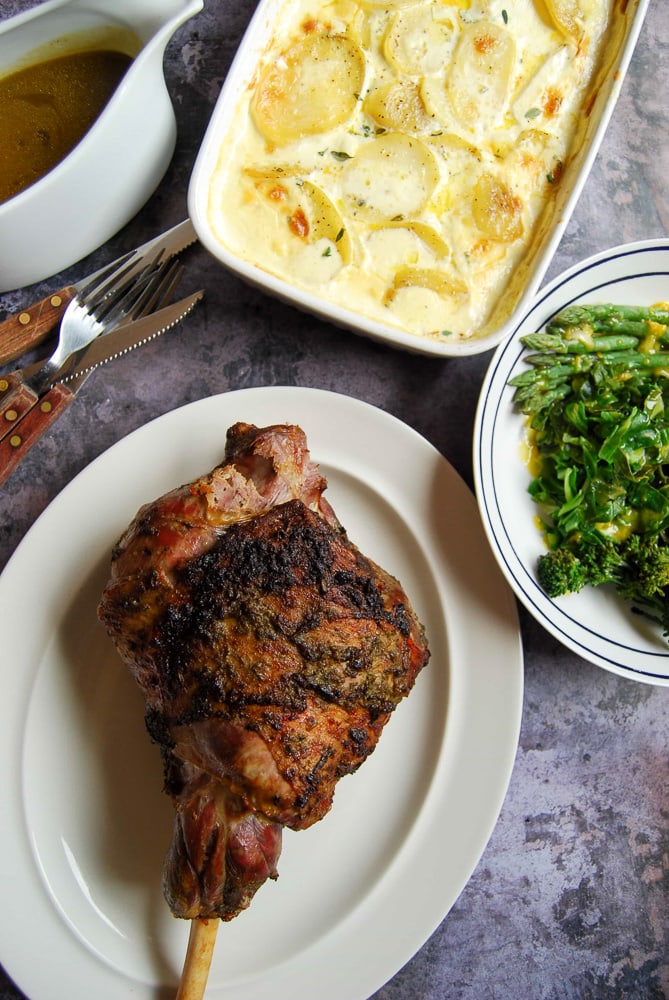 What to serve with roast lamb
We love this roast lamb with either creamy mashed potatoes, dauphinois potatoes and spring greens with a lemon and mustard dressing.
These honey mustard roast carrots and parsnips would also be a great addition.
It's the perfect celebratory Spring/Easter Lunch!
PIN THIS RECIPE FOR LATEr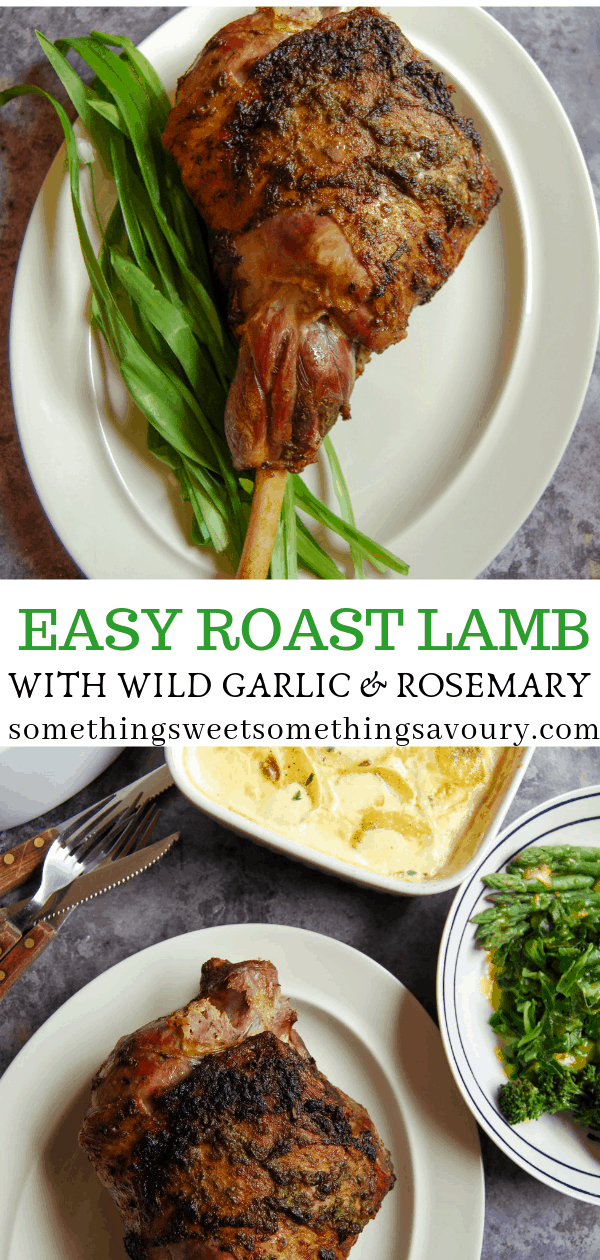 Did you make this easy roast lamb recipe?
Leave a comment/rating and let me know what you thought! Or follow me on Instagram and leave me a comment. I love to see what you've been making!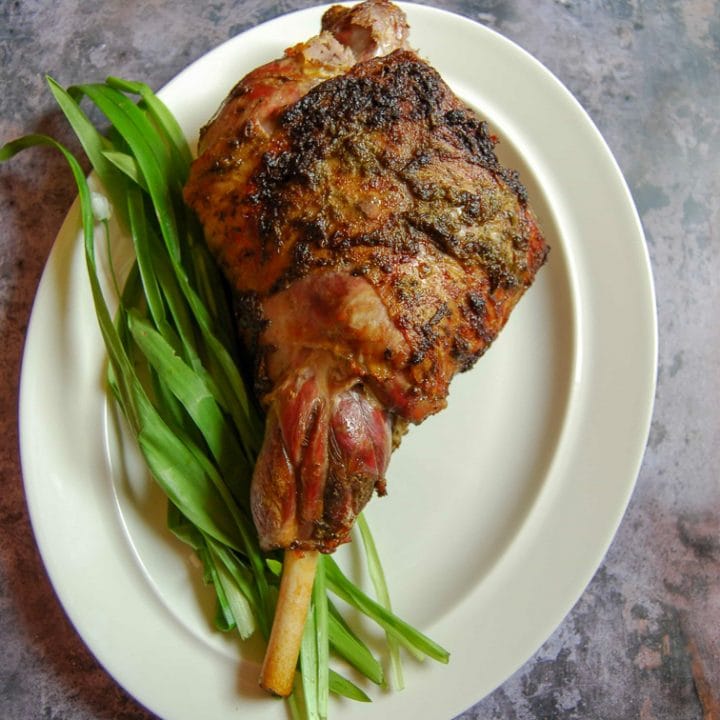 Easy roast Lamb with wild Garlic and Rosemary
Yield:
Serves 8-10 people generously
Total Time:
4 hours
10 minutes
This Easy roast Lamb with wild Garlic and Rosemary is succulent, tender and full of flavour.  It's the perfect choice for a stress free Easter Lunch.
Ingredients
2 kg Leg of Lamb, bone in
50 g Wild Garlic , chopped finely
2-3 Stalks of Fresh Rosemary Leaves
4 Anchovy fillets
6 tbsp Olive or Rapeseed Oil
Zest and Juice of One Lemon
Sea salt flakes and freshly ground black pepper
A SIMPLE GRAVY:
1 1/2 tbsp Plain Flour
400 ml Lamb Stock, from a Cube
Juices from the lamb
1 tsbp Redcurrant Jelly
Salt and Pepper
Instructions
Place The lamb in a large roasting dish that would fit easily in your fridge. Using a sharp knife, make slits all over the lamb.
Using a high powered blender (I used my Nutri Ninja) blitz togther the wild garlic, rosemary, anchovies, lemon and oil. If the mixture is a little thick, add a bit more oil.
Add salt and pepper to taste, bearing in mind that you might not need much salt because anchovies are pretty salty.
Rub the wild garlic marinade all over the lamb, rubbing it into the slits you made so the marinade penetrates the meat. Cover and leave for a minimum of two hours, or ideally overnight.
When you're ready to roast the lamb, preheat the oven to 200C/180Fan/400F.
Pour a small amount of water into the roasting dish (this will stop the marinade from sticking to the bottom of the tin and burning)
Cook the lamb for 1 hour 40 minutes for medium meat that will be blushing pink in the middle, or 2 hours for well done.
Allow to rest for at least 30 minutes before carving.
FOR THE SIMPLE GRAVY:
Spoon the excess fat off the juices from the roasting tin, then place the roasting tin on the hob on a medium heat.
Add the flour and stir well, then gradually stir in the hot lamb stock, whisking all the time to remove any lumps.
Cook for a further few minutes before adding the redcurrant jelly and taste for seasoning.
Transfer into a gravy boat.
Nutrition Information:
Yield:

10
Serving Size:

1
Amount Per Serving:
Calories:

722
Total Fat:

45g
Saturated Fat:

18g
Trans Fat:

0g
Unsaturated Fat:

23g
Cholesterol:

234mg
Sodium:

400mg
Carbohydrates:

10g
Fiber:

1g
Sugar:

5g
Protein:

64g