Looking for the best fluffy American pancake recipe? Look no further! This foolproof, simple recipe will give you perfect pancakes every single time. There's no better way to start the weekend!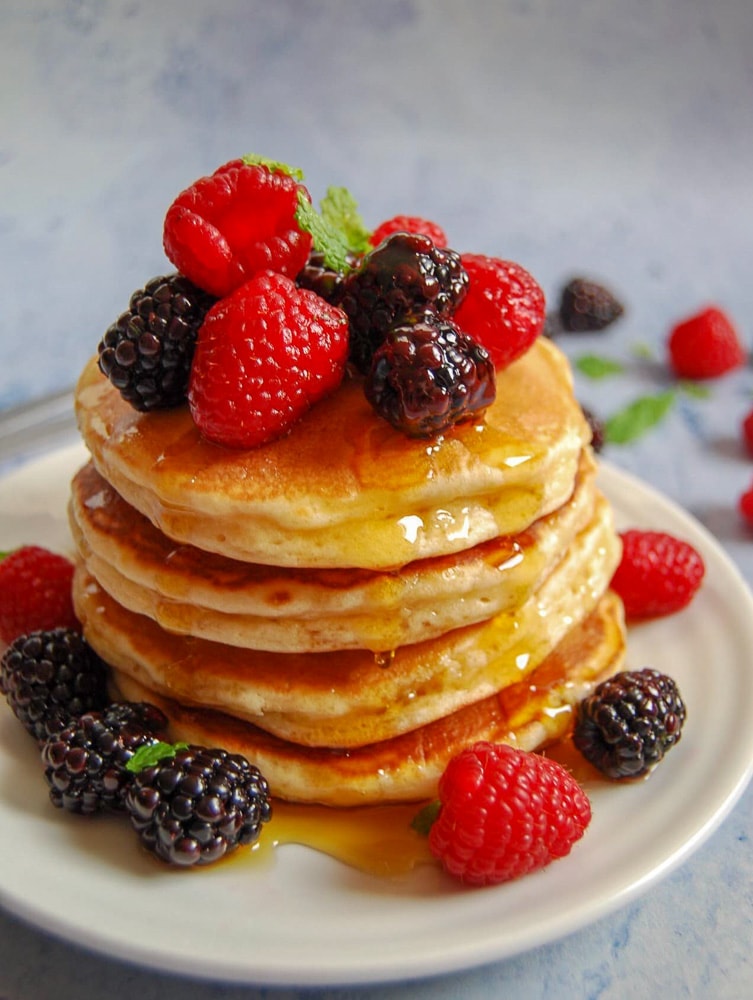 A fair amount of people have been asking for my pancake recipe recently. So here it is! This is the recipe I have been making for years with my boys.
Now my almost grown up (weeps!) eldest son makes them for his friends and when they try them, they always end up asking for the recipe, which is pretty cool!
foolproof fluffy pancakes
I'm not usually in the habit of saying recipes are "the best" – there are a LOT of recipes out there – but I'm going to stick my neck out and make an exception for these pancakes. I do believe they are the best pancake recipe ever. Well, let's just say they are the best I've ever tried and I don't feel the need to change a thing about this recipe.
This recipe is foolproof – even if you've never made pancakes before! If you follow my simple instructions, you will get perfectly fluffy, delicious pancakes you'll be proud to share with your family.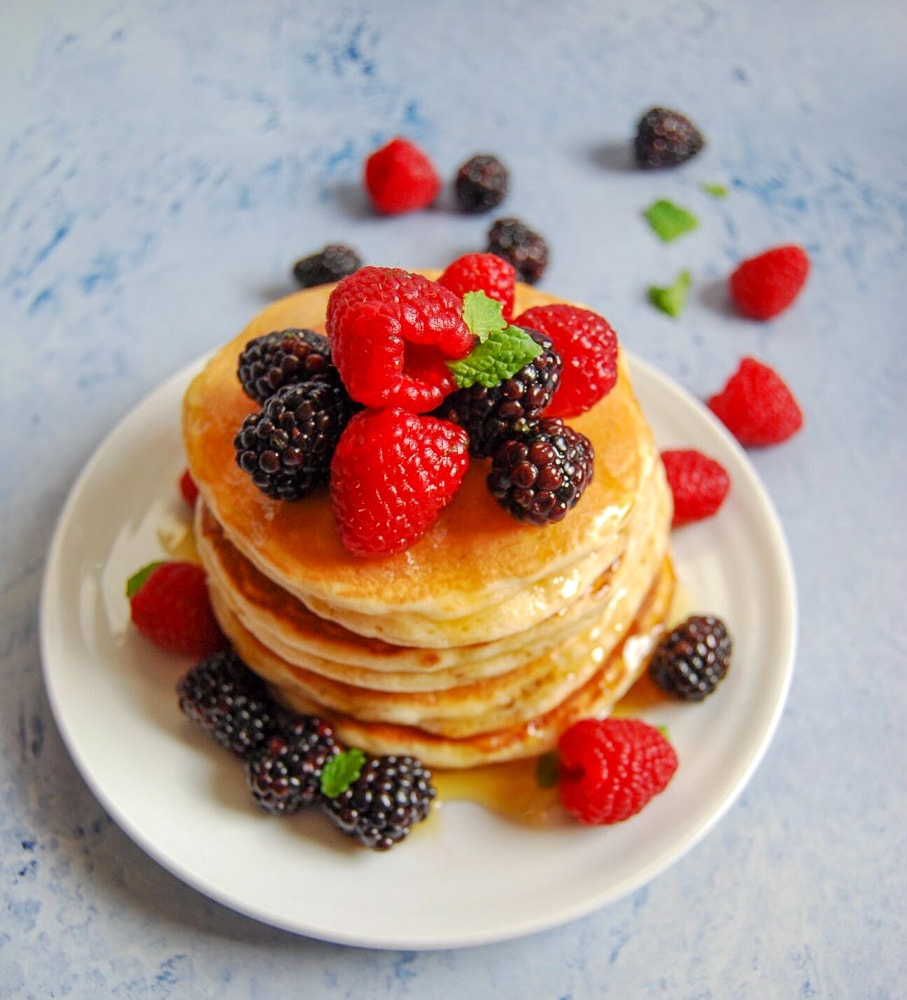 thick and fluffy american pancakes
They are like the kind of pancakes I imagine are served in American diners – warm, thick, fluffy and they smell amazing. I can eat far too many of them than I care to admit!
Trust me….these fluffy American pancakes are the BEST way to start your weekend!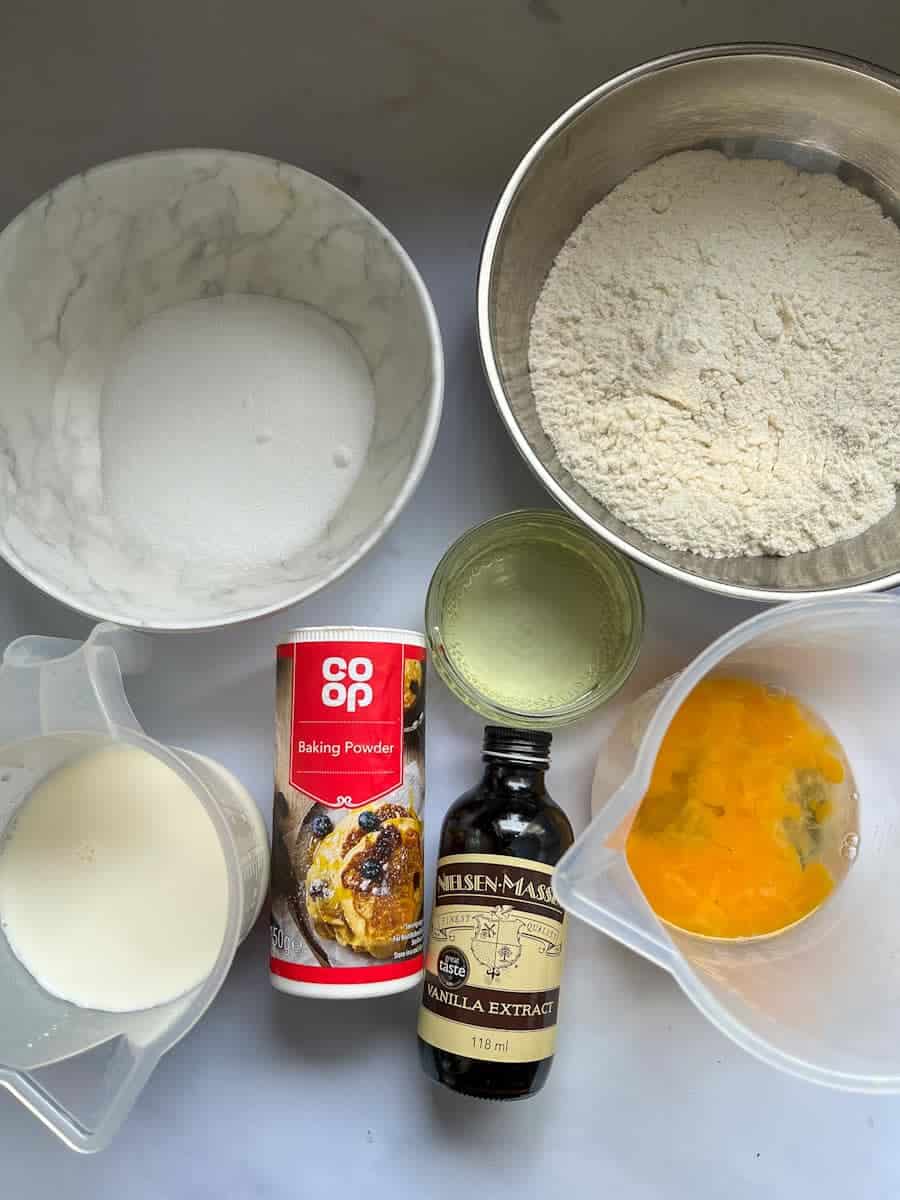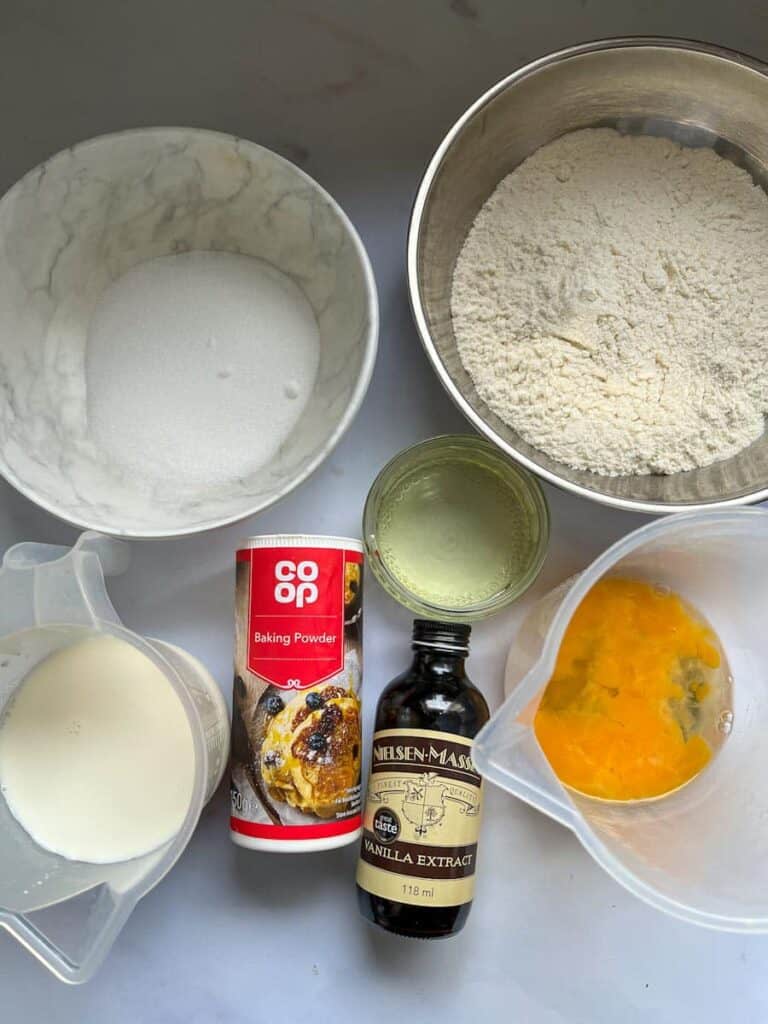 ingredient list
(scroll to the bottom of the post to find printable recipe card with ingredient amounts and detailed instructions)
self raising flour gives these pancakes a lovely thick, fluffy texture.
even though self raising flour already has rising agents, I still add a little baking powder to give the pancakes extra "oomph".
caster sugar. I prefer caster over granulated sugar because the grains of caster dissolves quicker into the batter.
flavourless oil or cooled melted butter. I use either vegetable or sunflower oil in this recipe. Using oil makes this recipe even more convenient to make and also makes the pancakes last slightly longer (not that that's usually a problem!) But if you prefer to use melted butter, go for it.
whole or semi skimmed milk
optional extra but really good – vanilla extract (not essence, please)
how to make fluffy american pancakes
make the batter
Sieve the flour and baking powder together in a large mixing bowl. Crack the eggs into a medium jug or bowl and add the sugar, oil and vanilla extract if using. Whisk together until well combined and the sugar has dissolved.
Make a well in the centre of the flour and pour in the oil egg mixture and the milk. Whisk the mixture together well until you have a smooth batter, scraping down the sides of the bowl with a spatula at least once. As soon as the batter is smooth, fairly thick and there are no streaks of flour visible, stop mixing.
Cover the bowl and let the batter rest while you heat up the pan.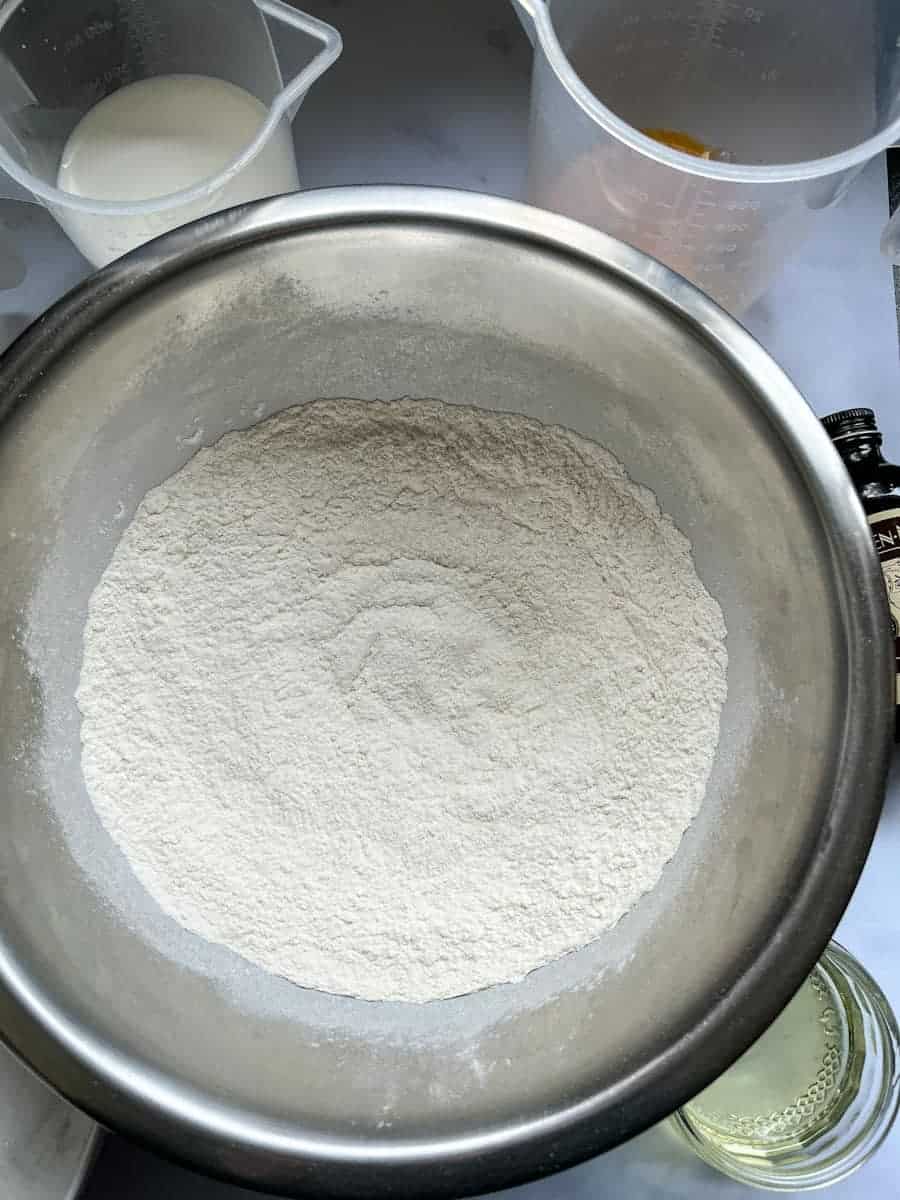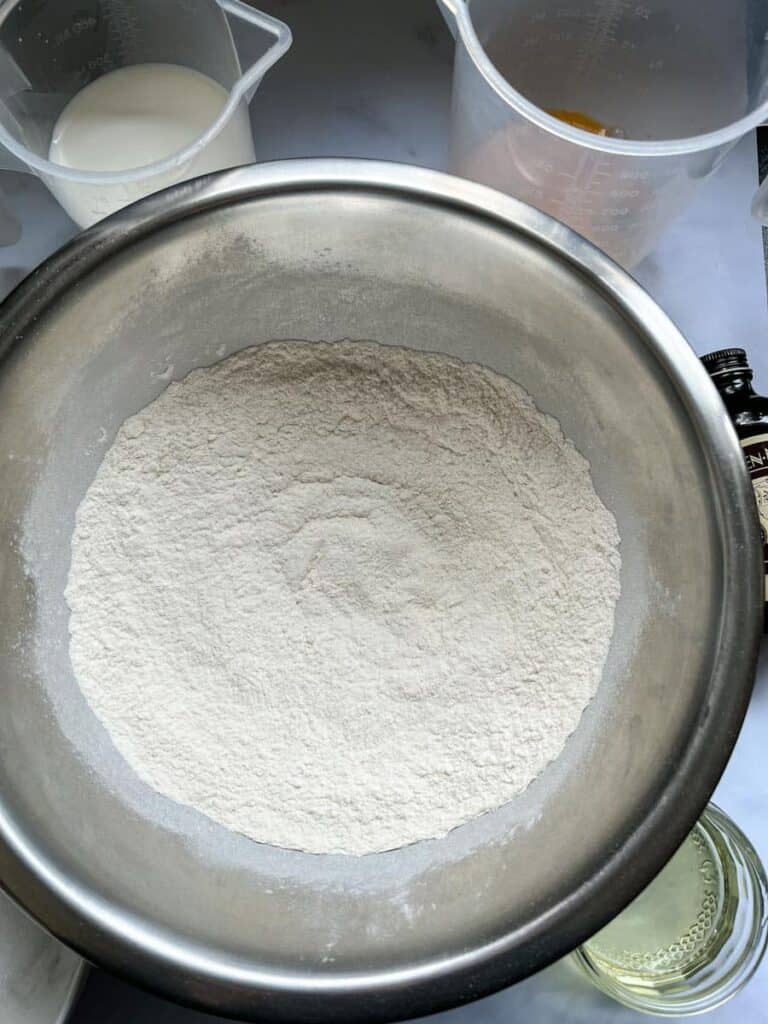 prep the pan
Place a non stick frying pan on the hob and set the heat to medium. It's not wise to stick the heat on high – it will get too hot too fast and the pancakes will burn as soon as you pour the batter in the pan.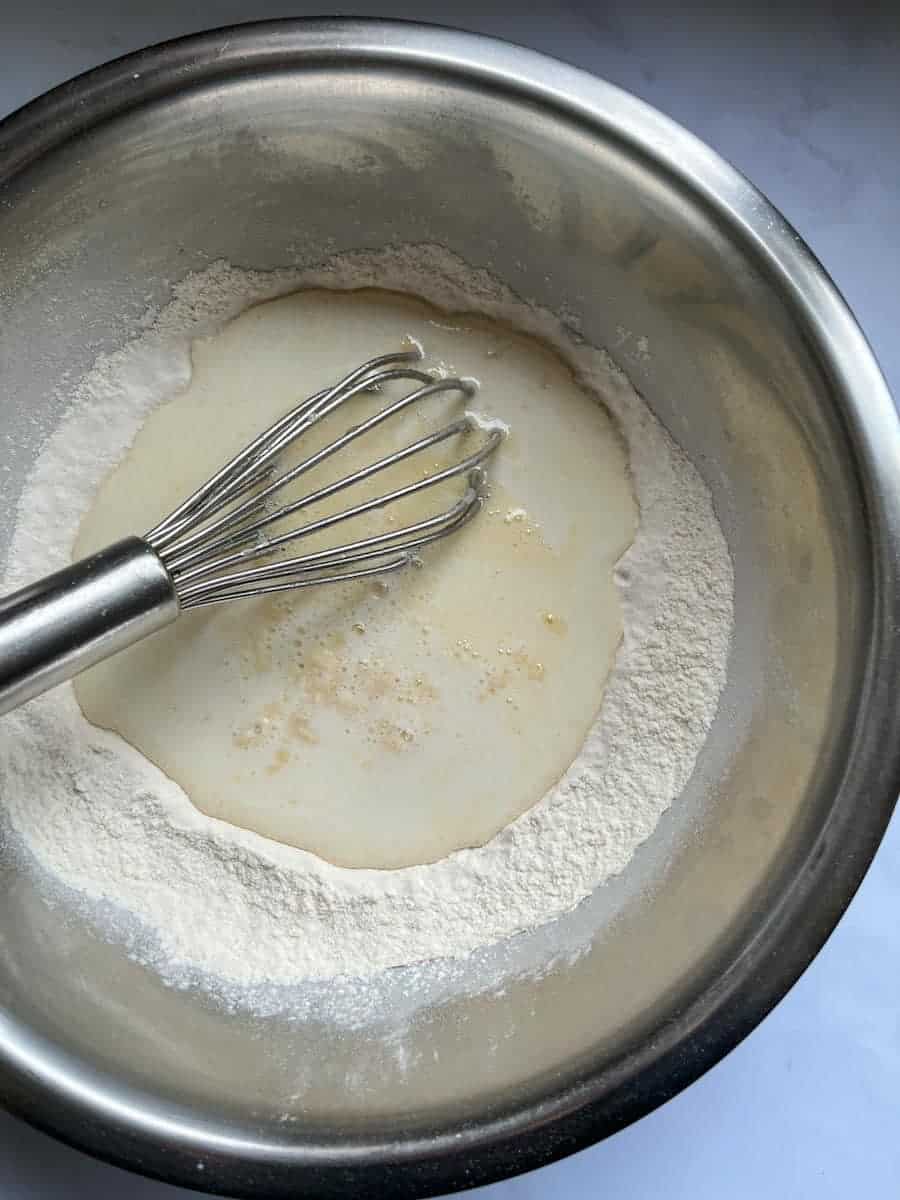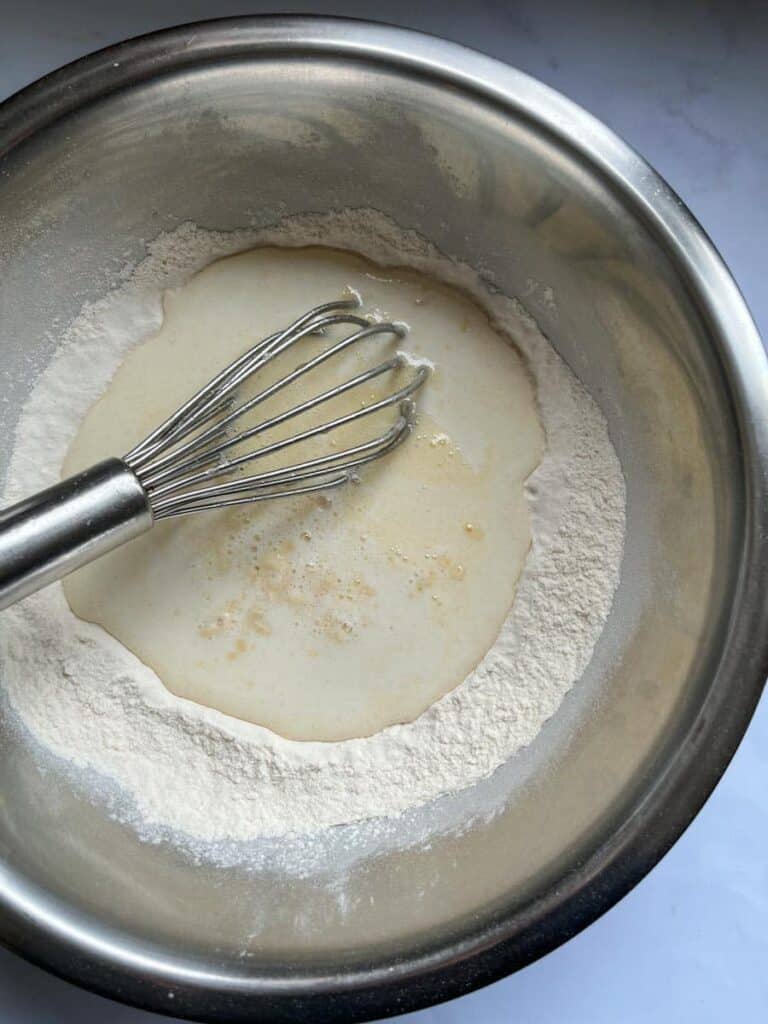 time to cook
When the pan is nice and hot but not smoking – if it is, turn it down and wait for few minutes. Take a piece of kitchen paper smeared with a little butter or flavourless oil and rub it all over the pan.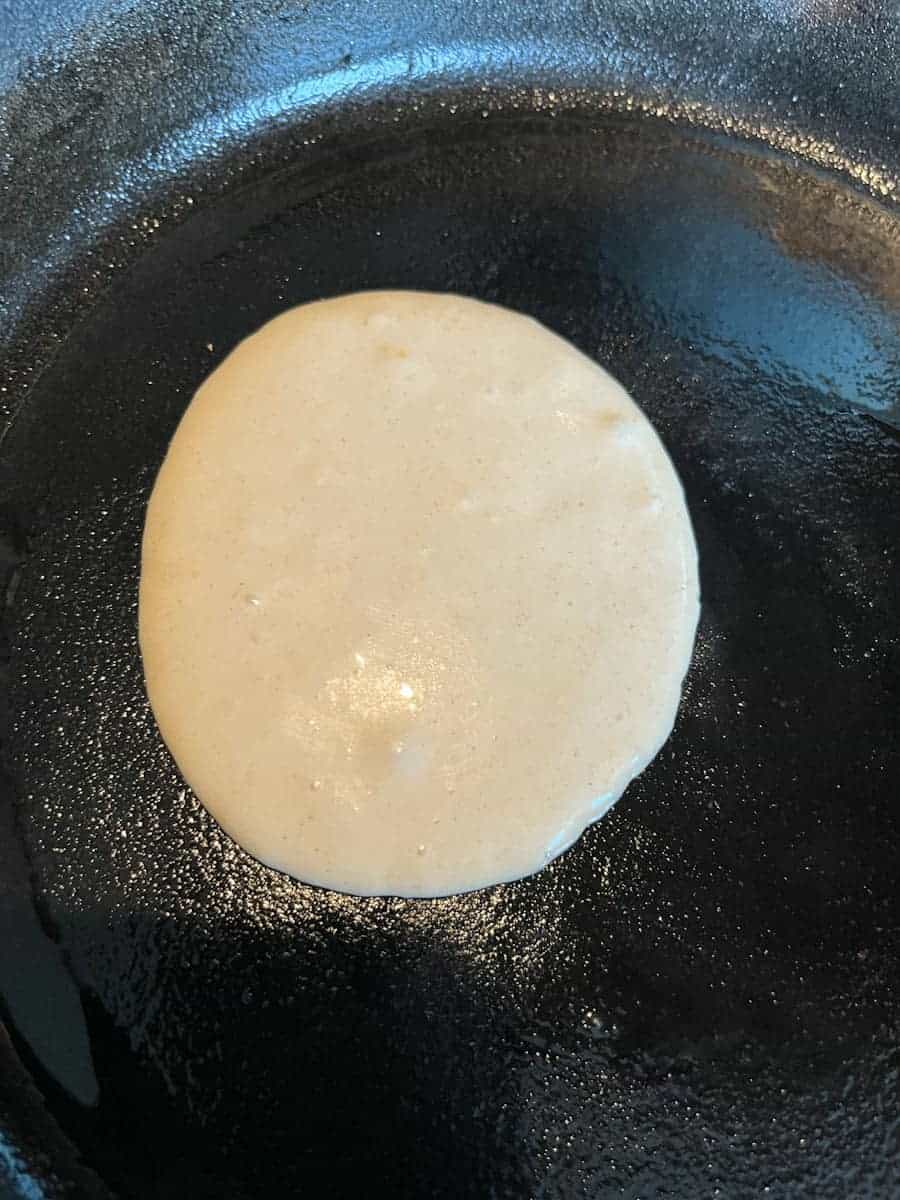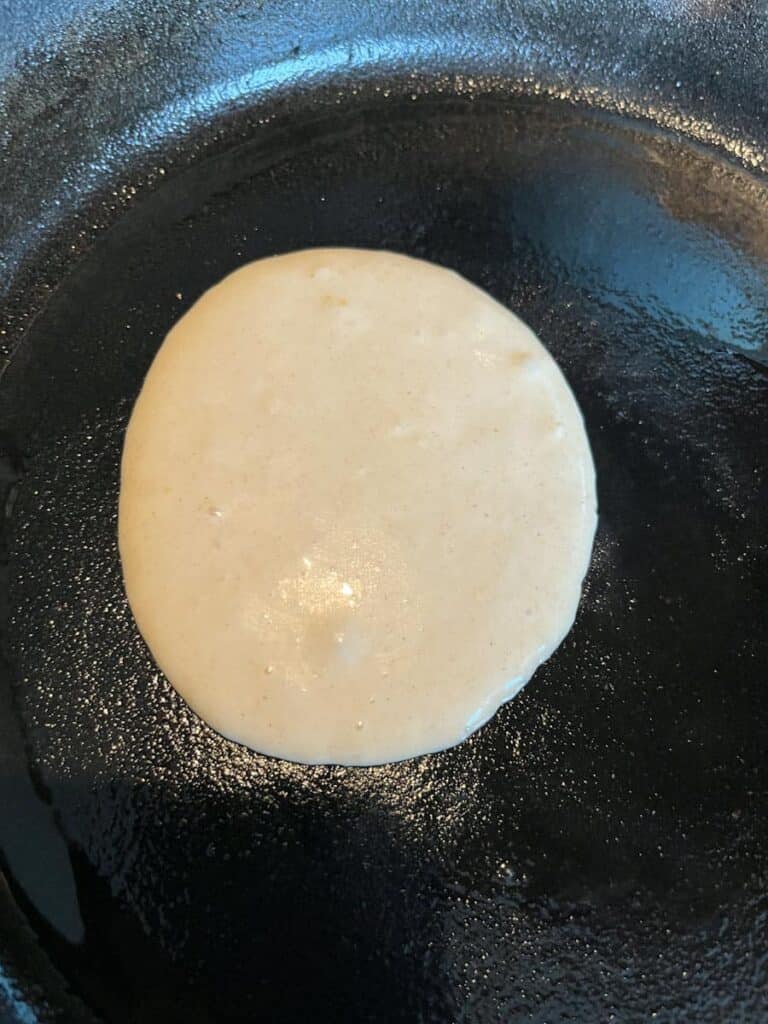 Pour spoonfuls of the mixture into the hot pan and wait until you see lots of bubbles on the surface, then quickly flip the pancake over and continue to cook for about 2-3 minutes.
You'll know when the pancake is perfectly cooked – it will be golden all over and will lift straight off the pan easily.
Continue smearing the pan with a little butter as and when you need to – if the pancakes start sticking that's a clear sign you need more.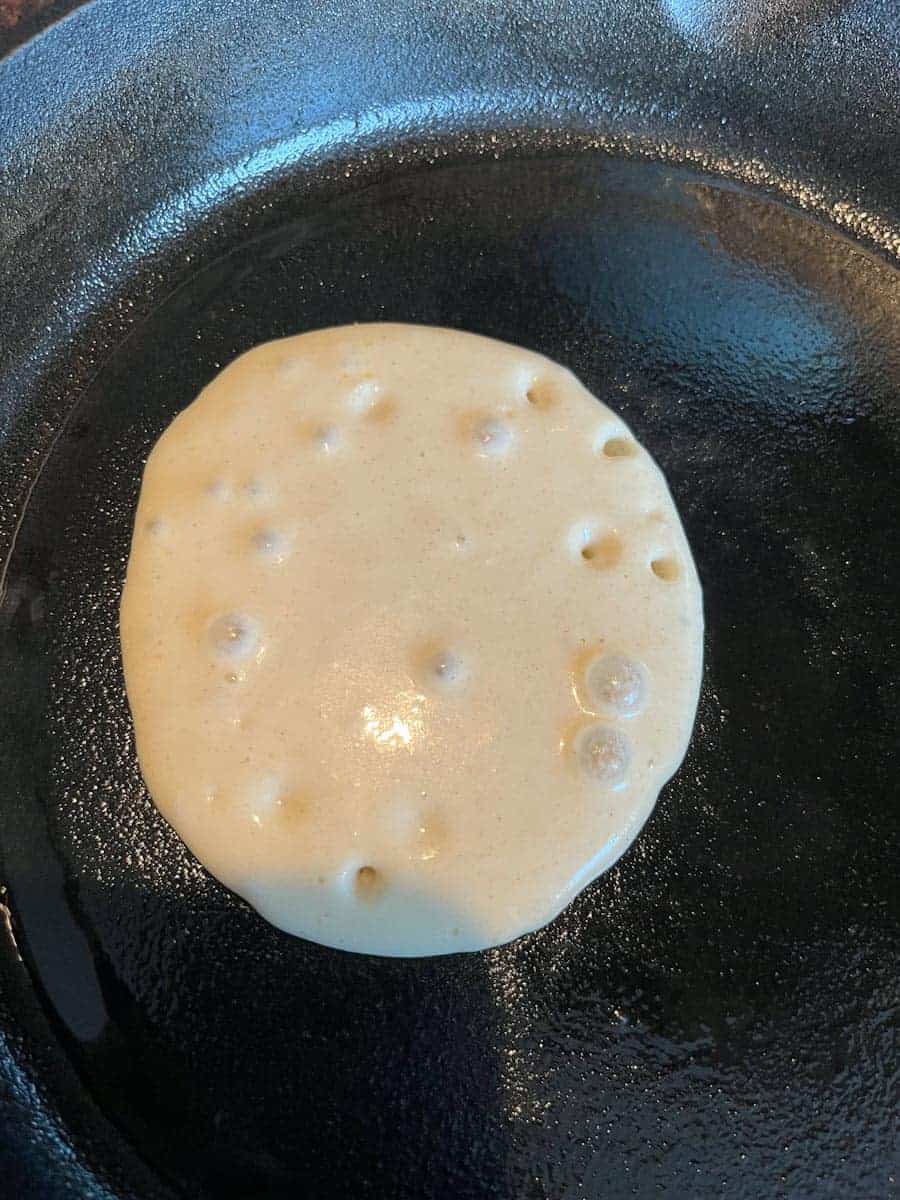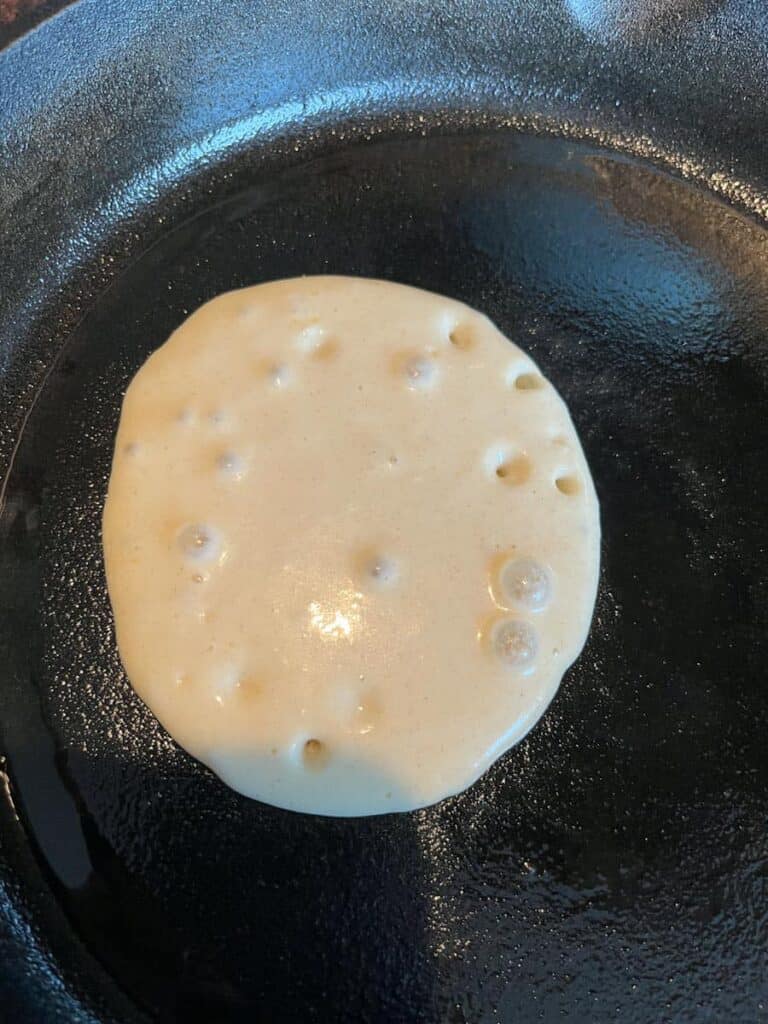 how to keep pancakes warm while cooking them
To keep the pancakes nice and warm, I place them on a wire rack and place a clean tea towel on top. This is purely a nostalgia thing for me – my Granny did this.
You can also place them in a warm oven (120C) while you cook the remainder of the batch.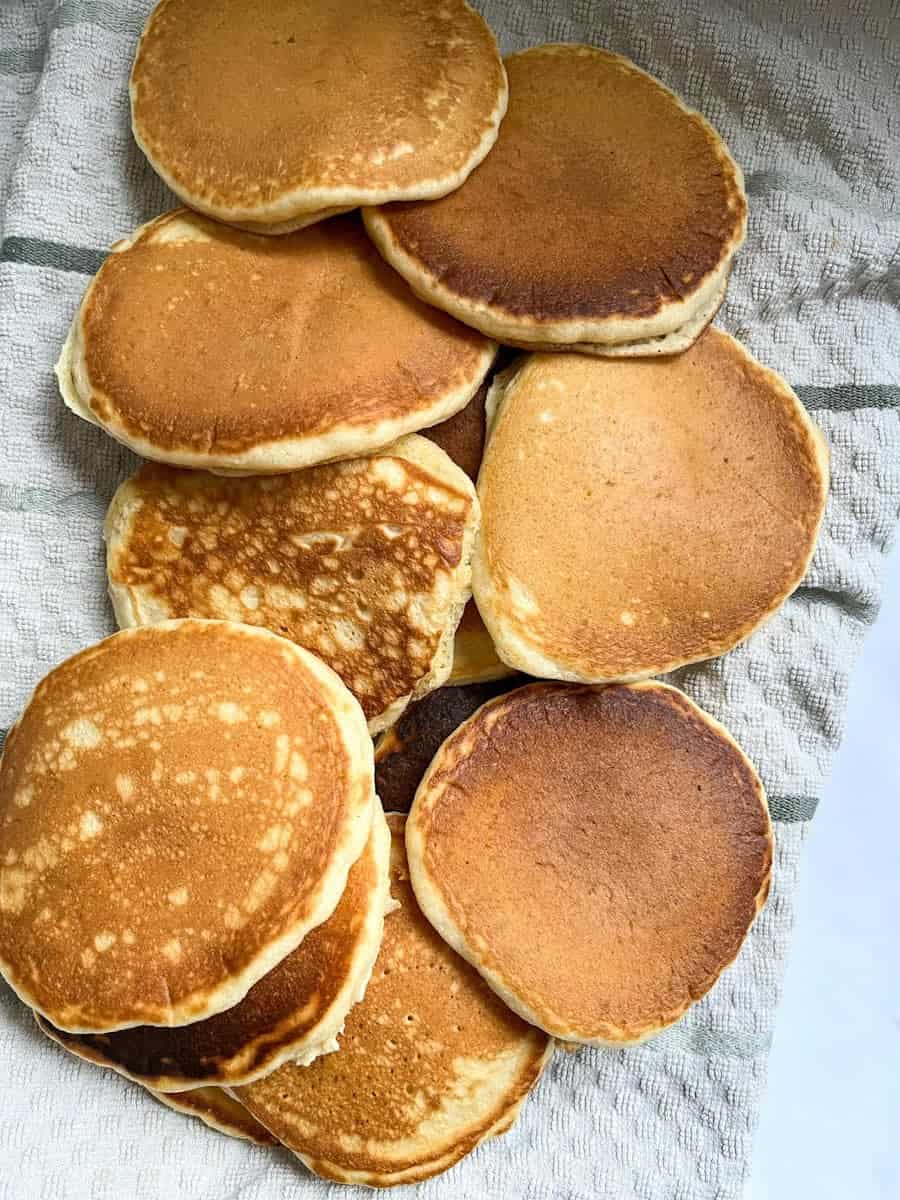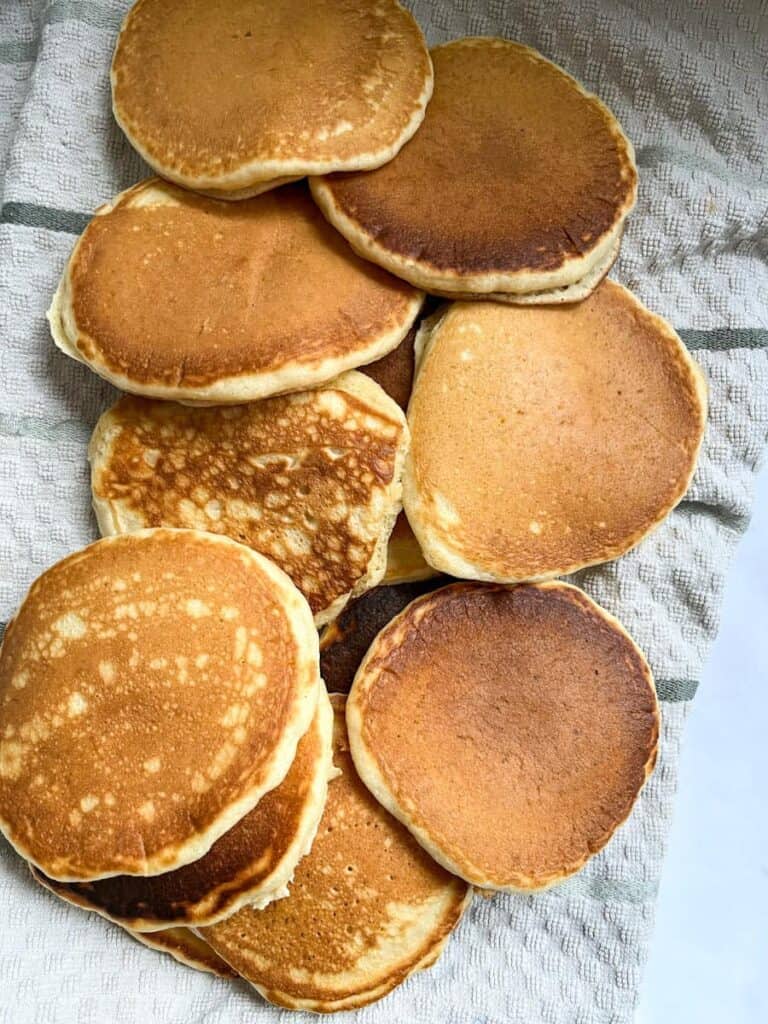 recipe tips
Your first step in making fluffy pancakes is to sift the flour and baking powder together. I know, I hate sieving too, but these little extra steps make all the difference.
Don't over mix the batter or you could end up with tough pancakes. The opposite of what you're trying to achieve! Stop mixing as soon as the ingredients are combined and no streaks of flour can be seen.
If you have time, rest the batter to allow the gluten to relax. I always make up batter before I prep my pan. By the time the pan is the correct temperature for cooking pancakes, the batter will be perfect.
The heat of the pan is KEY to making successful pancakes. Don't have the heat too high – you need a nice medium heat. It's better to heat the pan gradually than turn it on high from the start – if you do this, you'll find it hard to control the temperature and the pancakes will burn on the outside before they get a change to cook right through to the middle.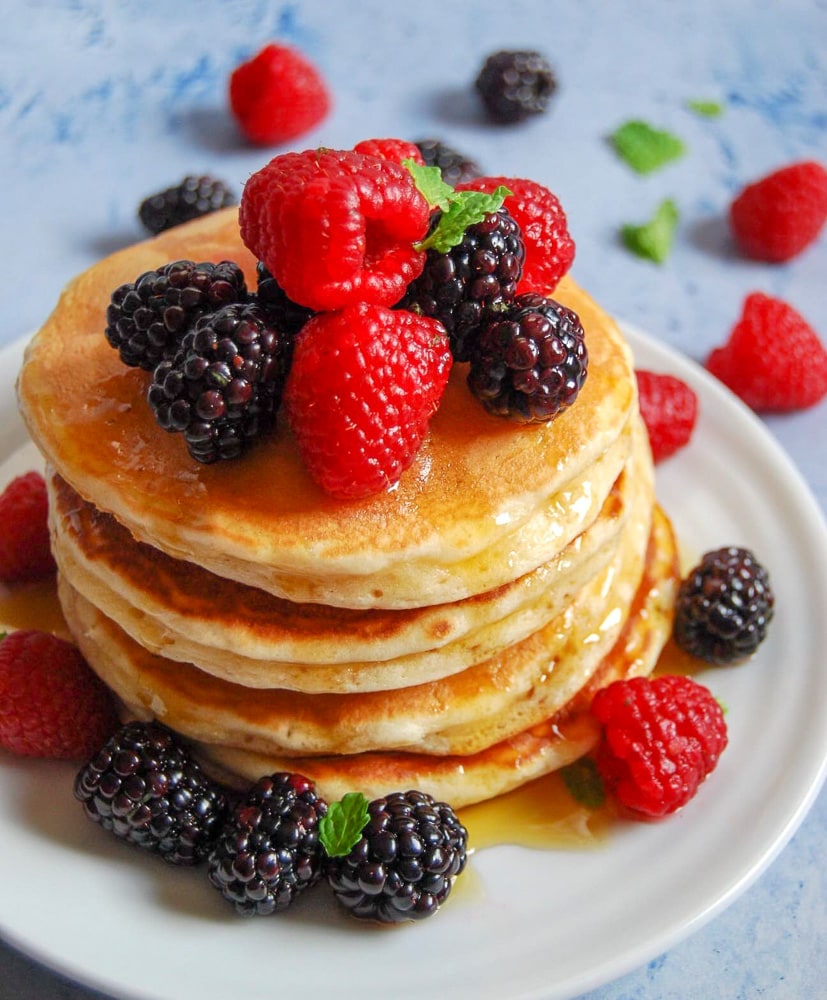 what to serve with american pancakes
Of course the classic American way is to serve pancakes piled high with streaky bacon and lashings of maple syrup. I love a stack of pancakes with lots of fresh berries and drizzled with maple or golden syrup.
I also love serving pancakes with sliced bananas and toffee sauce – banoffee pancakes, yes please!
They are also delicious with this blueberry syrup recipe from I am Baker.
My kids enjoy pancakes with Nutella – funnily enough they are also crazy for these Nutella stuffed pancakes – or simply spread with butter and strawberry jam.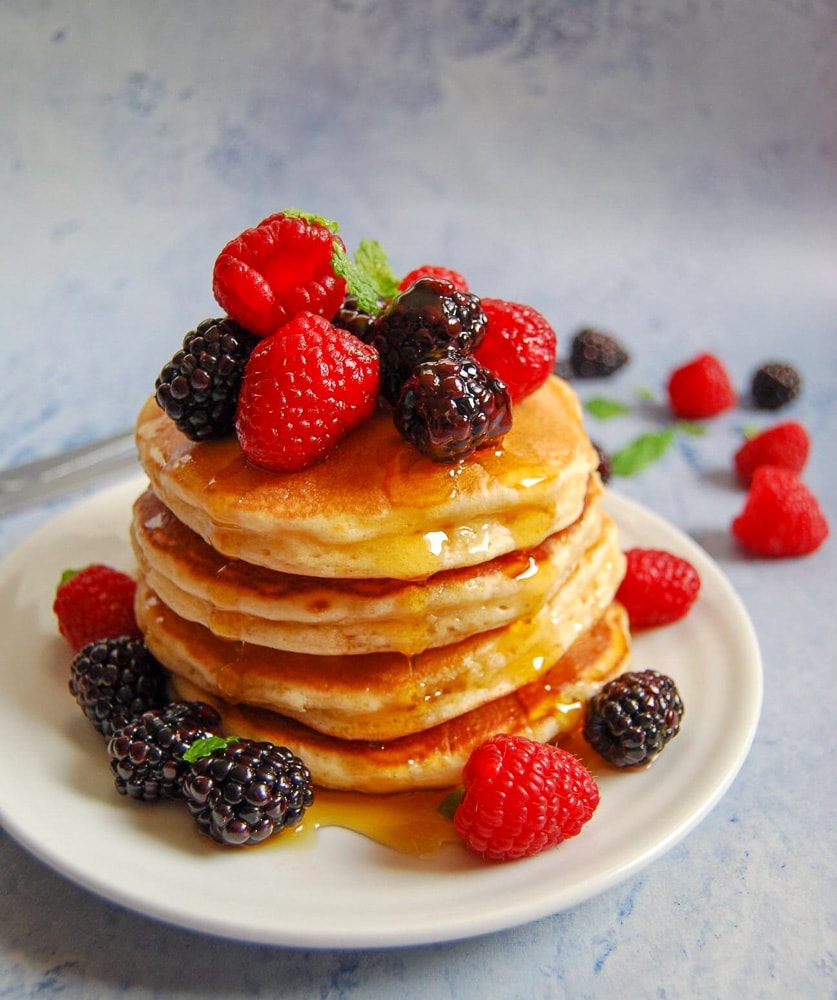 CAN I USE BUTTERMILK INSTEAD OF MILK?
Yes, buttermilk can be used in place of milk if you like. Buttermilk is great for making light, fluffy pancakes. However, I know buttermilk is something not everyone has in the fridge at all times (and no matter what anyone says, homemade buttermilk does not give you identical results) so I wanted to develop this recipe with basic storecupboard and fridge ingredients.
can i double the recipe?
Absolutely. If you are cooking for a large crowd, you can go ahead and double the recipe with affecting the results. On a side note, if you have taken complete leave of your senses and find yourself hosting a sleepover for 6+ children you will definitely need to double the recipe.  Yes, I am speaking from experience!
recipe variations
blueberry pancakes
To make blueberry pancakes, pour the batter into the pan as usual, then place a few fresh blueberries on top. Allow to cook for a few minutes before flipping.
chocolate chip pancakes
For chocolate chip pancakes, do exactly the same as above. I do think actual chocolate chips rather than a chopped up bar of chocolate works best here – chips are more stable and therefore, less likely to melt all over the pan and cause a mess.
lemon and raisin pancakes
To make lemon raisin pancakes, add the finely grated zest of one large lemon and 100g raisins or sultanas to the pancake batter.
HOW TO STORE PANCAKES
If you have any leftover pancakes, they can be stored in an airtight tin or tupperware box for the next day. I wouldn't recommend storing them for longer than a day or two.
HOW TO REHEAT PANCAKES
Pancakes are of course at their very best eaten as fresh as possible, but you can reheat pancakes in a toaster for a couple of minutes. The microwave is not the best way to reheat pancakes – they turn quite rubbery.
FREEZING PANCAKES
To freeze pancakes, allow to cool down completely then place them on a t Once the pancakes have frozen, place in freezer bags or a freezer safe
need a refined sugar free pancake recipe?
want to see More pancake recipes?
more easy breakfast recipes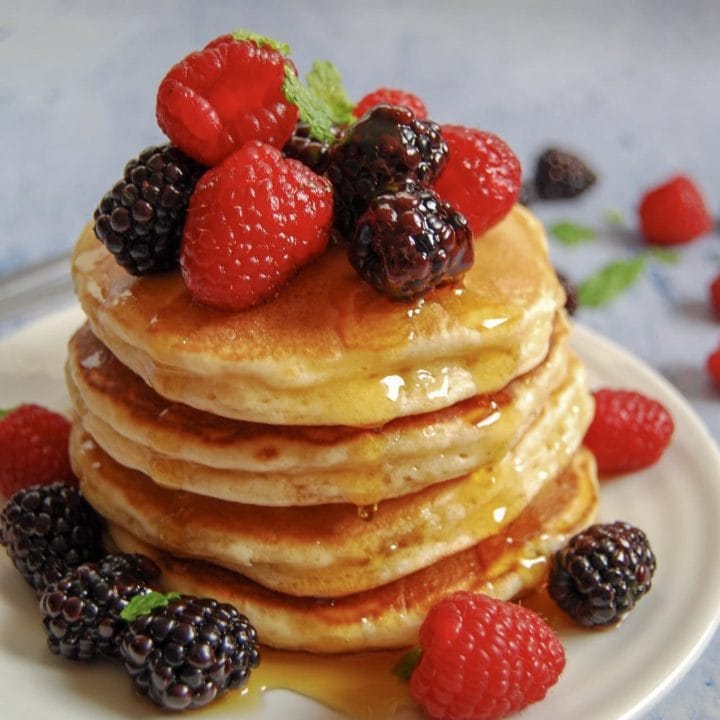 Fluffy American Pancakes
Yield:
At least 12 Pancakes, depending on size
This fluffy American pancake recipe will give you perfect results every single time. They are the ultimate weekend breakfast treat! Pile them high and drizzle with lots of maple syrup.
Ingredients
250g (2 Cups) self raising flour
2 teaspoons baking powder
2 large eggs
75g (1/3 Cup) caster sugar
50g (Scant 1/3 Cup) melted butter or vegetable/sunflower oil
1 teaspoon vanilla extract, optional but good
Approximately 250ml whole or semi skimmed milk (you might need about 50ml extra)
Instructions
Sieve the flour and baking powder together in a large bowl.
Crack the eggs into a separate bowl or jug and pour in the sugar, oil and vanilla extract, if using. Whisk well until well combined and the sugar has dissolved. Make a well in the centre of the flour and pour the oil/egg mixture into the flour along with the milk.
Whisk everything togther well until you have a smooth batter, scraping down the sides of the bowl with a scraper once or twice. Stop mixing as soon as the batter is smooth and there are no streaks of flour visible. The batter should be quite thick - you don't want it as thin as single cream, but it shouldn't be as thick as cake batter. You might need to add an extra 25-50ml milk to reach the right consistency. Alternatively, place all the ingredients in a blender and briefly blitz to a batter. Allow the batter to rest for a few minutes while you heat the pan.
Place a non stick frying pan on a medium heat - don't whack the heat up to high, bring it to heat gradually. This should take about five-eight minutes depending on your hob and pan.
Your griddle or frying pan should now be nice and hot. If it's smoking, it's too hot so turn it down a little. A nice medium heat is perfect. Smear the pan with a little butter or flavourless oil and drop in spoonfuls of the mixture (I transfer the batter to a jug for easy pouring.) When bubbles appear on the surface, flip over and cook for two or three minutes. Keep the pancakes warm by wrapping them in a clean tea towel on a wire cooling rack.
Notes
you can use buttermilk in place of the milk, if you like. 
Pancakes are best eaten on the day they are made. Any leftover pancakes can be toasted the next day or frozen for up to three months.
Nutrition Information:
Yield:

12
Serving Size:

1
Amount Per Serving:
Calories:

87
Total Fat:

3g
Saturated Fat:

1g
Trans Fat:

0g
Unsaturated Fat:

2g
Cholesterol:

35mg
Sodium:

114mg
Carbohydrates:

11g
Fiber:

1g
Sugar:

2g
Protein:

3g
Calories and nutritional information are provided by a third party application and should be viewed as indicative figures only.