These Salted Caramel Brownies are the ultimate indulgent treat – dark, fudgy chocolate brownies with a salted caramel middle…heaven in every bite!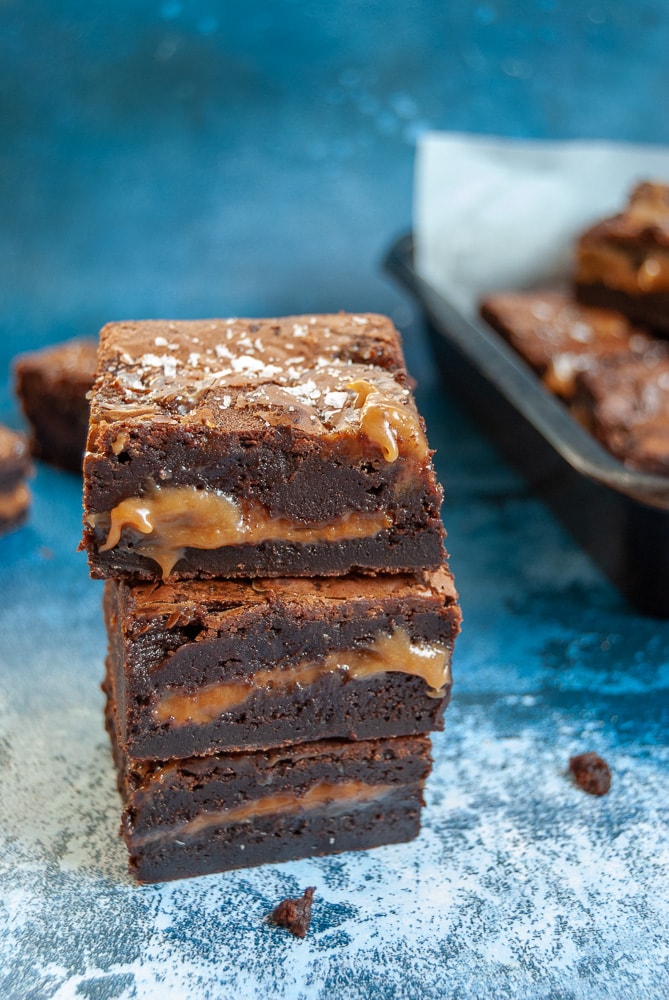 These brownies are without a doubt the most popular thing I have ever made.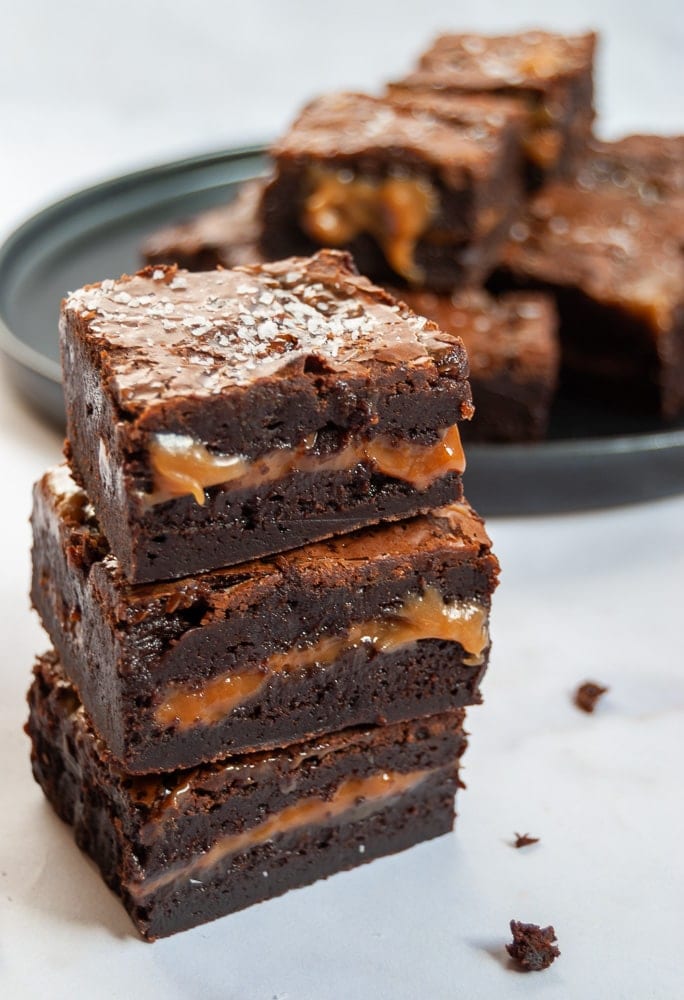 They could quite possibly be – and I don't say this without careful consideration – the best brownies I've ever had.
If you're a lover of all things salted caramel, you HAVE to try these.
If you want to make friends and influence people, you could do a lot worse than make these brownies. Trust me!
My family and friends always request these for parties and gatherings – and I'm all too happy to oblige because I love making them!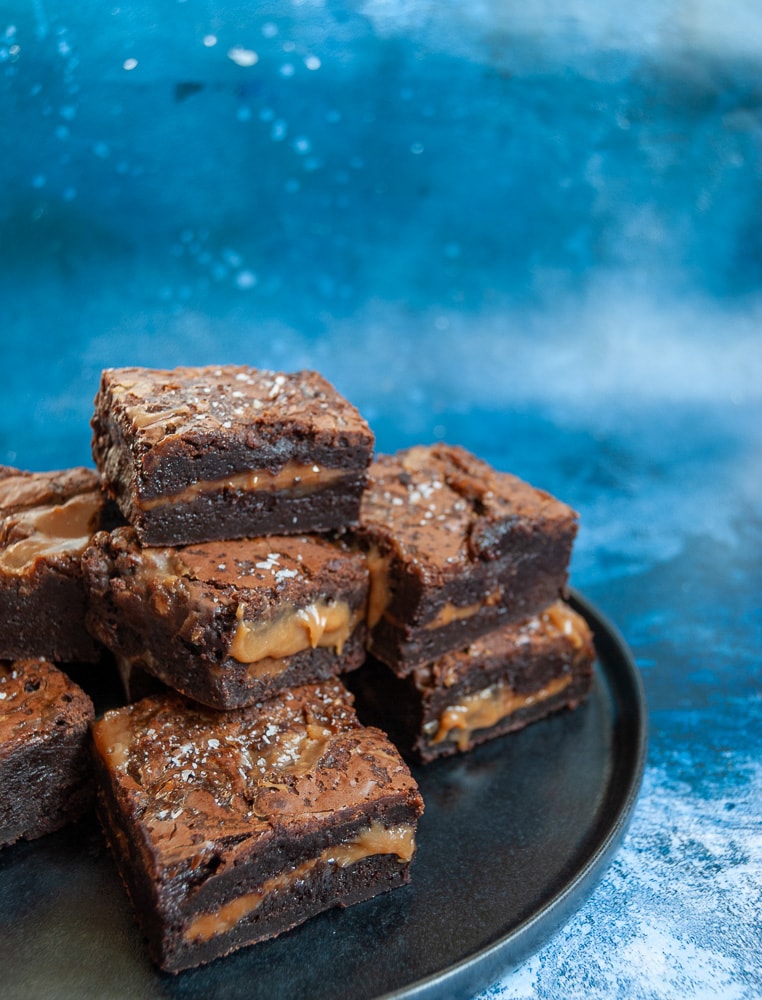 how to make salted caramel brownies
(Ingredient amounts and detailed instructions in the recipe card at the bottom of the post)
If you aren't using a tin of caramel, you'll need to make the sauce first. You really need to make this sauce the day before to let it thicken up. I always make the sauce, let it completely cool down then place it in the fridge overnight. I remove it from the fridge and let it sit at room temperature for a couple of hours before making the brownies. It might seem like a bit of a hassle, but this will ensure the caramel the perfect consistency for the brownies.
I always use this recipe for the caramel – it's ideal for these brownies. If you don't want to make your own caramel, I highly recommend using Carnation Caramel which is available in most UK supermakets.
Obviously you'll need to add the salt to turn it into salted caramel! Sea salt flakes such as Maldon or Cornish sea salt flakes are perfect.
To make the brownie, melt the butter in a medium pan, then add chopped chocolate and allow to melt. Stir in vanilla extract. Set aside to cool slightly
Whisk sugar, eggs and a little of the caramel together for at least 5 minutes until the mixture is very thick and pale, then pour in the cooled melted butter/chocolate mixture and gently fold in until the mixture is shiny and glossy.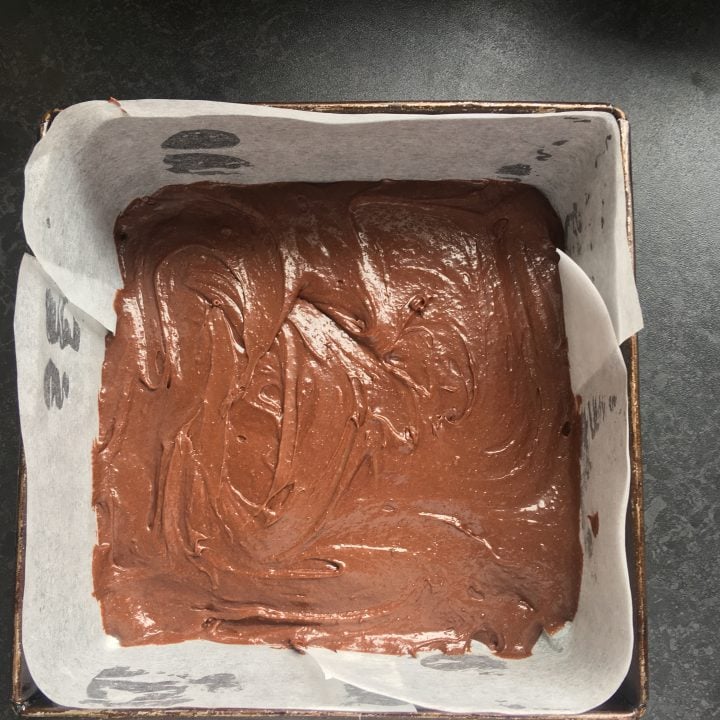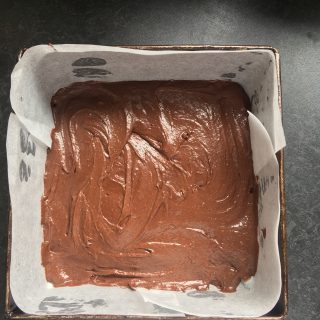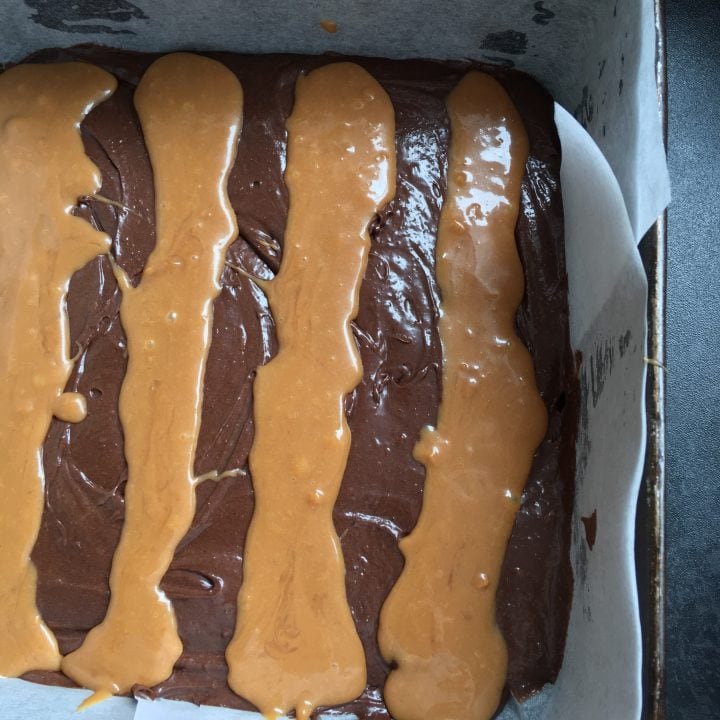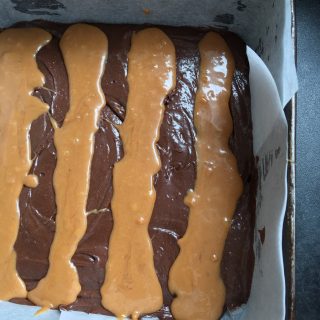 Fold in cocoa powder, plain flour and a good pinch of salt. You should have a shiny, glossy brownie batter. Pour half of the mixture into a greased and lined tin. Add horizontal lines of the salted caramel – don't worry if they aren't perfectly straight. Top with the remaining brownie mixture.
Top the brownie with more caramel and using the tip of a knife or skewer, make swirly patterns.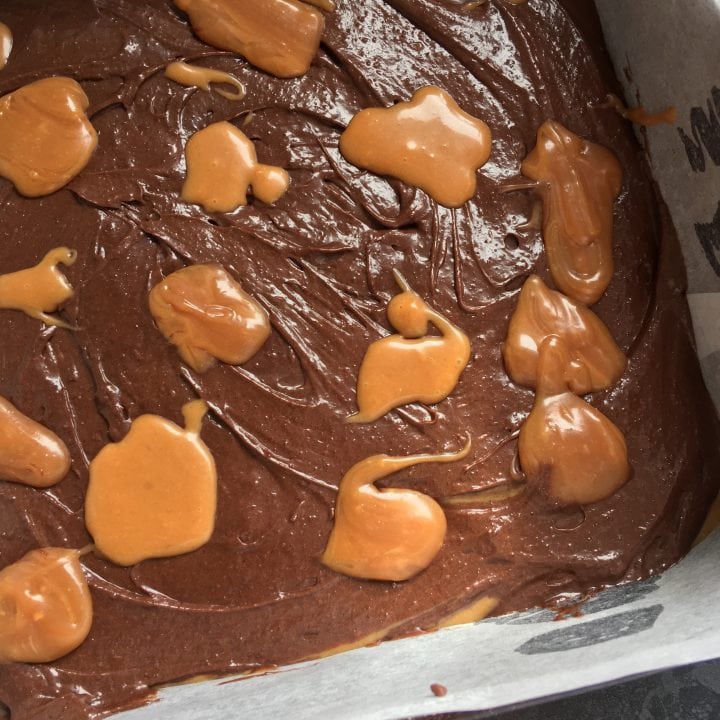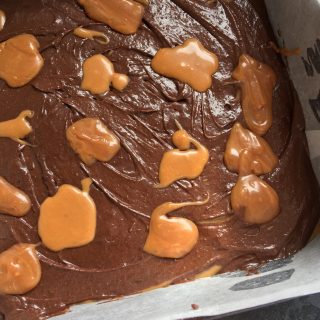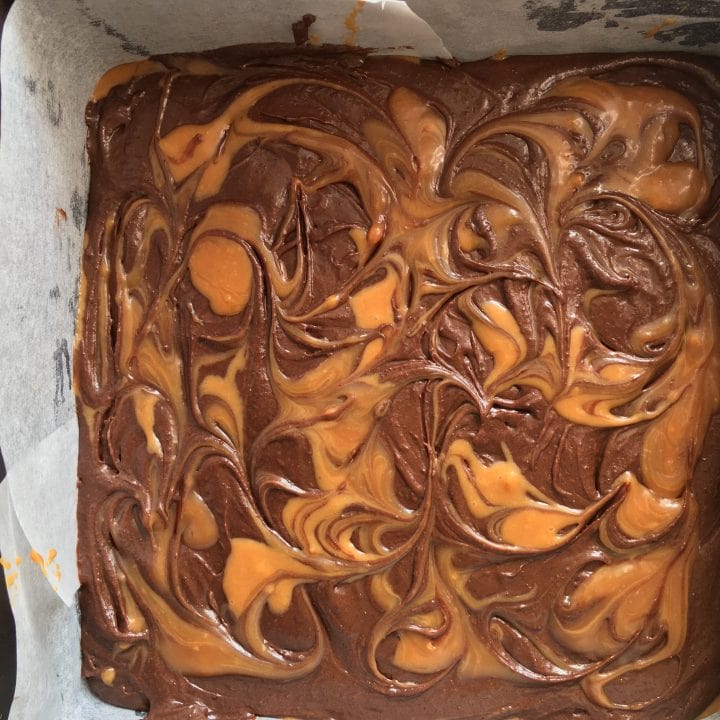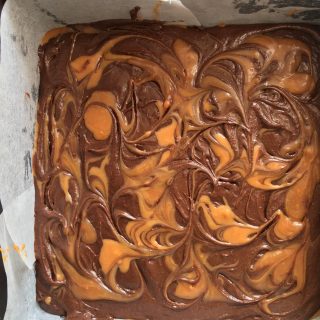 Sprinkle with sea salt flakes and bake for about 40 minutes or until the brownie is set. The middle should still be quite wobbly – but it will set as the brownie cools.
The brownie may look slightly crater like when you remove it from the oven – don't be alarmed! It will settle down on cooling.

Now comes the hard part! Sorry, but you really should let the brownie cool for several hours before you even think of cutting them.
I know it's a big ask, but if you try and cut them any sooner, the brownies will collapse into a mess. I've made that mistake before!
I leave the brownie to cool on my kitchen countertop for a good few hours before placing the tin in the fridge overnight before cutting into squares.
If you leave the brownies to sit out at room temperature for an hour or two before serving, the caramel will soften and get all nice and gooey.
how long will salted caramel brownies keep for?
The brownies will keep in an airight tin for up to 5 days. They will begin to dry out a bit after day 3, but will still be delicious.
Pin these brownies for later!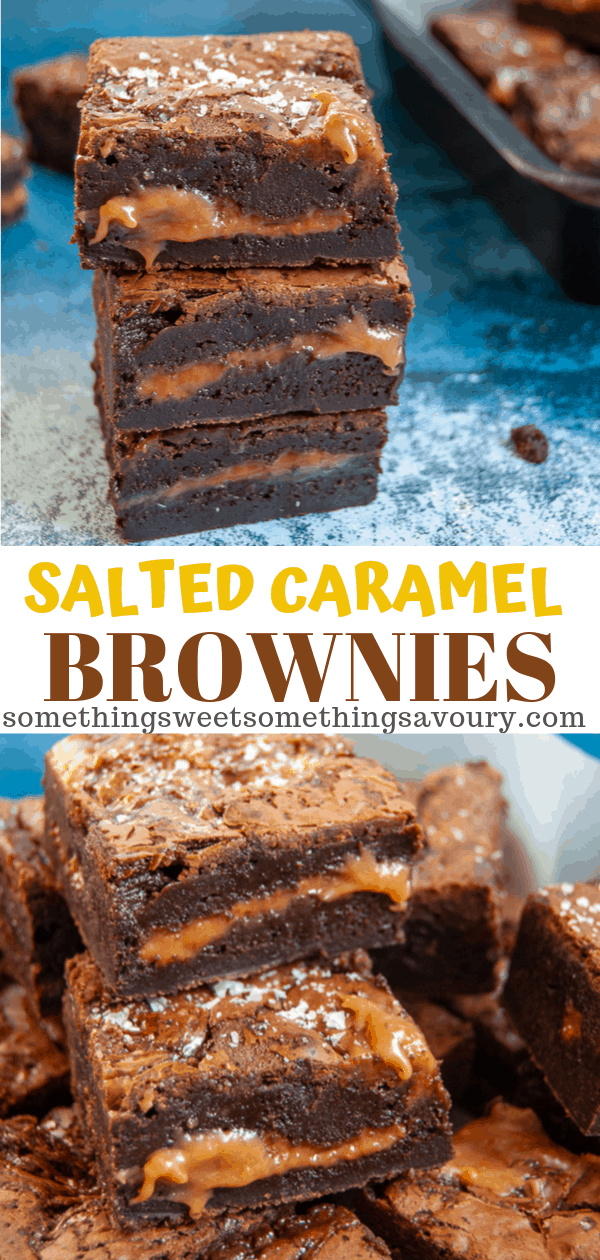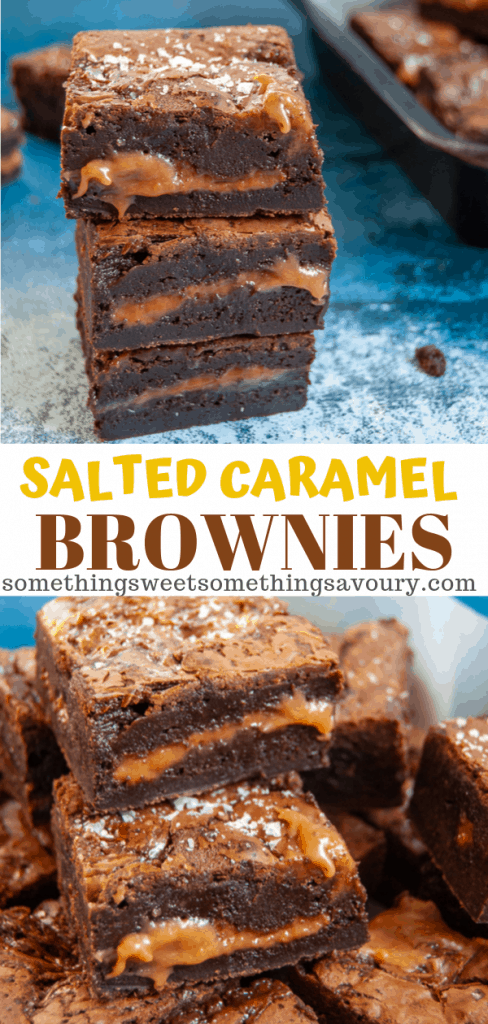 want to see more salted caramel recipes? Check these out…
Guinness Brownies with Salted Caramel Glaze
Salted Caramel Apple Cinnamon Scones
looking for more brownie recipes?
Terry's Chocolate Orange Brownies
Raspberry and White Chocolate Brownies
Cadbury Creme Egg Brownie Recipes
Did you make these brownies? Let me know what you thought of the recipe by leaving a comment below and rate the recipe out of five by clicking on the stars.
Did you take a photo of your creation? Tag me in the picture on Instagram or Facebook – I love to see what you've been making.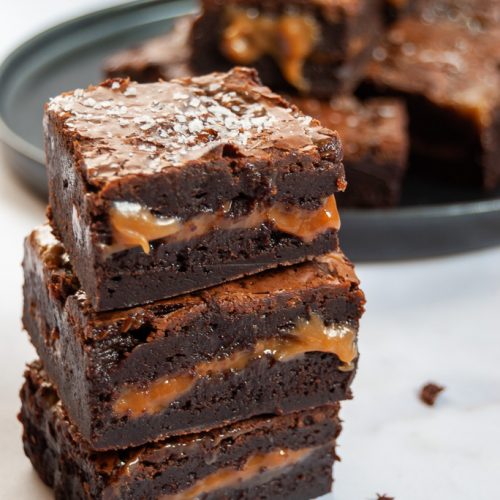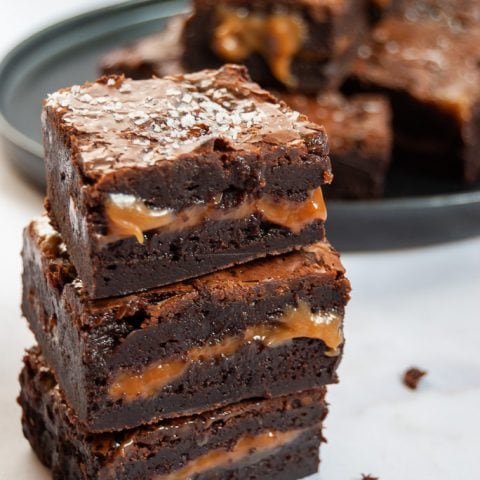 Salted Caramel Brownies
Total Time:
1 hour
5 minutes
These fudgy chocolate brownies are ramped up a notch by adding a layer of salted caramel in the middle - heaven!
Ingredients
250 g butter
250 g dark chocolate, broken into squares
2 tsp vanilla extract
225g Salted Caramel Sauce Or Carnation Caramel
1/2-1 tsp sea salt
300 g caster sugar
4 large eggs
100 g plain flour
50 g cocoa powder
Instructions
Preheat the oven to 180C. Grease and line a 22cm square baking tin.
Melt the butter slowly in a medium sized saucepan pan and once melted, take off the heat and add the chocolate and stir in the vanila extract. Stir to melt the chocolate.
Measure out 200g of the tinned caramel and add the sea salt. Stir to loosen the caramel. In a large bowl, beat the sugar, eggs and 25g of the caramel together until well blended. Stir in the melted butter and chocolate.
Tip in the flour and cocoa powder and stir until everything is combined. Pour half of this brownie mixture into the lined tin.
Spoon half of the 200g salted caramel over the top of the brownie batter. Pour over the rest of the brownie batter on top, trying not to disturb the caramel layer.
Finally drizzle the remaining caramel over the top and swirl with the tip of a knife to create a marbled pattern.
Bake for 40-45 minutes or until set on the top - they should still have a slight wobble in the centre. Leave to cool completely in the tin before cutting into squares.
If you want your brownies to cut into neat squares, I've found the best way to do this is to chill them overnight in the fridge. You don't need to dip your knife in warm water - more often than not you'll end up with a sludgy mess. As soon as you take the brownie slab out of the fridge, cut into squares with a very sharp knife. Don't use a sawing action - just slice straight down into the chilled brownie. You'll end up with professional and neat looking brownies!
Notes
If you prefer to make your own caramel, I highly recommend this recipe. I make the caramel the day before I want to make the brownies - the caramel should be quite thick but still spreadable. I place the caramel in the fridge overnight, then take it out and sit it on the counter for a couple of hours before making the brownies.
Make sure the brownies are completely cold before cutting into them - or you'll end up with a squidgy mess! I chill mine for several hours or ideally overnight.
Nutrition Information:
Yield:

16
Serving Size:

1
Amount Per Serving:
Calories:

336
Total Fat:

19g
Saturated Fat:

11g
Trans Fat:

1g
Unsaturated Fat:

6g
Cholesterol:

81mg
Sodium:

212mg
Carbohydrates:

38g
Fiber:

2g
Sugar:

29g
Protein:

4g