A British classic that has stood the test of time, this easy Victoria Sponge Cake is a simply delicious cake that is very hard to beat.
My foolproof all in one Victoria Sponge recipe filled with jam and softly whipped cream will give you perfect results every single time.
Is there anything more homely and inviting than the classic Victoria Sponge Cake? It's one of the classics that has truly stood the test of time. My easy, all in one method for Victoria Sponge cake will give you perfect results.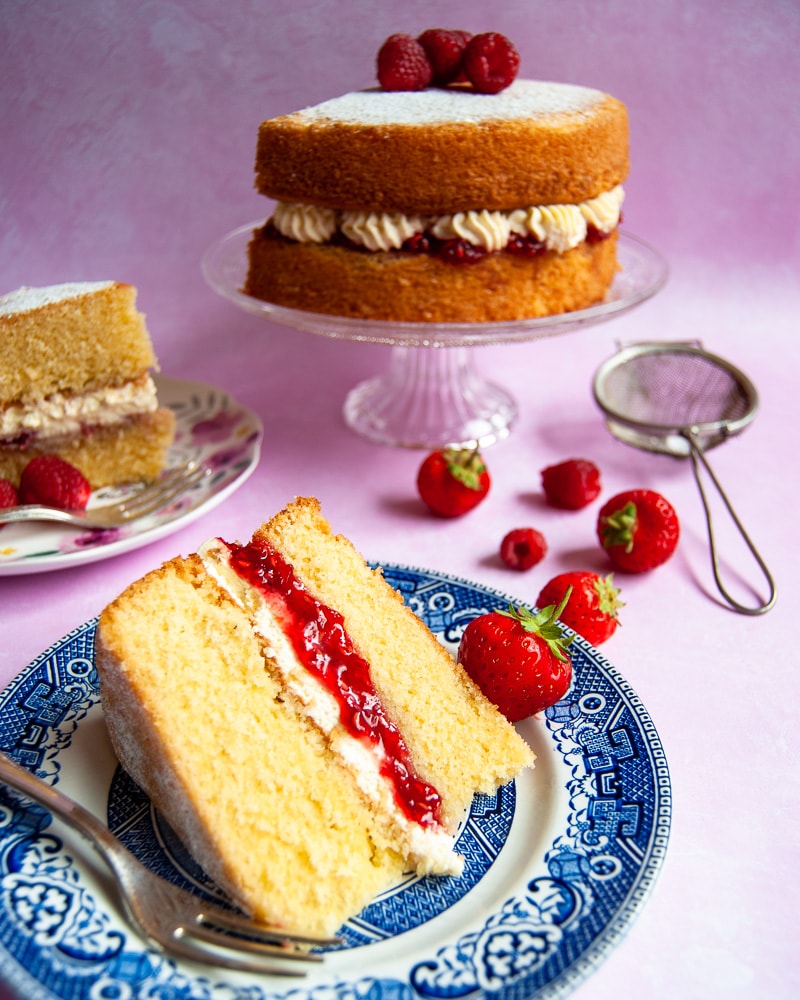 There's no creaming butter and sugar, no worrying that the eggs will curdle the mixture, a quick mix of all the ingredients and you're done!
I've been using this method for many years and it's never let me down! This easy Victoria sponge cake and my retro school sponge cake with sprinkles are my most popular easy cake recipes.
If you're looking for more classic cakes, you might also like these recipes for swiss roll, easy carrot cake, chocolate fudge cake, orange marmalade cake, coconut and raspberry jam cake, sticky gingerbread loaf cake and easy lemon drizzle cake!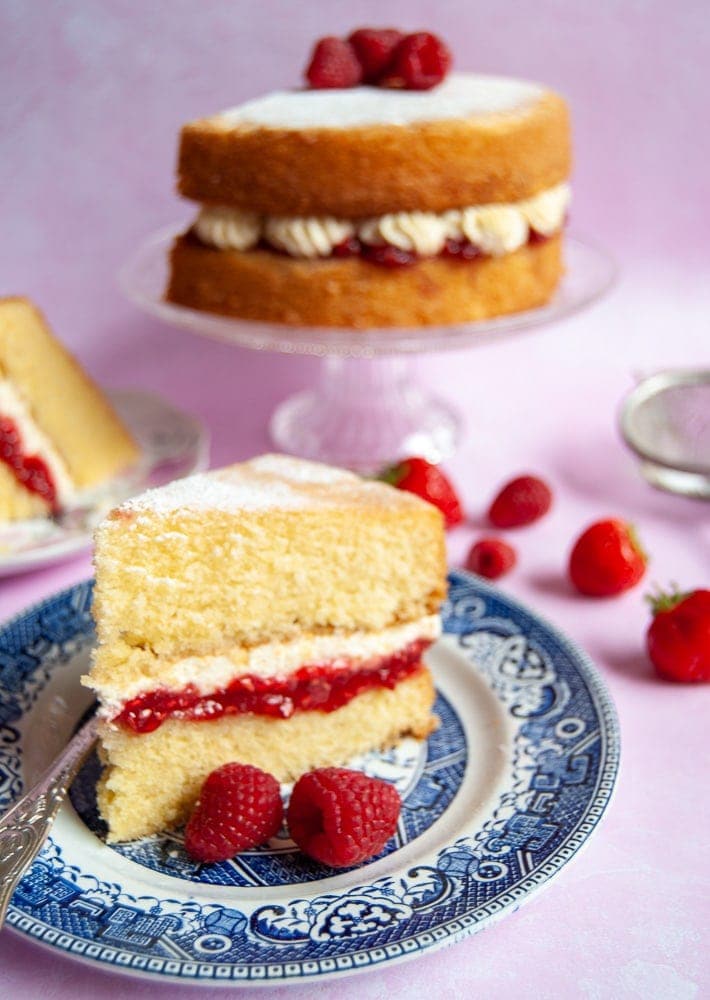 Ingredient list
self raising flour makes the sponge cake light and fluffy.
Baking powder. Because this recipe uses the all in one method, a little baking powder is added to help the cake rise.
Baking margarine or spread. You can absolutely use soft block butter, but when I make a sponge cake I almost always use a baking margarine such as Stork. My Granny used Stork for all her sponge cakes and she was pretty well known for her baking in our town! For best results, do use a spread that is specifically meant for baking – low fat spreads will not give you the same result.
Vanilla Extract. It isn't traditional to add this, but I love the flavour of vanilla in sponge cake.
Eggs – 4 large (not extra large.) The eggs should be at room temperature, so if you keep them in the fridge, take them out and leave them on the counter for at least an hour before you start baking.
A little Milk will bring the sponge to the right "dropping consistency". This simply means when you spoon some of the cake batter out of the bowl, the batter should easily drop off the spoon straight away. A sponge cake mixture should not be stiff at all – it should be light and airy.
Whipped cream and your choice of jam to fill the middle of the cake. You could use buttercream icing instead of whipped cream or simply go with the traditional method and fill with jam only.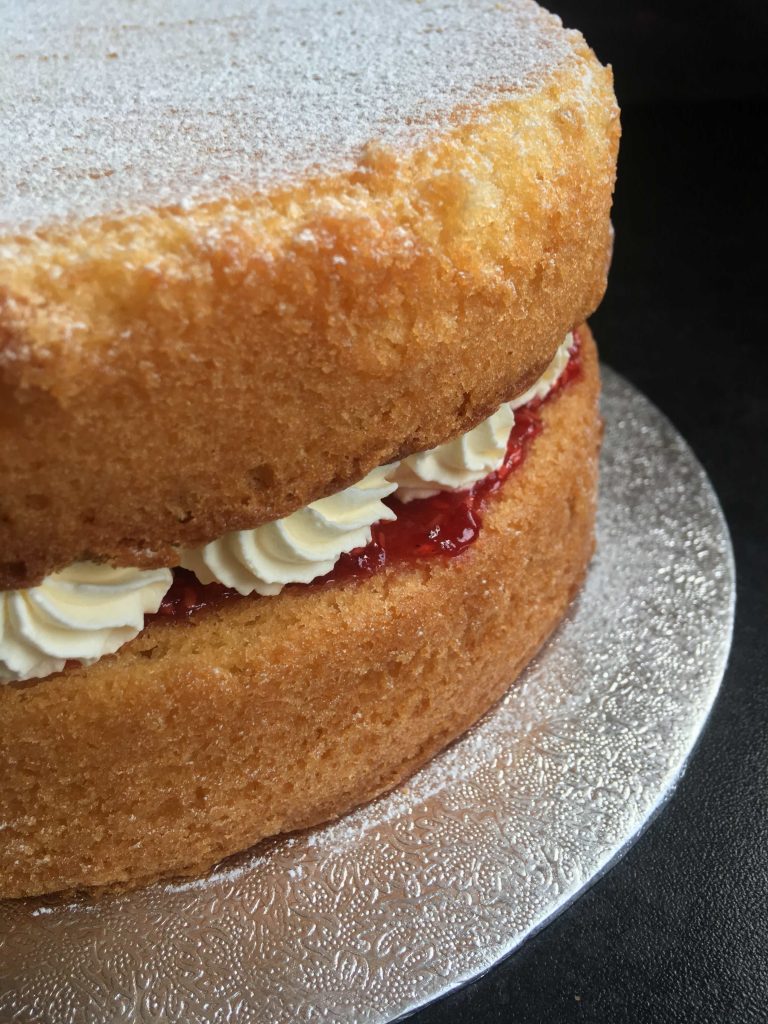 equipment list
You will need two round 20cm sandwich tins. I use these tins from Lakeland – they are fantastic.
You absolutely don't have to pipe your cream onto the cake – a spoon will do the job just fine! But if you do fancy getting creative with a piping bag (and it looks really nice for a special occasion) I use this professional piping and icing set from Lakeland. Disclaimer – this post is not sponsored by Lakeland! I just really like their products.
recipe tips and advice
This recipe uses the all in one method. It might not be the traditional, proper way of making a Victoria sponge, but it's so easy and never fails me.
You simply mix all the sponge ingredients together for 2 minutes until you have a smooth batter. You can use an electric hand or stand mixer or just a bowl and a wooden spoon.
Try not to over mix the cake batter or your sponges might turn out tough instead of light and fluffy. Stop as soon as the ingredients are well combined.
Bake the cakes at 180C/160Fan/350F for 20-25 minutes or until the cakes have risen, are a nice golden colour and the edges are shrinking away from the sides of the tin.
Leave the cakes to cool in the tin for about 10 minutes before turning onto a wire rack to cool completely.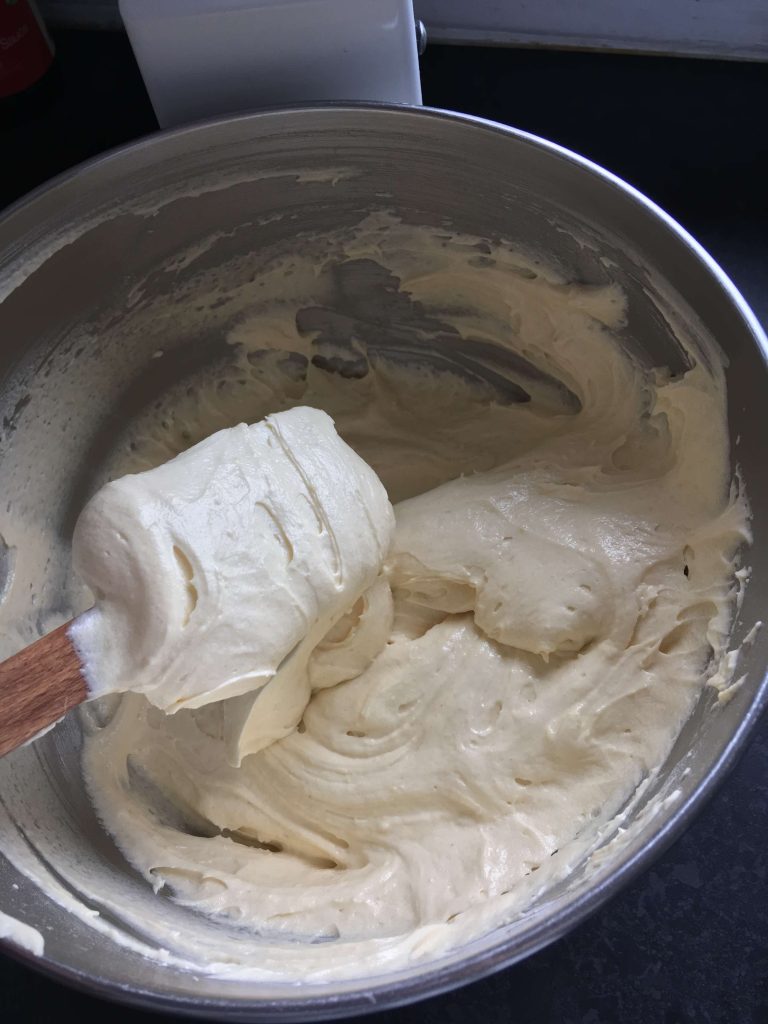 variations
Traditionally, the Victoria Sponge Cake is filled with raspberry or strawberry jam and simply sprinkled with a dusting of caster sugar, but it can easily be adapted to suit your favourite flavours.
For a Lemon Victoria sponge, replace the vanilla extract with the grated zest of one large lemon. Fill with lemon curd instead of raspberry jam.
For a chocolate Victoria sponge, replace 25g of flour with cocoa powder. You could still fill the cakes with jam, but for a real chocolate hit, fill with Nutella or another chocolate spread.
Or how about a rhubarb and custard version, with custard powder in the sponge and softly whipped cream rippled with roasted rhubarb?
A pot of tea, a good catch up with a cherished friend and a slice of Victoria sponge cake. What could be better?

Want to see more delicious cake recipes?
chocolate caramel Mars Bar Cake
Did you make this recipe?
Let me know what you thought of the recipe by leaving a comment below and rate the recipe out of 5 by clicking on the stars in the recipe card. Thanks!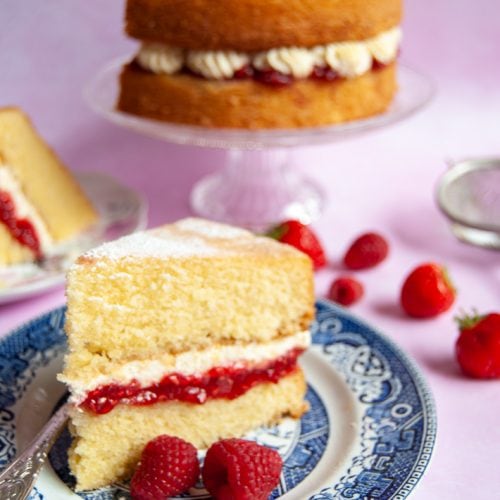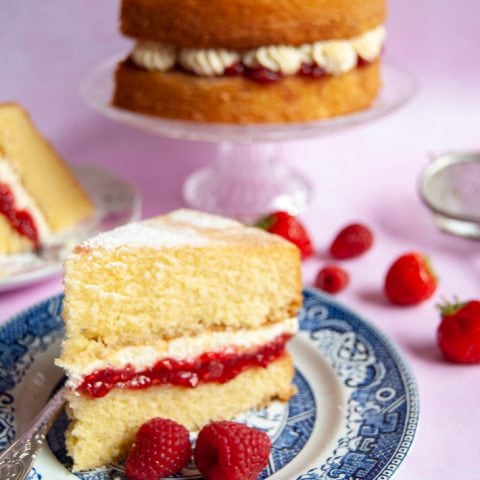 Easy Victoria Sponge Cake
A foolproof easy Victoria Sponge Cake Recipe - a British classic that is fit to grace any occasion!
Ingredients
225g Self Raising Flour
1 teaspoon Baking Powder
225g Soft Butter
225g Caster Sugar
1 teaspoon Vanilla Extract 
4 Large Eggs, Beaten
1 or 2 Tablespoons milk
For the Filling:
300ml Double Cream
1 Tablespoon Icing Sugar
1/4 teaspoon Vanilla Extract
5-6 Tablespoons Raspberry Jam
Instructions
Preheat the oven to 180C/160Fan/350F. Grease and line two 20cm round sandwich tins.
Place the butter, caster sugar, eggs, vanilla extract, self raising flour and baking powder in a large bowl or in the bowl of an electric mixer. Beat for two minutes until you have a smooth batter that drops easily from a spoon (dropping consistency)
Scrape the mixture into the baking tins. Level the tops with a spoon. Bake for 20-25 minutes or until the sponges are well risen, golden, and starting to shink away from the edges of the tin.
Remove from the oven and place on a wire rack. Leave the cakes in the tins for about 10 minutes before carefully turning out. Leave to cool completely before filling with jam and cream.
When the cakes are cold, place the double cream, icing sugar and vanilla extract in a medium bowl. Whip to soft peaks.
Place one of the sponges on a cake stand or plate and spread with the raspberry jam. Top with the whipped cream and carefully place the other sponge on top.
Sift icing sugar over the top of the cake and decorate with fresh berries if you like.
Notes
For a lemon Victoria Sponge, omit the vanilla extract and add the zest of one lemon. Fill with lemon curd instead of raspberry jam.
For a chocolate Victoria sponge, replace 25g of the flour with cocoa powder. The raspberry jam would still work well here, but you could also use Nutella or another chocolate spread.
Nutrition Information:
Yield:

10
Serving Size:

1
Amount Per Serving:
Calories:

498
Total Fat:

31g
Saturated Fat:

19g
Trans Fat:

1g
Unsaturated Fat:

10g
Cholesterol:

157mg
Sodium:

503mg
Carbohydrates:

49g
Net Carbohydrates:

0g
Fiber:

1g
Sugar:

30g
Sugar Alcohols:

0g
Protein:

6g