This slow cooker self saucing chocolate pudding not a looker, but it's so simple to make and tastes amazing. It makes a perfect weekend dessert when the weather is cold and comfort is needed!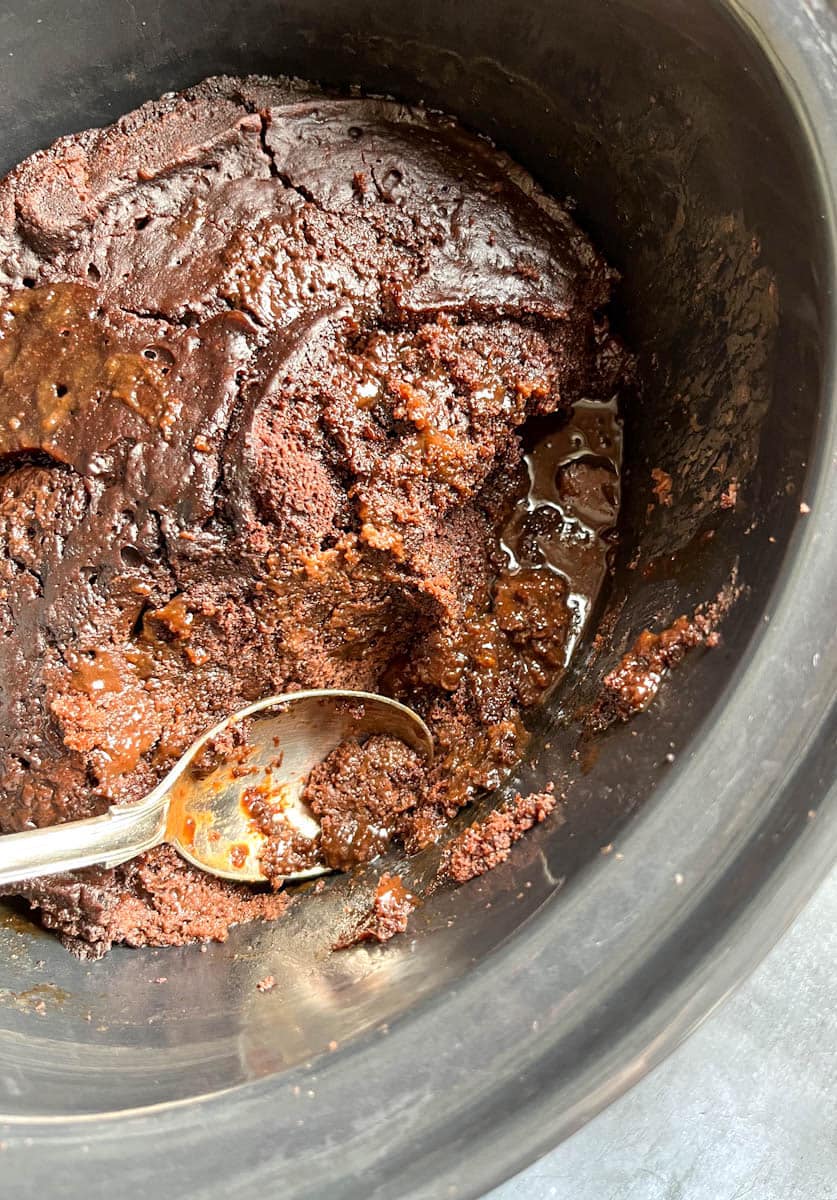 Easy dessert recipes are something that I'm always asked for, especially in the Winter months when we're all in need of some comfort food.
This indulgent self saucing chocolate pudding is about as easy as it gets – especially since it's a slow cooker recipe!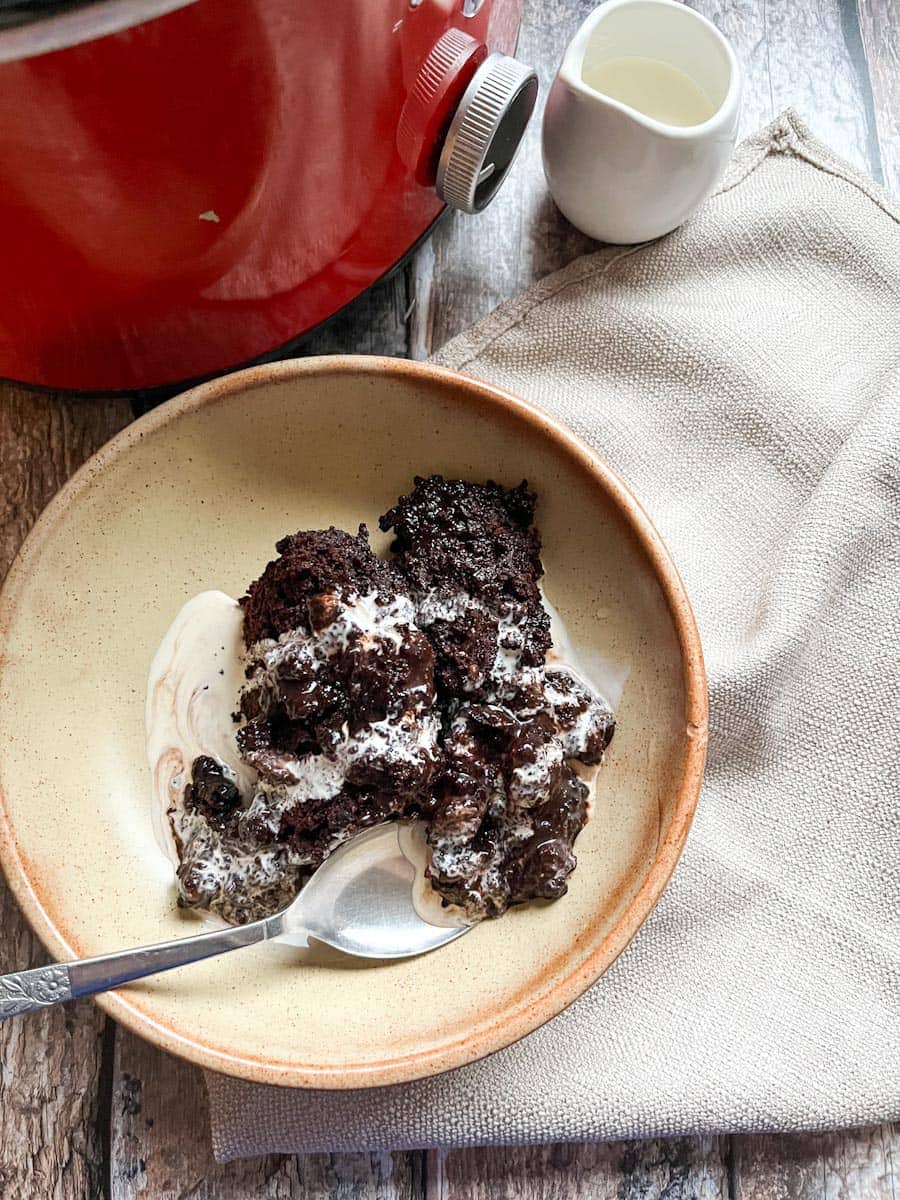 The original recipe came from a free booklet that I received with my crock pot. I made a few minor adjustments, such as adding vanilla extract and tweaking the sauce ingredients until I was 100% happy with it.
The result is a rich chocolate sponge with a sticky, deeply dark chocolate sauce underneath. It is the pudding of dreams for any chocolate lover.
Looking for an even quicker chocolate fix? Try my 4 minute microwave chocolate sponge pudding recipe!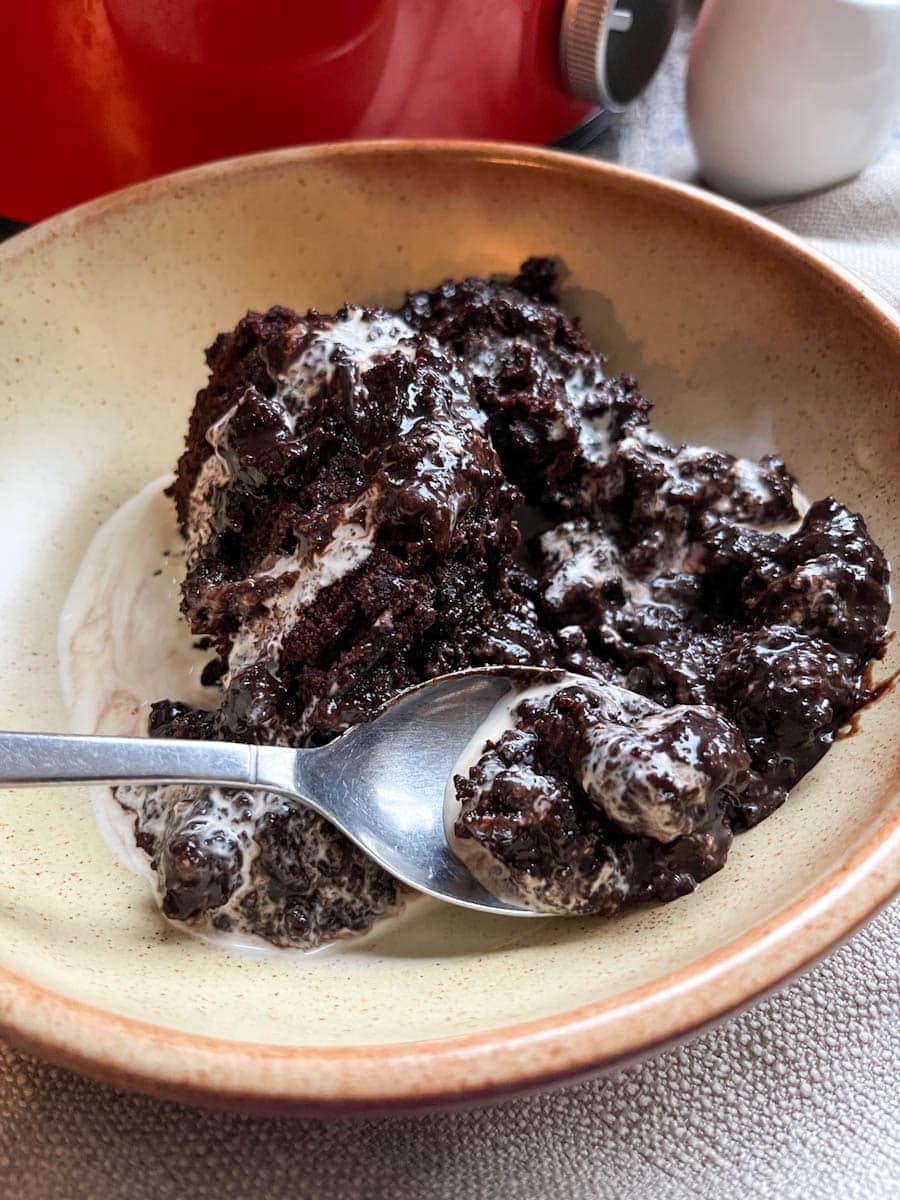 Ingredient list
(Scroll to the bottom of the post to find printable recipe card with ingredient amounts and instructions)
Vegetable or sunflower oil. You could also use melted butter.
milk, preferably whole milk but semi skimmed is ok
vanilla extract. Vanilla and chocolate go together like Tom and Jerry.

I also add a little instant espresso powder or coffee granules to enhance the flavour of the chocolate, but this is optional.
self raising flour and baking powder to help the sponge rise.
caster sugar. If you don't have any, just use granulated sugar. The recipe will still work just fine.
Cocoa powder for that deep, rich chocolate flavour. Drinking chocolate packed full of sugar won't cut the mustard here, it must be proper cocoa powder. It should ideally be sieved to remove any lumps (I know – I loathe sieving too so I wouldn't ask you to do it if it wasn't necessary).

a bar of chocolate, chopped into chunks. You can use whatever you like. My favourite is a Terry's chocolate orange – if you're also fond of them I highly recommend!
For the chocolate sauce – light brown sugar, cocoa powder and boiling water.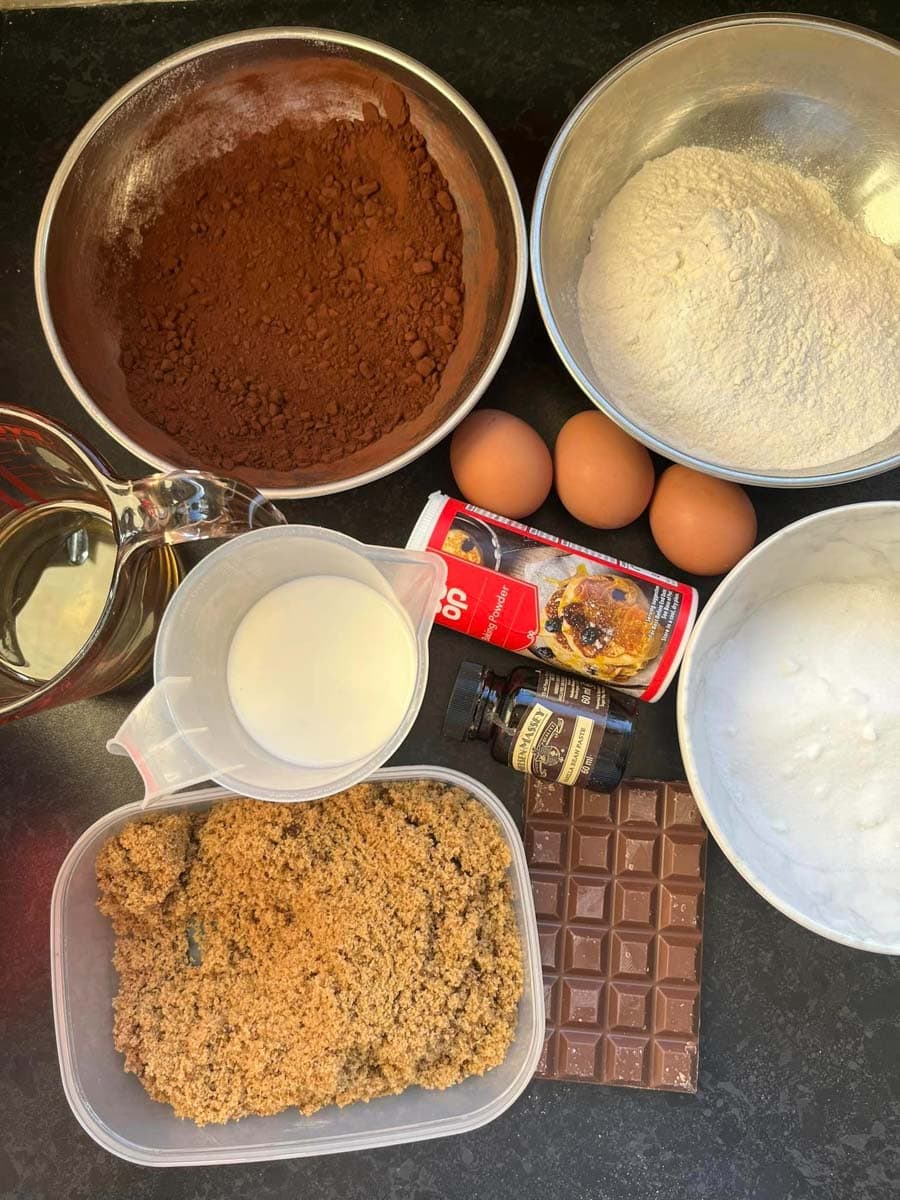 Step by step GuiDe
Step one – Grease the slow cooker bowl with butter and preheat according to the instructions. Place the oil, eggs, milk and vanilla extract in a medium bowl or measuring jug. Using a whisk or fork, mix well until well combined.
Step two – place the flour, cocoa powder, caster sugar, the coffee if using and a pinch of salt together in a large bowl.

Step three – pour the wet ingredients over the dry and using a wooden spoon, stir well until the batter is smooth and thick. It will look a little bit like a brownie batter.

Step four – spoon the mixture into the greased bowl.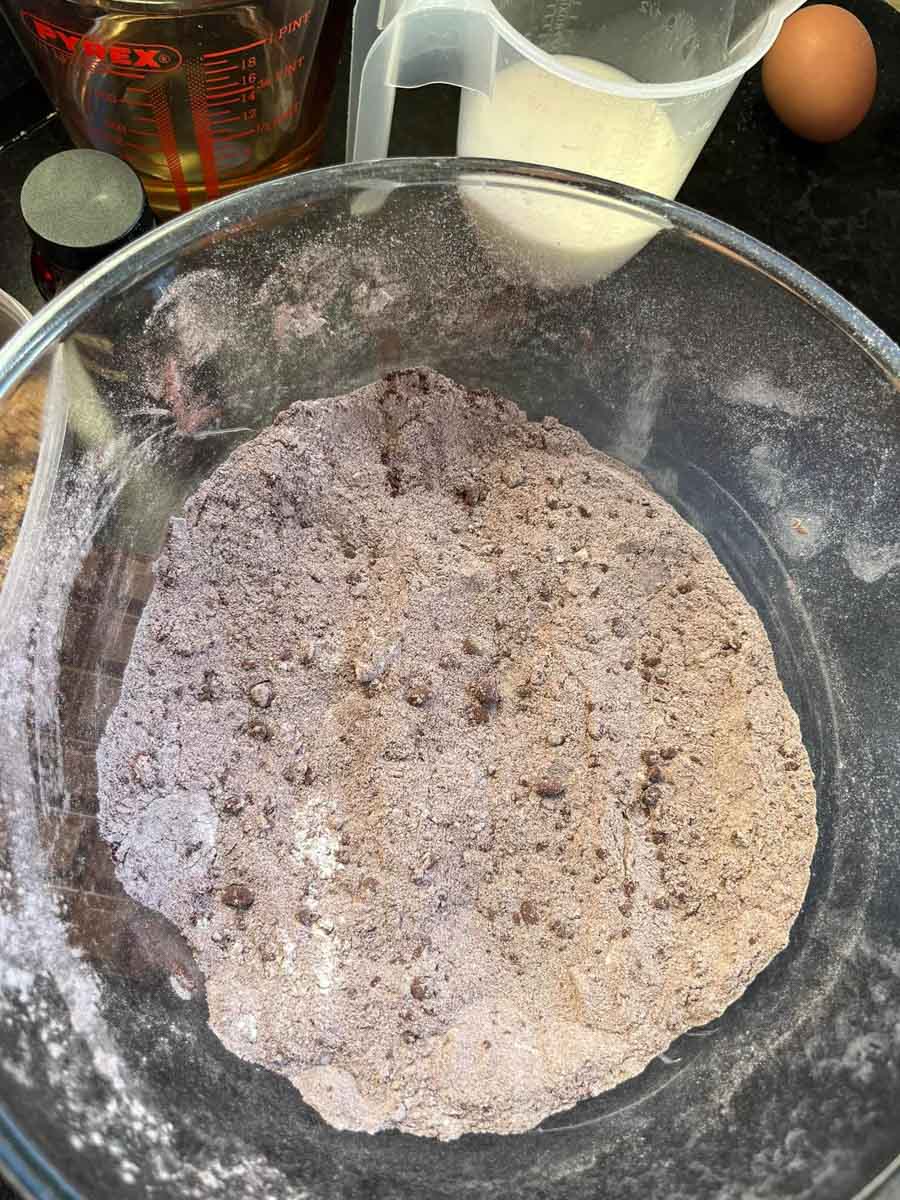 makIng the chocolate fudge sauce
Place 50g cocoa powder, brown sugar and 300ml boiling water in a bowl and stir well to mix, making sure that no lumps remain.
Pour this over the chocolate batter. At this point it will look like a complete disaster, but don't panic. Have faith!
Pop the lid on and cook on high for around 2 hours**see recipe notes below**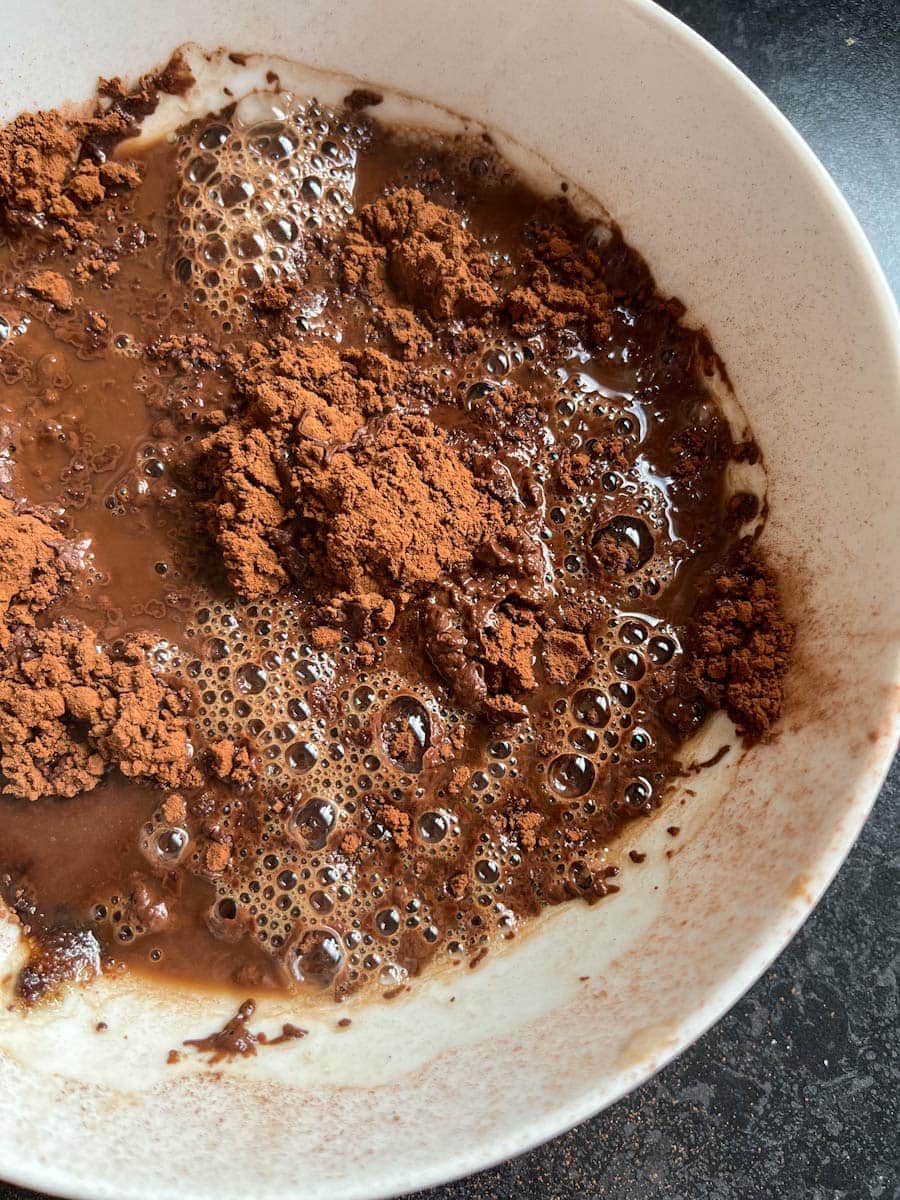 recipe notes
It's worth remembering that cooking times in slow cookers can vary quite significantly depending on the make, age and size etc etc. It takes around 2 hours in my crock pot, but it might less time or a little longer in your cooker.
So taking this into account, it's helpful to know what the pudding should look like once it is ready.
Once the chocolate pudding is ready to serve, the sponge will be well risen.
You can try the skewer test, but don't push the skewer all the way down to the bottom because you'll end up with some of the chocolate sauce stuck to it.
I will freely admit that this is definitely not the most attractive dessert I have ever made. But as we all know, looks aren't everything. The food photographer in me was so tempted to "pretty" the photos up, but I realised that just wasn't realistic.
Please don't let its slightly crater like appearance put you off making it. The taste more than makes up for it!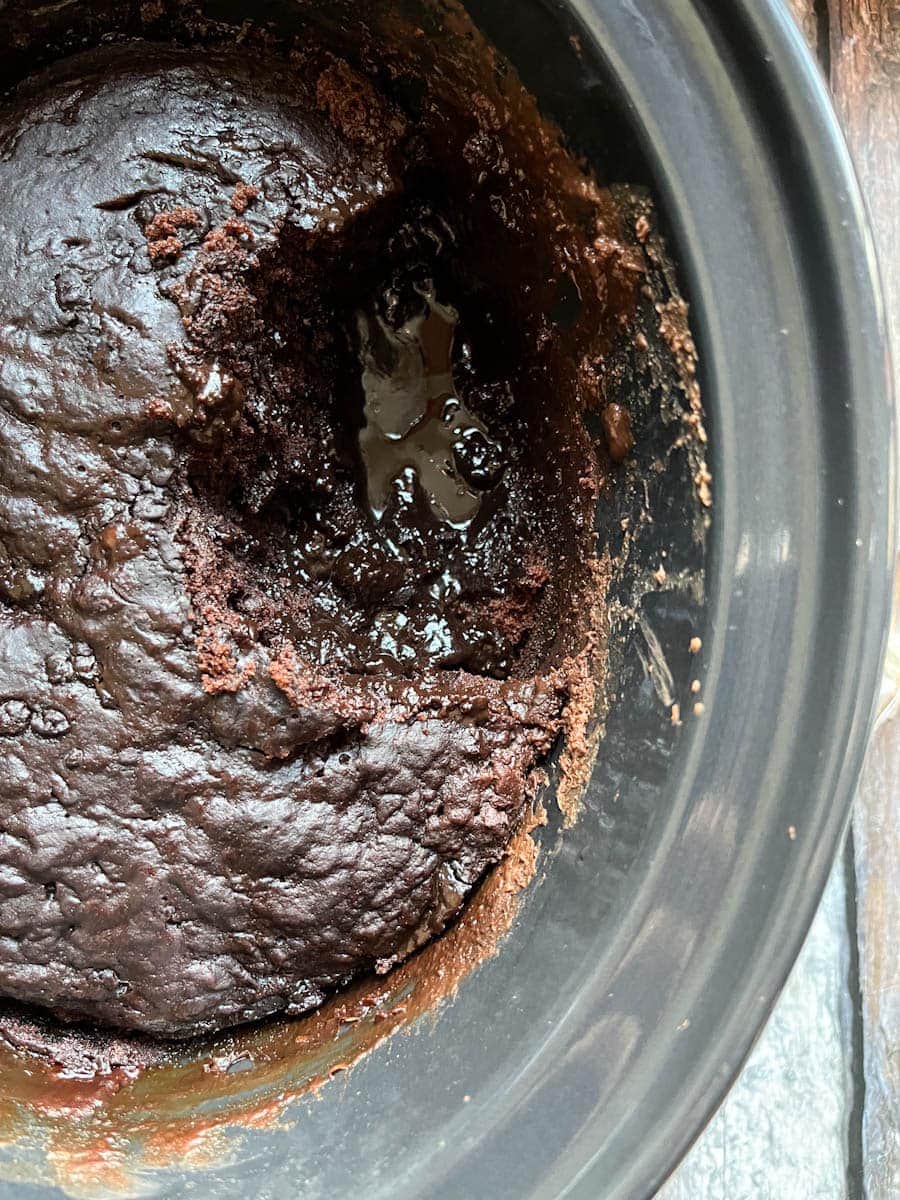 Can i make this recIpe in tHe oven?
If you don't own a slow cooker, don't worry! You can easily make this self saucing chocolate pudding recipe in a conventional oven.
All you need to do is make the recipe in exactly the same way and place in a greased 10 x 7 x 5 inch baking dish. Bake for 40-50 minutes at 180C/160Fan/350F until the sponge has risen.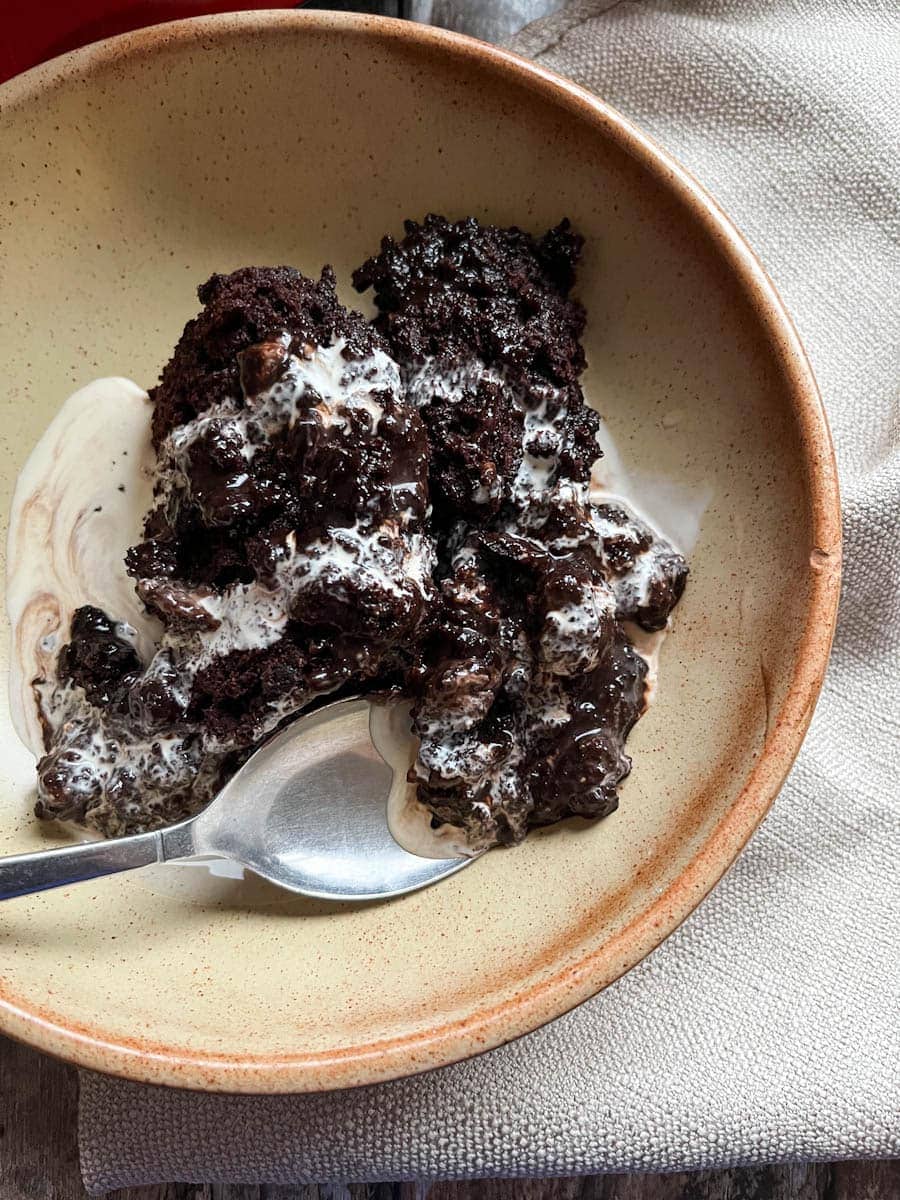 did you make this slow cooker choColate pudding?
I hope you loved it! Please let me know what you thought by leaving a comment below and give the recipe a rating.
If you make this recipe and take a picture, tag me on Instagram! It makes my day when you do!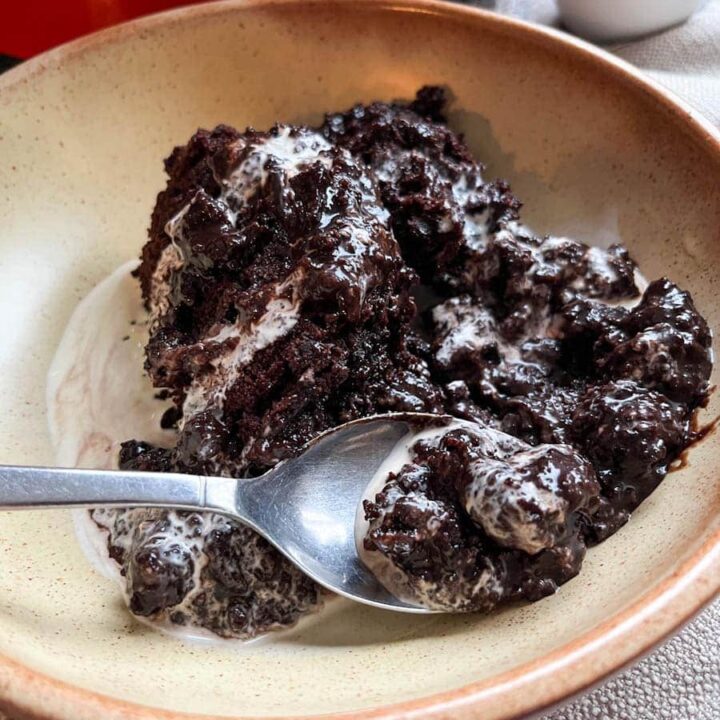 Self saucing chocolate pudding (slow cooker recipe)
Total Time:
2 hours
15 minutes
A sticky, rich and indulgent slow cooker self saucing chocolate pudding recipe. Pure heaven for chocolate lovers! Delicious with vanilla ice cream or double cream.
Ingredients
100ml vegetable or sunflower oil
150g caster sugar
3 medium eggs
1 teaspoon vanilla extract
150ml milk
225g self raising flour
75g cocoa powder, sieved to remove any lumps
1 teaspoon baking powder
1/4 teaspoon salt
1/4 teaspoon coffee granules or instant espresso powder (OPTIONAL)
100g milk or dark chocolate, chopped into chunks
FOR THE CHOCOLATE SAUCE
180g soft light brown sugar
50g cocoa powder
300ml boiling water
Instructions
Grease the slow cooker bowl with some butter.
Place the oil, sugar, milk, vanilla extract and eggs in a medium bowl or large measuring jug. Using a fork or whisk, stir well until the ingredients are well combined.
Place the flour, cocoa powder, baking powder, salt and espresso powder/coffee granules (if using) in a large mixing bowl and using a fork, whisk together.
Pour the wet ingredients over the dry and stir well until smooth. Stir in the chocolate chunks. Spoon the mixture into the greased slow cooker bowl (it will be quite thick, almost like an uncooked brownie batter).
Make the sauce by mixing together the brown sugar, cocoa powder and boiling water, then pour this over the pudding mixture. It will look a mess at this point, but that's normal. Pop the lid on and cook on HIGH for two hours or until the mixture has risen, is firm to the touch, and when you dig in with a spoon you should find a thick chocolate sauce at the bottom of the bowl. Serve the pudding with vanilla ice cream or double (pouring) cream.
Notes
Don't be tempted to cook this chocolate pudding on a slow setting - it must be cooked on high to allow the pudding to rise.
The pudding is best served as soon as it is ready, but any leftovers can be reheated in the microwave or a low oven.
Nutrition Information:
Yield:

6
Serving Size:

1
Amount Per Serving:
Calories:

558
Total Fat:

9g
Saturated Fat:

2g
Trans Fat:

0g
Unsaturated Fat:

4g
Cholesterol:

86mg
Sodium:

690mg
Carbohydrates:

106g
Fiber:

6g
Sugar:

62g
Protein:

13g
Calories and nutritional information are provided by a third party application and should be viewed as indicative figures only.