Love fudgy, chewy chocolate brownies? This simple recipe for classic chocolate brownies will give you perfect results every time.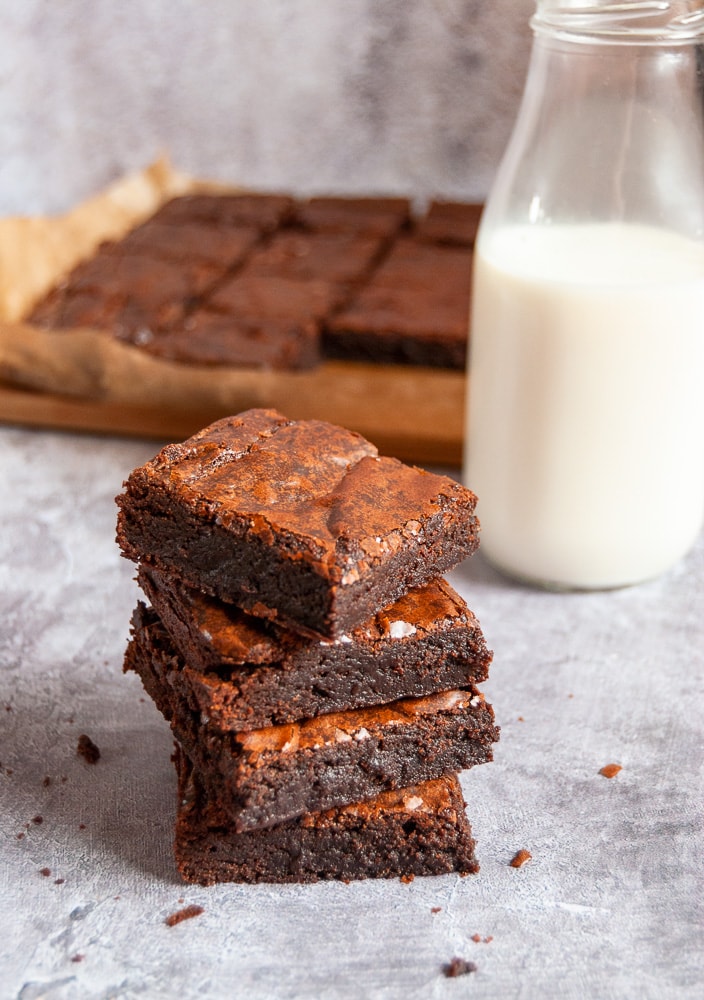 I have lots of brownie recipes on this blog, but I've never shared a recipe for a simple, classic brownie. No nuts, no salted caramel, no fancy add ins, just a pure and simple chocolate fudge brownie recipe.
Well friends I could not wait any longer to share these beauties with you. It's probably the easiest brownie recipe I've ever made and they are delicious. They always bake so perfectly and cut like a dream.
As you can see, they have that much desired wafer thin crackly top that everyone loves on a chocolate brownie. I've made countless brownie recipes over the years and this one is without a doubt the easiest and most fool proof I have ever made.
Want to know how to make them? Then read on!
ingredients
(scroll to the bottom of the post to find printable recipe)
Unsalted butter. Avoid using baking "spreads", margarine or any kind of spreadable butter – they contain water and oils which will affect the outcome of the recipe. Block butter all the way!
Chocolate. I'm not very fussy about the type of chocolate I use for brownies, but it MUST be dark (plain) chocolate. I've tried everything from Green & Blacks chocolate to the value supermarket bars that usually cost around 30-50p. I stay away from anything labelled cooking chocolate!
Sugar – You will need caster (superfine) sugar and soft light brown sugar for this recipe. The brown sugar will help to create a chewy texture. If you have no caster sugar, granulated works just as well.
Large eggs.
Vanilla extract.
Plain (all purpose) flour. Katharine Hepburn once said that the best brownies have as little flour as possible. She was right!
Cocoa powder (not drinking chocolate)
A little salt to bring out the flavours
espresso powder. If you don't like coffee, don't worry – it is merely there to enhance the chocolate flavour. You don't have to put the coffee in if you really don't want to, but I highly recommend you try it – even just 1/2 or 1 tsp of coffee makes all the difference.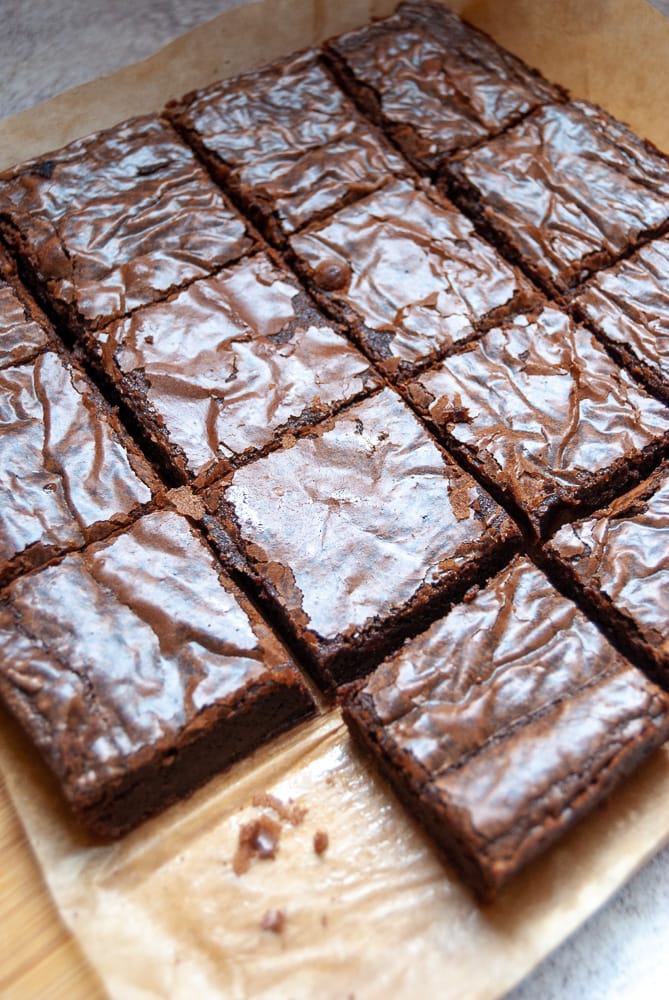 how to make perfect classic chocolate brownies
The key to getting that wafer thin cracky crust on your brownies is whisk, whisk whisk! You need to whisk the sugar and eggs on high speed for at least 5-8 minutes or until the mixture is very thick, pale and mousse like.
When you fold in the melted chocolate/butter and dry ingredients, you need to do it as gentle as you can so you don't knock out all the air you just created.
The brownie batter will be thick and fudgy – spoon it into the lined tin and gently spread it out evenly.
Try not to overbake the brownies – the line between a perfect fudgy brownie and a dry overbaked one is pretty fine. This recipe takes just 20 minutes in my oven – but they may take a couple of minutes more or less in yours. A slightly undercooked brownie is always better than an overcooked one!
If you can bear it, try and leave the brownies to go completely cold before cutting them. If you can leave them overnight, they will taste even better the next day.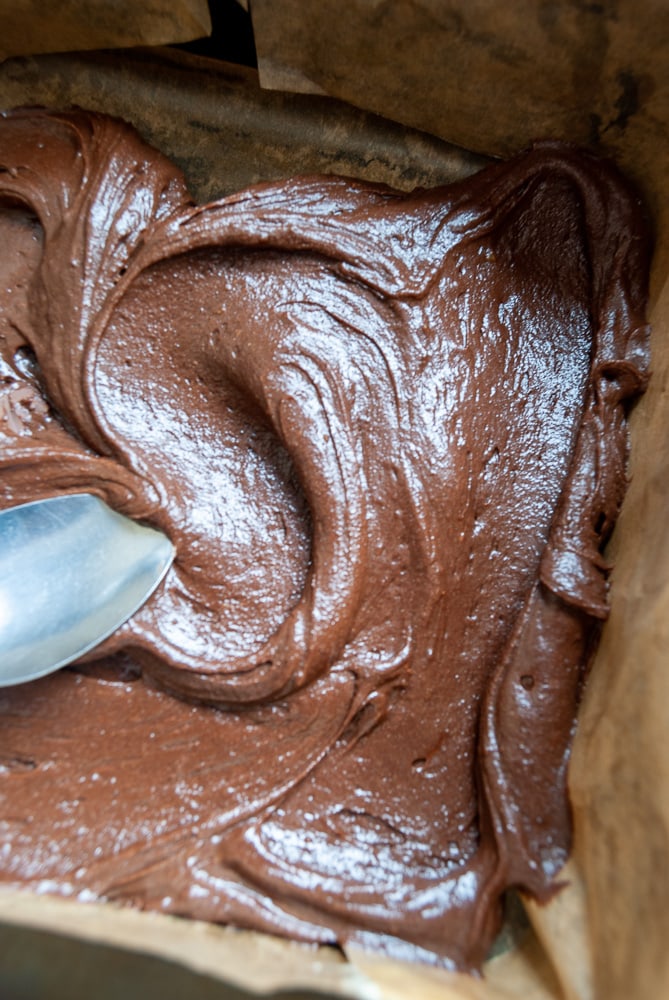 fudgy brownies vs cakey brownies
The trick to achieving a fudgy chocolate brownie is to use more fat and less flour. Cakey brownies always have more flour and baking powder is often used.
What kind of brownie do you prefer?
For me personally, this recipe has the best of both worlds. They are moist and fudgy – but not too rich and gooey. If you're looking for an easy, every day kind of brownie recipe – this is the one!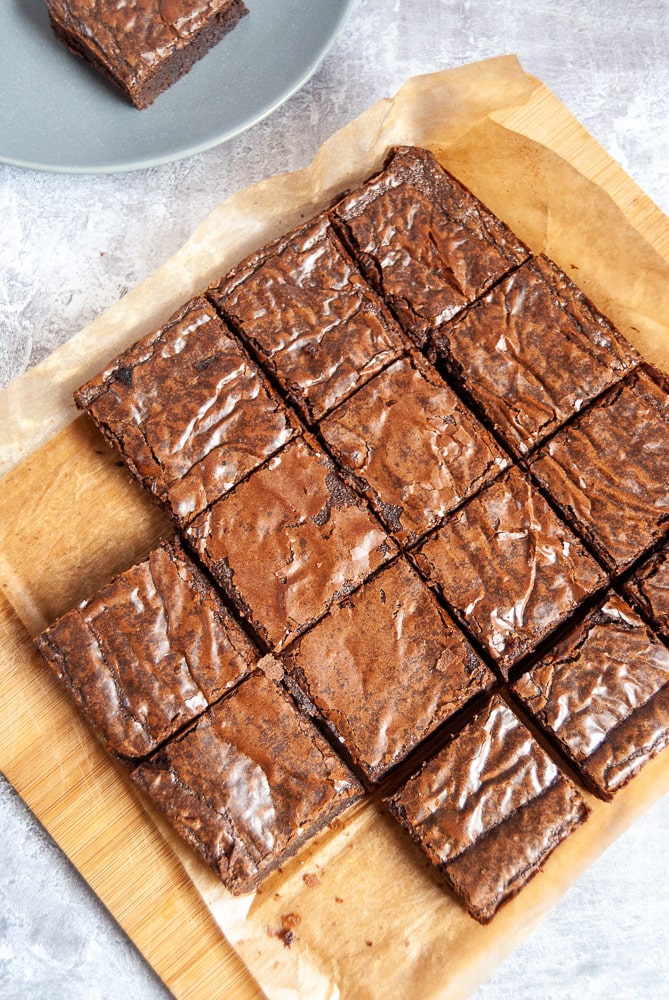 want to see more brownie recipes?
white chocolate and raspberry brownies
Guinness Brownies with salted caramel Baileys glaze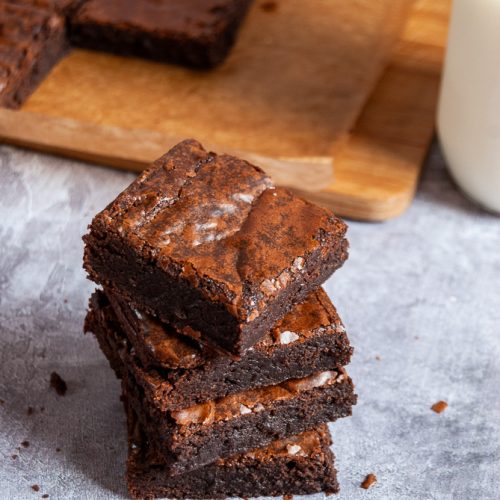 Classic Chocolate Brownies
Love fudgy, chewy chocolate brownies? This simple recipe for classic chocolate brownies will give you perfect results every time.
Ingredients
95g plain (all-purpose) flour
25g cocoa powder
1/4 tsp salt
1-2 tsp espresso powder
115g unsalted butter, cut into cubes
170g dark chocolate, broken into small chunks
1 tsp vanilla extract
100g caster (superfine) sugar
120g soft light brown sugar
2 large eggs
Instructions
Preheat the oven the 180C/160Fan/350F. Grease a 9-inch square baking tin and line with baking paper so it extends over two sides (so you can easily lift the brownies out later)
Whisk the flour, cocoa powder, salt and espresso powder together in a medium bowl. Set aside.
Melt the butter in a medium saucepan. When the butter has almost melted, turn the heat off, add the chopped chocolate and allow to melt, stirring occasionally until smooth. Stir in the vanilla extract. Remove from the hob and set aside while you whisk the eggs and sugar.
Using a stand mixer or hand held electric whisk, whisk the sugar and eggs for at least 7-8 minutes or until the mixture is very thick and pale.
Carefully fold in the melted, slightly cooled chocolate, being careful not to knock out the air! Once the chocolate is incorporated, gently fold in the dry ingredients. When the batter is smooth and shiny, pour into the lined tin and level it out using a spatula.
Bake for 18-20 minutes or until the top of the brownie has set. Allow to cool competely in the tin before slicing into squares.