The combination of crunchy, buttery shortbread, smooth, rich caramel and melted chocolate is a wonderful thing. Follow my step by step guide with trouble shooting tips and advice on how to make perfect Millionaires Shortbread!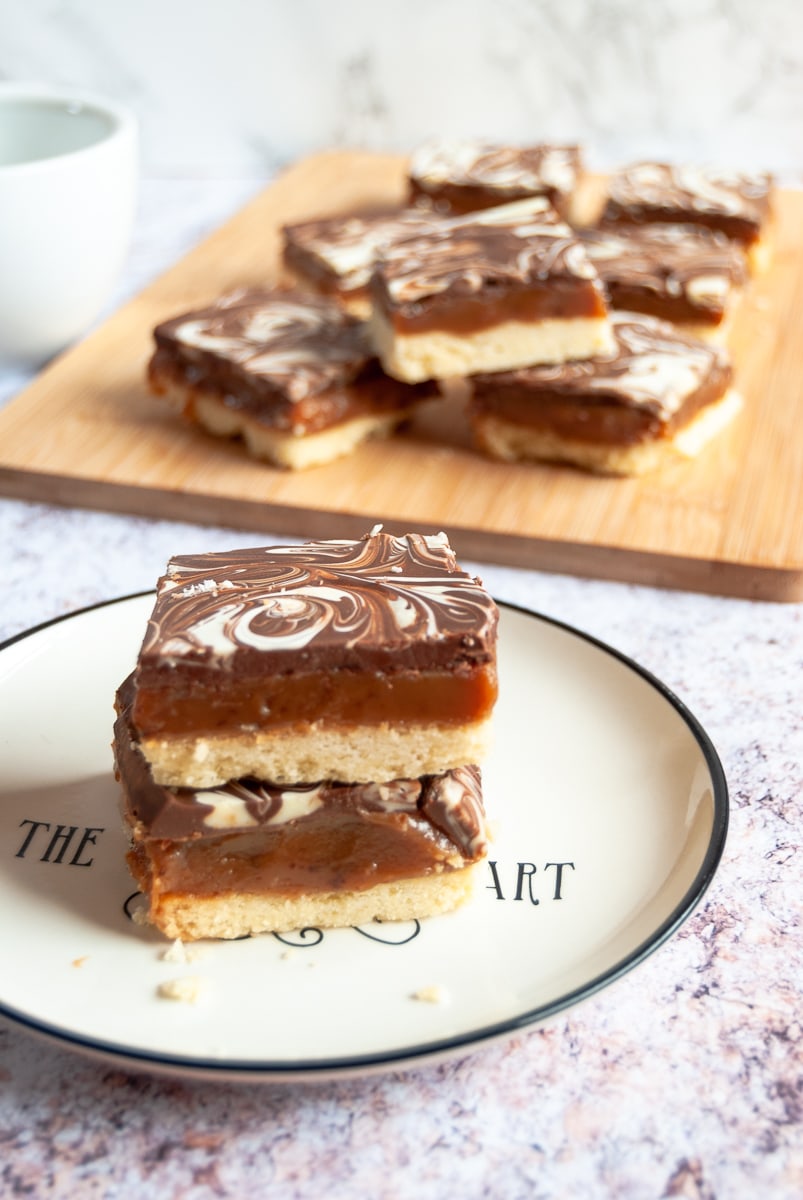 Very few people I know can resist a slice of Millionaire's Shortbread, and I am one of them.
The combination of those different textures – crunchy, buttery shortbread, smooth, rich caramel and a melt in your mouth chocolate topping is simply irresistible.
You can buy delicious pre made caramel shortbread, but nothing beats home made!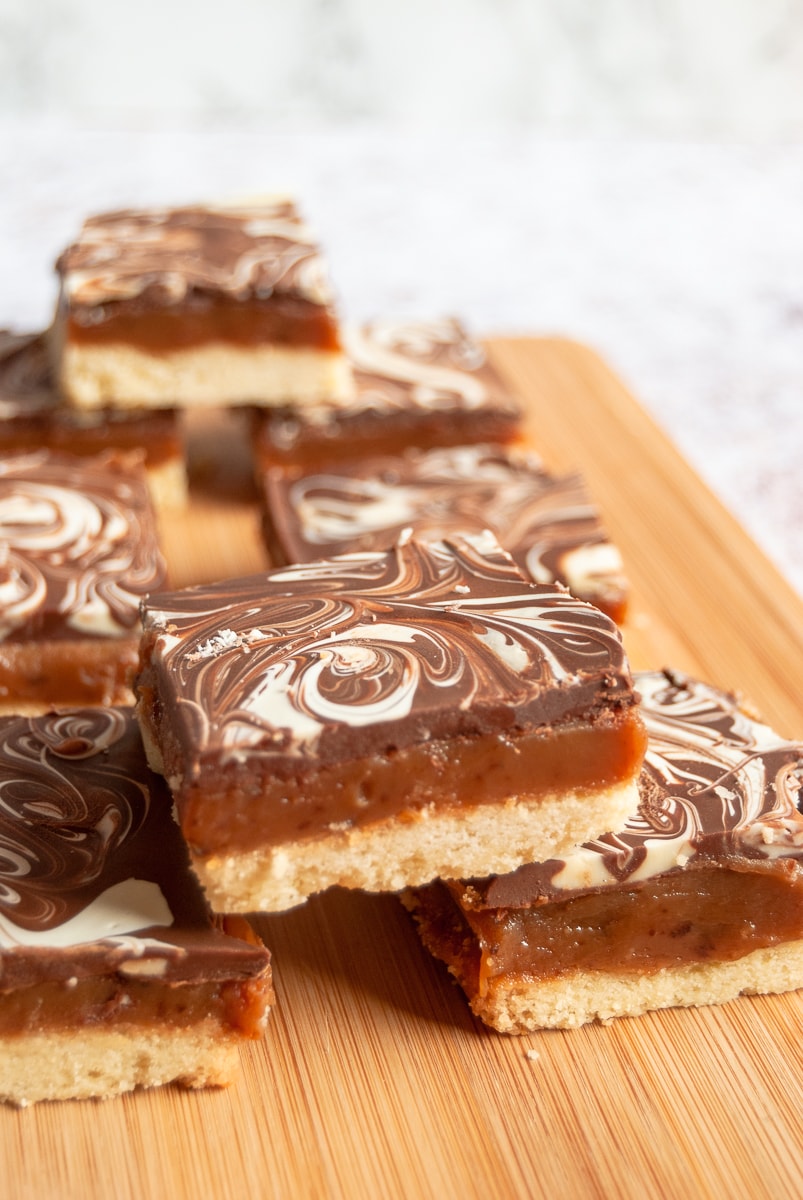 Tips for making the best millionaires Shortbread
Make sure to line your baking tin so the paper rises a few centimetres above the top of the tin. This will enable you to lift the millionaire's Shortbread right out of the tin when it's done. Makes your life much easier!
The Shortbread base
The Shortbread layer is very simple – just butter, caster sugar and plain flour. I often add cornflour to my Shortbread for a light melt in the mouth texture, but it's not really necessary here. You don't really want the base to be too delicate.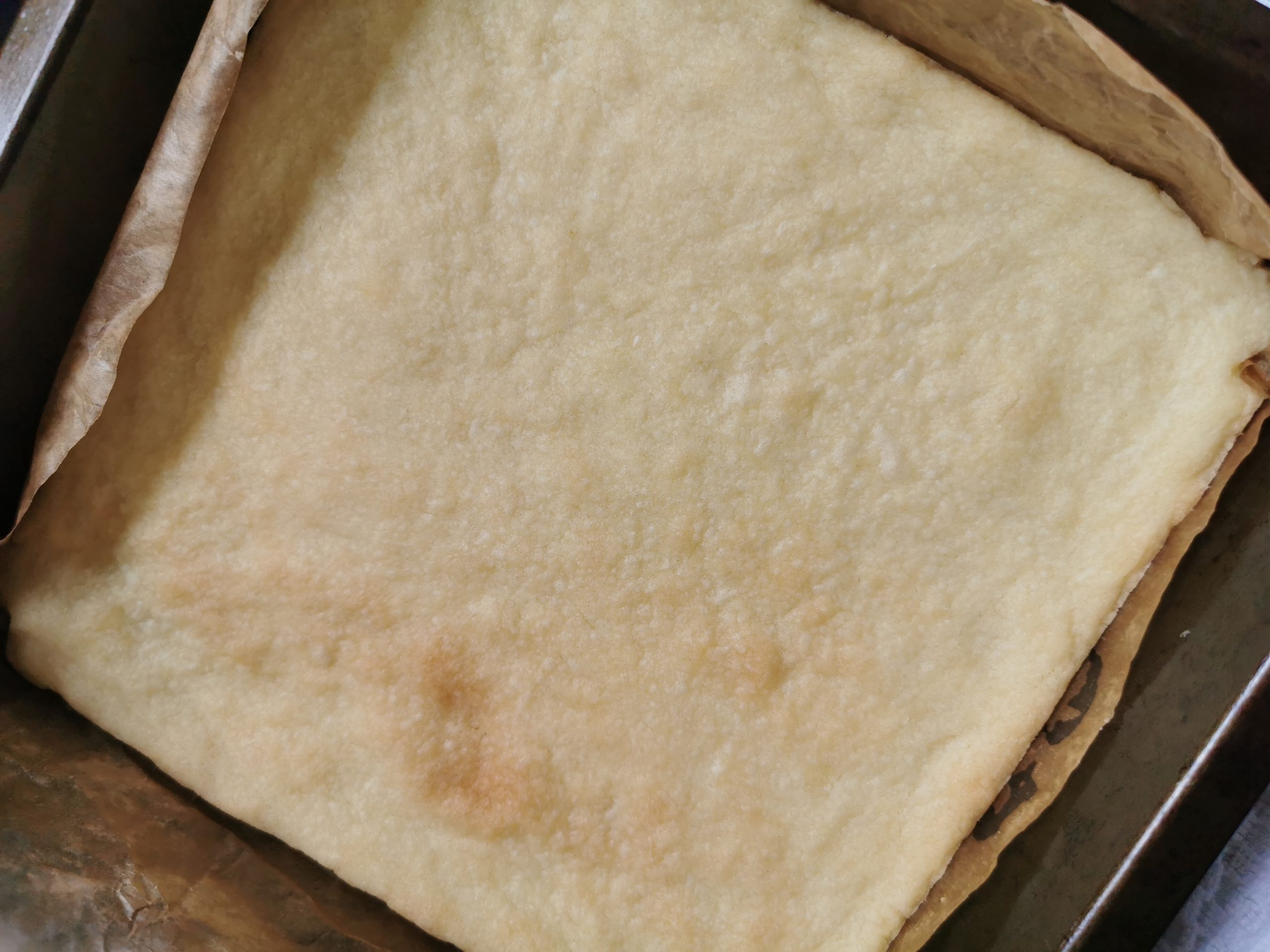 The Caramel filling
The caramel filling is without a doubt the part that most people have trouble with when making millionaires Shortbread. It can be tricky – it's not difficult, but if you take your eye off the ball for just one second your caramel can turn from perfect to burnt and ruined. So maddening.

The chocolate topping
Obviously you can use whatever chocolate you prefer – I like to use milk and white chocolate swirled together to make a pretty pattern. Some people prefer to use dark chocolate.
I always melt chocolate in a heatproof bowl over a pan of gently simmering water. Pour the melted chocolate over the set caramel base and tilt the pan to spread it out evenly. Place the Shortbread in the fridge to set.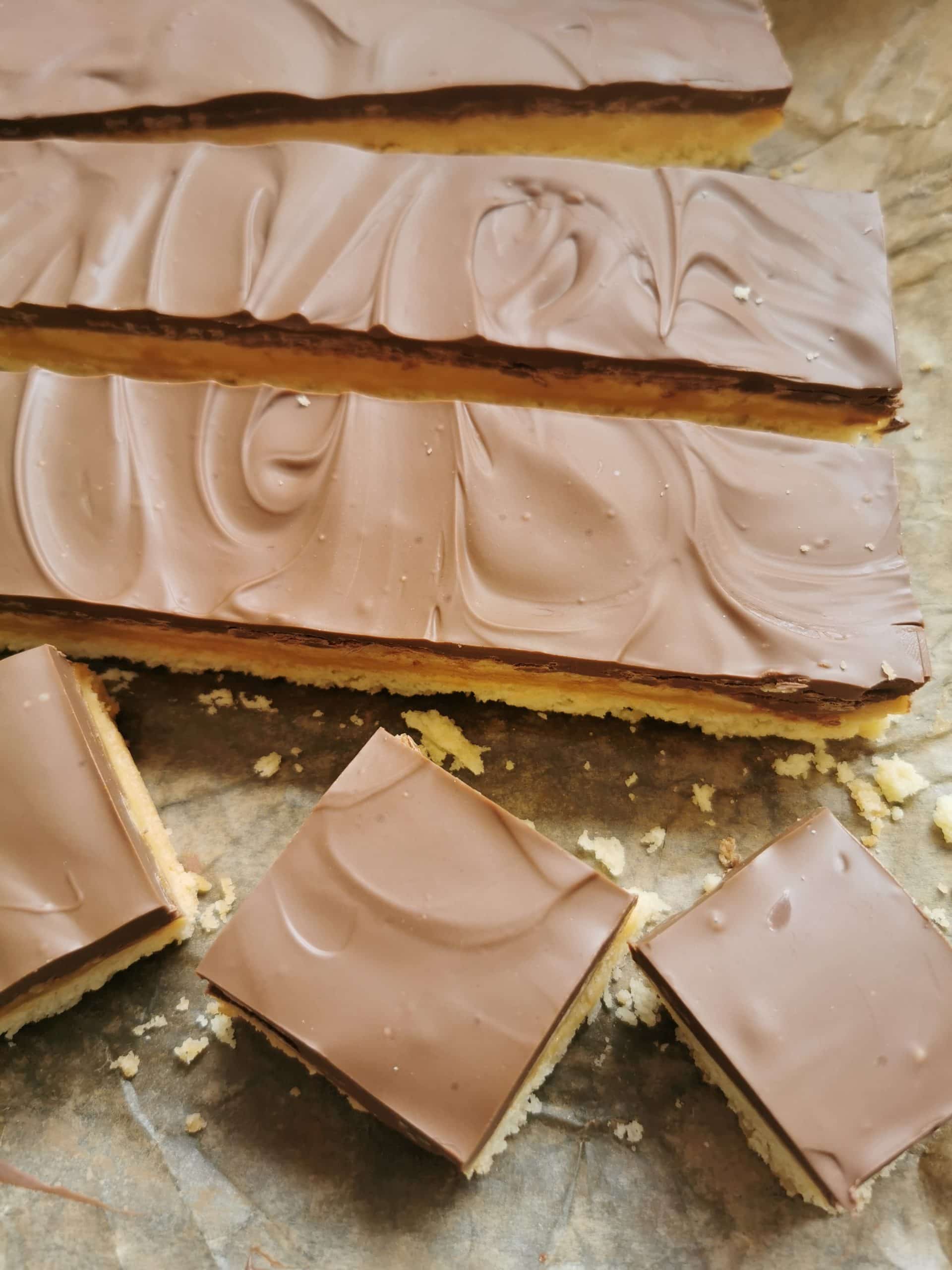 trouble shooting guide and commonly asked questions when making millionaire's shortbread
How long does the caramel take to make?
That depends on a few factors – the type and size of your pan, the ingredients and your heat source. I have an Ceramic hob that is fiercely hot so I have to be very careful when I make caramel. It should typically take between 8-12 minutes, but it's difficult to put a precise time on it!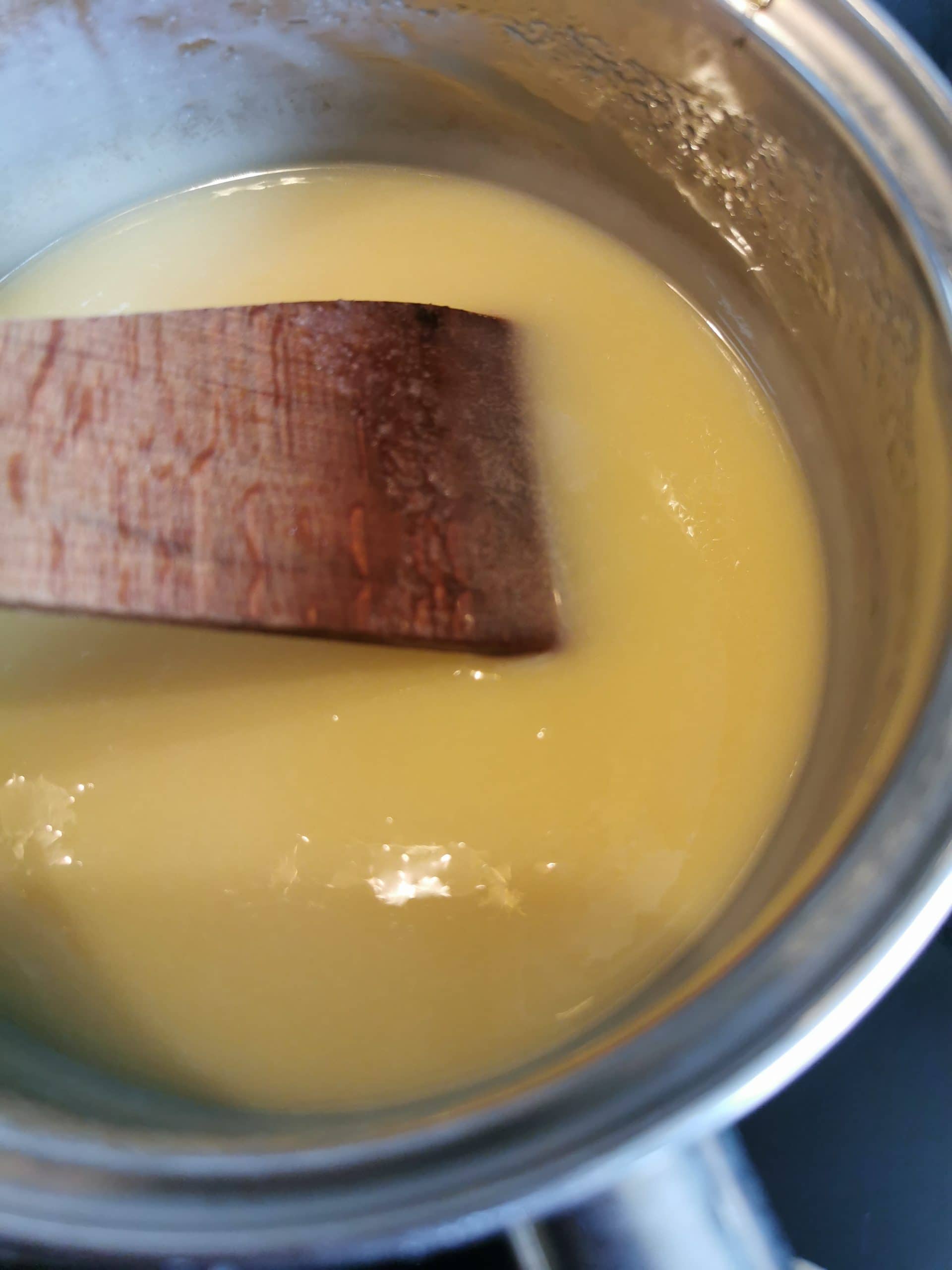 How do you make the caramel filling?
Place condensed milk (NOT to be confused with evaporated milk – they are completely different beasts!), sugar, butter and golden syrup in a medium sized heavy based pan over a medium heat. Let everything melt together, stirring occasionally until the sugar has completely dissolved (if it hasn't your caramel will be grainy)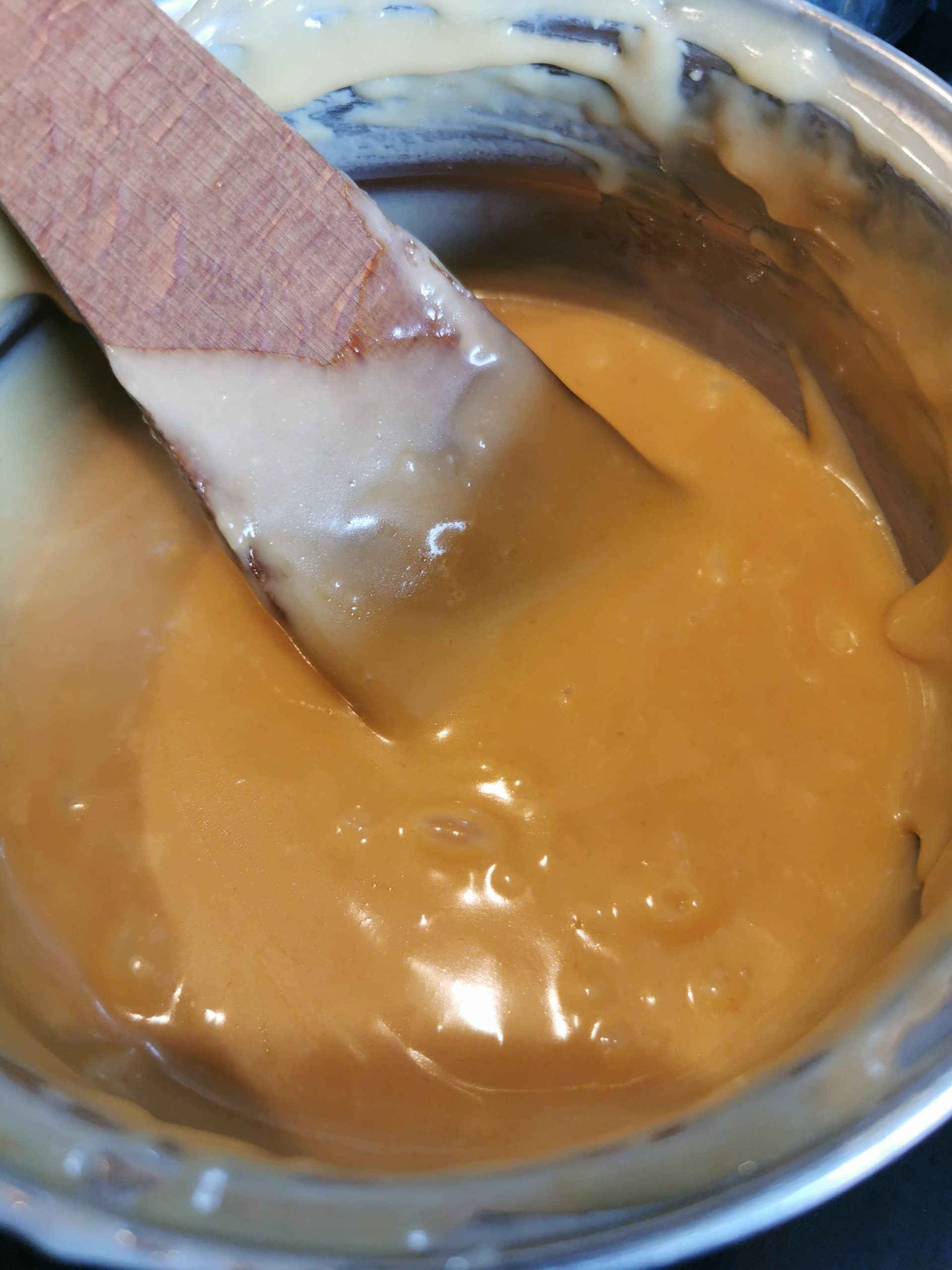 Once the sugar has completely dissolved and everything has melted, increase the heat slightly and bring the caramel to the boil, stirring constantly (watch out for splatters) until the caramel has darkened and is starting to thicken. Immediately remove the pan from the heat and pour over the cooled Shortbread base. Place the Shortbread in the fridge to set for a couple of hours.
Can you use a tin of Carnation caramel to make Millionaires Shortbread?
Technically you can, but it has a much looser consistency so when you try and cut your Shortbread into pieces the caramel will ooze out all over the place. Still delicious to eat, but very messy.
BUT there is a way around this – you can thicken Carnation caramel by boiling it with caster sugar and butter. It makes a dark, rich gooey caramel that is absolutely gorgeous.
I've adapted the caramel recipe used by Kirsten of the Mountain cafe in Aviemore. Her millionaires Shortbread is legendary and practically flies out the door in the cafe! You'll find the method for this caramel at the bottom of the post in the recipe card.

help! my caramel is like toffee
If your caramel is more like toffee, you boiled it for too long. It can happen very easily. Unfortunately, there is no way to remedy this. Just try boiling it for less time next time you try it. Practise makes perfect!
My caramel didn't set – it's too runny
If the caramel is too runny, then it wasn't boiled for long enough. You could try and keep the shortbread in the fridge for a few hours longer to see if it firms up. As long as it's still delicious, it shouldn't matter too much. You just won't be able to cut the shortbread into neat slices.
my chocolate topping cracked when I cut the shortbread
If you cut the shortbread while it's still quite cold, the chocolate will very likely crack and splinter. Remove the shortbread from the fridge and leave on your counter top for about 15 minutes before cutting. Be sure to use a large sharp (not serrated) knife. Don't cut the shortbread using a sawing action – just cut straight down in one fell swoop and you should get nice neat slices.
If you find your chocolate topping cracks and splinters no matter what you do, you could try adding a little butter (about 50g) to the chocolate when you melt it – this will soften the chocolate and make it less likely to crack.
my chocolate topping "bloomed"
If your chocolate has little white dots all over it then the chocolate became too hot when you melted it. This is called "blooming" and the white parts are tiny pieces of fat from the cocoa butter.
This occurs when the chocolate is left to sit at room temperature. Storing the shortbread in the fridge should prevent this from happening.
Storing Millionaire's Shortbread
The caramel shortbread will keep in the fridge for up to 5 days. The caramel will become a little harder after day 3.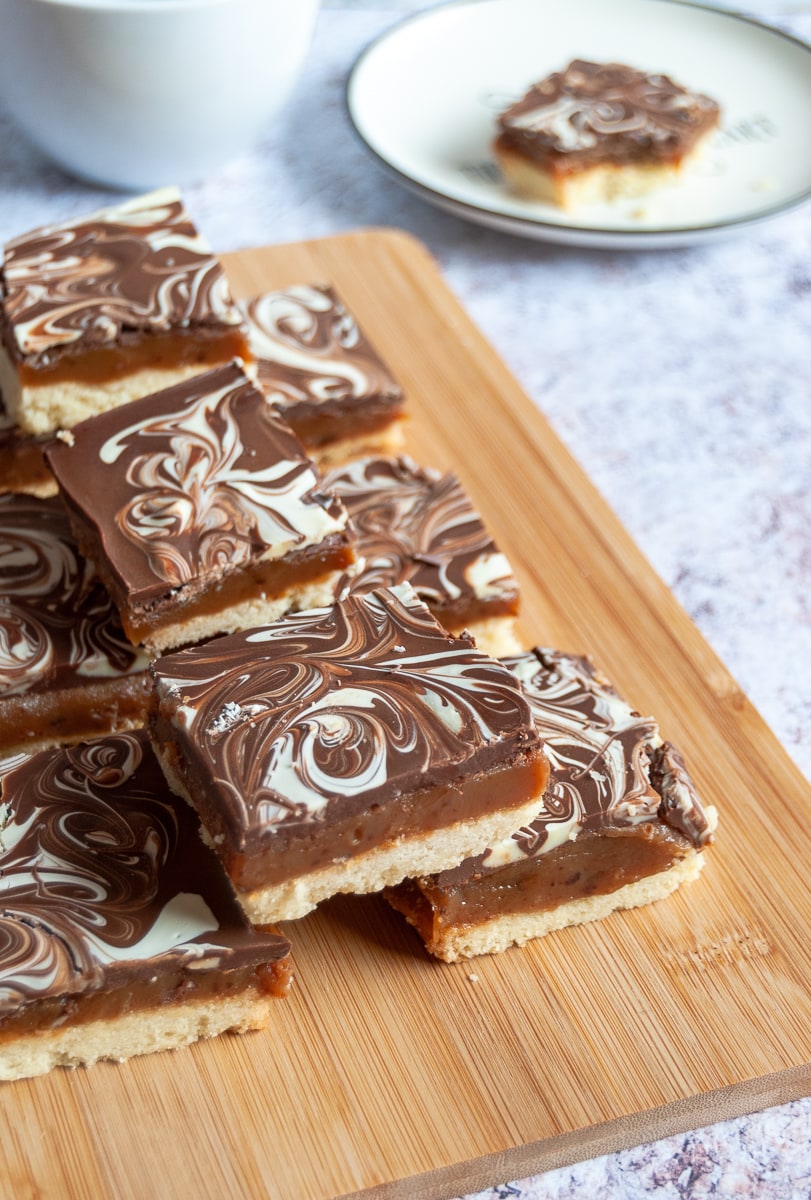 can you freeze millionaire's shortbread?
Yes! Wrap the shortbread in a double layer of cling film and tin foil before freezing. It will keep for up to 3 months.
got any more questions?
Hopefully I've covered everything to help you make perfect Millionaire's Shortbread, but if you need any more help or have any questions, please leave a comment below or contact me on my social media channels. I'm more than happy to help!
made this millionaire's shortbread?
I would love to hear what you thought! Leave a comment below and rate the recipe by clicking on the stars in the recipe card. Share any photos of your creation with me on Instagram

more traybake/bar recipes you might enjoy
raspberry and white chocolate brownies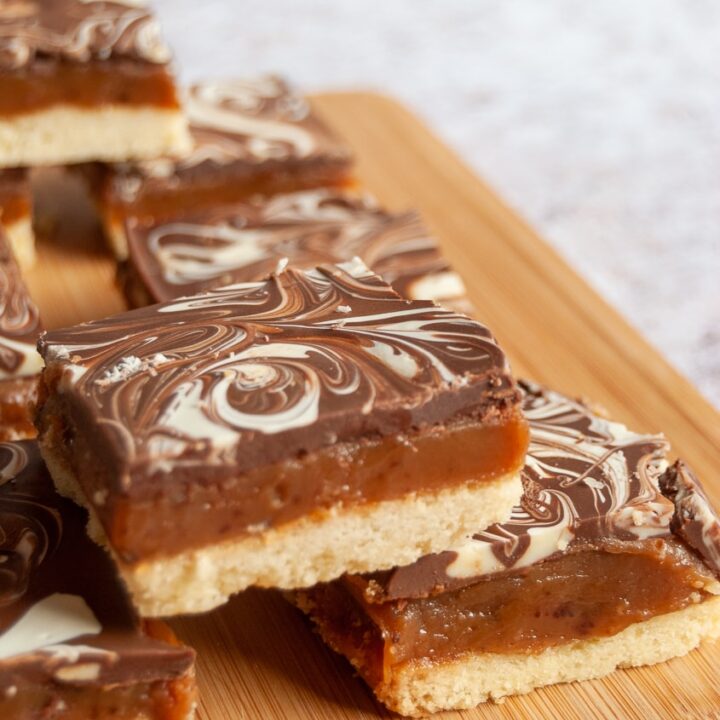 Millionaires Shortbread
Total Time:
1 hour
55 minutes
How to make perfect Millionaires Shortbread! With a buttery shortbread base, soft caramel and a thick chocolate topping, it's impossible to resist!
Ingredients
FOR THE SHORTBREAD BASE
150g soft butter
100g caster sugar
200g plain flour
FOR THE CARAMEL FILLING
1x397g can condensed milk
180g unsalted butter
50g caster sugar or light brown sugar
2 tbsp golden syrup
OR
1x397 can Carnation Caramel
200g unsalted butter
125g caster sugar
FOR THE CHOCOLATE TOPPING
250g milk chocolate
75g white chocolate
Instructions
Preheat the oven to 160C/140Fan/Gas 3. Grease and line an 9x9 (23cm) inch square baking tin with baking paper, making sure the paper rises above the tin by a couple of inches so you can easily lift it out later.
To make the shortbread, cream the butter and sugar together with a wooden spoon until light and pale. Add the flour and gently mix it all together until you have a dough. You might need to get your hands in at this stage. Place the dough in the tin and press it out evenly so that it fills the tin. Bake for 20-25 minutes or until very light golden brown around the edges. Leave to cool slightly in the tin.
For the caramel, place all the filling ingredients in a saucepan and place over a low to medium heat, stirring constantly until the sugar has dissolved.
When the sugar has dissolved competely, turn up the heat to medium high and bring the mixture to the boil, constantly stirring. Watch it very closely and try not to let the mixture catch on the base of the pan - if it does, little brown bits will start to appear. If this happens, turn the heat down to low-medium again and stir like mad. Keep stirring until the caramel has darkened slightly and is thicker. This should take around 8-12 minutes, but it depends on your hob, the pan you're using and the ingredients.
If you're making the caramel with a tin of Carnation caramel, place the caramel, butter and caster sugar in a medium sized heavy based pan over a low to medium heat. Allow the indredients to melt together, stirring occasionally until the sugar has completely dissolved. Increase the heat to medium-high and bring to the boil, stirring constantly until the caramel has thickened slightly. If little brown bits start to appear, this means the caramel has caught on the base of the pan - so remove from the heat immediately and stir like crazy.
Pour the caramel evenly over the cooled shortbread base and allow to set for at least one hour before adding the chocolate topping.
Once the caramel has set, melt the chocolates separately. Pour the milk chocolate all over the caramel, tilting the pan so you get an even covering. Using a teaspoon, drop little spoonfuls of white chocolate over the milk chocolate. Using a knife, swirl the chocolate together to create a pretty pattern. Leave the shortbread to set for a couple of hours. I don't usually put it in the fridge, but you can if your kitchen is very warm. The chocolate will lose some of its shine though.
When the chocolate has set, remove the shortbread from the fridge (if you didn't set it at room temperature) and leave for about 15 minutes to take the chill off (if you try and cut it straight from the fridge the chocolate will crack) Using a very sharp knife, cut into squares,
Notes
For salted caramel Millionaire's shortbread, add 1/2-1tsp of sea salt flakes to the cooled caramel. Sprinkle the melted chocolate with a few sea salt flakes, if desired.
Nutrition Information:
Yield:

16
Serving Size:

1
Amount Per Serving:
Calories:

483
Total Fat:

34g
Saturated Fat:

21g
Trans Fat:

0g
Unsaturated Fat:

11g
Cholesterol:

77mg
Sodium:

96mg
Carbohydrates:

44g
Fiber:

1g
Sugar:

32g
Protein:

3g
Calories and Nutritional information are provided by a third party application and should be used as indicative figures only.