Mars Bar Crispy Cake (or Mars Bar Cake) is without a doubt a retro children's party classic and bake sale staple. This easy no bake slice with melted Mars Bars, butter, golden syrup and rice crispies is ridiculously simple to make and absolutely no-one can resist it!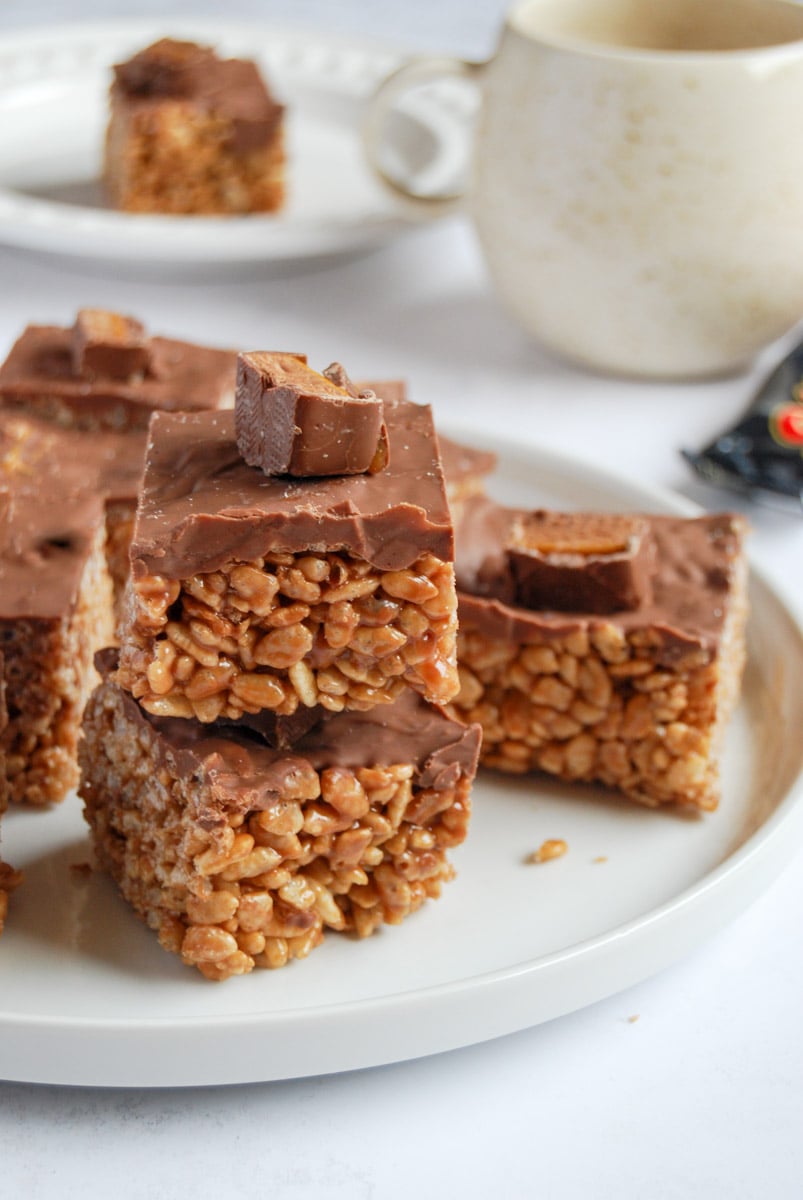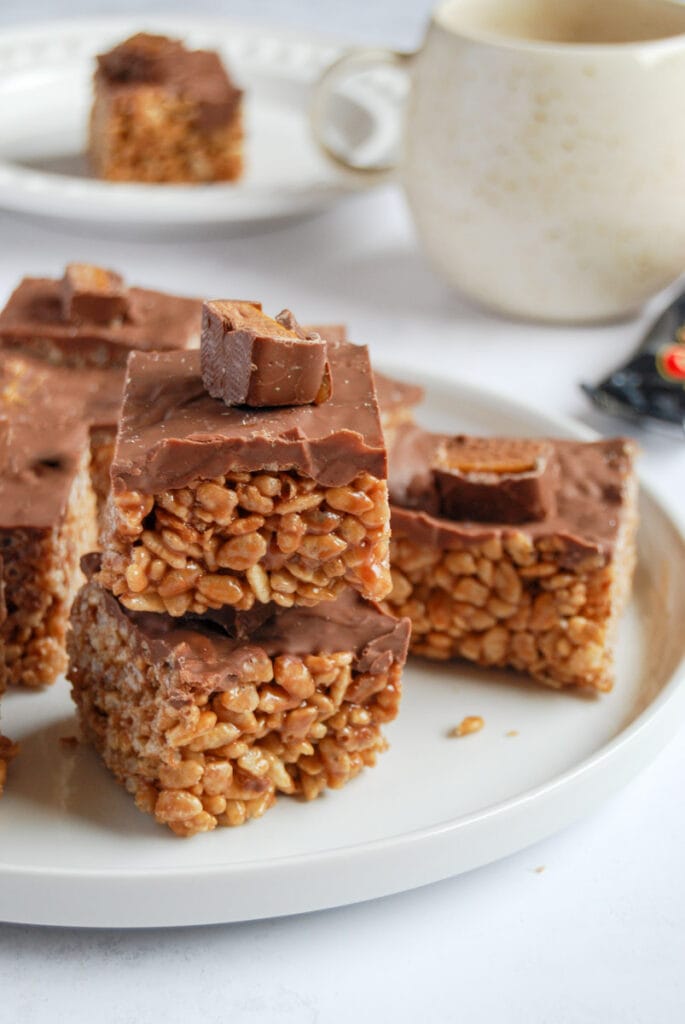 A Mars Bar crispy cake – or Mars bar slice – is one of those traybakes that everybody just loves. It's one of the first sweet treats to disappear at a party – and in my experience, it's not just loved by children – adults adore it too!
I do include myself in that category. I am not safe around Mars Bar cake at all – and I don't even like Mars Bars. I find it extremely addictive. It's just as well my family love it as much as I do!
If you've never eaten Mars bar cake, all I can say is please do try it!! Just like my mint Aero traybake, no bake peppermint slice, Malteser traybake and my Twix rocky road recipes, people will beg you for the recipe.
It's also a perfect recipe for school bake sales – they're usually the first thing to go!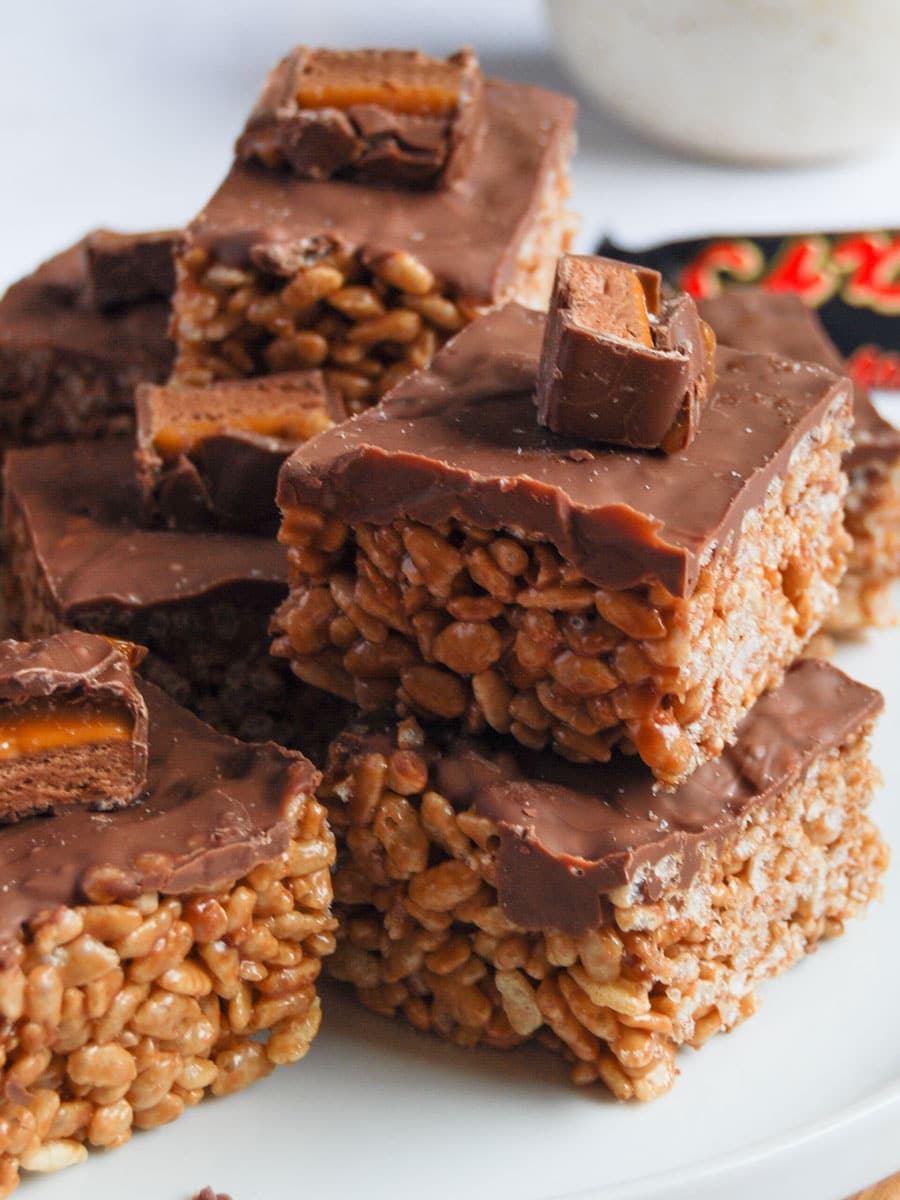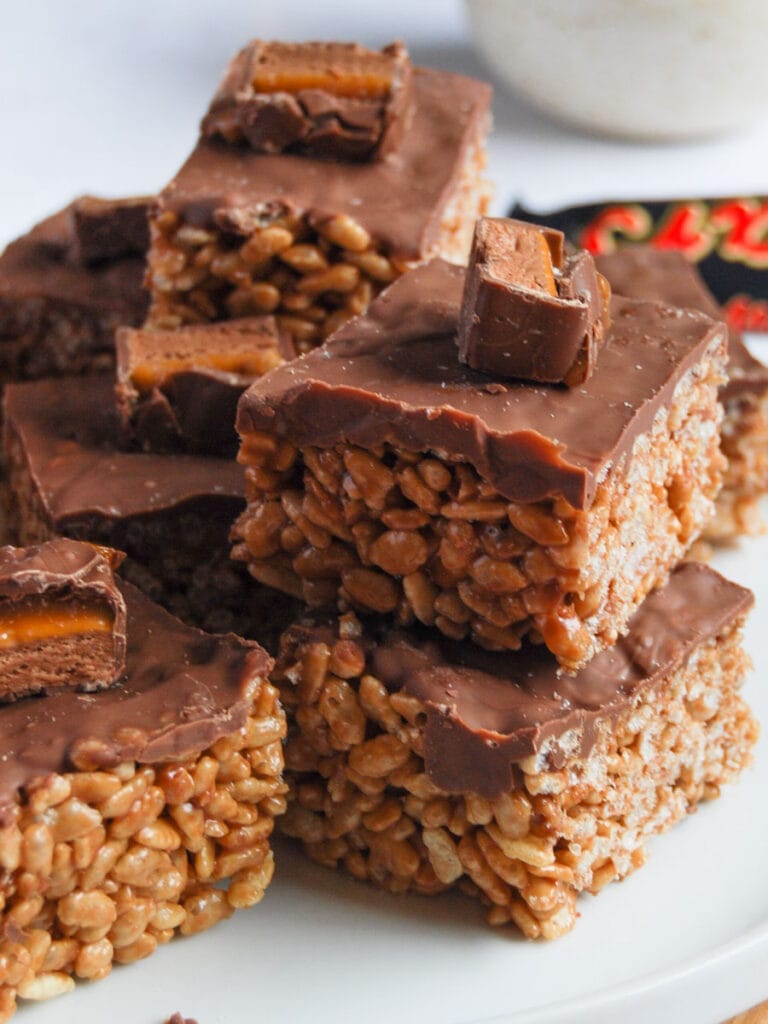 ingredients for mars bar cake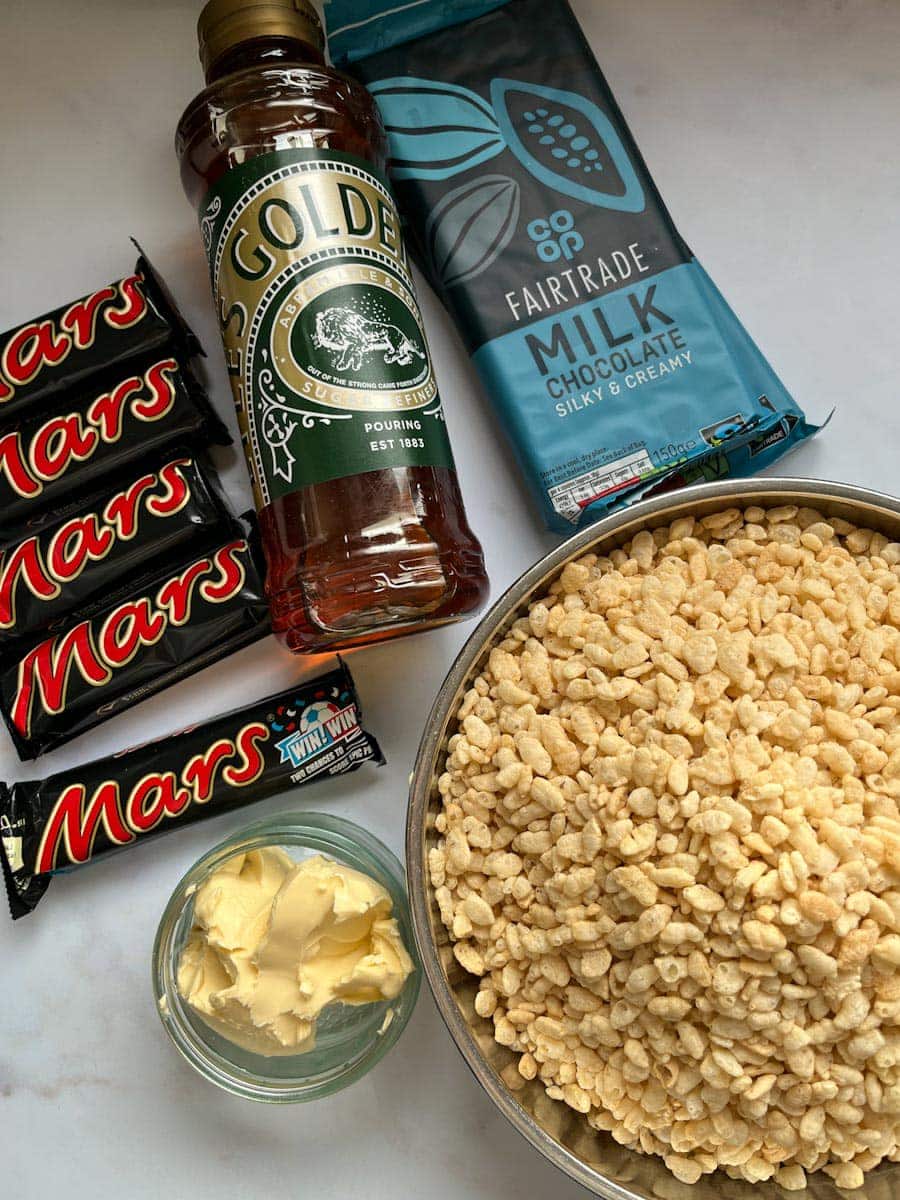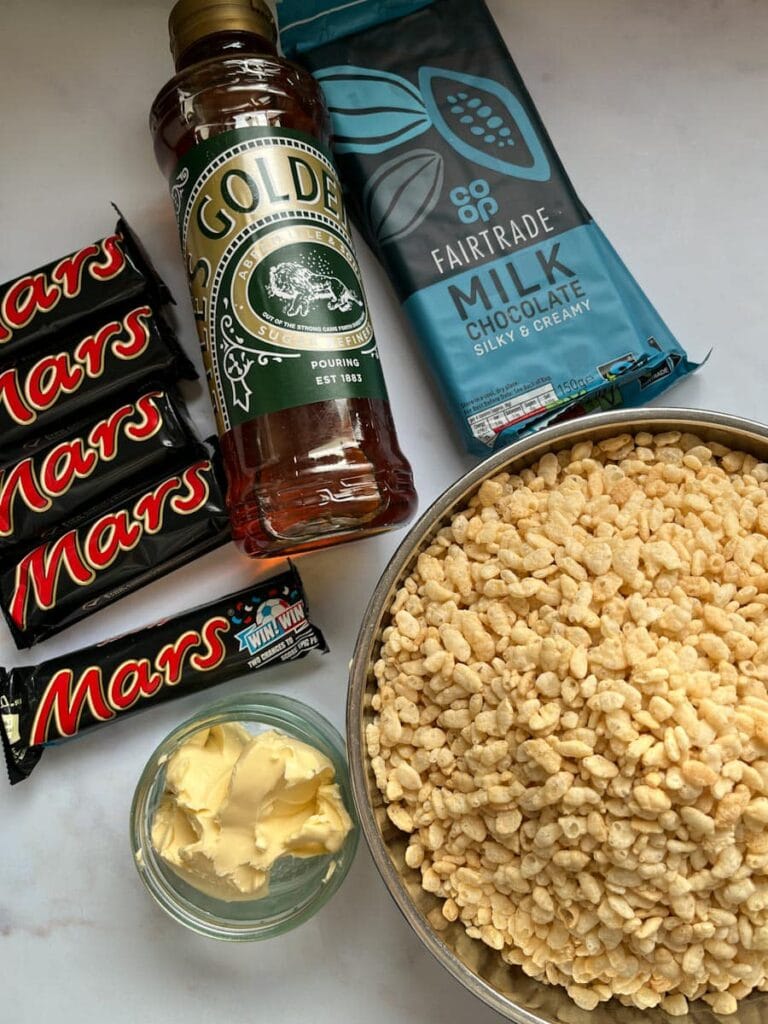 Making Mars bar cake is very simple and requires just FIVE ingredients. You will need….
Mars bars are the star ingredient, obviously! You could probably use another brand of chocolate nougat bars, but I personally haven't tested this yet. You'll need to chop the Mars bar up into small pieces so they melt quickly.
a little Golden Syrup will encourage the nougat and caramel in the Mars bars to melt down properly – if you attempt to melt the bars on their own they can turn quite dry.
Adding some Butter will also help with the above, so please don't be tempted to skip it.
Milk chocolate for the topping – if you like a really thick chocolate covering, you can double the amount I've given in the recipe card. I use any supermarket branded milk chocolate, but I avoid anything labelled "cooking chocolate".
Rice crispies – Kelloggs is the famous brand, but any other supermarket brand will be fine. Just make sure the cereal hasn't been sitting opened in your cupboard for several months – they might be a little stale.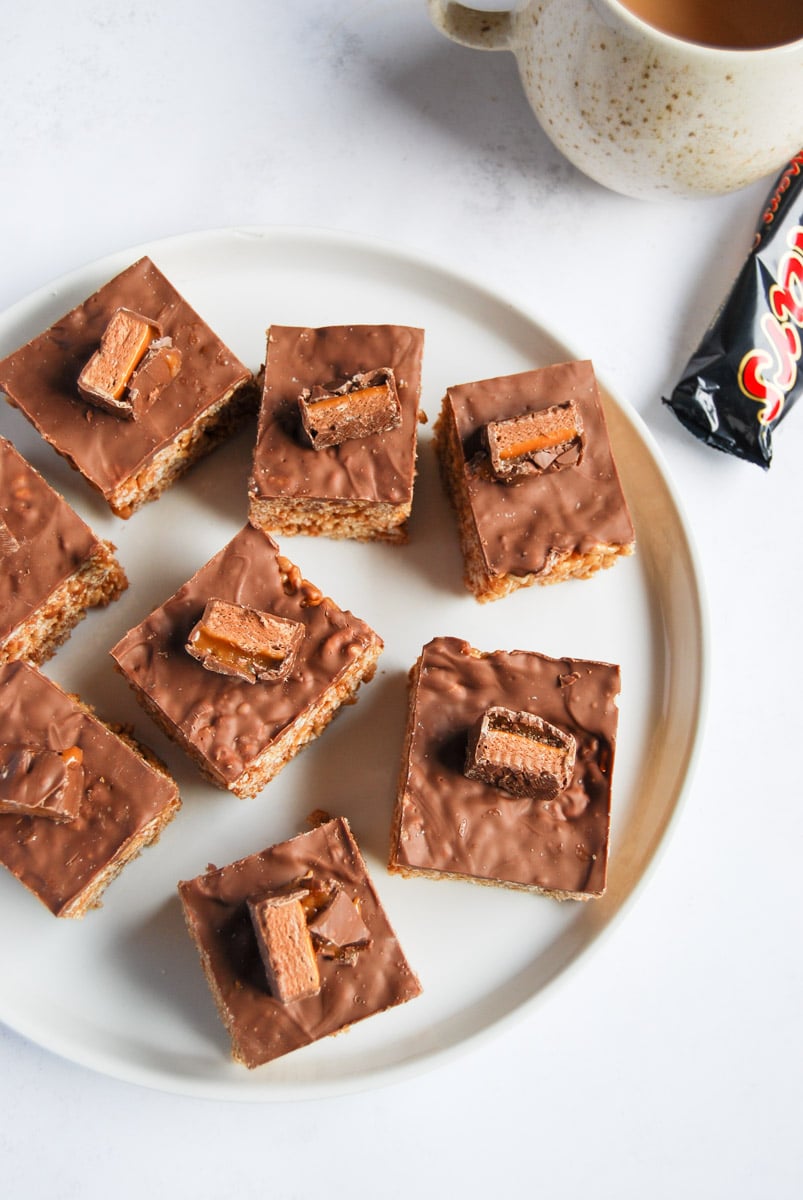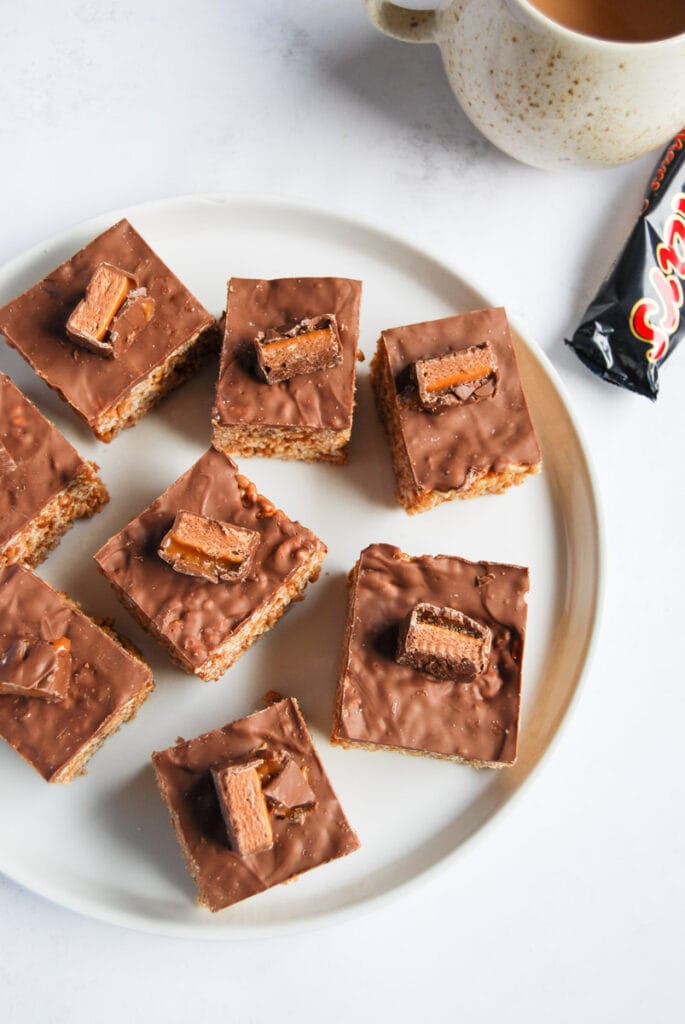 how to make mars bar crispy cake – step by step method
step one – melt the ingredients
All you need to do is melt the chopped Mars Bars, butter and golden syrup together in a pan over a low heat. This step can take a little time – the Mars bars can take a while to melt down properly. Stir the mixture with a wooden spoon to help things along.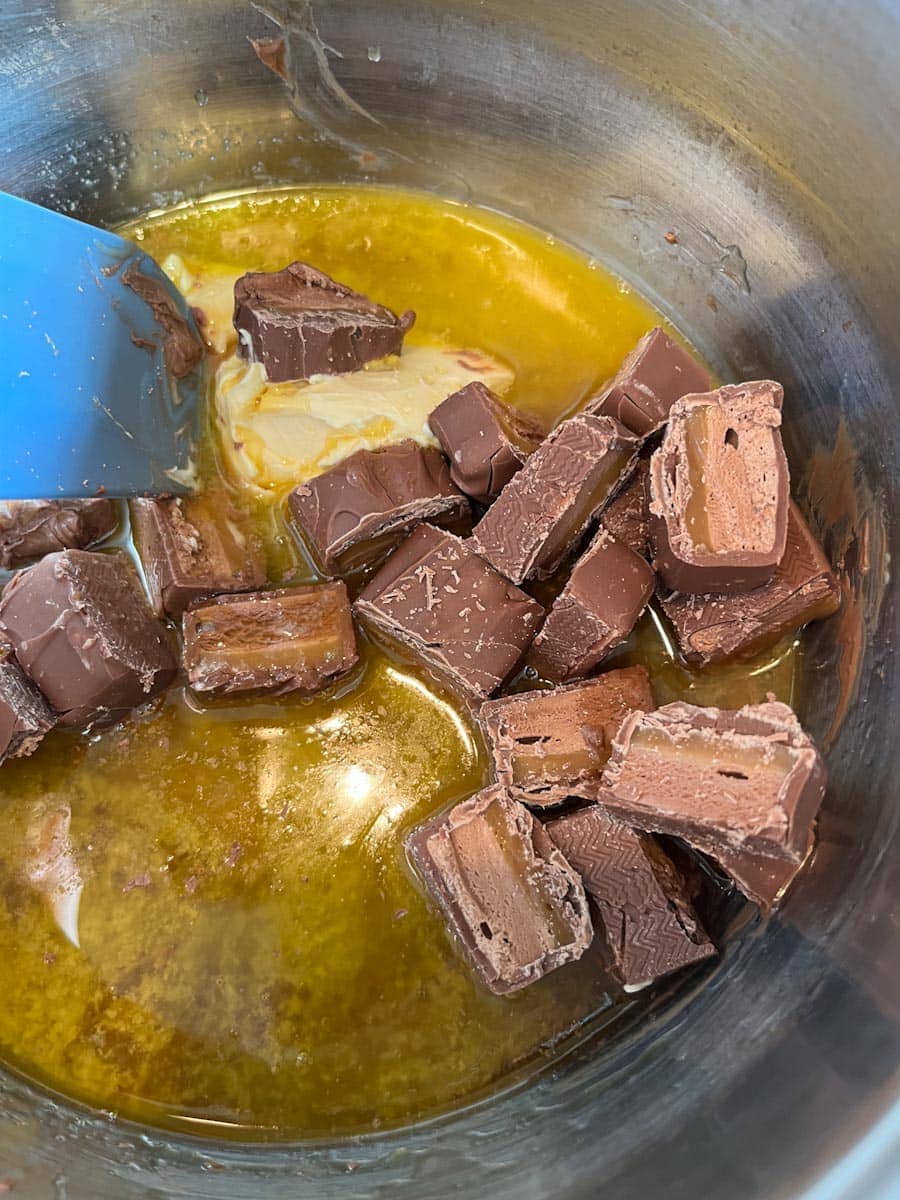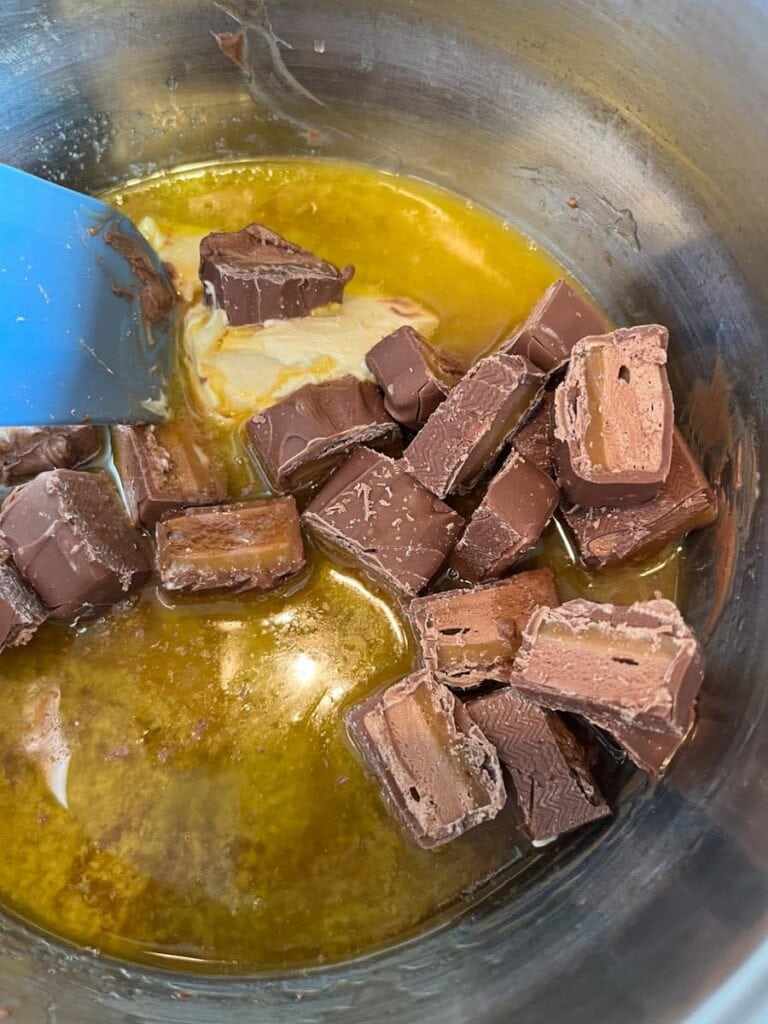 step two – add the rice crispies
When the mixture has completely melted and looks (mostly) smooth, pour in the rice crispies. Using a wooden spoon, mix well until all the cereal is completely coated in the syrupy mixture.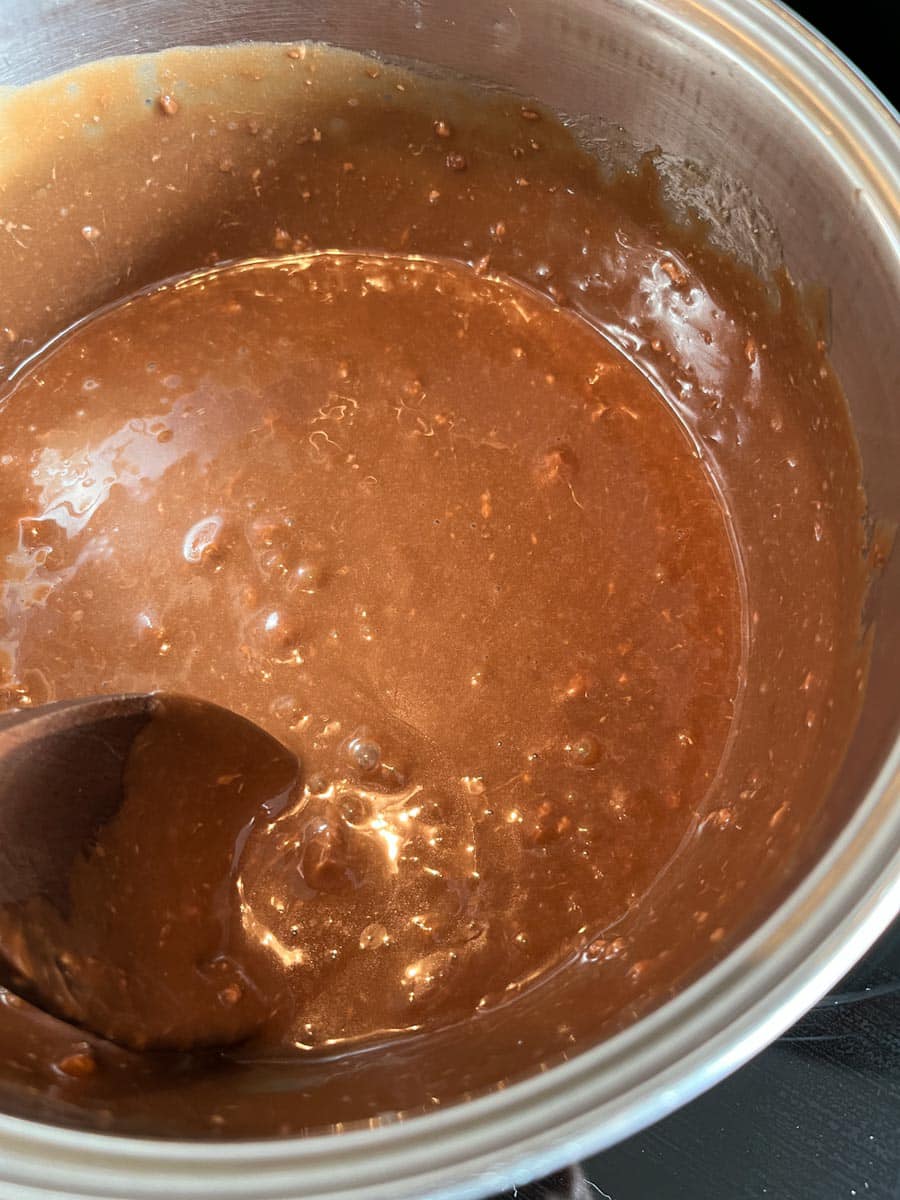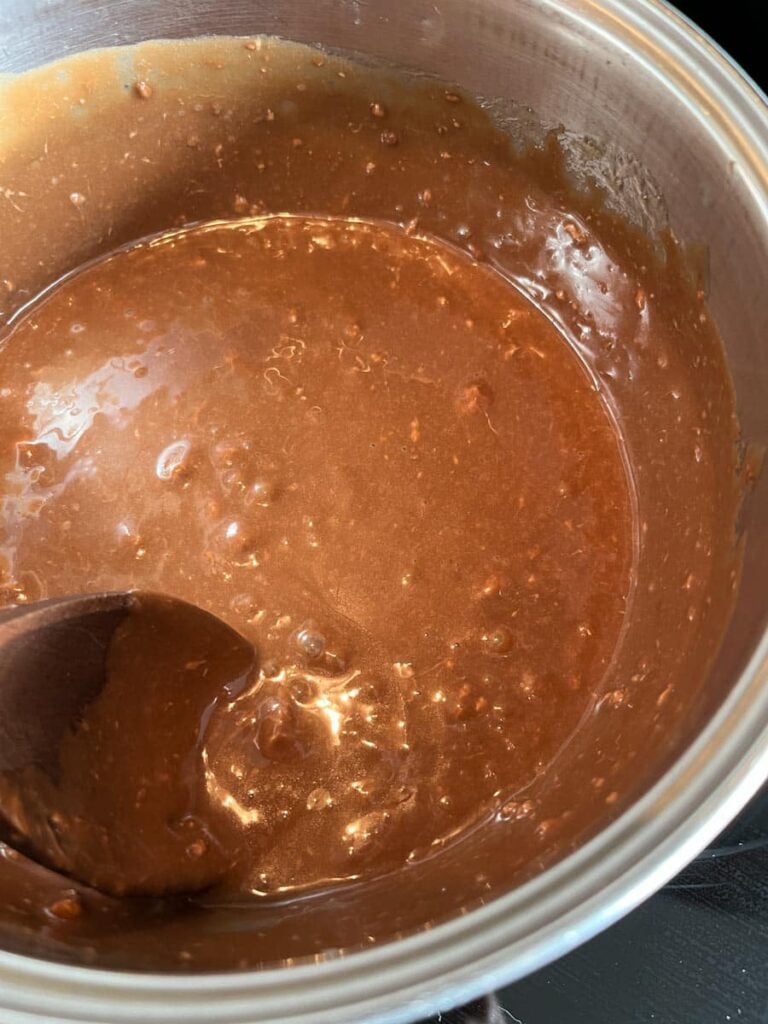 Pour into the tin
then pour into a greased and lined 9×9 inch square tin. This recipe will also work in a 9×13 inch pan, but the squares will be thinner.
Using a wooden spoon, press the mixture into tin until it looks even, making sure you get into the corners. Place in the fridge while you melt the chocolate for the topping.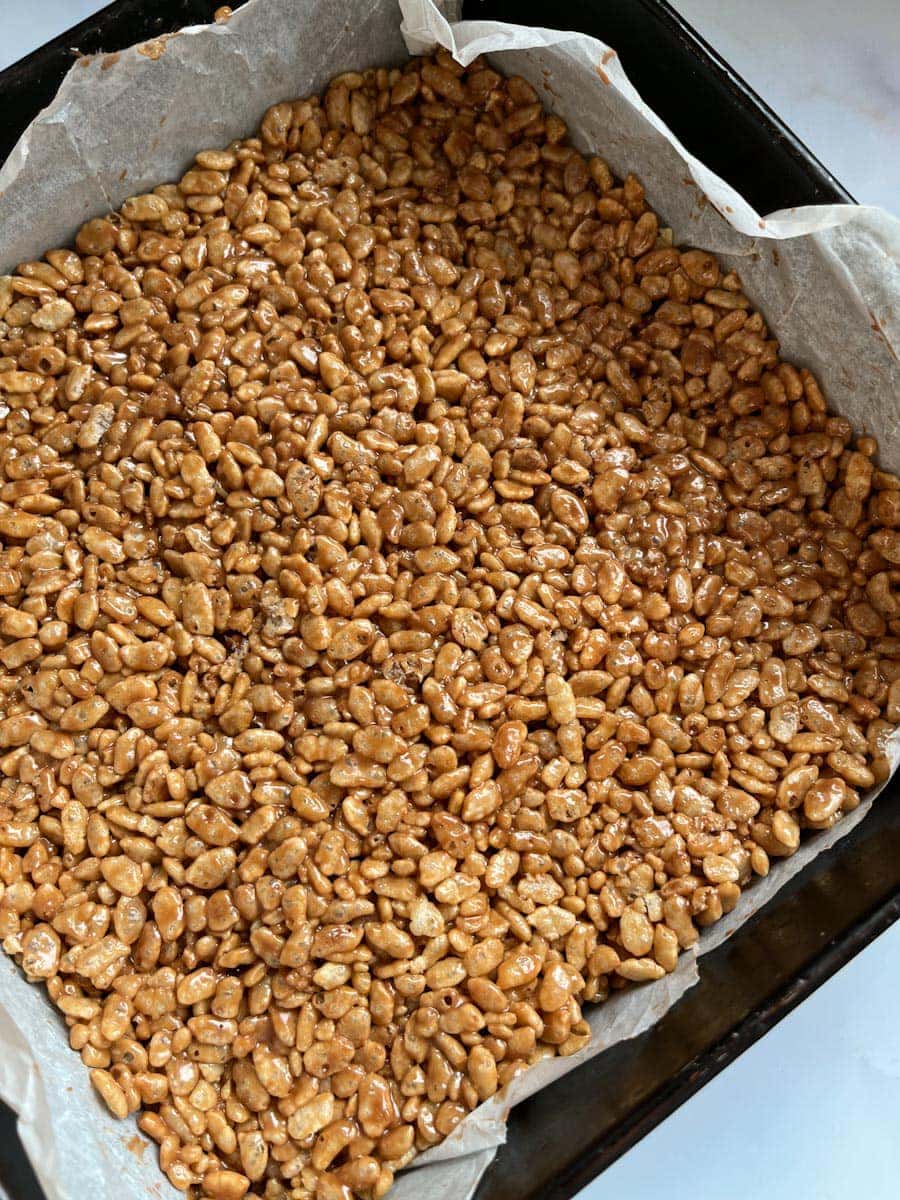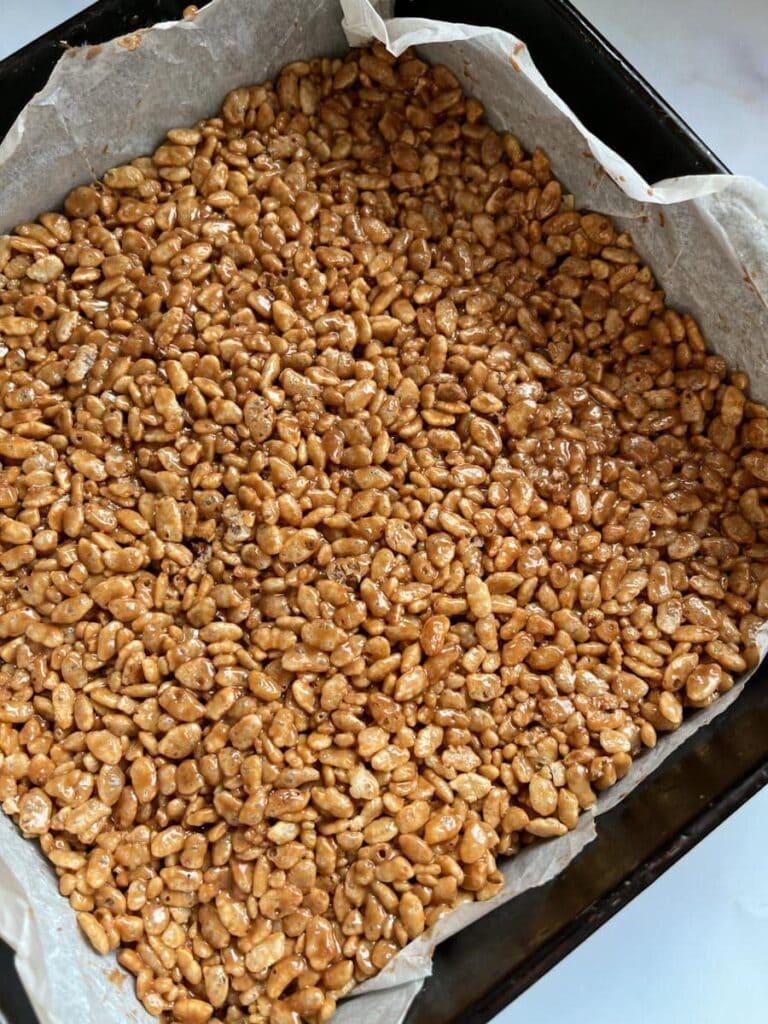 add the chocolate topping
Melt the chocolate in a heat proof bowl set over a pan of barely simmering water (or melt in the microwave.) Pour the melted chocolate over the slice and decorate with chopped Mars Bars if you like.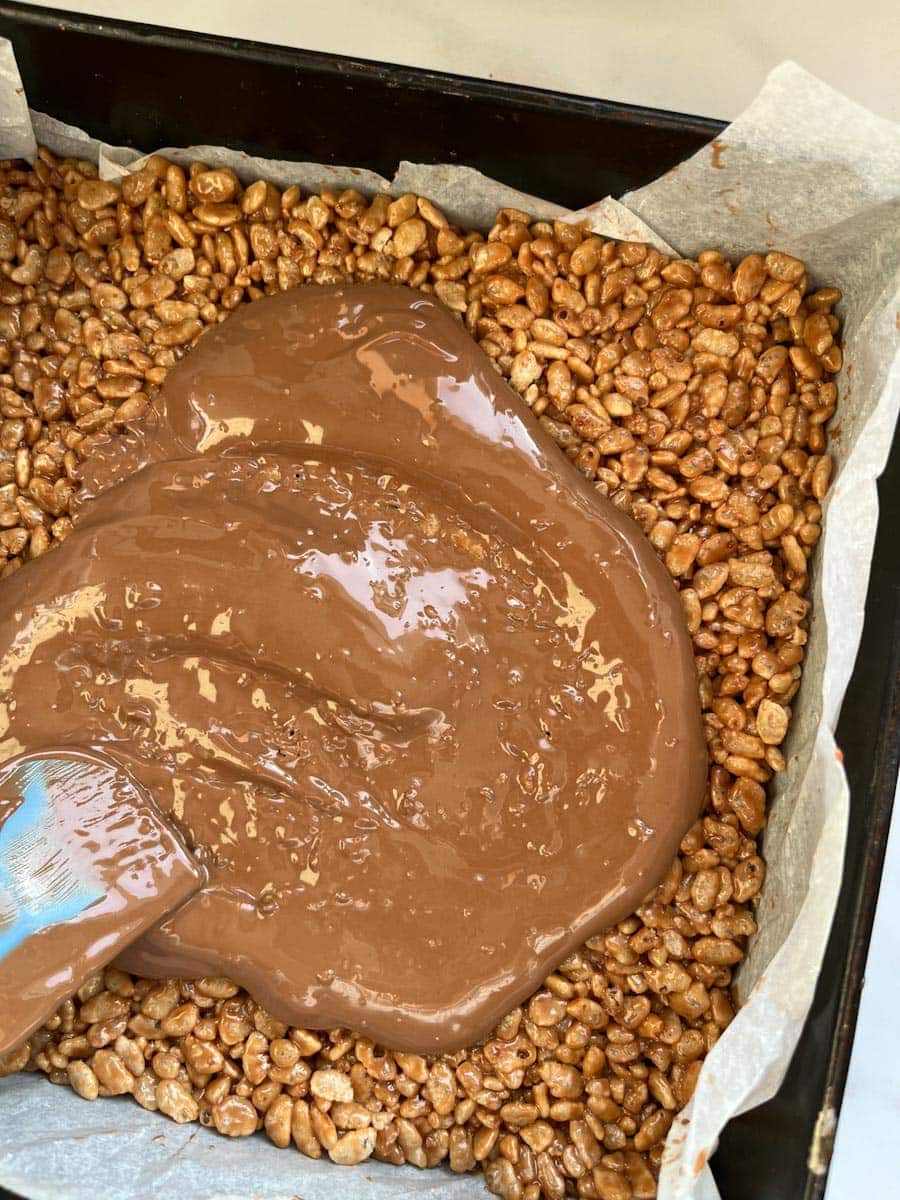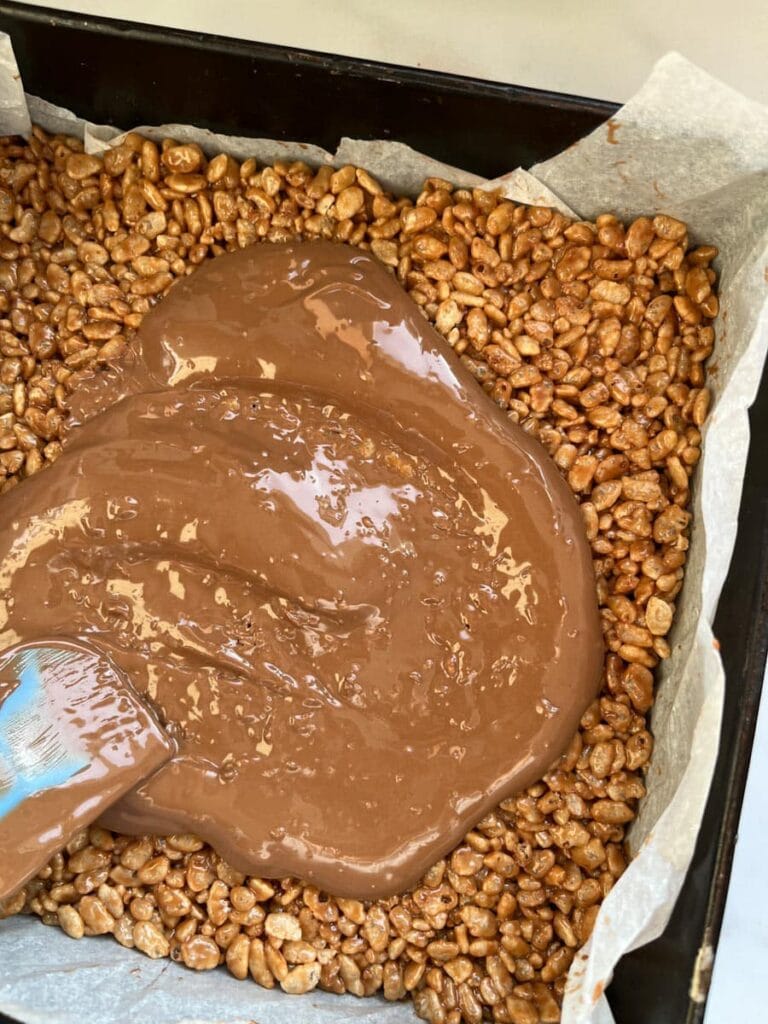 allow to set
Place in the fridge again for arond 2-3 hours until firm. If you live in Scotland and it's Winter time, you will probably get away with having to chill the traybake!

I often leave it for a few hours sitting on the kitchen counter. One advantage to doing this – it's much easier to slice. But if it's warm in your kitchen, you should definitely refrigerate.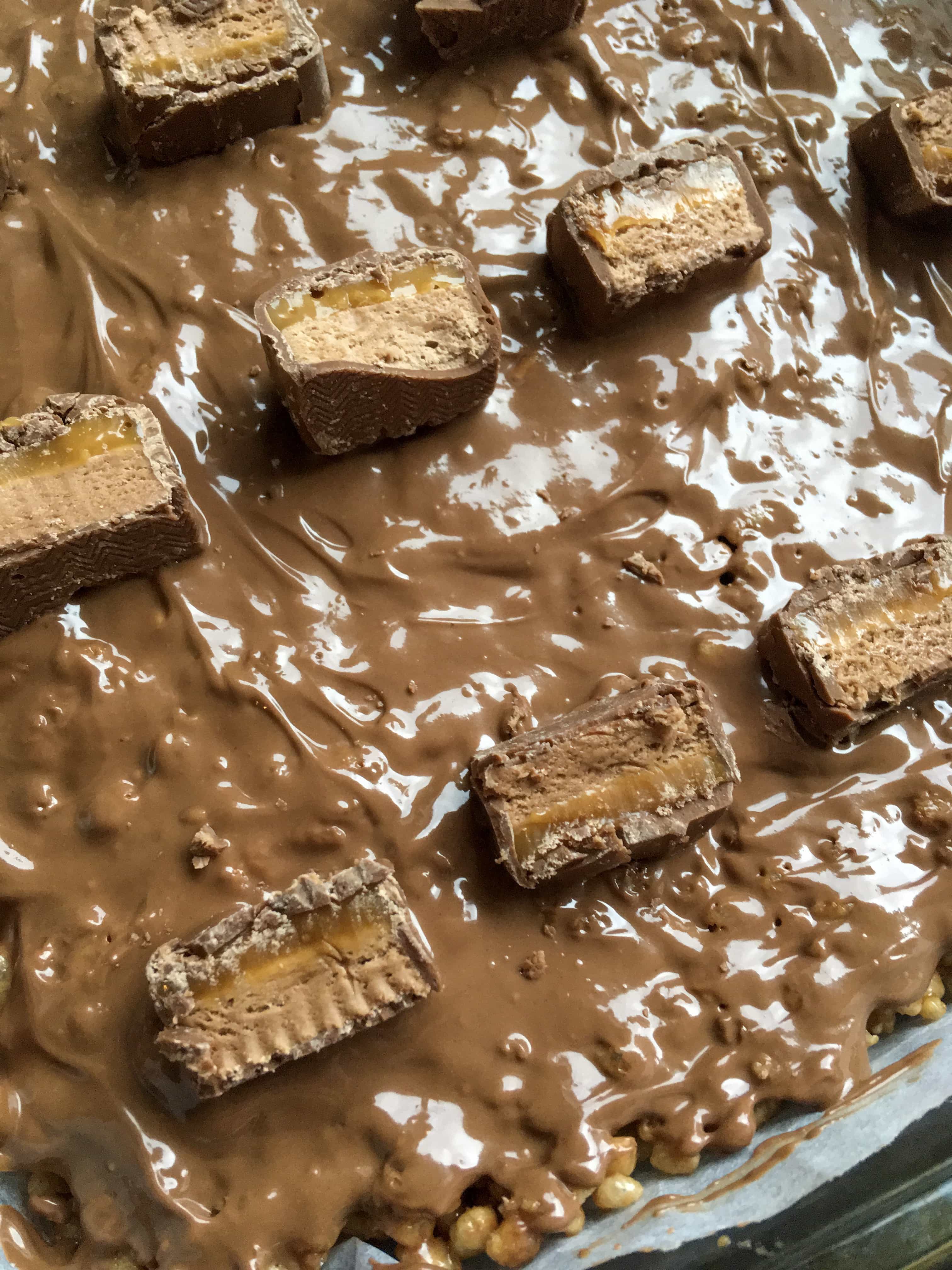 how to slice mars bar cake
Once the chocolate topping has set firm, take a large sharp knife and cut the into about 14-16 slices. It's best to cut straight down in one "swoop" with the knife – if you use a sawing action, the slice will crumble into pieces.
It's best not to cut Mars Bar cake straight from the fridge either or it could fall to pieces. Remove from the fridge and allow to come to room temperature (about an hour or so) first.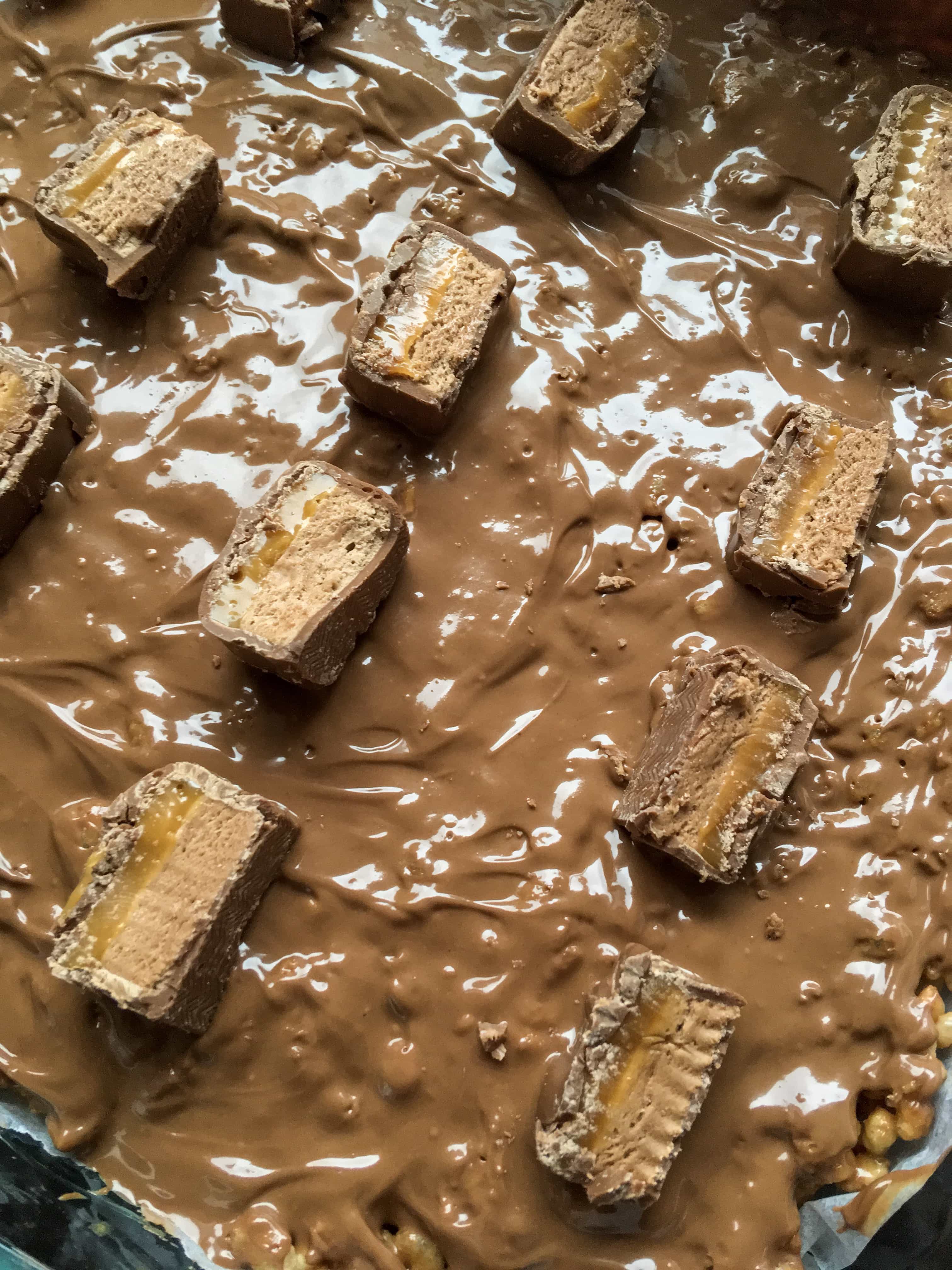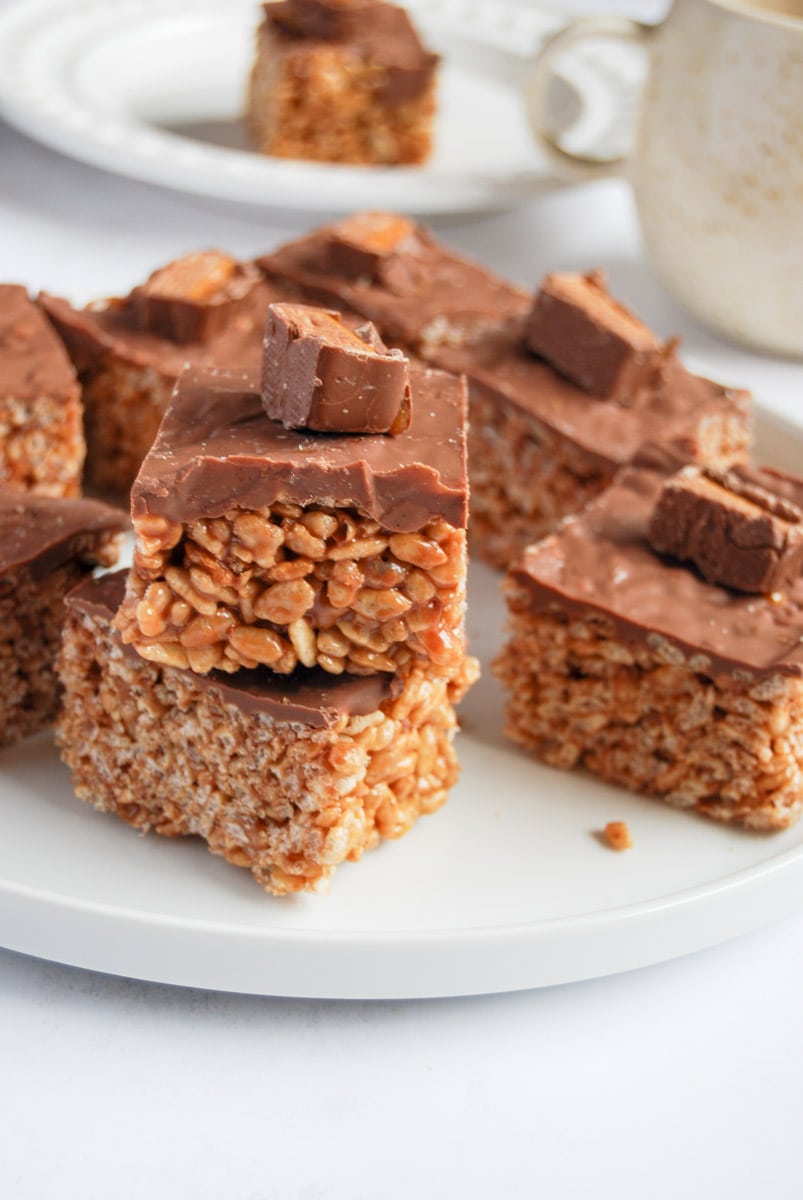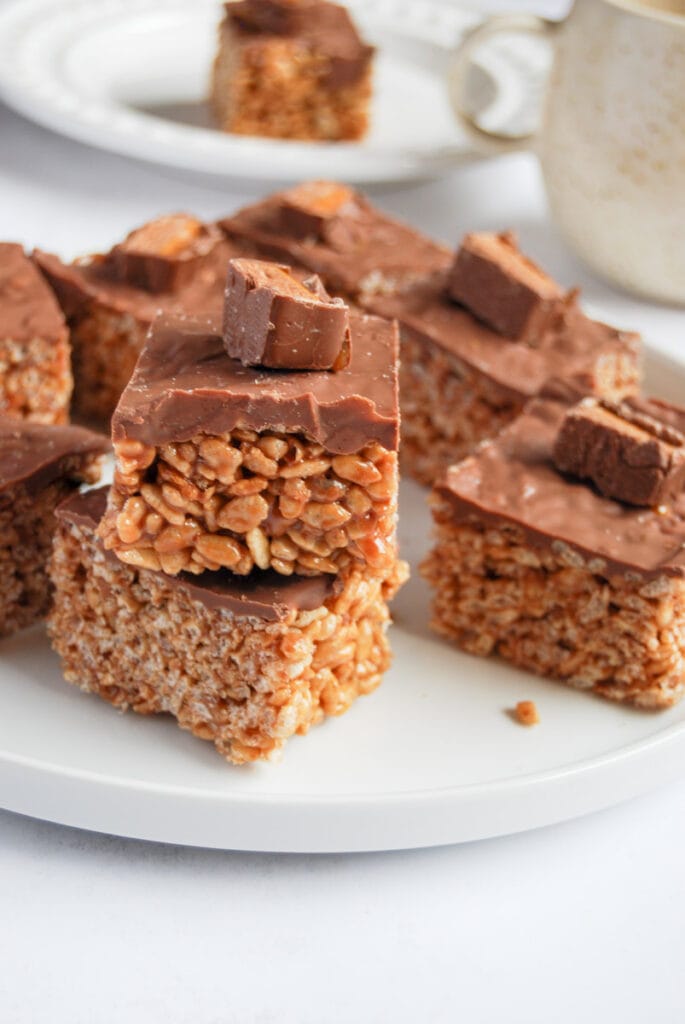 how long does mars bar crispy cake keep for?
Technically, Mars bar cake will keep for up to a week in an airtight container. But it's never lasted more than a couple of days in my house!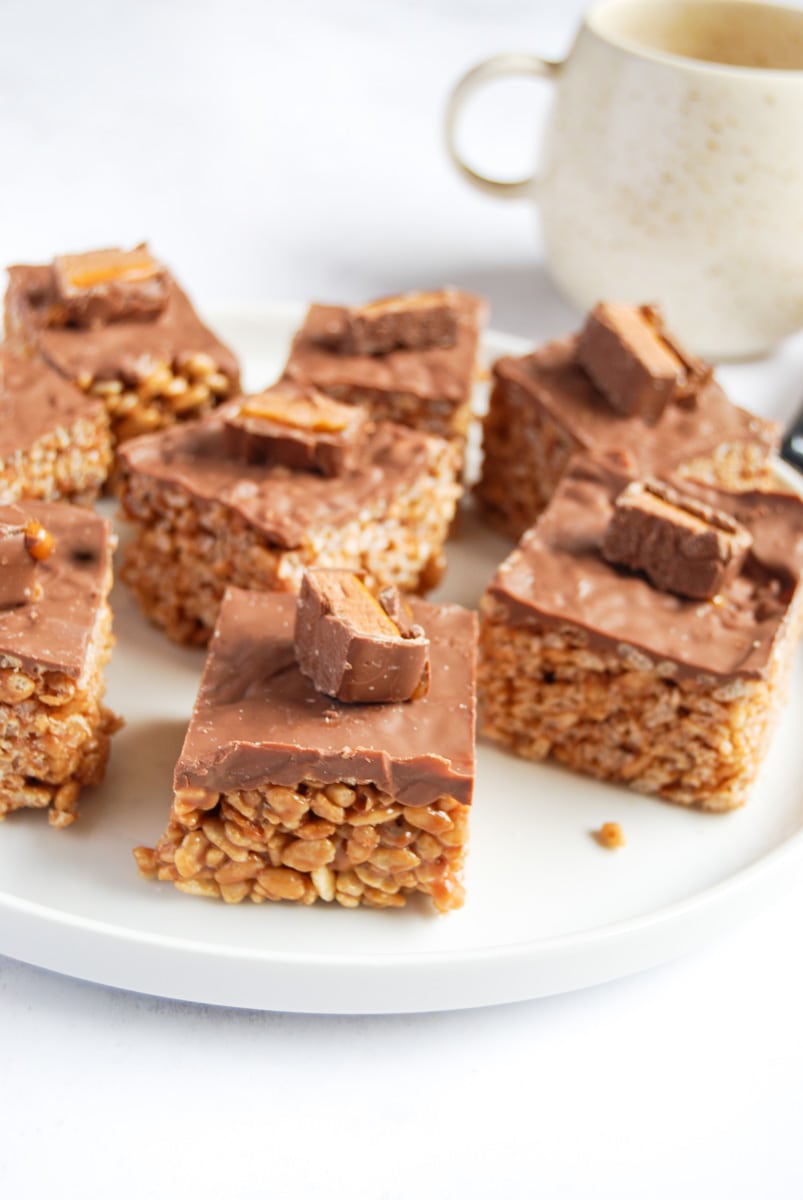 can you freeze mars bar crispy cake?
Yes! Freeze in an freezer safe box or freezer bags for up to one month. Defrost the squares on the kitchen counter for an hour or two before eating.
why not Pin this Mars Bar cake recipe for later?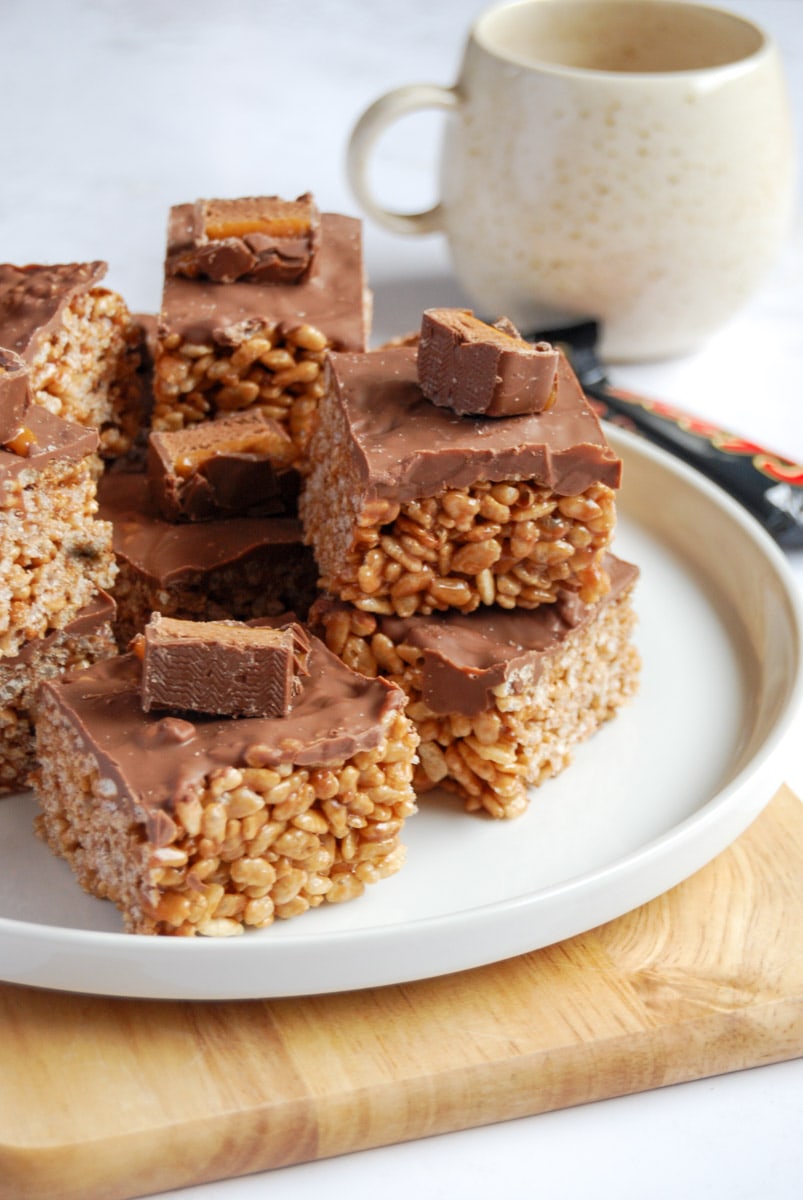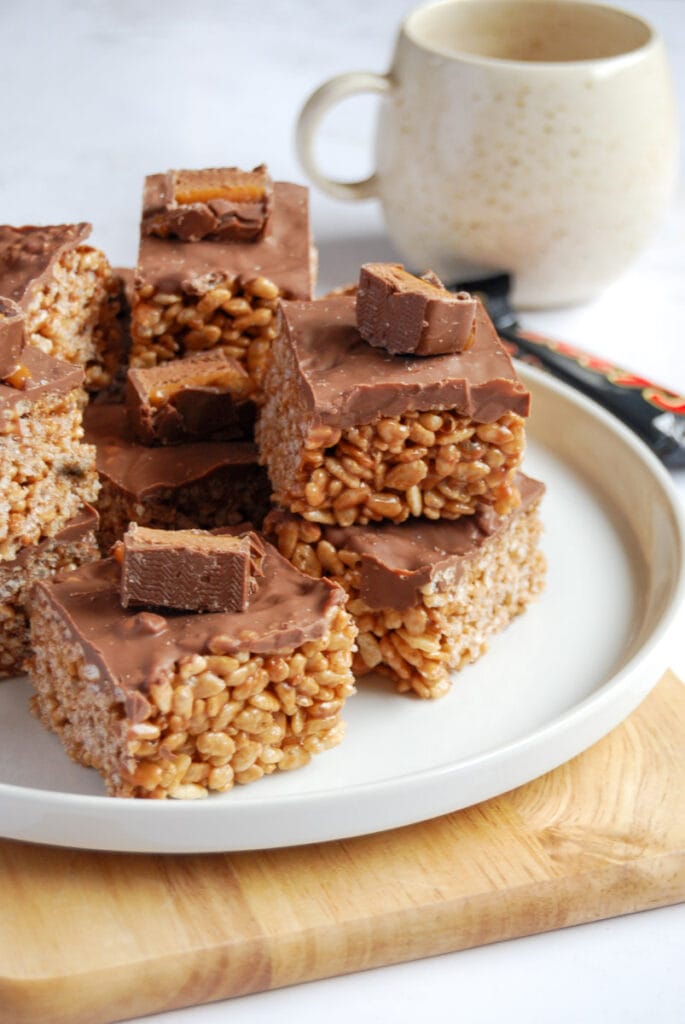 Looking for more no bake recipes?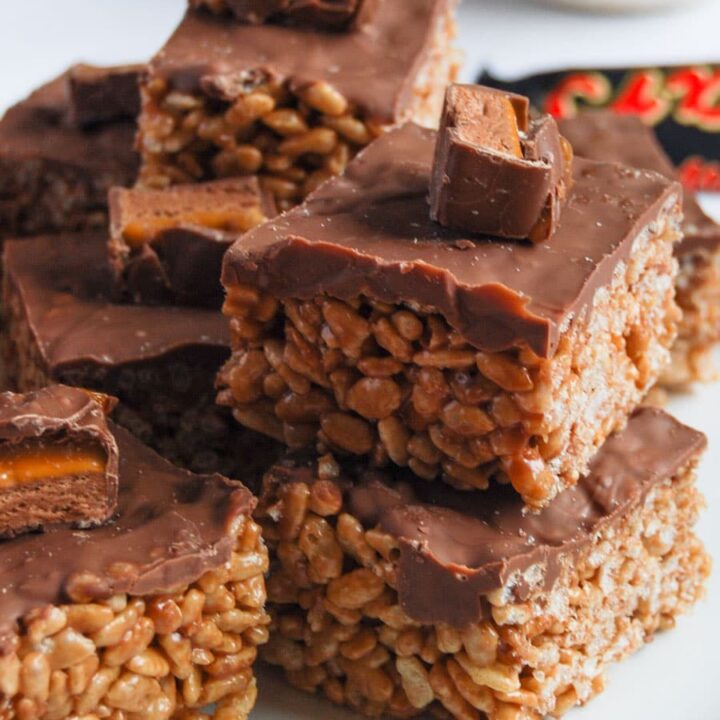 Mars Bar Crispy Cake
Total Time:
2 hours
20 minutes
This easy no bake Mar Bar crispy cake (or Mars Bar Slice) is universally loved by kids of all ages! Chewy, crunchy, crispy and sweet with melted Mars bars, rice crispies and a thick chocolate coating.  
Ingredients
4 Mars Bars, chopped, (the "standard" size weigh 51g each - the bars from the multipack are 39.4g so if you're using these, you will need 6 bars!
75g butter
3 tablespoons golden syrup
225g Rice Krispies or similar crispy rice cereal
200g milk chocolate (for a thicker chocolate topping, increase to 300g)
1 Mars bar for decoration (optional)
Instructions
Grease and line a 9x9 baking tin with baking parchment.
Melt the Mars Bars, butter and golden syrup together over a low heat in a large saucepan. The nougat in the Mars bar will take a while to melt down so keep stirring with a wooden spoon until you have a smooth, melted mixture.
Pour the rice crispies over the melted mixture and stir very well until all the rice crispies are coated in the melted Mars bar mixture.
Pour into the tin, smooth the top and pop in the fridge (or leave on the kitchen counter if your kitchen isn't too hot) while you melt the chocolate for the topping.
Melt the milk chocolate in the microwave or in a heatproof bowl set over a pan of simmering water. Pour the melted chocolate all over the crispy cake. Decorate with chopped Mars Bar pieces if desired.
Leave to set in the fridge for an hour or two before cutting into slices with a large sharp knife.
Notes
This recipe can also be made in a 9x13 inch baking tin, but the slices will be thinner. An 8x8 inch square tin will also work fine.
Nutrition Information:
Yield:

16
Serving Size:

1
Amount Per Serving:
Calories:

171
Total Fat:

8g
Saturated Fat:

5g
Trans Fat:

0g
Unsaturated Fat:

2g
Cholesterol:

13mg
Sodium:

126mg
Carbohydrates:

24g
Fiber:

1g
Sugar:

10g
Protein:

2g
Calories and nutritional information are provided by a third party application and should be viewed as indicative figures only.