This easy No Bake Chocolate Easter Fridge Cake with crushed biscuits, mini creme eggs and Cadbury mini eggs would make the perfect homemade Easter gift – if you can bear to part with it!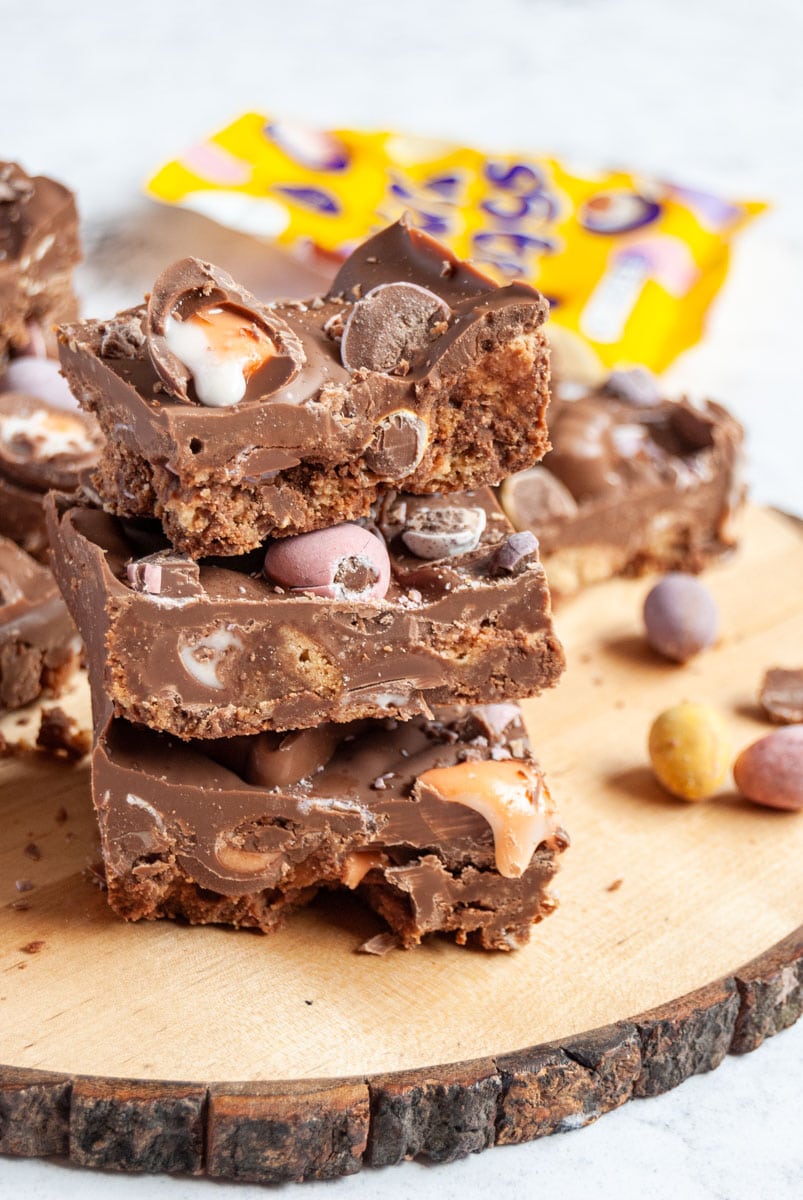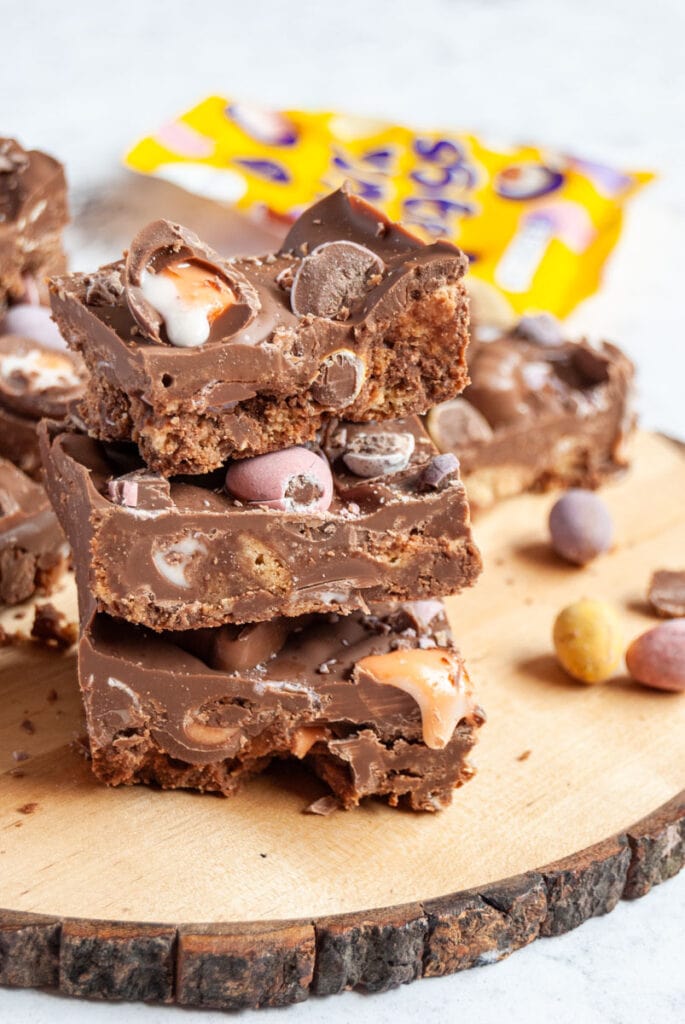 I absolutely love Easter. To me it's all about spending time with family, eating good food and there's no rushing around the shops trying to find the perfect gift! It's kind of like Christmas but without all the pressure don't you think?
And of course there's all the chocolate and Easter bakes such as Cadbury caramel egg brownies, Cadbury Creme egg brownies and these gorgeous Cadbury Creme egg cupcakes. Talk about chocolate heaven.
This no bake chocolate fridge cake is a perfect Easter treat to make when you're short on time. It takes no longer than 15-20 minutes to make and will be loved by everyone – it's a crowdpleaser!
ingredient list
(this is a quick summary of the ingredients you will need to make this no bake chocolate Easter fridge cake. Keep scrolling to find recipe card with ingredient amounts and detailed instructions.)
digestive or rich tea biscuits. I've also used malted milk biscuits and even custard creams succesfully if you fancy changing it up a little.
The Easter chocolate! I used Cadbury mini eggs, mini Cadbury creme eggs and Malteser bunnies. I feel this combination works particularly well, but feel free to use whatever you like – there's lots out there to choose from!
chocolate. You'll need quite a lot – five 100g bars. I use any supermarket brand of milk chocolate – you could use dark but I think all dark would be rather rich and wouldn't really go with the mini eggs and Creme Eggs, but you could use half dark/half milk if you find milk chocolate too sweet. But if you did, I strongly suspect you wouldn't be making this recipe…!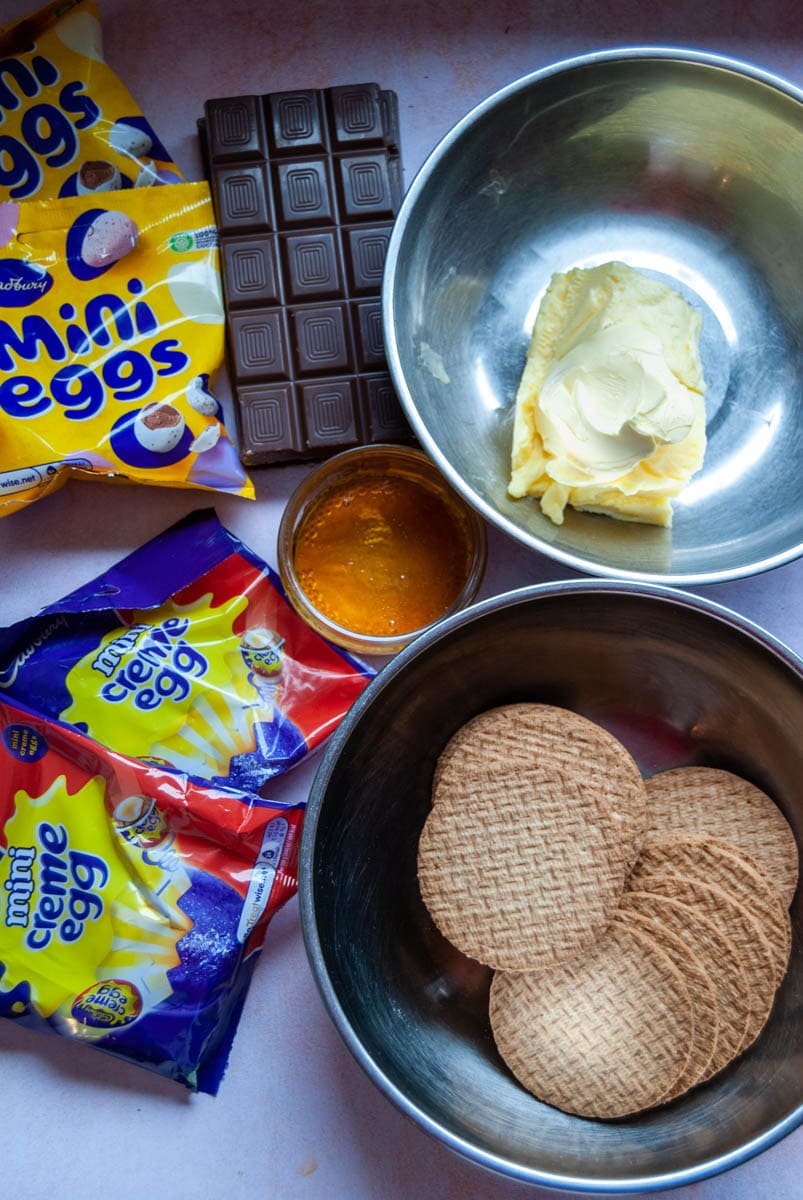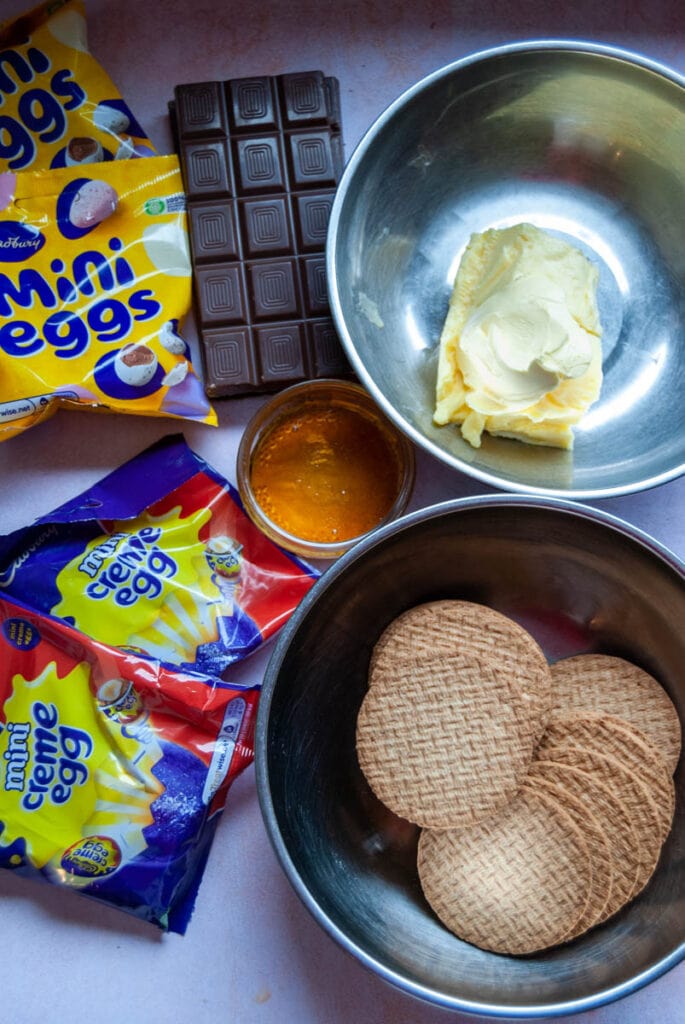 I made this on Sunday afternoon and it was all gone by Monday morning. It's addictive stuff! Don't say I didn't warn you.
want to try another easy no bake Easter recipe? Try this Mini egg rocky road!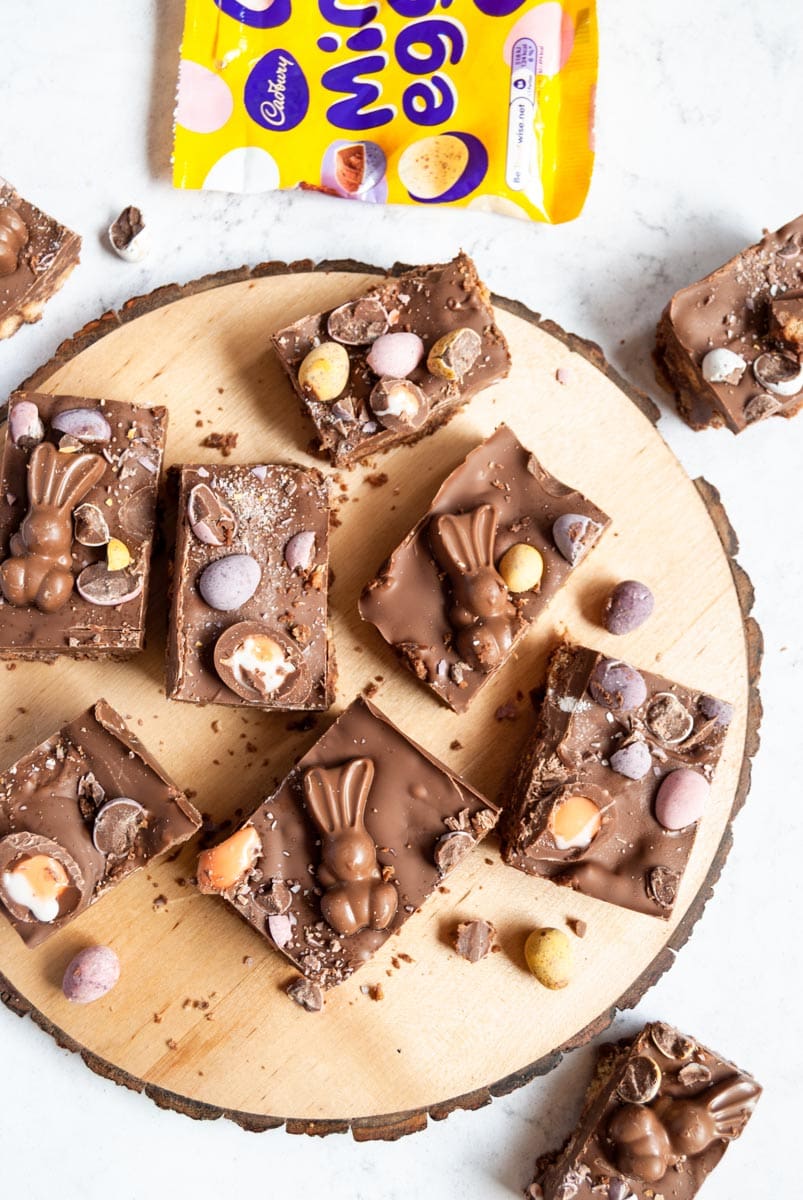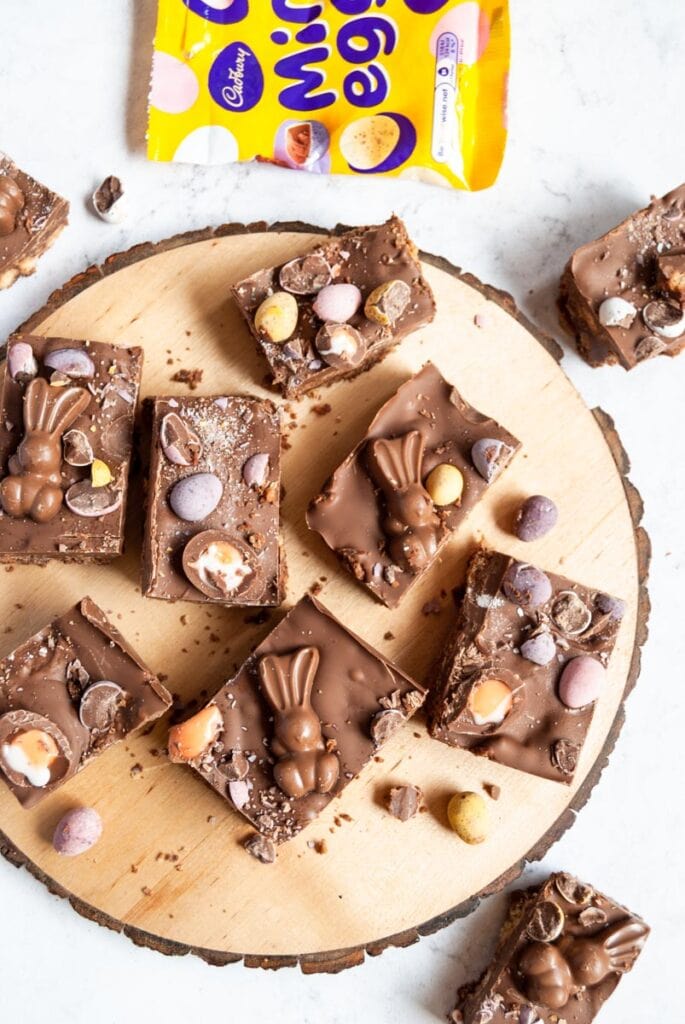 step by step instructions
Melt the chocolate, butter and golden syrup together in a large saucepan over a low heat.
Once the mixture has melted and is nice and smooth, tip in the crushed biscuits and Easter chocolates. Stir well to combine the ingredients together.
**Handy tip – I crush the mini eggs before adding them to the mixture by lightly bashing the packet with a rolling pin. If you add the mini eggs whole, the fridge cake will be a nightmare to cut, not to mention it's nigh on impossible to cut a mini egg with a knife!**
Tip this chocolate overload mixture into a greased and lined 22cm baking tin. Using a metal spoon, press down firmly and evenly, making sure you get into all the corners.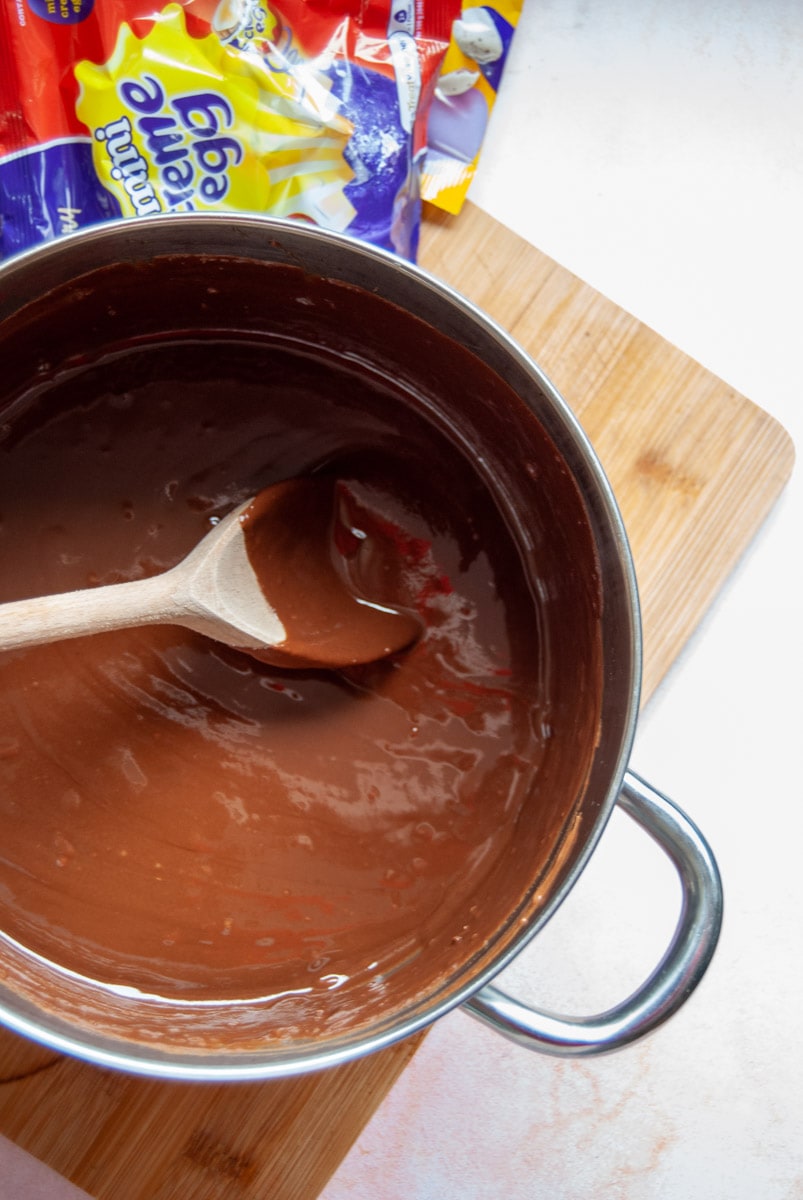 Pop in the fridge while you melt the chocolate for the topping. Remove the cake from the fridge and pour over the melted chocolate. Decorate with bashed mini eggs, halved creme eggs and Malteser bunnies.
Place back in the fridge for a couple of hours to set before slicing into bars.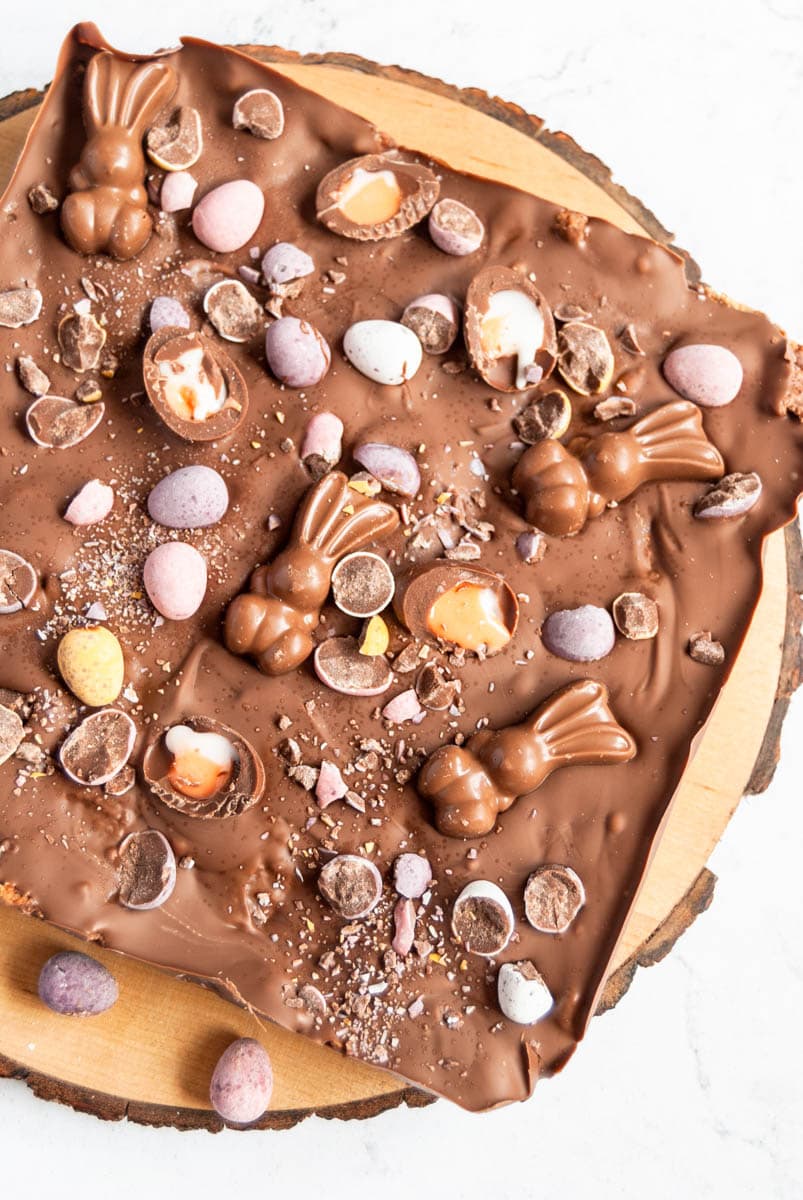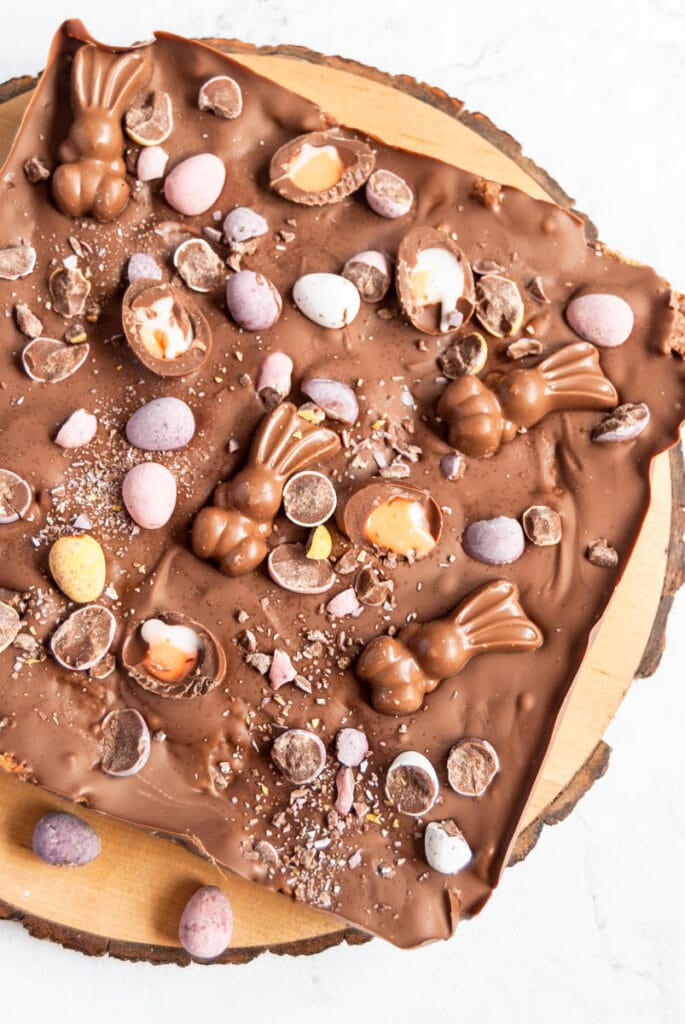 storage instructions
This chocolate fridge will keep in the fridge in a tupperware box for up to one week. Well, in theory anyway…..
More Easter baking inspiration….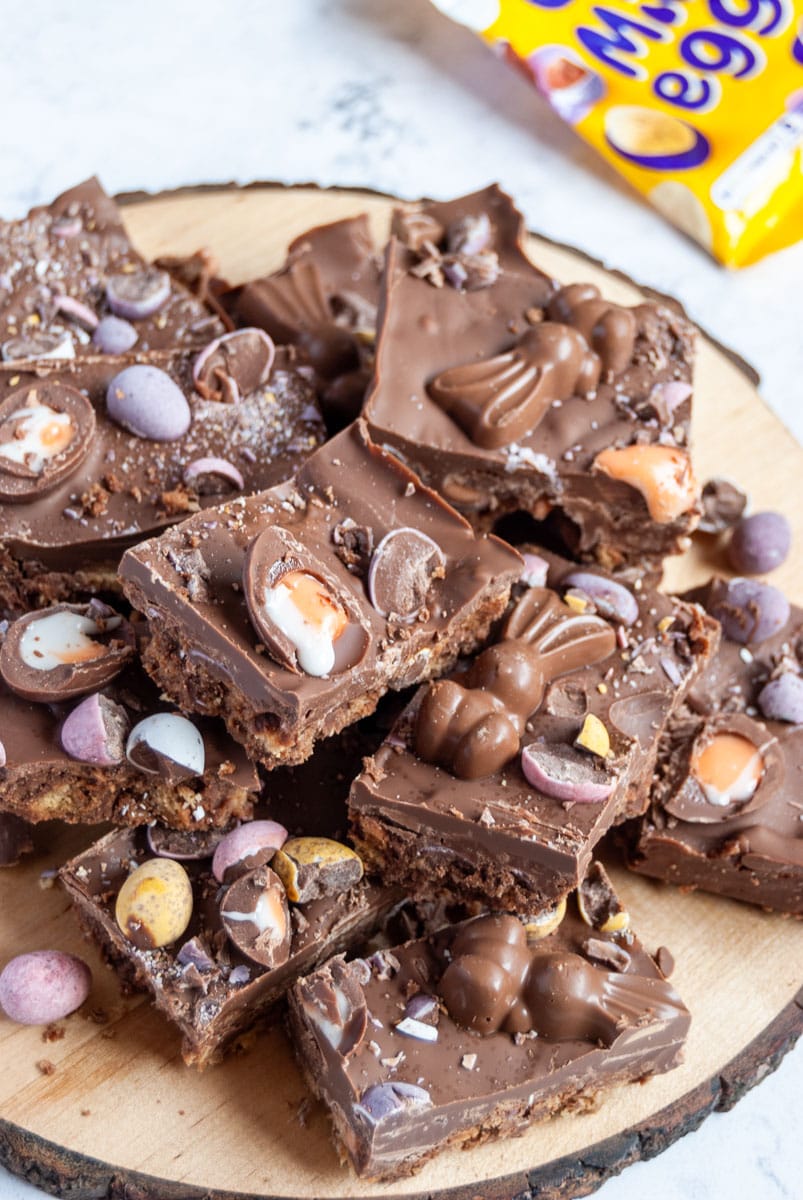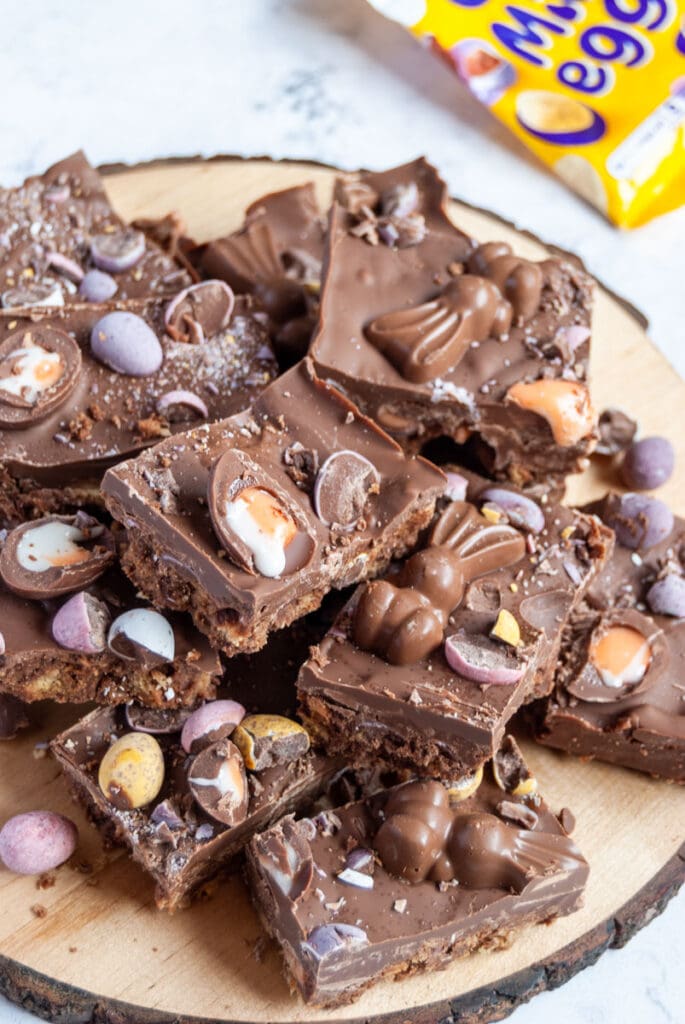 Want to see more easy no bake recipes?
Chocolate Easter Fridge Cake
An easy no bake Easter chocolate fridge cake filled with your favourite Easter sweets!
Ingredients
350g Milk chocolate
125g butter
2 tablespoons golden syrup
200g digestive biscuits, broken into small pieces - I tip the biscuits into a large freezer bag and pulverize them with a rolling pin - very theraputic! What you're aiming for is both crumbs and larger pieces of biscuit.
175g mini eggs (I bash the packet of eggs with a rolling pin to make them a little bit smaller - this makes the fridge cake much easier to cut. Cutting them in half with a knife is a nightmare - they ping all over the place! Just don't bash the eggs too much - you just want them broken up a little)
189g packet Cadbury mini creme eggs, cut in half
FOR THE TOPPING
250g milk chocolate
Easter sweets for decoration - you can use anything you like! I used lightly crushed mini eggs, mini creme eggs and Malteser bunnies.
Instructions
Grease and line a 22cm square tin with baking paper.
Melt the chocolate, butter and golden syrup together in a large pan over a low heat.
When the chocolate mixture is smooth and melted, take off the heat. Tip in the crushed biscuit pieces. Leave for a few minutes before stirring in the bashed mini eggs and mini creme eggs.
Tip the mixture into the baking tin and pop in the fridge while you get on with the chocolate topping.
Melt the 150g chocolate in a bowl set over a pan of simmering water until smooth and glossy.
Pour the melted chocolate over the chocolate slice, slightly tilting the pan so the chocolate reaches the edges.
Decorate the top with the lightly crushed mini eggs/mini eggs/Easter sweets and place back in the fridge to set before cutting into bars. The fridge cake will set quite hard, so when you remove it from the fridge leave it sit on the kitchen counter for about 20-30 minutes before cutting with a very large sharp knife. It's best to cut all the way down with one clean sweep if you can - if you cut it with a sawing action, the fridge cake will crumble.
Notes
Makes 12 large pieces of fridge cake, but you could make it go much further by cutting it smaller - after all, it is rather rich!
Nutrition Information:
Yield:

12
Serving Size:

1
Amount Per Serving:
Calories:

582
Total Fat:

36g
Saturated Fat:

21g
Trans Fat:

0g
Unsaturated Fat:

12g
Cholesterol:

52mg
Sodium:

223mg
Carbohydrates:

60g
Fiber:

3g
Sugar:

45g
Protein:

7g
Calories and Nutritional information is calculated by a third party application and should be used as indicative figures only.