This easy egg free fruity bran loaf is packed with fruity goodness and is fat free – so feel free to spread slices generously with butter!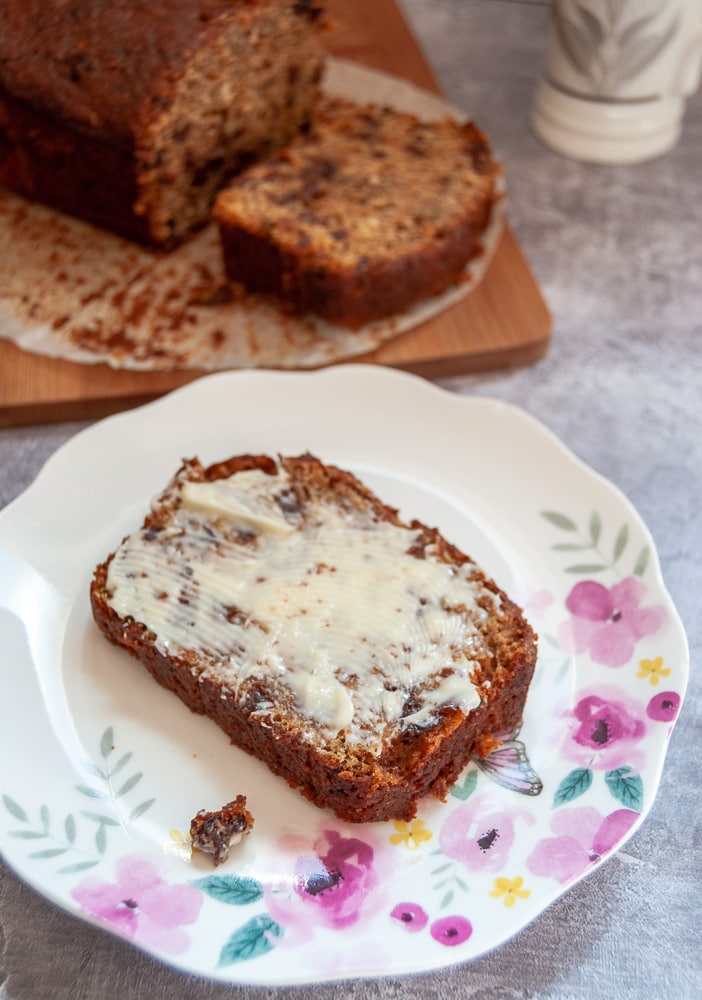 I love a slice of fruit loaf, and this is a really simple but delicious one. It's a great keeper – in fact if you can stand not to cut into the loaf for a couple of days, it will taste all the better.
This is not a pretty cake at all – in fact, it's rather lumpy and bumpy looking. But I promise the taste more than makes up for it.
equipment needed for making this fruity bran loaf
This is one of the easiest cakes you can make – you measure out all the ingredients in a mug. Not an American cup measurement. A standard sized normal mug you drink your tea in is fine!
You don't even need to get your scales out for this recipe. Just remember – the bigger the cup, the bigger the loaf which in turn, may affect the baking time.
I actually used a small mug to measure my ingredients, but it's swings and roundabouts really.
You'll need a 2lb (900g) Loaf tin to make this cake.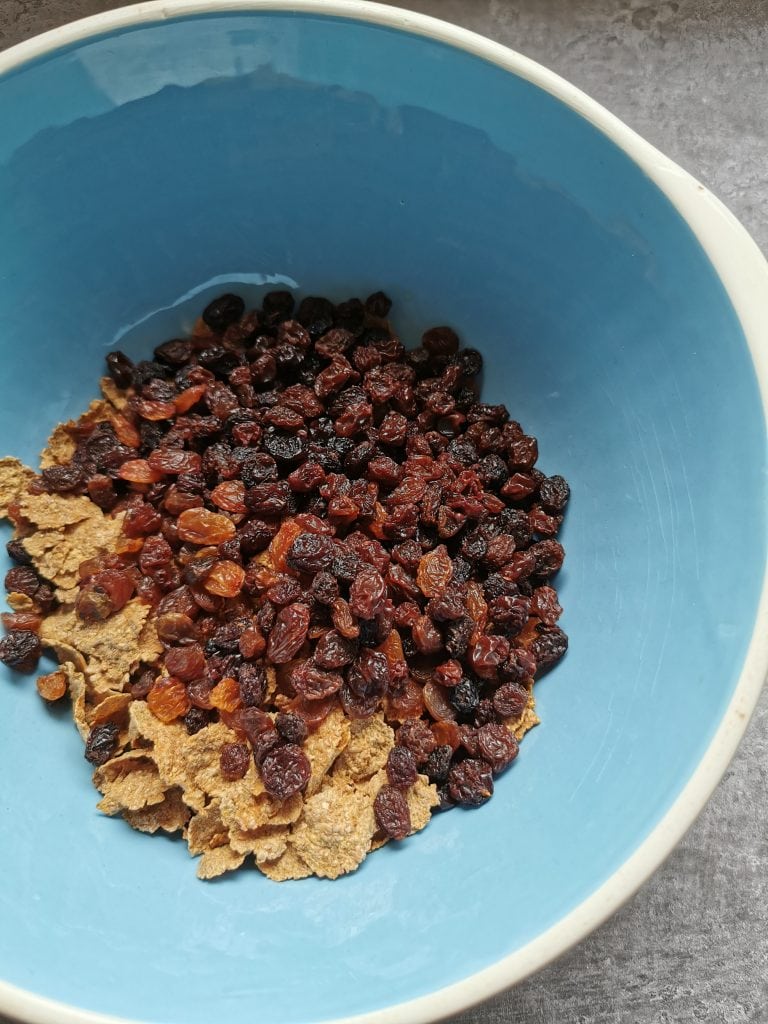 ingredients list
Bran flakes
Sugar – I like to use soft or dark brown sugar, but caster sugar is also fine
Milk
Dried fruit of your choice – sultanas, raisins, currants, cranberries, apricots are all good here. I imagine those exotic fruit mixes you can buy would be really lovely.
Self Raising Flour.
Ground mixed spice, ground cinnamon or ginger (optional but I always include it)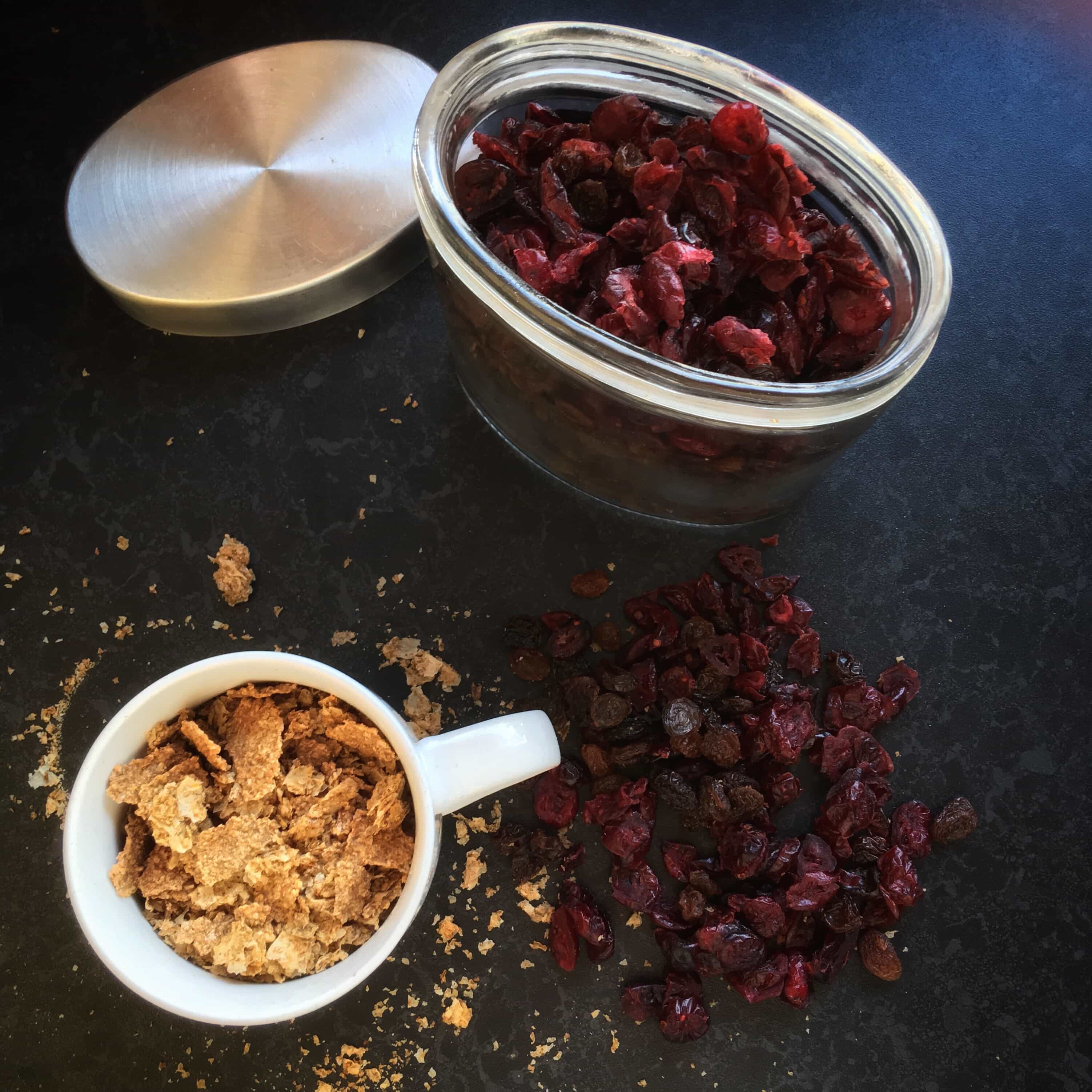 How to make a fruity bran loaf
(scroll to the bottom of the post to find printable recipe)
Combine bran flakes, milk, any dried fruit of your choice, sugar and spices if using in a large mixing bowl. Leave for about an hour.
The bran flakes will obviously soften and the mixture will be quite mushy and unattractive.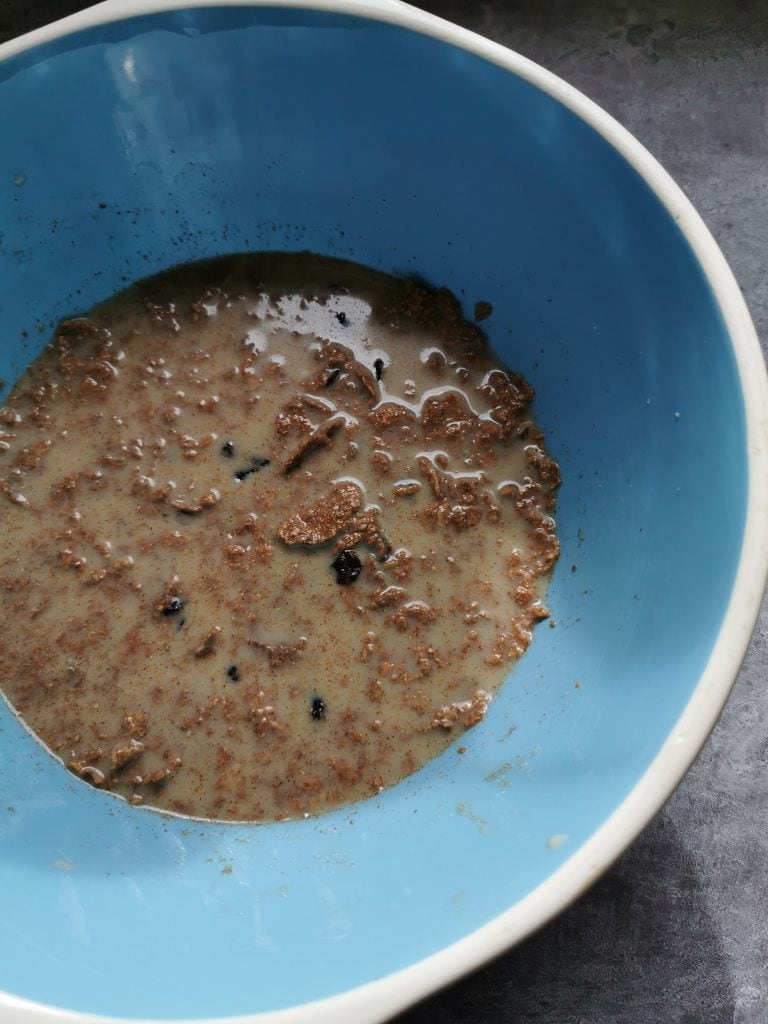 Stir in self raising flour, being careful not to overmix. Pour into a loaf tin and bake for about 1 hour or until risen and a skewer inserted in the middle of the cake emerges clean.
That's all there is to it. It really is that easy!
TIPS for making this fruit bran loaf
Use whatever dried fruit you have in the cupboard – anything works. It's a very adaptable recipe.
When you add the flour, don't overmix – stop as soon as the flour is incorporated into the mix. Over mixing can produce a tough, rubbery loaf cake.
Although you can eat this fruit loaf straight away, it's much better if you can leave it for a day or two. It will soften and become squidgier.
When the loaf is completely cold, wrap in a layer of baking paper or cling film and tin foil.
I love this fruity bran loaf spread with lots of butter at any time of the day.
how long will this fruit bran loaf keep?
The fruit loaf will keep for up to a week, providing it is well wrapped/in an airtight tin. Store in a cool place, out of direct sunlight.
how to make a vegan fruit bran loaf
You can make a vegan fruit loaf by swapping the dairy milk for a plant based alternative, such as almond, soy, rice or oat milk.
If you give this recipe a go, please let me know what you think! Leave a comment in the box below and rate the recipe out of 5 by clicking on the stars in the recipe card at the bottom of the post.
More recipes to try using dried fruit
Looking for more easy loaf cake recipes?
Coconut and raspberry jam loaf cake
Peanut Butter Cup Chocolate Chip Banana Loaf
chocolate sour cream banana cake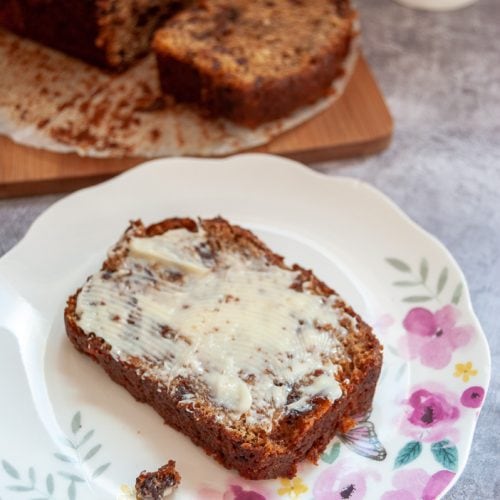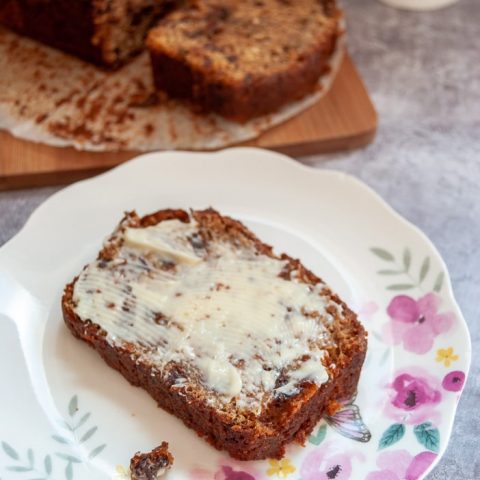 Fruity bran loaf
Prep Time:
1 hour
5 minutes
Total Time:
2 hours
5 minutes
This easy egg free fruity bran loaf is packed with fruity goodness and is fat free - so feel free to spread slices generously with butter!
Ingredients
1 mug sugar, white or soft light/dark brown
1 mug mixed dried fruit – I usually use whatever I've got in the cupboard – raisins, sultanas, cranberries, chopped apricots and cherries are all good here
1 mug milk
1 mug bran flakes
1 mug self raising flour
1/2 tsp ground mixed spice or ground cinnamon , optional
Instructions
Preheat the oven to 180C/160Fan/350F/Gas mark 4. Grease and line a 2lb (900g) loaf tin.
Pour the sugar, dried fruit, milk and bran flakes into a large mixing bowl and stir well. Cover the bowl and leave for one hour.
Using a wooden spoon, stir in the flour. Pour the mixture into the lined loaf tin and bake for 50-60 mins or until a sharp knife or skewer inserted in the middle comes out clean. Leave the loaf cake to cool in the tin.
Nutrition Information
Yield

10
Serving Size

1
Amount Per Serving
Calories

304
Total Fat

1g
Saturated Fat

0g
Trans Fat

0g
Unsaturated Fat

0g
Cholesterol

2mg
Sodium

245mg
Carbohydrates

74g
Fiber

4g
Sugar

49g
Protein

4g