This sticky Gingerbread Loaf Cake is simple home baking at its best. It gets even better after a few days of baking – if you can resist it for that long!
This is the best gingerbread recipe I have ever made – I'm sure you'll love it too!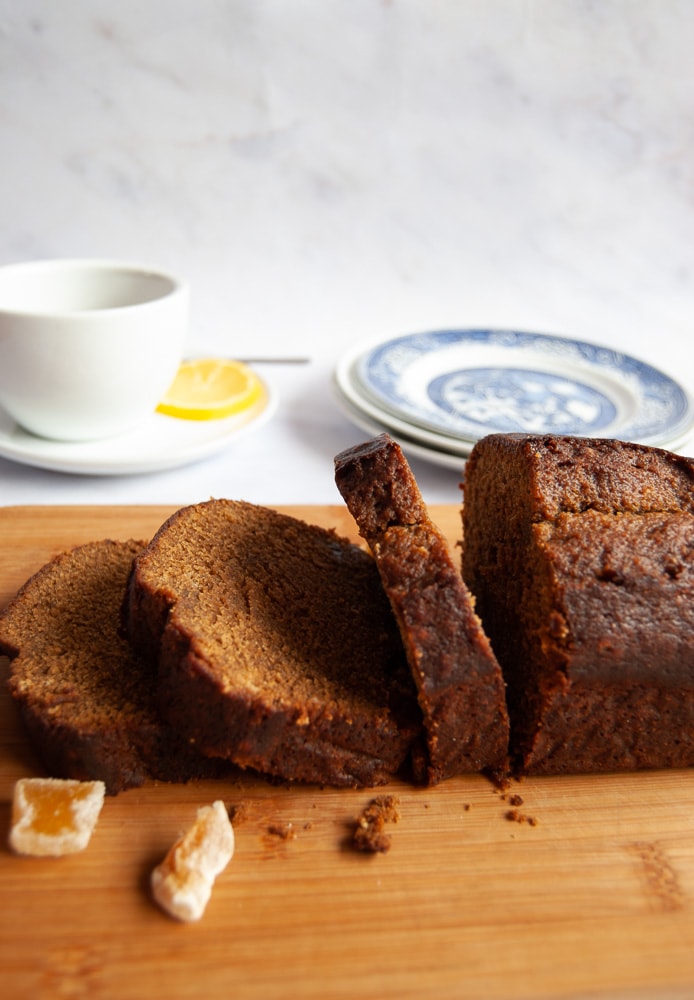 I really do love a nice, sticky gingerbread loaf cake. There's just something so comforting and old fashioned about it. And personally, I can't think of any other bake that goes better with a cup of tea!
Treacle and golden syrup is the secret to making the best gingerbread – as well as a generous amount of ground ginger and some chopped crystallised ginger for an extra kick of flavour.
I go through so much treacle in the Winter months I'm actually considering buying it in bulk. As well as making gingerbread and sticky ginger parkin, I use it to make spiced ginger cookies, treacle scones and I swirl it through my morning porridge.  I absolutely love the stuff.
If you're a fan of golden syrup (and let's face it, who isn't?) give my golden syrup cake recipe a try!
How to make gingerbread
(ingredient amounts and detailed instructions in printable recipe card at the bottom of the post)
Sift flour, bicarbonate of soda, ground ginger and ground cinnamon together in a large mixing bowl.
Rub in soft butter until the mixture looks like breadcrumbs.
Stir in the grated zest of one lemon, dark brown sugar and chopped crystallised ginger pieces. 
In a small pan, warm the milk, treacle and golden syrup.  Remove from the heat and allow to cool a little before beating in the egg. 
Pour this over the dry ingredients, stirring well to mix.
Pour this mixture into a lined 900g (2lb) loaf tin – it will be very runny – and bake at 180C/160Fan/350F for around one hour, or until the gingerbread has risen well and a skewer inserted in the middle of the cake emerges clean.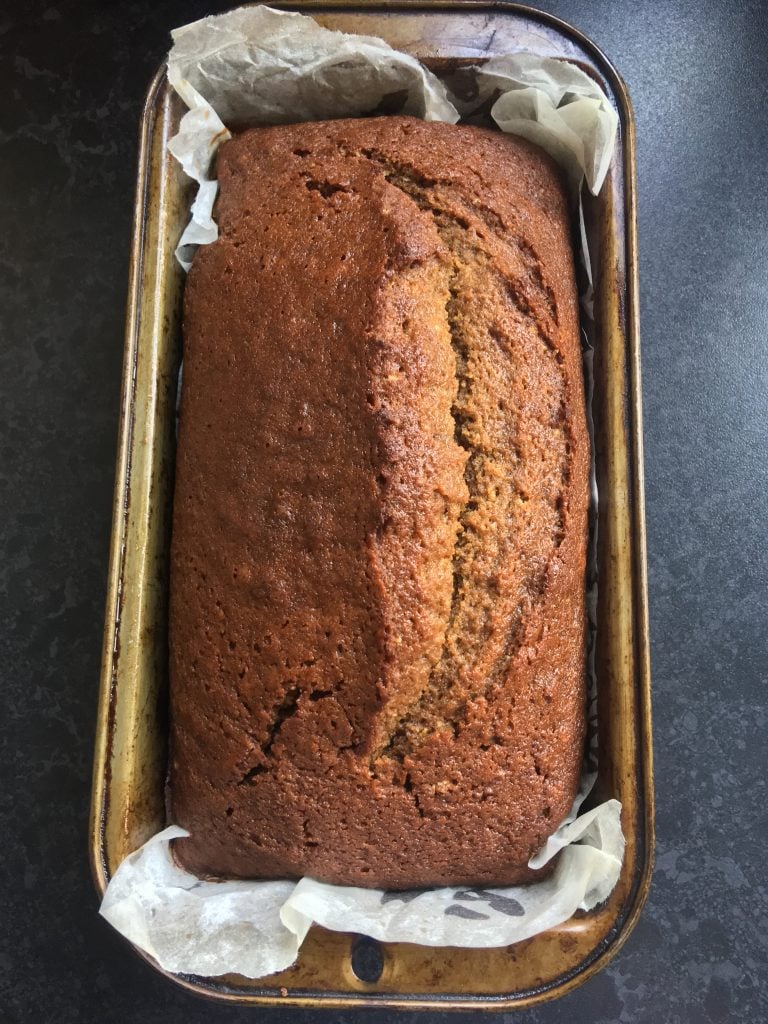 patience is a virtue….
The longer you leave the cake alone, the darker and stickier it gets! It's well worth making in advance if you have the patience. Wrapped in baking paper and tin foil, it will be perfect in two or three days.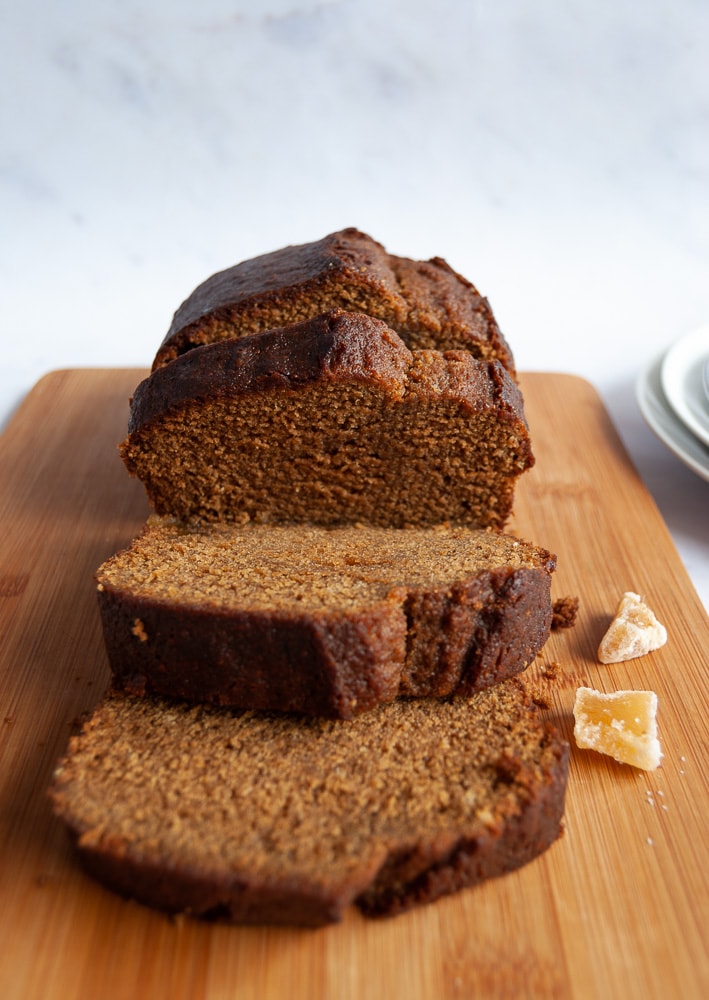 recipe notes
You can leave the gingerbread plain if you wish by all means – but adding either a fresh, zingy lemon icing or a tangy orange cream cheese icing really takes this cake to a new level. You'll find recipes for these in the recipe card at the bottom of the post.
I love both options, so I tend to go for whatever takes my fancy at the time.
If I choose the lemon icing, I like to decorate the top with chopped crystallised ginger pieces. Lemon and ginger complement each other perfectly!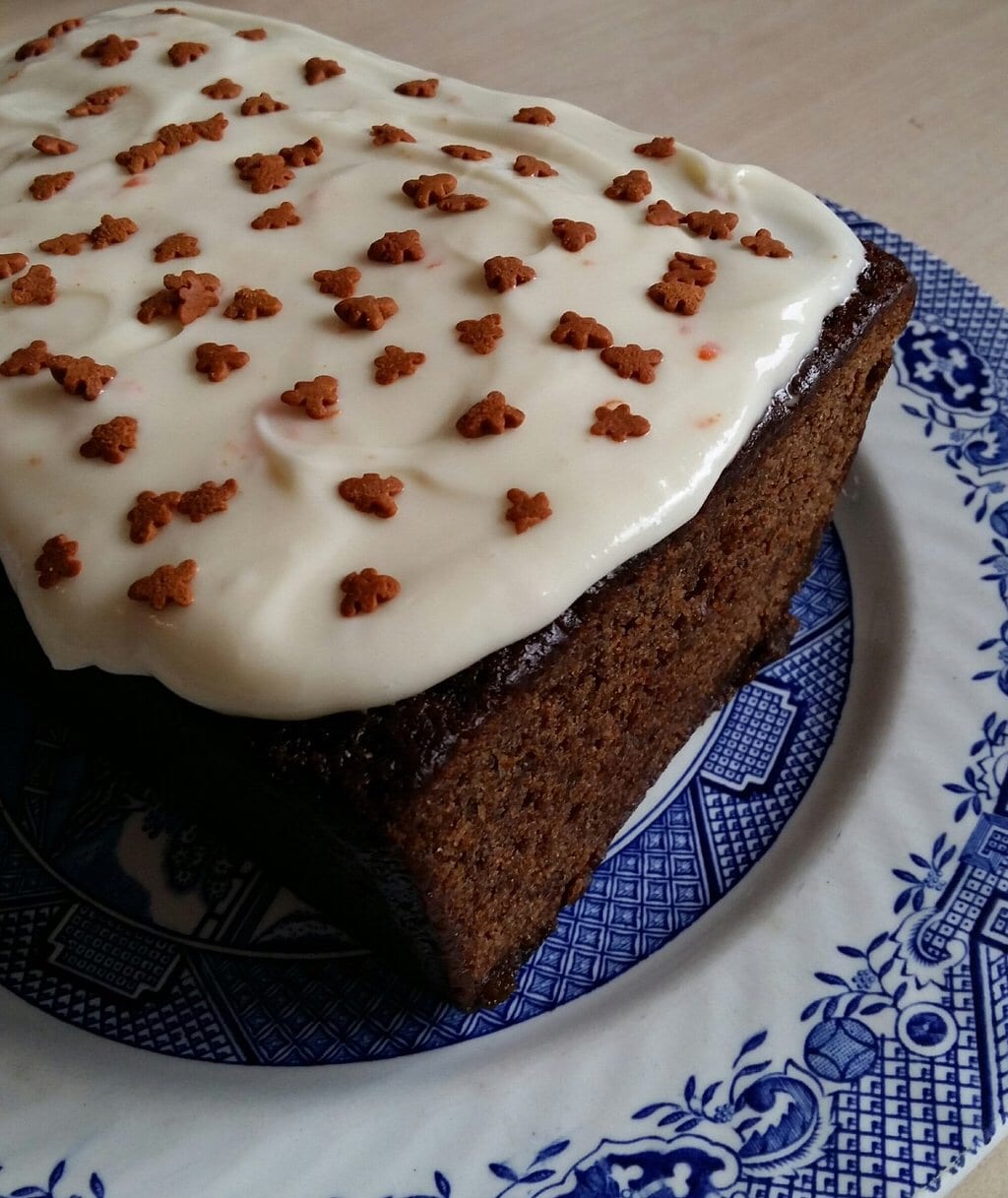 storage instructions
This gingerbread loaf cake will last well in an airtight tin for several days.  Wrapping the cake in baking parchment and a layer of foil will ensure it doesn't dry out. 
However, if you do find the last few slices are a little on the dry side, I suggest drowning it in custard! 
looking for more ginger bakes?
If you love this recipe, you might want to try my recipes for Sticky Gingerbread Cupcakes , Ginger Crunch Bars, Rhubarb and ginger muffins and this showstopping Gingerbread latte cake.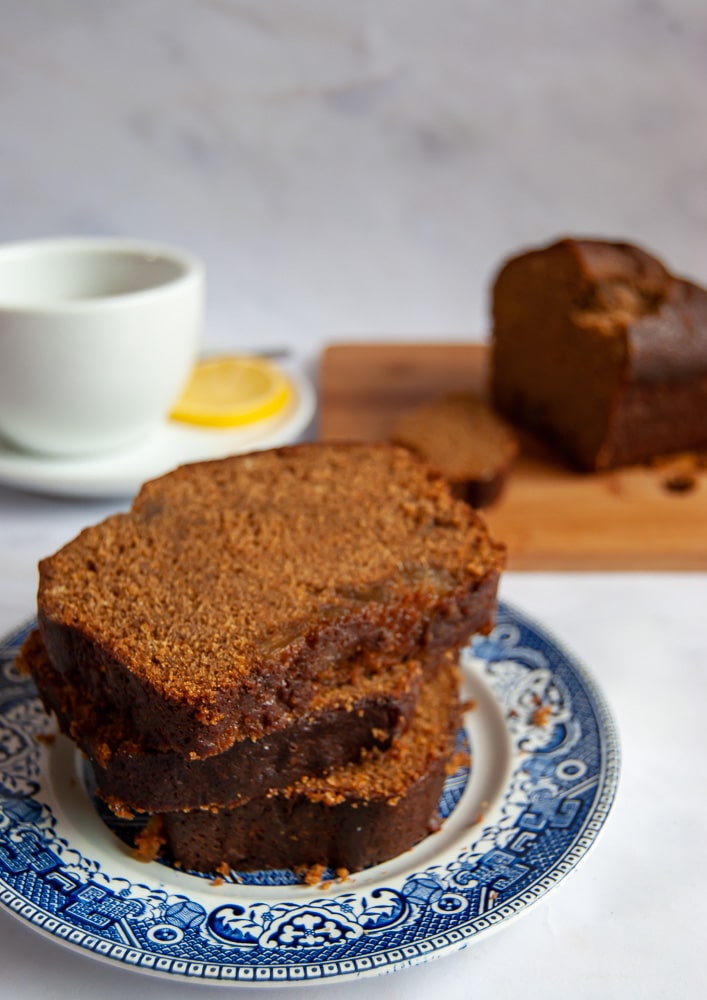 want to see more classic loaf cake recipes?
If you love making loaf cakes, check out my recipes for Banana Fudge Loaf, coconut and raspberry Jam loaf cake, Malt loaf, fruity bran loaf, easy lemon drizzle cake, easy Banana bread, Peanut Butter Cup Banana Bread and Mincemeat Loaf Cakes.
Did you make this recipe?
 I hope you loved it! Let me know what you thought by leaving a comment below and rate the recipe out of five by clicking on the stars in the recipe card.  Thanks! 
If you have a picture of your creation, feel free to share it with me on Instagram and I'll post it on my stories!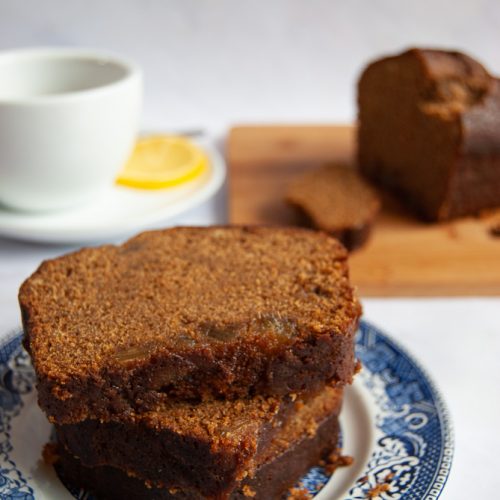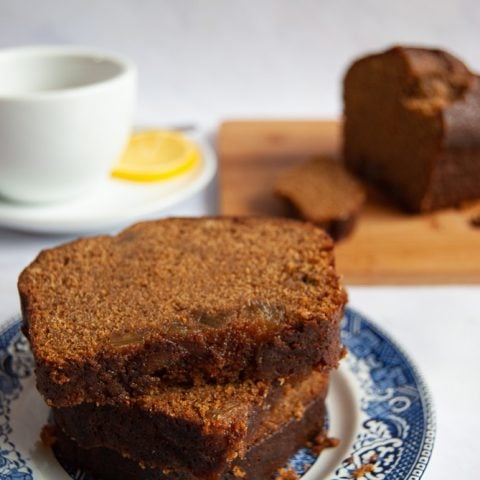 Gingerbread Loaf Cake
Cook Time:
1 hour
5 minutes
Total Time:
1 hour
15 minutes
This moist and sticky gingerbread loaf cake with crystallised stem ginger pices is dark, fragrant and only gets better after a few days - that's if there's any left! It's delicious with a cup of tea or served as a pudding with lots of custard or whipped cream.
Ingredients
250 g plain flour
1 tsp bicarbonate of soda
1 tbsp ground ginger
Zest of one lemon
1/2 tsp ground cinnamon
120 g butter
110 g treacle
110 g golden syrup
110 g dark muscavado sugar
250 ml milk
1 egg, beaten
25 g Crystallised or stem ginger, finely chopped
ORANGE CREAM CHEESE ICING
125 g full fat cream cheese
50 g very soft unsalted butter
275 g icing sugar, sifted
Finely grated zest of one small orange
1/4 tsp vanilla extract
Lemon icing:
100 g icing sugar
Juice of half or one lemon
Chopped crystallised ginger to decorate, optional
Instructions
Preheat the oven to 180C/350F/Gas Mark 4.Grease and line a 2lb loaf tin.
Sift the flour, bicarbonate of soda, ground ginger and cinnamon together in a large bowl.
Rub in the butter until the mixture resembles fine breadcrumbs. Stir in the lemon zest, sugar and chopped crystallised ginger.
In a small pan over a low heat, melt the treacle, syrup and milk. Remove from the heat and let it cool to room temperature before stirring in the egg.
Pour into the flour mixture, whisking thoroughly until no lumps remain and you have a smooth batter. Pour this batter into the lined tin and bake for 55-65 minutes or until a skewer inserted into the middle comes out clean.
Let the gingerbread cool completely in the tin before removing.
Notes
For the Lemon Icing:
Sift the icing sugar into a medium sized bowl. Add enough lemon juice to make a thick but pourable icing. Pour over the cold cake and top with the remaining crystallised ginger, if using.
For the orange cream cheese icing:
Beat the cream cheese, butter, orange zest and vanilla extract together until creamy.  Beat in the icing sugar until smooth.  Spread over the top of the cake. 
If you ice the gingerbread with the cream cheese icing, you'll need to leave the cake in the fridge.  The icing will be good for up to 2 days.  
Nutrition Information:
Yield:

10
Serving Size:

1
Amount Per Serving:
Calories:

522
Total Fat:

19g
Saturated Fat:

12g
Trans Fat:

0g
Unsaturated Fat:

6g
Cholesterol:

70mg
Sodium:

161mg
Carbohydrates:

84g
Net Carbohydrates:

0g
Fiber:

2g
Sugar:

57g
Sugar Alcohols:

0g
Protein:

5g