This Gingerbread loaf cake is simple, classic home baking at its best. Gorgeously sticky and moist, it gets even better after a few days of baking – if you can resist it for that long!
This is the best gingerbread recipe I have ever made – I'm sure you'll love it too!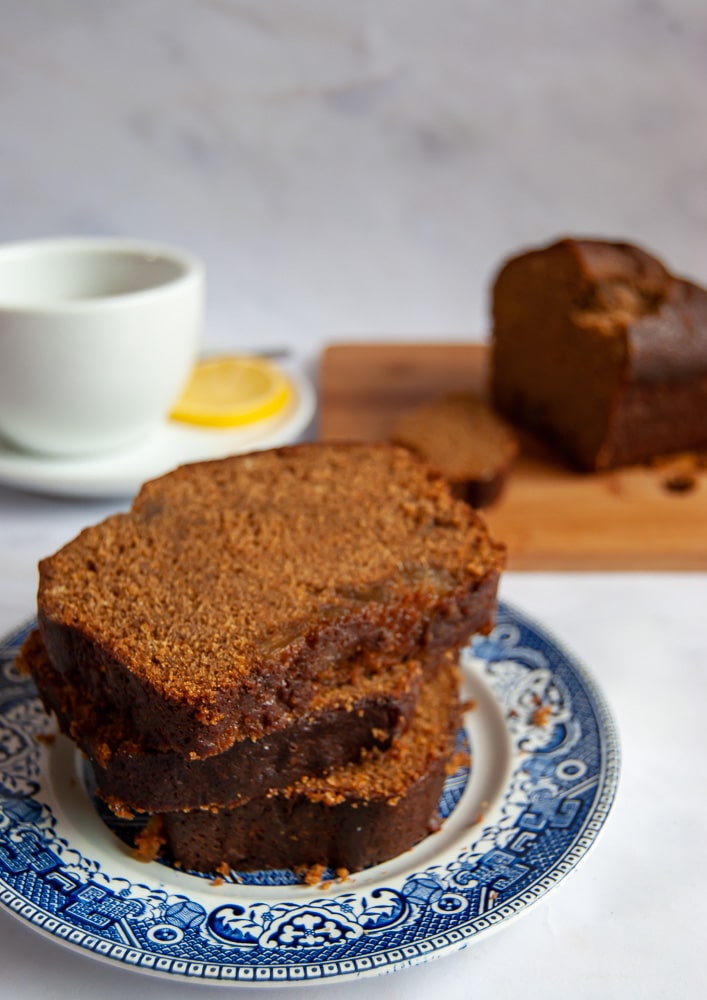 I really do love a nice, sticky gingerbread loaf cake. There's just something so comforting and old fashioned about it. And personally, I can't think of any other bake that goes better with a cup of tea!
Treacle and golden syrup is the secret to making the best gingerbread – as well as a generous amount of ground ginger and some chopped crystallised ginger for an extra kick of flavour.
I go through so much treacle in the Winter months I'm actually considering buying it in bulk. As well as making gingerbread and sticky ginger parkin, I use it to make spiced ginger cookies, treacle scones and I swirl it through my morning porridge. I absolutely adore the stuff.
If you're a fan of golden syrup (and let's face it, who isn't?) give my golden syrup cake recipe a try!
ingredient list for gingerbread loaf cake
(keep scrolling to the bottom of the post for printable recipe card with ingredient amounts and detailed instructions)
Plain (all purpose) flour adds structure to the gingerbread.
bicarbonate of soda will make the gingerbread rise.
ground ginger and ground cinnamon – two of my favourite spices!
lemon zest. This is optional, so if you don't have a lemon to hand, don't worry.
soft butter or baking margarine, such as Stork
black treacle and its lighter, sweeter cousin golden syrup are essential ingredients to give the gingerbread that sticky, moist texture and delicious flavour. Molasses can be substituted for treacle.
soft dark brown sugar pairs perfectly with the treacle and adds even more moisture to this dense, sticky loaf.
Whole or semi skimmed milk
crystallised (candied) or stem ginger in syrup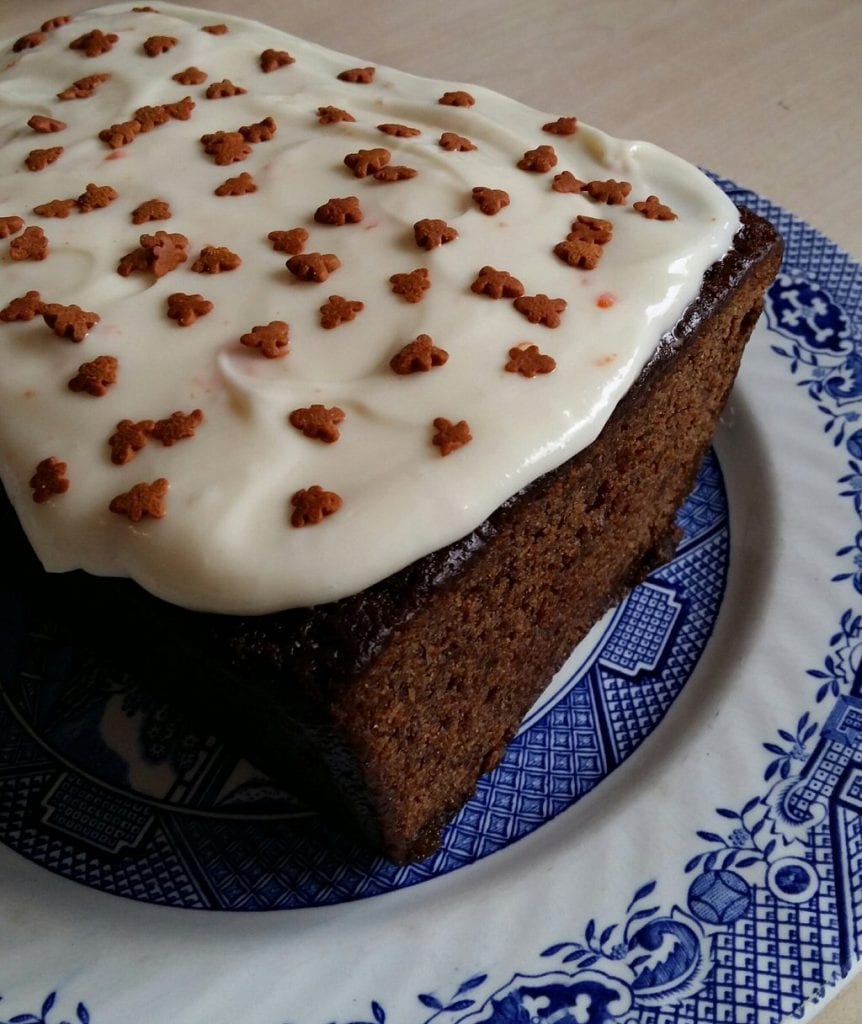 for the optional orange cream cheese icing or lemon icing
finely grated zest of one small orange
vanilla extract is essential in cream cheese icing. For the very best flavour, use a proper extract, not essence.
for the lemon glaze icing
How to make gingerbread loaf cake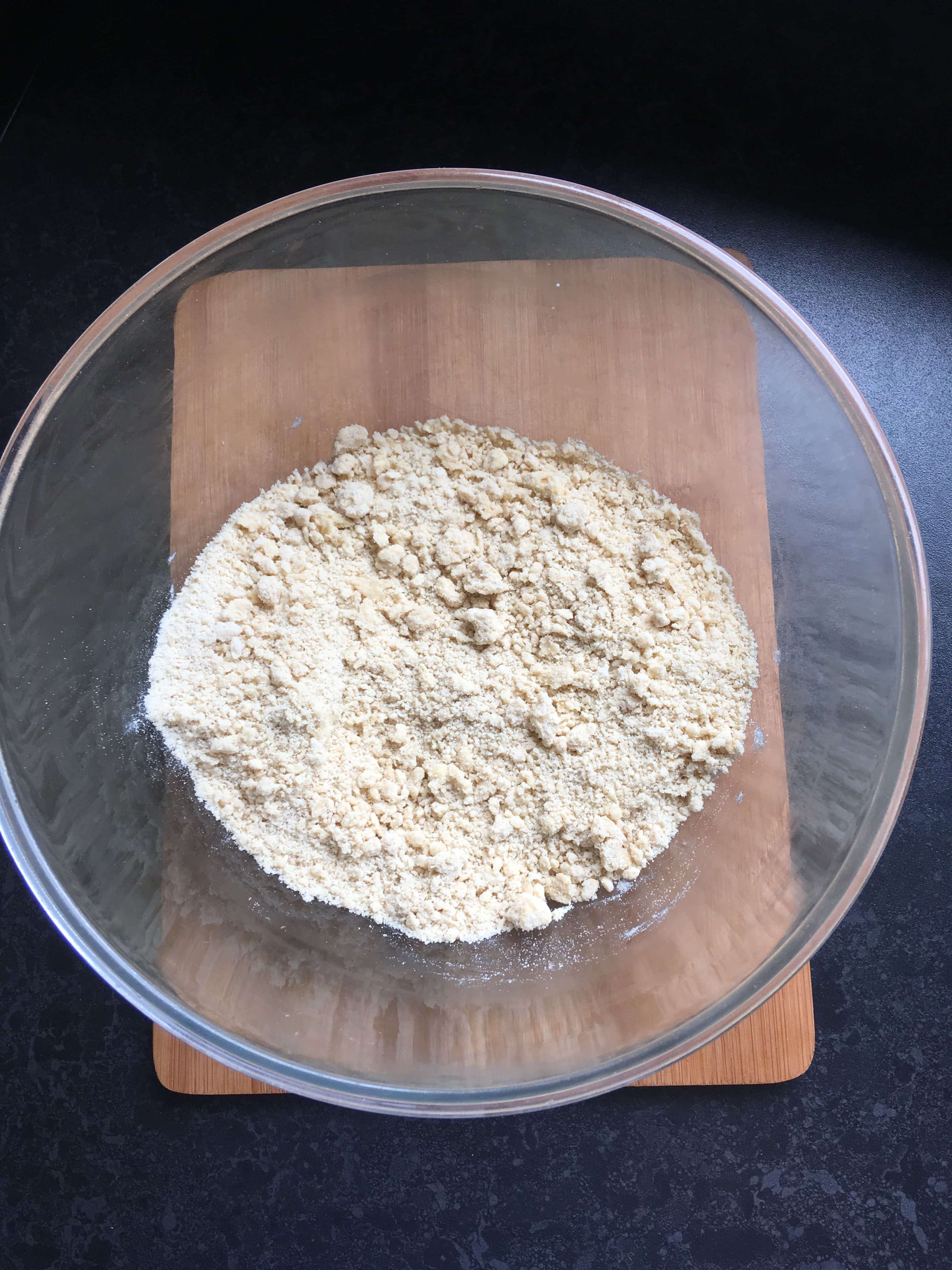 Sift flour, bicarbonate of soda, ground ginger and ground cinnamon together in a large mixing bowl.
Rub in soft butter until the mixture looks like breadcrumbs.
Stir in the grated zest of one lemon, dark brown sugar and chopped crystallised ginger pieces.
In a small pan, warm the milk, treacle and golden syrup. Remove from the heat and allow to cool a little before beating in the egg.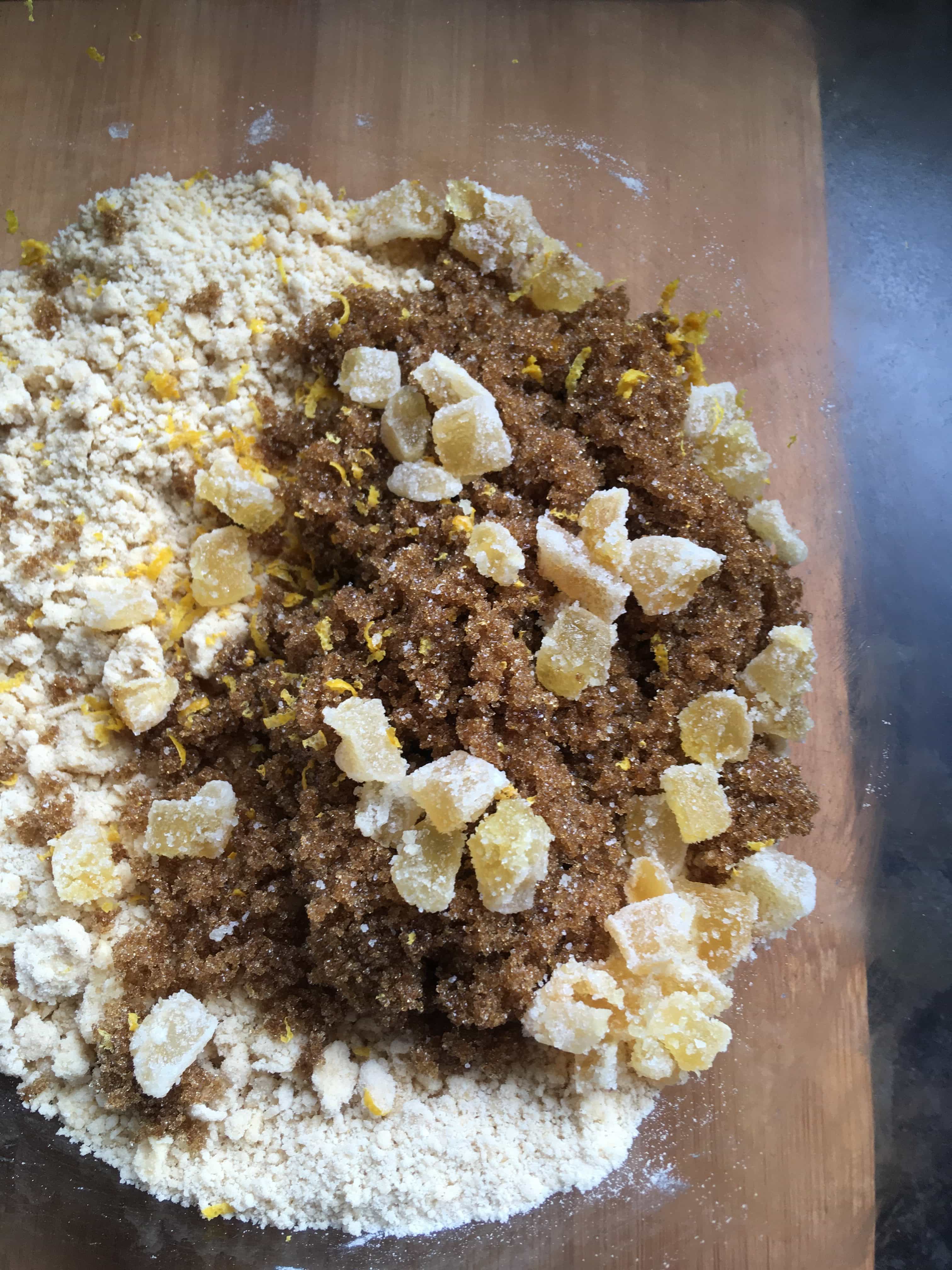 Pour this over the dry ingredients, stirring well to mix.
Pour this mixture into a lined 900g (2lb) loaf tin – it will be very runny – and bake at 180C/160Fan/350F for around one hour, or until the gingerbread has risen well and a skewer inserted in the middle of the cake emerges clean.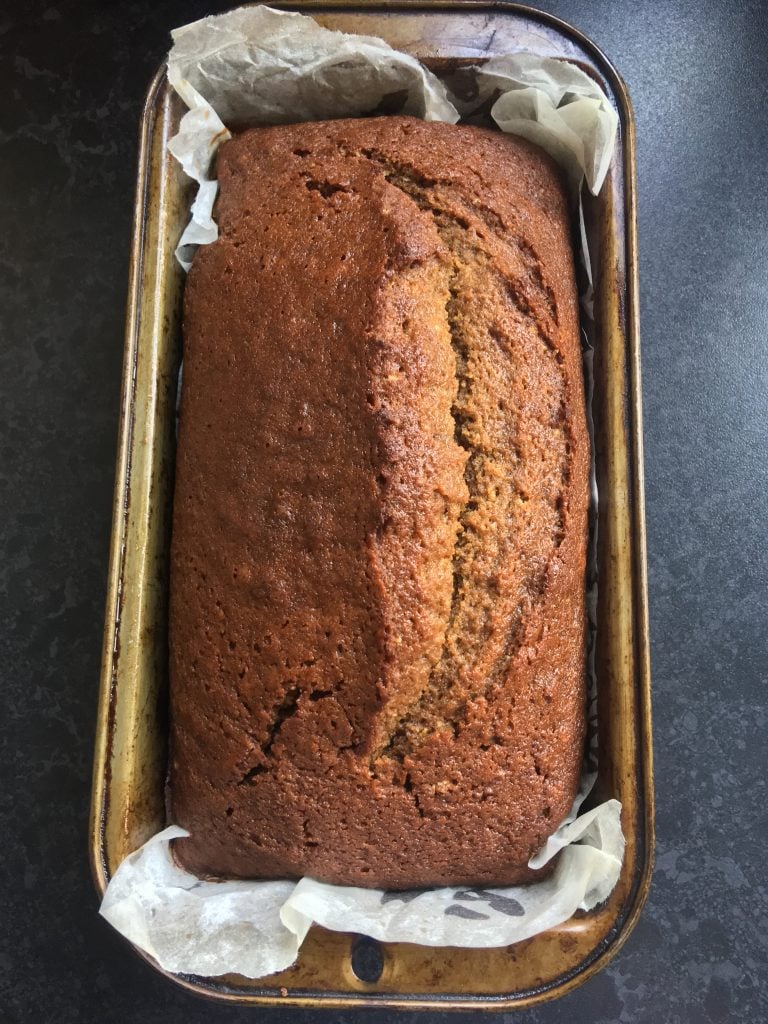 patience is a virtue….
The longer you leave the cake alone, the darker and stickier it gets! It's well worth making in advance if you have the patience. Wrapped in baking paper and tin foil, it will be perfect in two or three days.
recipe notes
You can leave the gingerbread plain if you wish by all means – I often do – but adding either a fresh, zingy lemon icing or a tangy orange cream cheese icing really takes this cake to a new level. You'll find recipes for these in the recipe card at the bottom of the post.
I love both options, so I tend to go for whatever takes my fancy at the time.
If I choose the lemon icing, I like to decorate the top with chopped crystallised ginger pieces. Lemon and ginger complement each other perfectly!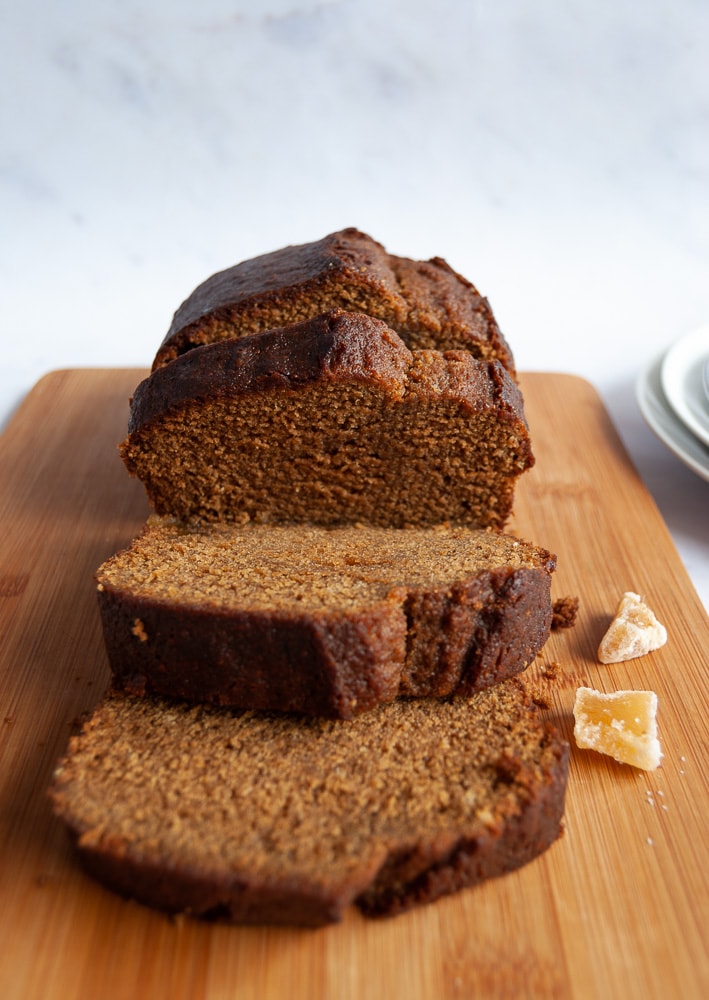 how to store gingerbread
Gingerbread is a very moist, damp cake. It will last well in an airtight tin for up to one week. Wrapping the cake in baking parchment and a layer of foil will ensure it doesn't dry out.
However, if you do find the last few slices are a little on the dry side, I suggest drowning it in custard!
does gingerbread need to be refrigerated?
No, there is no need to refrigerate gingerbread. It's best kept in a cool, dry, dark place. However, if you're decorating with the cream cheese icing then you'll need to keep it in the fridge.
freezing instructions
To freeze, wrap the whole (or slices) of the completely cold gingerbread in double layers of cling film and tin foil or use freezer bags. Freeze for up to three months. Defrost at room temperature.
troubleshooting
why is my gingerbread cake dry?
if the gingerbread cake is dry and crumbly, it has been in the oven for far too long. This cake contains quite a lot of liquid ingredients, so it would need to be in the oven for quite some time to dry it out!
Why did my gingerbread sink?
It's very possible that too much bicarbonate of soda (baking soda) was added. Always make sure you use a level teaspoon of raising agent.
Using even just a little more than a recipe calls for can cause a cake to sharply rise, then fall again, causing it to collapse in the middle.
Another reason could be the oven door was opened while the cake was baking, causing it to sink.
looking for more ginger bakes?
If you loved this recipe, you might want to try my recipes for: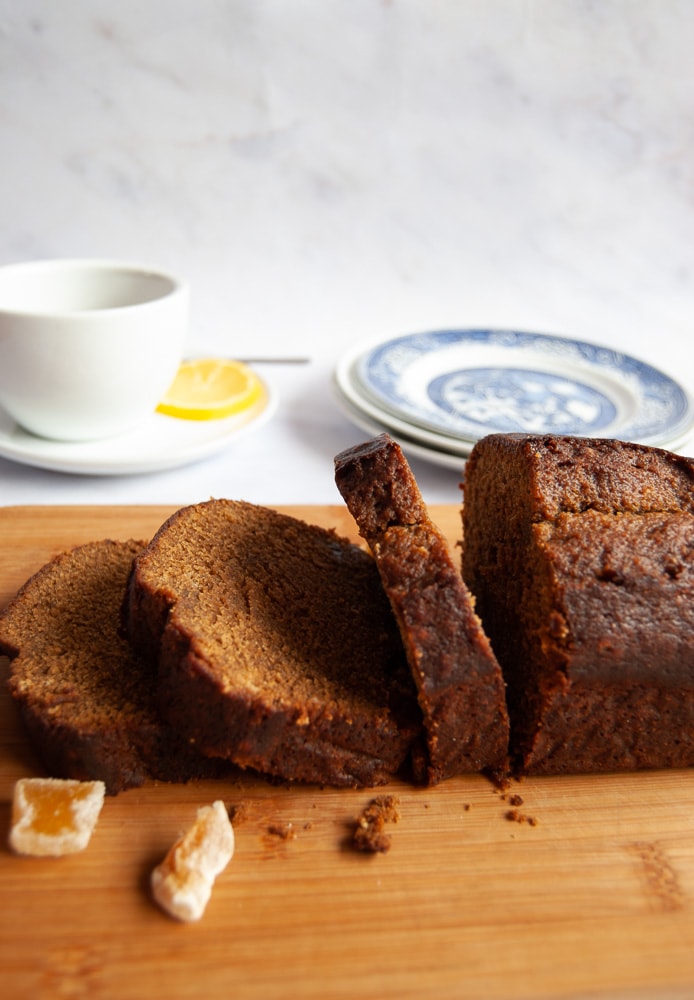 want to see more classic loaf cake recipes?
If you enjoy making loaf cakes, check out my recipes for:
Did you make this recipe?
I hope you loved it! Let me know what you thought by leaving a comment below and rate the recipe out of five by clicking on the stars in the recipe card. Thank you!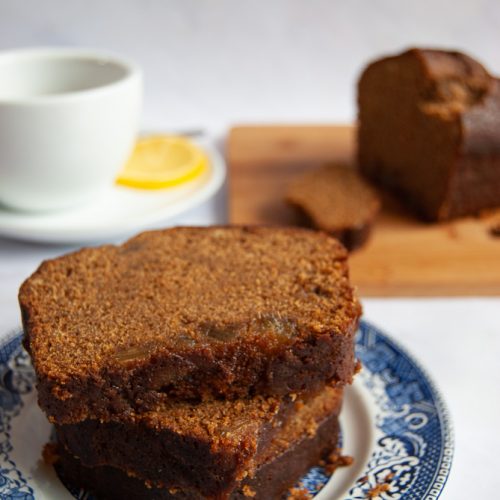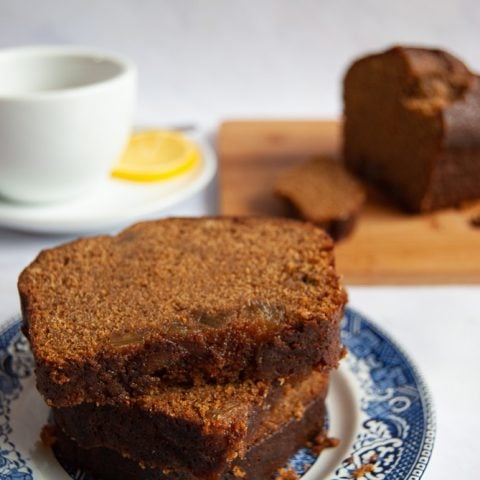 Gingerbread Loaf Cake
Cook Time:
1 hour
5 minutes
Total Time:
1 hour
15 minutes
This moist and sticky gingerbread loaf cake with crystallised stem ginger pices is dark, fragrant and only gets better after a few days - that's if there's any left! It's delicious with a cup of tea or served as a pudding with lots of custard or whipped cream.
Ingredients
250 g plain flour
1 level teaspoon bicarbonate of soda
1 tablespoon ground ginger
finely grated zest of one small lemon (optional)
1/2 teaspoon ground cinnamon
120g butter
110g treacle
110g golden syrup
110g dark muscavado sugar
250ml milk
1 large egg, beaten
25g Crystallised or stem ginger, finely chopped
FOR THE ORANGE CREAM CHEESE ICING
125g full fat cream cheese
50g very soft unsalted butter
275g icing sugar, sifted
Finely grated zest of one small orange
1/4 teaspoon vanilla extract
FOR THE LEMON GLAZE ICING
100g icing sugar, sifted
Juice of half or one lemon
Chopped crystallised ginger to decorate, optional
Instructions
Preheat the oven to 180C/350F/Gas Mark 4.Grease and line a deep 900g (2lb) loaf tin with baking parchment.
Sift the flour, bicarbonate of soda, ground ginger and cinnamon together in a large bowl.
Rub in the butter until the mixture resembles fine breadcrumbs. Stir in the lemon zest, sugar and chopped crystallised ginger.
In a small pan over a low heat, melt the treacle, syrup and milk. Remove from the heat and let it cool to room temperature before beating in the egg.
Pour into the flour mixture, whisking thoroughly until no lumps remain and you have a smooth batter. Pour this batter into the lined tin and bake for 55-65 minutes or until a skewer inserted into the middle comes out clean.
Let the gingerbread cool completely in the tin before removing.
Notes
For the Lemon Icing:
Sift the icing sugar into a medium sized bowl. Add enough lemon juice to make a thick but pourable icing. Pour over the cold cake and top with the remaining crystallised ginger, if using.
For the orange cream cheese icing:
Beat the cream cheese, butter, orange zest and vanilla extract together until creamy.  Beat in the icing sugar until smooth.  Spread over the top of the cake. 
If you ice the gingerbread with the cream cheese icing, you'll need to store the cake in the fridge.  The icing will be good for up to 2 days.  
Nutrition Information:
Yield:

10
Serving Size:

1
Amount Per Serving:
Calories:

572
Total Fat:

21g
Saturated Fat:

12g
Trans Fat:

0g
Unsaturated Fat:

7g
Cholesterol:

70mg
Sodium:

174mg
Carbohydrates:

94g
Fiber:

2g
Sugar:

67g
Protein:

6g
Calories and nutritional information are provided by a third party application and should be viewed as indicative figures only.