If you're a gingerbread fan, then you're going to love these spiced ginger cookies. They are dark, slightly spicy and delicious!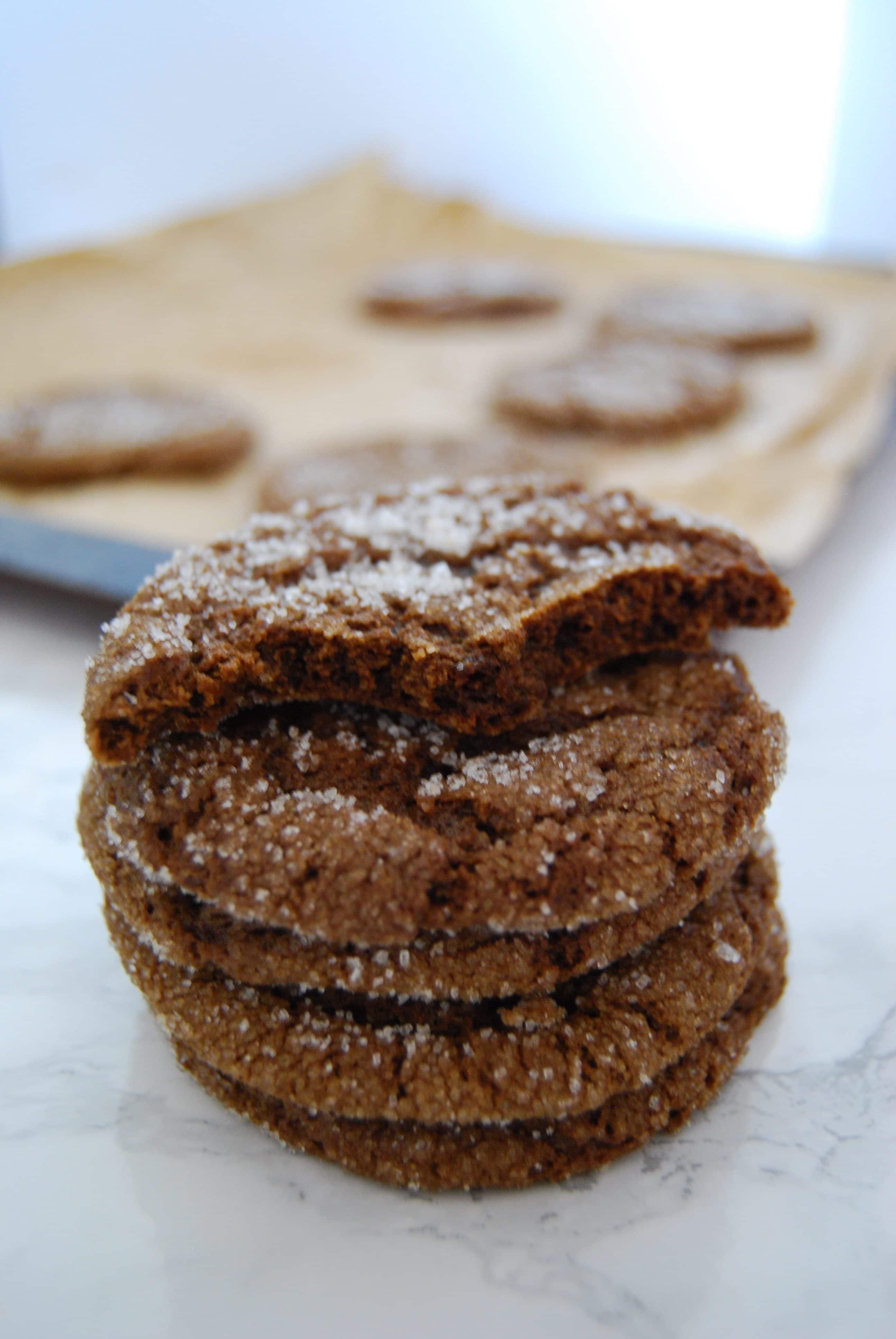 The ground allspice, ginger and treacle give these cookies a lovely warmth that reminds me so much of the festive season.
If you feel like getting into the festive spirit, making a batch of these cookies would definitely help!
And while we're talking of Christmas, (now we're in November it's officially allowed!) half a dozen of these cookies packaged up and tied with a pretty festive bow would make a really lovely gift. In fact come to think of it, my gingerbread loaf would also make a great present. And let's face it, who doesn't like receiving food as a present? Not me, that's for sure.
All you need to go alongside these cookies is a big mug of tea or hot chocolate! And the warmth of a roaring fire to sit beside while it's snowing outside. Idealistic? Maybe, but a girl can dream!
This is another recipe adapted from one of my favourite food writers, Dorie Greenspan. Dorie's recipe calls for the rich flavour of molasses, but since molasses isn't available in the U.K I used treacle, which is the closest substitute we have.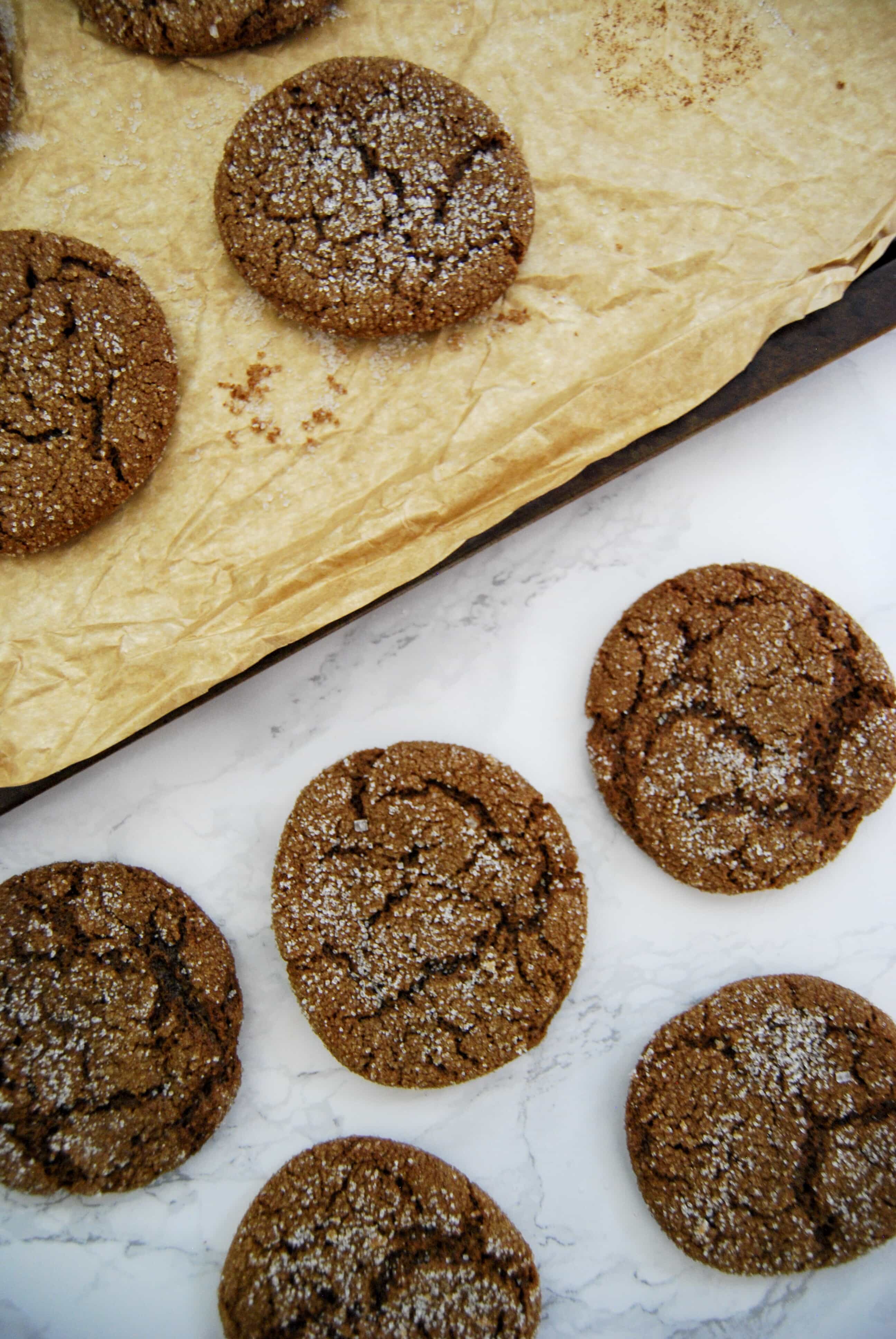 want to see more cookie recipes? Check these out…
White chocolate, orange and cranberry cookies
Double chocolate Malteser cookies
Leftover chocolate Easter cookies
Cadbury creme egg chocolate brownie cookies
White chocolate macadamia nut cookies
Pin these spiced ginger cookies for later….

Spiced Ginger Cookies
Sweet, soft, chewy and full of spice, these spiced ginger cookies are a must try for gingerbread lovers!
Ingredients
250

g

plain flour

2

tsp

bicarbonate of soda

2

tsp

ground ginger

1/2

tsp

ground cinnamon

1/4

tsp

ground allspice

125

g

soft butter

200

g

soft brown sugar

1

large egg

125

g

treacle

Around 100g granulated sugar for rolling
Instructions
Whisk together the flour, bicarbonate of soda, ginger, cinnamon and allspice.

Cream the butter and sugar together until light and fluffy. Add the treacle and egg and beat until the mixture is smooth. Slowly add the dry ingredients and mix until you have a smooth, soft dough. (The dough will be very soft, so don't be alarmed!)

Divide the dough in half and wrap each piece in cling film. Place in the fridge for at least one hour, or the freezer for 30 minutes.

Preheat the oven to 180C.

Place the granulated sugar on a small plate.

Take one half of your cookie dough out of the fridge and divide into 12 pieces. Roll each piece into a walnut sized ball. Roll each ball in the sugar, then place them on a lined baking tray. Dip the bottom of the glass in the sugar and use it to lightly press down on the cookies to flatten them slightly.

Bake the cookies for 12-15 minutes. Leave on the baking sheet for 5-10 minutes before transferring to a wire rack to cool.