Thick, soft centred, chewy around the edges chocolate chunk cookies with sweet, salty, crunchy chocolate pretzel pieces – these chocolate pretzel cookies have got everything going for them!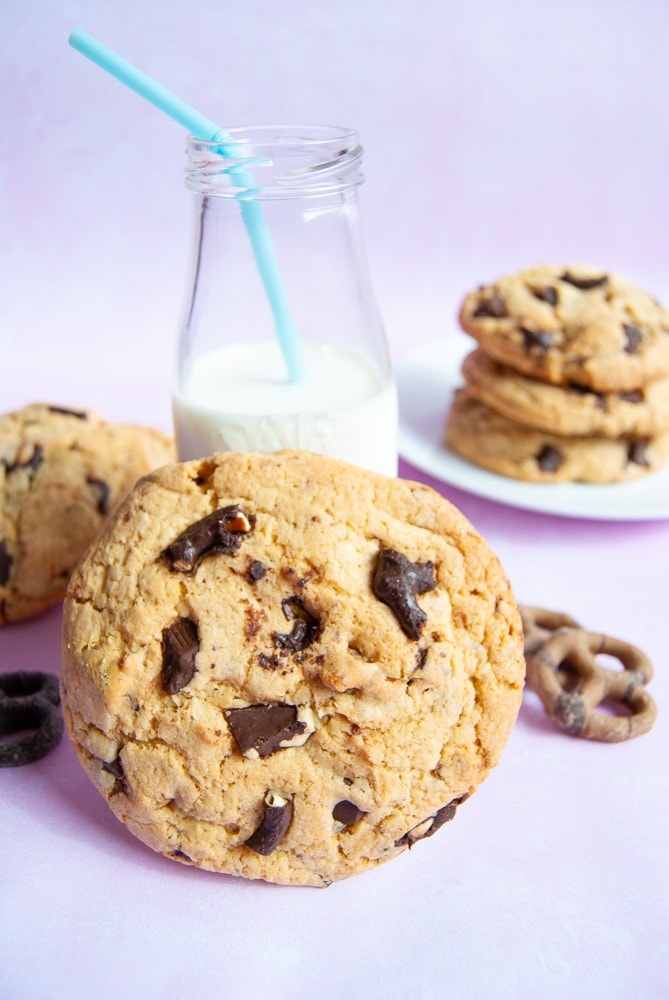 I am a huge fan of the sweet and salty combination. I find it so addictive. One of my favourite movie treats is a huge bowl of salted popcorn with Maltesers. It's AMAZING. The combination of the salted popcorn and sweet, crunchy Maltesers is just so good.
There are so many sweet and salty combos I love – bacon with maple syrup, cheese and jam and halloumi and honey to name just a few.
Just like my double chocolate Malteser cookies, I couldn't resist taking one of my all time favourite treats – the CHOCOLATE PRETZEL – and making something even more irresistible.
Oh man, oh man. These cookies have got it going on and then some.
Thick, soft centred, chewy around the edges chocolate chip cookies with sweet, salty, crunchy chocolate pretzel pieces.
If you want to up the sweet and salty flavours even more, sprinkle the cookies with sea salt when you take them out of the oven.
Heaven!
If you can manage to eat just one, you're a much stronger person than I am….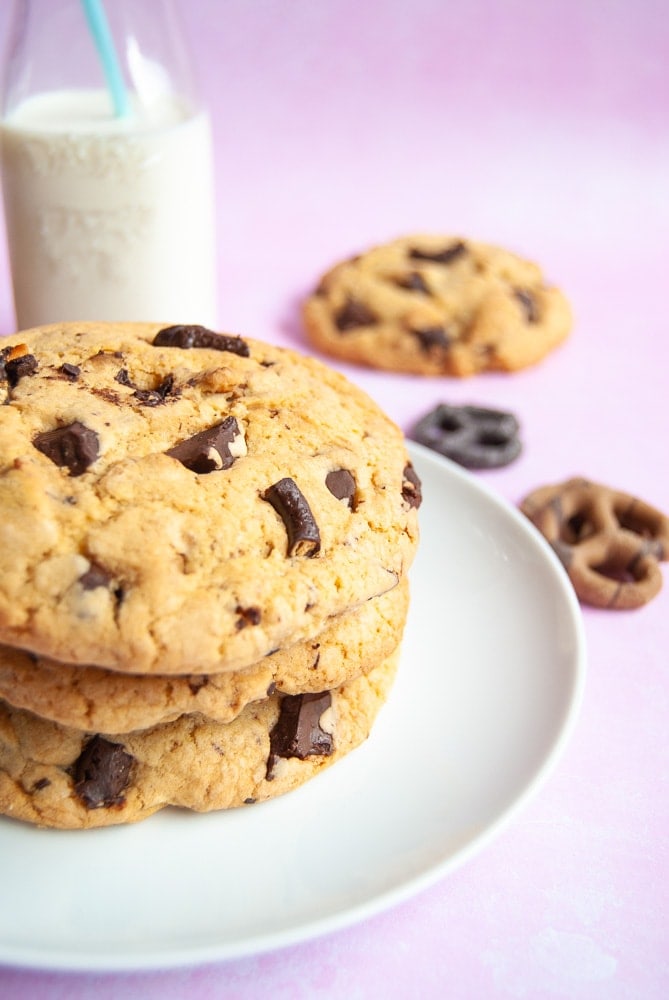 ingredients you'll need to make chocolate pretzel cookies
Butter. I prefer to use unsalted butter and add some salt to the cookie dough. Salt is an essential ingredient in cookie making – without it your cookies will taste a bit flat.
Soft light brown sugar
Vanilla Extract or Vanilla Bean Paste – not essence!
Plain Flour
Baking Powder
Bicarbonate of Soda
2 medium sized eggs
Dark or Milk Chocolate Chunks (or you can use chips if you prefer)
Chocolate Pretzels – Any kind of chocolate pretzels will work in this recipe. I usually use Pretzel Flipz – for this recipe I like to use a mixture of dark chocolate and salted caramel Flipz.
how to make chocolate pretzel cookies
(Detailed instructions and ingredient amounts can be found in the recipe card at the bottom of the post)
Mix the plain flour, baking powder, bicarbonate of soda and salt together in a bowl.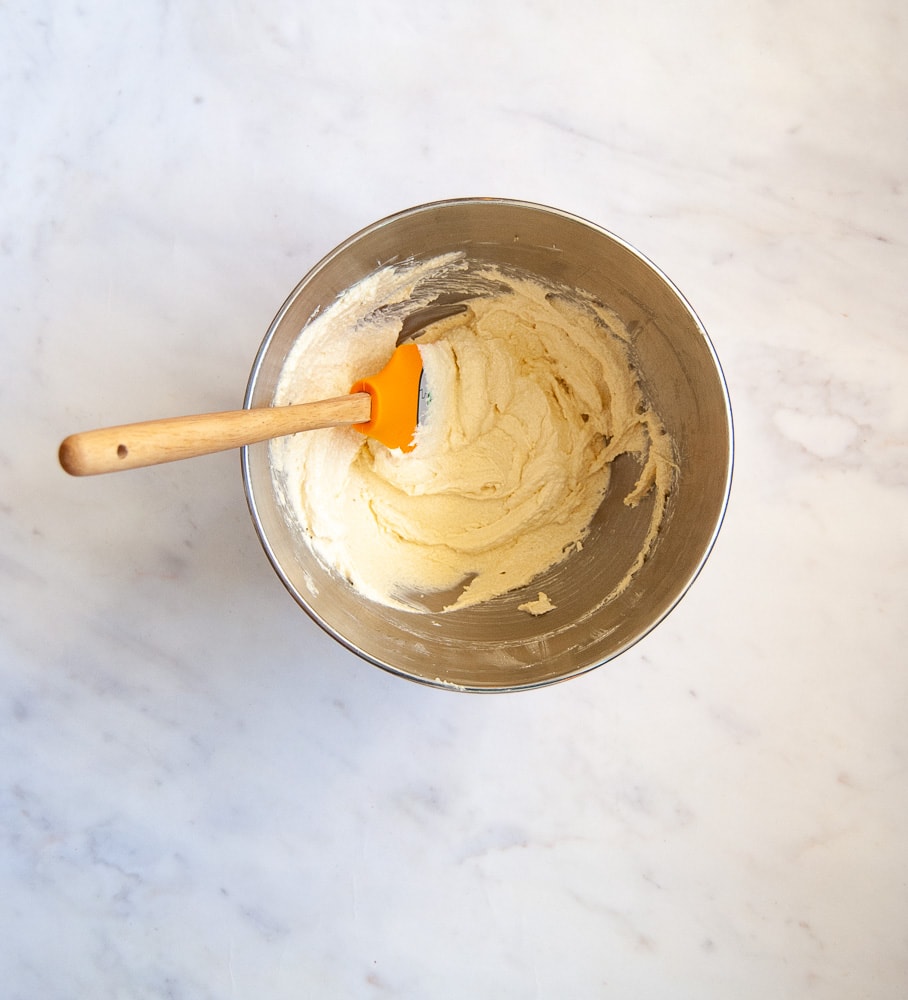 Cream together the soft butter and soft light brown sugar. Add the vanilla extract or bean paste and 2 beaten eggs.
Fold in the dry ingredients. Fold in the chopped chocolate chunks and broken chocolate pretzel pieces.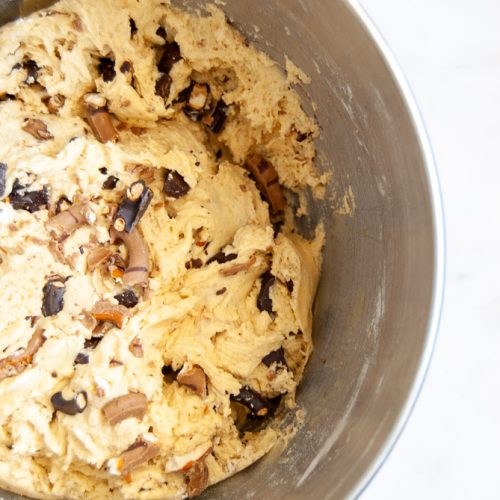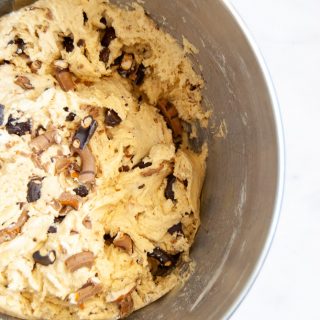 Bake at 180C/160Fan/350F for 12-14 minutes for medium sized cookies and 16-18 minutes for large cookies.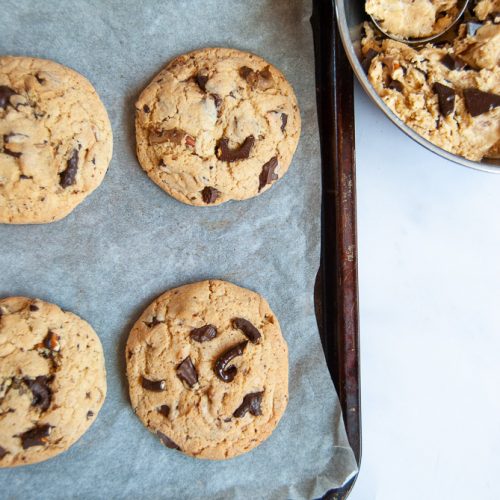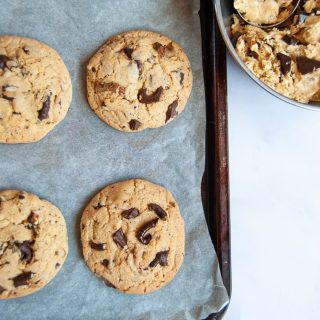 tips for making these chocolate pretzel cookies
Make sure your butter is soft before you start making these cookies – if you try and use it straight from the fridge, it will never cream with the sugar properly. I wouldn't recommend using spread or margarine due to their high water content.
Your eggs also need to be at room temperature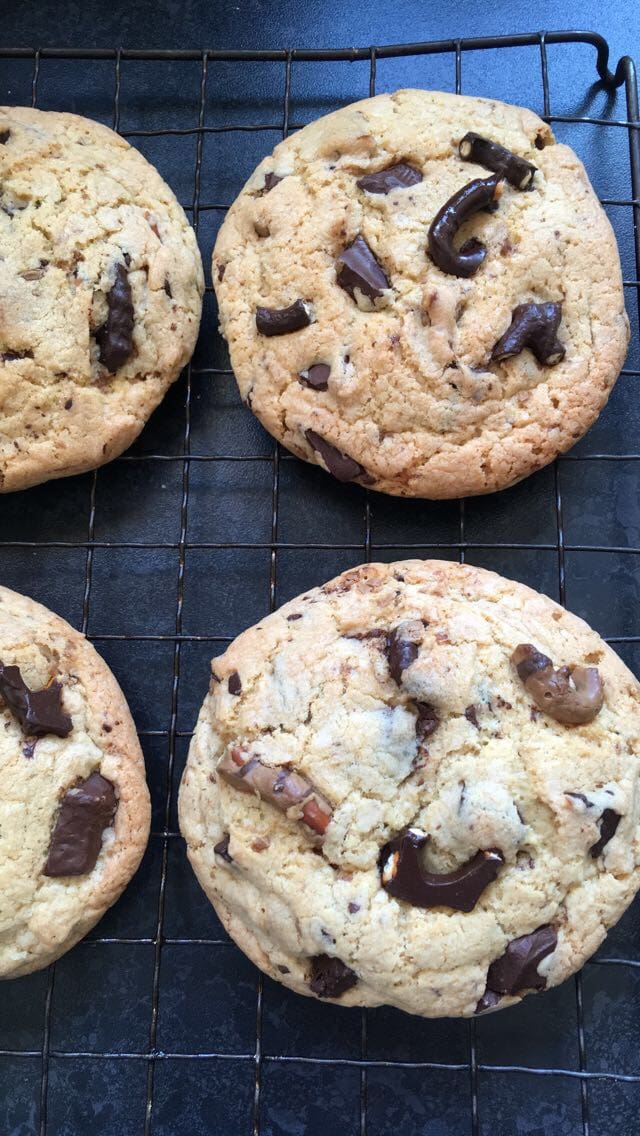 For the best flavour, it's really worth using the best quality vanilla extract you can afford. I would steer clear of anything labelled vanilla essence or flavouring.
I use a bar of chopped chocolate for these cookies – the random sizes of chocolate make for a more interesting cookie. You can use chocolate chips if you prefer.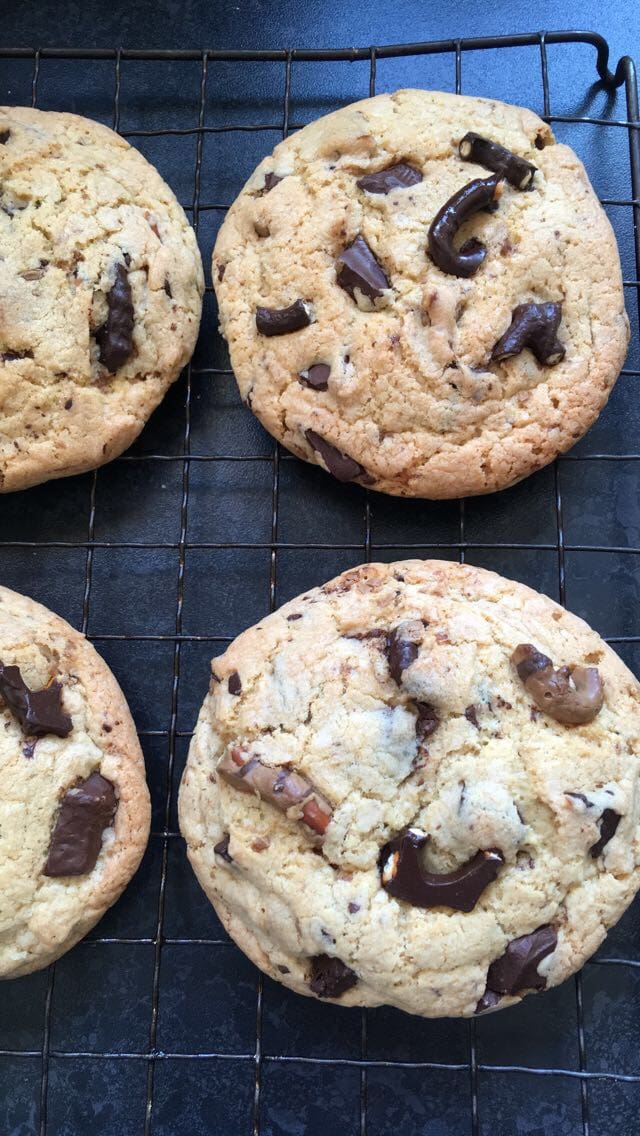 When I make cookies I like to use the "pan banging" technique – you bake the cookies for 5 minutes, then remove them from the oven and sharply bang them against a hard surface a few times before placing them back in the oven.
This will expel any air in the cookies, turning them from soft and cakey to chewy and irresistible!
Use an ice cream scoop to portion your cookie dough – this will make sure your cookies are all the same size and will make them look like they came from a professional Bakery!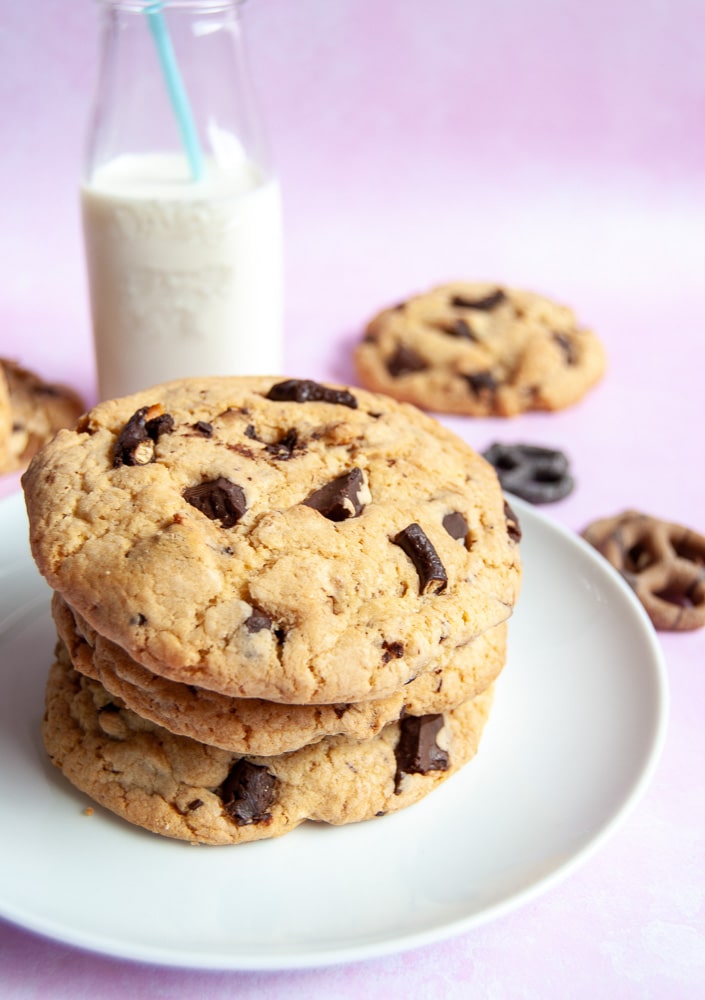 More cookie recipes you might enjoy
Classic chocolate chip cookies
White chocolate macadamia nut cookies
White chocolate, orange and cranberry cookies
Leftover Easter chocolate cookies
Giant chocolate chunk cookie cake with Galaxy golden eggs
Cadbury Creme egg chocolate brownie cookies
Pin these chocolate pretzel cookies for later….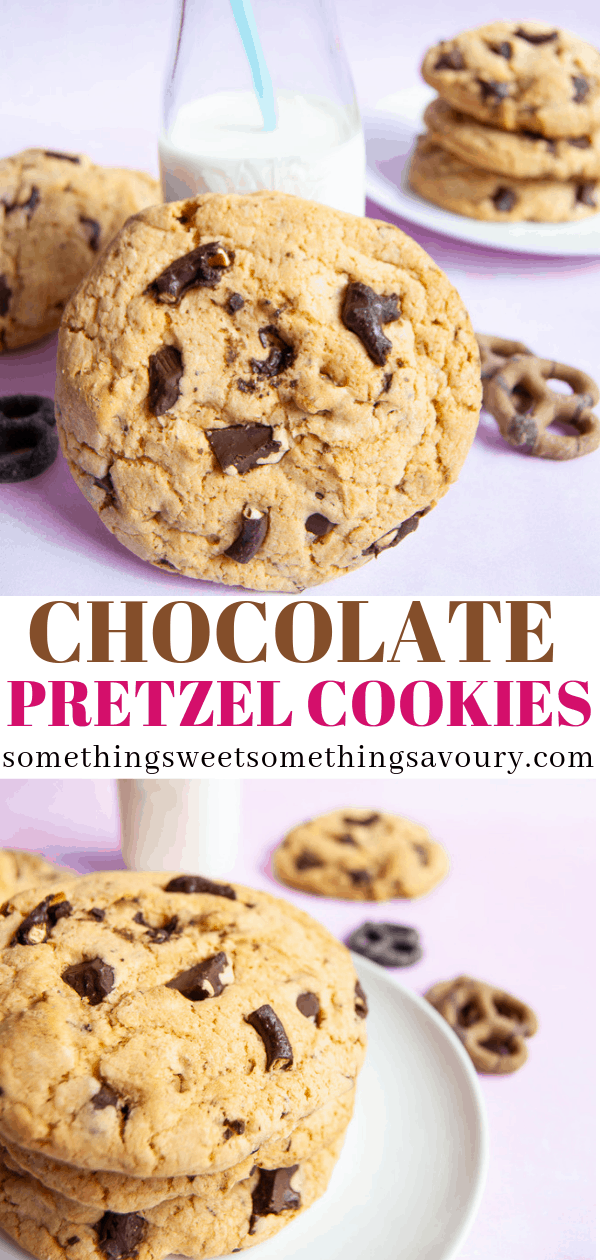 I linked up this post to the following blogs…
Sadly the last ever We Should Cocoa, hosted by Choclette at Tin and Thyme
And Cook Once Eat Twice, the monthly blog link up at Searching For Spice
Did you make these chocolate pretzel cookies? Let me know what you thought of it by leaving a comment below and please rate the recipe out of 5 by clicking on the stars in the recipe card.
If you take a photo, don't forget to tag me #sweetsavouryblog on Instagram and I'll share it on my stories!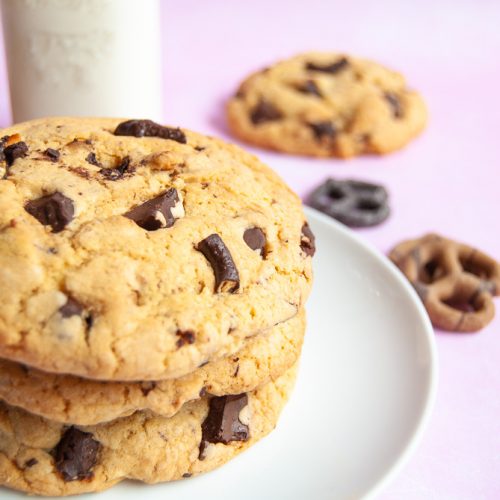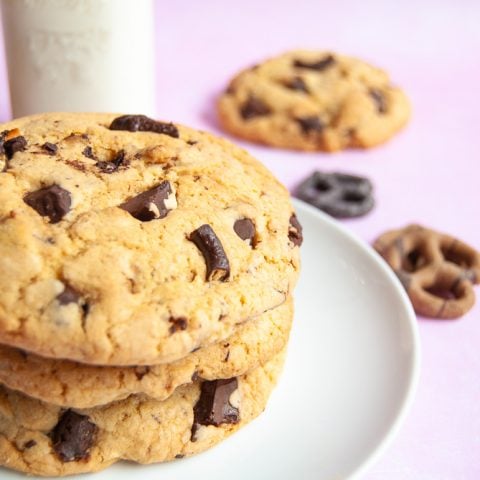 Chocolate Pretzel Cookies
Yield:
18 Cookies (OR 12 giant cookies)
Sweet, salty, soft centered and chewy around the edges with lots of chocolate and crunchy pretzel pieces - these addictive chocolate pretzel cookies have got it going on!
Ingredients
200 g soft butter
150 g soft light brown sugar
125 g granulated sugar
2 eggs, beaten
2 tsp vanilla extract
400 g plain flour
1 tsp baking powder
1/2 tsp bicarbonate of soda
100 g chocolate chips, or your favourite chocolate bar, chopped into chunks
100 g chocolate pretzels, broken in pieces
Instructions
Preheat the oven to 180/160Fan/350F. Grease and line a couple of baking trays.
Cream the butter and sugars together until very light and fluffy.
Slowly add the beaten eggs until the mixture is smooth. Add the vanilla.
Sift together the flour, baking powder and bicarbonate of soda. Stir into the batter just until everything is incorporated. Fold in the chopped chocolate or chips.
Using an ice cream scoop, drop spoonfuls of the cookie batter onto the lined trays. You can roll the mixture into balls using your hands (this cookie dough is a dream to work with) but I find I get the best results using an ice cream scoop. This way you'll have perfect, evenly sized cookies.
Bake for 5 mins, then remove the tray from the oven and sharply (and carefully!) bang the tray down on a solid work surface a few times to deflate the cookies.
This will expel the air in the cookies and give you gorgeous, squidgy chewy cookies!
Return the cookies to to the oven and bake for a further 7-10 minutes or until golden around the edges.
The cookies will still be quite soft in the middle, so leave them on the baking tray for 5 minutes before transferring to a wire rack.
Notes
If you want to make giant cookies, use a large ice cream scoop to measure out the cookies - the one I use measures 3 inches in diameter. They will take 16-18 minutes to bake.
I used Pretzel Flipz in these cookies but any brand of chocolate pretzels would be fine.  
Nutrition Information:
Yield:

18
Serving Size:

18 Cookies
Amount Per Serving:
Calories:

294
Total Fat:

13g
Saturated Fat:

8g
Trans Fat:

0g
Unsaturated Fat:

4g
Cholesterol:

45mg
Sodium:

139mg
Carbohydrates:

41g
Net Carbohydrates:

0g
Fiber:

1g
Sugar:

22g
Sugar Alcohols:

0g
Protein:

4g