These Biscoff stuffed Cookies are the perfect cookie for Biscoff fans! Soft, chewy NYC style cookies filled with crushed Biscoff cookies, white chocolate chunks and a molten Biscoff middle!  
Biscoff seems to be having a bit of a moment right now. It's so popular and has started featuring in bakes everywhere in the form of cupcakes, layer cakes and chocolate brownies.
It's not surprising – it's extremely delicious! I certainly have my fair share of Biscoff recipes – I've been making Biscoff doughnuts, Biscoff rocky road, no bake mini Biscoff cheesecakes, biscoff blondies and Biscoff Rice Krispie Squares a lot lately!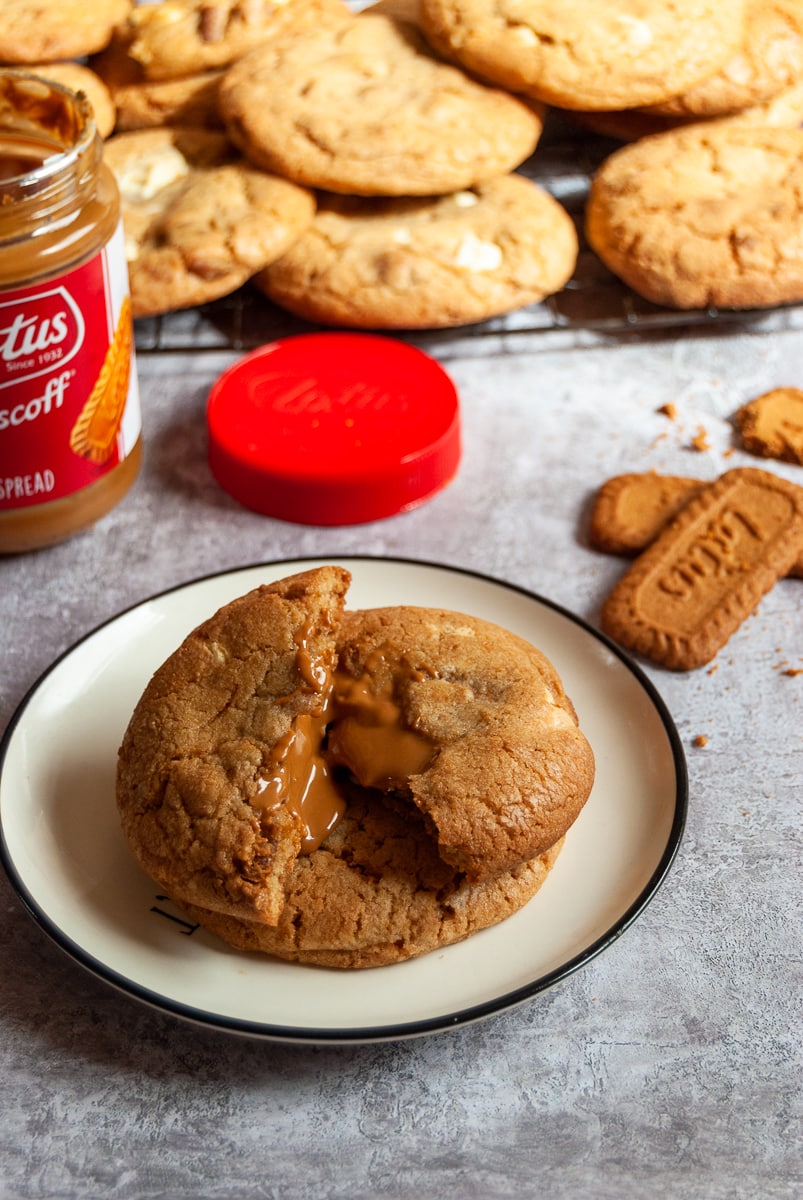 what is biscoff spread?
Biscoff is basically a spread made of Speculoos cookies. It looks very much like peanut butter. What does it taste like? Well, it's like a combination of brown sugar and cinnamon spice. It's very sweet and totally addictive. If you've never had Biscoff spread on a hot crumpet, then all I can say is you haven't lived.
If you've ever had Biscoff biscuits (also known as Lotus biscuits) then you can imagine what the spread tastes like. Heavenly!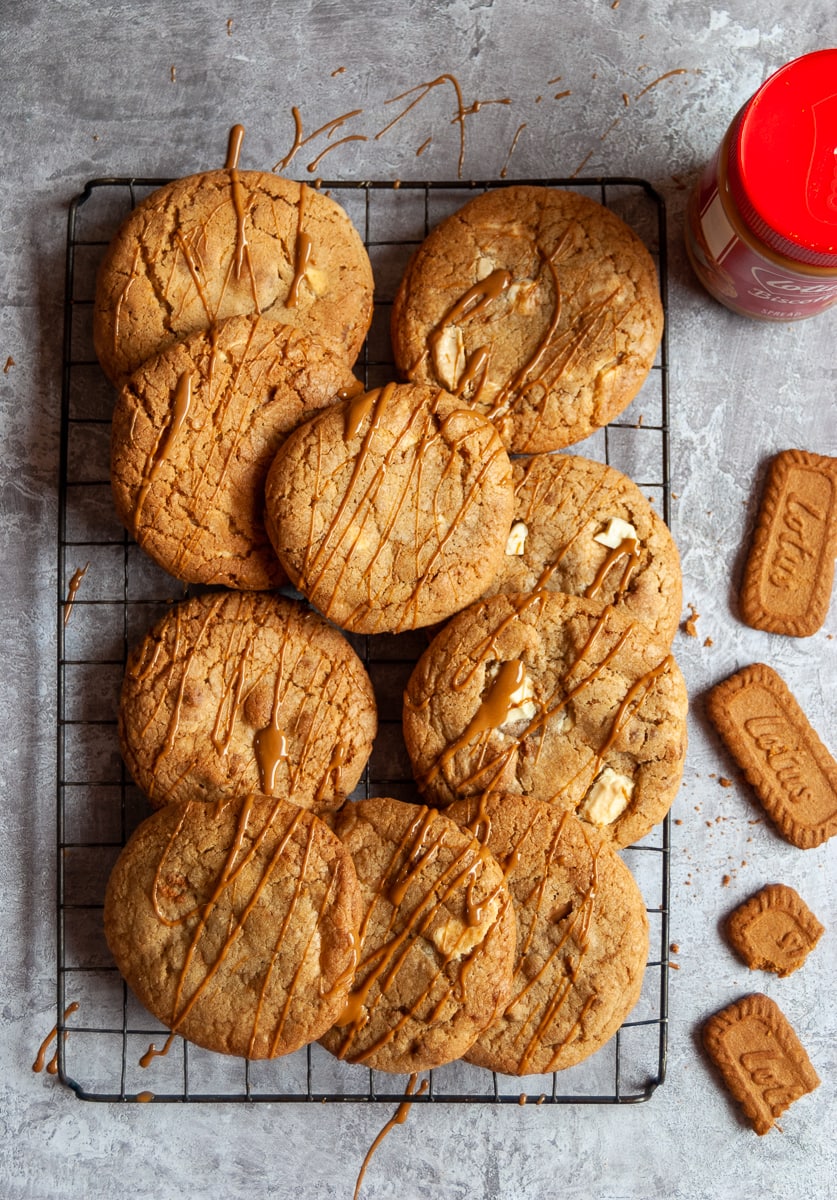 I've been desperate to try a Biscoff filled cookie for ages now. I'm now wondering why on earth I didn't try this before – they are OVER THE TOP DELICIOUS!
I've taken my favourite thick and chewy NYC style cookie and stuffed it full of Biscoff crumbs, white chocolate chunks and the best part – a molten, gooey Biscoff spread filling!
tips for making biscoff stuffed cookies
The secret to the molten Biscoff middle is to freeze your Biscoff before you make the cookies. It MUST be very cold and frozen properly or you won't get that gooey, gorgeous melty middle.
I used a 1/2 tablespoon to measure out the Biscoff and froze them for a good hour. I know it may seem like a hassle, but trust me – it's worth the wait!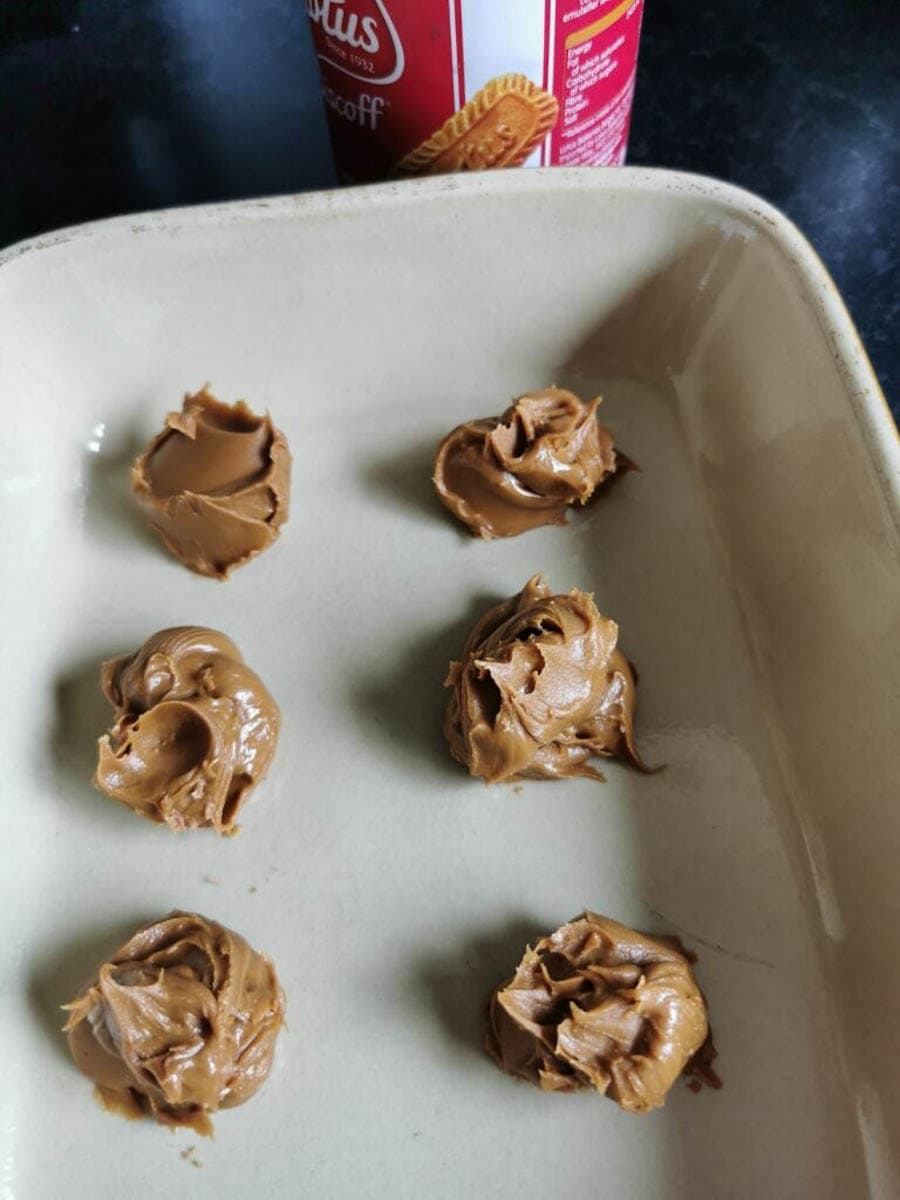 Use cold butter in the recipe. You don't want the butter soft or warm because your cookies will spread in the oven too much and they need to be quite sturdy to hold the Biscoff filling.
You just want to combine the butter and sugar together until well combined – you don't need to cream them like you would when making a cake.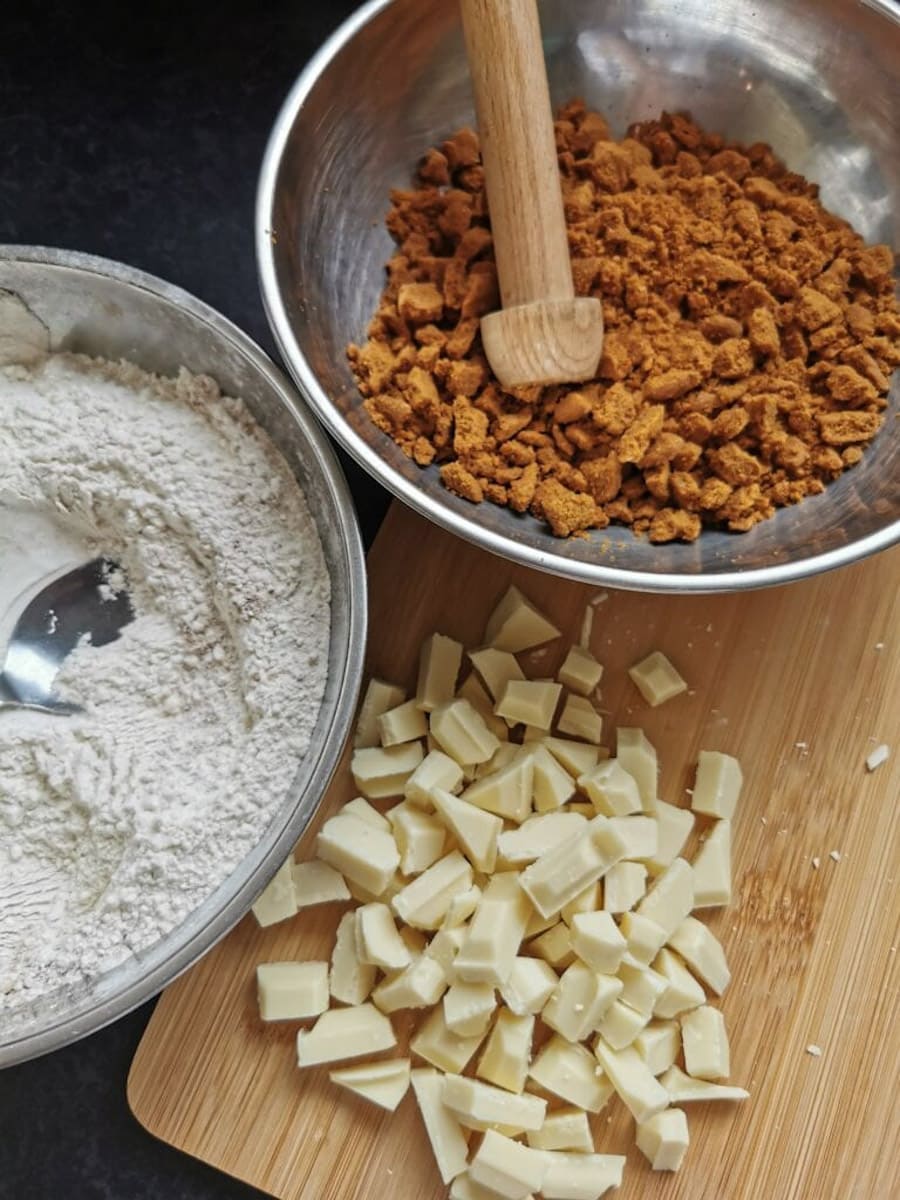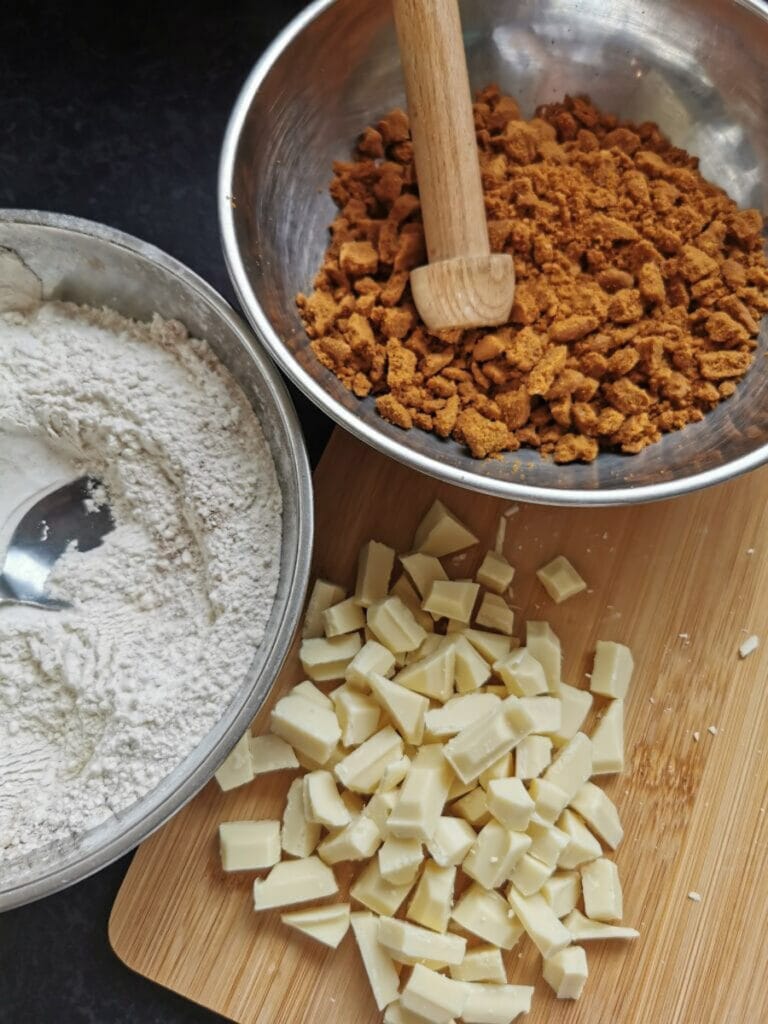 I took inspiration from the Biscoff cookie recipe by Crumbs and Doillies Bakery and added some crushed Biscoff Biscuits to the cookies – it gives them a lovely crunch and even more Biscoff flavour.
Don't crush the biscuits too finely – a mixture of crumbs and slightly larger pieces gives a more interesting texture.
If at any point your cookies or the frozen Biscoff becomes too warm when shaping them, pop them in the freezer for 5-10 minutes to firm them up.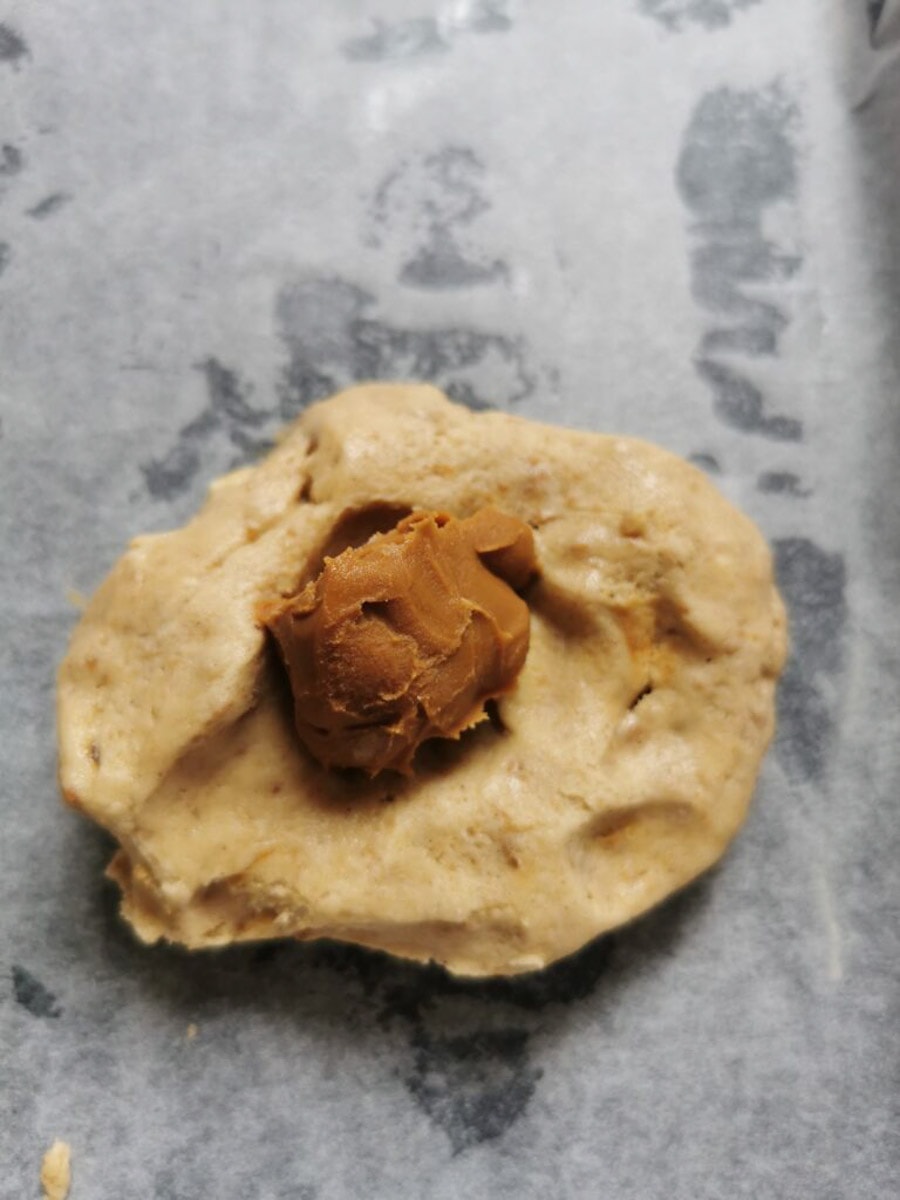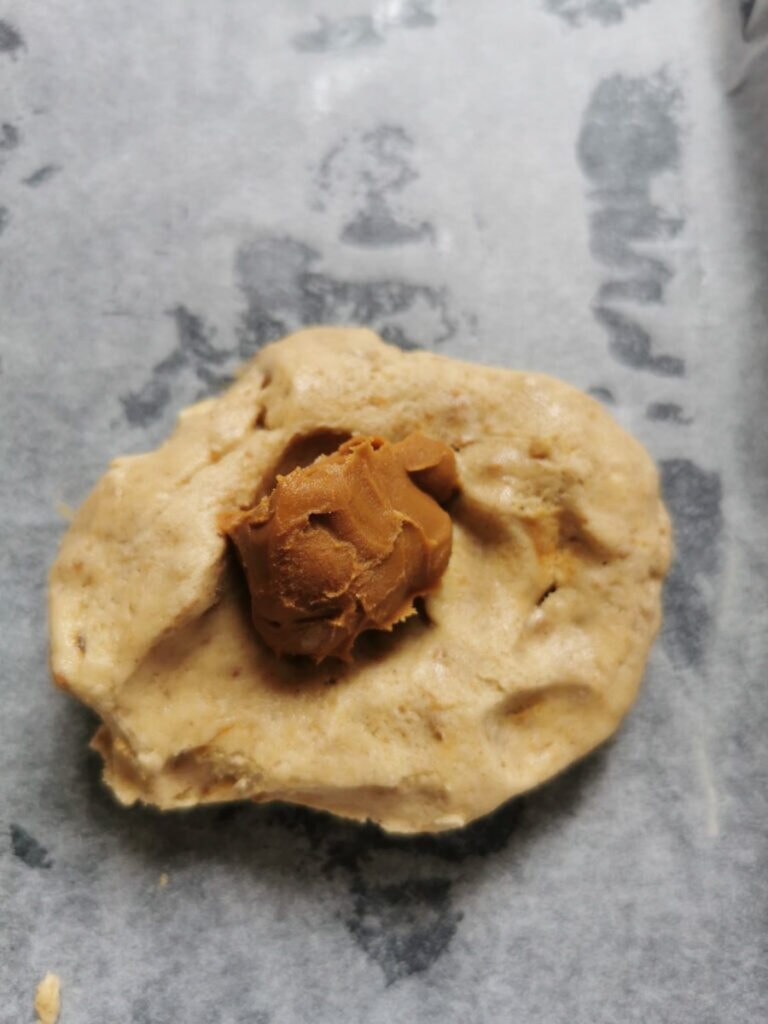 To shape the cookies, I take a piece of cookie dough weighing around 75g and flatten it out with my hand. Then I place the piece of frozen Biscoff in the middle and wrap the cookie dough around the Biscoff, almost like wrapping a parcel. I make sure the Biscoff is totally enclosed before lightly rolling the cookie dough into a ball shape.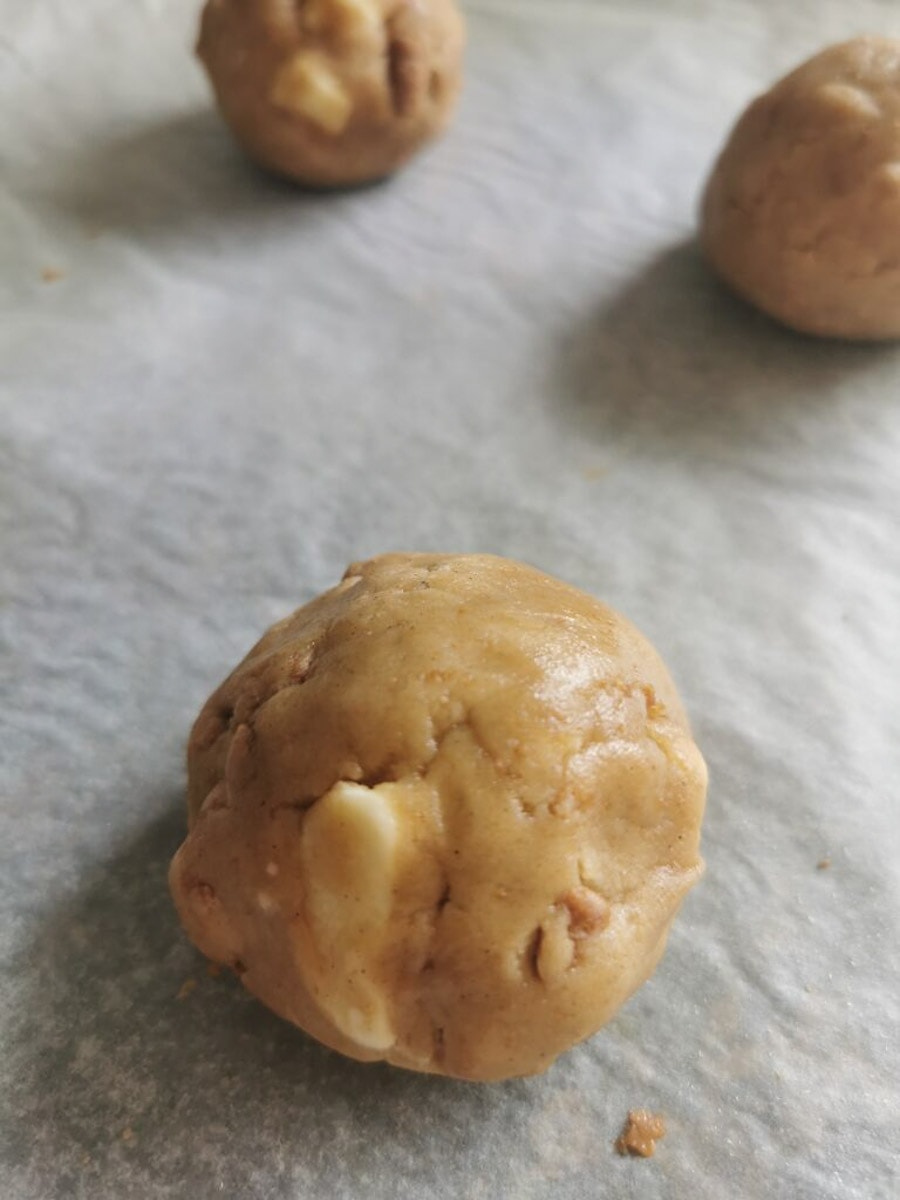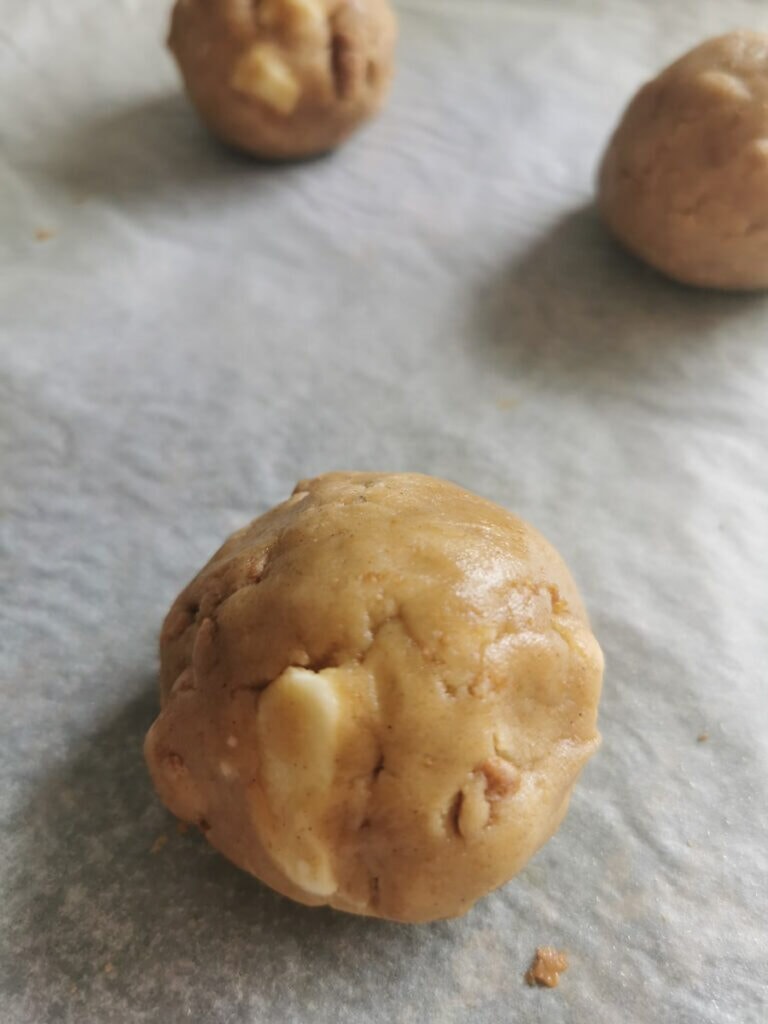 can i use milk or dark chocolate instead of white?
Sure! I love the combination of white chocolate with Biscoff, but use whatever chocolate you like.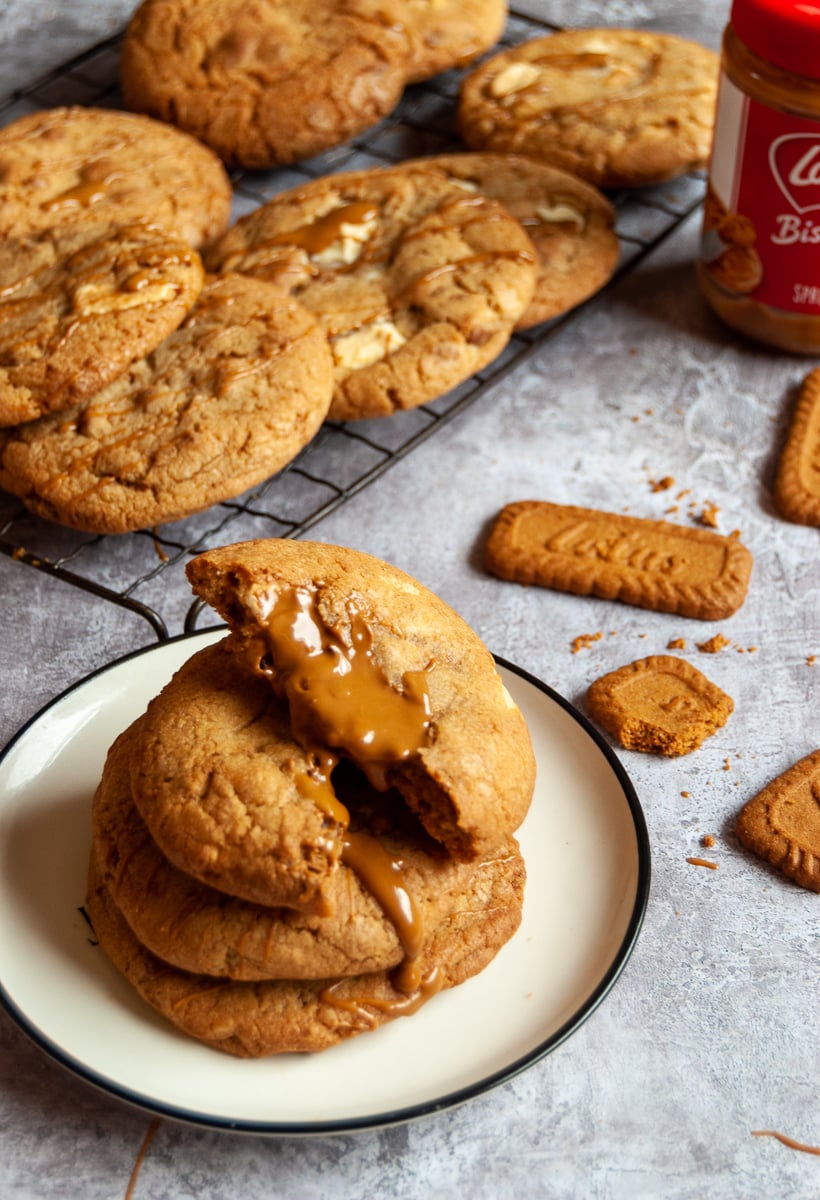 serving suggestions
You might say "straight in your mouth, obviously!" BUT It's best to serve these Biscoff cookies warm from the oven while the Biscoff spread centre is still molten. 
The cookies will keep for up to 3 days, but obviously the middle won't be as soft.  You can warm the cookies in the oven for 3-4 minutes at 150C and the filling will be lovely and molten again.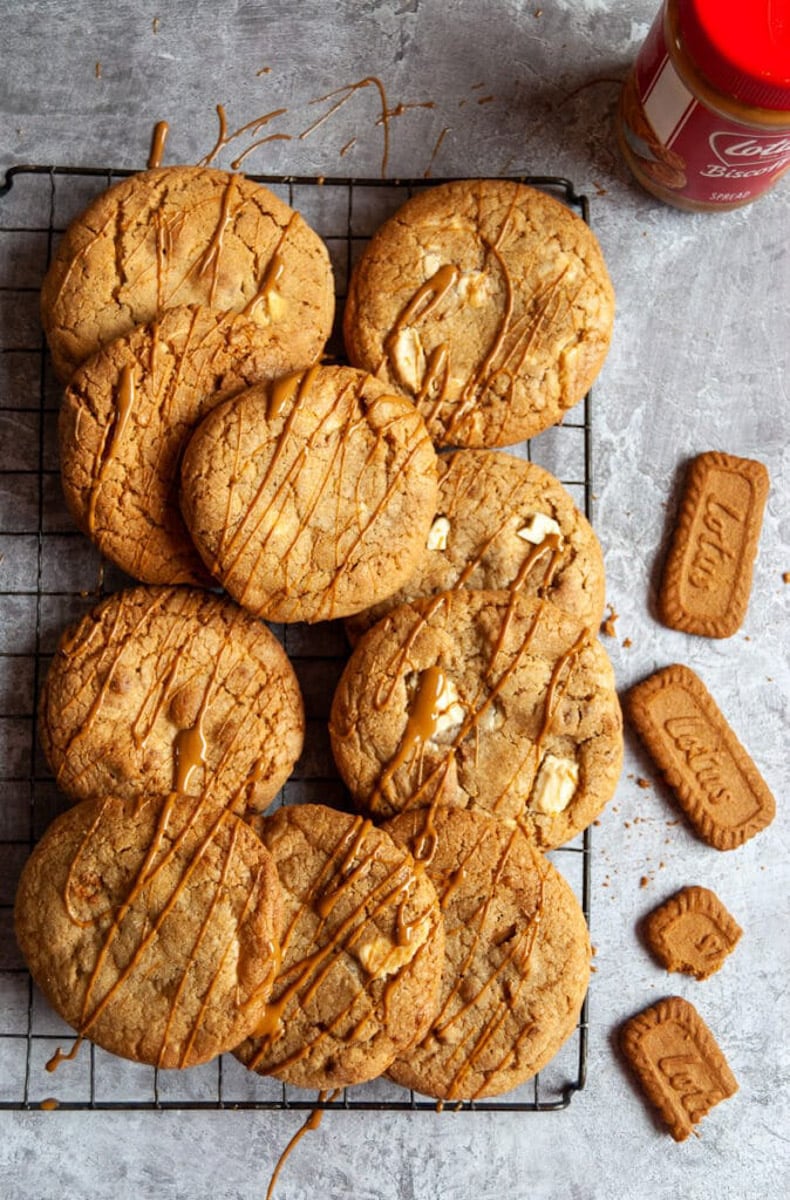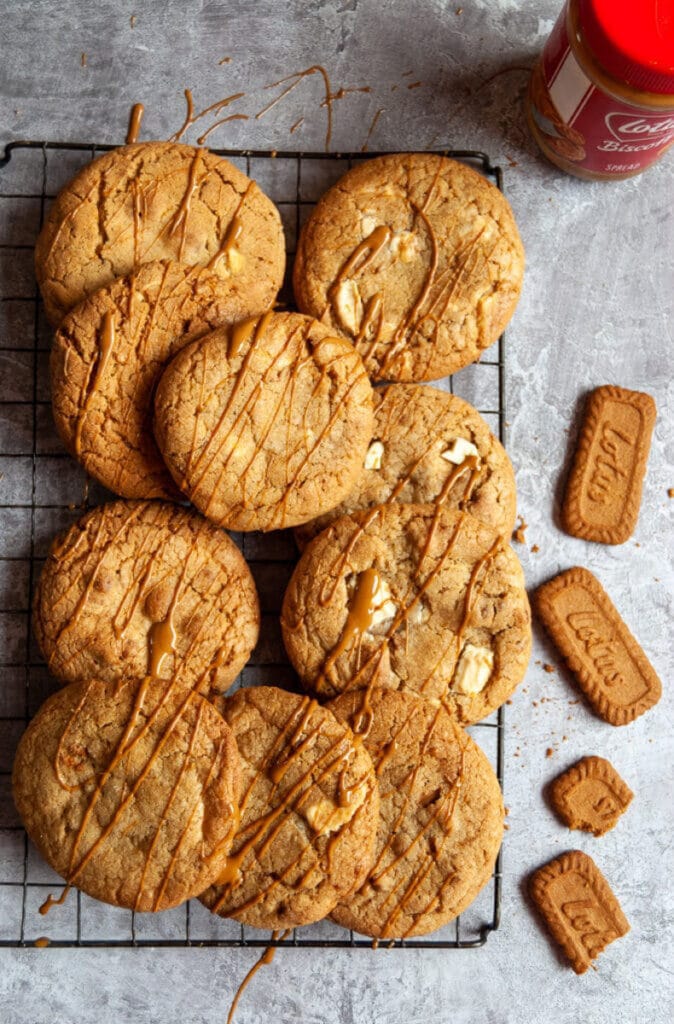 did you make this recipe?
I hope you love it! Let me know by leaving a comment/review below and please rate the recipe out of five by clicking on the stars in the recipe card.
Share a photo of your Biscoff cookies with me by tagging me on Instagram #sweetsavouryblog

want to see more cookie recipes?
Soft and Chewy chocolate chip cookies
White chocolate macadamia nut cookies
White Chocolate and Cranberry Cookies
Double chocolate Malteser Cookies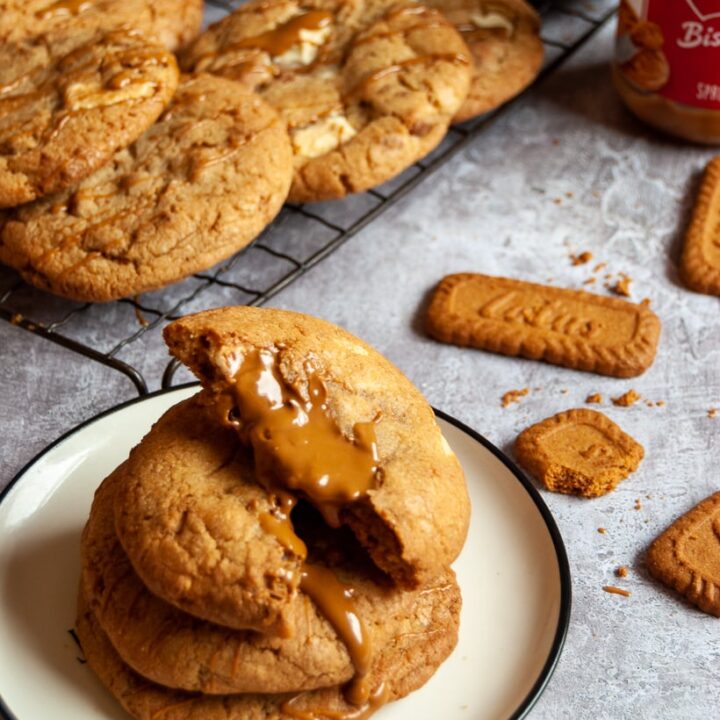 Biscoff Stuffed Cookies
Prep Time:
1 hour
20 minutes
Total Time:
1 hour
38 minutes
These Biscoff Stuffed Cookies are the ultimate treat for any Biscoff lover! Thick, chewy NYC style cookies stuffed with Biscoff crumbs, white chocolate chunks and a molten Biscoff middle.
Ingredients
150g Biscoff Spread
400g plain flour
2 teaspoons baking powder
1 teaspoon cinnamon
1/2 teaspoon fine salt
200g cold unsalted butter, cut into small cubes
150g soft light brown sugar
125g caster sugar
2 medium eggs, at room temperature
1 teaspoon vanilla extract
100g Biscoff biscuit crumbs
200g white chocolate chunks
25g Biscoff spread for drizzling over the cookies (optional)
Instructions
Measure out 16 1/2 tablespoons of Biscoff spread, spacing them out in a freezable container or plate. Pop the Biscoff blobs in the freezer for about 1 hour or until completely frozen.
Preheat the oven to 180C/160Fan/350F/Gas mark 4. Grease and line a couple of large baking sheets.
In a large bowl, mix together the plain flour, baking powder, ground cinnamon and salt. Set aside.
In a large bowl using an electric whisk or wooden spoon, mix the butter and both sugars together until smooth and well combined. Beat in the eggs, one at a time until the mixture is smooth.
Stir in the vanilla extract, Biscoff crumbs and white chocolate chunks. Stir in the flour mixture until well combined..
Divide the dough into roughly 75g pieces. (you should get 16 large cookies from this mix) Using your hands, roll the cookie dough into balls. Remove the frozen Biscoff from the freezer and place the Biscoff in the middle of each cookie. I flatten the cookie balls, place the Biscoff in the middle and "wrap" the cookie dough around the Biscoff (see my picture in the main post) so it's enclosed in the middle.
Place the cookies on the baking sheet (4 at a time since they are large!) Bake the cookies for 18 minutes or until golden brown and smelling amazing. They will still be quite soft in the middle so leave them on the baking sheets for at least 5 minutes before transferring to cooling rack.
Melt the 25g Biscoff spread and drizzle over the cookies. Serve them warm while the filling is still gooey and warm!
Notes
The Biscoff filling will firm up after a few hours, but reheating the cookies in the oven (150C/130Fan) for 3-4 minutes will give you that melty Biscoff middle again!
Nutrition Information:
Yield:

16
Serving Size:

1
Amount Per Serving:
Calories:

427
Total Fat:

21g
Saturated Fat:

10g
Trans Fat:

0g
Unsaturated Fat:

10g
Cholesterol:

52mg
Sodium:

210mg
Carbohydrates:

55g
Fiber:

1g
Sugar:

29g
Protein:

5g
Calories and Nutritional information are provided by a third party application and should be used as indicative figures only.