These Biscoff Doughnuts are the perfect treat for Biscoff fans – light, fluffy doughnuts filled with Biscoff cream, topped with a Biscoff glaze and a Lotus Biscoff biscuit. They are incredibly good!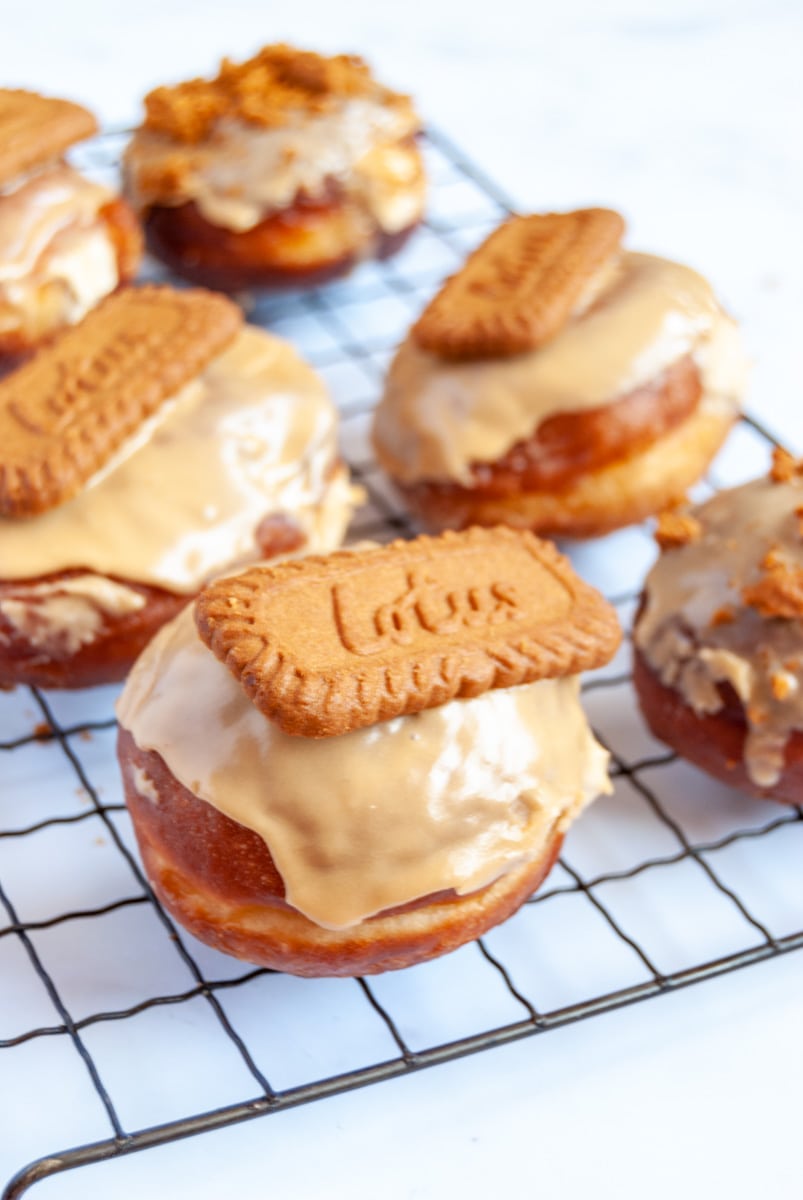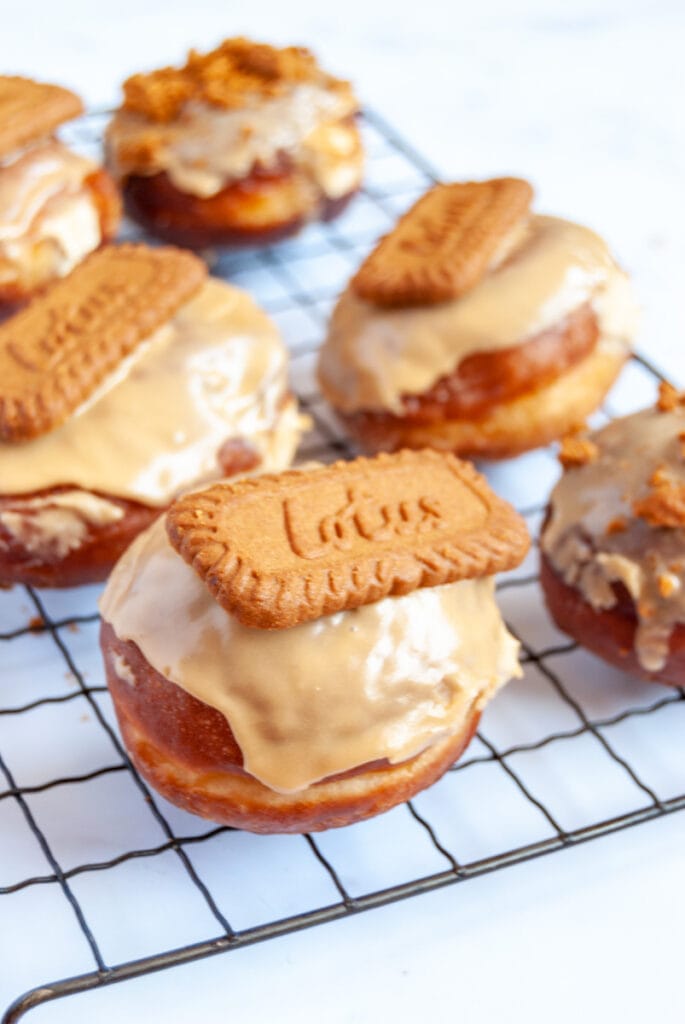 Cream filled Biscoff Doughnuts, anyone? I still can't stop making Biscoff/Lotus biscuit themed treats..I just can't get enough of the stuff and I know many of you feel the same!
My Biscoff Rocky Road recipe has quickly become one of my most requested sweet treats – I've made it a few times for my son's friends and they absolutely love it – as I do!
I also have recipes for gooey Biscoff Blondies, Biscoff stuffed Cookies which are INSANE, Biscoff waffles, Biscoff brownies for two, Biscoff rice krispie treats and these DELICIOUS Biscoff mini cheesecakes.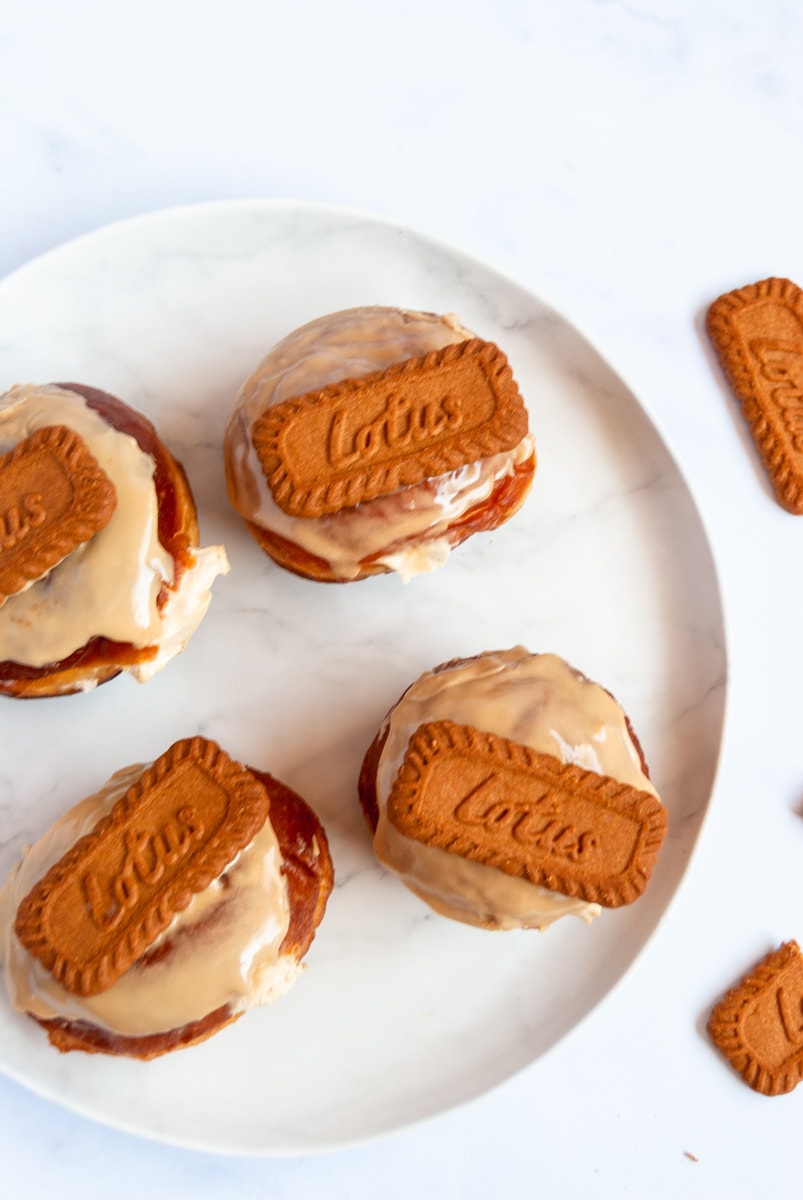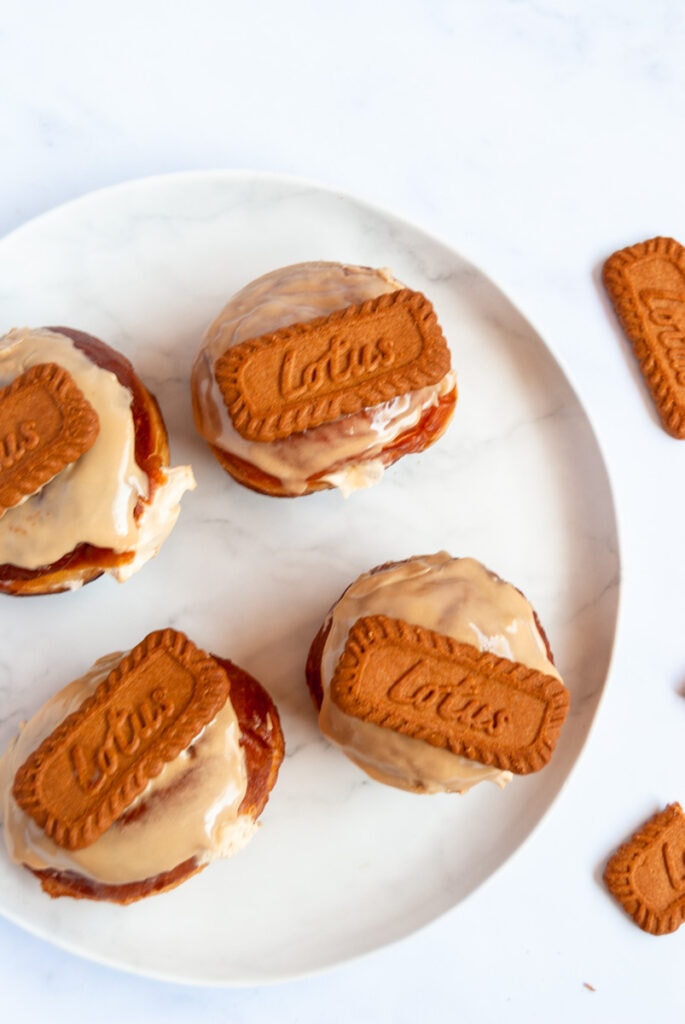 I've been meaning to try a Biscoff doughnut for quite a while now. My local bakery sold them for a while a couple of years ago and while they were very good, I felt that if I could re-create Biscoff doughnuts at home, I could pack even more Biscoff flavour into them.
The bakery doughnuts were filled with plain cream and topped with an icing that tasted faintly of caramel and topped with a Lotus "Biscoff" biscuit.
I wanted Biscoff flavour in pretty much every element of the doughnut, so I decided to try a Biscoff cream filling and a Biscoff icing to top each doughnut. Let's just say……these doughnuts are one of my best creations so far. They are simply gorgeous.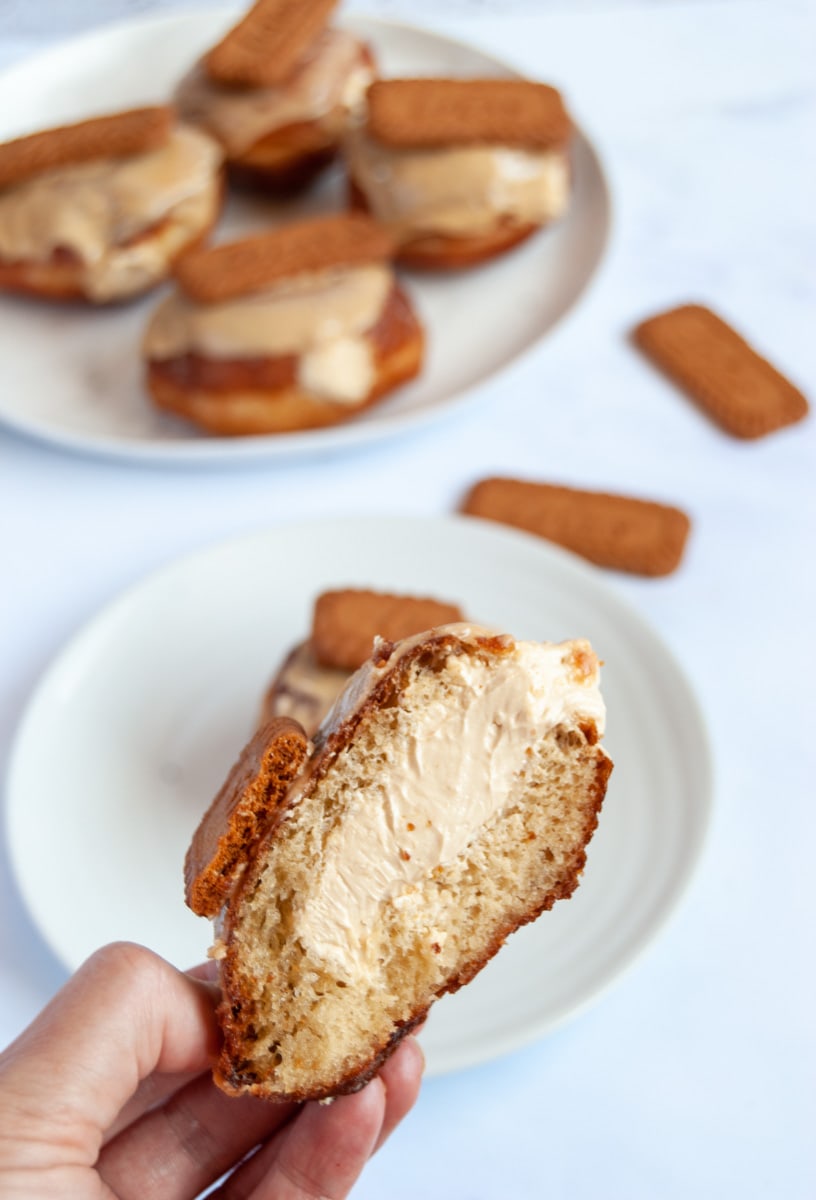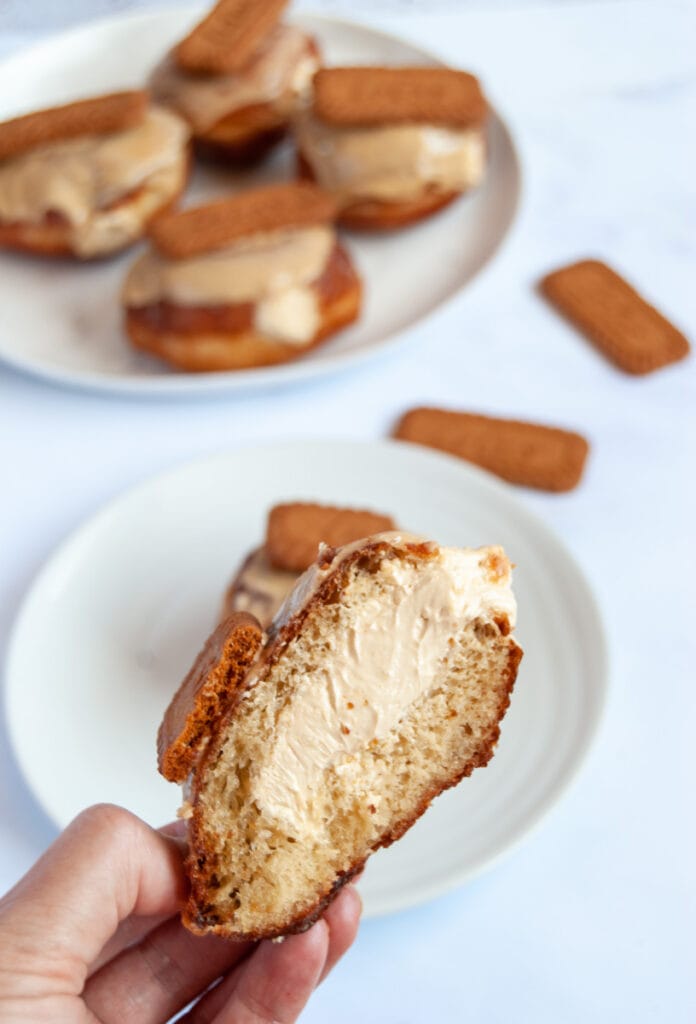 I was very lucky to be able to sample one of these beauties because they disappeared in the blink of an eye. I'm already receiving requests to make them again this weekend!
ingredient list
(keep scrolling to the bottom of the post to find printable recipe card with ingredient amounts and detailed instructions)
FOR THE DOUGHNUTS
Instant yeast. I use the "fast action" yeast – the kind you usually find in the 7g sachets.
Fine salt – unsalted dough doesn't taste good!
Soft light brown sugar to complement the caramelised flavours of the Biscoff spread.
Vanilla extract adds essential flavour to the doughnuts,
Vegetable or sunflower oil, for frying the doughnuts
FOR THE BISCOFF CREAM
for the Biscoff glaze
Icing sugar. Sieve the sugar to get rid of any lumps.
Whole milk. You will need 2-3 tablespoons
Lotus Biscoff biscuits to decorate. You could also top the doughnuts with crushed biscuits if you like.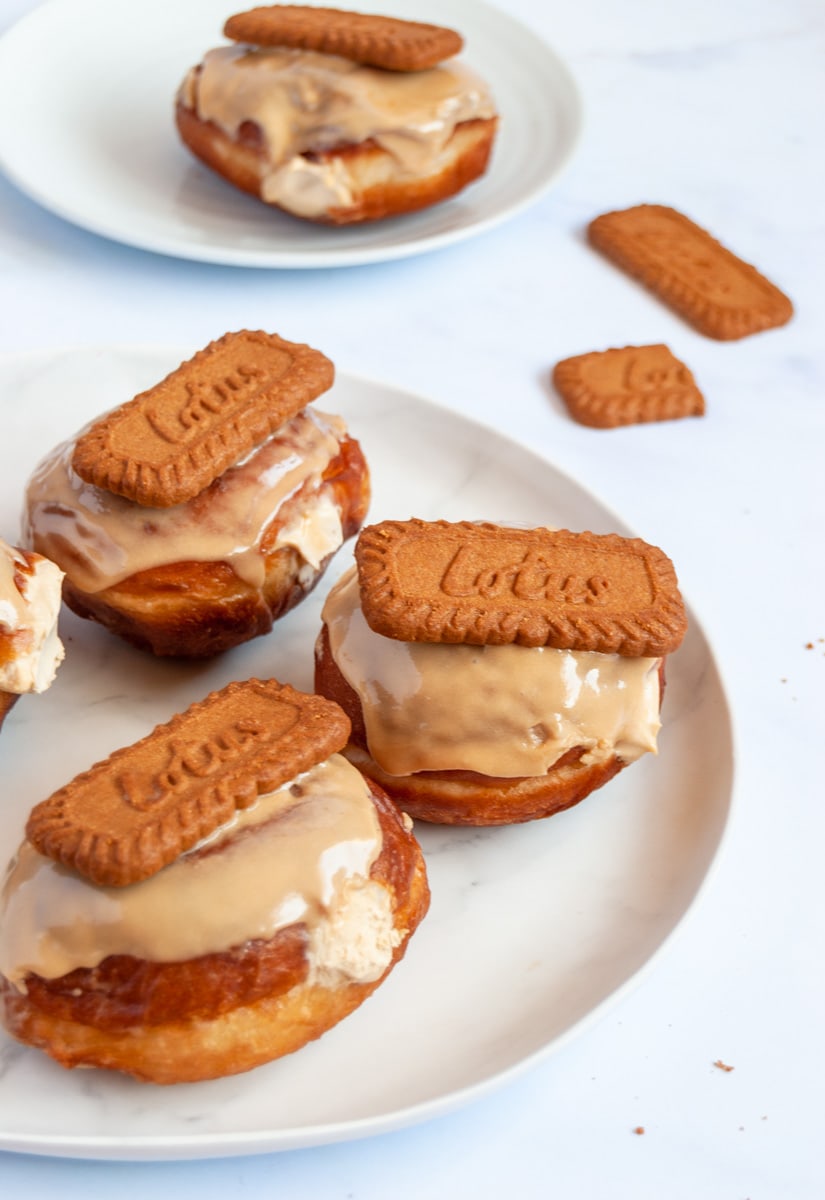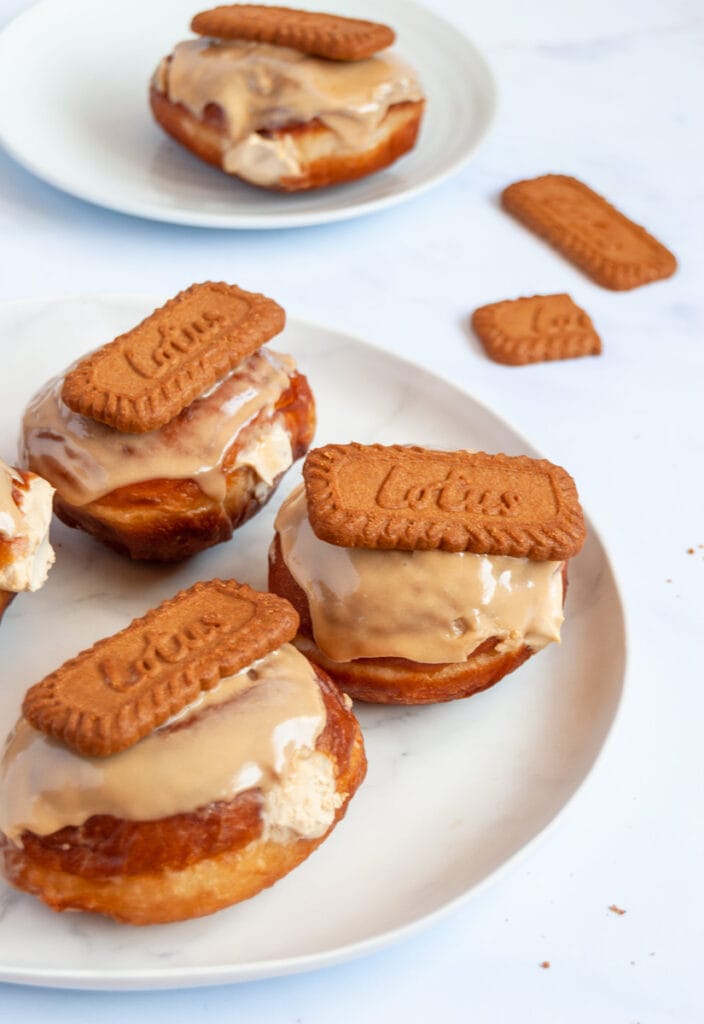 how to make biscoff doughnuts
(Scroll to the bottom to find printable recipe card)
Step one – make the dough
I used the recipe for my homemade doughnuts but halved the amounts. This will give you nine Biscoff doughuts. Obviously you don't have to halve the recipe if you're making these doughnuts for a large crowd!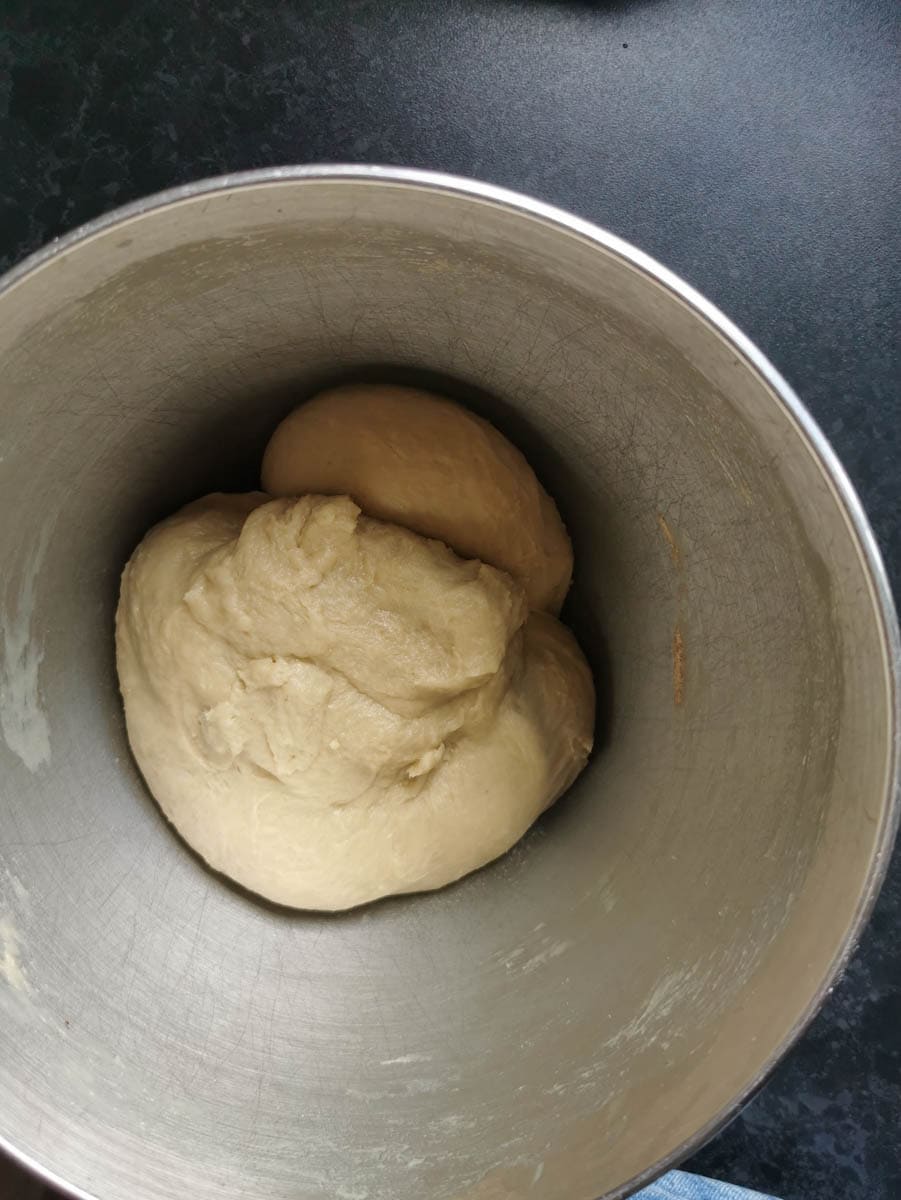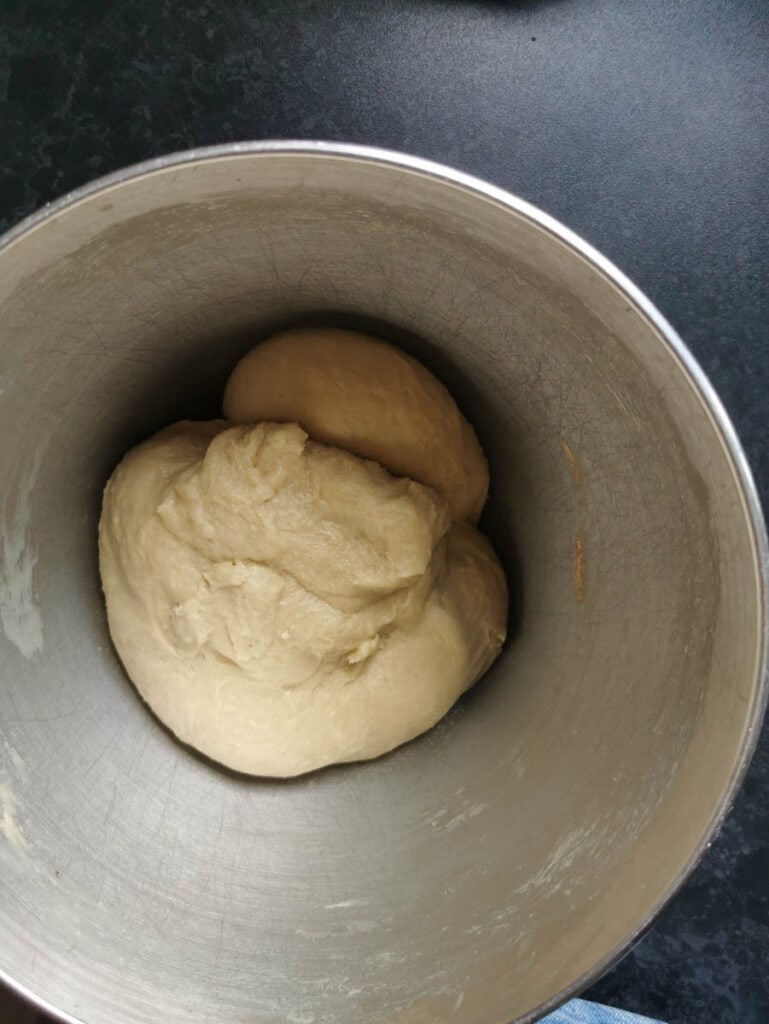 Step two – fry the doughnuts
You will need either a deep fat fryer or a large, deep saucepan with a sugar thermometer. I know it goes without saying, but I must remind you to please take extra care when deep frying. I wouldn't recommend you get the kids to help (get them to help with filling the doughnuts instead!)
Flavourless oils with a high smoking point such as vegetable or sunflower oil are best for deep frying.
The ideal temperature for frying doughnuts is 160C/320F. If the temperature is any higher, the outside of the doughnuts will turn too dark before the inside has a chance to cook properly.
If the temperature drops below 150C/302F, the doughnuts will absorb too much oil and will turn out stodgy and greasy instead of light and fluffy.
The doughuts will take about 2-3 minutes on each side to cook through. Drain the cooked doughnuts on kitchen paper for a few minutes before transferring to a wire rack to cool completely before filling.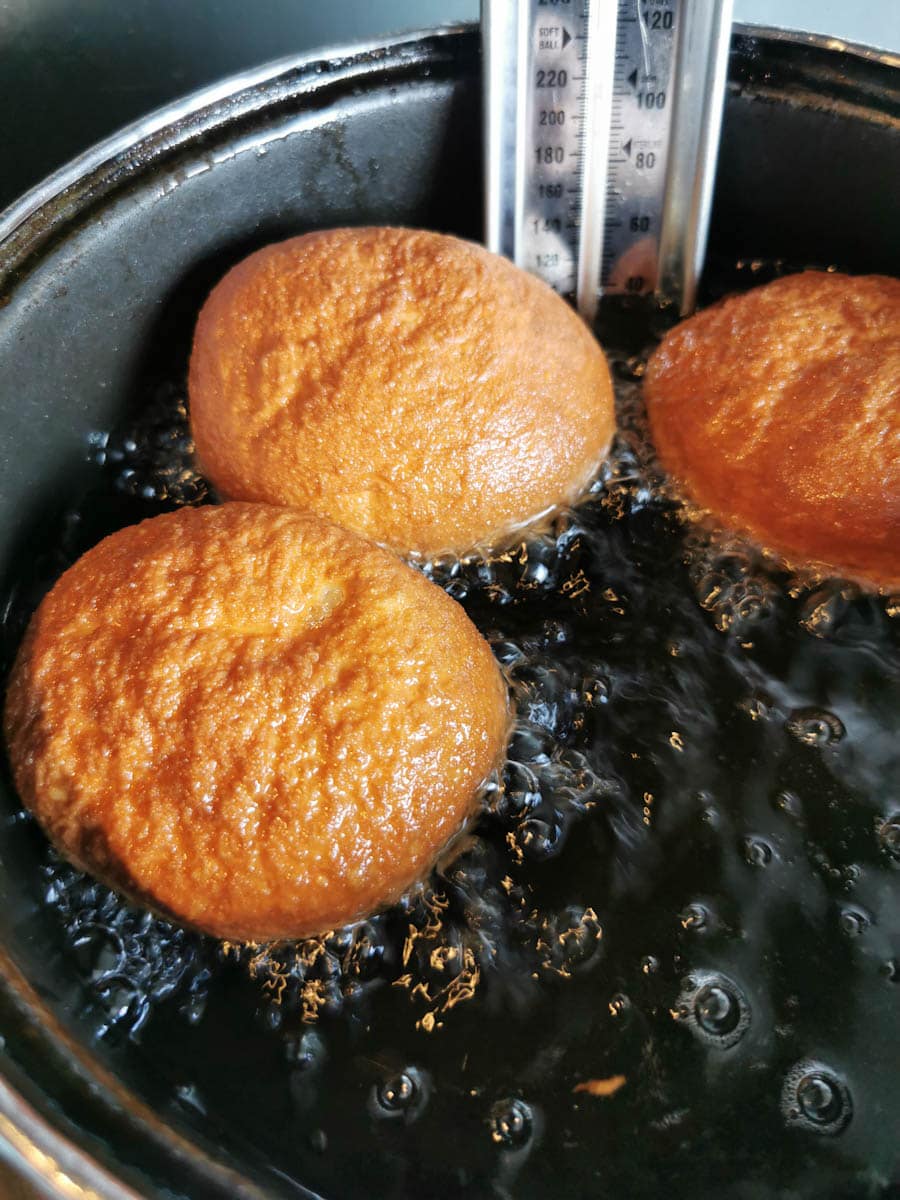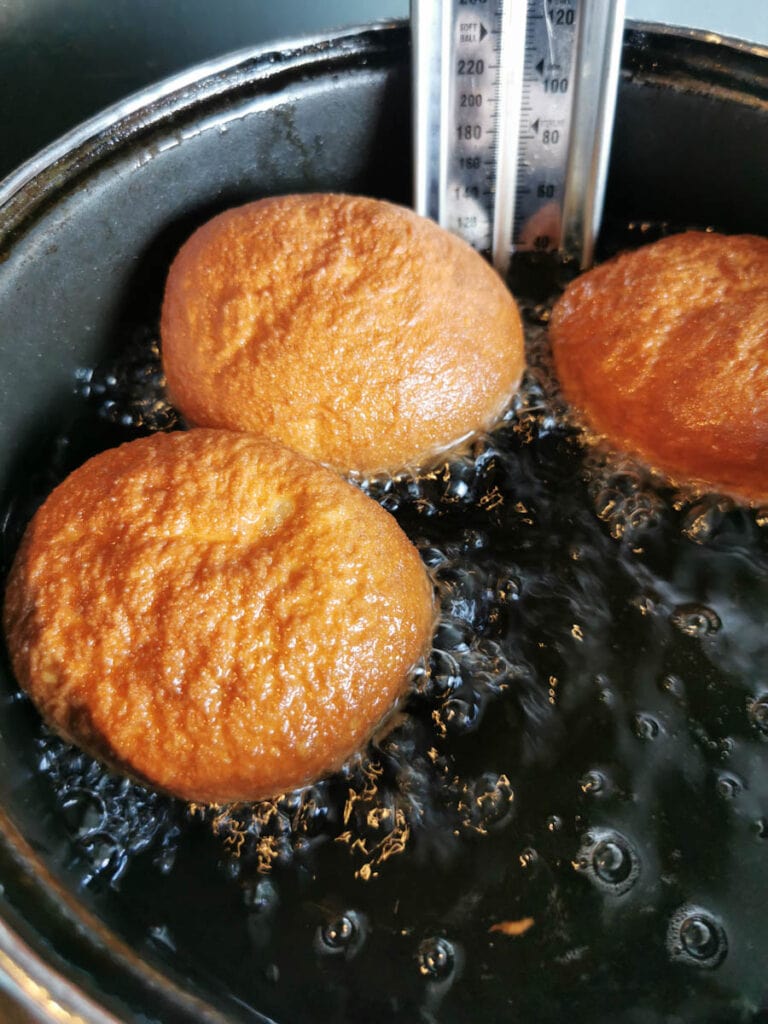 step three – Filling the doughnuts with biscoff cream
Lightly whip the double cream and Biscoff spread together until the cream holds soft, floppy peaks. Don't overwhip the cream as it could turn grainy.
Place the whipped cream in a piping bag fitted with a round 2 inch nozzle.
Using a sharp knife, insert a hole in the side of each completely cooled doughnut. Insert the piping nozzle into the hole and fill the doughnuts with the cream.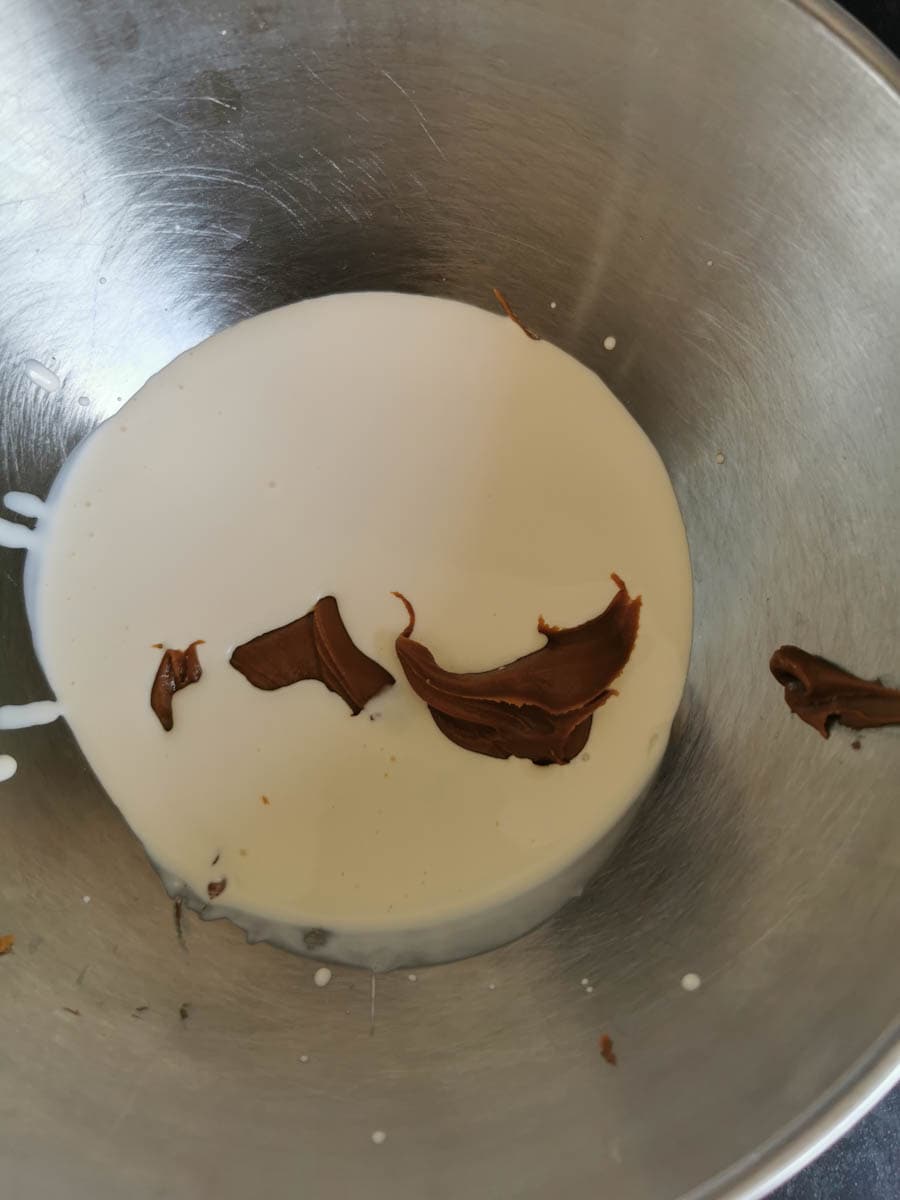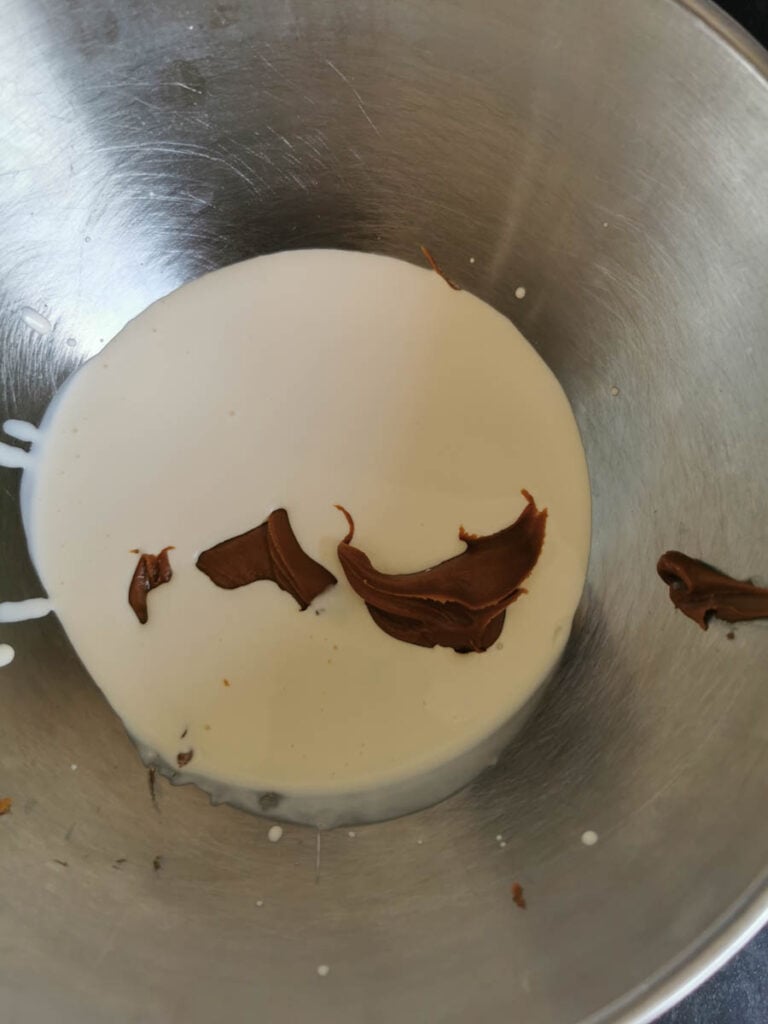 step four – topping the doughnuts with biscoff glaze
To make the glaze, place the sieved icing sugar, Biscoff spread and half of the milk in a medium bowl. Using a wooden spoon or whisk, stir together well until you have a smooth, lump free glaze.
You might not need all of the milk, so I add one tablespoon first and add the rest gradually, stopping when I have a glaze that is thick enough to coat the back of a spoon.
Dip the doughnuts in the bowl of glaze, giving them a little turn so the tops have a nice even coating of glaze.
Finally, top each doughut with a whole Biscoff biscuit, or crush them and sprinkle on top!
Do bear in mind that the biscuit topping will go soft after a couple of hours and there is nothing you can do to prevent this.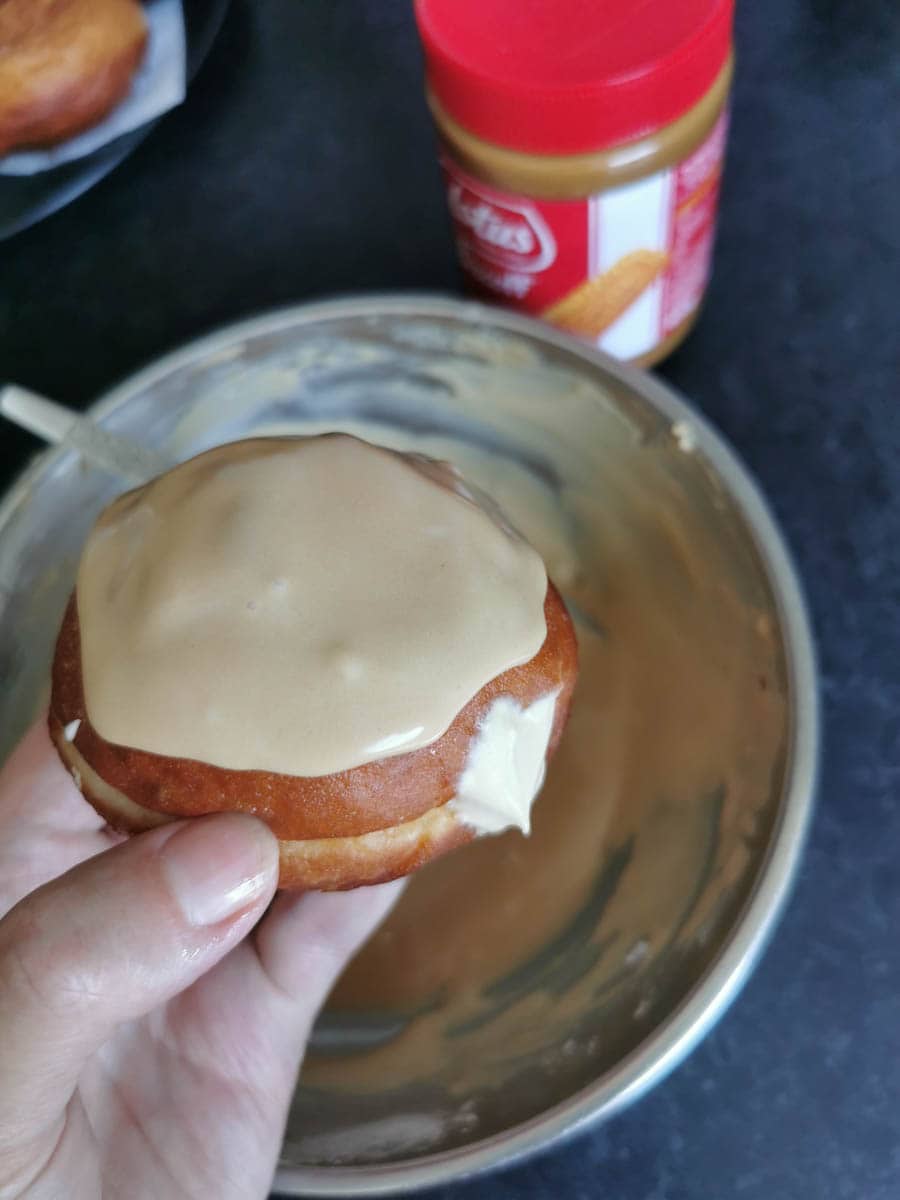 storage instructions
Because these doughnuts contain fresh cream, they should be stored in the fridge at all times.
The doughnuts are best eaten within 24 hours of making, which shouldn't be a huge problem!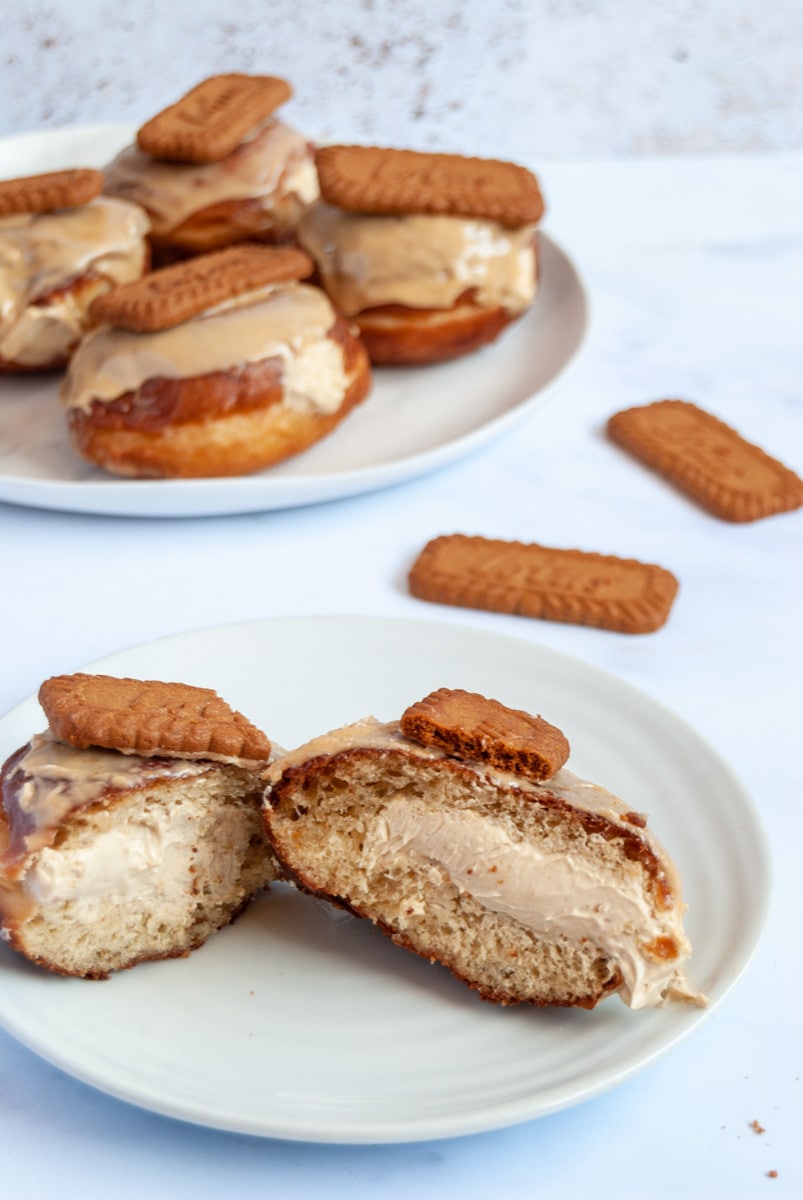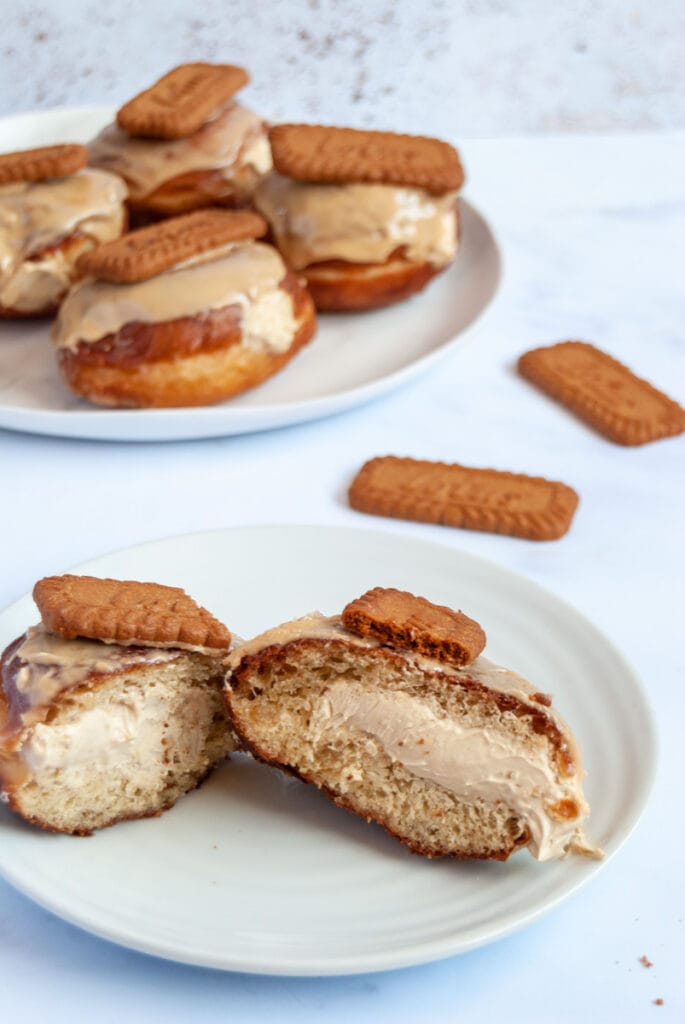 did you make this recipe?
I really hope you loved it as much as we do! Let me know what you thought by leaving a comment below and rate the recipe out of five by clicking on the stars in the recipe card.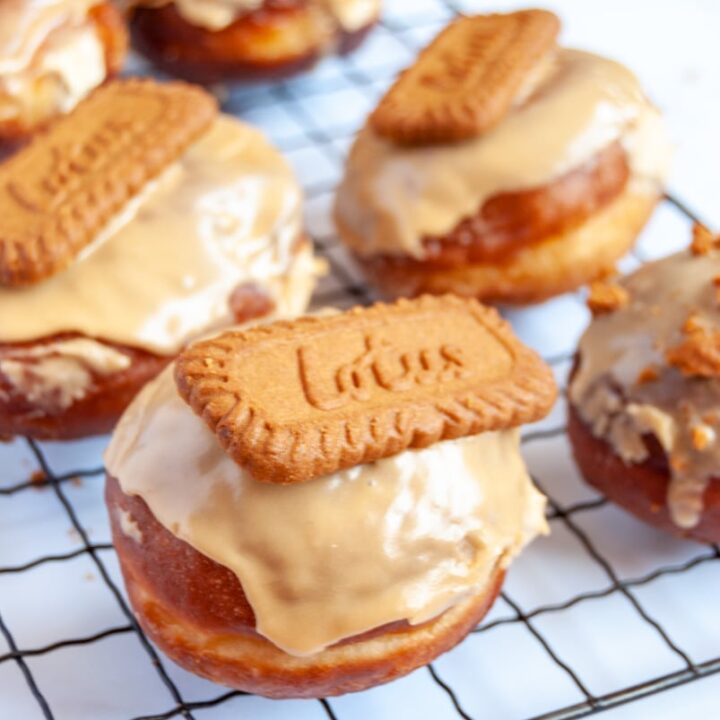 Biscoff Doughnuts
Total Time:
3 hours
30 minutes
These Biscoff doughnuts are absolutely heavenly to eat - light, fluffy yeasted doughnuts filled with a Lotus Biscoff cream and topped with a Biscoff glaze icing and a Lotus Biscoff cookie!
Ingredients
FOR THE DOUGHNUTS
75ml whole milk
50ml freshly boiled water
250g strong white bread flour
7g fast action instant yeast
½ teaspoon fine salt
1 medium egg, at room temperature
½ teaspoon vanilla extract (not essence)
25g soft light brown sugar
30g soft unsalted butter
Approximately 1.5 litres Vegetable or Sunflower oil for frying
FOR THE BISCOFF CREAM
250ml double cream
2 heaped Tablespoons biscoff
FOR THE BISCOFF GLAZE
100g icing sugar, sieved
2 Tablespoons Lotus "biscoff" (caramelised biscuit) spread
2 Tablespoons milk
Instructions
Pour the milk into a measuring jug and pour over the freshly boiled water to make a warm liquid.
Place the flour, yeast, salt and sugar in a large bowl, placing the yeast and salt at opposite sides of the bowl. Give everything a brief mix together, make a well in the centre and crack in the eggs, followed by the vanilla extract and about two thirds of the milk and water.
Start to mix everything together, adding more of the liquid until you have a soft, slightly sticky dough. I mix my freestanding mixer for this job - it can be done by hand but it takes some muscle work! Gradually add the soft butter, a tablespoonful at a time.
If using a stand mixer, knead for about 5 minutes. If mixing by hand, it will take about 10 minutes to get past the stage where the dough is wet, sticky and possibly difficult to work with. Don't worry though - keep mixing until the dough is smooth, silky and pliable.
Lightly oil a large bowl and place the dough inside. Cover with cling film (I use a shower cap!) and leave at room temperature for one to two hours or until doubled in size. Enriched dough with butter and sugar can take a little longer to rise, so don't be too concerned if it seems to be taking a while.
When the dough has risen, deflate it by very lightly punching it down, then fold it over a few times. This will knock the air out so the dough is easier to work with.
Lightly oil two large baking trays. Divide the dough into small pieces (about 50g each is the ideal size.)
Very lightly oil a work surface. Cradle each piece of dough in your hand and gently roll it on the work surface, applying light pressure until you have a smooth, tight ball of dough.
Place the pieces of dough on the prepared baking sheets, spacing them well apart to allow for spreading. Cover them loosely with a large sheet of cling film or large proving bags and leave for 40-60 minutes or until almost doubled in size.
When the doughnuts have just about doubled in size, heat the oil to 160C/320F. Make sure the temperature does not go any higher or the doughnuts will cook too quickly on the outside before they are cooked through on the inside. If the heat drops below 150C, the doughnuts will be greasy and stodgy.
Very gently lift the doughnuts one at a time from the tray and gently place in the fryer, trying not to deflate the doughnuts too much. I use a lightly oiled palette knife to do this. Fry the doughnuts two at a time for 2-3 minutes each side. They should puff up and turn light golden. Remove from the fryer with a slotted spoon and drain on kitchen towels for a few minutes before transferring to a wire rack to cool completely before filling with the Biscoff cream.
To make the Biscoff cream, whip together the cream and Biscoff, being careful not to over whip as it can go a little grainy if you take it too far.
For the Biscoff glaze, mix together the sieved icing sugar, Biscoff spread and one tablespoon of milk, gradually adding the second tablespoon of milk until you have a glaze that isn't too thick or thin. You might need to add a splash more milk to get the right consistency - you want a glaze thick enough to coat the doughuts without it running down the sides.
Place the whipped Biscoff cream in a piping bag fitted with a round 2 inch nozzle. Using a sharp knife, insert a hole in each doughnut, making sure you reach the middle. Fill the doughnuts with the cream, stopping when the cream reaches the top of the hole.
Dip the top of each doughnut into the glaze - I simply dip them right into the bowl and twirl them around to get an even coating. If your glaze is the right consistency, the doughnuts should have a nice coating of glaze than isn't running down the sides.
Keep the doughnuts in the fridge until you're ready to serve.
Nutrition Information:
Yield:

9
Serving Size:

1
Amount Per Serving:
Calories:

508
Total Fat:

22g
Saturated Fat:

11g
Trans Fat:

0g
Unsaturated Fat:

9g
Cholesterol:

65mg
Sodium:

253mg
Carbohydrates:

68g
Fiber:

7g
Sugar:

28g
Protein:

10g
Calories and nutritional information are provided by a third party application and should be viewed as indicative figures only.