Biscoff Blondies! Browned butter blondies with a gooey Biscoff middle, white chocolate chunks and Lotus Biscoff cookies on top!
I have an absolute obsession with Biscoff spread right now. I love creating recipes with the caramelised biscuit spread and judging by social media, it seems I'm not the only one!
I've been meaning to try a Biscoff Blondie for for very long time now and I finally got around to it this week. OH MY DAYS. WHY did I not make these until now? They are absolutely divine!
If you share my love of Biscoff, then you might also like these recipes for Biscoff Doughnuts, Biscoff Rocky Road, no bake mini Biscoff cheesecakes, biscoff stuffed cookies and biscoff rice krispie squares.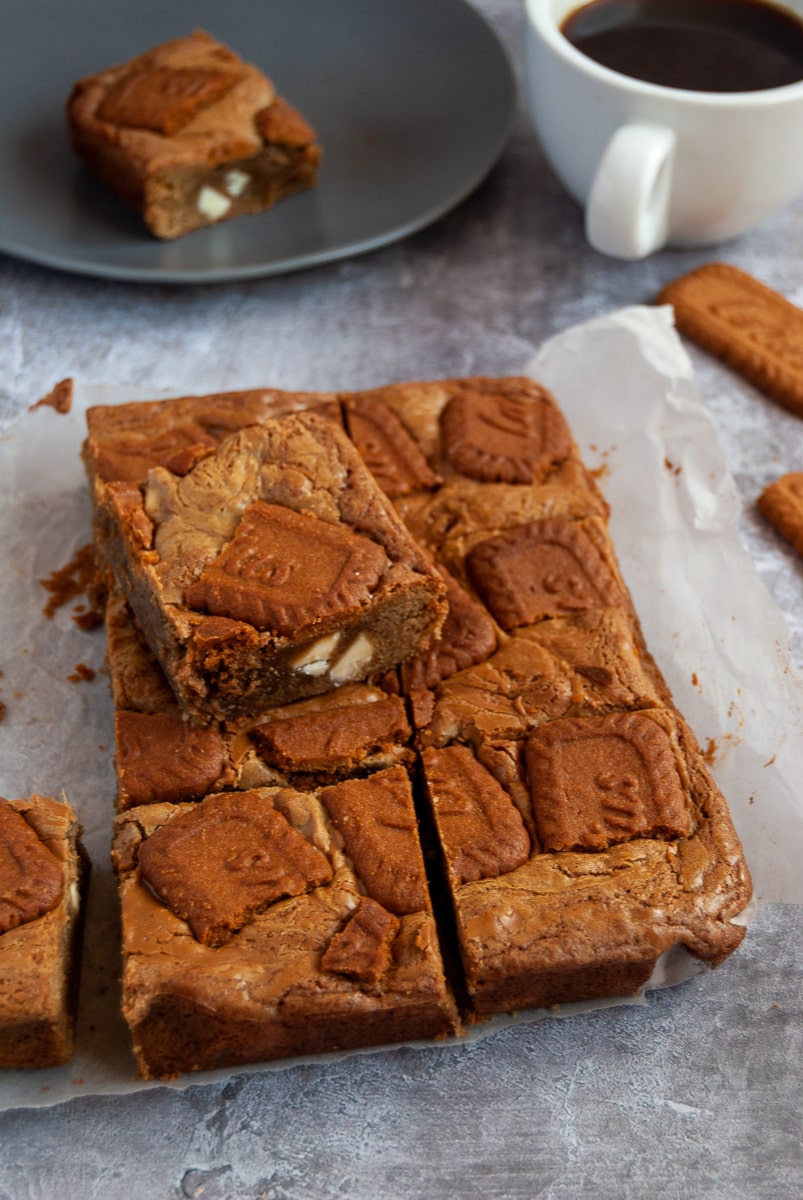 I've taken my favourite blondie recipe and filled it with Biscoff spread, white chocolate chunks and topped it off with swirls of Biscoff and Lotus Biscoff biscuits. I can literally smell them while I'm sitting in my kitchen typing this and it is driving me to distraction!!
There's a LOT of sweetness going on here, so I've added instant espresso powder and a little cinnamon to the blondie batter just to round the flavours out – and since Biscoff goes perfectly with a cup of coffee, I thought it was appropriate.
If you really don't like the flavour of coffee, you don't have to add it.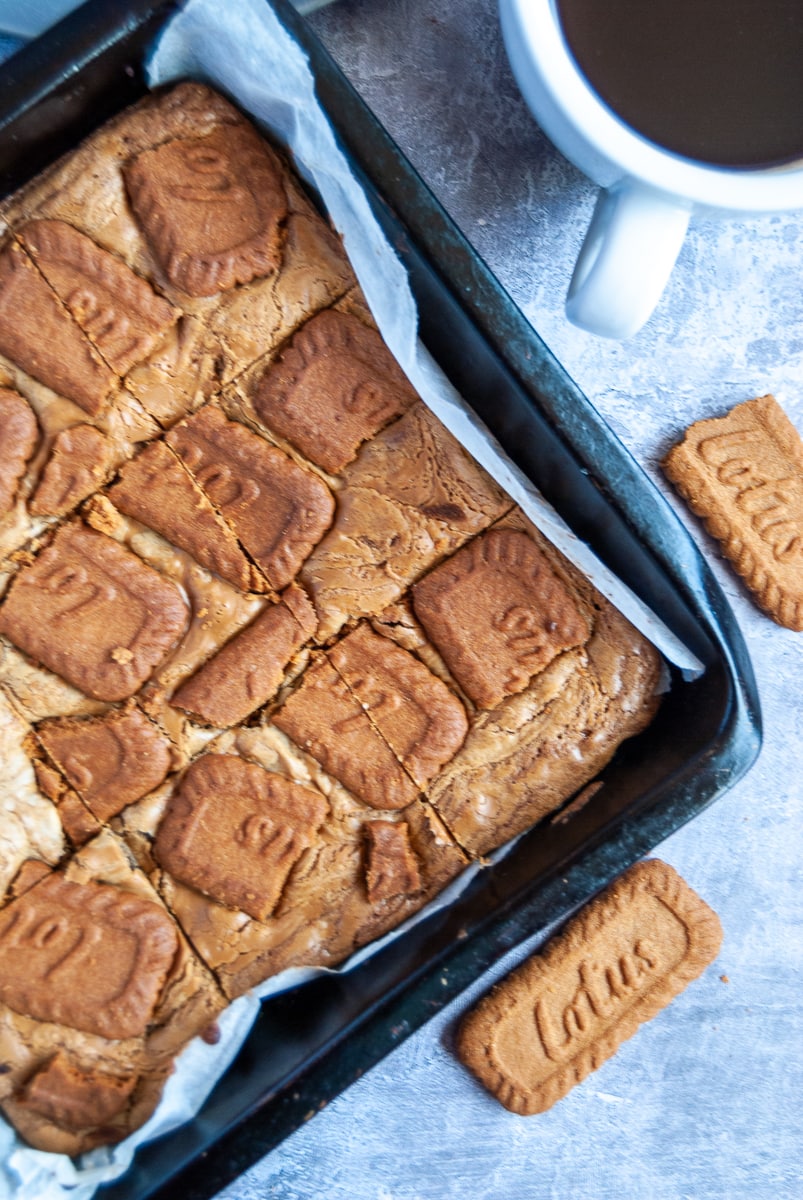 ingredient list
Unsalted Butter
Soft Light Brown Sugar
Medium Eggs
Plain Flour
A little baking powder to give the blondies a lift
Salt
Ground Cinnamon
Espresso Powder
White chocolate chunks – you can use chips if you prefer
Biscoff Spread – I used the smooth Variety
Lotus Biscoff biscuits for the topping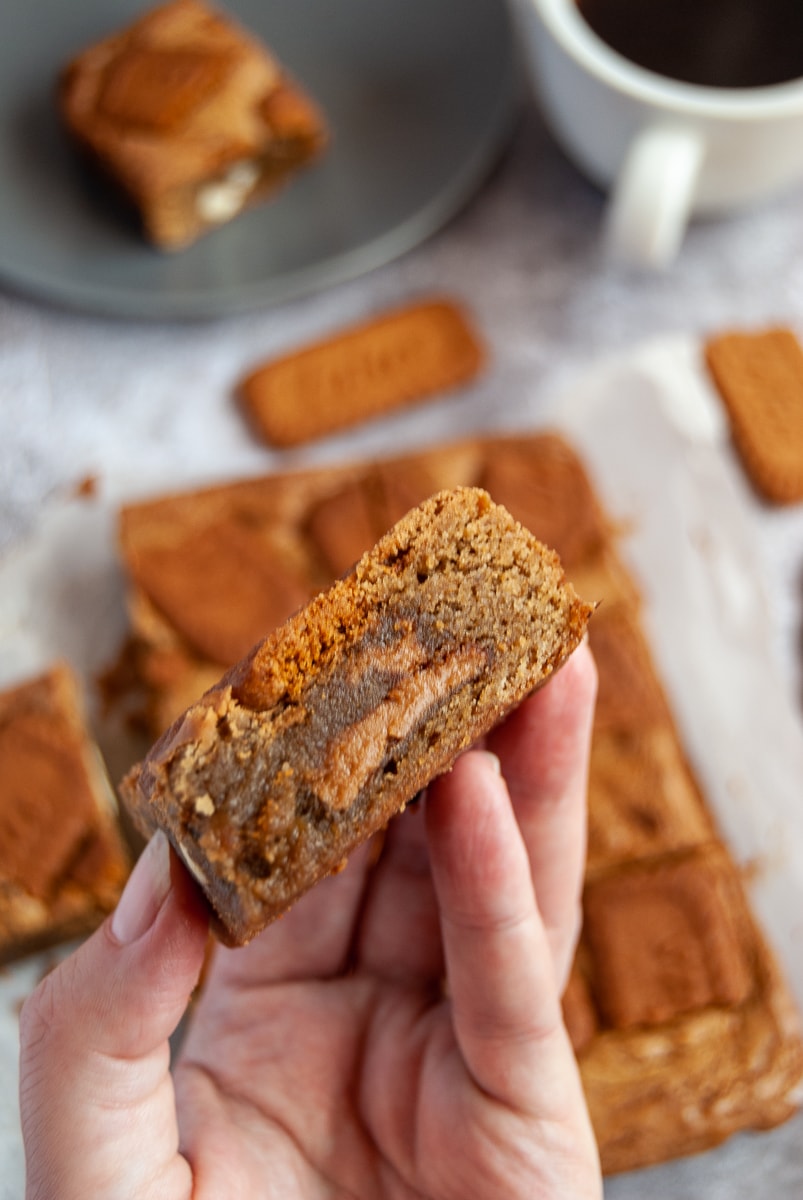 equipment list
A 20x20cm square baking tin
Baking parchment to line the tin – be sure to line it so the paper extends a few cm above the tin. This will make the blondies much easier to lift out out of the tin later.
A knife to swirl the Biscoff on top of the blondie
You'll need a large, very sharp knife to cut the blondies when they're ready.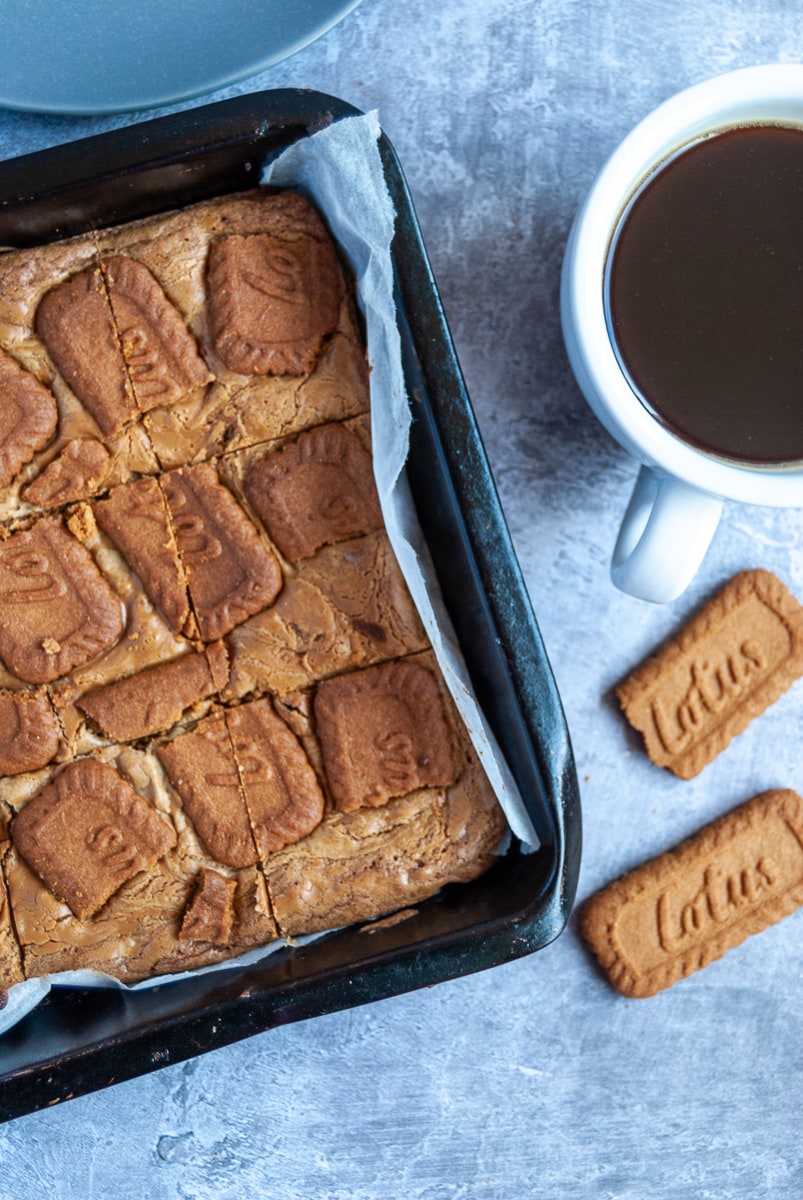 tips for making the best biscoff blondies Ever!
For the very best flavour, I brown my butter when making blondies. See my browned butter Nutella blondie post for tips on how to brown butter.
Using light brown sugar is a must when making these blondies – you won't get those rich caramel notes with white sugar.
Just like my Biscoff stuffed cookie recipe, I freeze spoonfuls of Biscoff spread before adding them to the middle of the blondie – when you slice them, you'll find a gooey Biscoff middle! I can't tell you how heavenly this makes these blondies. You'll just have to try them for yourself!
I'm not usually a fan of white chocolate, but I love it with Biscoff – they go so well together. If you prefer milk or dark chocolate, feel free to use them instead.
It's important to leave the blondies to go completely cold before slicing them. I usually leave them for at least 3-4 hours if not longer. If you're concerned the blondies are too warm in your kitchen, you can chill them in the fridge for a couple of hours. They actually cut much better when they are slightly cold, but just be aware the Biscoff spread filling will be slightly firmer. You can leave them out for an hour or so to bring them back to room temperature.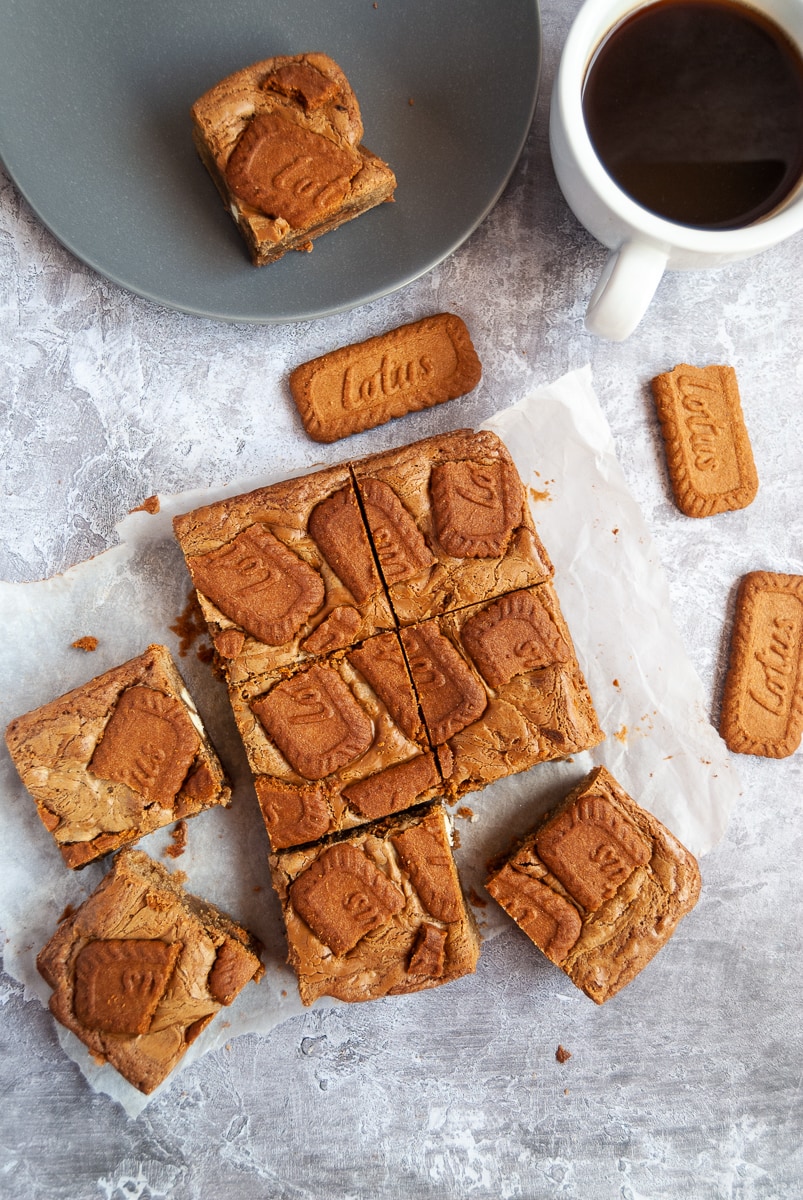 how long will these blondies keep?
The blondies will keep well in an airtight tin for up to 4 days. They will be fine to eat for up to a week, but they will be slightly drier after a few days. I don't think you'll need to worry about it – they will disappear very quickly!
did you make this recipe?
Let me know what you thought of it by leaving a comment below and please rate the recipe out of 5 by clicking on the stars in the recipe card. Thanks!

more blondie recipes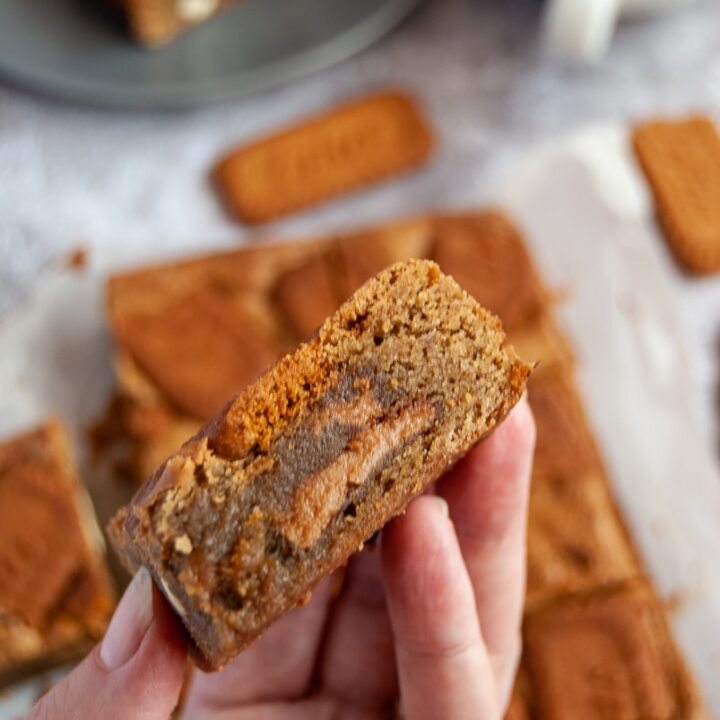 Biscoff Blondies
Yield:
Makes 9 Large Blondies
Prep Time:
1 hour
10 minutes
Total Time:
1 hour
40 minutes
Biscoff Blondies! Browned butter blondies with a gooey Biscoff middle, white chocolate chunks and Lotus Biscoff cookies on top! 
Ingredients
Approximately 150g Biscoff, measured out into 9 1/2 tablespoon sized blobs
90g unsalted butter
200g soft light brown sugar
2 Large Eggs
2 teaspoons (10ml) Vanilla Extract
180g Plain Flour
1/2 teaspoon Baking Powder
1/2 tablespoon Espresso Powder (optional)
1 teaspoon Ground Cinnamon
1/2 teaspoon fine salt
100g White Chocolate Chunks
25g Biscoff Spread for swirling over the top of the blondies
Lotus Biscoff biscuits for decoration
Instructions
Grease and line a 20x20cm square baking tin. Place the spoonfuls of Biscoff on a tray lined with baking parchment and pop in the freezer for at least one hour to completely firm up.
Melt the butter in a small pan. Swirl the pan around a few times. After a couple of minutes, the butter will start to foam and splatter a little, so please watch out and keep pets and children away from the cooker. Keep the pan on a medium heat and when the sizzling subsides and brown bits are appearing, remove from the heat and pour into a large heatproof bowl. Leave to cool for about 10 minutes before proceeding with the recipe.
Preheat the oven to 180C/160Fan/350F/Gas mark 4.
When the butter has cooled down (it can still be a little bit warm but not hot as the eggs might scramble) add the brown sugar to the browned butter and beat well until smooth. Add the eggs and vanilla extract and beat well until the mixture is shiny.
In a medium bowl, combine the flour, baking powder, espresso powder, cinnamon and salt together. Add the flour mixture to the batter and mix until well combined. Stir in the white chocolate chunks. You should have a thick, shiny batter.
Place just under half of the blondie mixture in the tin and smooth it out as best as you can using a spatula or spoon. It will be quite thick, but try and get the layer as even as you can.
Take your frozen Biscoff out of the freezer and working quickly, place them on top of the blondie batter. Try and Imagine where you'll be cutting the blondies into bars – you ideally want them all to have a generous portion of Biscoff inside them!
Cover with the remaining blondie batter, trying to smooth out the top with a small spatula or spoon as well as you can and ensuring the frozen Biscoff is covered.
Gently warm the 25g Biscoff in a small saucepan - you don't need it completely melted, you just want to loosen it a little. Drizzle the warm Biscoff over the top of the blondie. Take a skewer or tip of a knife and swirl gently, trying not to disturb the Biscoff in the middle. Decorate the top with Biscoff Biscuits,
Place in the oven and bake for about 25-30 mins or until the edges look set and the middle is slightly firm.
Remove from oven and cool completely before cutting into squares.
Notes
This recipe makes 9 large blondies, but they are very rich so you could always cut them into smaller pieces if you like.
Nutrition Information:
Yield:

9
Serving Size:

1
Amount Per Serving:
Calories:

419
Total Fat:

19g
Saturated Fat:

9g
Trans Fat:

0g
Unsaturated Fat:

8g
Cholesterol:

70mg
Sodium:

252mg
Carbohydrates:

59g
Fiber:

1g
Sugar:

34g
Protein:

5g
Calories and nutritional information are provided by a third party application and should be viewed as indicative figures only.