Chewy brown sugar vanilla blondies studded with milk chocolate chunks and topped with mini chocolate eggs – these mini egg blondies are a perfect easy Easter bake!
I have always had a weakness for Cadbury Mini Eggs. Do not leave a packet open near me or they will be gone before you know it!
This is not the first time I've used mini eggs in baking – I also have recipes for no bake Easter tiffin, no bake Easter cheesecake (the perfect Easter dessert!), mini egg rocky road and mini egg cookies!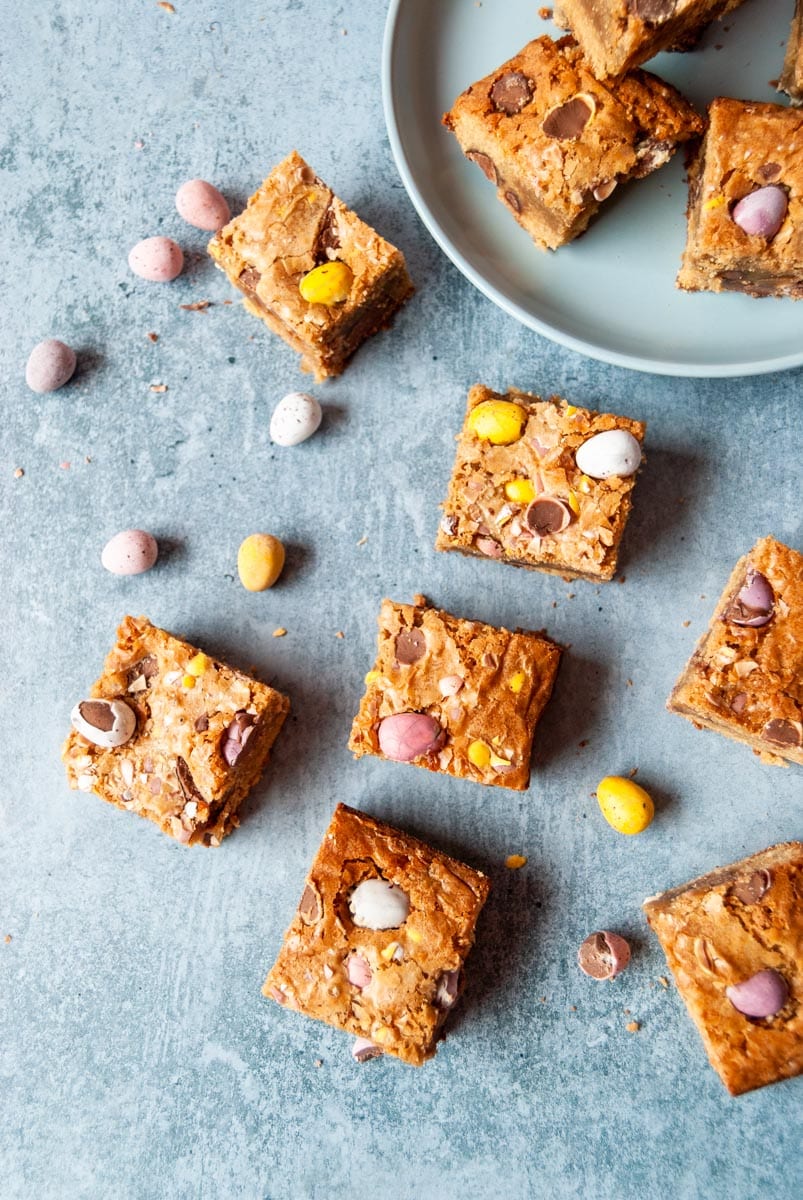 Prefer Creme eggs to Mini Eggs? Then you'll love these recipes for Creme egg stuffed cookies, Cadbury Creme Egg Brownies, Cadbury Creme egg chocolate brownie cookies and last but certainly not least these gorgeous Cadbury Creme egg cupcakes.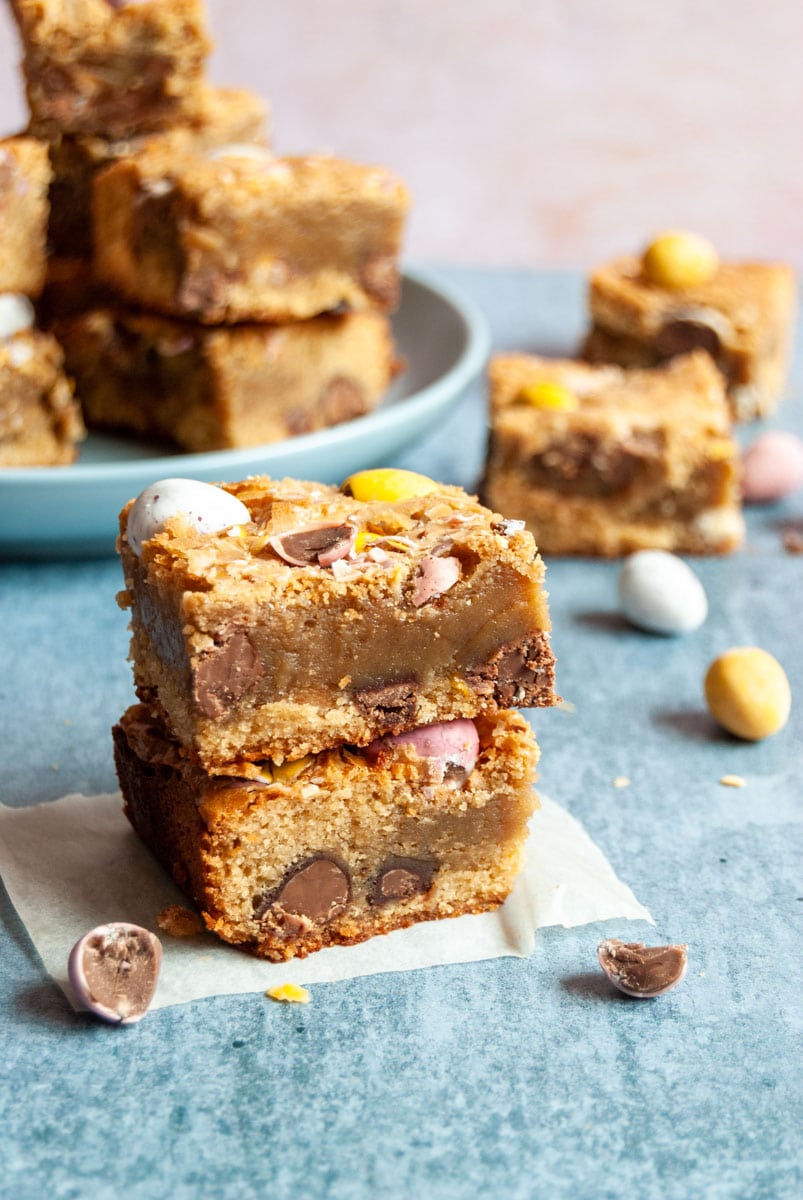 what is a blondie?
I've been asked this question many times! A blondie is basically a brown sugar-vanilla version of a chocolate brownie. It often, but not always, contains either melted white chocolate or chips. A good blondie should be chewy on the outside and gooey in the middle.
A blondie can come in many shapes and forms – dress them up with Ferrero Rocher chocolates and chopped hazelnuts such as these Ferrero Rocher Blondies or add retro biscuits and jammie swirls for these EPIC jammie dodger blondies.
Are you a Biscoff fan? Who isn't, right? You'll definitely want to try these amazing Biscoff Blondies. Or are you a devotee to Nutella? These browned butter Nutella blondies will be the recipe for you!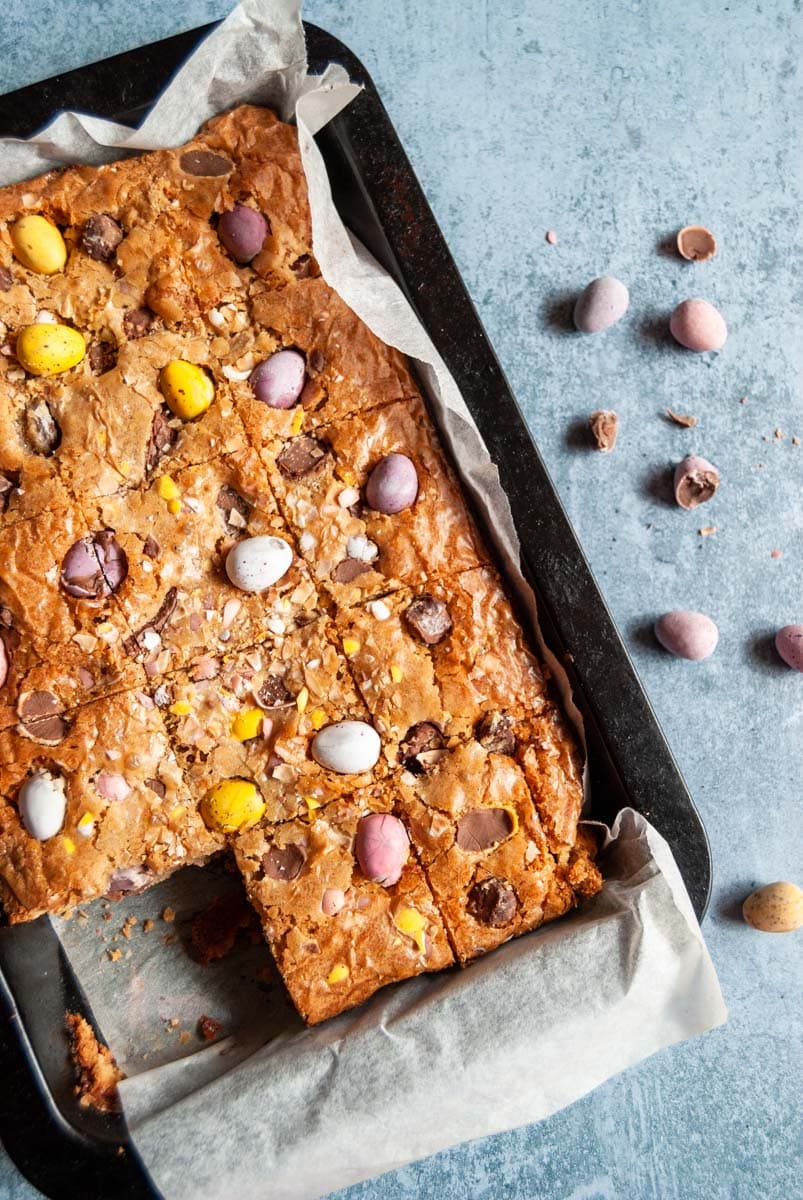 ingredient list
(This is a quick list of ingredients you'll need to make these mini egg blondies. For ingredient amounts and detailed instructions, keep scrolling a little further for printable recipe card!)
225g (1 cup) Butter. I prefer to use salted block butter for this recipe, but you can also use unsalted butter.
200g (1 cup) soft light brown sugar and 100g (1/2 cup) caster sugar. Why a mixture of sugars? The brown sugar adds a lovely caramel flavour and moisture to the brownies. The caster sugar provides structure.
3 medium sized eggs. If you store your eggs in the fridge, you'll need to take them out and bring them to room temperature before you start baking.
2 teaspoons (10ml) vanilla extract. I always use proper extract, never artificial essence.
180g (1 cup + 2 tbsp) plain (all purpose) flour. I don't recommend using self raising for blondies – they turn out too cake like and spongy.
1/4 teaspoon fine salt to balance out all that sweetness!
100g (1/2 cup + 1 tbsp) white chocolate. You're going to melt the chocolate and pour it into the batter, so you'll need a chocolate that melts easily. Callebaut is my favourite white chocolate, but I appreciate it's not cheap. If you're looking for a more budget friendly option, I've also had great results using supermarket white chocolate bars.
150g (3/4 cup) white, dark or milk chocolate chunks (or go for a mixture of all three!)
two 80g packets of Cadbury mini eggs or similar chocolate coloured eggs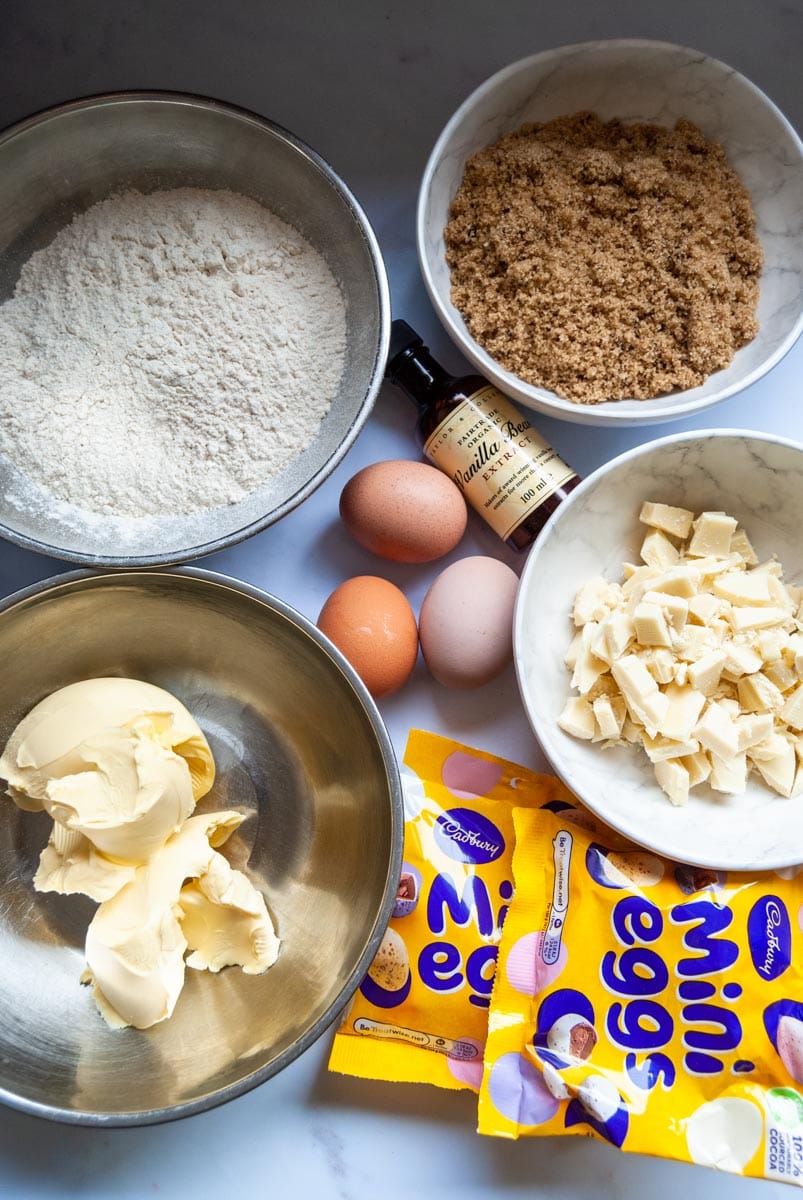 equipment list
To make this recipe you'll need….
7 x 11 inch baking tin
baking parchment to line the tin
a large mixing bowl
A wooden spoon and plastic scraper (spatula)
A small saucepan and heatproof bowl for melting the white chocolate (if not using the microwave)
how to make mini egg blondies
Place the plain flour and salt in a medium mixing bowl and lightly stir to combine.
Melt the butter, brown sugar and caster sugar together over a low heat, stirring occasionally.
Once the butter has melted and the sugars have dissolved, remove the mixture from the heat and allow to stand for around five minutes before beating in the eggs, one at a time.
TOP TIP – if you add the eggs when the melted butter and sugar is still hot, the eggs could scramble. If it's a little warm that's ok, but definitely not hot. I usually find about five minutes is enough time to cool the mixture down a little. To speed up the cooling, pour the melted mixture into a mixing bowl.
Stir in the vanilla extract.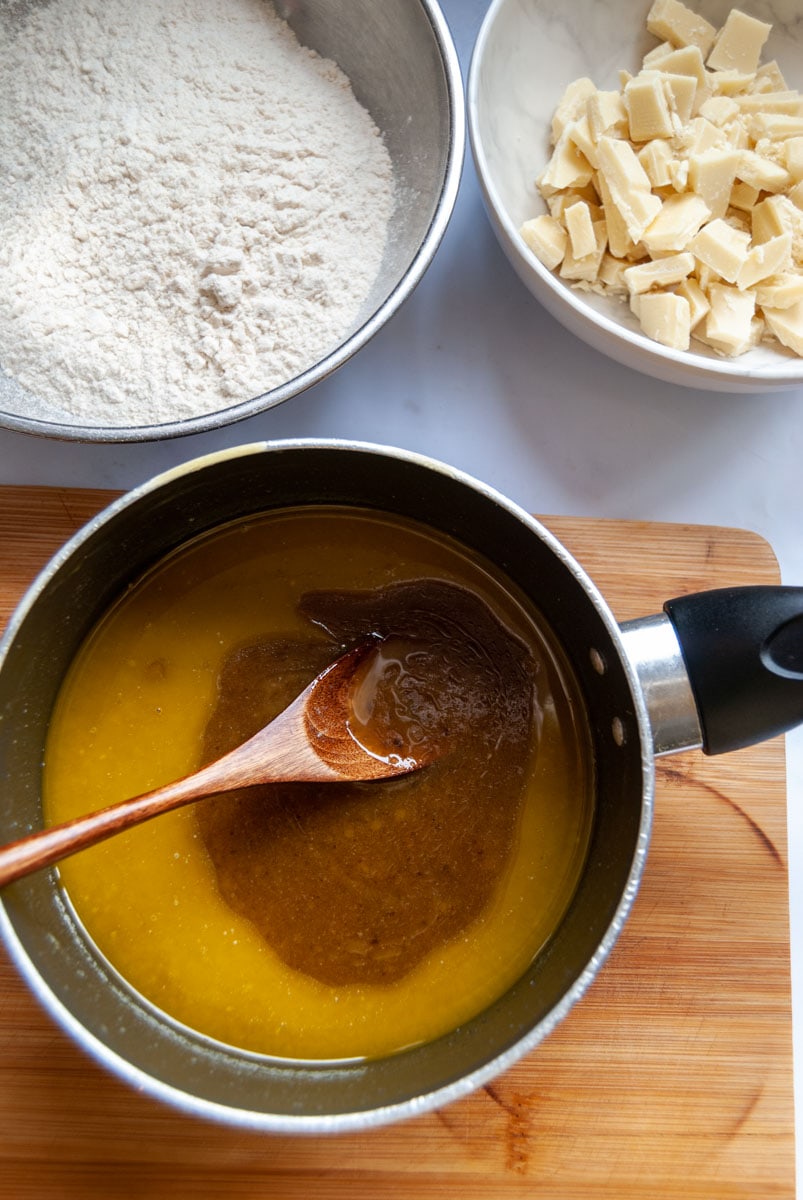 Melt the white chocolate in the microwave or in a heatproof bowl set over a pan of barely simmering water. Carefully remove from the heat and allow to cool for a few minutes. When the chocolate has cooled slightly, lightly stir into the batter. The mixture should look shiny and smooth.
Using a wooden spoon or spatula, fold in the plain flour.
Finally, fold in the chopped chocolate and mini eggs (I like to lightly bash the mini eggs with a rolling pin in the packet – I know, I'm brutal! Why do I do this? I've found it makes the mini eggs a little easier to cut later.) You should have a fairly thick batter.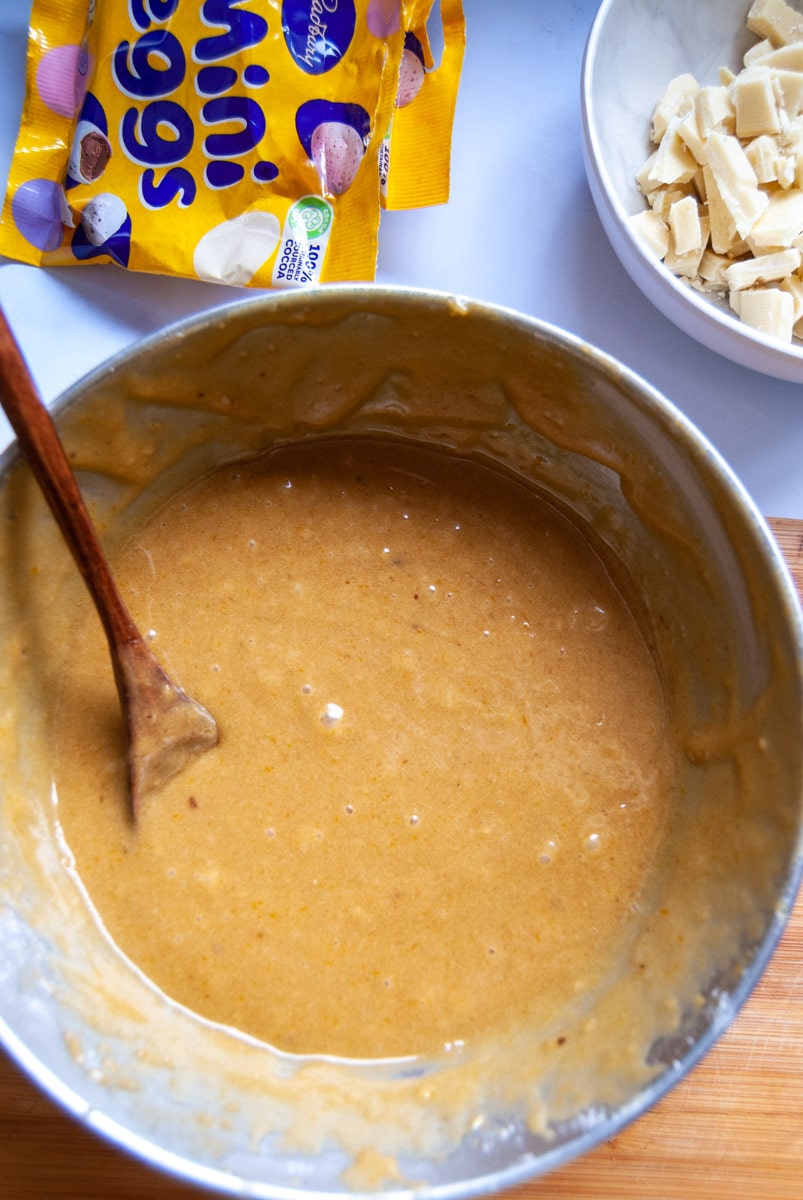 bake the blondies
Scrape the batter into the greased and lined baking tin.
Top the batter with the crushed or whole mini eggs (reserving a few for afterwards) and bake for about 25-30 minutes or until light golden brown and set around the edges.
As soon as you've removed the blondies from the oven, top with the reserved mini eggs.
Allow the blondie to cool completely in the tray for a minimum of four hours (I like to leave them to set overnight if possible) before cutting into squares.
how do i know if the mini egg blondies are ready?
It can be a little tricky to tell if blondies and brownies are fully baked. It takes just a couple of minutes to go from perfectly set around the edges and fudgy in the middle to overbaked! Here's a couple of pointers to look out for when making blondies –
The blondie should still have a little "wobble" in the centre…think Marilyn Monroe in a tight dress! Some people make the mistake of thinking they aren't ready and leave them in the oven too long. But this is the secret to blondie perfection! The blondie will firm up slightly as it cools down.
As I've mentioned above, the blondie will look set around the edges. The should also have a very thin golden crust on top.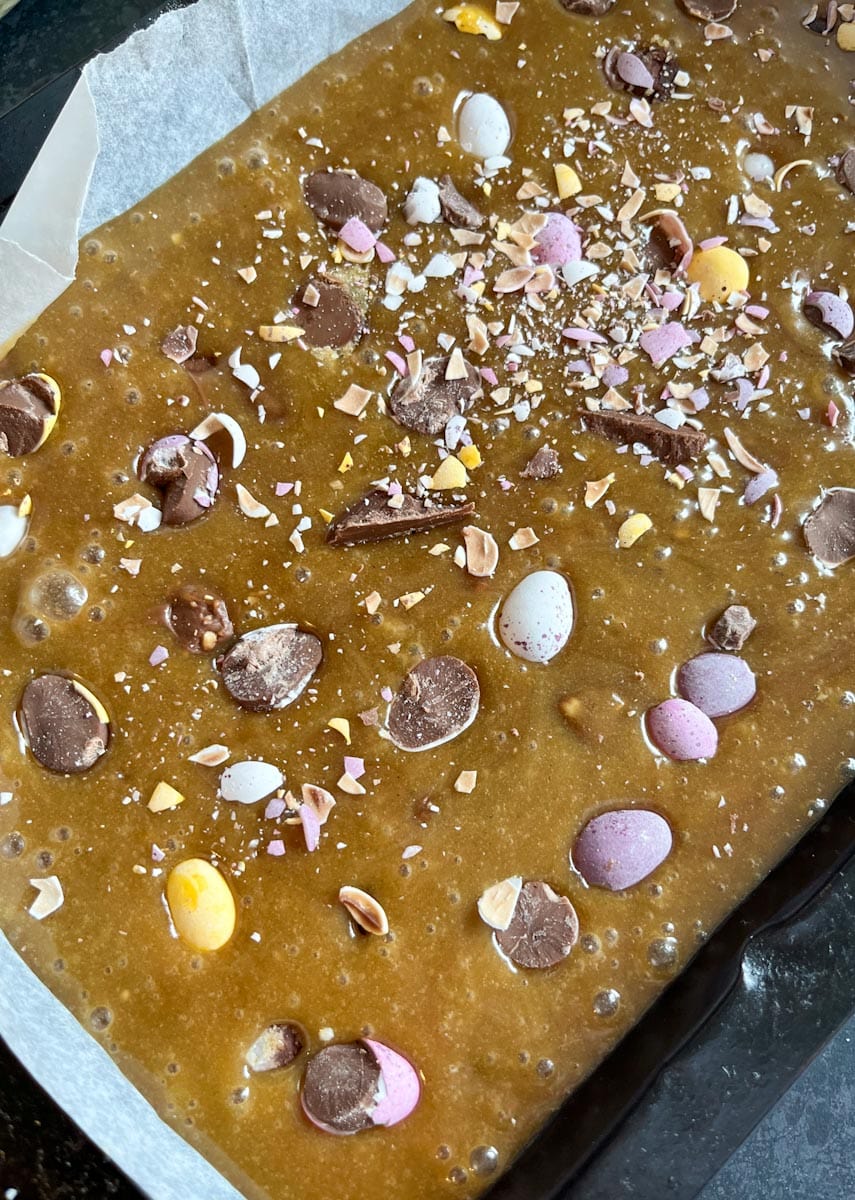 recipe notes
Take care not to over bake the blondies. A little bit of squidge in the middle is a good thing!
The blondie will firm up on cooling, so don't worry if its a little wobbly in the centre – that's how it should be. Blondies should be fudgy and soft in the middle – that's what makes them so delicious!
Please don't be tempted to cut into the blondie while it is still warm. If you try and cut them too soon, they will simply fall to pieces.
I've made mini egg blondies lots of times and I think it's better to place the mini eggs on top as soon as the blondie is out of the oven. Doing this means they don't disappear into the batter while baking.
I prefer to break up the mini eggs a little before adding them to the batter – I bash the bag with a rolling pin to break them up.
I like lots of chocolate chunks in a blondie, so I chop up chocolate bars and throw them in the batter. I much prefer using bars to chocolate chips.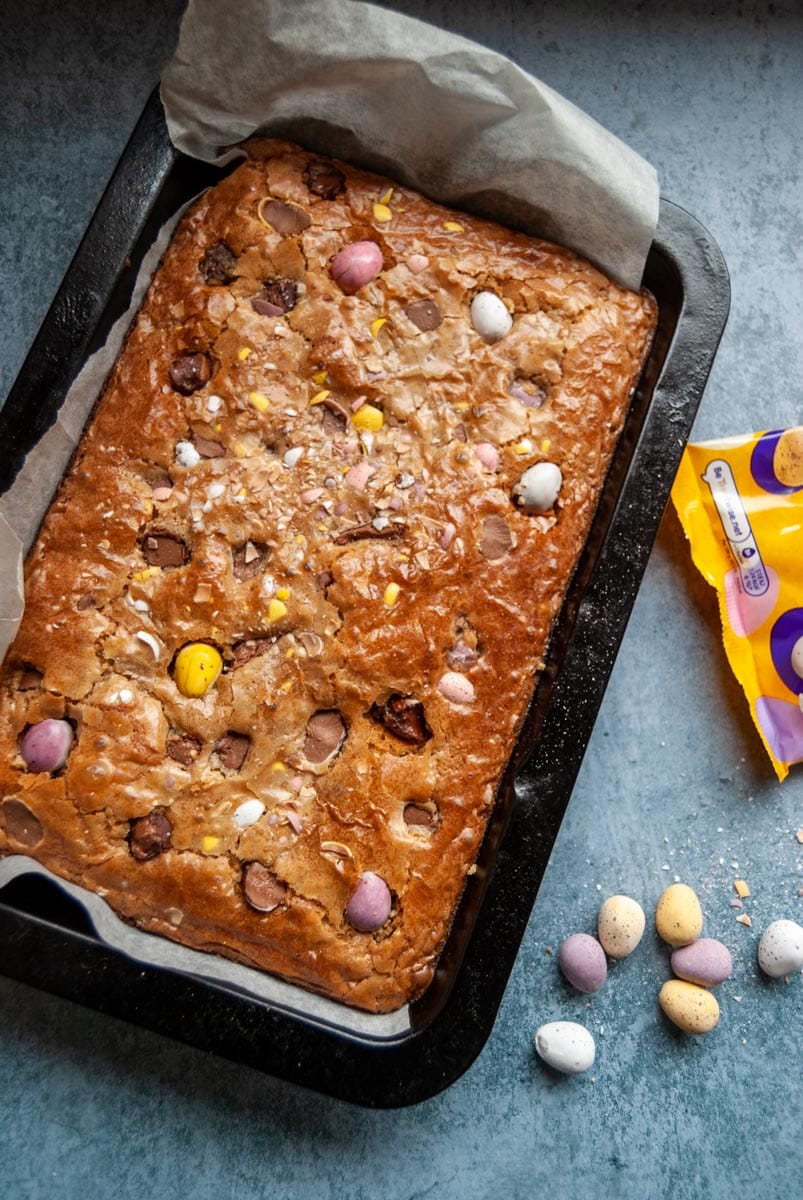 storing mini egg blondies
Mini egg blondies will keep well in an airtight tin or box for up to five days. They will begin to dry out slightly on day three or four, so I personally like to serve them as soon as possible.
If you live in a warm Country, then it's probably best to store the blondies in the fridge. Please note however that they will lose some of that fudgy, gooey texture when chilled.
freezing mini egg blondies
To freeze the blondies, wrap them in double layers of clingfilm and tin foil. Freeze for up to three months. Defrost in the fridge for a few hours or at room temperature.
help! My mini egg blondies are tough and dry
If your blondies are dry and cake like, this means they are overbaked. They will still be delicious so it's not a complete disaster. Next time, check them five minutes earlier and consider using a baking thermometer so you know the exact temperature of your oven.
If the blondies have a tough, rubbery texture, this is usually caused by overmixing the batter. When making blondies, you don't need to beat lots and lots of air into the batter, like you would when making a cake.
can i use different mini eggs in this recipe?
Sure! You don't have to stick with Cadbury's mini eggs – other brands would be fine. I've used M&M mini chocolate eggs in the past and you can buy 500g bags of mini eggs on Amazon.
make it gluten free
To make gluten free mini egg blondies, replace the four with gluten free plain flour and add 1/4 teaspoon of xanthan gum.
did you make this recipe?
I hope you loved it! Let me know what you thought by leaving a comment/feedback below and please consider rating the recipe by clicking on the stars in the recipe card.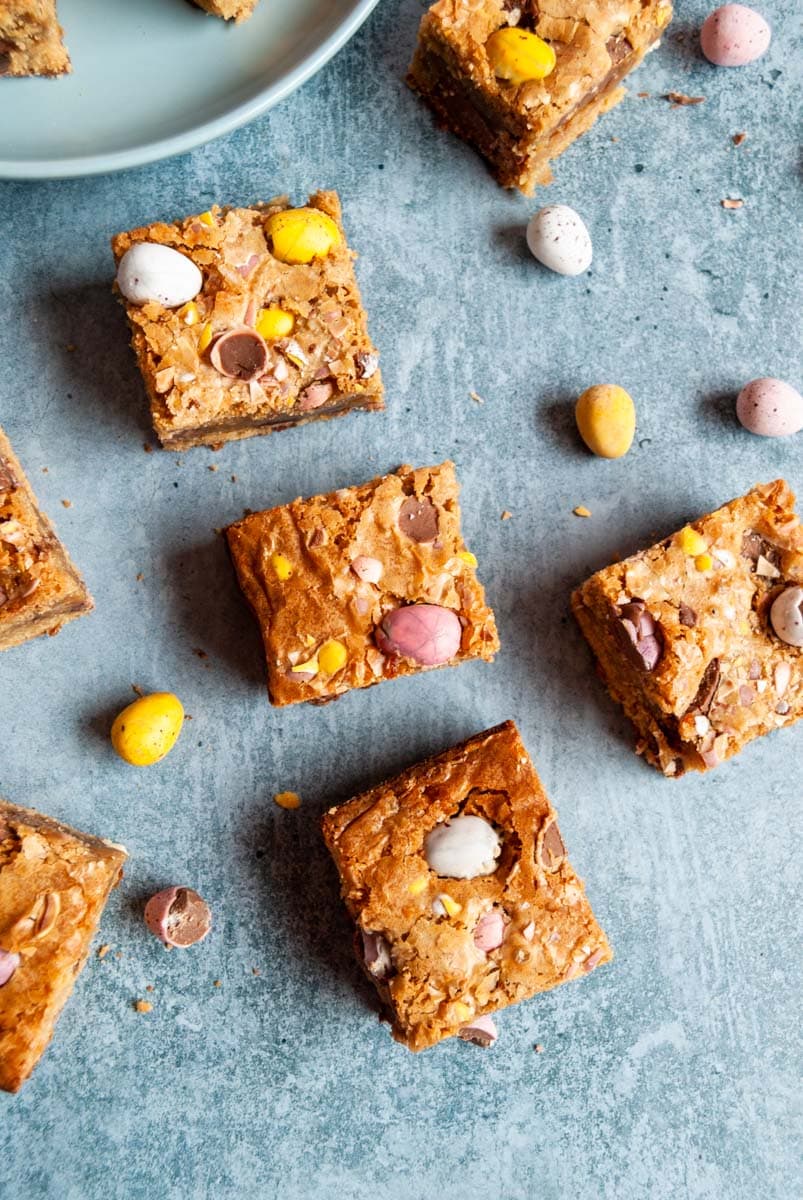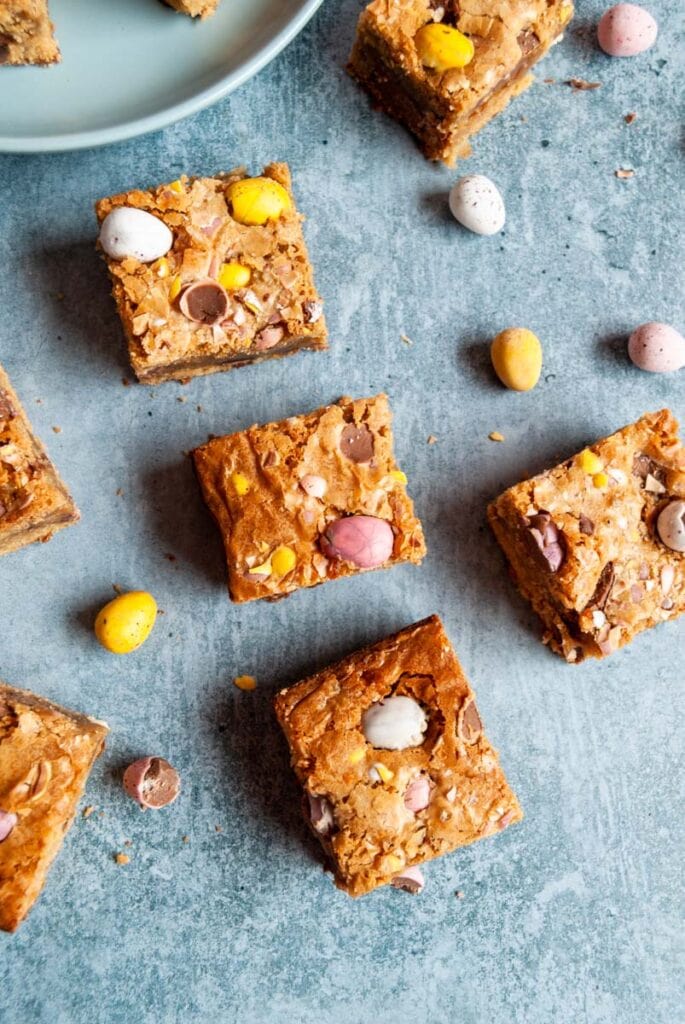 Looking for more easter treats?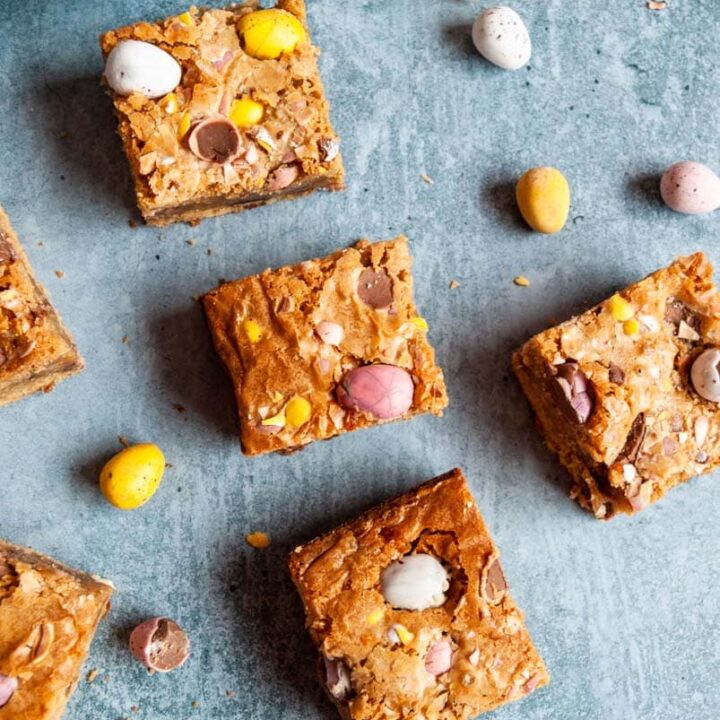 Mini Egg Blondies
Chewy brown sugar blondies studded with milk chocolate chunks and mini chocolate eggs - these mini egg blondies are a perfect easy Easter bake!
Ingredients
180g (1 cup + 2 tbsp) plain (all purpose) flour
1/4 teaspoon fine salt
225g (1 cup) salted or unsalted butter
200g (1 cup) soft light (packed) brown sugar
100g (1/2 cup) caster sugar
3 Medium eggs
2 teaspoons vanilla extract
100g (1/2 cup + 1 tbsp) good quality white chocolate
150g (3/4 cup) bar milk, dark or white chocolate, chopped in small chunks
2x80g packets Cadbury mini eggs, or other coloured mini eggs
Instructions
Preheat the oven to 180C/150Fan/350F. Grease and line the base and sides of a 7x11 inch baking tin.
Stir together the flour and salt in a medium bowl. Set aside.
Melt the butter and both sugars in a medium saucepan over a low heat, stirring occasionally. When the mixture has melted, remove from the heat and leave to cool for about 5 minutes.
Beat in the eggs and vanilla extract until the mixture is smooth and shiny.
Melt the 100g white chocolate in a heatproof bowl set over a pan of barely simmering water. As soon as the chocolate has melted and is smooth, remove from the heat and allow to cool for a few minutes before stirring in the batter.
Using a rubber spatula or wooden spoon, stir in the flour. Finally, fold in the chopped chocolate. Lightly bash the packet of mini eggs (take some out to reserve for the top first!) with a rolling pin to break them up a little first. Why do I suggest this? If you add them whole, the blondies will be a nightmare to cut. It just makes life a little easier! Stir the crushed mini eggs into the batter.
Pour the mixture into the lined tin and bake for 25-30 minutes or until the top is golden and set. The blondie will still wobble slightly in the middle, but will firm up on cooling. Immediately after removing from the oven, press the reserved mini eggs into the blondie. Leave to cool completely in the tin for at least four hours or ideally overnight before cutting into squares.
Notes
This recipe makes 9 large blondies, but if you cut them smaller they can stretch to 16 pieces.
Nutrition Information:
Yield:

9
Serving Size:

1
Amount Per Serving:
Calories:

170
Total Fat:

10g
Saturated Fat:

6g
Trans Fat:

0g
Unsaturated Fat:

4g
Cholesterol:

64mg
Sodium:

110mg
Carbohydrates:

16g
Fiber:

0g
Sugar:

15g
Protein:

4g
Calories and nutritional information are provided by a third party application and should be viewed as indicative figures only.