Cadbury caramel egg brownies – gooey, rich chocolate brownies with a Cadbury caramel egg centre! The ultimate Easter sweet treat for caramel lovers!
Who agrees with me that Cadbury caramel eggs are absolutely delicious? I actually much prefer them to Creme eggs. I know the die hard Creme egg fans won't agree with me, but I would choose caramel over fondant filling every single time.
On a side note, does anyone else from the UK remember mint creme eggs? I'm positive they were a thing for a little while in the late 80's/early 90's. Or did I dream them up? If anyone can remember them, please leave a comment and let me know so I know they aren't a figment of my imagination!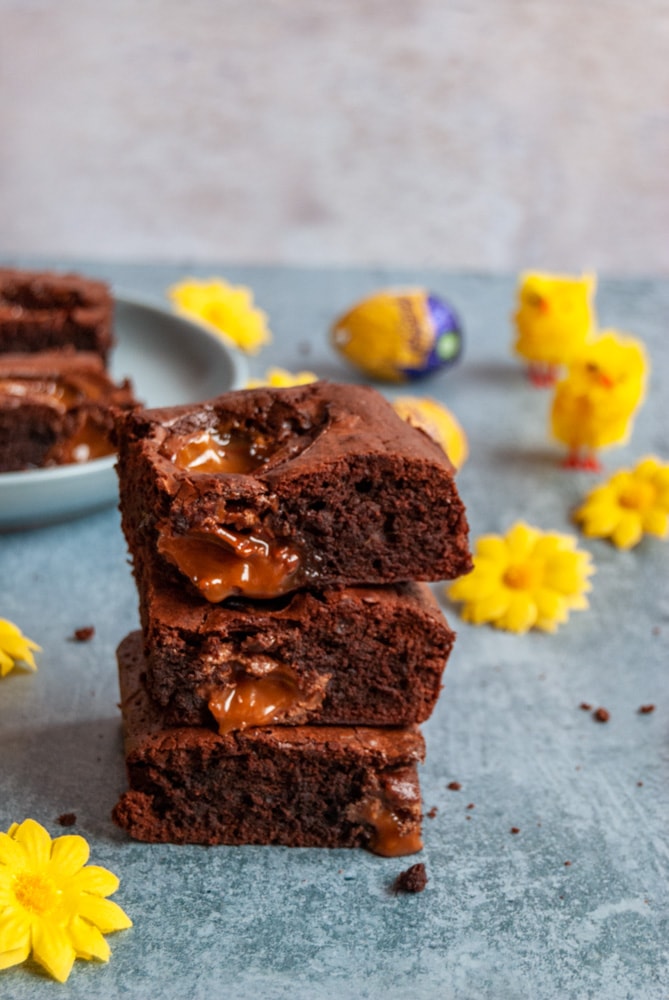 A few years ago I posted a recipe for Cadbury Creme egg brownies and it's one of the most popular posts of all time on here. So I couldn't resist trying a caramel egg version.
I do love an Easter themed bake – I also have recipes for a no bake chocolate Easter fridge cake , no bake Easter cheesecake, Cadbury Creme egg cupcakes, Cadbury Creme egg chocolate brownie cookies and this Giant chocolate chunk cookie cake with Galaxy golden eggs.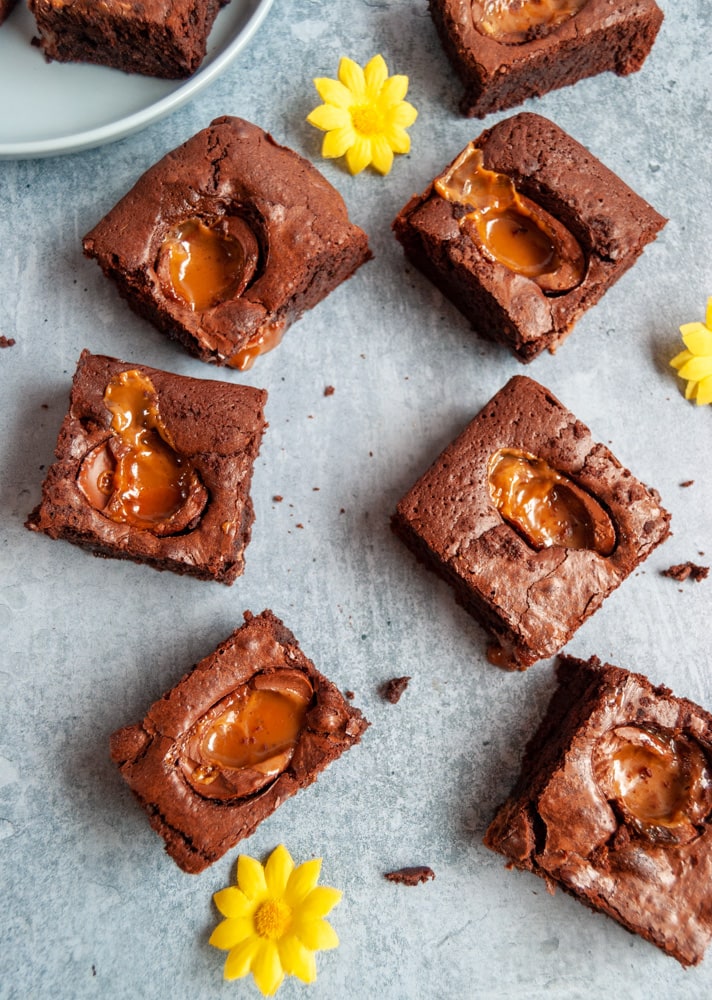 Why I love these caramel egg brownies
The brownie base is the most reliable brownie recipe I've ever tried – it works every time! If you've ever had trouble making chocolate brownies, I urge you to give this recipe a go.
I've filled and topped the brownies with caramel eggs for extra indulgence – you don't have to do this, but it just makes the brownies even more indulgent!
I use both mini caramel filled eggs and the large caramel eggs in this recipe.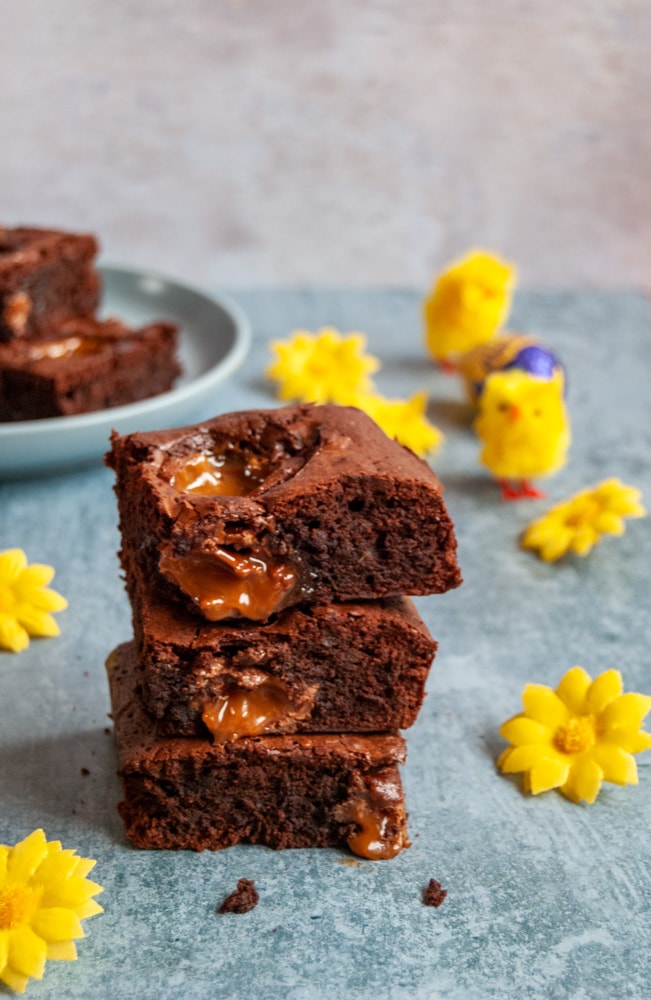 I'm going to go against my usual brownie advice of leaving them overnight in the fridge before cutting.
I mean you can do that if you want to by all means, but these brownies are at their absolute best still slightly warm from the oven. The centre is slightly molten and the caramel is warm and gooey…need I say anymore? Apart from ice cream. You can thank me (or curse me) later.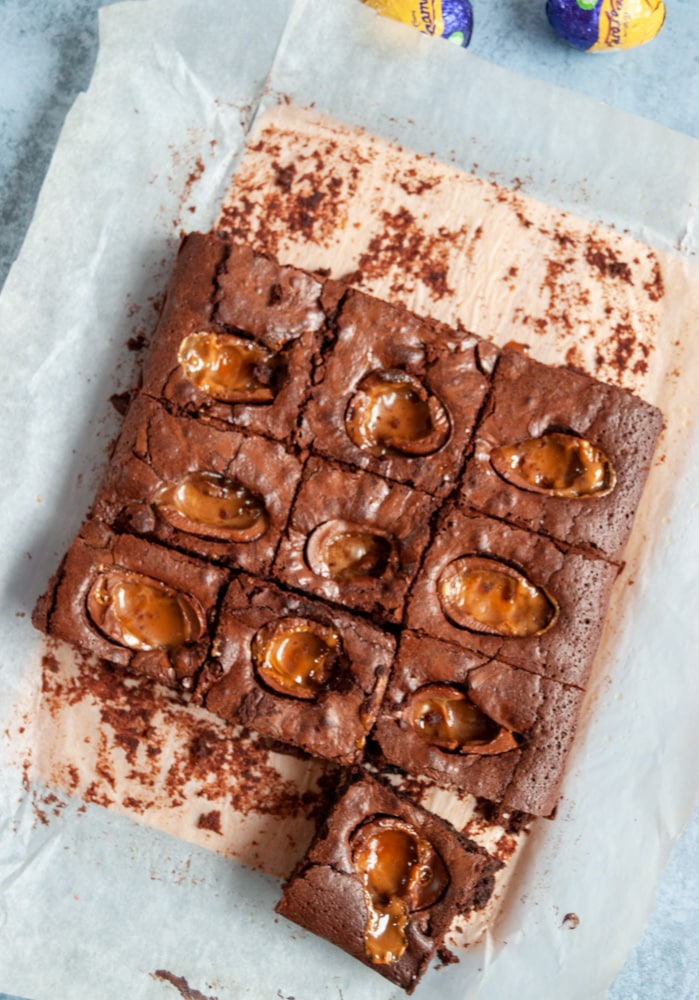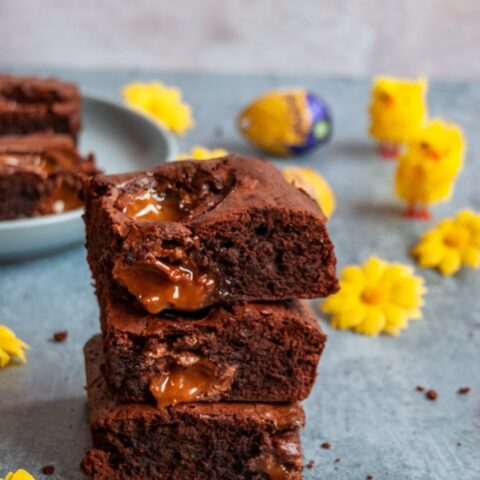 Cadbury caramel egg brownies
Gooey chocolate brownies with a Cadbury caramel egg centre!
Ingredients
225g butter
225g dark chocolate, chopped
300g caster sugar
4 large eggs
50g cocoa powder
100g plain flour
1/4 tsp salt
8 Cadbury caramel eggs, cut in half (I find using a serrated knife works best)
Instructions
Preheat the oven to 180C/fan 160/gas mark 4. Grease and line a 9x13 inch tin with baking parchment.
In a large bowl set over a pan of simmering water, melt the chocolate and butter together.
Once melted and smooth, remove from the heat and set aside. Using an electric whisk, beat the sugar and eggs together until the mixture is pale and thick.
Gently fold in the melted chocolate. Carefully fold in the cocoa powder, flour and salt.
Pour this mixture into the tin and smooth the top.
Place the halved caramel eggs on top. Place in the oven and bake for 30-35 minutes, or until the brownie has set around the edges.
The brownie should have a slight wobble in the centre.
Leave to cool for about an hour before diving in, or if you want neat brownie squares, leave for a good few hours before cutting.
But if you don't want to wait to do that then hey, I won't judge!
Nutrition Information:
Yield:

14
Serving Size:

1
Amount Per Serving:
Calories:

403
Total Fat:

20g
Saturated Fat:

12g
Trans Fat:

1g
Unsaturated Fat:

7g
Cholesterol:

102mg
Sodium:

254mg
Carbohydrates:

52g
Fiber:

2g
Sugar:

43g
Protein:

5g
Calories and nutritional information are provided by a third party application and should be viewed as indicative figures only.