These Guinness Brownies with salted caramel Baileys glaze have a rich, fudgy, truffle like centre – take these to a St Patrick's Day party and watch everyone drool!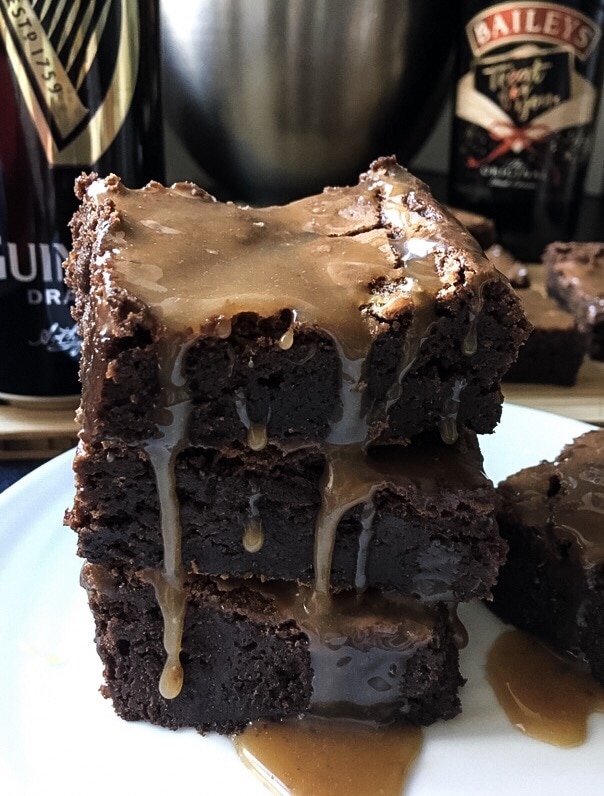 I hadn't intended to bake any special for St Patrick's Day, but when I saw this brownie recipe from Bakerchick I just knew I had to try my version of them this weekend.
So..what could be more fitting for St Patricks's Day than these fudgy Guinness brownies with salted caramel Baileys glaze?
Baker chick's version of the recipe uses whisky in the glaze, but I didn't have any. I always have a bottle of Baileys in the cupboard though, so I thought that would be a perfect substitute. It was such a good decision!
So here is my version of the recipe. They are without a doubt the most decadent brownies I've ever made.
The brownies are so fudgy & rich, it's actually like eating a chocolate truffle. A boozy chocolate truffle!
If you love really fudgy brownies and think cakey brownies should be illegal, then this is the recipe for you.
In my opinion, the glaze is the star of the recipe. It's sweet, salty & the Baileys and Guinness reduction (don't be alarmed, it's not complicated to make) comes through but it isn't overpowering. It's a major treat in itself.
I can only imagine how insane it would be poured over ice cream. This could be addictive..
If you don't like Guinness and therefore think you won't like this recipe, let me reassure you that I cannot stand beer of any kind yet I love these brownies. Just like the chocolate Guinness cupcakes with Baileys buttercream I posted yesterday, you would be hard pushed to detect the Guinness.
There is definitely a hint of chocolate malt flavour though so if that's your thing, these will be right up your street.
I won't lie, there are quite a few steps to making these brownies – but they are so worth it!
If you're looking for a fabulous dessert to bring to St Patrick's Day party, these brownies are perfect!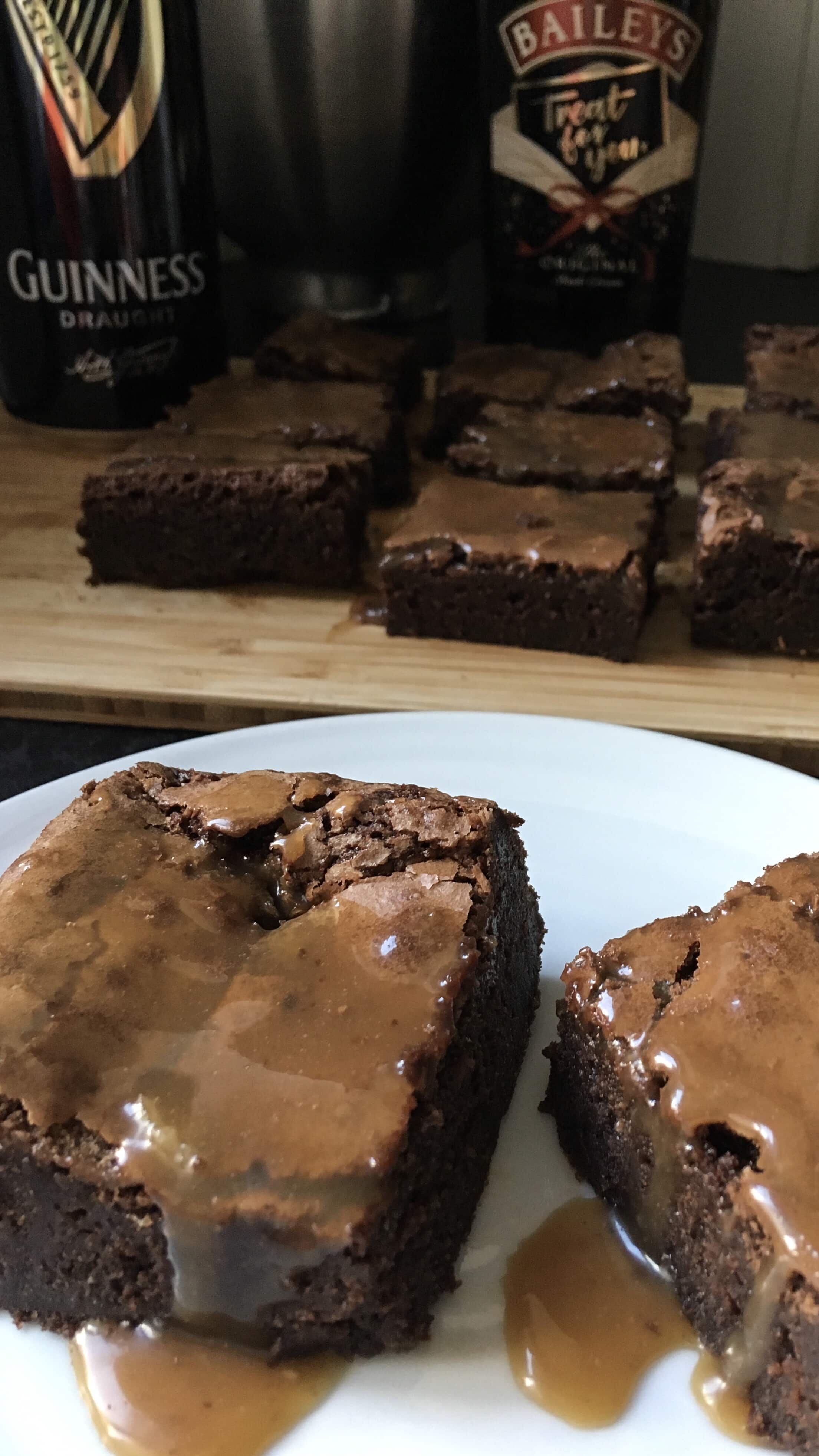 want to see more brownie and bar recipes? Check these out…
Terry's Chocolate Orange Brownies
Raspberry and White Chocolate Brownies
Cherry Brandy and Pecan Brownies
pin this recipe for later…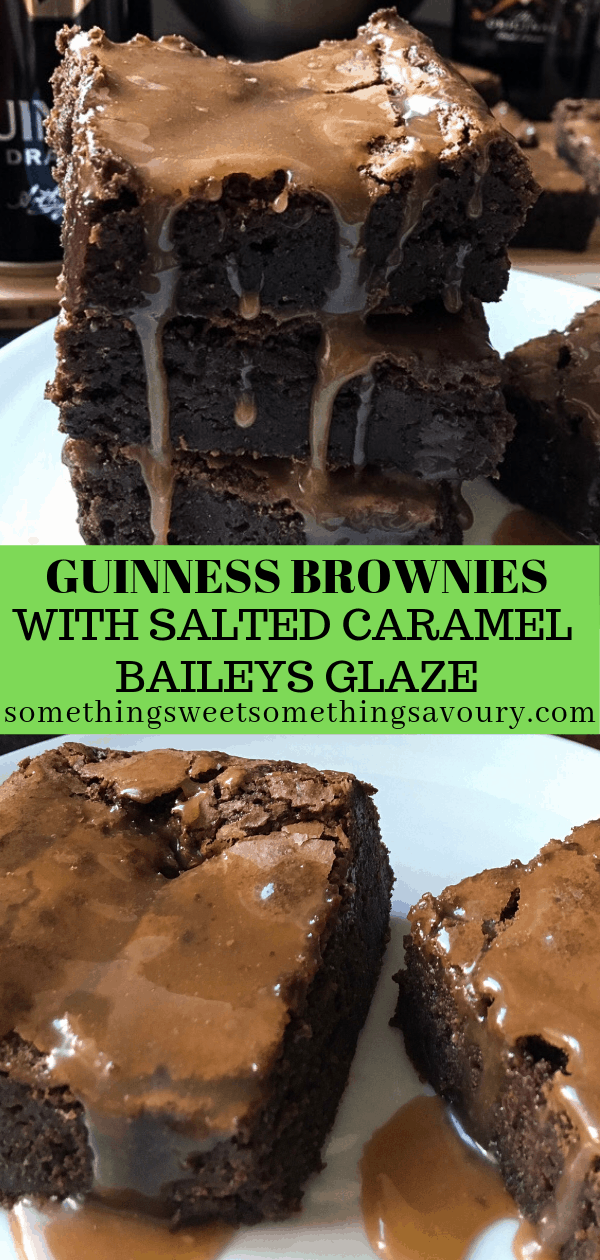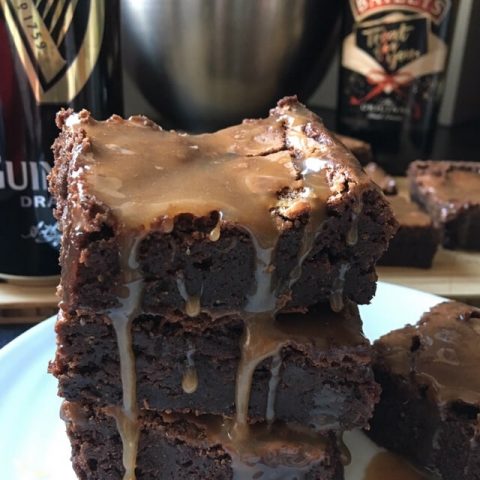 Guinness Brownies with Salted Caramel Guinness Baileys Glaze
Total Time:
1 hour
15 minutes
Rich Guinness chocolate brownies with a salted caramel Guinness Bailey's glaze - the perfect recipe for celebrating St Patrick's Day!
Ingredients
240 ml Guinness or other stout
300 g Dark Chocolate, chopped into small pieces
200 g Butter
3 large eggs
300 g caster sugar
2 tsp Vanilla extract
70 g plain flour
25 g cocoa powder
A Pinch of salt
For the salted caramel Baileys glaze
100 g sugar
2 Tbsp water
30 g butter
60 ml Baileys Irish Cream
1 Tbsp Guinness reduction, from the Brownies
100 g Icing Sugar
1-2 Tbsp Double cream
1/2 – 1 tsp sea salt (How much salt you use is personal preference – I adore salted caramel but I like a nice balance between the sweet & salt, so I used a heaped 1/2 tsp.
Instructions
Preheat the oven to 180C/160fan/350f. Line a 20x20cm baking tin with baking parchment, leaving an overhang so you can easily lift the brownies out later.
Bring the Guinness to a boil in a small sauce pan, cook until reduced to just under 3 tablespoons worth (50ml). This will take around 5-10 minutes. Don't walk away from the stove or you will end up with Guinness toffee. I'm speaking from experience! Let it cool. (Reserve 1 tablespoon of Guinness reduction to use in the caramel sauce.)
Stir the chocolate and butter in a medium heat-proof bowl set over a saucepan of simmering water until melted and smooth. Take off the heat.
Whisk the sugar, eggs, and vanilla in a large bowl to blend. Pour in the chocolate mixture, then 2 tablespoons of stout from pan. Fold in the flour, cocoa powder and salt. Pour this delicious batter into the pan.
Bake until the surface begins to crack and a tester inserted into center comes out with a few moist crumbs attached, 30-35 minutes. Of course ovens can differ wildly – my brownies were ready in 30 minutes but that doesn't mean to say yours will be – I suggest you start checking them at 30 minutes.
Transfer pan to a wire rack and let cool completely. I tend to leave my brownies in the fridge overnight – it makes cutting them so much easier.
For the Glaze
First of all, you need to make a caramel. Don't leave the cooker while you're doing this and don't have any small children or pets nearby. Place the sugar and 2 tablespoons water in a heavy saucepan over a medium heat, allowing the sugar to dissolve. You can swirl the pan but don't stir or the sugar can crystallise. Once the sugar has melted, continue to cook on medium heat until you have a golden caramel. Once the colour has changed,
Immediately remove from the heat and whisk in the butter until combined. The mixture may "whoosh" up, so be careful.
Add the Baileys, Guinness reduction and salt (be very careful – the caramel may splatter). Cook over moderately low heat, stirring, until caramel is smooth.
Set the caramel sauce aside for about 10-15 minutes to cool a little. Whisk in the icing sugar, stirring well to dissolve, then stir in the double cream. Stand for about 10-15 minutes before pouring about a third of the glaze over the brownies (keep a little for serving later) in the fridge for about 30 minutes or longer, if needed. When you're ready to serve the brownies, cut into bars.
Nutrition Information:
Yield:

12
Serving Size:

1 grams
Amount Per Serving:
Calories:

562
Total Fat:

27g
Saturated Fat:

16g
Trans Fat:

1g
Unsaturated Fat:

9g
Cholesterol:

96mg
Sodium:

382mg
Carbohydrates:

70g
Fiber:

2g
Sugar:

58g
Protein:

5g