Deeply dark and decadent, these Cherry Brandy and Pecan Brownies are packed with tart dried cherries, crunchy pecan nuts and also contain a generous slug of cherry brandy!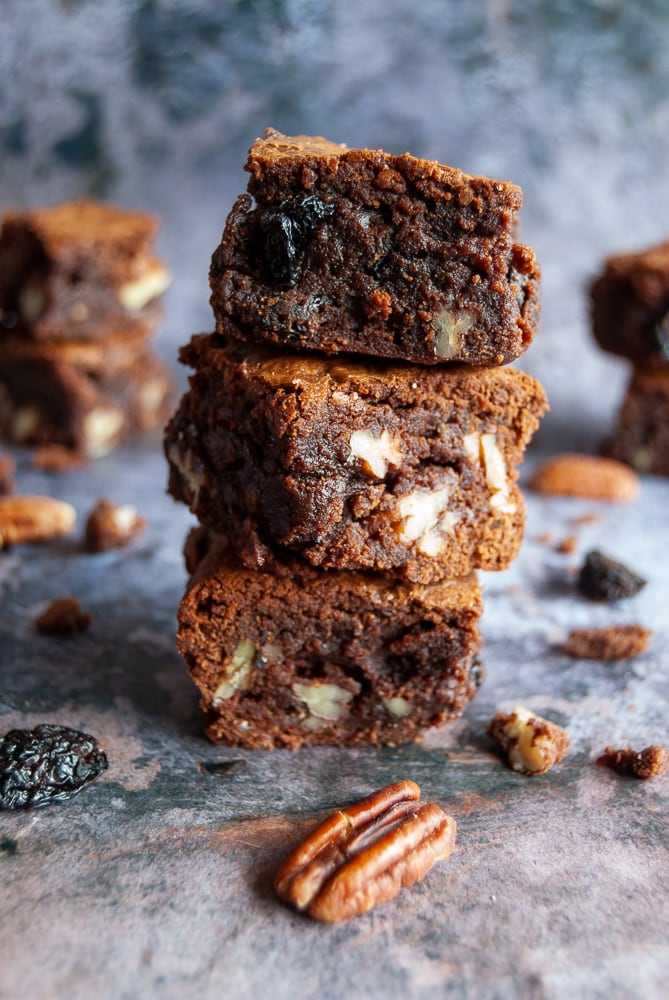 If you're a fan of the cherry-chocolate combination, then these black forest style brownies are definitely for you!
Just like my Guinness brownies with Bailey's salted caramel glaze , these brownies fall into the "grown up" category.
If someone asked me to describe my idea of a heavenly food combination, it would have to be chocolate and cherries. I would rather have a good old fashioned Black Forest Gateau or this chocolate cherry drip cake than any other dessert. Any day of the week!
I love chocolate and cherries together so much I even have a recipe for chocolate cherry mincemeat!
The inspiration for this recipe comes from John Whaite's first book, John Whaite Bakes.
I first tried his cherry brandy and Brazil nut brownies years ago and fell in love with them.
I adapted and fiddled with the recipe a fair bit (sorry John!) and they have become my signature brownies. Everyone seems to love them!
The brownies aren't too sweet and you get tart, dried cherries and crunchy pecan nuts in every delicious bite. You can taste the cherry brandy too – not overwhelmingly so, but you can definitely detect a little boozy kick.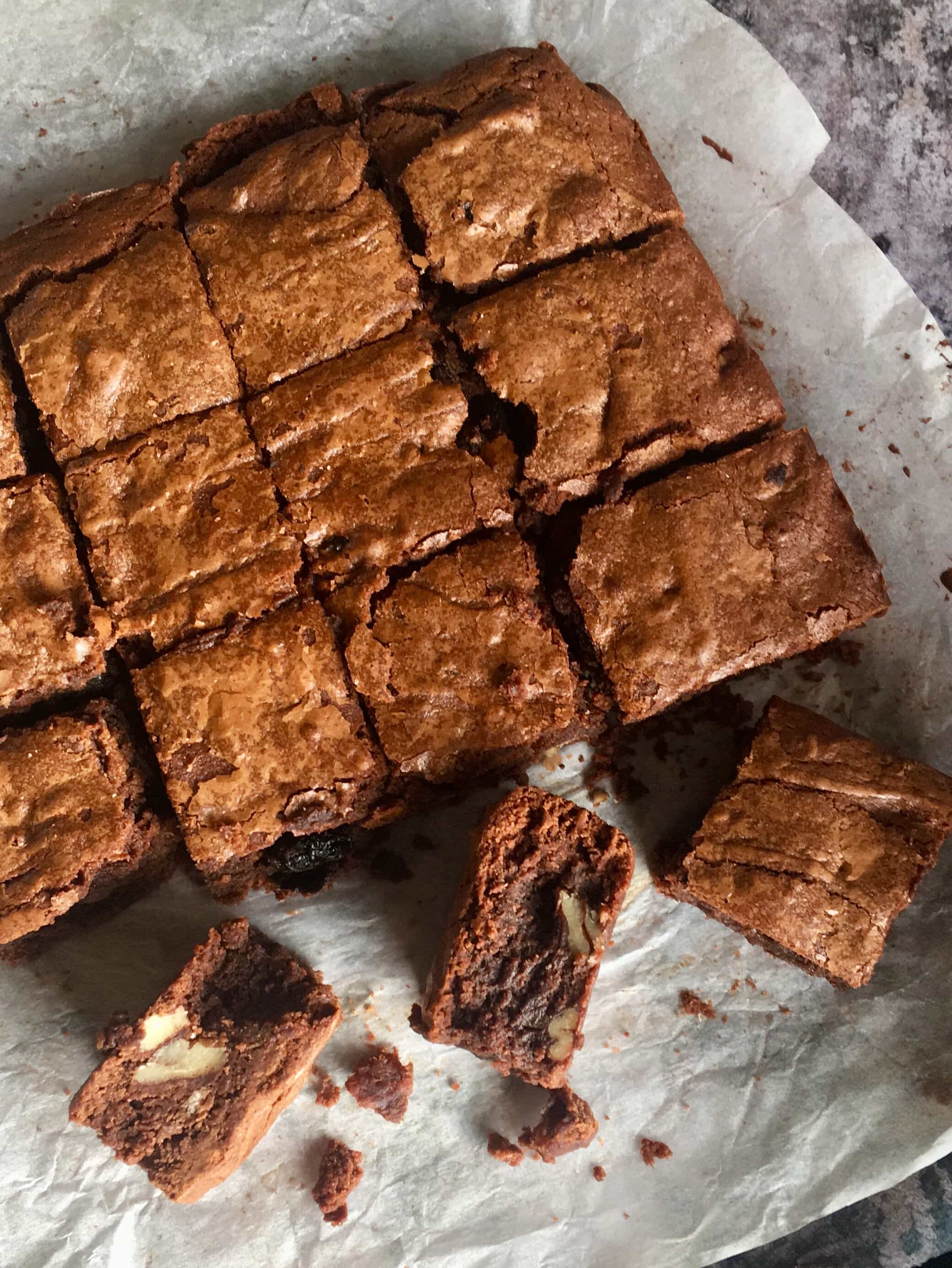 I've made a lot of brownies over the years – good ones and bad ones! For me personally, the best kind of brownie has a nice, sugary, thin crust on the top and a squidgy, slightly gooey middle.
I want a brownie that will hold its shape nicely when you cut into it, not one that is so gooey it falls to pieces when you cut into it (although still delicious!)
This kind of brownie can be quite difficult to achieve, but I've found that adding an unusual ingredient can really help you achieve brownie perfection.
It's Mayonnaise.
Don't leave me!!! I know mayo sounds like a weird combination, but when you think about it, mayonnaise is essentially eggs and oil, right? Doesn't sound so strange now, does it?
Using mayonnaise in baking is an old trick that dates right back to World War II, when eggs and butter were in scarce supply. The oil and eggs in the mayo add moisture to the brownie mix which will ensure they are perfectly wobbly in the centre without being so gooey you worry that they might be undercooked. Read more about using mayonnaise in baking right here.

INgredients you'll need to make cherry brandy and pecan brownies
Dark Chocolate, chopped into small pieces
Butter
Eggs
Vanilla Extract
Almond Extract – you can leave this out if you like, but it pairs beautifully with the cherry flavour.
Full Fat Mayonnaise
Plain Flour
A little salt to help bring out the chocolate flavour
Dried Cherries – I used the Urban Fruit brand
Cherry Brandy
Pecan Nuts
how to make cherry brandy and pecan brownies
(scroll to the bottom of the post to see detailed instructions and ingredient list)
First of all, melt your butter in a saucepan and add the chocolate. Allow to melt until smooth.
Whisk the eggs and sugar together until thick and pale. Stir in the melted and slightly cooled chocolate, vanilla extract, almond extract if using and mayonnaise.
Fold in the dry ingredients, chopped pecans, dried cherries and cherry brandy.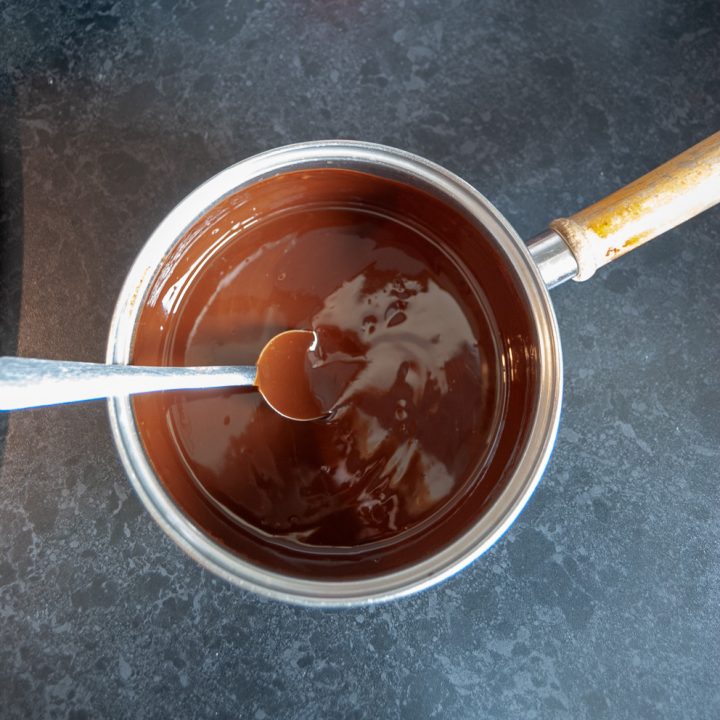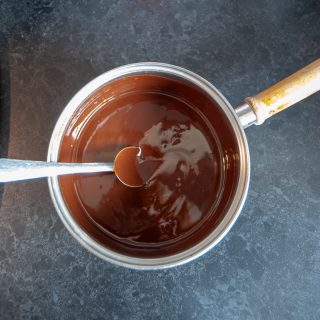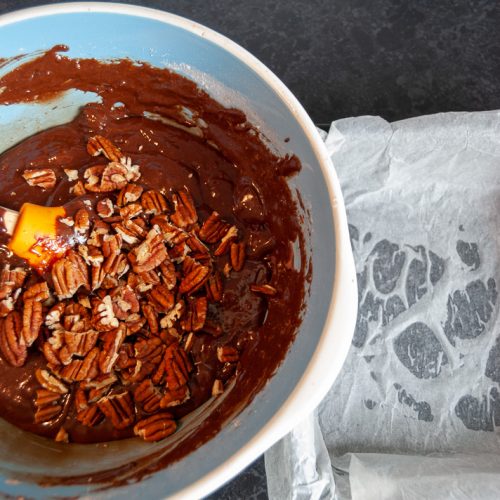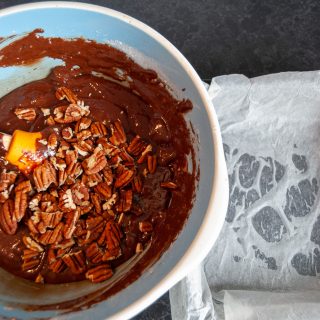 Spoon the brownie batter into a lined 20x20cm square tin. Bake for 25-30 minutes or until the top of the brownie looks crisp and the edges have set.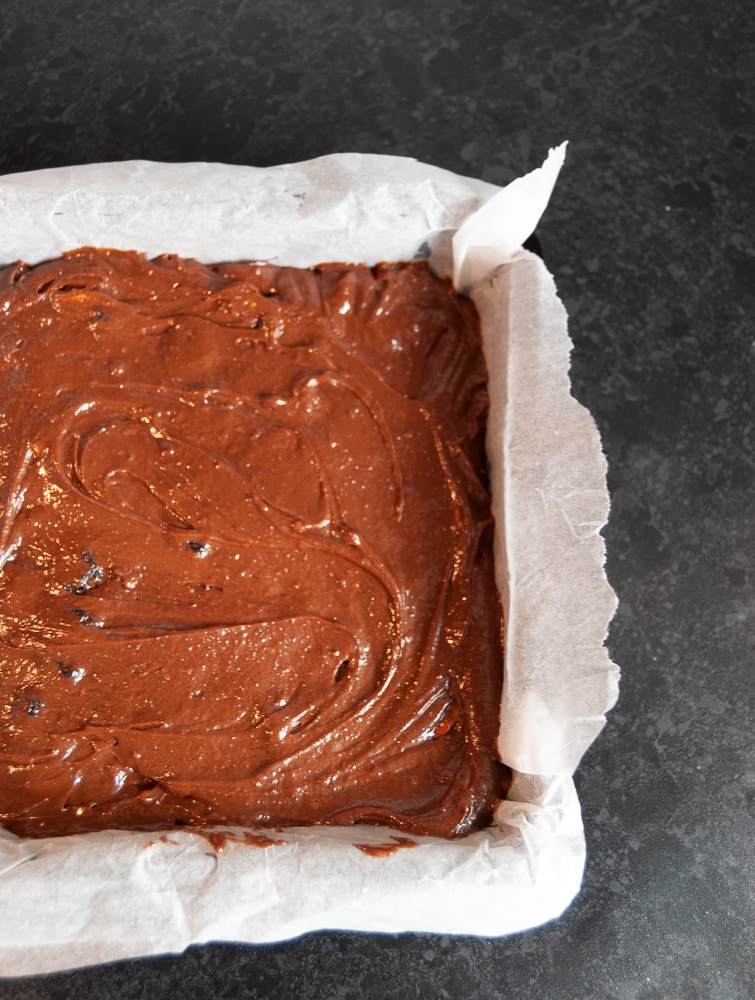 how long will these brownies keep for?
The brownies will keep well in an airtight container for up to 5 days. They can also be frozen for up to six months.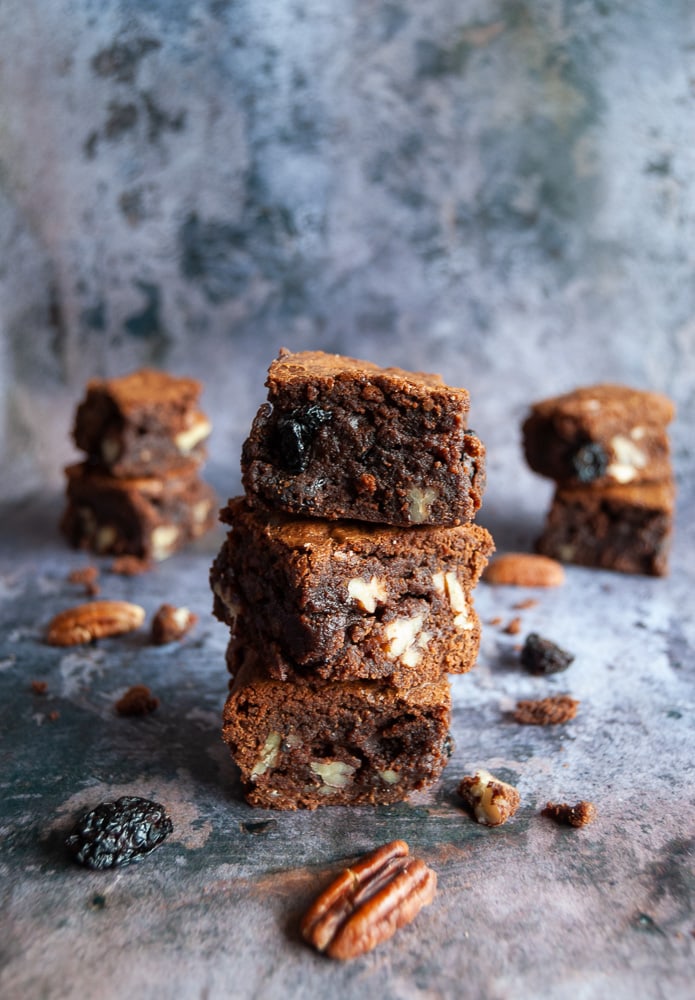 Looking for more brownie and bar recipes? Check these out….
Terry's Chocolate Orange Brownies
White Chocolate and Raspberry Brownies
Did you make these brownies? Let me know what you thought of the recipe by leaving a comment and giving the recipe a rating out of 5 by clicking on the stars in the recipe card.
If you would like to share a picture, tag me #sweetsavouryblog on Instagram and I'll share it on my stories!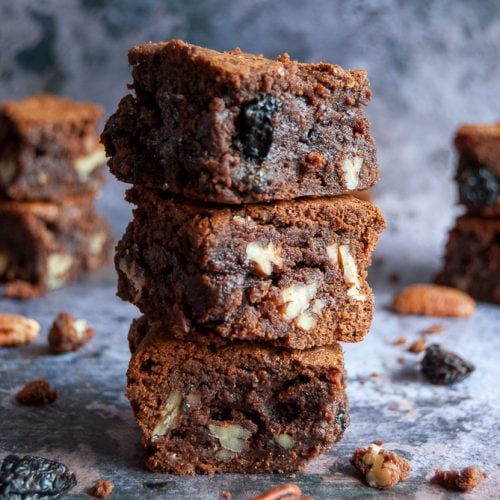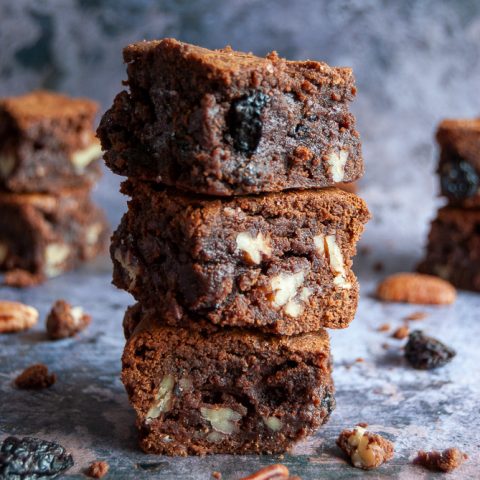 Cherry Brandy and Pecan Brownies
Yield:
Makes 14 medium sized brownies
Deeply dark, rich and decadent, these Cherry Brandy and Pecan Brownies are packed with tart dried cherries, crunchy pecan nuts and also contain a generous slug of cherry brandy!
Ingredients
160g Plain Flour
1/2 Tsp Salt
3 Tbsp Cocoa Powder
200g Dark Chocolate
125g Butter
1 Tsp Vanilla Extract
1/2 tsp almond extract
2 Large Eggs, Beaten
3 Tbsp Full Fat Mayonnaise
220g Caster Sugar
100g Pecan nuts, roughly chopped
80g Dried Cherries
60ml Cherry Brandy
Instructions
Combine the flour, cocoa powder and salt in a medium bowl. Set aside. Preheat the oven to 180C/160Fan/350F and grease and line a 20cm square baking tin.
In a medium sized saucepan, melt the butter over a low heat. Add the chopped chocolate and allow to melt, stirring. When the mixture is smooth and all the chocolate has melted, remove from the heat and allow to cool down for a few minutes.
Whisk the sugar and eggs together until the mixture is pale and thick. When the chocolate mixture has cooled a little, pour into the egg mixture, whisking all the time. Add the vanilla extract, almond extract, if using, and mayonnaise. Fold in until well combined.
Fold in the flour/cocoa powder mixture, then fold in the chopped pecan nuts, dried cherries and cherry brandy.
Tip the mixture into the tin and smooth the surface. Bake for 25-30 minutes or until the edges of the brownie look set and the top is beginning to crisp up. The brownie should have a slight wobble in the centre. Remove from the oven and leave to cool completely in the tin for at least two hours before cutting into squares. I often place the brownies in the fridge for a few hours before cutting them - I find it gives you much neater edges.
Nutrition Information:
Yield:

14
Serving Size:

1
Amount Per Serving:
Calories:

358
Total Fat:

20g
Saturated Fat:

8g
Trans Fat:

0g
Unsaturated Fat:

10g
Cholesterol:

48mg
Sodium:

174mg
Carbohydrates:

40g
Net Carbohydrates:

0g
Fiber:

2g
Sugar:

27g
Sugar Alcohols:

0g
Protein:

4g
Calorie information is intended as a guide only.