It's not too late to make your own mincemeat – this last minute chocolate cherry mincemeat doesn't need maturing so you can use it straight away!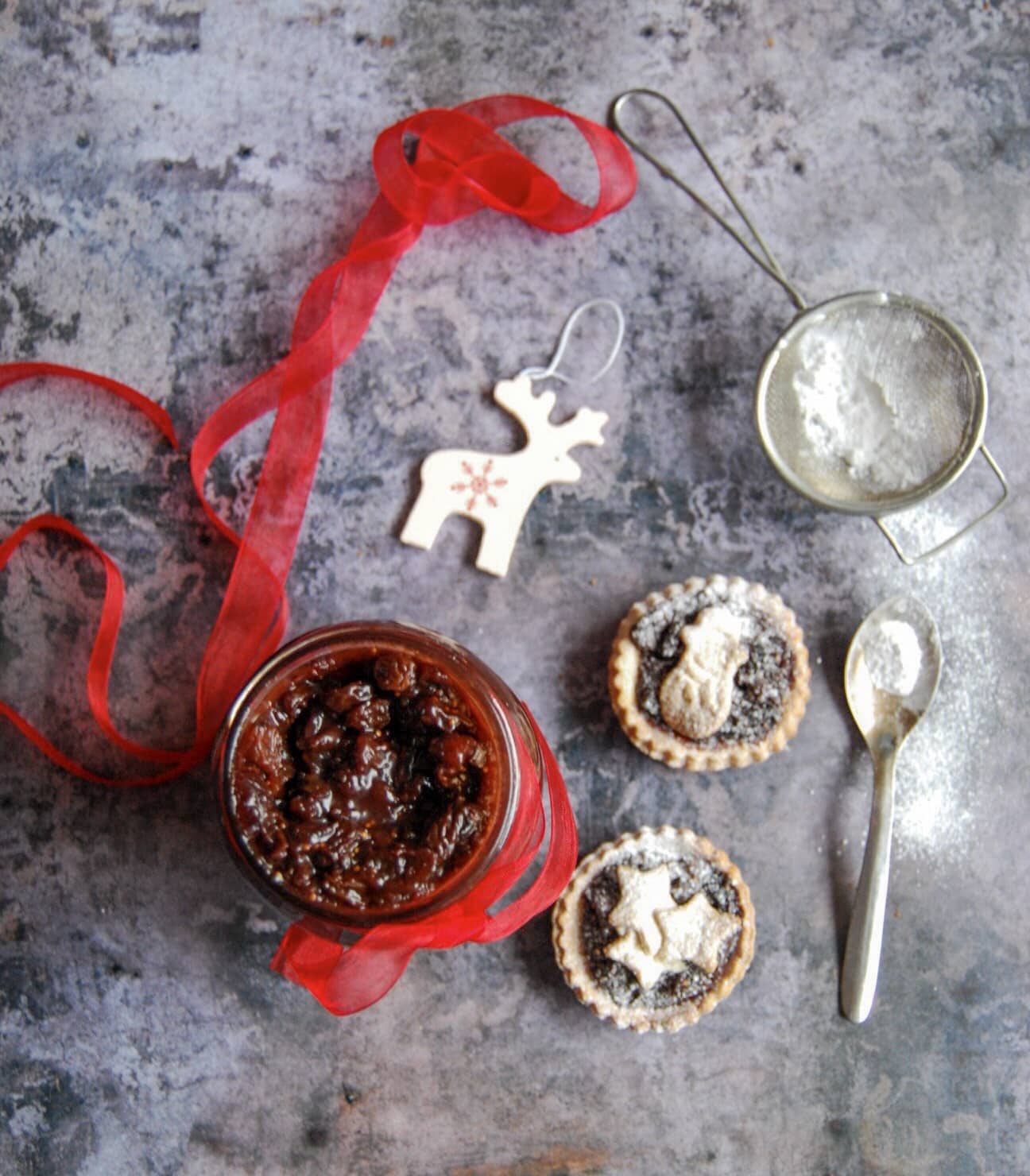 The big day is almost here! I can't believe it's Christmas Eve. December really has flown by so quickly.
How are Christmas preparations going with you? Are you super organised, or do you do all your gift shopping today? If you're the latter, you're very brave!!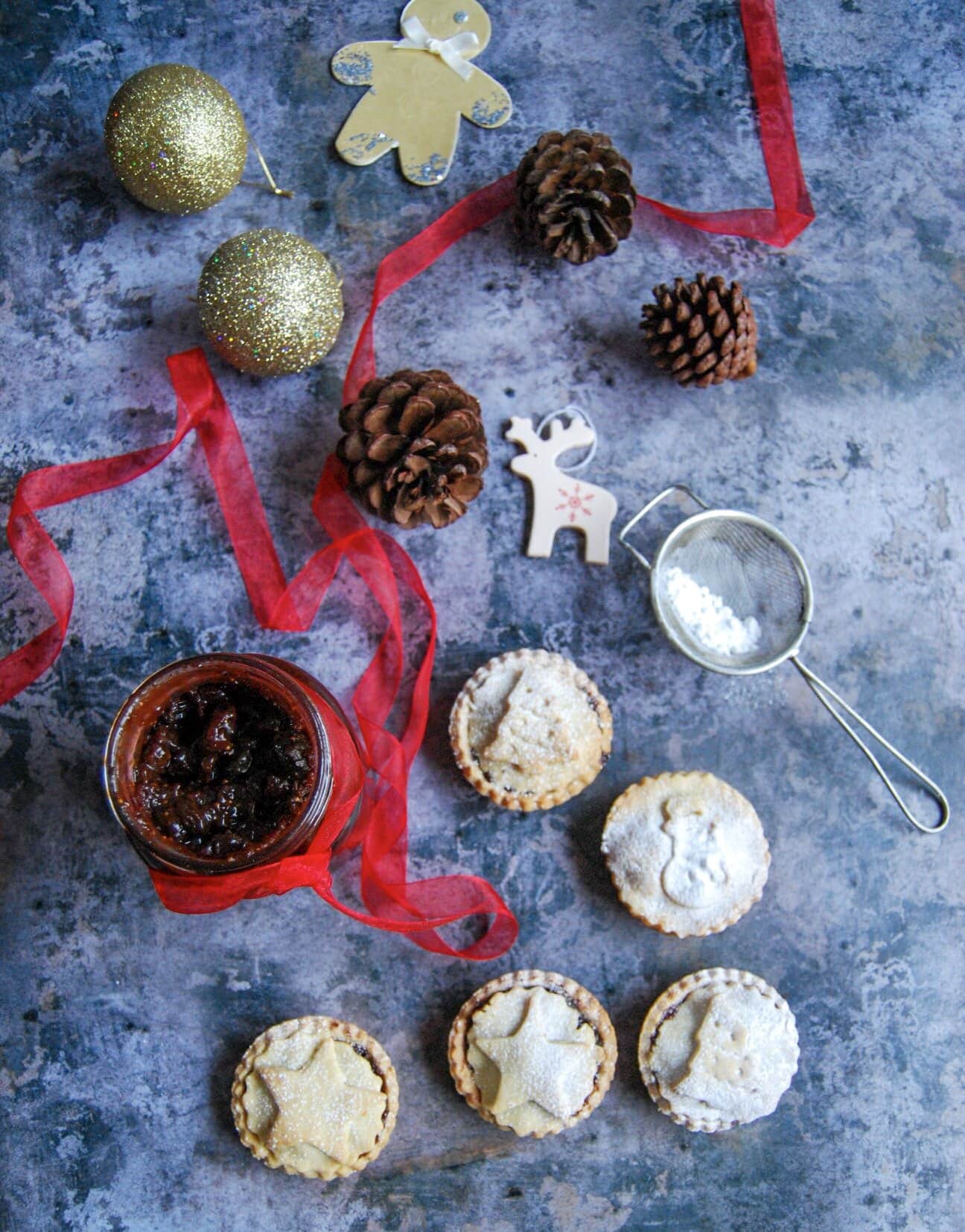 I prefer to get all my shopping and wrapping done and dusted by today so I can indulge in a little Christmas baking.
Mince pies are my downfall in December – I can't resist that crisp, buttery pastry and the sweet, boozy, fruity filling.
For the ultimate treat, lift the lid off the top of your warm mince pie and place a dollop of clotted cream on top. Place the lid back on. Apply to face. It's sheer bliss, I tell you.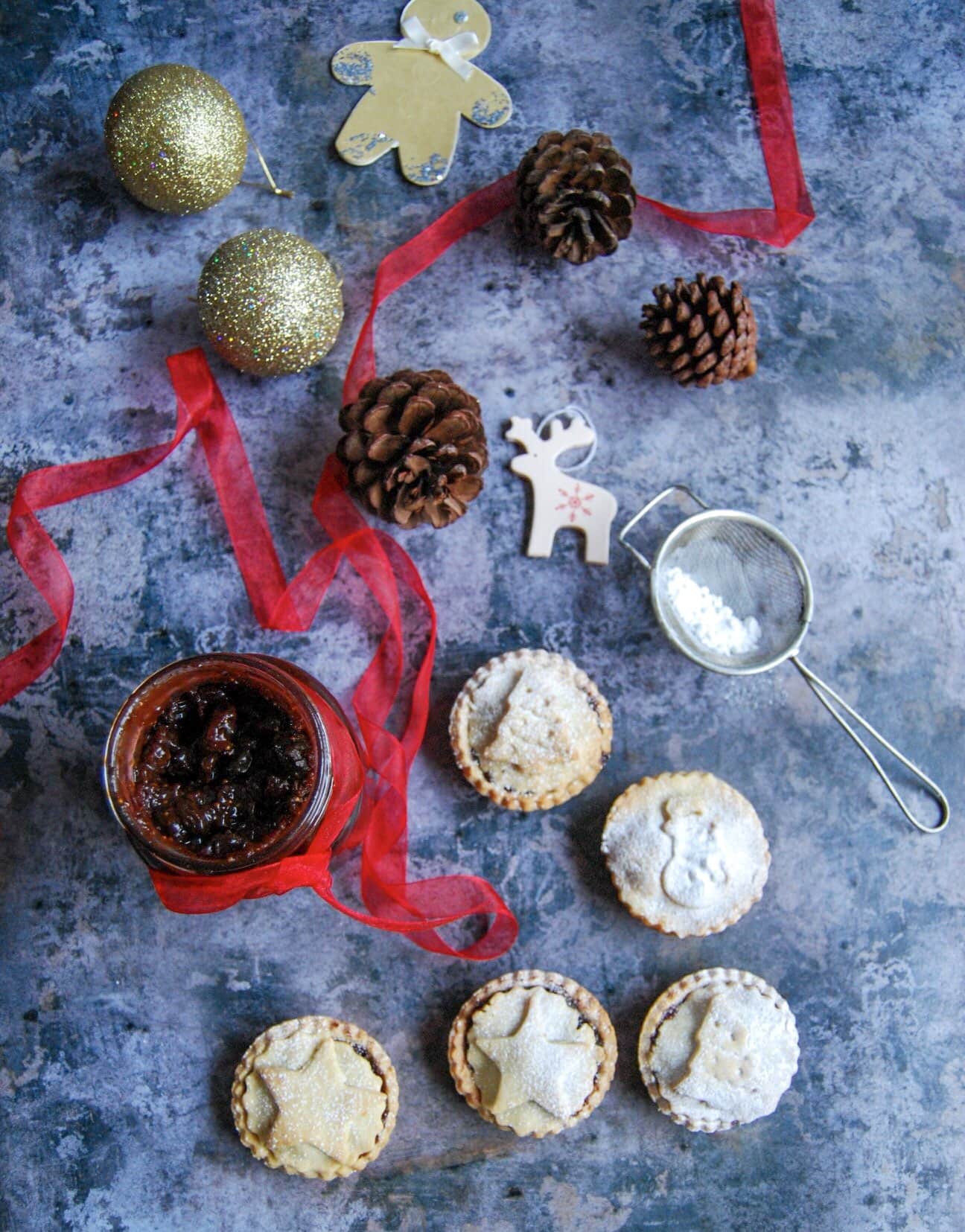 I'm normally one to stick with tradition, but I've fancied trying a chocolate mincemeat recipe for a couple of years.
Nigella's chocolate fruit cake is one of my favourite bakes of all time and I wanted to create a mincemeat that had a similar flavour.
The scent of this mincemeat while it's simmering on the hob – the intoxicating scent of oranges, mixed spice, cherry brandy and the richness of cocoa – is very similar to Nigella's fruit cake mix. For me, this is the smell of Christmas.
The cocoa powder merely gives a hint of chocolate flavour – it isn't full on at all. But if you wanted to amp up the chocolate flavour even more, a little square of dark chocolate inside each pie might be a good idea.
I've replaced the traditional suet with fridge cold grated butter – the little pieces of butter will melt into the mincemeat as it cooks, improving the texture and flavour.
So if you are planning making mince pies today but fancy something a little different from traditional mincemeat, here is my recipe for last minute chocolate cherry mincemeat. My little Christmas gift from me to you.
MERRY CHRISTMAS to all of you, I hope you have a wonderful day! xxxx
More sweet Christmas baking…..
chocolate peanut butter rice krispie balls
Chocolate Fudge crinkle cookies
Easy iced gingerbread biscuits
Mary Berry's mincemeat loaf cake
White chocolate, orange and cranberry cookies
Terry's chocolate orange brownies
Triple ginger, cherry and pecan Christmas pudding
Marshmallow meringue spiced rum pumpkin pie
White chocolate coconut snowball truffles
Chewy ginger, orange and almond bars
And something savoury…..
Rolled Roast turkey with apricot and cranberry stuffing
EASY Brined Roast Turkey Crown
Pigs in blankets macaroni cheese
Pin this chocolate Cherry Mincemeat for later….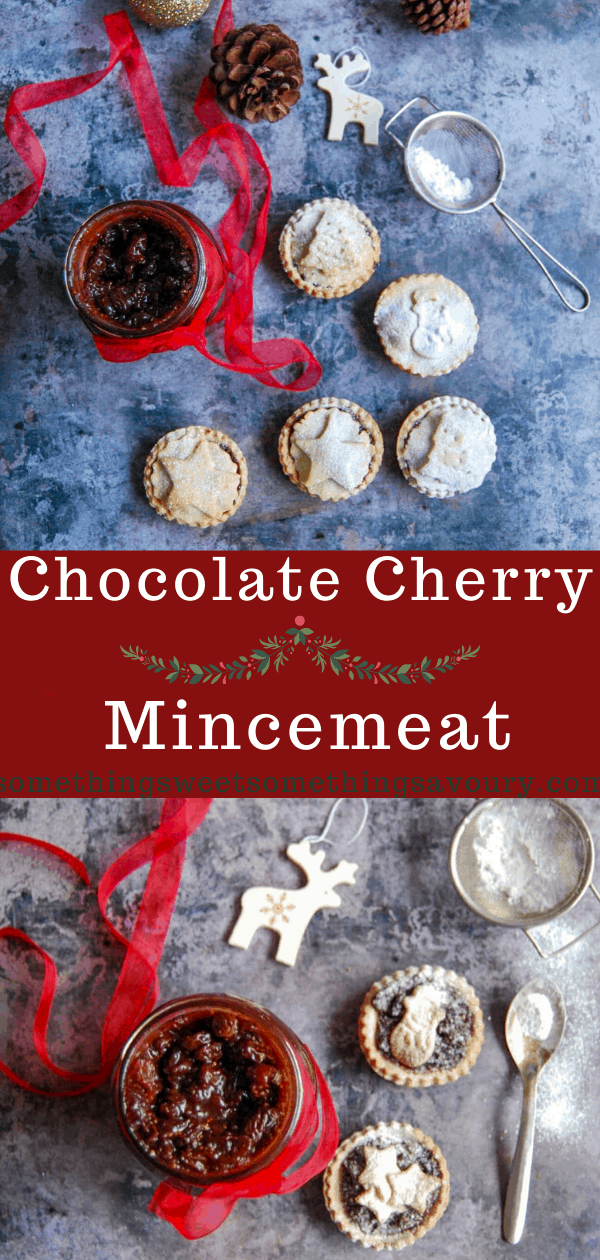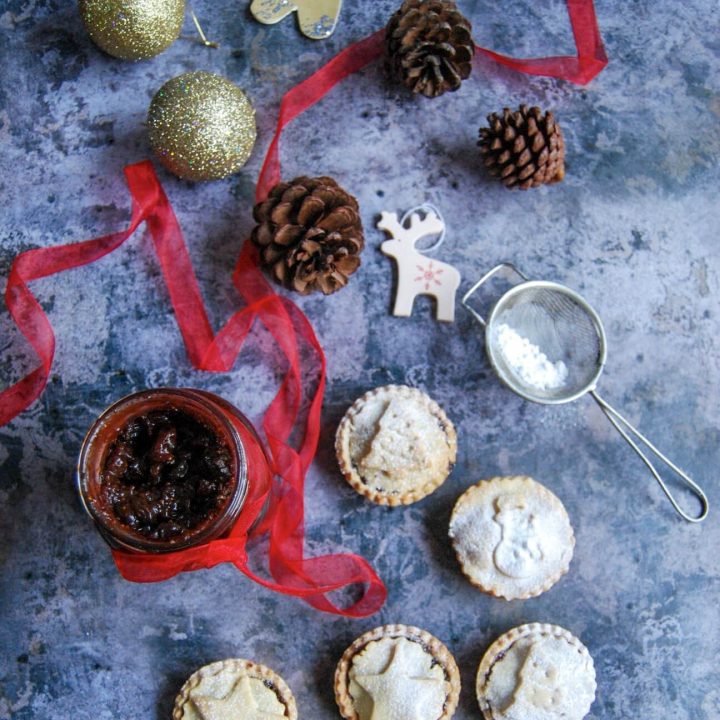 Last minute chocolate cherry mincemeat
This brandied chocolate cherry studded mincemeat is a delicious twist on the traditional recipe.
Ingredients
2 large bramley apples, peeled and chopped into 2cm dice
300 g soft dark brown sugar
350 g raisins
125 g dried figs, chopped
100 g glacé cherries, cut in half
100 g dried cherries
1 tsp ground mixed spice
30 g cocoa powder
250 ml ale or fruity cider, I used cherry ale
Grated zest and juice of one lemon
Grated zest and juice of one small orange
50 g very cold butter,, grated
4-5 tbsp cherry brandy
Instructions
Place the ale or cider and sugar in a large saucepan and heat gently.
Add the apples to the pan. Stir well.
Add all the other ingredients, apart from the cherry brandy. Simmer for about 30 minutes until the mixture is soft, pulpy and...well, turned into mincemeat!
Remove from the heat and set aside for about 10 minutes. Stir in the cherry brandy and transfer to your sterilsed jars.
This mincemeat can be used immediately but will keep very well unopened in a cool, dark place.
Nutrition Information:
Yield:

20
Serving Size:

1
Amount Per Serving:
Calories:

219
Total Fat:

2g
Saturated Fat:

1g
Trans Fat:

0g
Unsaturated Fat:

1g
Cholesterol:

5mg
Sodium:

33mg
Carbohydrates:

48g
Net Carbohydrates:

0g
Fiber:

3g
Sugar:

39g
Sugar Alcohols:

0g
Protein:

2g