These easy iced gingerbread biscuits are very simple to make and make a lovely homemade Christmas gift.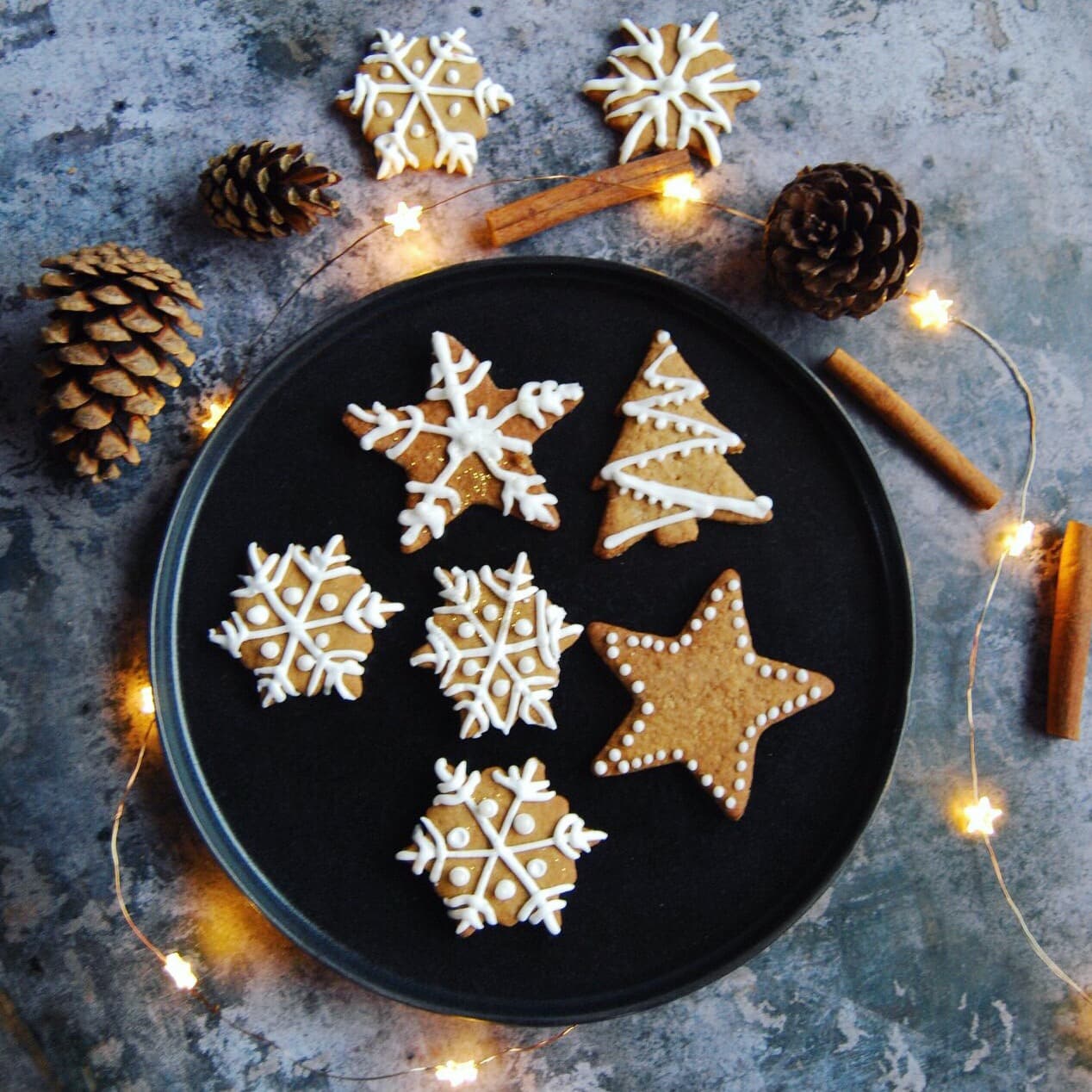 When my boys were little I used to make these spiced gingerbread biscuits with them every Christmas.
I would lay out bowls of icing, spoons and an array of sprinkles and let them go crazy on the decorating.
It would keep them entertained for a good couple of hours and I have fond memories of every surface of my kitchen being covered in sticky icing, silver balls and edible glitter.
Once we were finished decorating the biscuits and every square millimetre of them were covered in sprinkles, I would make some hot chocolate and we would all pile on the couch to watch a Christmas movie and eat our iced creations.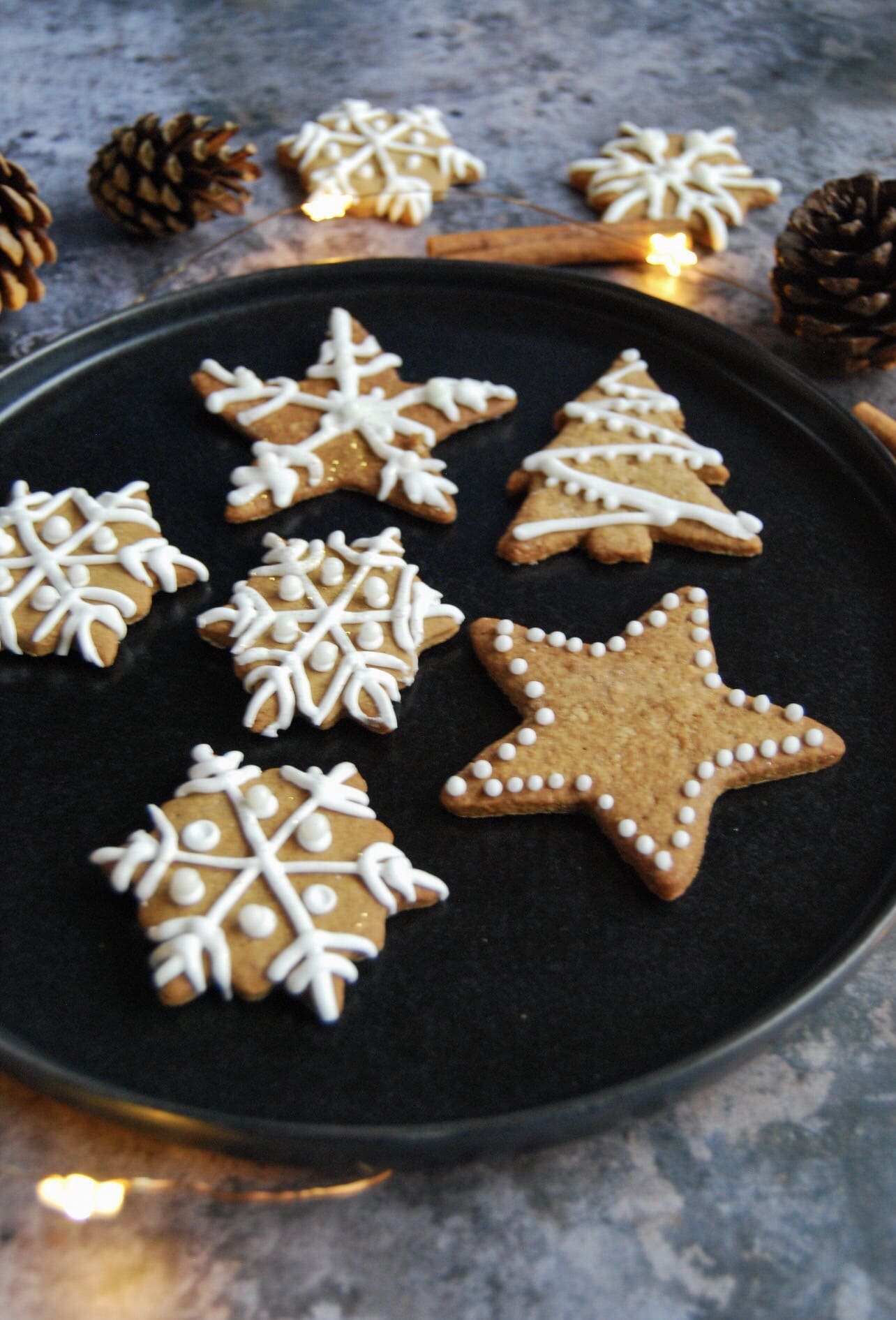 Some of the better looking biscuits were hung on the tree, but they never seemed to stay there for very long. Very much like the peppermint candy canes funnily enough…
Now my boys are well in their teenage years, they are of course much too busy/cool to bake biscuits with their Mum, but I'm very much hoping I can continue the tradition with my youngest son.
I did try this year, but the only thing he was interested in was eating the raw dough. Oh well, maybe next year!
Easy iced gingerbread biscuits
These gingerbread biscuits are lightly spiced with a generous amount of ground ginger, ground cinnamon and allspice.
I also add a touch of grated orange zest which complements the spices really well.
I don't make my own royal icing – life is just too busy in December for that!
I use a packet of instant royal icing – all you need to do is mix it with water.
It's easy enough to make if you fancy trying it for yourself though – this is a good recipe.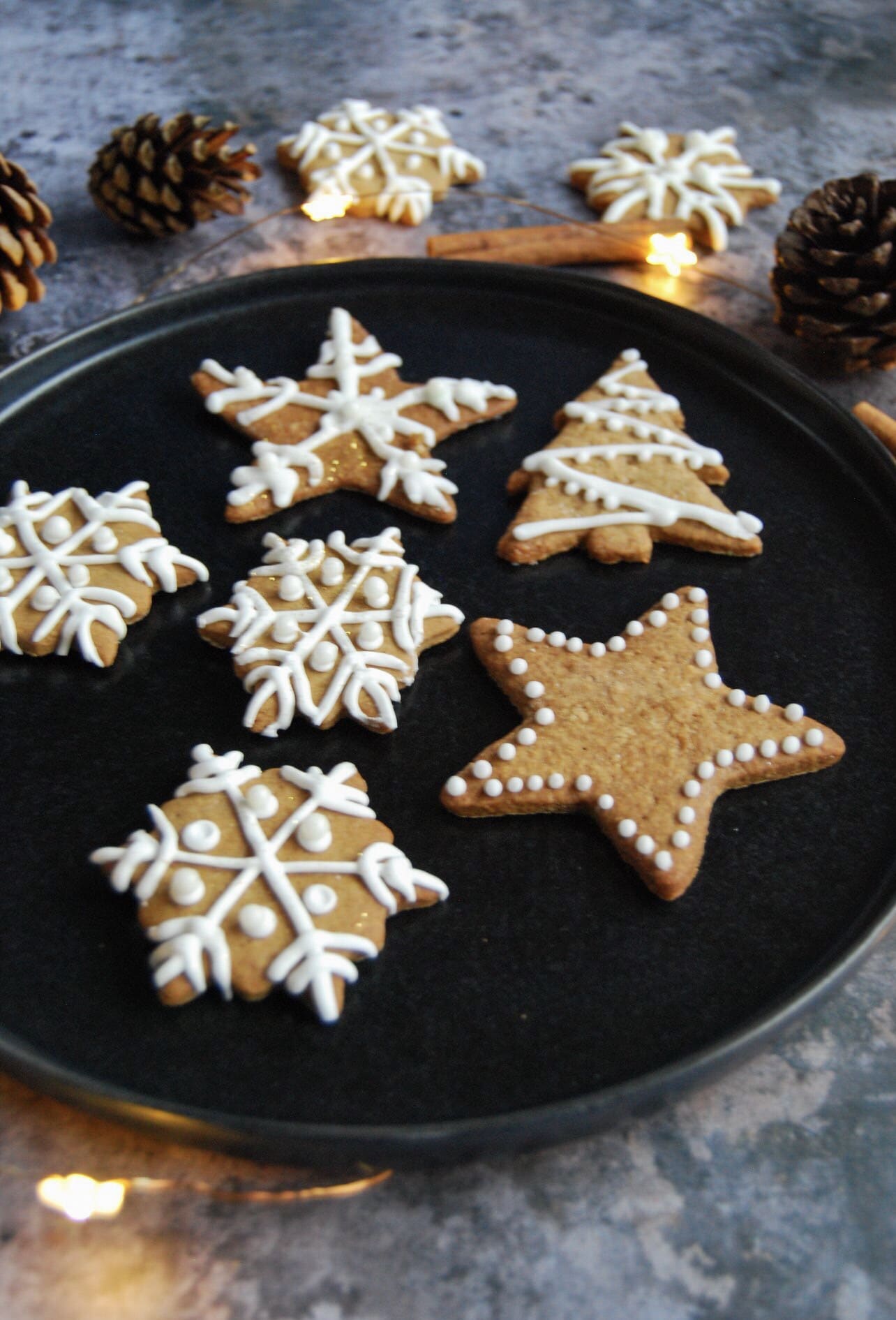 Looking for a good gingerbread cake recipe?
Try this sticky gingerbread loaf cake that improves over a few days – that's if you can resist cutting into it!
More ginger bakes…
More sweet festive baking…
chocolate peanut butter rice krispie balls (no bake!)
Chocolate Fudge Crinkle Cookies
White chocolate, orange and cranberry cookies
Triple ginger, cherry and pecan Christmas pudding
Terry's chocolate orange brownies
Mary Berry's mincemeat loaf cakes
Did you make these Iced Gingerbread Biscuits? Let me know what you thought of the recipe by leaving a comment below, and if you have a photo of your creation, I'd love to see it!
Tag me in your photos on Instagram! #sweetsavouryblog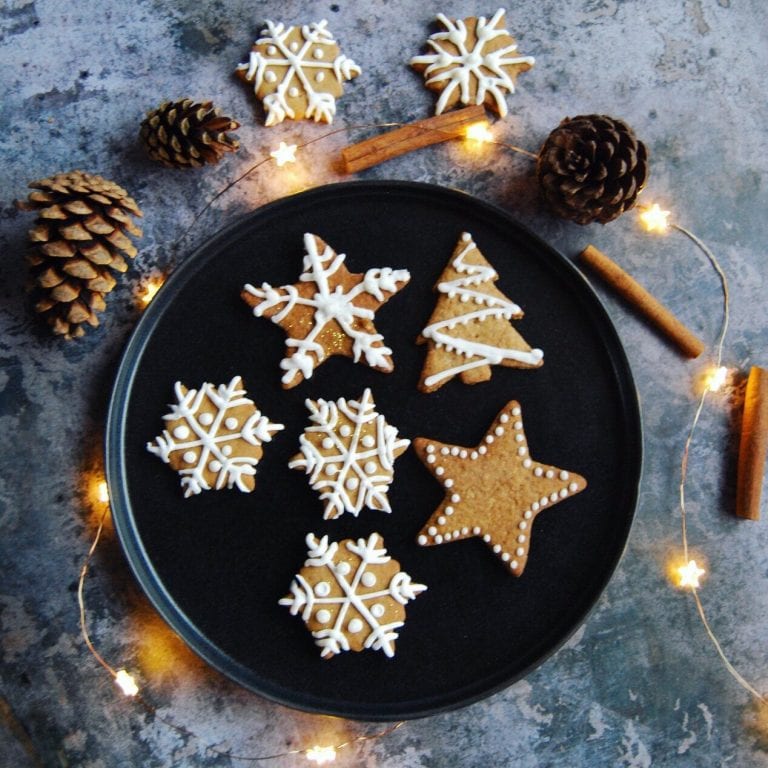 Easy Iced Gingerbread Biscuits
Total Time:
1 hour
20 minutes
These easy iced gingerbread biscuits are a fun project to do with the kids over the Christmas holidays - Let them go crazy with the sprinkles!
Ingredients
300 g plain flour
1 tsp baking powder
2 tsp ground ginger
1 tsp ground cinnamon
1/2 tsp ground allspice
Zest of one large orange or two clementines
100 g butter
100 g soft dark brown sugar
2 tbsp golden syrup
2 tbsp treacle
1 large egg, beaten
500 g packet instant royal icing
An assortment of Christmas sprinkles and edible glitter for decoration
Instructions
In a large bowl, mix together the plain flour, baking powder, ginger, cinnamon, allspice and orange zest.
Rub the butter into the flour mixture until the mixture resembles breadcrumbs. Stir in the sugar. Add the golden syrup and treacle to the mixture, then add half of the beaten egg, using a table knife or your hands to bring the mixture to a dough.
If the dough is dry and there are still a lot of crumbs at the bottom of the bowl, add a little more egg, a drop at a time, until the mixture begins to cohere. When the mixture starts coming together, gently knead to form a soft dough, then cut in half, wrap each half in cling film and place in the fridge for a minimum of 1 hour.
Preheat the oven to 180C/160Fan/350F. Grease and line a couple of large baking trays.
Remove the dough from the fridge. Sprinkle a work surface with some flour and place one half of the dough on top.
Sprinkle a little more flour on your rolling pin and roll the dough out evenly, giving the dough a quarter turn after every 2 rolls to make sure it isn't sticking to the work surface. If it is, add a little more flour to your surface.
When the dough is around the thickness of a £1 pound coin, cut out your shapes and transfer to your lined baking trays.
If you're planning to hang the biscuits on the Christmas tree, you'll need to cut out a hole at the top for your ribbon. Just bear in mind the hole will close up if it's too small - I use the pointy end of a small icing nozzle.
Bake for 18-20 minutes or until cooked through. Leave on the baking trays for 5-10 minutes before transferring to a wire rack to cool completely.
Make up the royal icing according to packet instructions and decorate the biscuits however you like - you can get fancy and use a piping bag for pretty patterns, or simply use a teaspoon to drip the icing on the biscuits and cover in Christmas sprinkles!
Notes
This dough is much easier to roll out after chilling in the fridge for at least 1 hour.  
Nutrition Information:
Yield:

25
Serving Size:

s
Amount Per Serving:
Calories:

185
Total Fat:

7g
Saturated Fat:

3g
Trans Fat:

0g
Unsaturated Fat:

4g
Cholesterol:

23mg
Sodium:

90mg
Carbohydrates:

29g
Net Carbohydrates:

0g
Fiber:

1g
Sugar:

17g
Sugar Alcohols:

0g
Protein:

2g