This Amaretto Christmas cake is packed full of juicy Amaretto soaked fruit for a perfect festive celebration cake!
Since it's SO close to Christmas I thought it would be the perfect time to share my no fail, ever popular Christmas cake recipe with you all.
I came up with this recipe a few years ago and it has become my go-to celebration fruit cake recipe.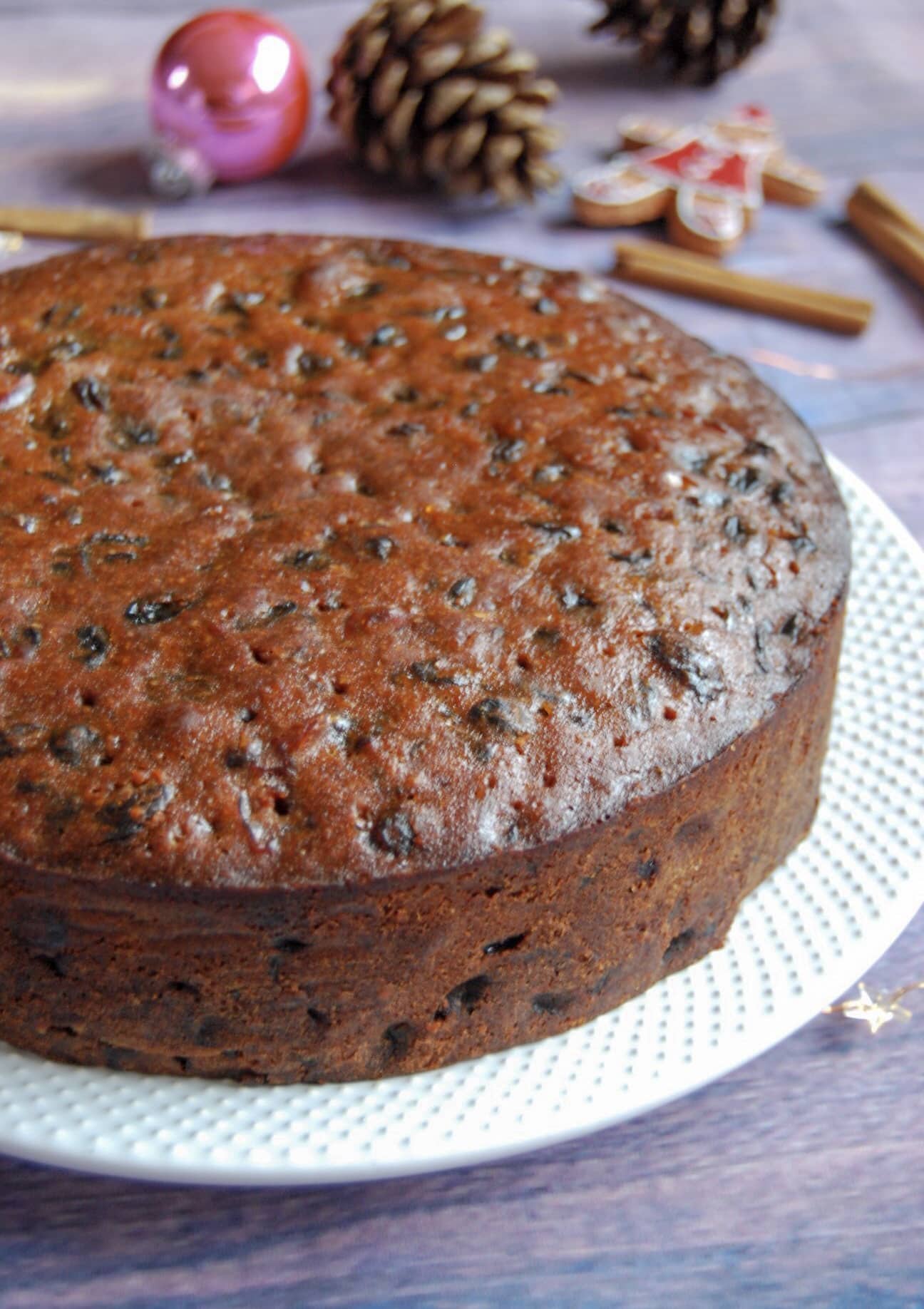 I just can't imagine Christmas without a fruit cake – if I'm totally honest one of my main reasons for making one is to fill the house with the amazing, festive smell while the cake is in the oven.
If you could buy a scented candle of that spicy, warm aroma, I would stockpile them.
I have to admit that despite the fact that I'm the only one in my house who actually likes fruit cake, I still make one every year. Always have, always will.
It's extremely useful to have a cake all ready to offer the many visitors that will pop in over the festive season! That's my excuse and I'm sticking to it anyway 😉
Looking for more fruit cake recipes?
If you love fruit cake, take a look at my recipes for malt loaf, easy mincemeat muffins, Irish Barmbrack , Mary Berry's mincemeat loaf cakes and this easy fruity Bran Loaf.
ingredients you'll need to make this amaretto fruit cake
(scroll to the bottom of the post to find the recipe card for ingredient amounts and detailed instructions)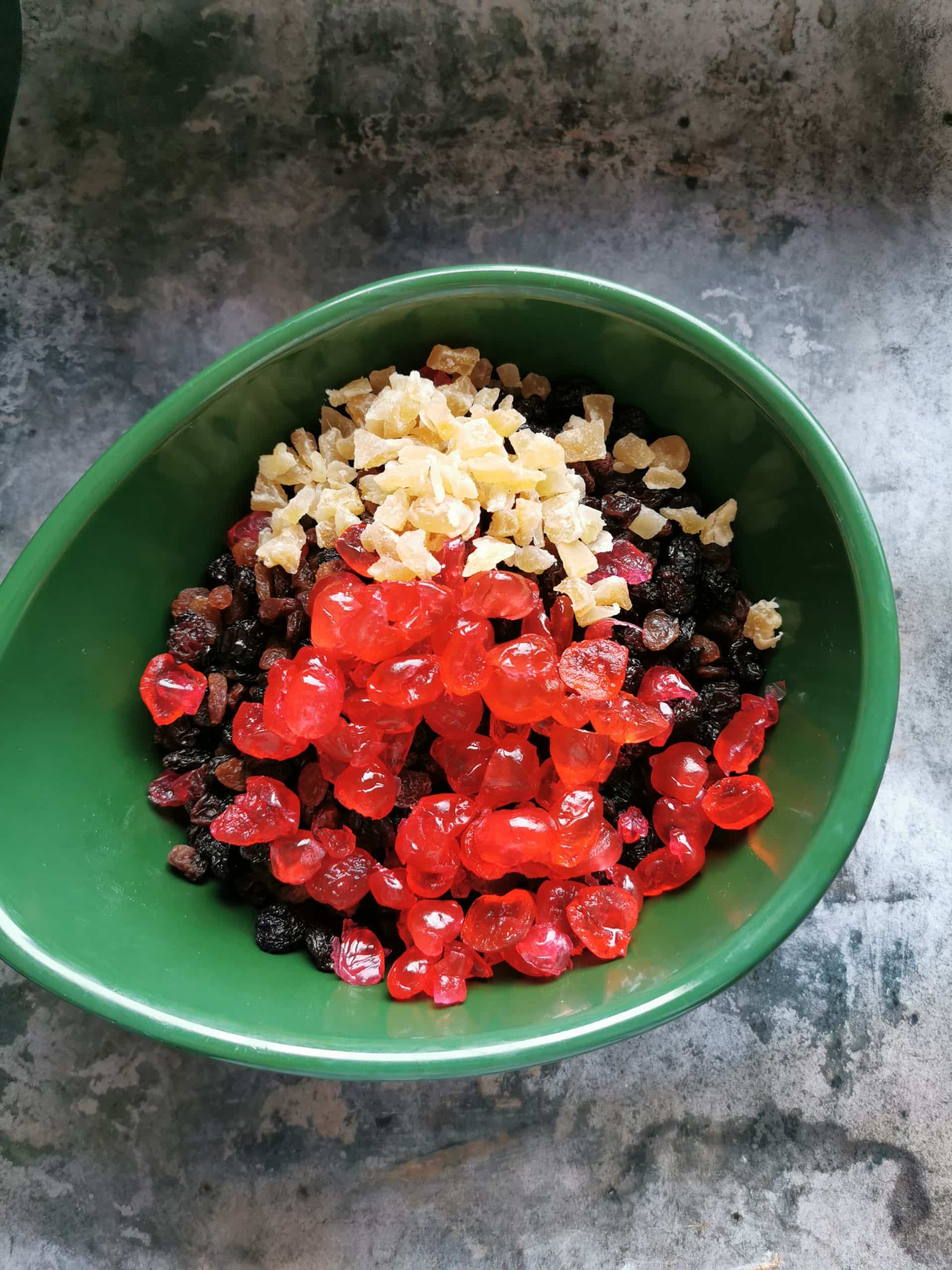 butter
soft light brown sugar
dried fruit – I use a mixture of dried figs, prunes or dates, raisins, sultanas, glace cherries and crystallised ginger, but as long as you stick to the same weight of dried fruit, use whatever you like.
Amaretto Liqueur – but if you aren't a fan you can use brandy, rum or whisky instead. My mum used Baileys Irish cream one year and it turned out delicious!
grated zest and juice of one large orange
grated zest of one lemon
ground mixed spice
ground cinnamon
freshly grated or ground nutmeg
treacle (molasses)
Eggs (5 medium sized)
Plain Flour
baking powder
Ground almonds
How to make this amaretto fruit cake
simmer and stir method
You start off by placing all of the dried fruit, butter, brown sugar, zest and orange juice, lemon zest, treacle (molasses) and spices in a large heavy bottomed saucepan. Pour over the Amaretto (or whatever alcohol you're using.)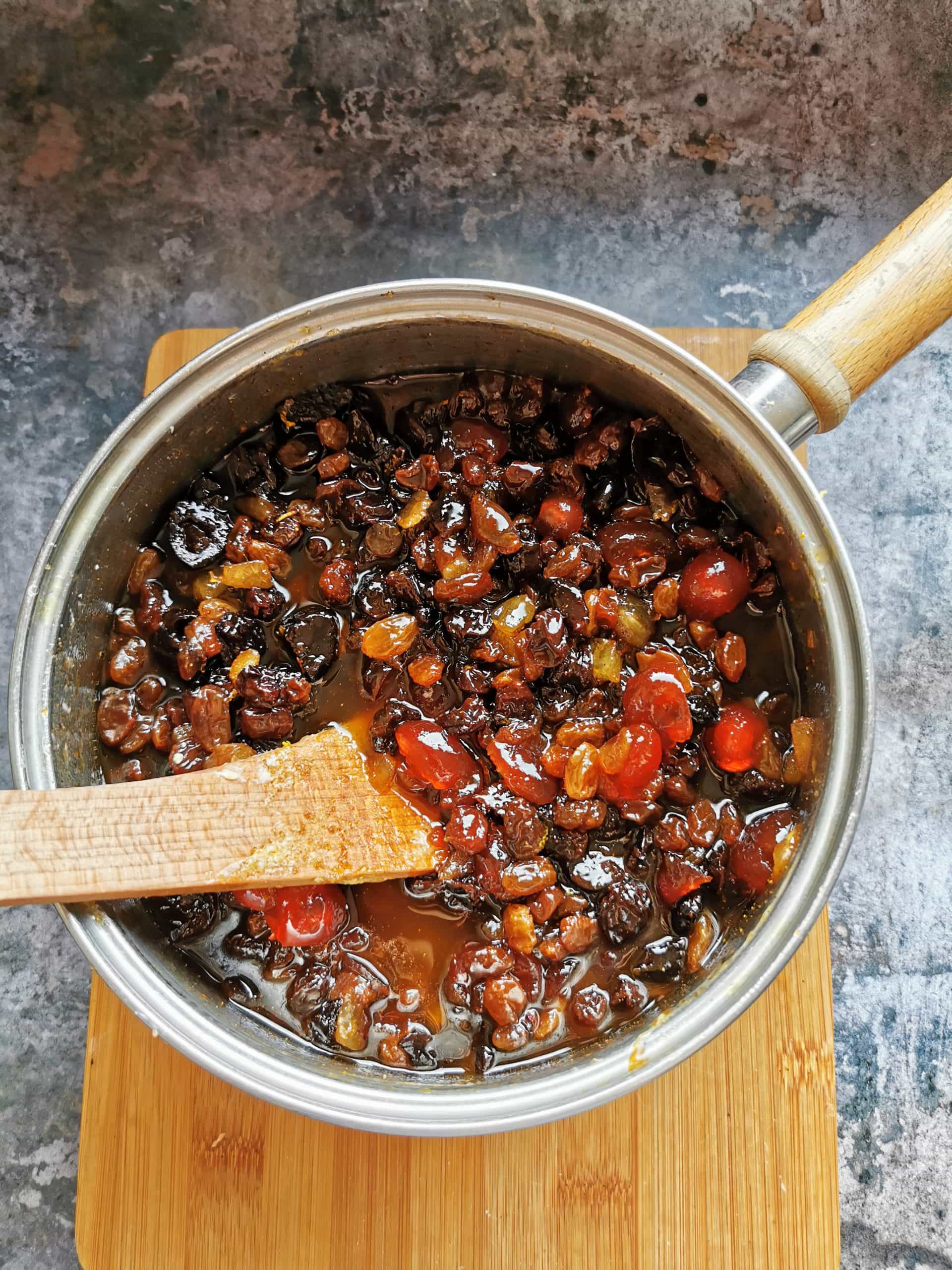 Place on a medium to low heat. Bring the mixture to a gentle simmer but don't let it boil. Simmer for about 10 minutes, or until the butter and sugar has melted in the fruits and spices.
At this stage it will look like a beautiful fruit sauce and will smell incredible.
It's not essential, but if I'm running short on time I often leave the fruit to soak overnight at this stage – if you want to do this, transfer the boozy fruit mixture to a bowl and wait until the mixture is completely cold before transferring to the fridge.
You just need to remember to allow the fruit to come to room temperature the next day before adding the rest of the ingredients.
Stir in the rest of the ingredients
Once everything has melted together and all the sugar has dissolved, remove from the heat and leave to cool down slightly before adding the eggs, plain flour, baking powder and ground almonds.
Stir everything together until well combined and no flour pockets are visible. Tip the mixture into the lined tin and bake at 160C/140Fan/300F for 2-2 1/2 hours or until the cake springs back when lightly pressed in the centre and a skewer inserted in the middle emerges clean.
If the top of the cake looks like it's starting to catch, cover with a piece of baking parchment with a hole cut out of the middle. This is a great tip I picked up in a Delia Smith book – you can do this at the start of baking if you think your oven might on running on the hot side, like mine!
how to store a fruit cake
Leave the cake to cool completely in the tin before turning out. When the cake is completely cold, wrap in a couple of layers of baking parchment and store in an airtight tin in a dark, cool place.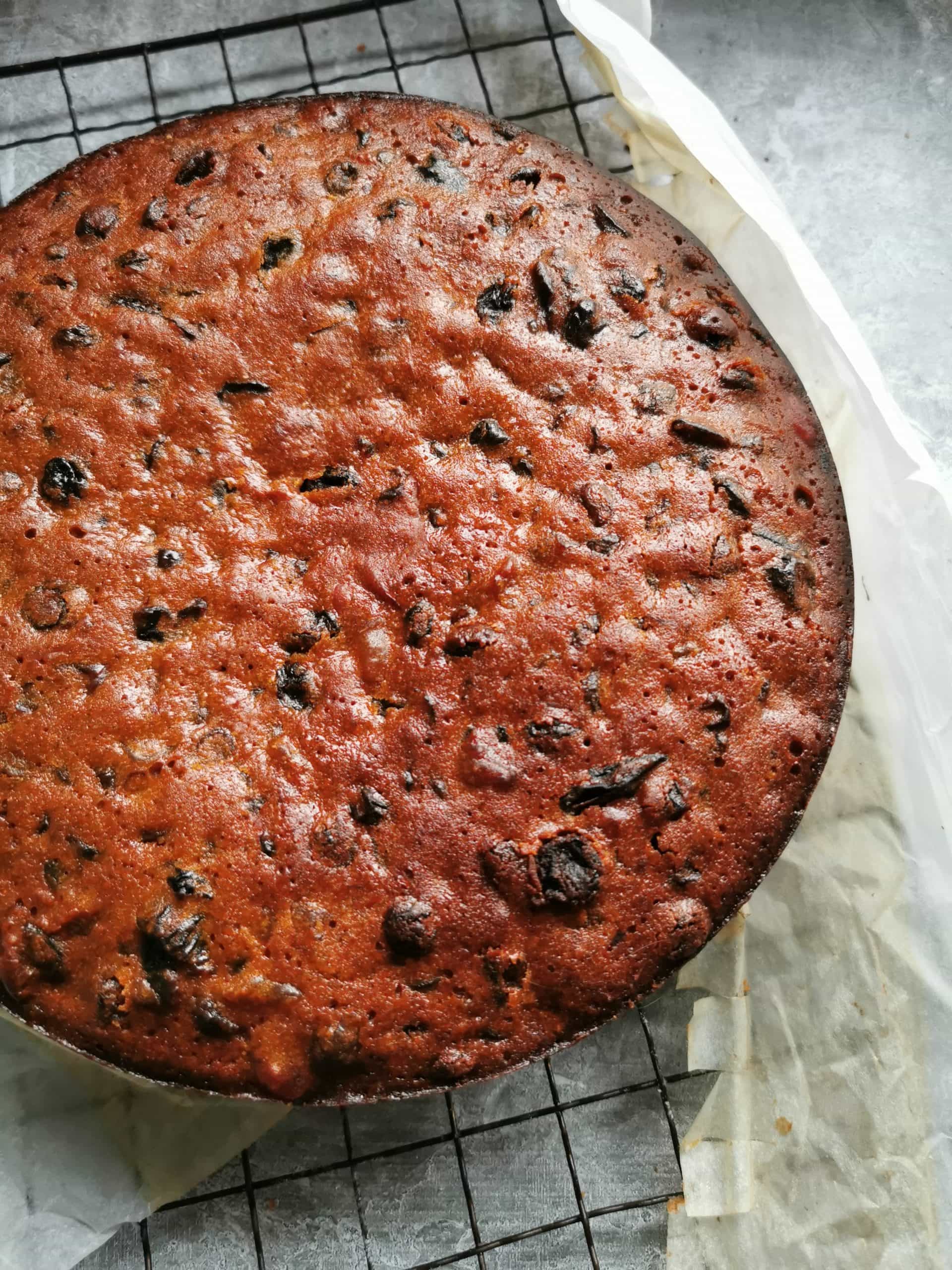 how to decorate your amaretto christmas cake
I usually make elaborate plans to ice and decorate the cake, but in reality I'm never usually organised enough to actually do it.
If you're short of time, a fruit and nut topping is very easy and looks pretty.
All you need to do is brush the top of the cake with warmed apricot jam and decorate with the fruit and nuts before brushing them with more apricot jam for a shiny glaze.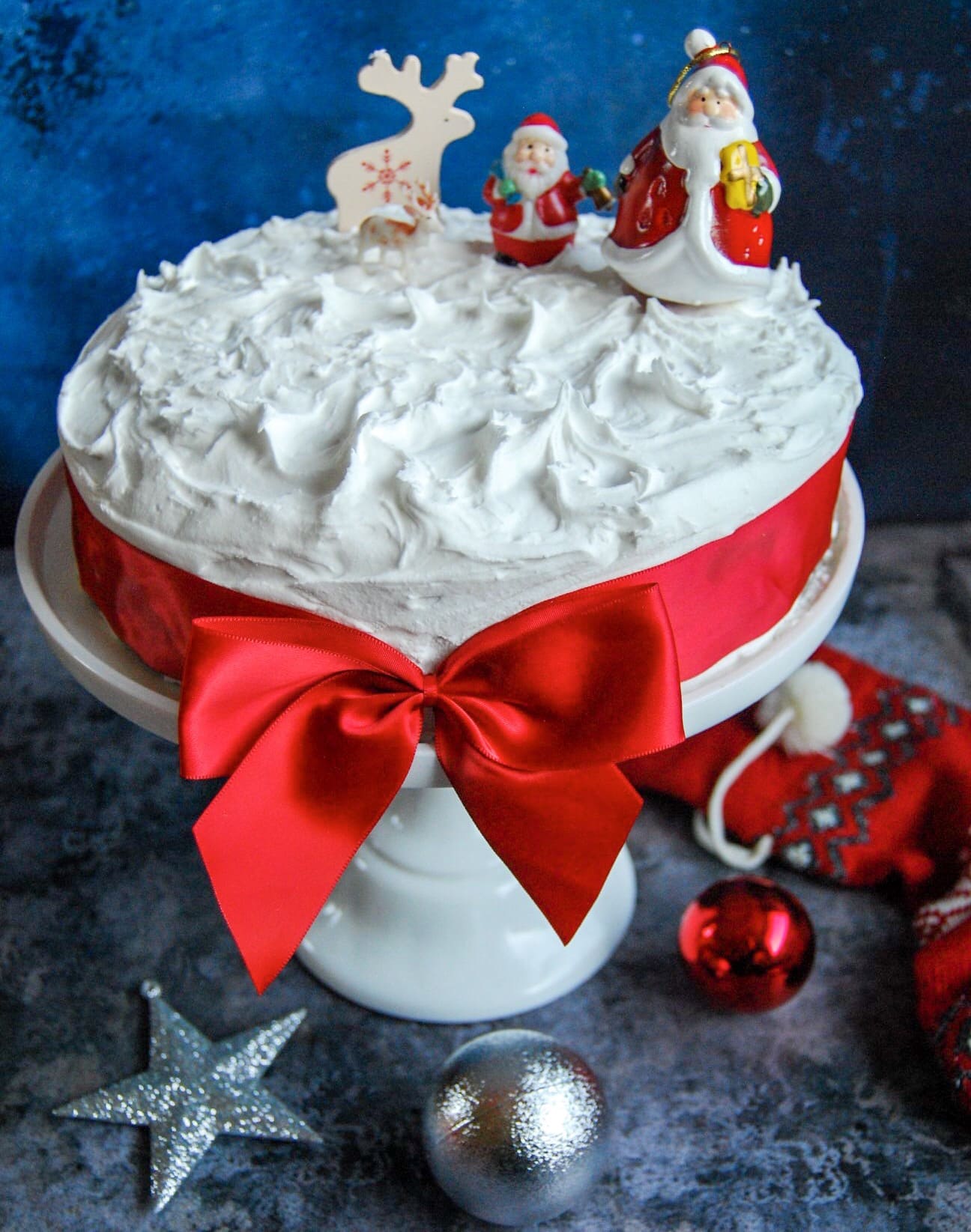 A royal icing topping is traditional and looks very festive. I find this recipe by Mary Berry foolproof and simple. If you're short on time, of course it's absolutely fine to use a tub of ready made royal icing. I recommend this one by Renshaw Baking.
do i need to feed the fruit cake with alcohol?
This simmer and stir method means it isn't actually necessary to make the cake several weeks before Christmas and feed it with alcohol – but by all means you still can if you want to.
It's keeping with tradition and somehow feels right. Besides, adding more alcohol is hardly going to ruin the cake, is it? The cake will still end up delicious either way!
how to feed a christmas cake
To feed the cake, I pierce it all over using a long skewer, then slowly spoon about 1-2 tablespoons of alcohol all over the top of the cake. Re-wrap the cake again and place back in the tin or storage box.
I recommend feeding the cake every two weeks and no more than 4-5 times. If at any stage your fruit cake feels very tacky and leaves a damp patch on the work surface, then it's time to stop feeding it. It's possible to over feed the cake, making it wet and stodgy.
If you intend to marzipan/and/or ice the cake, don't feed it for a week to allow the surface of the cake to dry out a little before covering.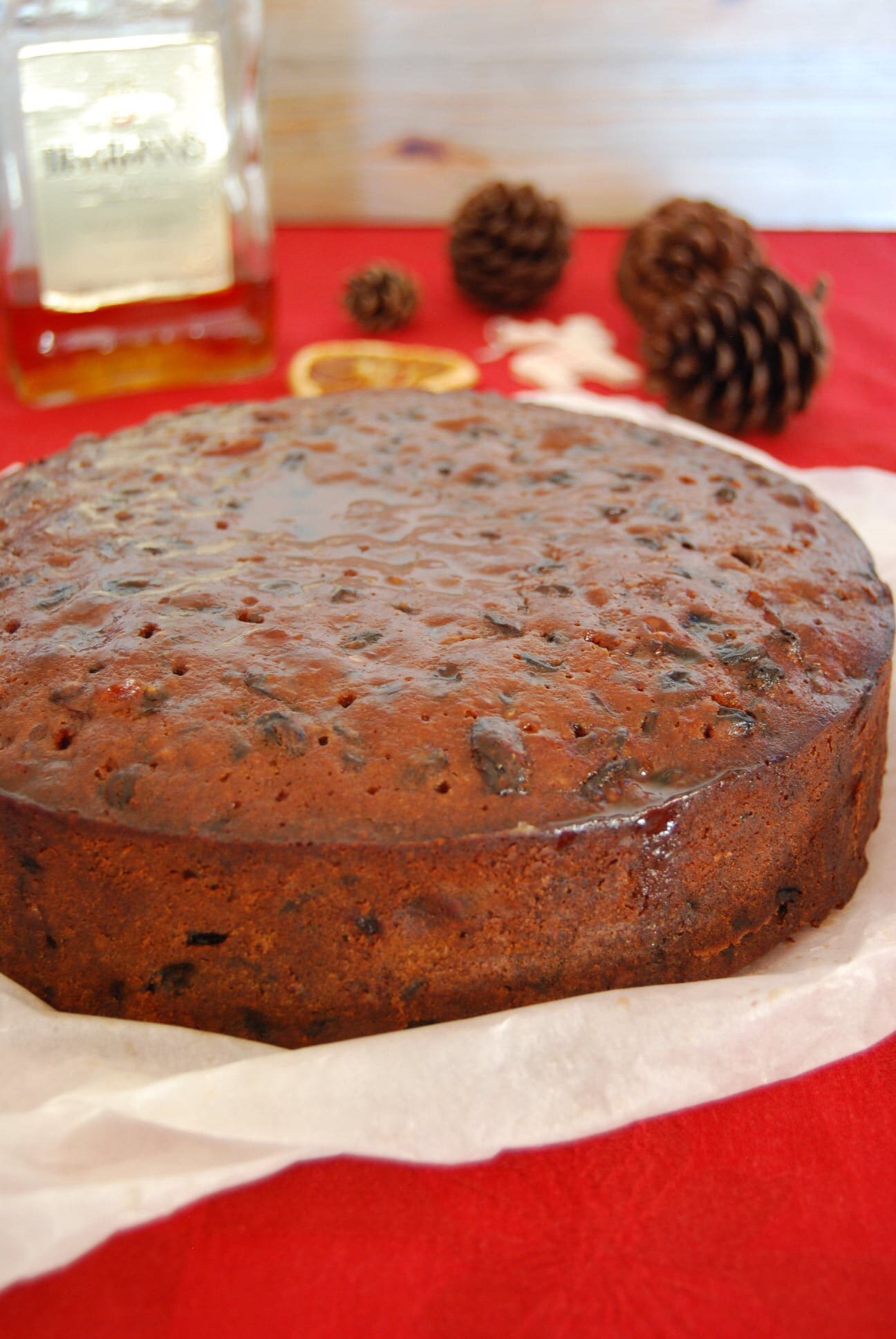 did you make this recipe?
If you made this Amaretto Christmas cake recipe, please let me know what you think by leaving a comment below – and if you would be so kind to leave me a rating, it would be much appreciated! I really hope you love it!
Pin this Amaretto Christmas cake for later…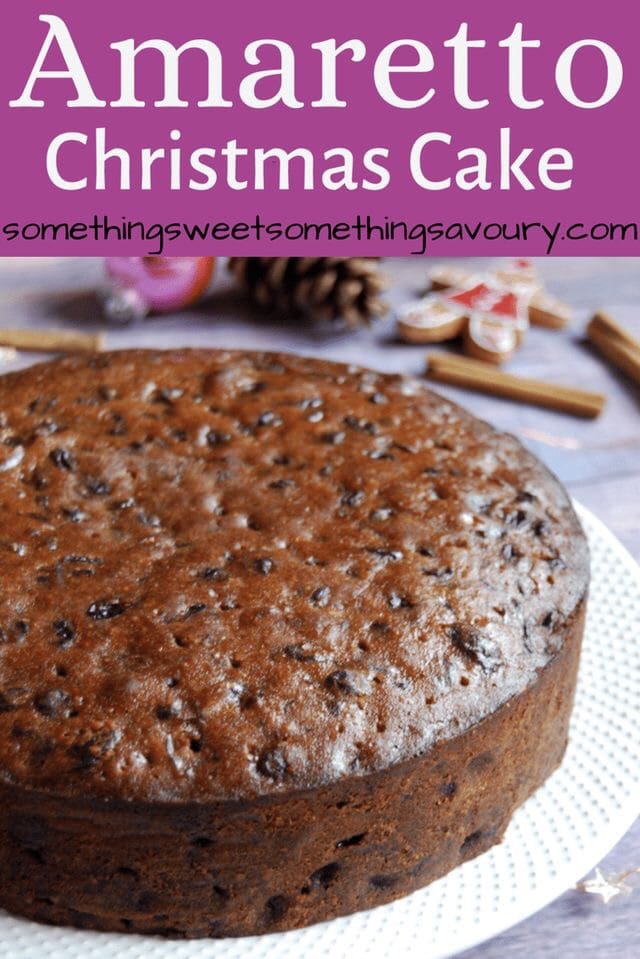 Want to see more Christmas baking?
If you loved this recipe, you might enjoy my other Christmas recipes! I have lots to choose from.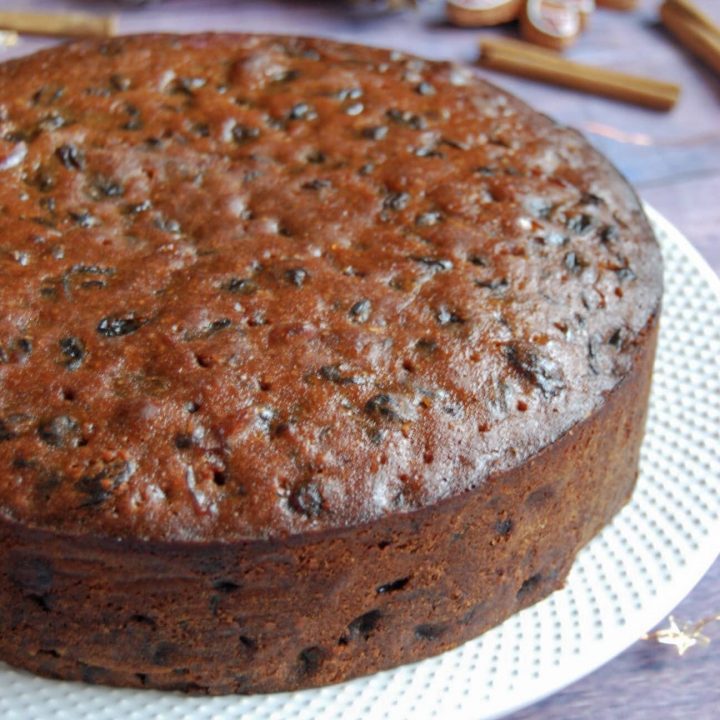 Amaretto Christmas cake
Yield:
up to 28 small slices
A rich, moist fruit cake filled full of juicy fruit and a generous amount of Amaretto! This is my favourite Christmas cake recipe. It tastes absolutely beautiful just as it is, or go fully festive and decorate with a layer of marzipan and icing.
Ingredients
200g /1 Cup dried figs or prunes, chopped
300 g/1 1/2 cups sultanas
350 g/1 1/2 cups raisins
200 g/3/4 cup glace cherries, rinsed, dried and halved
50 g/1/3 cup crystallized ginger, chopped (optional)
125 ml/ 1/2 cup Amaretto, plus 1 tablespoon extra for soaking the cake
300 g/1 1/3 Cups butter
250 g/ 1 1/2 Cups soft light brown sugar
Finely grated Zest and juice of 1 large Orange
Finely grated Zest of 1 lemon
2 tablespoons treacle
1 1/2 Teaspoons cinnamon
1 Teaspoon mixed spice
1/4 Teaspoon freshly grated nutmeg
5 medium eggs, beaten
300 g/2 Cups plain flour
1/4 teaspoon fine salt
1/2 teaspoon baking powder
50 g/ 3/4 Cup ground almonds
Instructions
Preheat the oven to 160C/140Fan/300F/Gas Mark 2.
It's definitely worth taking the time to line your cake tin correctly to protect the cake during its long baking time.
Grease a loose bottomed 23cm(9 inch) round cake tin (10cm deep) and line the base and sides with non stick baking paper. Cut out a circle of baking paper, using the base of your tin as a template.
To line the sides, cut a strip of baking paper a little longer than the circumference of the tin and about 3 inches higher. Fold it 1 inch along its length, then using scissors make little snips up to the fold line, making a fringe along the length. It should now fit snugly inside the cake tin. Finally, fit your circle over the top, covering the fringe.
Place the dried fruits in a large saucepan with the Amaretto, butter, sugar, Orange zest and juice, lemon zest, treacle, cinnamon, mixed spice and nutmeg.
Gently bring to a simmer, stirring, for 10 minutes. Remove from the heat and let the mixture sit for at least 1 hour. I've often done this in advance and left it overnight.
When you're ready to bake the cake, pour the soaked fruit mixture into a large mixing bowl. Add the eggs one at a time, then stir in the flour, baking powder and ground almonds. Stir until everything is well combined.
Pour into the lined tin and bake for 2-2 1/2 hours or until the cake springs back when lightly pressed and a skewer inserted into the middle of the cake comes out clean.
Leave to cool completely in the tin.
When the cake is completely cold, poke a few holes in the cake, drizzle with a little Amaretto, then wrap in a double layer of baking paper and foil and store in an airtight container.
Nutrition Information:
Yield:

28
Serving Size:

1
Amount Per Serving:
Calories:

375
Total Fat:

12g
Saturated Fat:

6g
Trans Fat:

0g
Unsaturated Fat:

5g
Cholesterol:

53mg
Sodium:

140mg
Carbohydrates:

65g
Fiber:

4g
Sugar:

49g
Protein:

4g
Calories and nutritional information are provided by a third party application and should be viewed as indicative figures only.