This Amaretto Christmas cake is packed full of juicy Amaretto soaked fruit for a perfect festive celebration cake!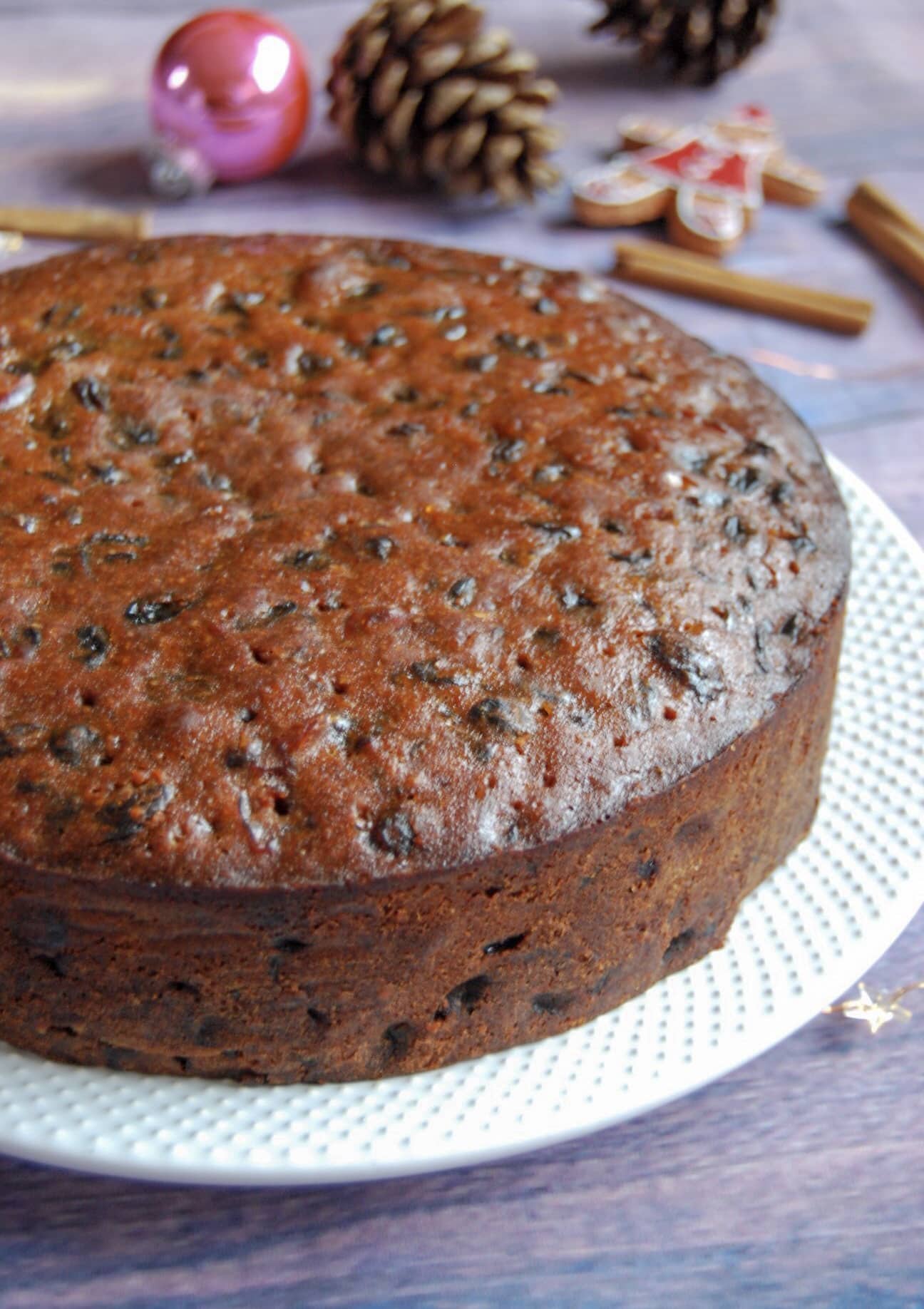 Since tomorrow (25th November) is stir up Sunday in the U.K, I thought it would be the perfect time to re-share my Christmas cake recipe with you all. I came up with this recipe a few years ago and it has become my go-to celebration fruit cake recipe.
I just can't imagine Christmas without a fruit cake – if I'm totally honest one of my main reasons for making one is to fill the house with the amazing, festive smell while the cake is in the oven. If you could buy a scented candle of that spicy, warm aroma, I would stockpile them.
I have to admit that despite the fact that I'm the only one in my house who actually likes fruit cake, I still make one every year. Always have, always will. It's extremely useful to have a cake all ready to offer the many visitors that will pop in over the festive season! That's my excuse and I'm sticking to it 😉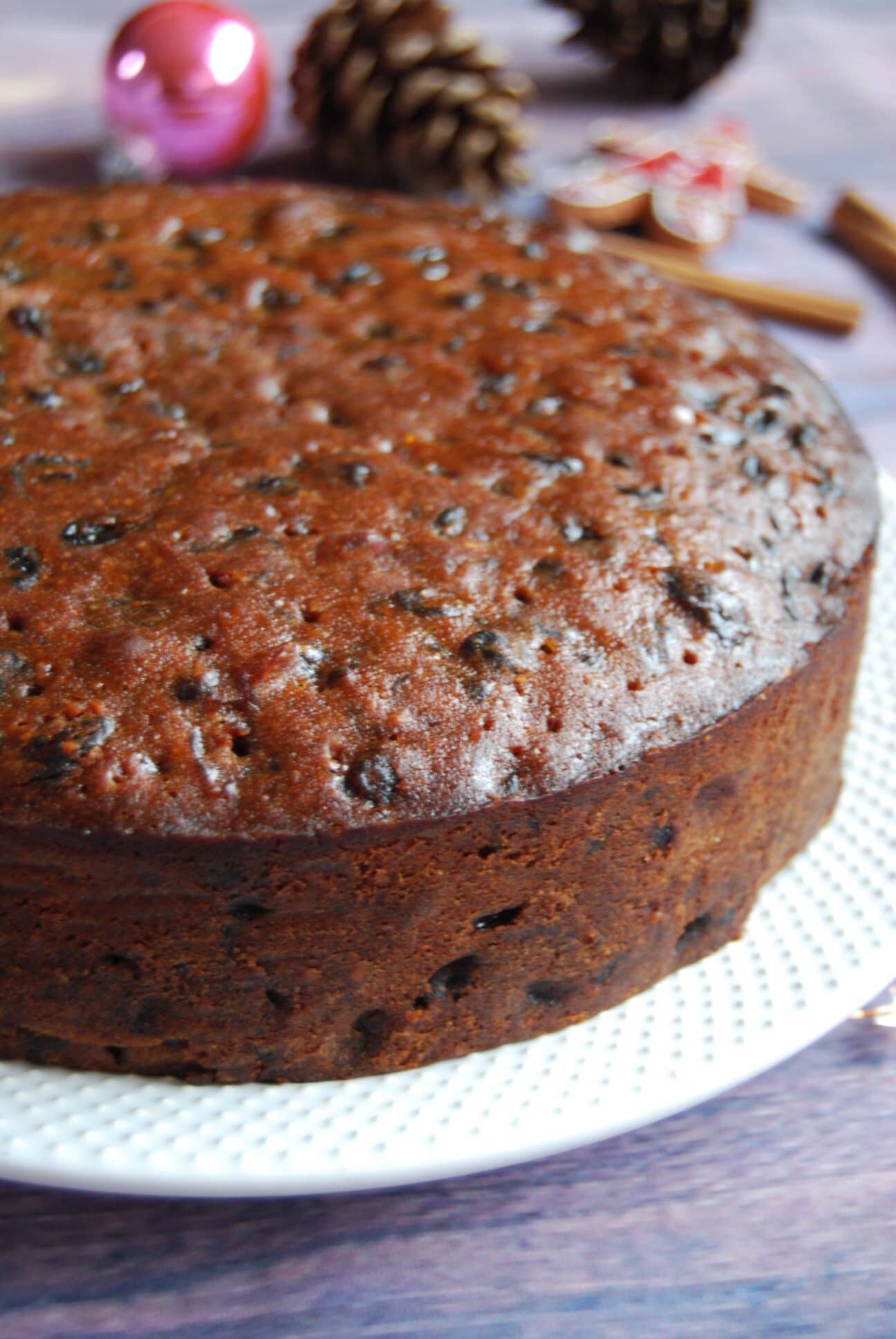 The making of this fruit cake starts on the hob – dried figs, prunes or dates, raisins, sultanas, cherries, orange zest and mixed spice is simmered in Amaretto and left to soak for a while – I often leave it overnight – which in my opinion and experience produces the same results as soaking fruit in alcohol for several days or even weeks.
I usually make elaborate plans to ice and decorate the cake, but in reality I'm never usually organised enough to actually do it. If you're short of time, a fruit and nut topping is very easy and looks pretty. All you need to do is brush the top of the cake with warmed apricot jam and decorate with the fruit and nuts before brushing them with more apricot jam for a shiny glaze.
This simmer and stir method means it isn't actually necessary to make the cake several weeks before Christmas and feed it with alcohol – but you still can if you want to. It's keeping with tradition and somehow feels right. Besides, adding more booze is hardly going to ruin the cake now, is it? 😉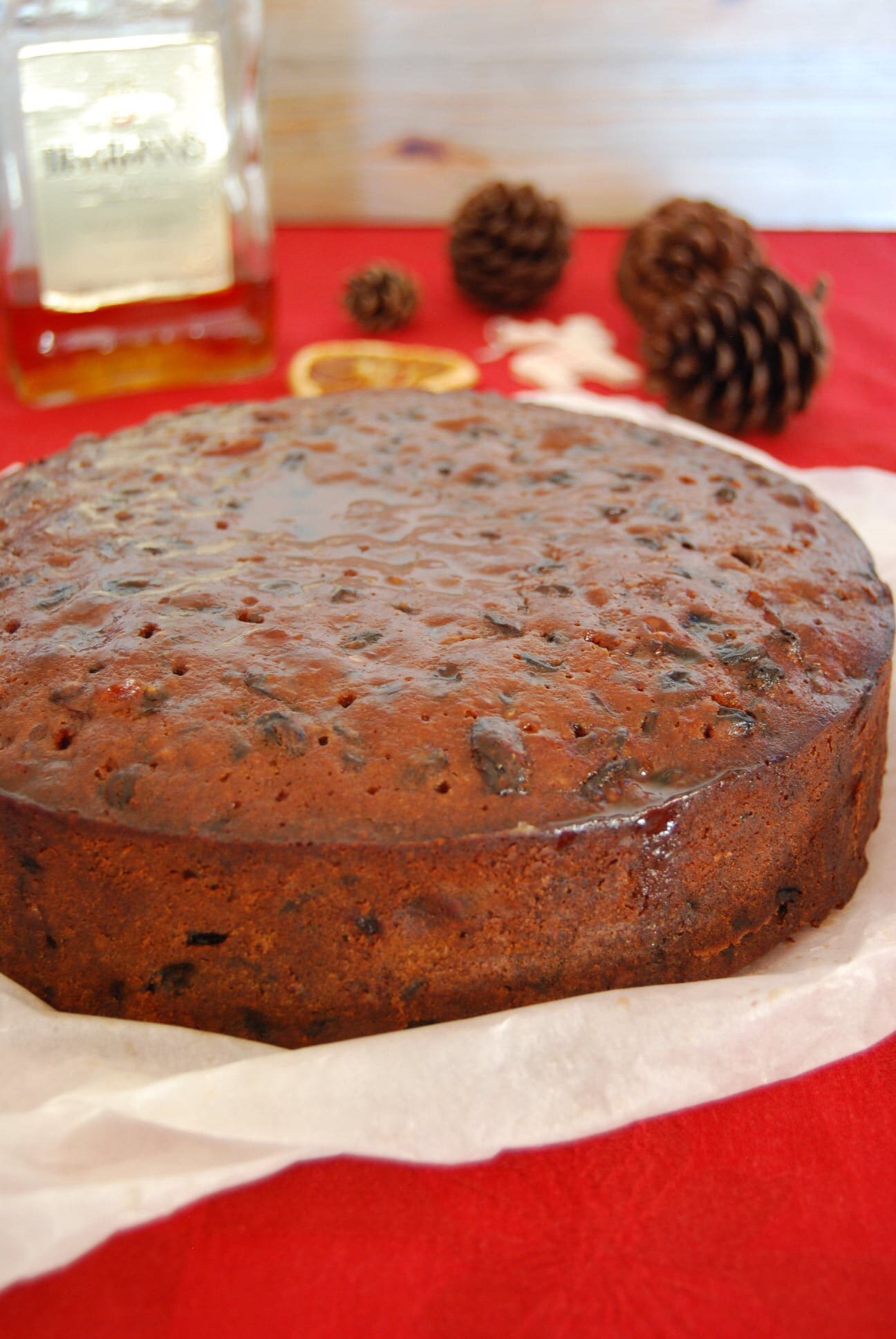 If you make this recipe, please let me know what you think by leaving a comment below – and if you would be so kind to leave me a rating, it would be much appreciated! You can also contact me via my Instagram page or by email – nickki@somethingsweetsomethingsavoury.com
Pin this Amaretto Christmas cake for later…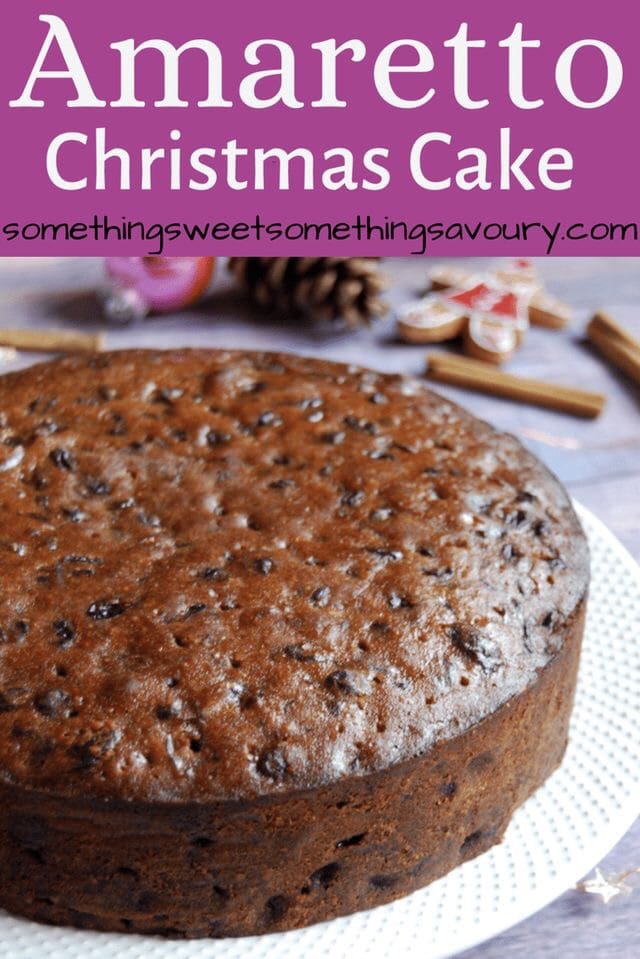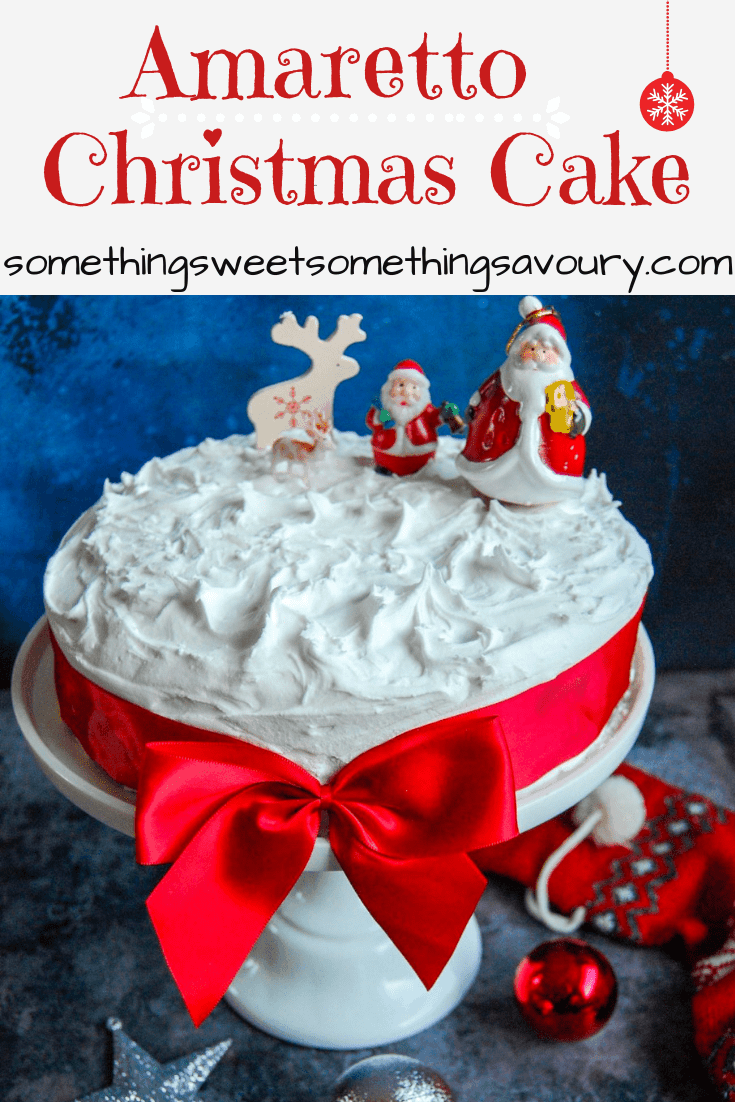 I'm sharing this Christmas cake with #CookBlogShare, hosted this week by Eb at Easy Peasy Foodie,,
I'm also sharing this Christmas cake with #BakingCrumbs, the monthly baking link up hosted this month by Jen at Apply to Face Blog.
Amaretto Christmas cake
A rich, moist fruit cake filled full of juicy fruit and a generous amount of Amaretto! This is my favourite Christmas cake recipe.
Ingredients
200

g

dried figs or prunes

chopped

300

g

sultanas

350

g

raisins

200

g

glace cherries

rinsed, dried and halved

50

g

crystallized ginger

chopped (optional)

125

ml

Amaretto

plus 1 tablespoon extra for soaking the cake

300

g

butter

250

g

soft light brown sugar

Zest and juice of 1 large Orange

Zest of 1 lemon

2

tablespoons

treacle

1 1/2

tsp

cinnamon

1

tsp

mixed spice

1/4

tsp

freshly grated nutmeg

5

medium eggs, beaten

300

g

plain flour

1/2

tsp

baking powder

50

g

ground almonds
Instructions
Preheat the oven to 160C/140Fan/300F/Gas Mark 2.It's definitely worth taking the time to line your cake tin correctly to protect the cake during its long baking time.Grease a loose bottomed 23cm round cake tin (10cm deep) and line the base and sides with non stick baking paper. Cut out a circle of baking paper, using the base of your tin as a template. To line the sides, cut a strip of baking paper a little longer than the circumference of the tin and about 3 inches higher. Fold it 1 inch along its length, then using scissors make little snips up to the fold line, making a fringe along the length. It should now fit snugly inside the cake tin. Finally, fit your circle over the top, covering the fringe.

Place the dried fruits in a large saucepan with the Amaretto, butter, sugar, Orange zest and juice, lemon zest, treacle, cinnamon, mixed spice and nutmeg.

Gently bring to a simmer, stirring, for 10 minutes. Remove from the heat and let the mixture sit for at least 1 hour. I've often done this in advance and left it overnight.

When you're ready to bake the cake, pour the soaked fruit mixture into a large mixing bowl. Add the eggs one at a time, then stir in the flour, baking powder and ground almonds. Stir until everything is well combined.

Pour into the lined tin and bake for 2-2 1/2 hours or until the cake springs back when lightly pressed and a skewer inserted into the middle of the cake comes out clean. Leave to cool completely in the tin.

When the cake is completely cold, poke a few holes in the cake, drizzle with a little Amaretto, then wrap in a double layer of baking paper and foil and store in an airtight container.