This Triple ginger, cherry and pecan Christmas pudding is a slightly lighter take on the classic version. Packed full of boozy fruit and enough ginger to delight any hardcore ginger fan!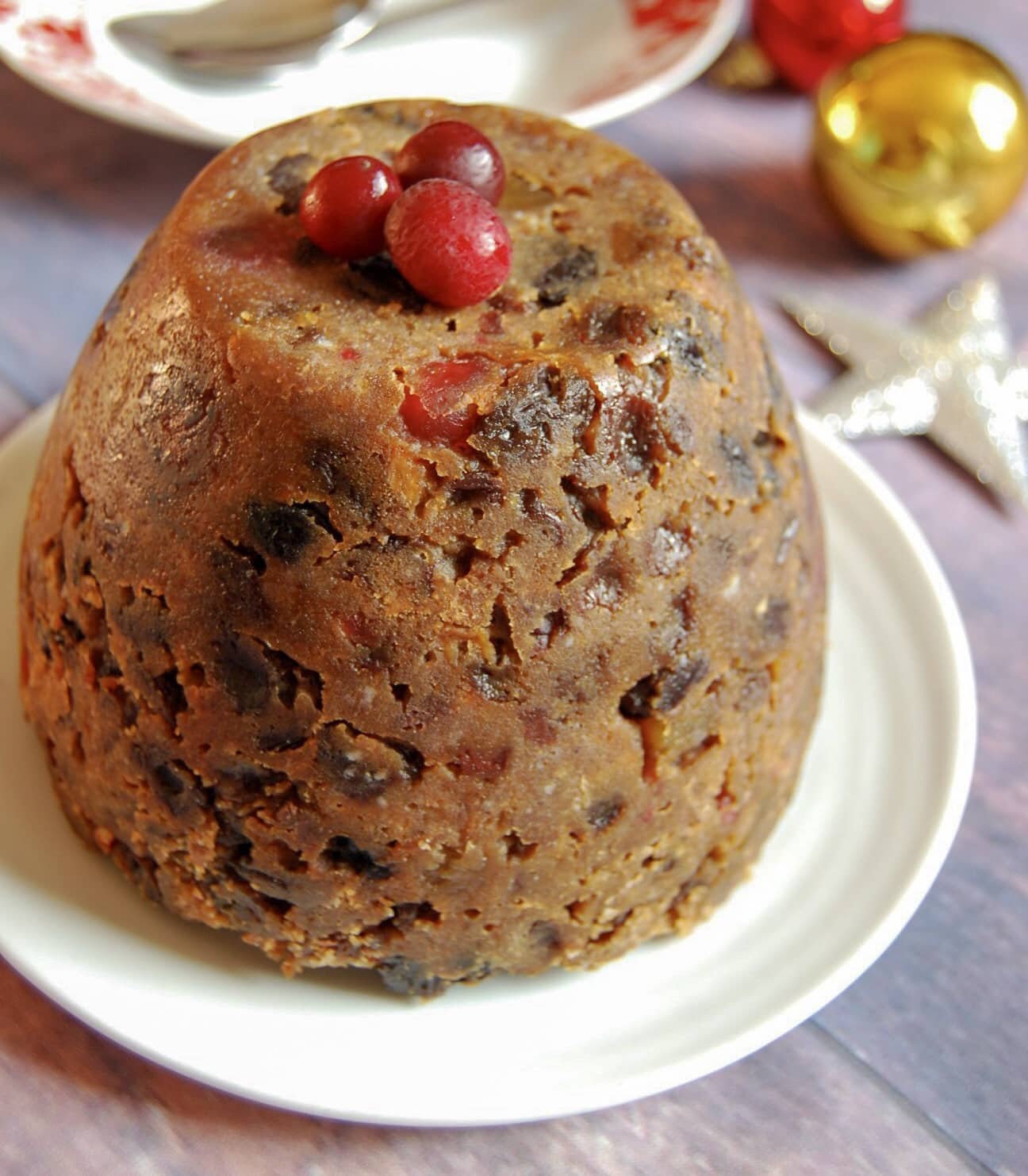 Christmas pudding brings back fond memories of my Gran. She would make one nearly every Christmas especially for the two of us because we loved it so much.
This recipe is very loosely based on her recipe. I hope she wouldn't mind that I've taken great liberties with the original recipe. This version is much lighter and I've used ginger wine and cherry brandy instead of (blast from the past!) Harvey's Bristol Cream!
I've replaced the mixed peel (which I've never been a fan of) with crystallised ginger. I don't remember my Gran ever using cherries in her recipe, but I've used them in abundance here purely because I'm a bit of a cherry freak. I couldn't resist throwing in some pecans for a little crunchy texture alongside the soft fruit.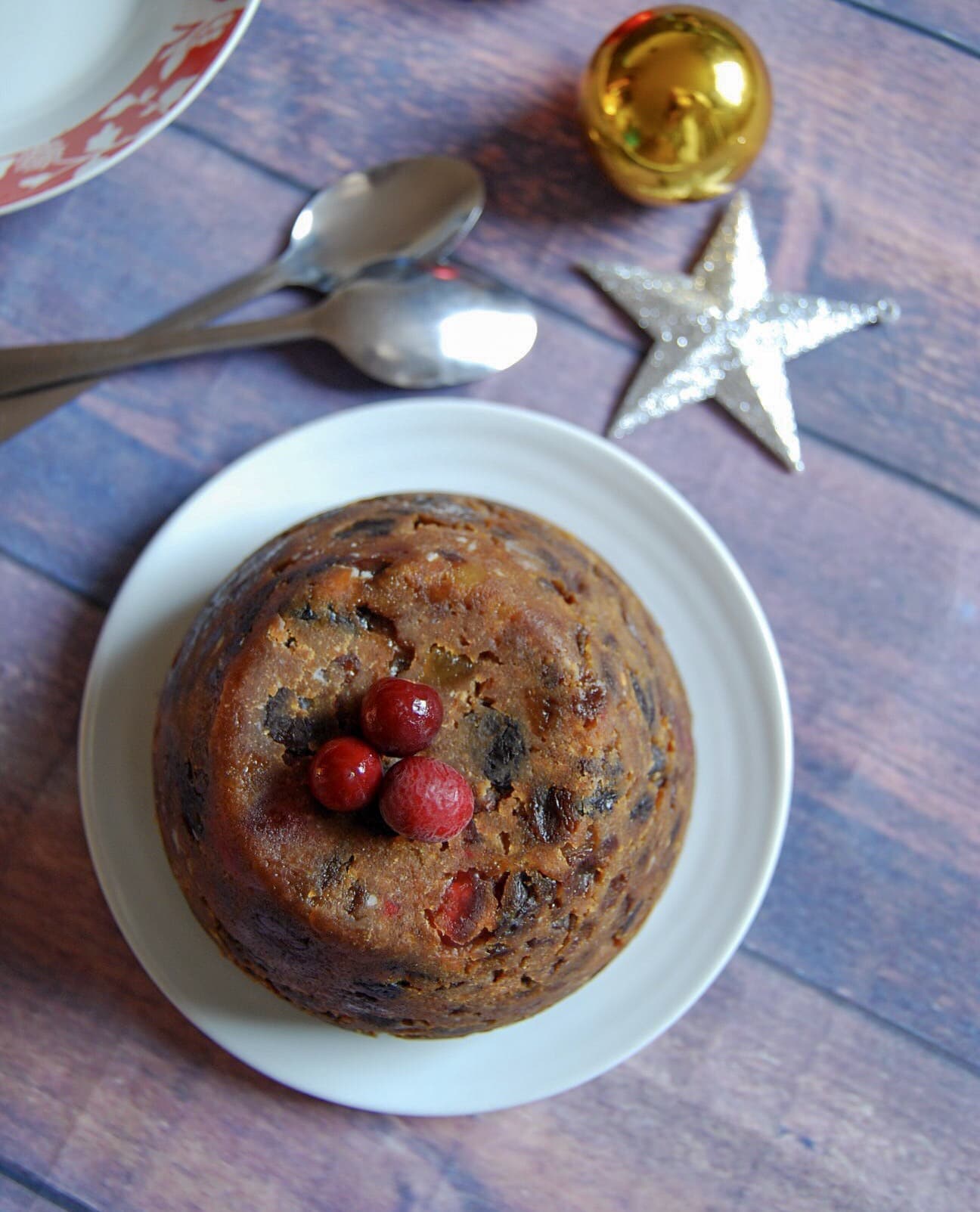 I've gone for a TRIPLE hit of ginger in the form of fresh, stem and crystallised. If you are a fellow ginger fan , you will LOVE this. But If you are a little concerned that the pudding will turn out a little too gingery for your tastes, then I would leave out the fresh ginger. But I promise it is not overpowering. The fresh ginger adds warmth, while the stem and crystallised ginger add flavour and texture.
My Gran used to steam her Christmas pud on the hob in a large pan. She would place the pudding basin on top of a little tea plate and pour boiling water half way up the pan. I remember the windows being all steamed up with the condensation and the rattling noise the plate made!
Times have changed and we now have lots of options. I'm going to give you instructions for the traditional hob method, slow cooker and Instant Pot. I've tried and tested this recipe with all of the above methods and they all work perfectly.
If you fancy a change from the classic Christmas pudding recipe, this is definitely worth a try!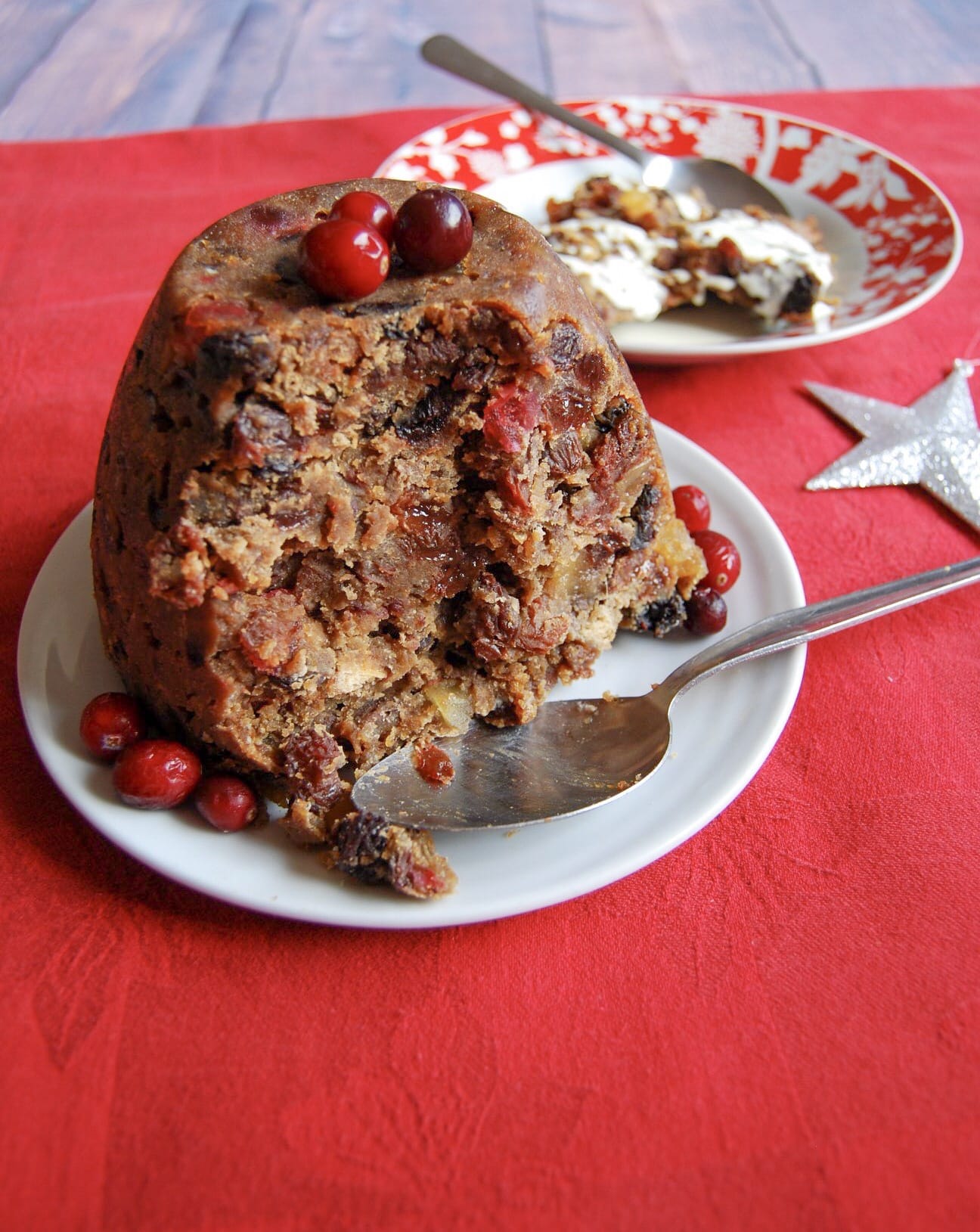 The Christmas pudding in these photographs was cooked in the instant pot on STEAM for 15 minutes, then MANUAL for 35 minutes. For a slightly darker, richer pudding, extend the cooking time to 1 hour.
Read on to find instructions on how to cook your Christmas pudding in the slow cooker, Instant Pot, or using the traditional steaming method!
Looking for more Christmas recipes?
Chocolate Fudge Crinkle Cookies
White chocolate coconut snowball truffles
Orange, almond and ginger bars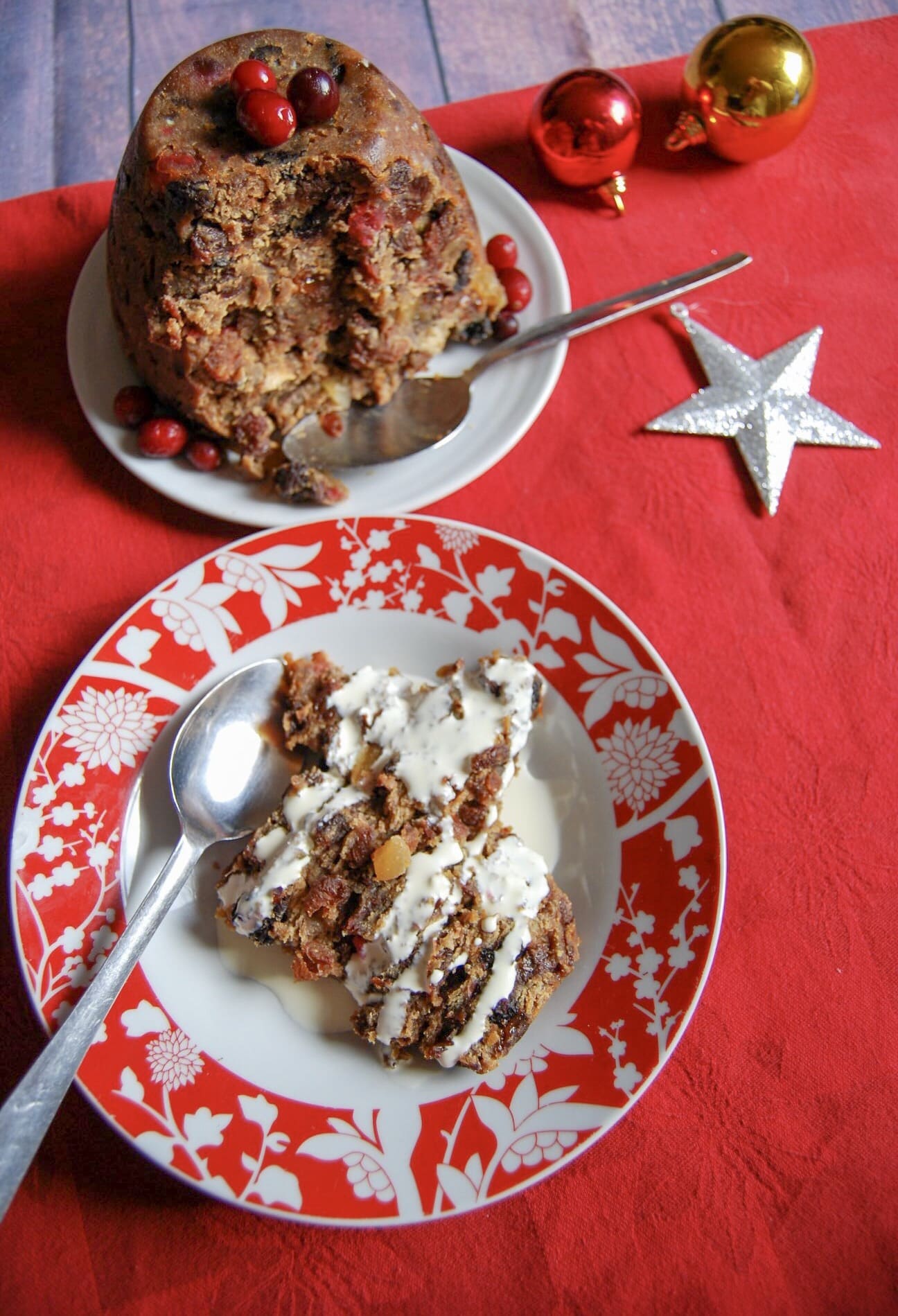 Pin this Christmas pudding recipe for later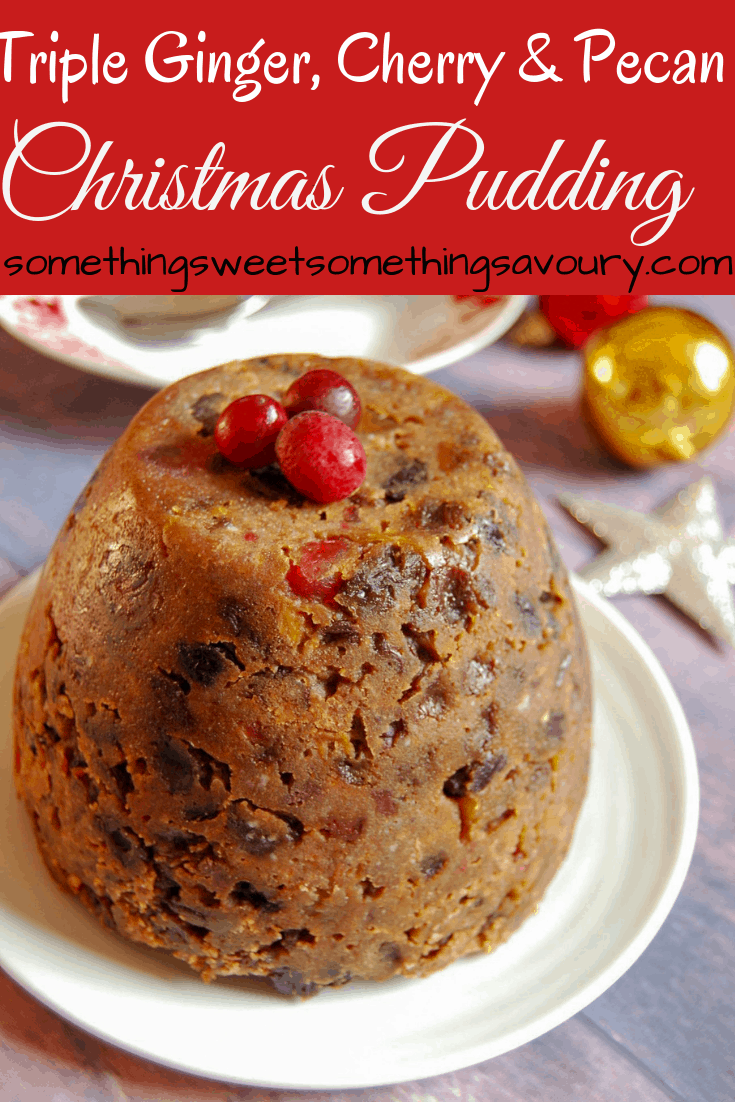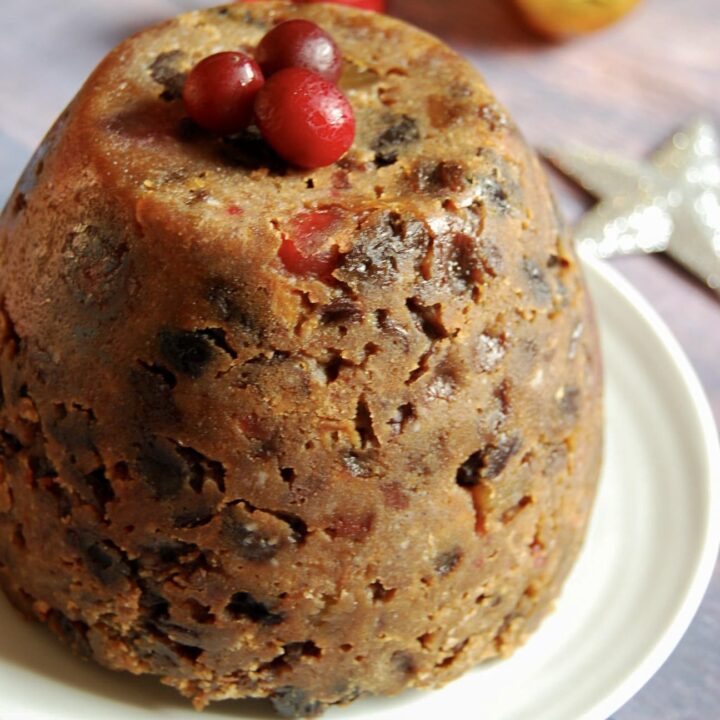 Triple Ginger, Cherry and Pecan Christmas Pudding
Total Time:
4 hours
30 minutes
This triple ginger, cherry and pecan Christmas pudding is a slightly lighter take on the classic version.  Packed full of dried cherries, glace cherries, crunchy pecans, and enough ginger to delight any hardcore ginger fan! 
Ingredients
150g raisins
150g currants or sultanas
100g glace cherries
75g dried cherries
25g crystallised ginger, chopped small (optional)
2 balls stem ginger, chopped plus 2 tbsp of the ginger syrup
4 tablespoons cherry brandy
2 tablespoons ginger wine
2cm piece of fresh ginger, peeled and grated
One dessert apple, peeled cored and grate
2 large eggs
125g soft dark brown sugar
75g pecans
75g shredded suet
75g fresh white breadcrumbs
75g self raising flour
1 teaspoon ground mixed spice
Instructions
SLOW COOKER INSTRUCTIONS
Grease a 1.5 litre pudding bowl. Cut a smal disc of baking parchment and place on the base of the bowl for easier unmoulding later. Preheat your slow cooker according to the manufacturers instructions.
Place the dried fruit in a large bowl and pour over the cherry brandy and ginger wine. Leave to soak for at least two hours or preferably overnight.
Stir in the rest of the ingredients and mix until everything is and spoon into your greased pudding bowl. Smooth the surface. The mixture should be about 1 inch below the rim.
If your pudding basin has a lid, then cover the basin with a piece of baking paper and pop the lid on. If your basin doesn't have a lid you will need to cover the top with a tin foil lid. Now you need to make a tin foil strap if you are like me and don't have any string in the house!
Take two long strips of foil. Fold each piece into thirds lengthwise, and place one piece on top of the other to make a cross.
Place your pudding basin in the centre of the strips. Lift up the straps and lower the basin into the slow cooker. Pop the basin into the slow cooker and carefully pour enough boiling water in to reach halfway up the side of the basin.
Pop the lid on and cook on high for *roughly* 8-12 hours. I say roughly because the cooking time will vary depending on your slow cooker model. I actually left my pudding to cook overnight - it was in the cooker for 15 hours in total. So don't worry about leaving it for a few hours longer, it won't do any harm.
You may need to top up the water a couple of times during the cooking process, so you'll need to check it very occasionally.
INSTANT POT INSTRUCTIONS:
To cook your pudding in the Instant Pot, place a trivet in your instant pot. Line the bottom of the pudding basin with a circle of baking parchment. Spoon the pudding mix in the basin. Cover the basin with a pleated double layer of baking parchment and foil and secure with string.
Pop your pudding basin on the trivet in the Instant Pot. Fill the inner pot with boiling water, until it reaches about half way up the side of the pudding basin. Place the lid on the Instant Pot and lock.
Set the pot to STEAM for 15 minutes with the steam release valve at VENTING. That's right, we aren't sealing the pot at this stage!
When the 15 minutes is up, press CANCEL. Turn the steam release valve to SEALING. Press MANUAL and set to 35 minutes.
Now you want to do a NATURAL PRESSURE RELEASE (NPR) for 10 minutes.
When the 10 minutes is up, open the lid and carefully remove the pudding. Leave to cool completely before wrapping in a fresh layer of double baking parchment and foil. Store in a cool, dark, dry place until needed.
FOR TRADITIONAL STEAMING:
Grease the pudding basin well with butter and place a disc of baking parchment on the base.
Take two long strips of foil. Fold each piece into thirds lengthwise, and place one piece on top of the other to make a cross.
Place your pudding basin in the centre of the strips. Using the "handles", place the basin in a large pan. Pour boiling water from a kettle in the pan so it comes to halfway up the basin. Cover with a lid and steam for 3-4 hours, checking every 30 minutes or so if you need to top up with water.
Notes
To reheat your Pudding on Christmas Day, simply wrap in foil and bake in the oven at 150C for about one hour OR to free up much needed oven space, preheat in the slow cooker on high using exactly the same method as above for 3-5 hours.
Nutrition Information:
Yield:

8
Serving Size:

1
Amount Per Serving:
Calories:

522
Total Fat:

18g
Saturated Fat:

6g
Trans Fat:

0g
Unsaturated Fat:

10g
Cholesterol:

53mg
Sodium:

216mg
Carbohydrates:

83g
Fiber:

5g
Sugar:

56g
Protein:

7g
Calories and nutritional information are provided by a third party application and should be viewed as indicative figures only.