A twist on the American classic, this meringue topped spiced rum pumpkin pie is so good one slice will never be enough!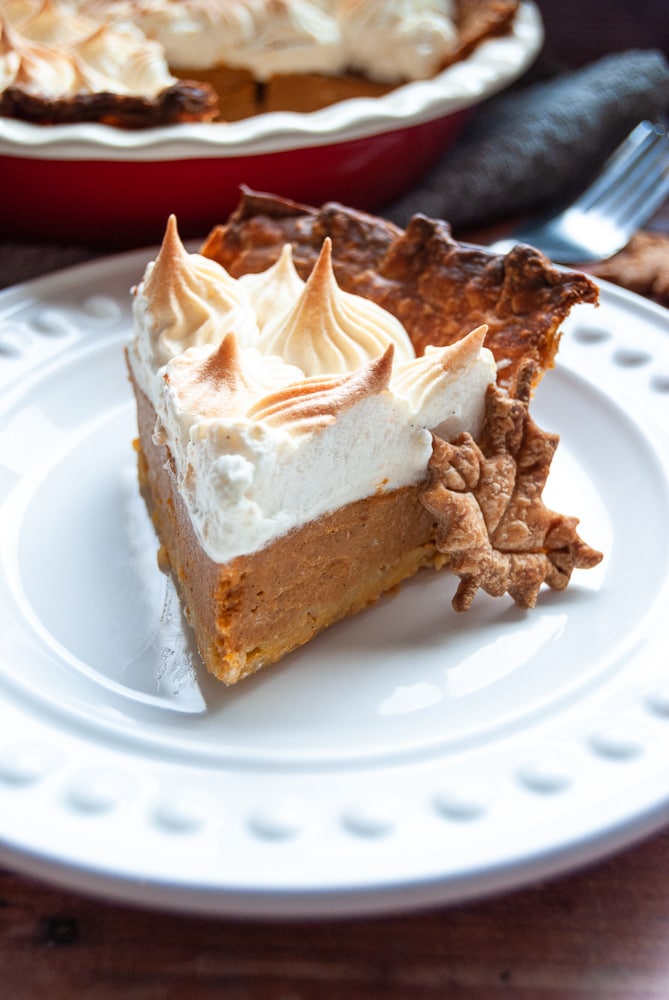 I would really love to experience a traditional American thanksgiving. with all the classic food – roast turkey, sweet potato casserole, green bean casserole and cranberry sauce. I'm hungry just thinking about it!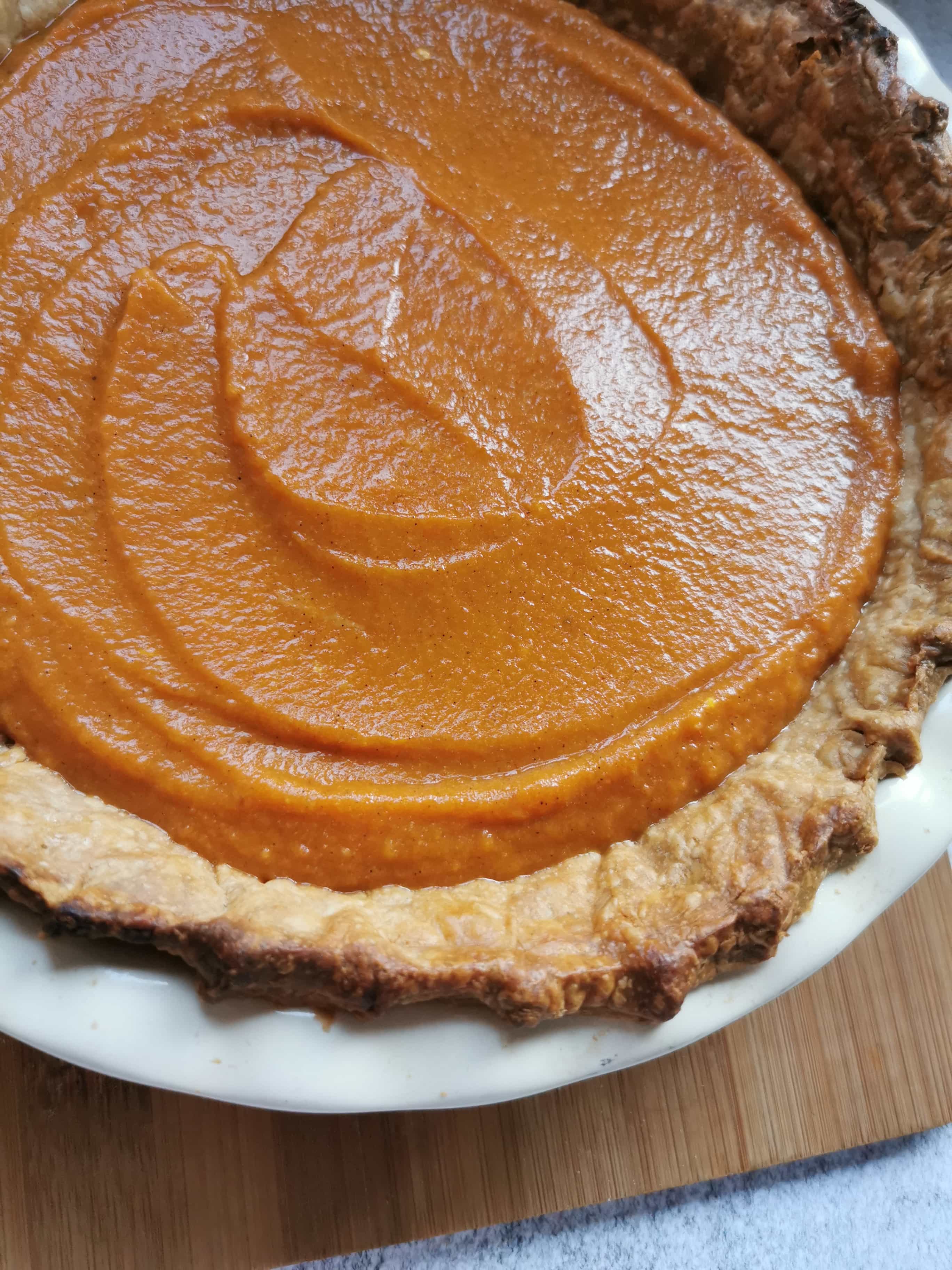 Of course no Thanksgiving celebration would be complete without the classic pumpkin and pecan pies.
It used to be incredibly difficult to find pumpkin purée in the U.K, but it's now available in many large supermarkets up and down the country.
If you can't find tinned pumpkin purée, see my post on how to make pumpkin purée from scratch.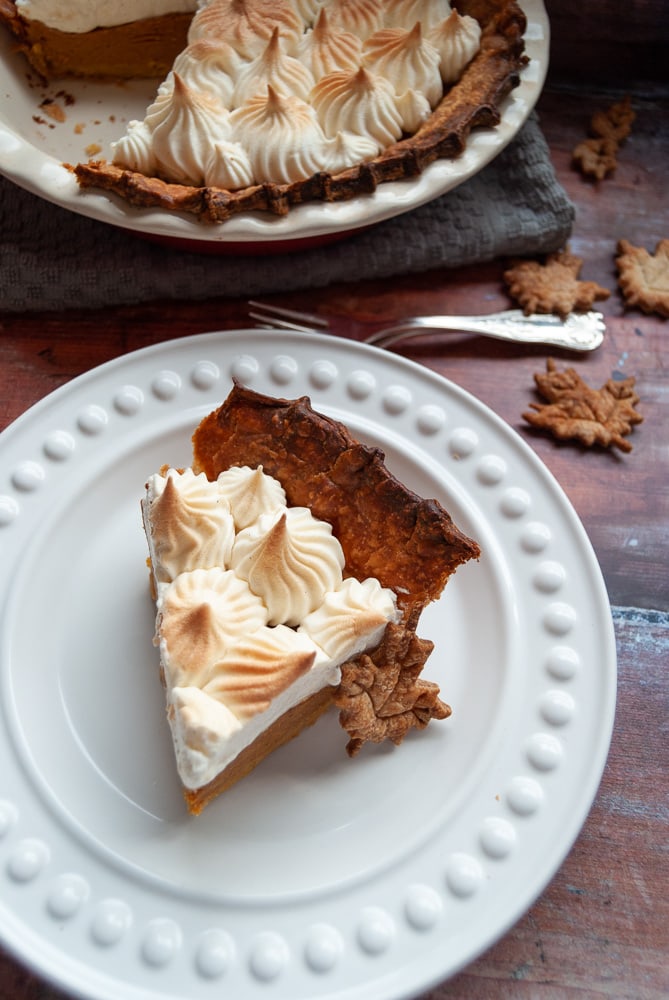 When my local shop was selling it at the bargain price of 50p a tin last year, I bought 10!
I made pumpkin spice granola, pumpkin cinnamon rolls, pumpkin spice latte and these gorgeous pumpkin cranberry muffins with maple glaze, but I still hadn't made a pumpkin pie and I was desperate to try one.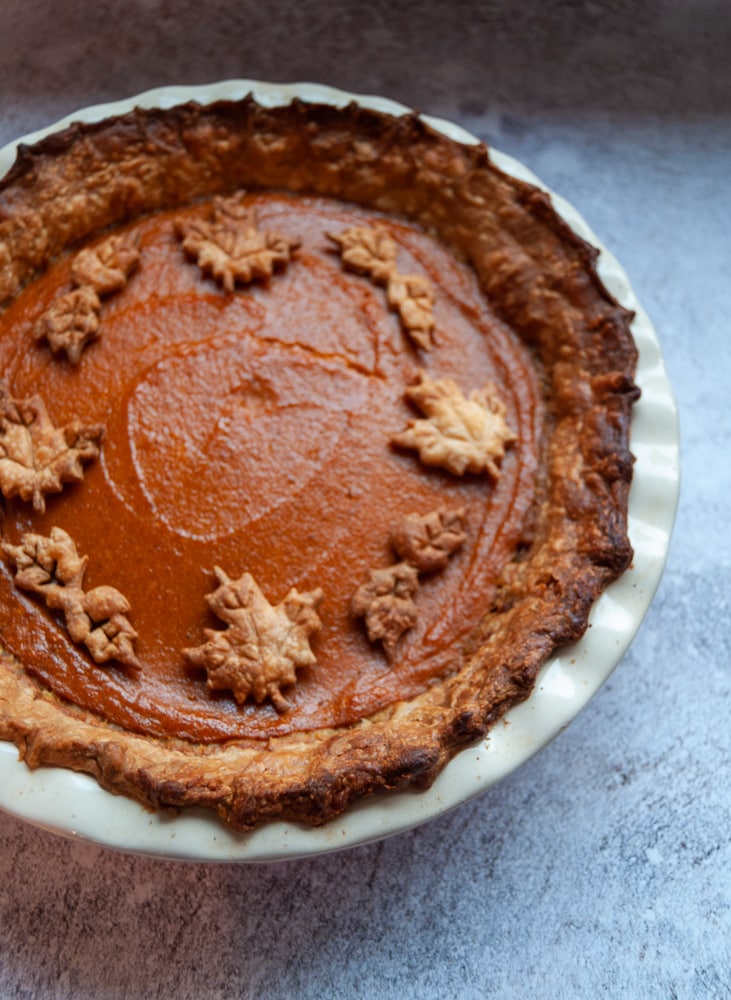 I came across a recipe for sweet potato pie with a swirly marshmallow meringue topping in an American food magazine called Southern Living.
The photograph in the magazine looked so good I couldn't resist trying it, with a few modifications naturally!
I replaced the sweet potato with a tin of pumpkin purée, added a shot of Captain Morgan's spiced rum and for that all essential touch of Autumn spice, ground ginger, nutmeg and cinnamon.
You could also use this homemade pumpkin pie spice instead of individual spices – 2 teaspoons would be enough.
If the marshmallow meringue topping isn't really your thing, (it IS delicious but very sweet!) you could easily not bother with it and serve the pumpkin pie in the classic way.
how to make pumpkin pie 
(Ingredient amounts and detailed instructions are in the recipe card at the bottom of the post)
The first thing you have to do is make your pie dough.  My recipe for foolproof pie crust is ideal for this recipe.  It's tender, flaky and buttery yet holds it shape well – just what you need in a pie crust!
Of course, if you prefer not to make your pie crust from scratch and buy one, then that's absolutely fine. No judgement here!
Once you've made the pie dough and it has rested in the fridge for at least one hour (click on the link above for the recipe and instructions) roll it out on a lightly floured work surface to fit a 9 inch pie plate. 
Remember to roll out a few inches bigger than the diameter of the pie plate to allow for some over hang.  You'll be trimming these extra pieces off later, but it makes your life much easier.  There's nothing more annoying than taking the time to roll out dough only to realise that it's too small for your pie dish!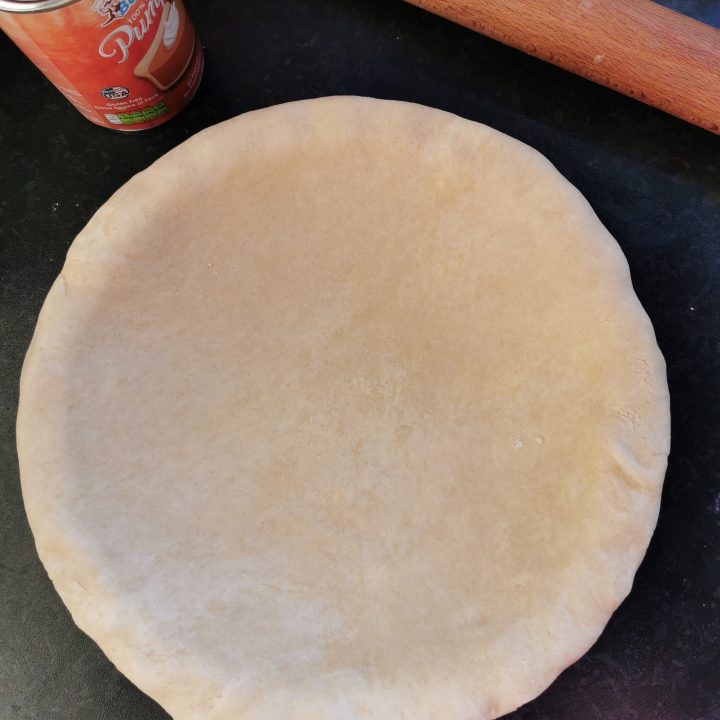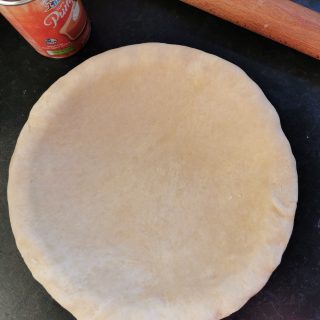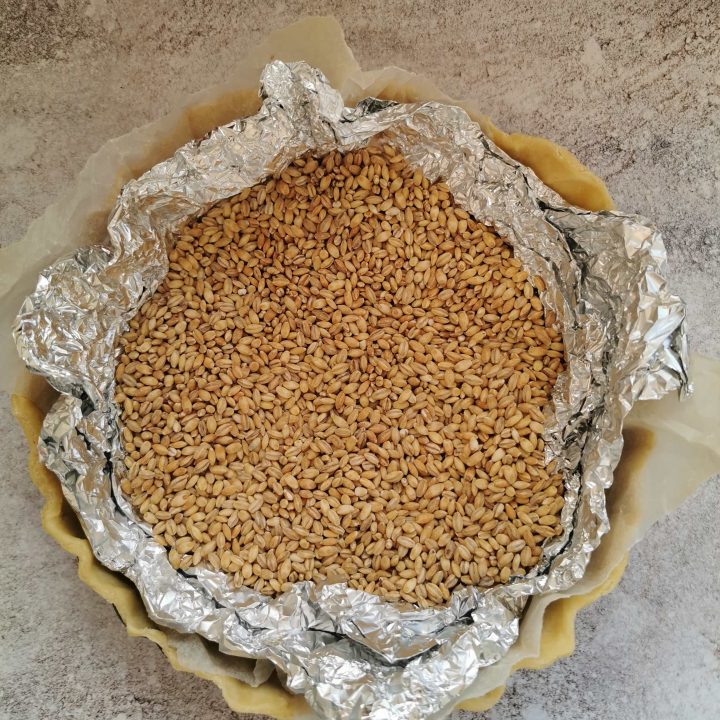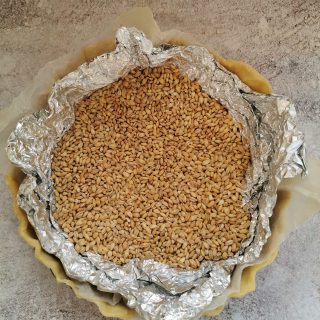 Hopefully you've read the post on how to blind bake the crust and cooled the crust to room temperature.  Now you can make the filling!
Place the pumpkin puree (from a can) in a large mixing bowl. Add cooled melted butter, eggs and egg yolks, brown sugar, salt, spices, vanilla, rum, double cream and milk.
Stir until the mixture is smooth, then pour into the pie shell.  Brush the edges of the pastry crust with egg wash and bake for 50-60 minutes or until the filling has set.  

how to tell if your pumpkin pie is fully baked
It can be tricky to tell if a pumpkin pie is fully baked.  A perfectly baked pie will look slightly puffed up, set around the edges (and possibly starting to go darker) but the pie should still have a slight wobble in the centre. Remember it will continue to set as it cools.
If you really aren't sure if the pie is ready, turn off your oven and leave the pie in for about 30 minutes before removing.
As you can tell from the photos, I forgot to use a pie crust shield so my crust got quite dark around the edges (my new oven is ridiculously hot and it's taking me a while to get to grips with it!)
I like well done pastry so it wasn't a big issue for me, but if you want to avoid this, then wrap a long folded layer of tin foil around the pie crust before you bake the pie. This will protect the crust from burning.
how far in advance can i make pumpkin pie?
A baked Pumpkin pie will keep for 3-4 days in the fridge without the meringue topping.  I wouldn't recommend decorating the pie with the meringue topping until the day you intend to serve it.

The meringue will slowly begin to "weep" in the fridge. Having said that, it still makes for delicious leftovers – no-one has ever complained!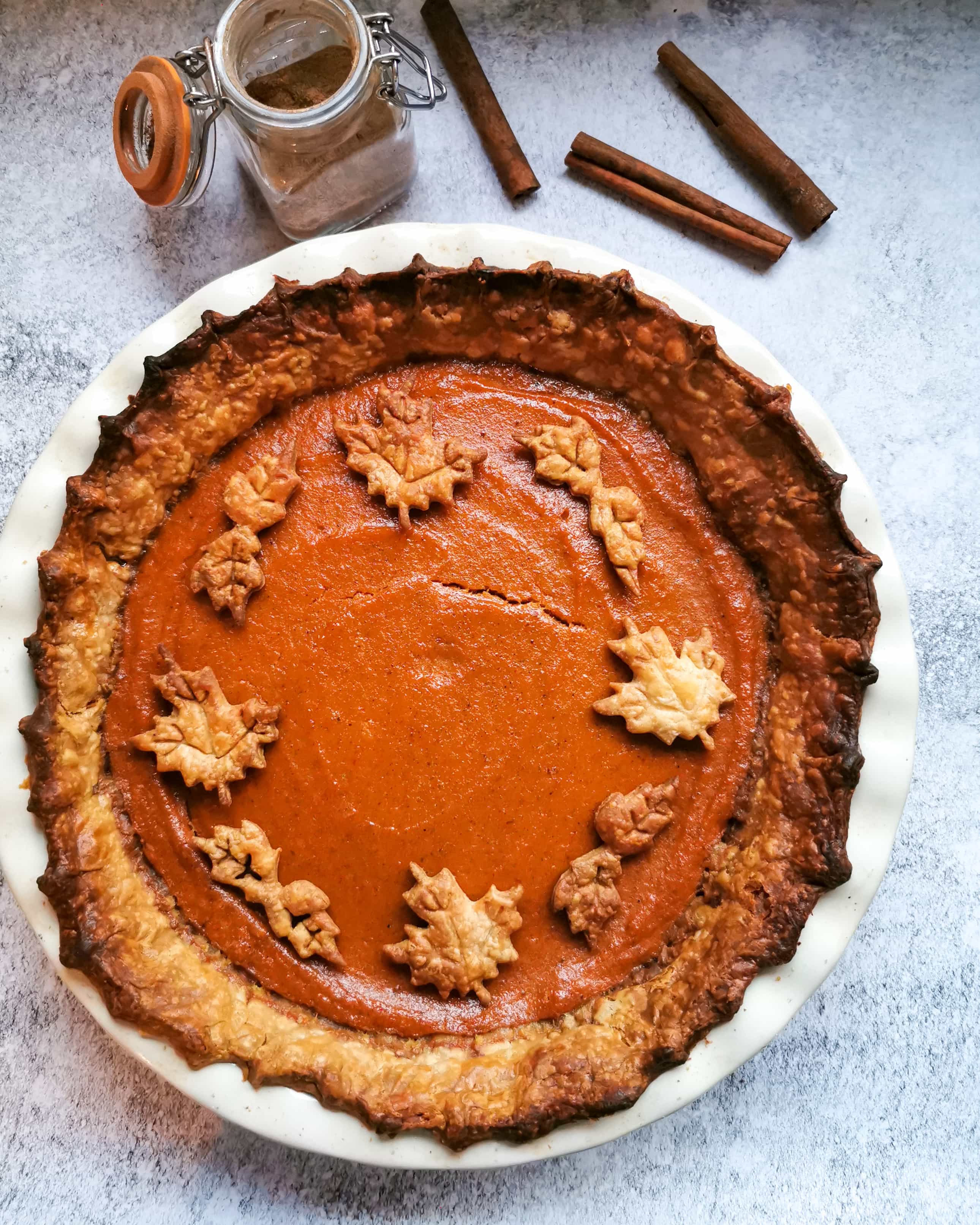 Pin this recipe for later…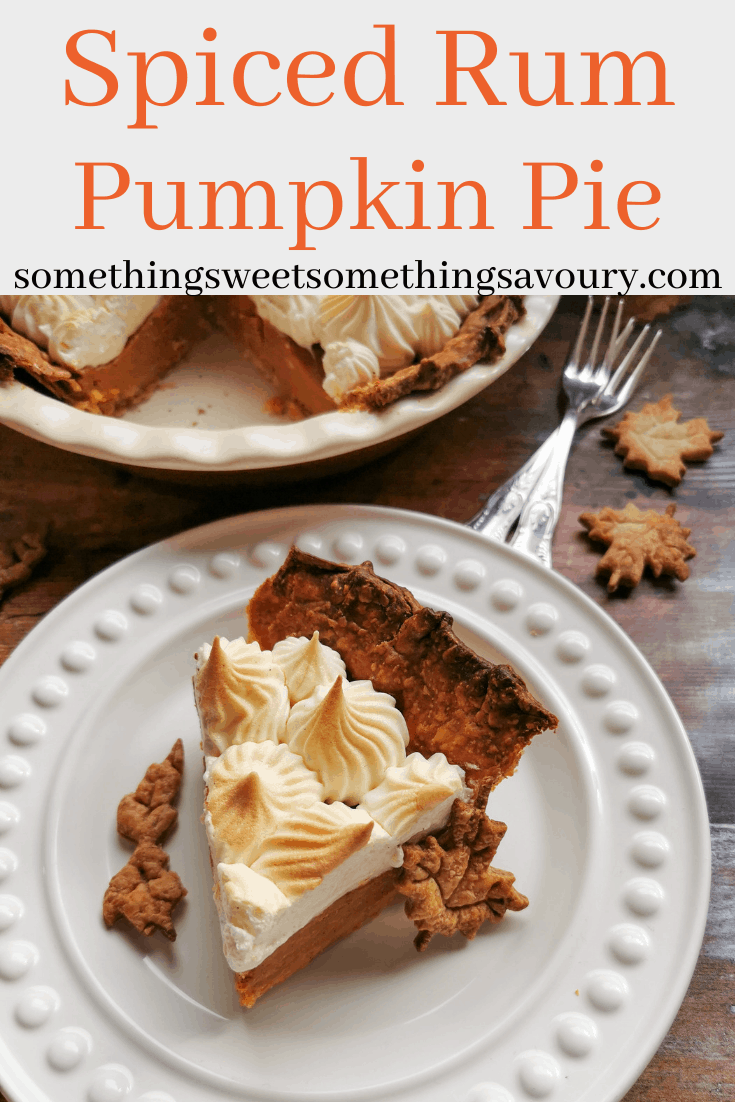 Did you make this recIPE?
Let me know what you thought by leaving a comment below, and if you would rate the recipe by clicking on the stars in the recipe card, I would really appreciate it!
More pumpkin recipes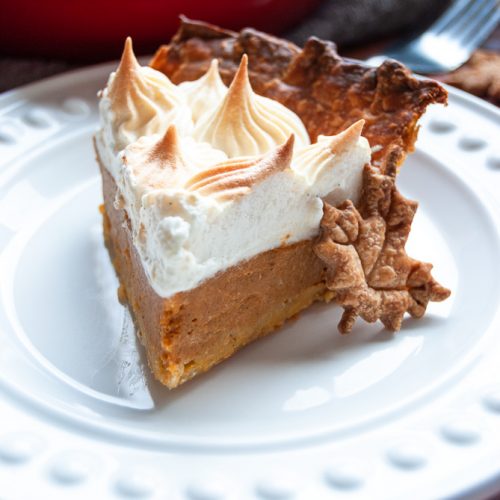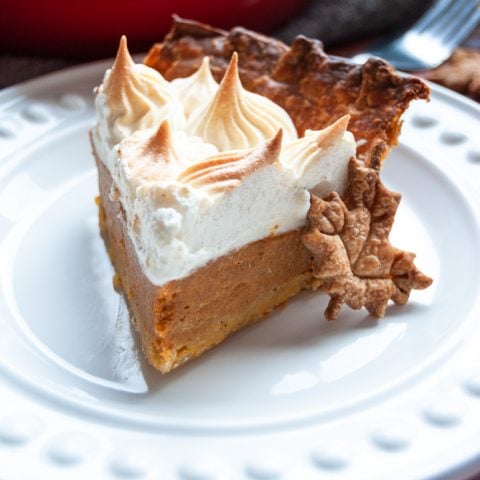 Spiced Rum Pumpkin Pie
A twist on the classic American Thanksgiving pie, this marshmallow meringue topped spiced rum pumpkin pie is so good one slice won't be enough! It's the perfect celebratory dessert for Thanksgiving or Christmas.
Ingredients
FOR THE PIE CRUST:
FOR THE FILLING:
1 400G Tin pumpkin puree
2 tablespoons butter, melted
3 Large eggs
2 Large egg yolks
110g caster sugar
2 tablespons spiced rum
2 teaspons vanilla extract
1/4 teaspoon fine salt
1/2 teaspoon ground ginger
1/4 teaspoon Ground Nutmeg
1 1/2 teaspoons ground cinnamon
1/4 teaspoon ground cloves
200ml double (heavy) cream
60ml Milk
1 beaten egg for egg wash
FOR THE MARSHMALLOW MERINGUE TOPPING:
3 large egg whites
1/2 teaspoon cream of tartar
110 g plus 2 tablespoons caster sugar
150 g golden ( or corn) syrup
80ml water
2 teaspoons vanilla extract
Instructions
Make and blind bake the all butter pie crust according to my step by step instructions. When you're ready to make the pie, preheat the oven to 180C/160Fan/350F.
FOR THE FILLING:
In a large bowl, stir together the pumpkin puree and melted butter until combined.
In a medium bowl, whisk together the eggs, egg yolks, sugar, spiced rum, vanilla extract, salt, ground cinnamon, ground ginger, nutmeg, cloves, double cream and milk.
Add the spiced cream mixture to the pumpkin puree and melted butter and whisk until smooth, well combined and lump free. Pour the filling into the pie crust. Brush the edges of the pie crust with egg wash.
Carefully place the pie in the oven on the preheated baking sheet. Bake for about 40-45 minutes, covering with foil halfway through if the crust is getting too brown. The pie should be set all the way through, but still have a slight wobble in the centre.
FOR THE MARSHMALLOW MERINGUE:
In the bowl of a stand mixer or using a hand mixer, beat the egg whites and cream of tartar on a medium high speed until foamy. Gradually add the 2 tablespoons of sugar, one tablespoon at a time, and continue to whisk until soft peaks form.
In a small saucepan, bring the golden syrup, 80ml water, the remaining sugar to a boil over a medium high heat. Cook until a sugar thermometer registers 120C.
Reduce the mixer to medium and carefully and slowly pour in the hot sugar syrup. When all the syrup has been added, increase the mixer speed to high and beat until stiff peaks form. Add the vanilla extract and beat until combined.
Spread the marshmallow meringue over the pie. Using a blowtorch, lightly scorch the top of the pie. Alternatively, you can brown the top under a hot grill for a minute - just don't take your eyes off it for a second!
Notes
Pumpkin Pie will keep well in the fridge for 3-4 days without the meringue topping. Cover well with foil or place in an airtight box.
I don't recommend adding the meringue until the day you intend to serve the pie.
Nutrition Information:
Yield:

10
Serving Size:

1
Amount Per Serving:
Calories:

216
Total Fat:

9g
Saturated Fat:

4g
Trans Fat:

0g
Unsaturated Fat:

4g
Cholesterol:

158mg
Sodium:

178mg
Carbohydrates:

22g
Fiber:

2g
Sugar:

18g
Protein:

7g
Calories and nutritional information are provided by a third party application and should be viewed as indicative figures only.