Love a pumpkin spice latte but not so crazy about the price?
Keep your money in your pocket and make this easy homemade pumpkin spice latte instead!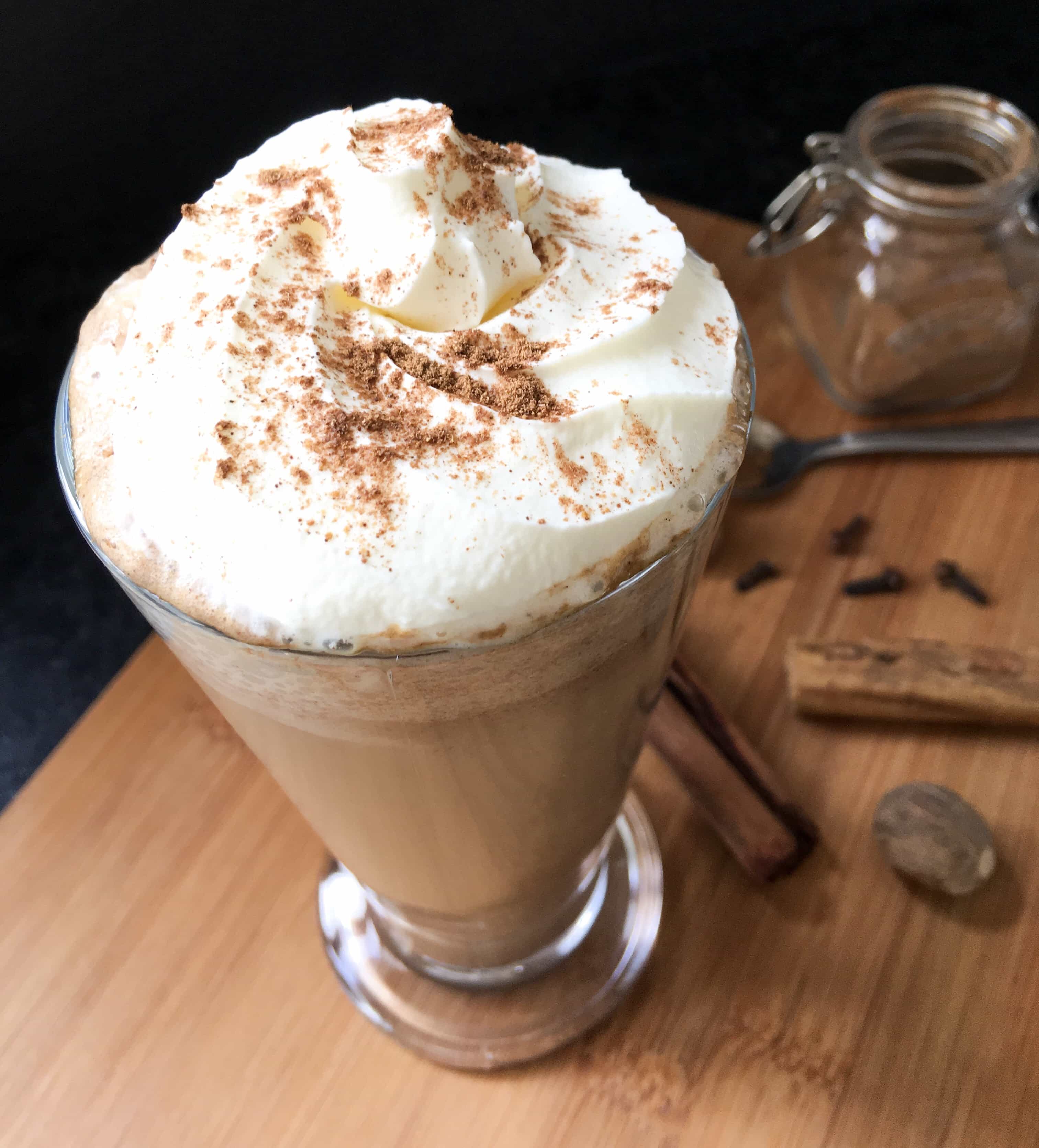 Pumpkin spice latte season is here and I could not be more happy about it!
I've long been a fan of the warming, spicy gingerbread latte, but I didn't actually try the pumpkin spice latte when it was first released in the U.K.
I honestly wasn't sure if I would like it very much, but after a friend recommended it to me I decided to give it a go. I'm not sure why I was so sceptical about it – after all cinnamon, nutmeg and ginger are some of my favourite spices.
Naturally, I was hooked after the first sip. Nowadays I can't walk past a Starbucks during the months of September/October without going in and treating myself to a grande pumpkin spice and a ginger muffin.
I've been thinking about coming up with a homemade version for a couple of years now and after a few experiments, this is what I've come up with.
You might ask, does the blogging world need another pumpkin spice latte recipe? The answer is probably not, but I'm going there anyway. It's too good not to share.
I'm sure if you put a Starbucks pumpkin spice latte and my version together you would probably be able to tell there's a slight difference, but it's pretty darn close. Plus think of the money you'll save! Making your own is so much cheaper.
My version is also less syrupy sweet than the coffee house versions, because you control how much sugar ends up in the drink. Bonus, right?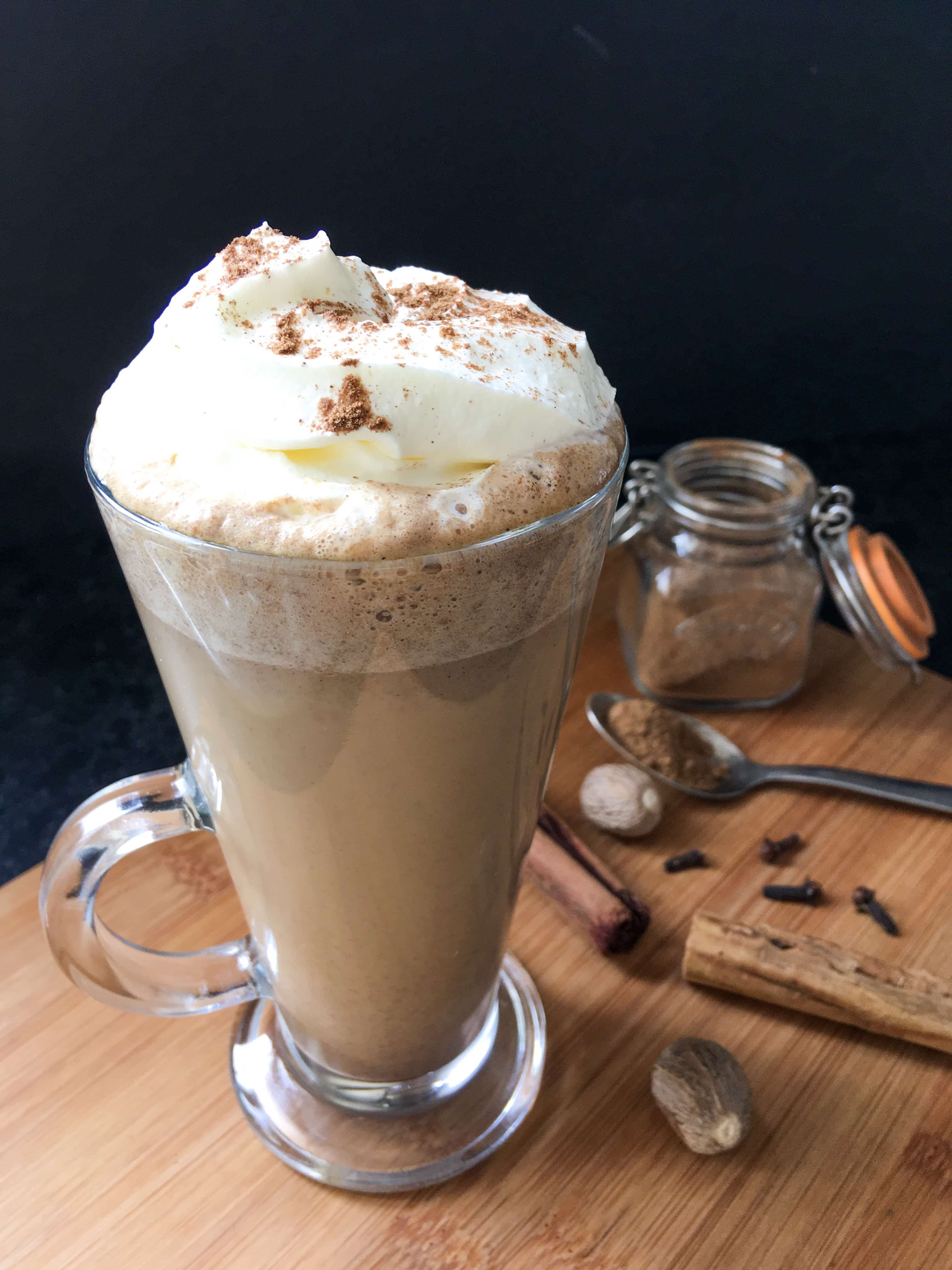 It's warming, slightly spicy and has that familiar, comforting taste.
My recipe also contains pumpkin pie spice and pumpkin puree – although I've been told that this year for the first time, the Starbucks version also has real pumpkin in their recipe, not just pumpkin flavouring.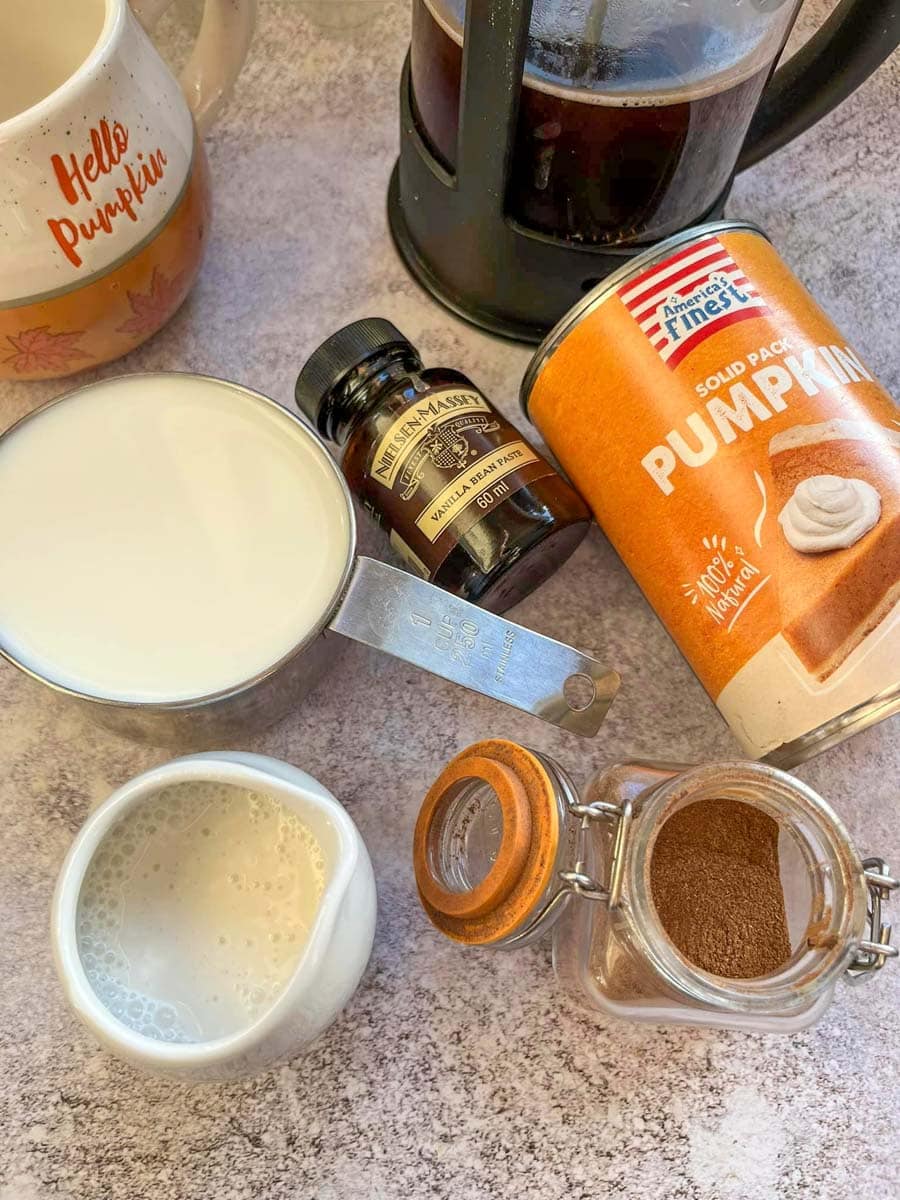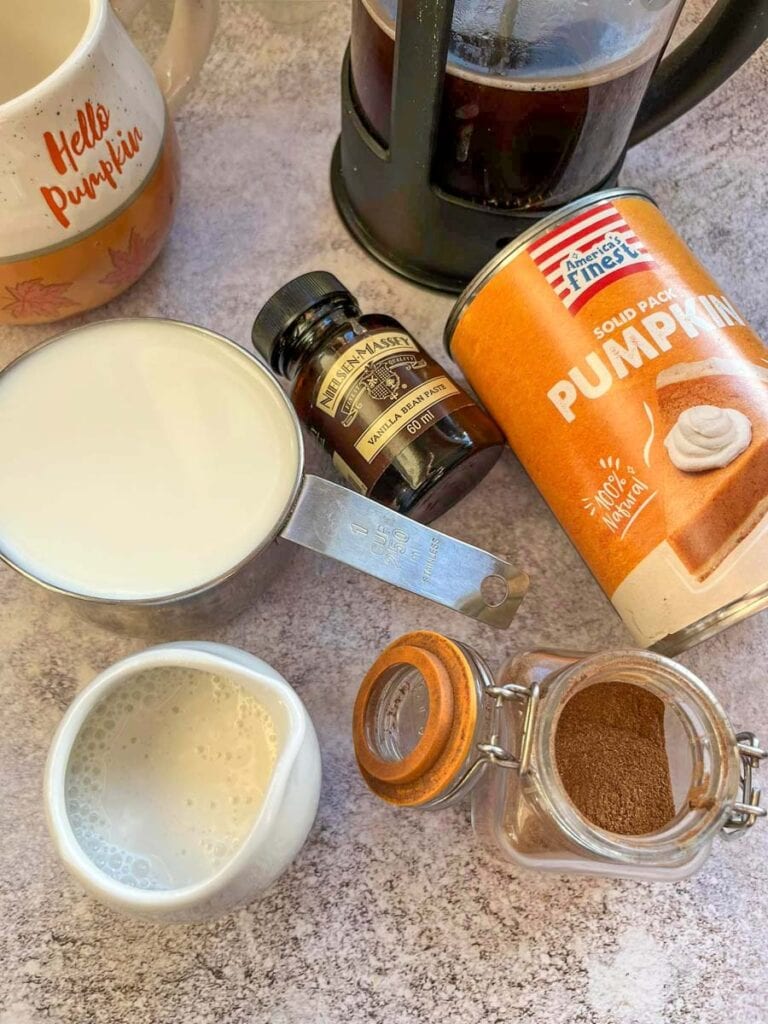 ingredients you'll need to make a homemade pumpkin spice latte
(Ingredient amounts and detailed instructions are in the recipe card at the bottom of the post)
Coffee.  Obviously! Use whever type of coffee you prefer.  I have to admit I'm a little bit of a coffee snob – I like the good stuff! I prefer to use freshly brewed rather than instant, but I also use instant espresso powder.
Milk of your choice. You can use dairy milk or non dairy such as oat, almond or coconut milk.
*I'm not advising you to go to the trouble of roasting and pureeing a whole pumpkin just for a latte, but if you are keen on also trying some Autumnal baking that uses pumpkin purée, it's definitely worth doing so.*
Pumpkin Spice – I make my own because pumpkin pie spice costs a fortune in the UK.
Vanilla Extract or vanilla bean paste.  This is an essential ingredient for giving it that "coffee house" flavour.
Sugar to sweeten your drink. You can use brown or white sugar. If you really want to treat yourself, Maple syrup is also very good!
Whipped Cream for the topping (Optional, but it's a must for me) 
HOW TO MAKE A HOMEMADE PUMPKIN SPICE LATTE for one
Place 125ml (1/2 Cup) of freshly brewed hot coffee in a large mug. 

Place the milk, Pumpkin Puree, Pumpkin Spice, Sugar and Vanilla Extract in a small pan.  Stir over a low to medium heat until the milk is almost boiling.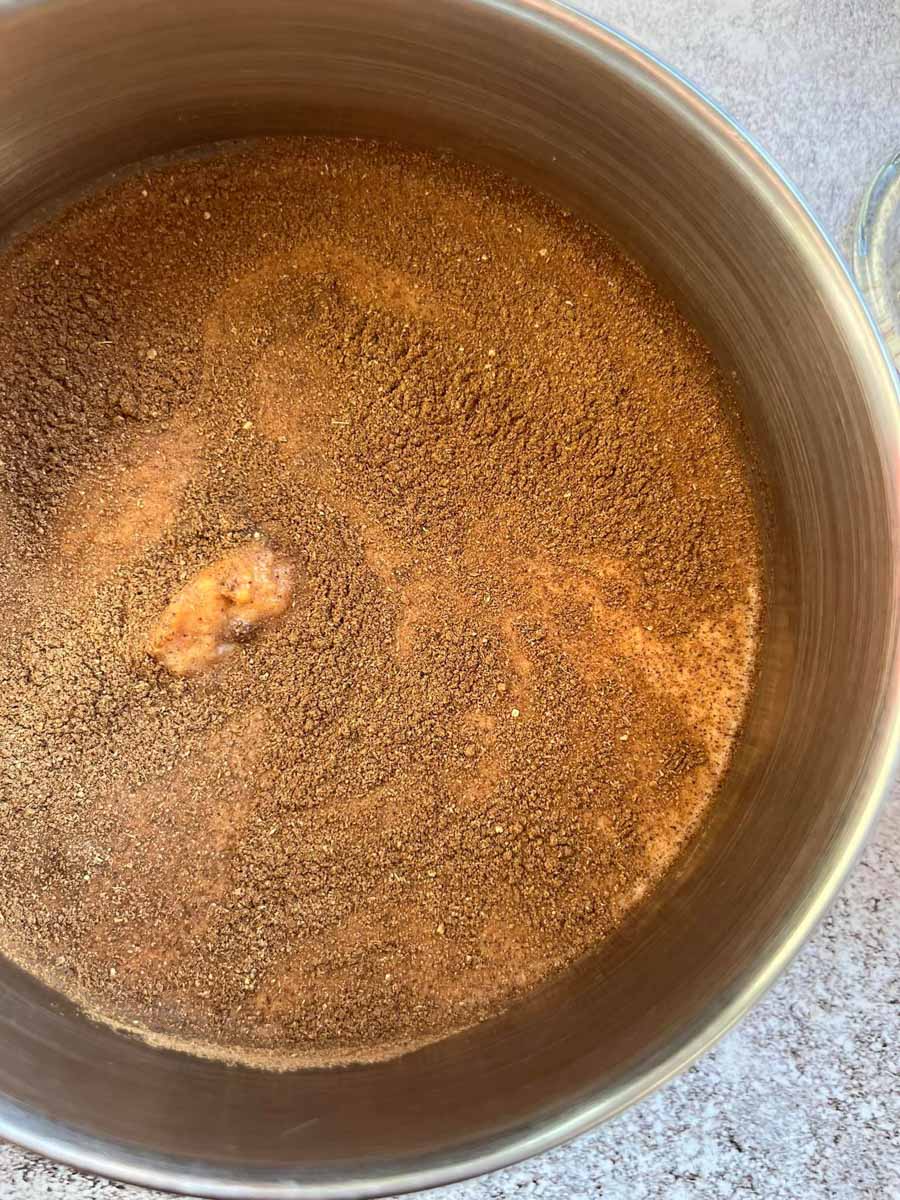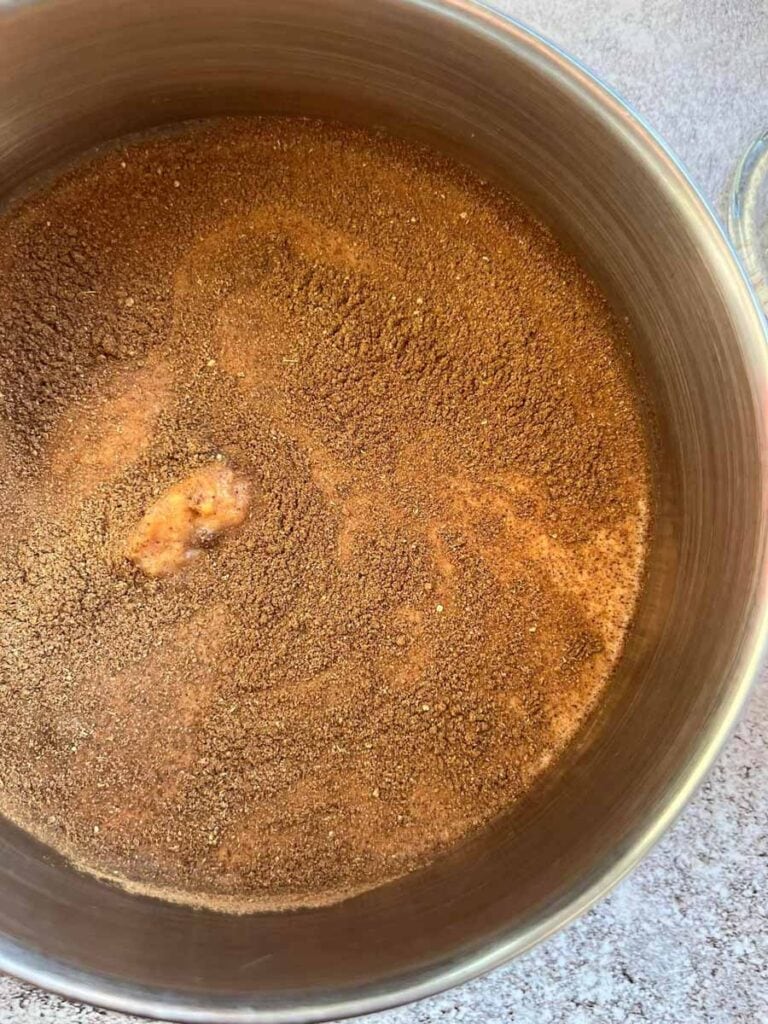 Pour the frothy pumpkin milk over the coffee.  Top with whipped cream if desired and sprinkle over some ground cinnamon or nutmeg.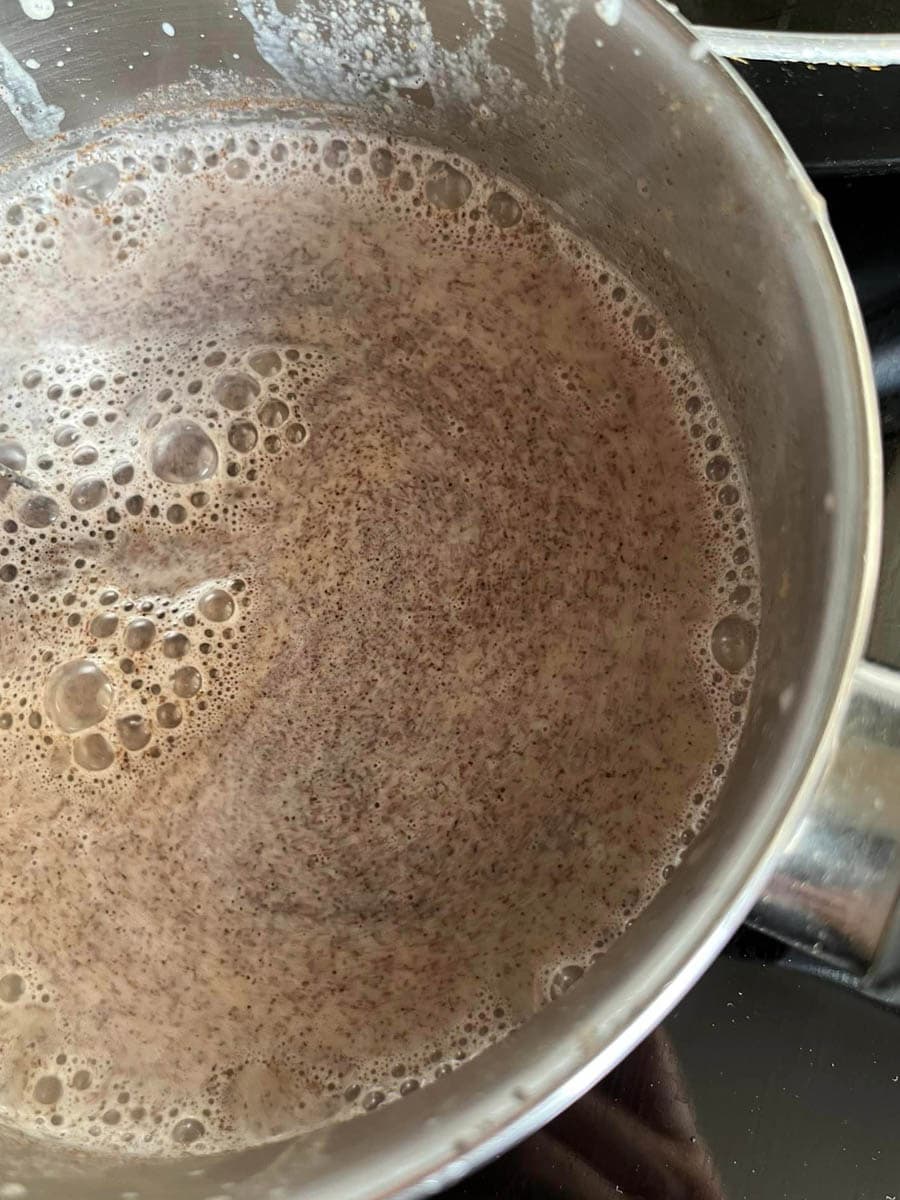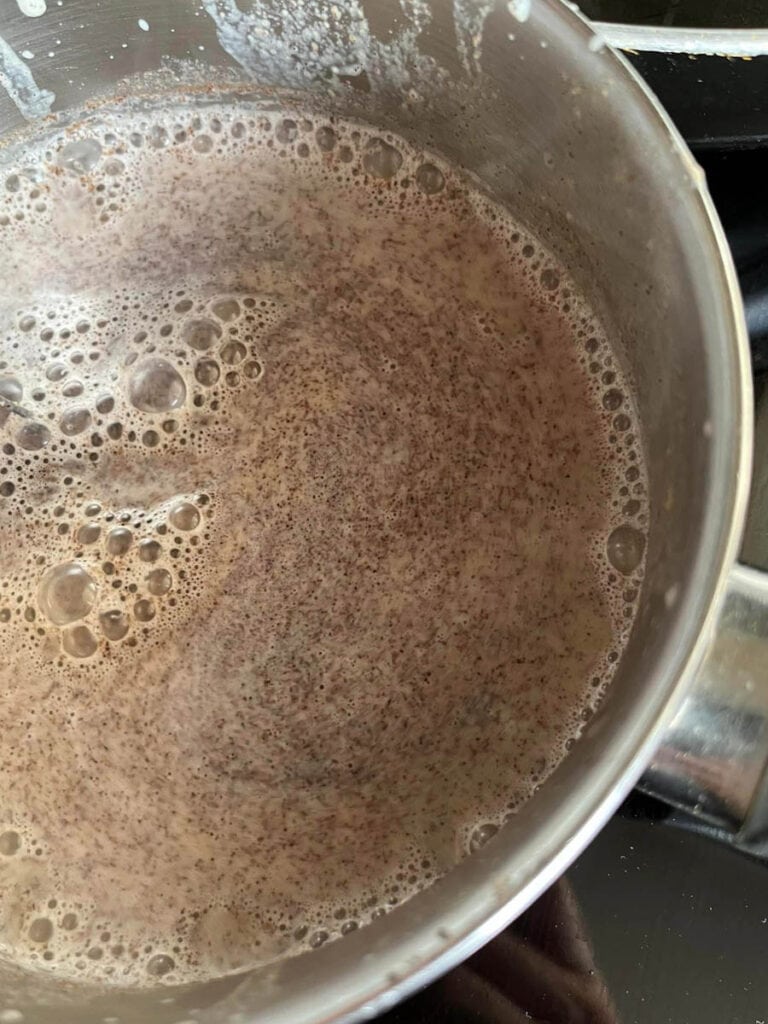 Curl up on the sofa with your pumpkin latte.  Enjoy!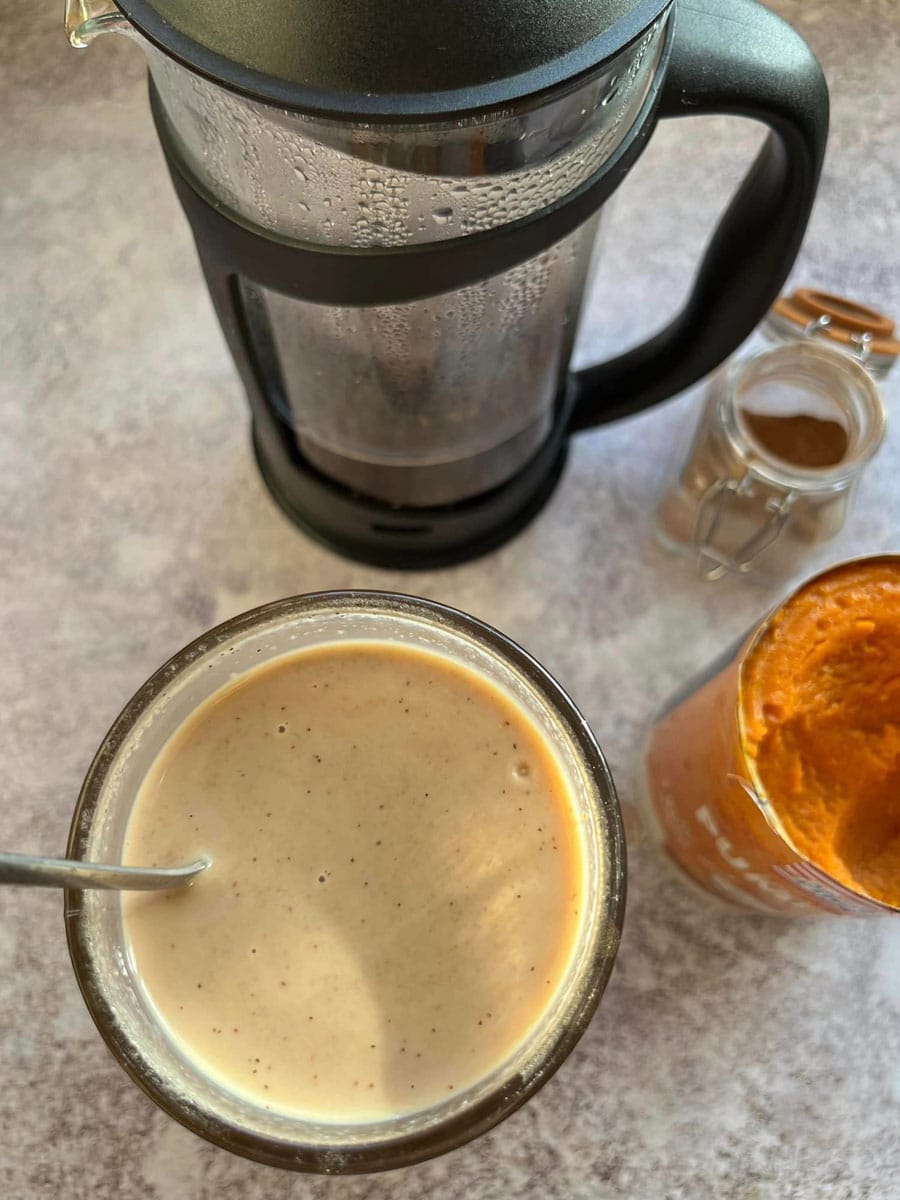 tips for making a homemade pumpkin spice latte
I use my stick blender to froth the milk up, but if you have a milk frother you can use that instead.
I've made the recipe without frothing the milk up, but I don't recommend skipping this step – it may seem like a bit of a pain, but this is what gives the latte that frothy coffeehouse style foamy top.
What kind of coffee should I use?
The quality of the coffee you use is pretty important. I recommend either freshly ground coffee or instant espresso.
If I don't have freshly ground coffee to hand or don't want to make any, I use Nescafé Azera espresso powder – I like my coffee to pack a fairly strong punch, so I use 1/2 tablespoon espresso powder-125ml water.
Pin this pumpkin spice latte for later!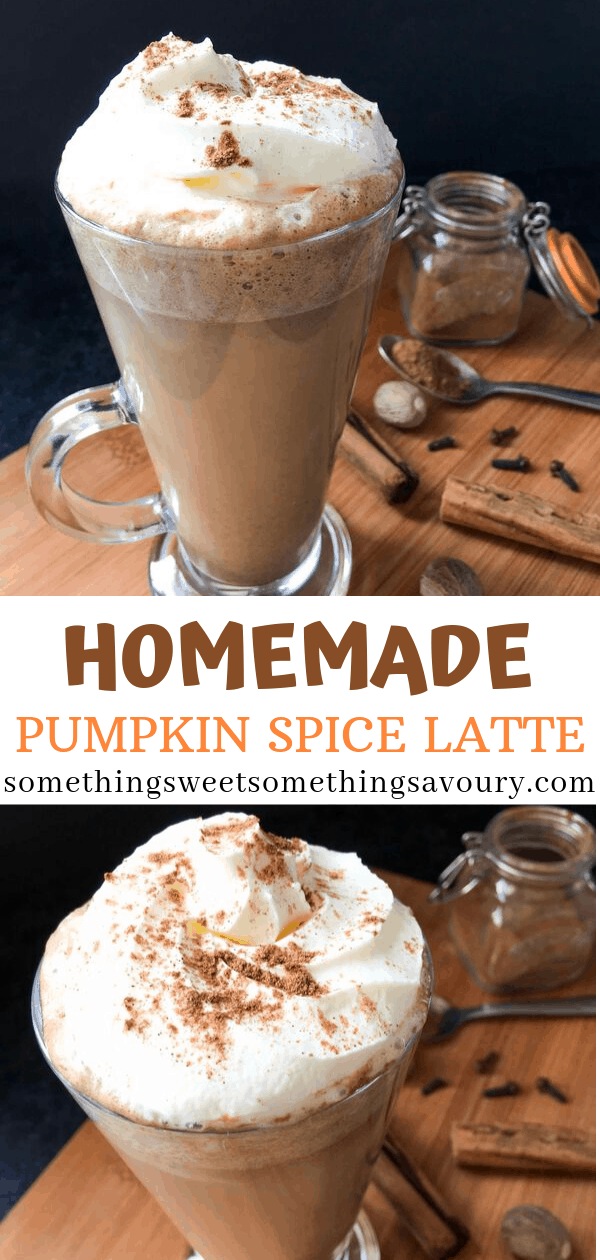 WANT TO SEE MORE RECIPES USING PUMPKIN?
DId you make this recipe?
Let me know what you thought of the recipe by leaving a comment below and rate the recipe out of 5 by clicking on the stars in the recipe card.  Thanks!
Did you take a photo of your latte? I would love to see! Tag me on Instagram #sweetsavouryblog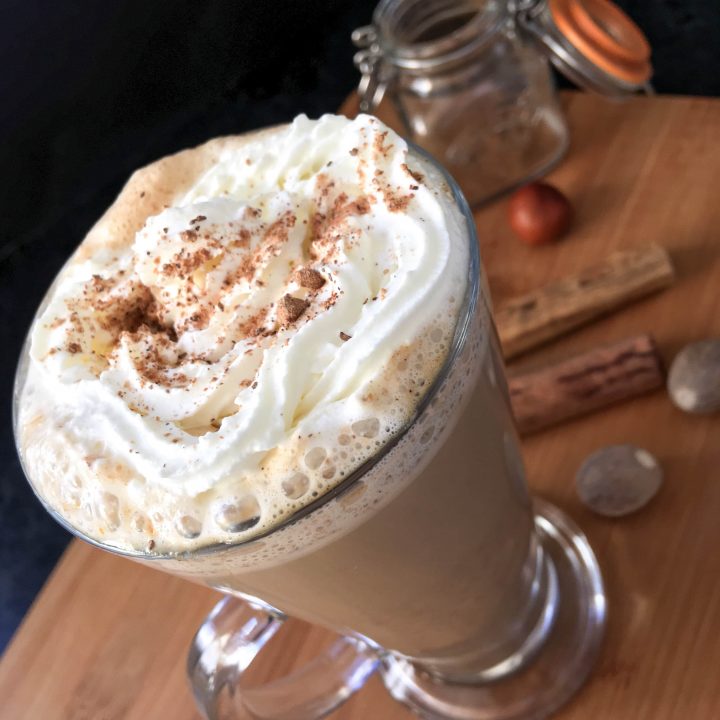 Homemade pumpkin spice latte
You don't need to visit Starbucks everyday to get your pumpkin spice fix - you can save yourself a small fortune by making this homemade version of the popular Autumn drink!
Ingredients
240 ml (1 cup) milk
1 tbsp pumpkin purée
1 tbsp sugar, Or to taste
1 1/2 tsp pumpkin pie spice
1 tsp vanilla extract
120 ml (1/2 cup) strong freshly brewed coffee or espresso
Whipped cream/more pumpkin spice for the topping, optional
Instructions
Place 120ml (1/2 cup) of hot, freshly brewed strong coffee in a large mug/latte glass.
Place the milk, pumpkin puree, sugar, pumpkin spice and vanila in a small saucepan. Using a whisk, whisk over a low to medium heat until the ingredients are well incorporated.
Remove from the heat and using a stick blender, whizz for 30 seconds. If you have a milk frother use that instead! Place back on the hob and heat until the milk is steaming.
Remove from the heat and pour over the coffee. Stir and taste to see if you want to add more sugar.
Top with freshly whipped cream and finish off with a sprinkling of pumpkin spice or nutmeg. Enjoy!
Notes
Make it vegan! Use any non dairy milk - soy or almond would be ideal.
Nutrition Information:
Yield:

1
Serving Size:

1
Amount Per Serving:
Calories:

382
Total Fat:

8g
Saturated Fat:

2g
Trans Fat:

0g
Unsaturated Fat:

5g
Cholesterol:

5mg
Sodium:

577mg
Carbohydrates:

19g
Fiber:

1g
Sugar:

14g
Protein:

35g
Calories and nutritional information are provided by a third party application and should be viewed as indicative figures only.