These salted caramel apple cinnamon scones are the perfect Autumnal bake – soft and fluffy American style scones with caramelised apple pieces and drizzled with an addictive salted caramel glaze!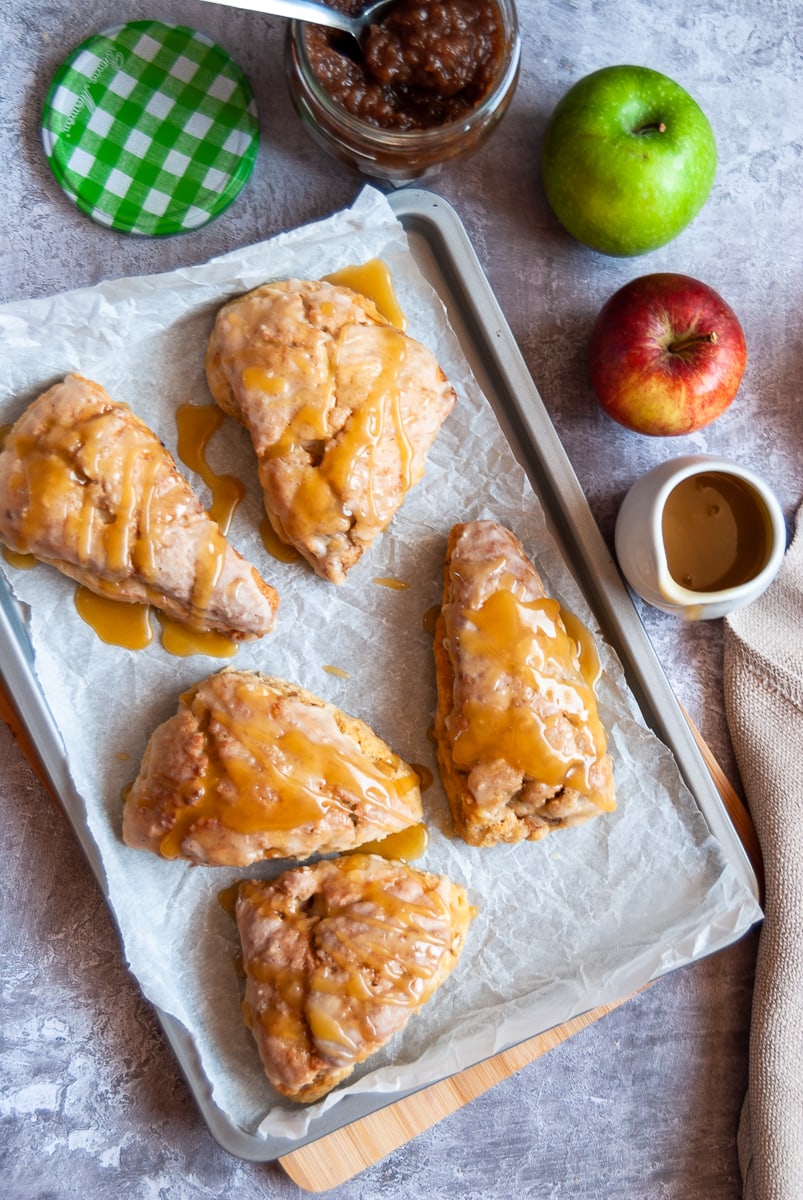 Is there anything more homely and comforting than a pile of freshly baked scones? I don't think there is…apart from maybe these delicious pumpkin cinnamon rolls!
A pot of strong tea, a plate of fresh scones still slightly warm from the oven, real butter to spread on them, a pile of the latest food magazines or a good book on a rainy afternoon is my idea of absolute bliss. Yes, I'm easily pleased!
But I've also recently discovered the utter joy of drizzling salted caramel sauce over warm apple and cinnamon scones. It's absolutely perfect.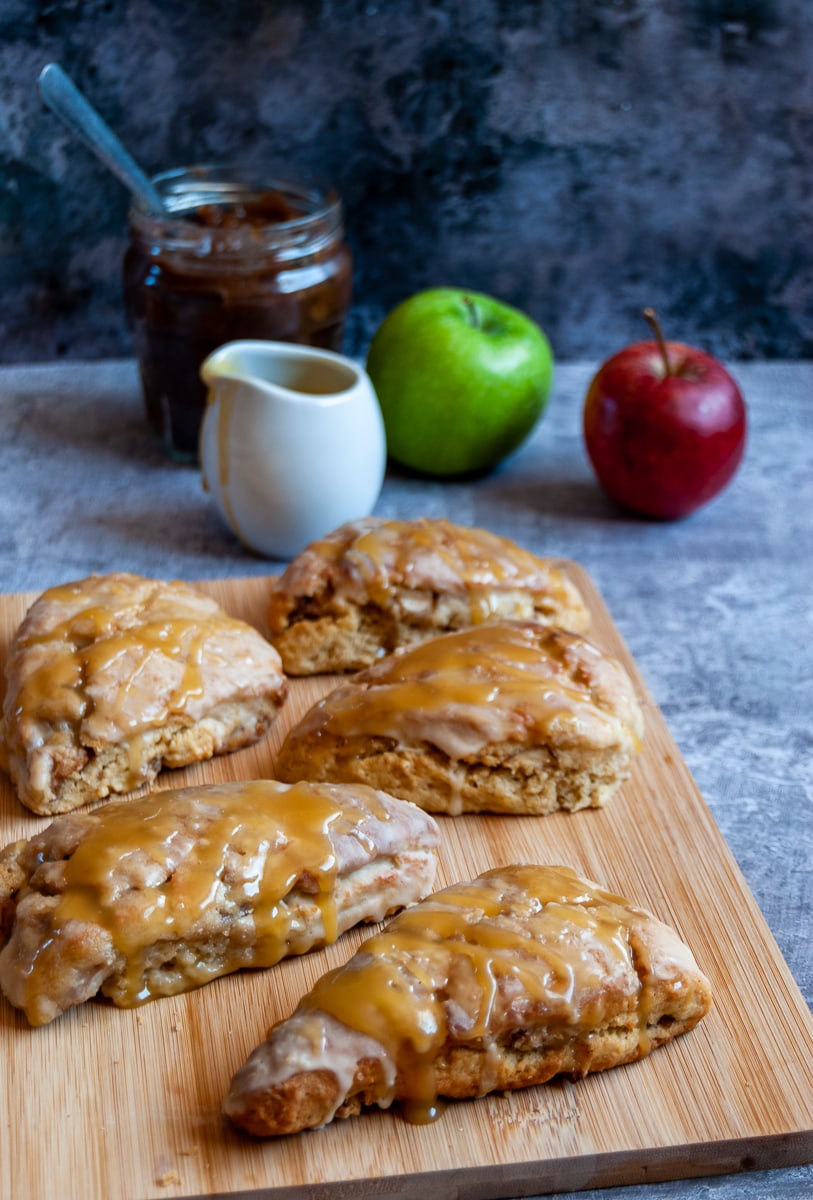 If you aren't a salted caramel fan, you can just use regular caramel sauce for the glaze. It will be just as delicious.
This recipe is just perfect for all using up those amazing apples in season right now….you know those times when you're craving something sweet but don't want to go to the effort of making a cake, waiting maybe around an hour for it to bake, then having to wait a few hours for it to cool down?
These scones will be ready to eat in around 40 minutes.
While you're waiting for the scones to bake you could always make yourself a homemade pumpkin spice latte! Trust me, if you've ever had one from a certain world wide famous coffee house and found them tooth-achingly sweet, then you HAVE to give my recipe a try.
But back to these scones! These scones are slightly different to the normal British scones. They are made in exactly the same way, but instead of the usual milk or buttermilk, we are using DOUBLE CREAM.
Yes they are rich, but they are also incredibly tender and fluffy due to the high fat content. Not something we should eat every day obviously, but for a special treat they are pretty perfect.
The scones are filled with chunks of caramelised apple pieces and drizzled liberally with a sticky salted caramel glaze….IT'S JUST SO GOOD.
the salted caramel sauce
You could use a jar of salted caramel sauce or make your own – I use this recipe.
The sauce isn't essential – you could serve the scones plain with butter or my Instant Pot apple butter would be particularly nice, but I highly recommend you try them with the caramel sauce at least once – it really is the perfect pairing!
What kind of apples should i use for these scones?
Any kind of eating apples are perfect. The only apples I would not recommend are cooking apples such as Bramley apples. I used Pink Ladies, but Braeburns, Cox's, Gala, Golden Delicious or Granny Smith's would also work great.
Baking tips for scone success:
Use very cold butter. The chilled butter pieces will melt as the scones bake, creating little air pockets of steam, which results in a better rise and tender, flaky scones.
Make sure the caramelised apples have cooled down before you add them to the dough – a little warm to the touch is fine, but you don't want them piping hot.
Treat the dough with care – A light touch will give you light fluffy scones! Don't knead the dough or you will end up with tough, chewy scones.
Instead of using a rolling pin to roll out the dough, I pat the dough into a round using my hands. Don't make the round too thin – a thickness of about 1 inch is perfect.
Think light, happy thoughts when scone making – now is not the time to take any frustrations of the day out on the dough – save that for bread making.
If you would prefer to make individual scones instead of triangles, pat the dough into a circle about 1 inch thick and using a 2 inch cutter, cut out the scones, trying not to twist the cutter as you push down or your scones will turn out squint!
Brush lightly with 1 tablespoon cream, sprinkle with demerara sugar and bake for 10-12 minutes or until risen and golden.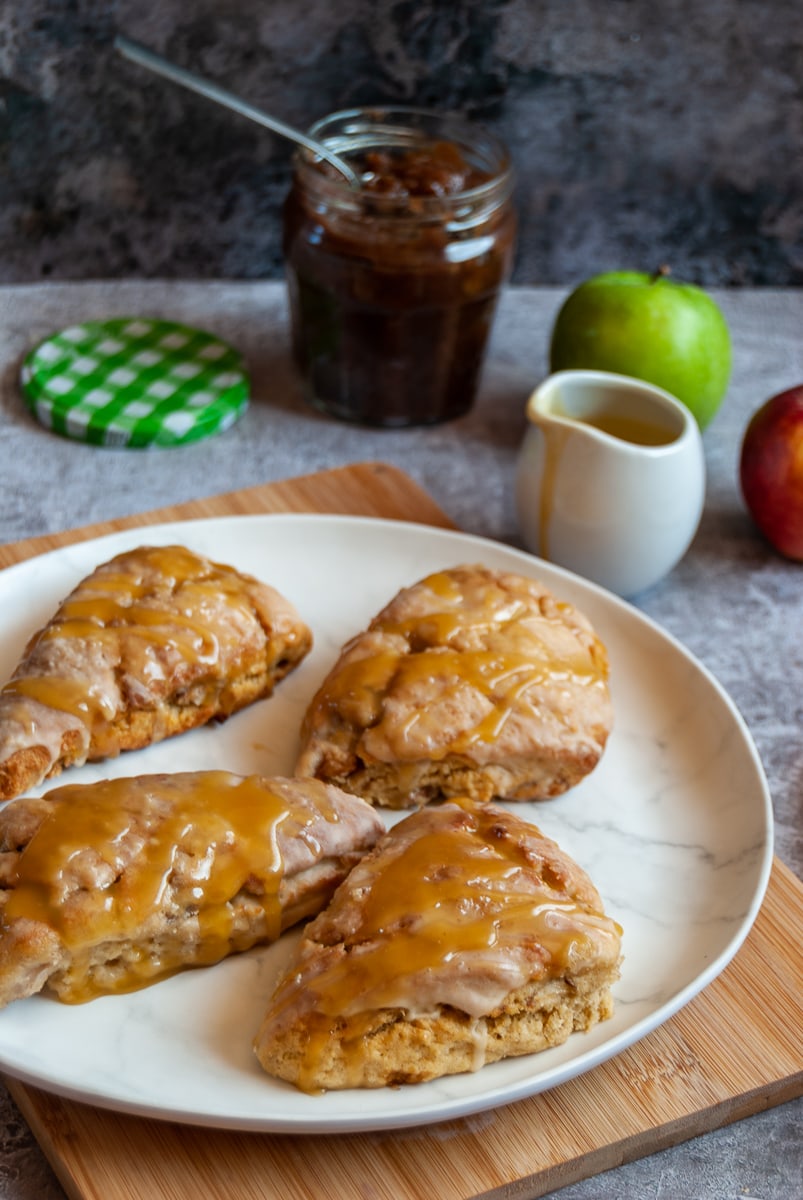 how long will these salted caramel apple cinnamon scones keep for?
Scones are always best eaten on the day they are baked, but they will still be good a day or two after baking. You can warm them up by either re-heating in the microwave for about 20 seconds or in a low oven (150C) for 5-10 minutes. The scones can also be frozen for up to three months.
If you made your own salted caramel sauce, any leftovers can be kept in the fridge for up to one week. Drizzle it over ice cream, cakes, waffles, pancakes, make my toffee apple crumble or anything your heart desires!
want to see some more Scone recipes? Check these out….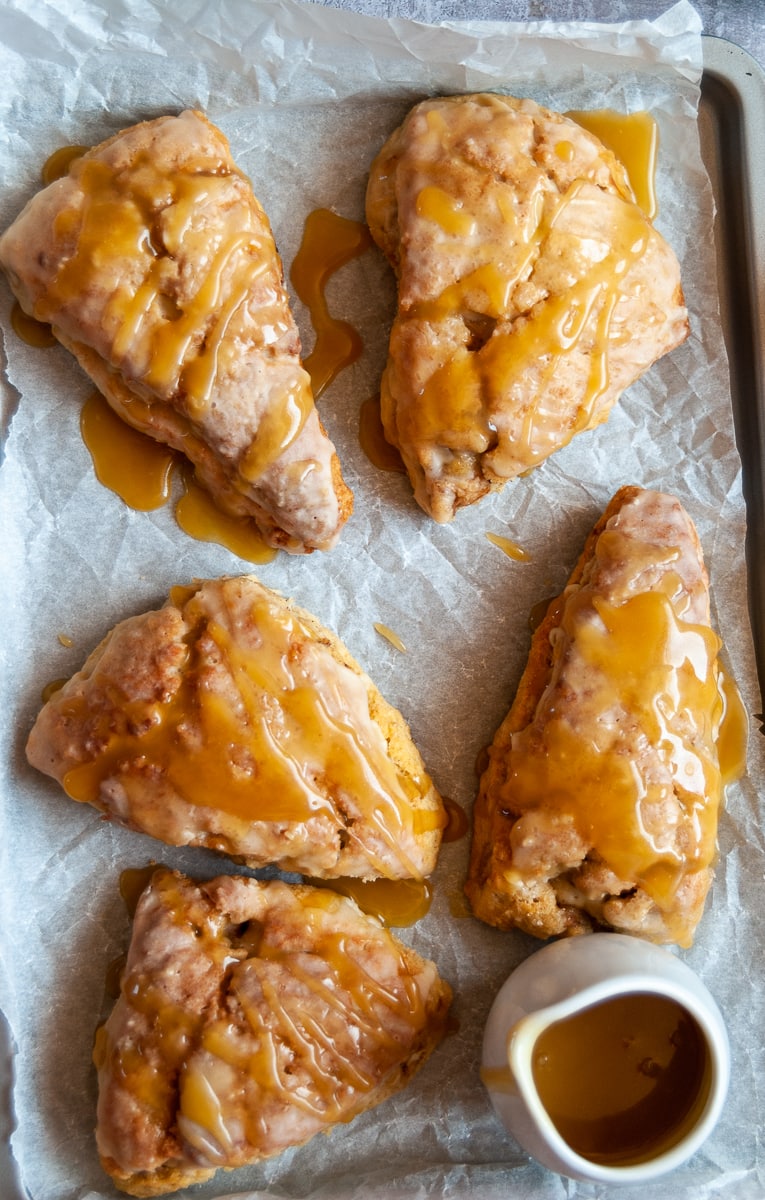 Did you make this apple and cinnamon scone recipe? Let me know what you thought by leaving a comment below and give the recipe a rating out of 5 by clicking on the stars in the recipe card.
Don't forget you can also follow me on Instagram and Facebook for lots more food inspiration!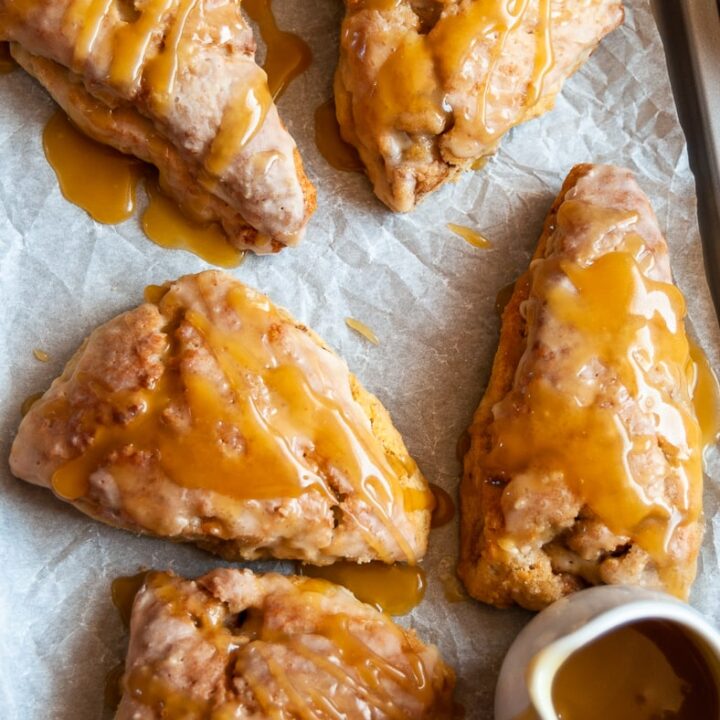 Salted caramel apple cinnamon scones
These American style tender and fluffy apple and cinnamon scones are drizzled with an addictive salted caramel glaze.
Ingredients
1 tbsp butter for caramelising the apples
1 Large or two small apples, peeled, cored and diced into small pieces
1/2 tsp ground cinnamon
For the scones:
325g Plain (All-Purpose) Flour
2 1/4 teaspoons baking powder
1 teaspoon ground cinnamon
1/2 teaspoon fine salt
50g soft light brown sugar
55g cold butter, diced
1 teaspoon vanilla bean paste or extract
1 Large egg
230ml double (heavy) cream plus 1 tablespoon for brushing the scones
1 tbsp Demerara sugar, for sprinkling on top of the scones
For the salted caramel glaze:
150 g icing sugar
3 or 4 tablespoons salted caramel sauce, or regular caramel sauce
Instructions
Preheat the oven to 220C/200Fan/Gas Mark 7.
Melt the 1 tbsp butter in a small frying pan. Add the diced apple and cook on a low to medium heat for around 5 minutes, until the apple starts to soften and turn lightly golden around the edges. Sprinkle over the cinnamon and cook for a further two minutes. Remove from the heat and set aside to cool down.
Sieve the flour, baking powder, ground cinnamon, salt and brown sugar into a large bowl. Add the cold butter and rub in until the mixture resembles breadcrumbs.
Make a well in the centre, pour in the vanilla bean paste/extract and double cream and using a butter knife or your hands, combine the mixture until it starts to combine into a soft, slightly sticky dough, remembering the best scones require a light touch!
Add the cooled cooked apple pieces and very lightly knead to incorporate. Turn out onto a lightly floured surface and pat into a round roughly 15cm in diameter. Using a sharp knife, cut the dough into 8 equal triangles. Brush with the 1 tablespoon double cream and sprinkle with Demerara sugar.
Place in the oven and bake for 15 minutes, or until risen and golden brown on the underside. Take care when lifting the scones as they are very tender due to the high fat content. But of course, this is what makes them so good!
While the scone is baking, make the salted caramel glaze by simply mixing the 150g icing sugar with 2 or 3 tablespoons of the salted caramel sauce. You may not need the second tablespoon, depending on the consistency of your sauce.
Leave the scones to cool for about 10 minutes before drizzling with the salted caramel glaze. When the scones are cold, drizzle with extra caramel sauce if you have a very sweet tooth!
Notes
Any eating apples are perfect for this recipe - I used a Pink Lady apple but Granny Smith, Braeburn or Gala would be perfect for this recipe.
To make round scones, pat the dough into a round about 1 inch thick and using a 2 inch cutter, cut out circles.  Brush the tops lightly with cream, sprinkle with demerara sugar and bake for 10-12 minutes.
The scones are best the day they are made, although you could warm leftovers up in the oven/microwave the day after for a really delicious breakfast/snack!
Nutrition Information:
Yield:

8
Serving Size:

2
Amount Per Serving:
Calories:

286
Total Fat:

10g
Saturated Fat:

5g
Trans Fat:

0g
Unsaturated Fat:

4g
Cholesterol:

42mg
Sodium:

453mg
Carbohydrates:

49g
Fiber:

2g
Sugar:

38g
Protein:

2g
Calories and Nutritional information are provided by a third party application and should be used as indicative figures only.