Love apple pie and cheesecake? These Caramel Apple Cheesecake Bars are the best of both worlds! A crunchy, buttery crumbly base with a creamy apple cheesecake filling topped with an oat crumble and drizzled with caramel sauce.
I absolutely love baking with apples around this time of year. What's your favourite recipe for using up a glut of apples? Mine has to be a good old fashioned apple pie with a home made pie crust. An apple and blackberry crumble is also pretty hard to beat.
I also love making recipes with my favourite 9×13 inch tray baking tin and when I saw a recipe for caramel apple bars in Taste of the South magazine that required this exact size tin, I just had to give it a try.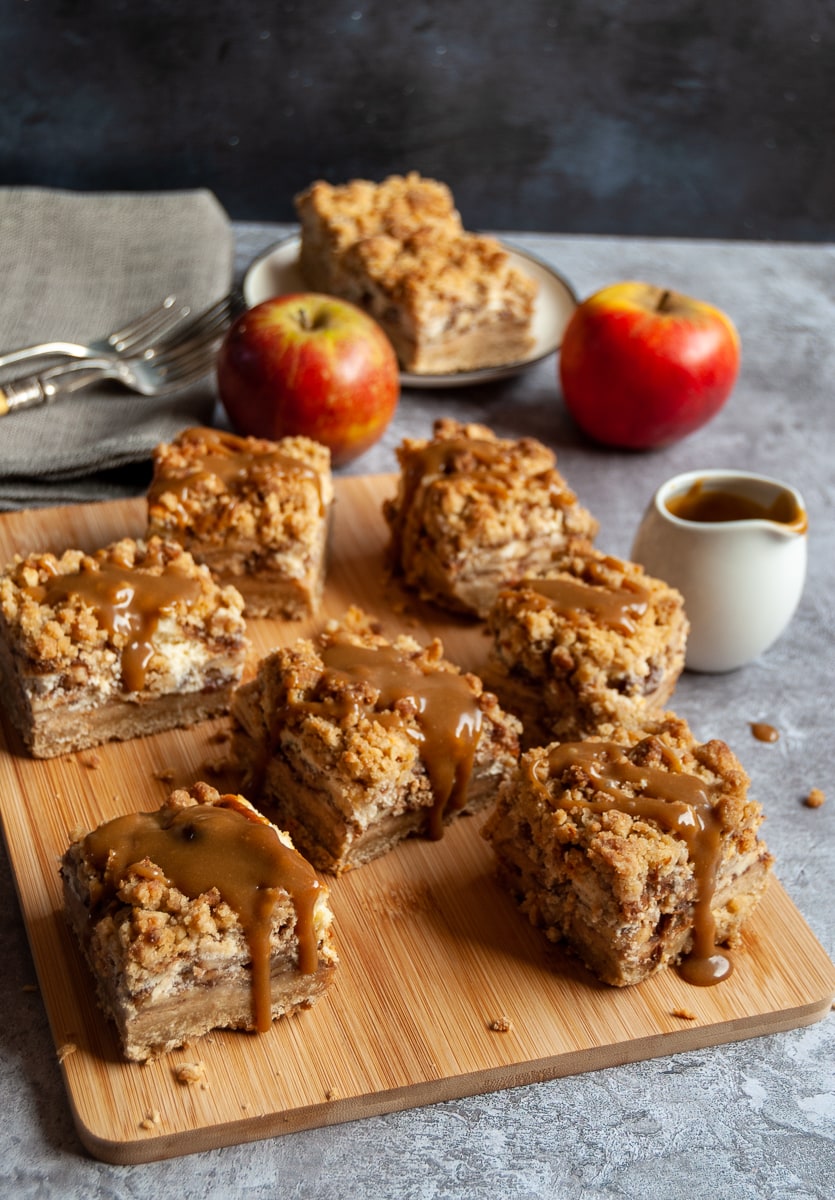 These gorgeous apple cheesecake bars contain 4 elements –
A buttery, oaty shortbread-like base
A creamy cheesecake filling with thinly sliced apples and sultanas
A crumbly, crunchy topping
A generous drizzling of caramel sauce! Use your favourite caramel sauce – whether it's home made or from a jar!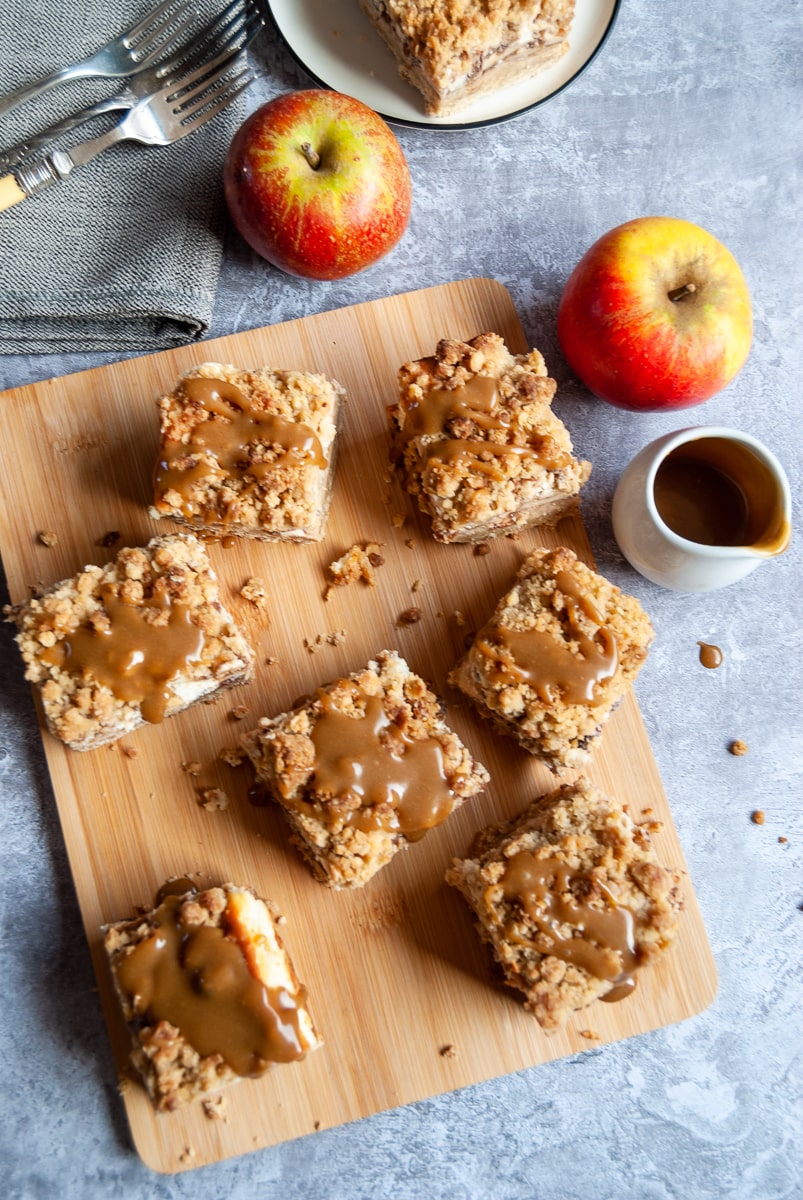 ingredient list for caramel Apple cheesecake bars
scroll to the bottom of the post for printable recipe card with ingredient amounts and detailed instructions.
for the crust and crumbly topping:
Plain (all-purpose) Flour
Soft light brown sugar
rolled oats – not jumbo. I used Quaker Oats
baking powder
fine salt
unsalted butter (which you will need to melt)


FOR THE cheesecake FILLING:

Full fat cream cheese (at room temperature and I'm afraid it must be full fat – I haven't test this recipe with lower fat varieties and I can't guarantee the recipe will turn out the same!)
caster sugar

vanilla extract

2 large eggs
plain (all purpose) flour
ground cinnamon
ground mixed spice
ground nutmeg
soft light brown sugar
700g peeled, cored and thinly sliced eating apples (I used 14 apples but they were very small apples!)
sultanas (If you don't like sultanas feel free to leave them out. I used rum soaked sultanas which went so well with the apples and the cheesecake filling)
apple butter. If you've never made apple butter before, I really can't recommend it enough. It's very easy to make and is the perfect way to use up a windfall of apples. I make mine in an Instant Pot, but if you don't have one don't worry – you can easily make it on the hob or in a slow cooker.
Shop bought or home made caramel sauce for drizzling over the bars. I made the sauce from my toffee apple crumble recipe

. It really elevated these bars into showstopper dessert territory!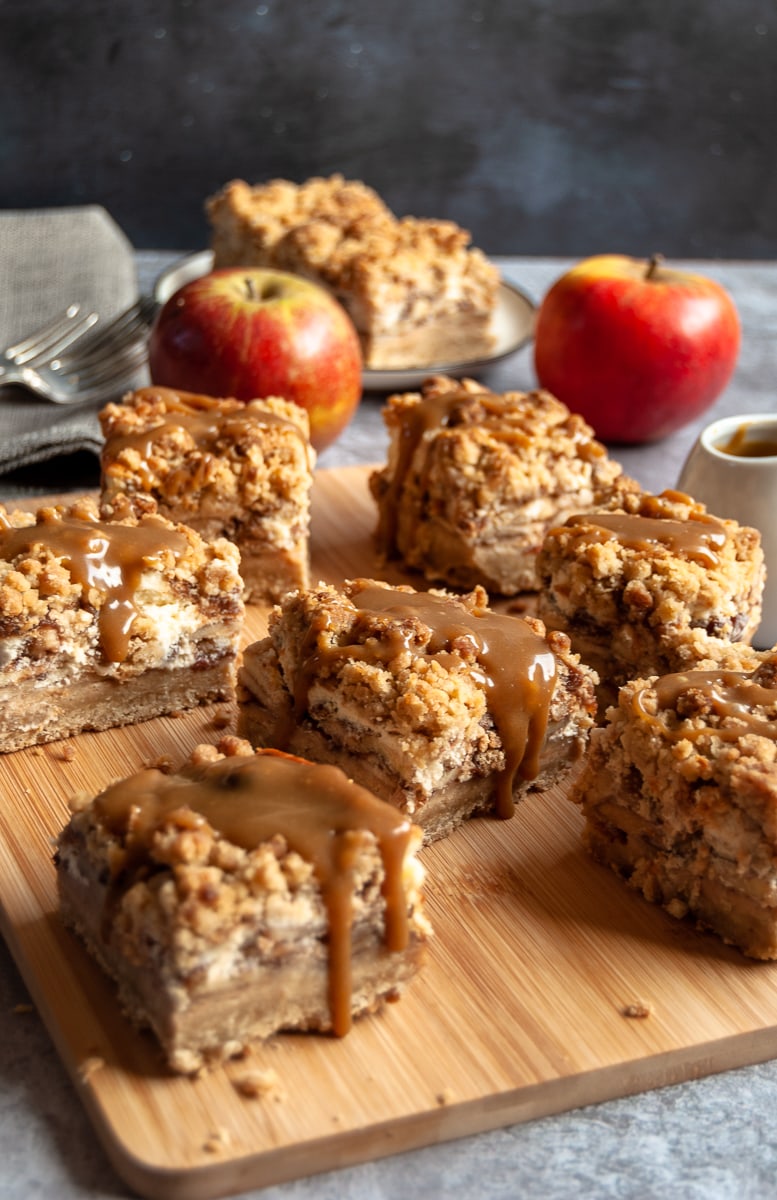 what type of apples are best to use?
Any kind of sweet or slightly tart eating apples that hold their shape while baking will work here. I definitely wouldn't recommend using cooking apples like Bramleys –  release too much moisture when baking and would make the cheesecake bars very soggy.  They also don't hold their shape well at all when cooked – it's best to keep them for cakes, crumbles and apple sauce.
I used apples from my sister's trees for this recipe but I'm afraid I've no idea what variety they are. Pink Lady, Braeburn, Gala, Golden Delicious and Cox's will all work well.

tips for baking perfection
There are quite a few steps to making these apple cheesecake bars, but please don't let that discourage you from making them – none of the steps are difficult and providing you follow my tips, you'll end up with a delicious Autumnal dessert that everyone will love! 
We begin the recipe by making the base. You combine flour, oats, baking powder and a little brown sugar and salt in a bowl and pour over cooled melted butter. Mix well with a wooden spoon until you have a crumbly dough that sticks together.  Don't forget that you need to keep some of this mixture back for the crumbly topping! 
Press this buttery, oaty mixture into a lined 9×13 inch baking tin (make sure the baking paper is higher than the edges of the tin for easy removal later). Using a spoon or your hands, really press the mixture into the tin quite firmly and as evenly as possible.
Let the base cool right down before adding the cheesecake and sliced apples – a minimum of one or two hours would probably be fine, but I made the base the night before to get ahead.
Make sure the cream cheese is at room temperature before mixing with the eggs, sugar and vanilla – this will give you a lovely smooth filling with no lumps. I remove the cream cheese from the fridge and sit it on the kitchen counter for around an hour to take the chill off.
Slice the apples as thinly as possible – this will give you lots of pretty apple layers in the finished bake.
When you add the apples, cream cheese mixture and reserved crumble topping over the base, it will come almost right up to the top of the tin – which is why it's VERY important you line the tin properly. Make sure the baking paper is higher than the edges of the tin by 3-4 cm. This will make your life much easier later on!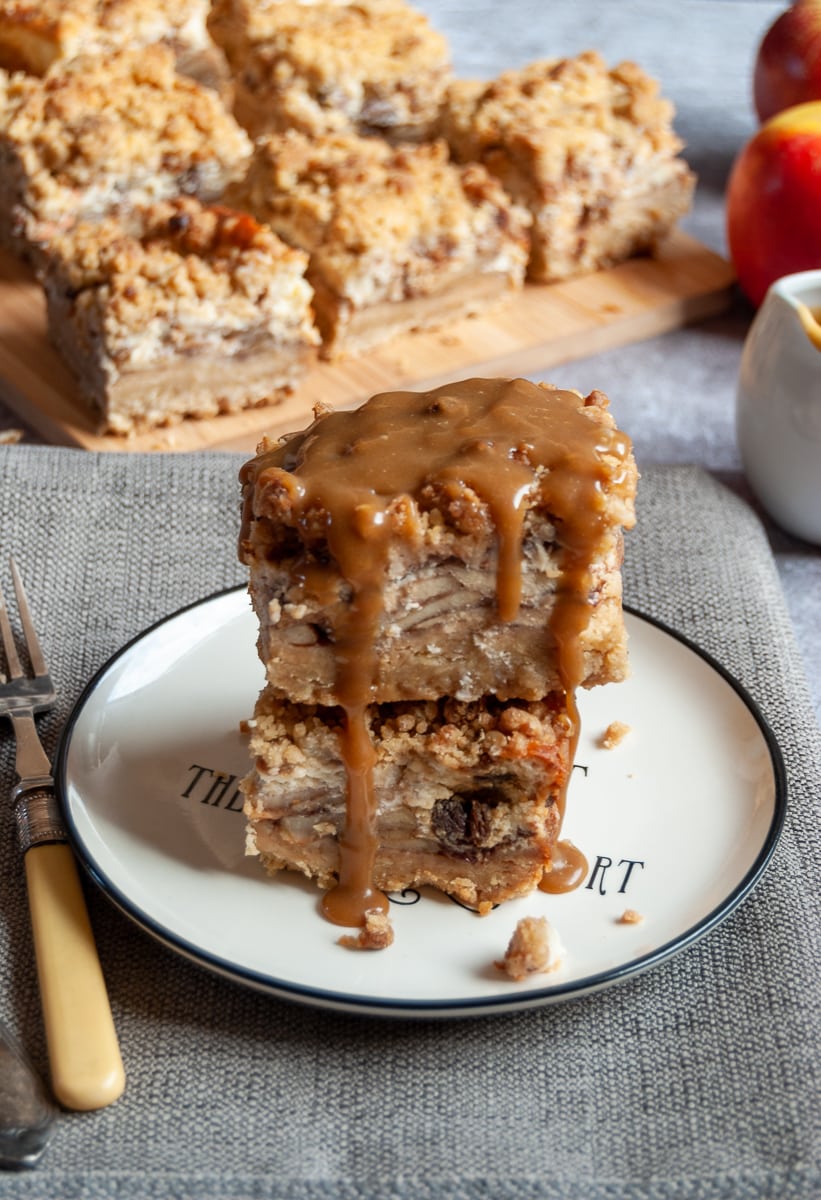 baking the cheesecake filling
Don't be tempted to overbake the filling – I've tested this recipe 3 times and found 45 minutes is just perfect. However, all ovens are different and it may take a few minutes more or less in yours.
When the filling is set, you'll start to see the filling go a little golden brown around the edges. It will look a little puffy and will probably have started to shrink away slightly from the edge of the tin.

The middle might still have a slight wobble but that's fine – we need to chill the bars in the fridge for 8 hours before slicing. This is a critical step in recipe success – please don't be tempted to skip it or the filling may not set and your cheesecake bars might turn out runny.
When you're ready to serve the cheesecake bars, remove from the fridge and leave them for about 15 minutes before slicing into bars with a sharp, large knife. For super neat squares, clean the knife with a piece of kitchen paper between slicing.
Drizzle over the caramel sauce and enjoy!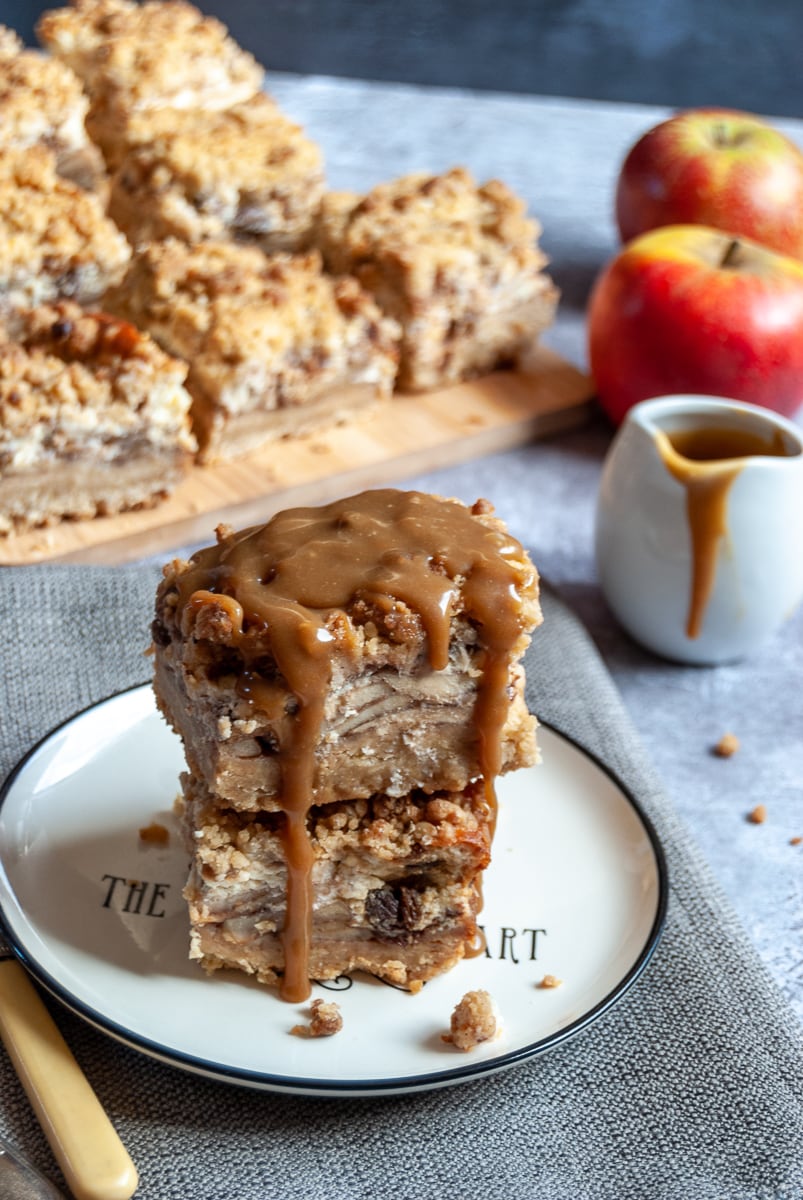 want to see more apple desserts?
did you make this recipe?
Let me know what you thought of the recipe by leaving a comment below and please rate the recipe out of 5 by clicking on the stars in the recipe card.
need any help?
If you have any questions regarding the recipe or need any help, please reach out to me.
Share a picture of your cheesecake bars with me on instagram!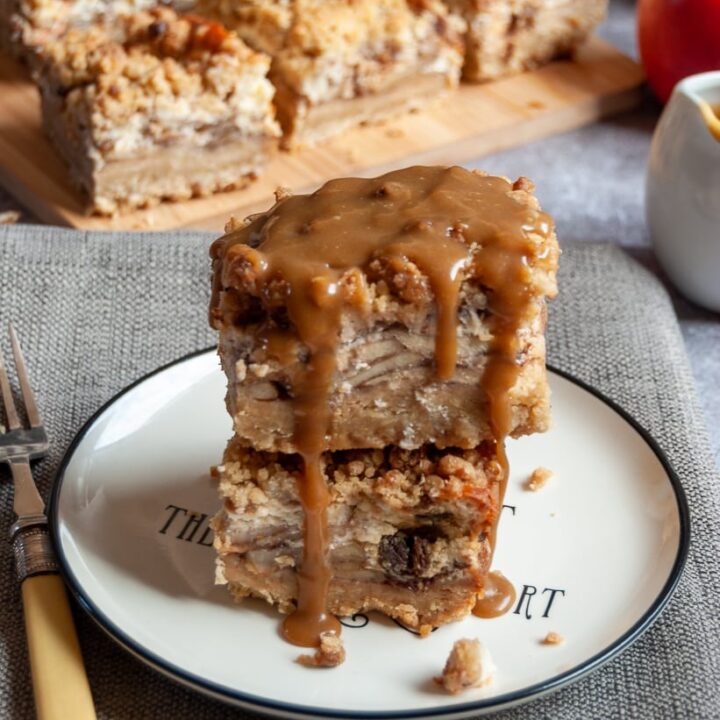 Caramel Apple Cheesecake Bars
Yield:
Makes 16 cheesecake bars
Additional Time:
10 hours
Total Time:
11 hours
30 minutes
A cross between apple pie and cheesecake, these caramel apple cheesecake bars are the perfect Autumnal bake!
Ingredients
FOR THE CRUST:
550g Plain (all-purpose) Flour
250g Soft light brown sugar
100g rolled (not jumbo sized - I used medium) oats
1 tsp baking powder
1 tsp fine salt
340g unsalted butter, melted
FOR THE FILLING:
500g full fat cream cheese, at room temperature
125g caster sugar
2 tsp vanilla extract
2 large eggs
2 tbsp plain (all purpose) flour
1 tsp ground cinnamon
1/2 tsp ground mixed spice
1/4 tsp ground or freshly grated nutmeg
1/2 tbsp soft light brown sugar
700g peeled, cored and thinly sliced eating apples (I used 14 apples but they were very small!)
100g sultanas (optional)
200g apple butter
Shop bought or home made caramel sauce for drizzling over the bars
Instructions
Preheat the oven to 180C/160Fan/350F/Gas mark 4. Grease and line a 13x9 inch baking tin with baking parchment, making sure the paper is a few centimetres higher than the tin for easy removal later.
To make the base, Stir together the flour, brown sugar, oats, baking powder and salt. Pour in the melted butter and mix until everything comes together to make a crumbly dough. Reserve 150g of the oat mixture and place in a small bowl (this is for the topping). Press the remaining dough firmly into the lined pan, trying to get it as even as possible.
Bake for about 18-20 minutes or until set and light brown around the edges. Remove from the oven and allow to cool completely before adding the cheesecake filling and apples - a minimum of one or two hours would be fine. I prepared the base the night before to get ahead.
For the filling, place the room temperature cream cheese, caster sugar and vanilla extract in a medium bowl and using an electric mixer, beat until soft and creamy. Add the eggs one at a time and continue beating until just combined.
In a medium bowl, toss together the thinly sliced apples, 1 tablespoon of flour, cinnamon, mixed spice, nutmeg and brown sugar.
Place the remaining 1 tbsp flour in a small bowl. Add the apple butter and stir until combined.
Arrange the sliced apples over the crust. Sprinkle over the sultanas if using, then pour the cheesecake mixture all over the apples and sultanas. Drop teaspoons of apple butter all over the top, then gently swirl with a knife. Crumble the reserved oat mixture all over the top.
Carefully transfer to the oven and bake for 40-45 minutes or until the cheesecake is set and the crumble topping looks golden brown. Cool completely on a wire rack, then place in the fridge for about 8 hours.
When you're ready to serve the bars, remove from the fridge and cut into slices. Drizzle with caramel sauce.
Notes
Please note that these cheesecake bars need to be chilled for 8 hours to ensure the filling is properly set.
Any leftover cheesecake bars will keep in an airtight container in the fridge and should be eaten within 3 days of making.
Nutrition Information:
Yield:

16
Serving Size:

1
Amount Per Serving:
Calories:

442
Total Fat:

29g
Saturated Fat:

17g
Trans Fat:

0g
Unsaturated Fat:

9g
Cholesterol:

101mg
Sodium:

302mg
Carbohydrates:

45g
Fiber:

2g
Sugar:

39g
Protein:

4g
Calories and Nutritional information are provided by a third party application and should be viewed as indicative figures only.