This easy apple pie recipe is a classic dessert that's universally adored! Tender chunks of sweet juicy apples enclosed in buttery, crisp pastry. Serve with custard, ice cream or pouring cream for a simply heavenly dessert.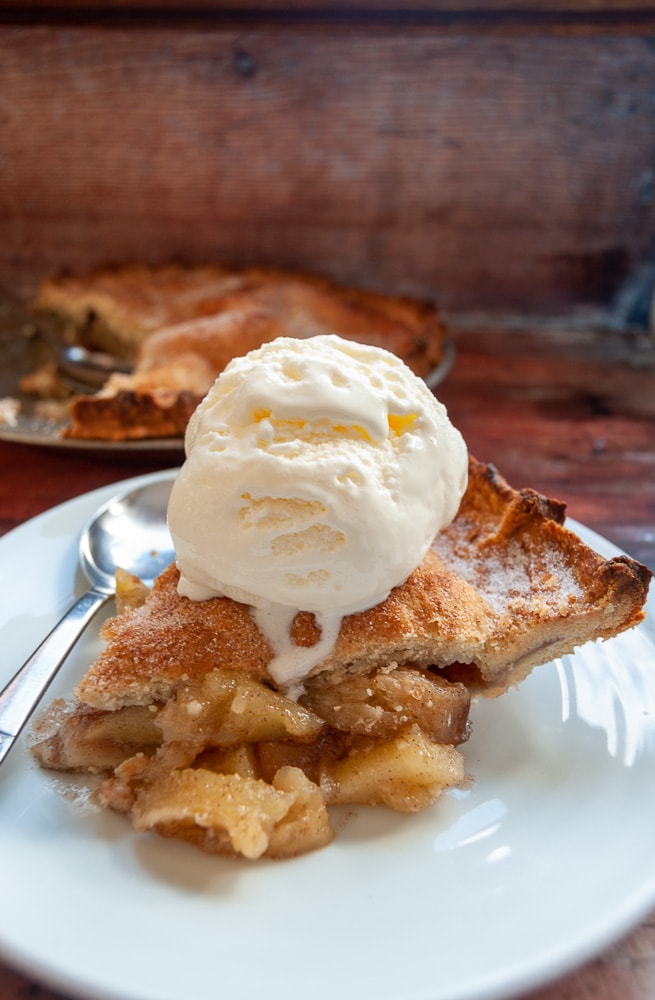 I do love an old fashioned pie recipe! Classic Pecan Pie, pumpkin pie and lemon meringue pie are among my favourites, but a classic apple pie is pretty hard to beat.
A lovingly made apple pie has to be one of the all time classic desserts. It's homely, comforting and delicious. The food equivalent of a great big cinnamon scented cuddle. 
If you think making an apple pie is too difficult and fiddly, I urge you to think again. All you need is a few simple, basic ingredients and if you follow my tips, you'll have an apple pie to be proud of!

what are the best apples to use in an apple pie?
I like to use a mixture of Bramley (cooking) apples and eating apples for apple pie. You can use just cooking apples if you like, but if you do you will need to add a little extra sugar.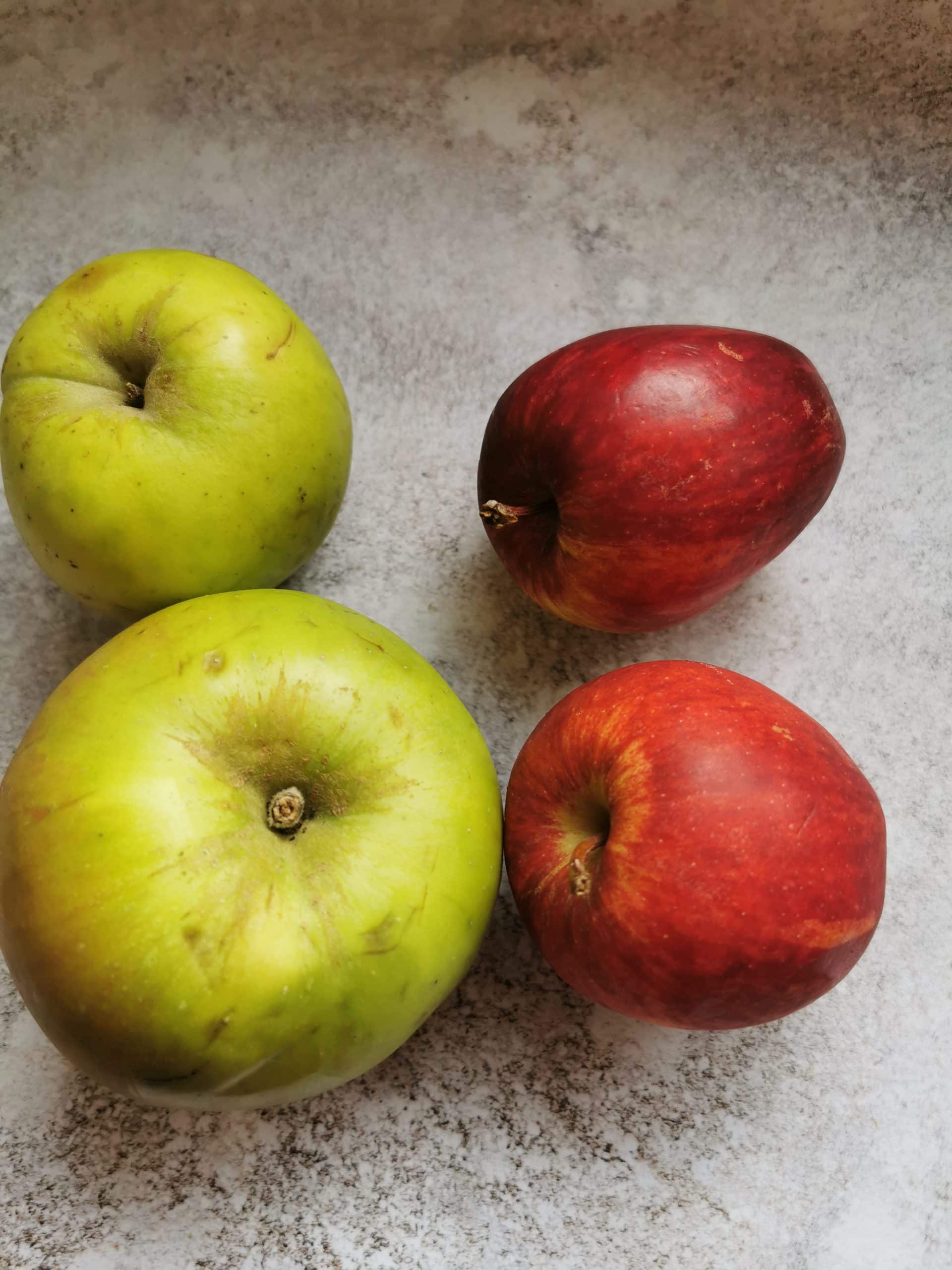 I find a 50/50 ratio of cooking apples (Bramleys) and eating apples is perfect. The best eating apples to use in apple pie are:
Cox's
Granny Smiths
Braeburn
McIntosh
Galas
The only apples I would stay away from for a pie are really sweet varieties such as Pink Ladies. You need the apples to be quite tart to counteract all the sweetness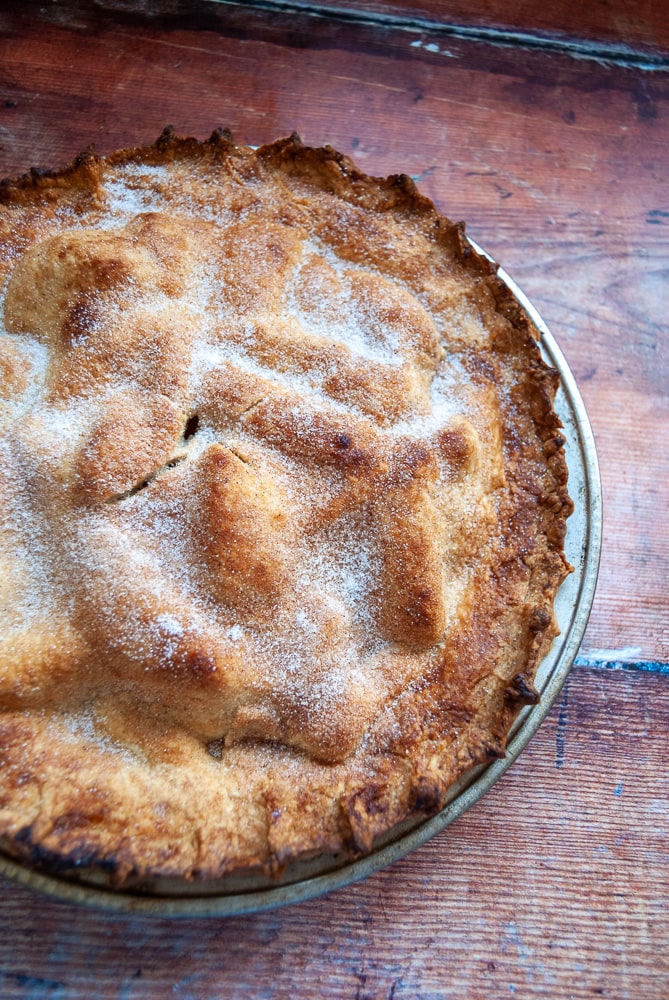 recipe notes
The pastry is just as important as the apples!  A slightly sweet shortcrust pastry is best – I use this recipe. Please bear in mind that you don't need to pre bake the pastry for a fruit pie. 
I place the peeled and sliced apples in a large bowl and coat them in a mixture of sugar, ground cinnamon and a little ground mixed spice. The aroma of the spices while the pie is baking is so heavenly! 
An apple pie can take up to an hour to cook through properly – the top of the pie might seem cooked, but if you take it out of the oven too early the underside can be undercoked. It can take anywhere from 45-60 minutes to bake depending on your oven.
If the pie crust looks like it is browning to much, cover the pie with some tin foil to prevent the crust from burning.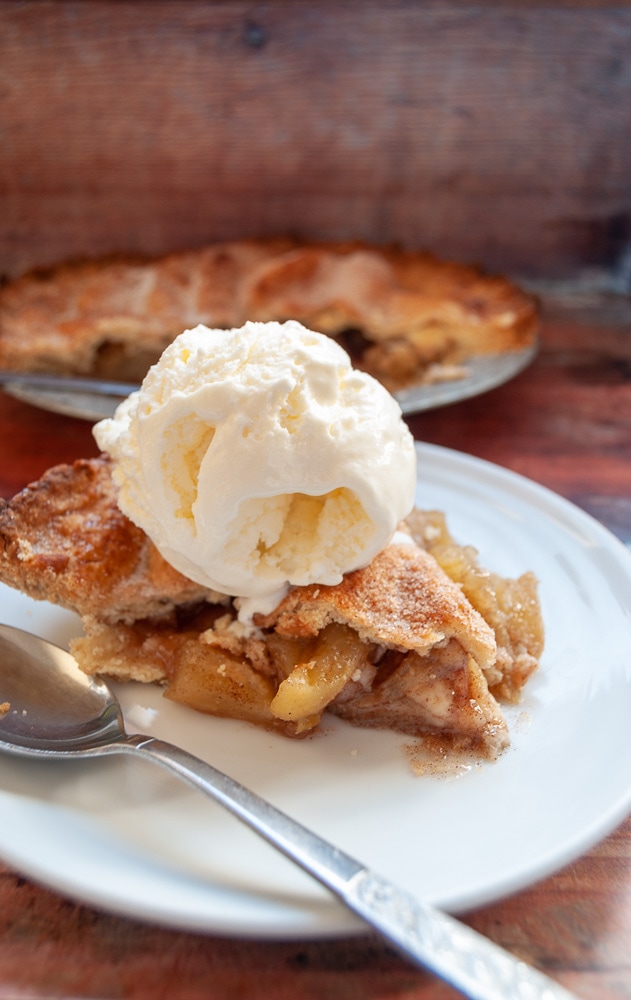 how to avoid a soggy bottomed pie
To quote the wonderful Mrs Mary Berry, you don't want a soggy bottom!!
I avoid this terrible fate by adding a little cornflour to the apples. This thickens up the juices when the pie is cooking and will prevent the bottom of the pie crust turning soggy. I add the cornflour after coating the apples in the spiced sugar.
What is the best pie Dish for apple Pie?
The 3 main pie dishes available are metal, ceramic and pyrex. In my baking experience, I find a metal pie dish far better for cooking fruit pies. They might not be as pretty as ceramic pie dishes, but they conduct heat extremely well, leaving you with an evenly baked, crisp apple pie. 
All you need to do now is decide what to serve with your pie – custard, ice cream or pouring cream! I love all these options, so what I choose depends on my mood at the time!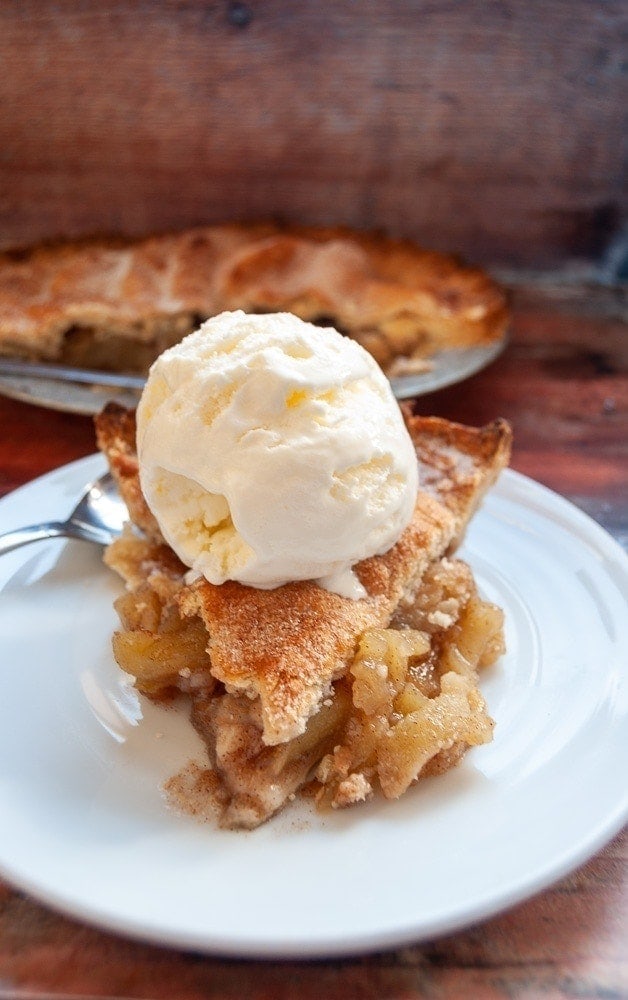 want to see more apple bakes?
did you make this reciPe?
I hope you enjoyed it! Let me know what you thought of it by leaving a comment below and rate the recipe by clicking on the stars in the recipe card.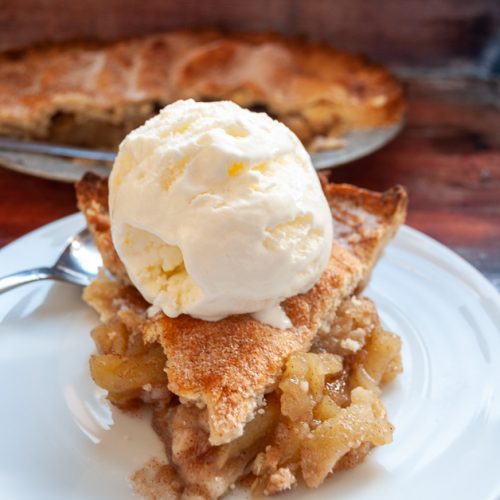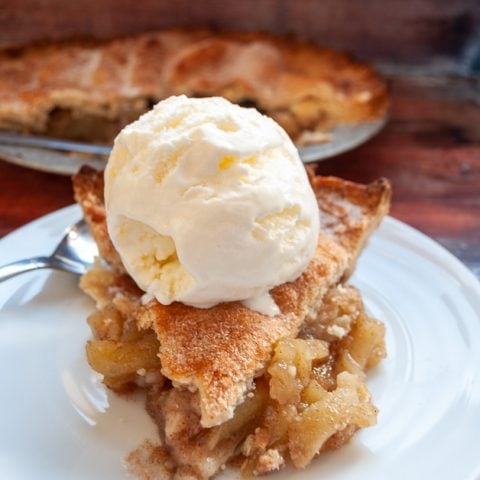 Easy Apple Pie
Prep Time:
1 hour
30 minutes
Total Time:
2 hours
20 minutes
This easy apple recipe is simple, comforting and delicious.  Tender chunks of sweet juicy apples enclosed in buttery, crisp pastry. A classic dessert that's universally adored! 
Ingredients
750G Apples, peeled, cored and sliced 
100g caster sugar (use 50g of sugar if not using Bramley Apples)
1/2 tsp ground cinnamon
1/2 tsp mixed spice (optional)
1/2 tsp fine salt
2 tbsp cornflour
1 tbsp of milk
1 tbsp caster sugar for sprinkling on pie
Instructions
Make the all butter pie dough recipe but don't blind bake it. Cut the dough into two equal pieces and place in the fridge for a minimum of 30 minutes.
Once the pie dough has rested in the fridge, roll out one half on a lightly floured work surface (you need the dough a little larger than your pie plate.) Line a 9 or 10 inch pie plate with the dough. Pop the lined pie plate in the fridge while you peel the apples. Preheat the oven to 200C/180Fan/400F and pop a baking sheet on the middle shelf.
Place the peeled and sliced apples in a large bowl and sprinkle over the sugar, ground cinnamon, mixed spice if using and a pinch of salt. Stir well to combine, then sprinkle over the cornflour and combine well again.
Remove the pie plate from the fridge. Spoon the apples into the pie plate. Remove the second piece of pie dough from the fridge and roll out. Carefully lift up the rolled out dough and place over the top of the apples. Using a sharp knife, trim the pasty edges and using a fork or your thumb and forefinger, crimp the edges.
Brush the pie all over with the milk and sprinkle with sugar. Place the pie on the preheated baking sheet and bake for 45-50 minutes or until golden and piping hot. If the pie crust is becoming too brown at any time, turn the oven temperature down to 180C/160Fan/350F.
Serve the apple pie warm with custard, cream or ice cream.
Nutrition Information:
Yield:

8
Serving Size:

1
Amount Per Serving:
Calories:

282
Total Fat:

11g
Saturated Fat:

4g
Trans Fat:

0g
Unsaturated Fat:

5g
Cholesterol:

4mg
Sodium:

307mg
Carbohydrates:

47g
Fiber:

3g
Sugar:

26g
Protein:

1g