Learn how to make a classic Lemon Meringue Pie! A delicious combination of buttery, sweet pastry, a zingy lemon curd filling and fluffy meringue, this is a stunning dessert that never fails to impress!
This week's recipe is for my fellow citrus fans. I've been meaning to make a lemon meringue pie for so long now. It's one of my absolute favourite desserts of all time.
I find the combination of the crisp pastry, zingy lemon filling and fluffy meringue topping simply irresistible. Believe it or not, I don't really have that much of a sweet tooth these days. I'm more of a savoury girl. But I would always somehow find room for a second slice of lemon tart, zingy lemon bundt cake or lemon drizzle cake or this super easy lemon drizzle traybake!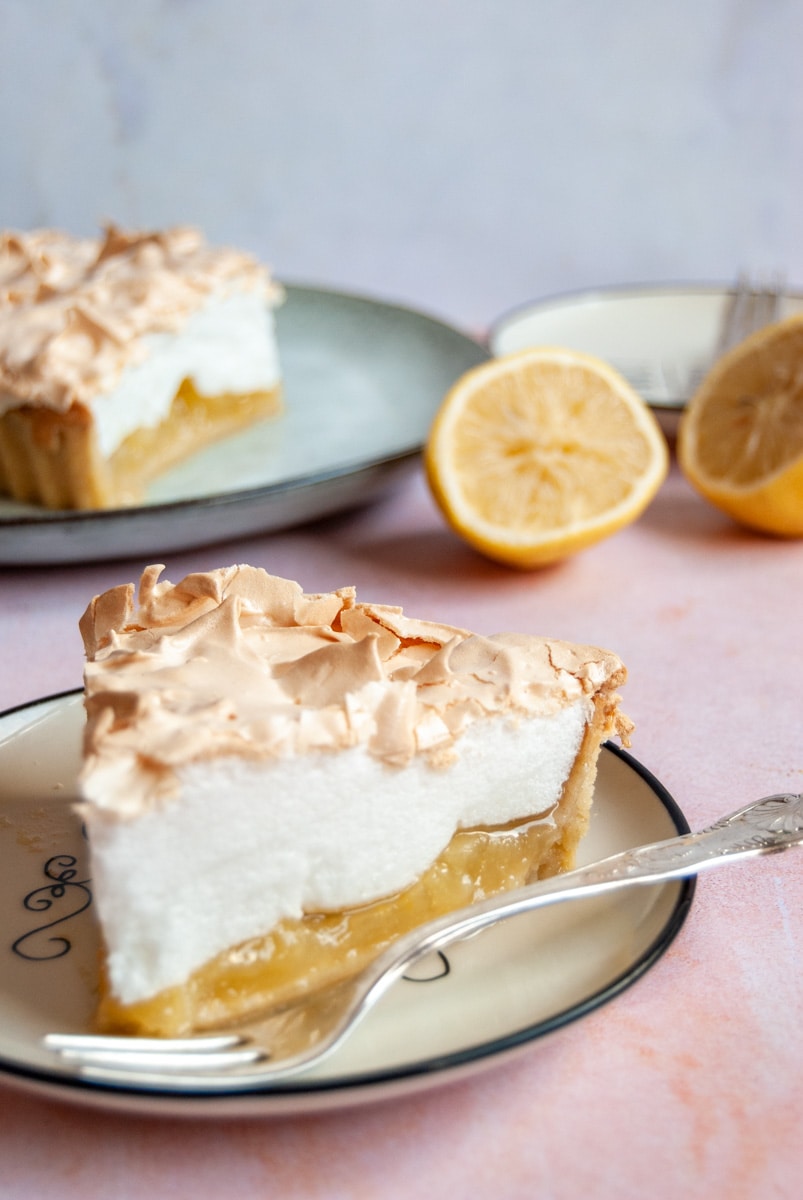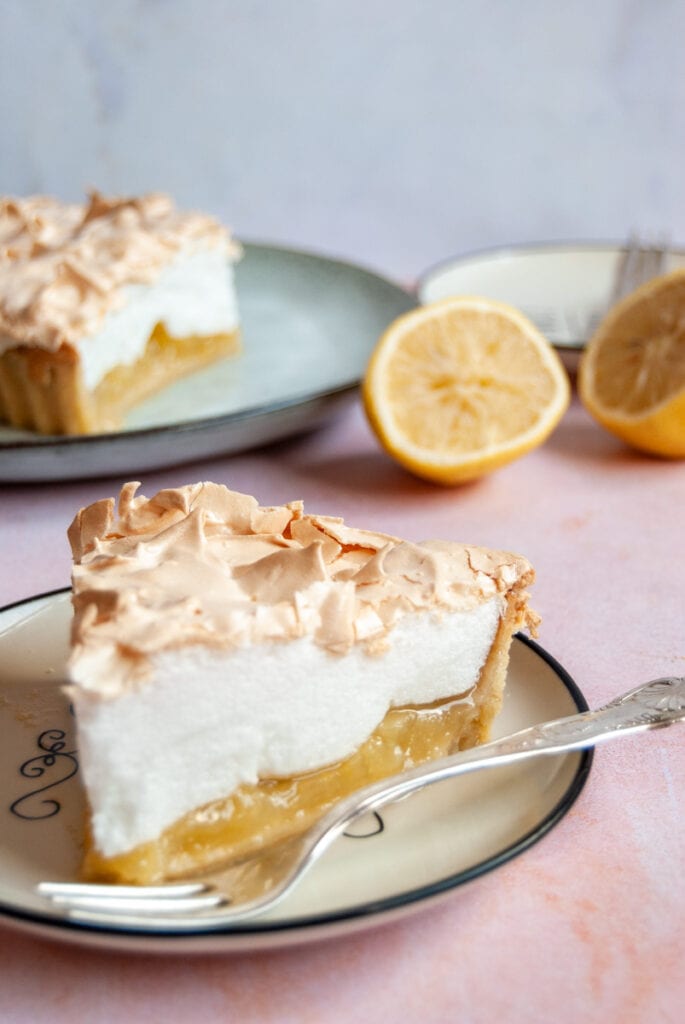 I worked really hard on this recipe to find the perfect ratio of pastry, lemon filling and meringue topping – after a few attempts, I believe I have finally nailed it.
My taste testers were certainly full of praise and the pie was demolished in pretty much one sitting, which is always a good sign!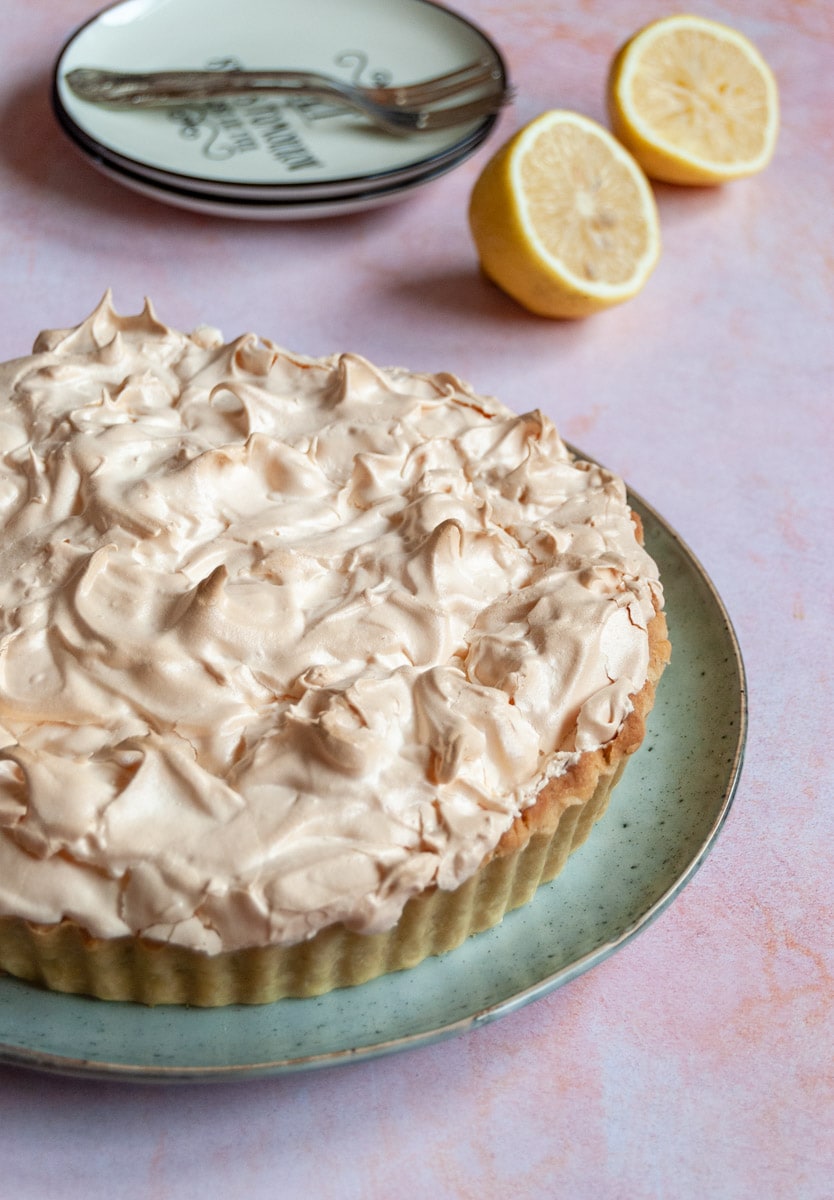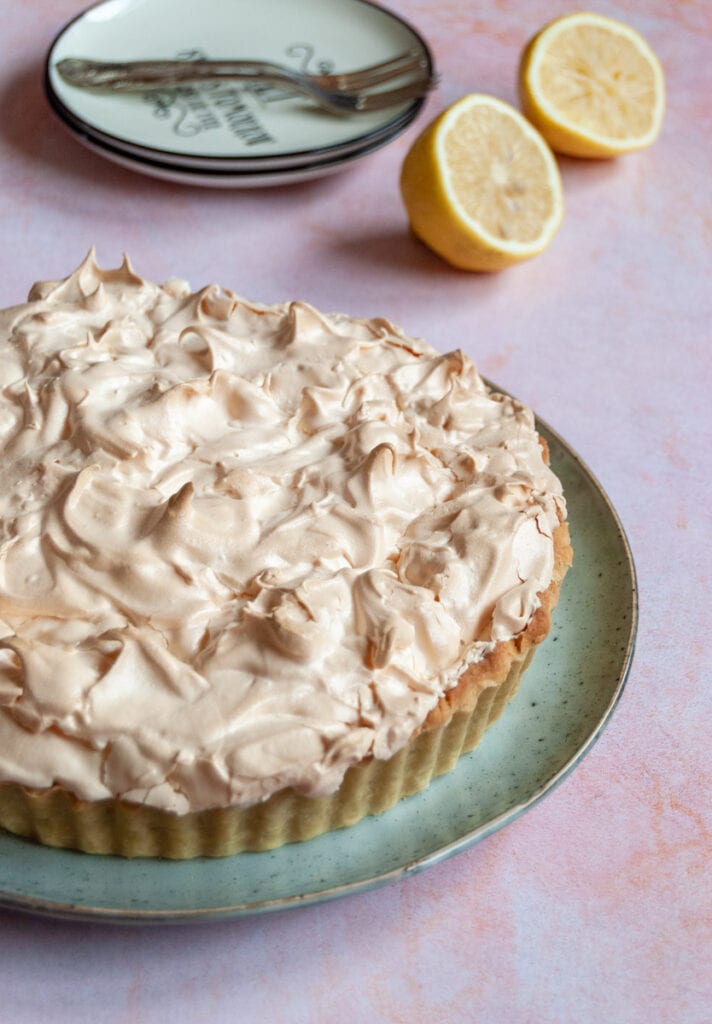 Making a lemon meringue pie isn't really difficult, but there are a few rules you must stick to ensure recipe success. I'm speaking from first hand experience! But don't be intimidated – I'm going to share all my tips with you so you don't make the same mistakes.
tips for making the pastry
The first thing you need to do is make the pie crust. I use a sweet shortcrust pastry that is loosely based on a Gordon Ramsay recipe. It is buttery, light, crisp and delicious.
The pie crust needs to be blind baked. I also like to brush the crust with a tiny amount of whisked egg white after the first blind bake – this helps seal any tiny cracks in the pastry and will help prevent a soggy bottom – something we all want to avoid at all costs!
Why do we need to blind bake pastry?
Blind baking the pastry is absolutely crucial. If you tried to make this recipe without doing so, the pie would a complete failure.
If you attempted to bake a pie with a creamy or a liquid filling without pre-baking the pastry, the filling would be ready before the pie dough – resulting in a undercooked (or even worse – RAW), soggy pastry case.
Check out my all butter pie dough post for tip and tricks on how I blind bake a pastry case.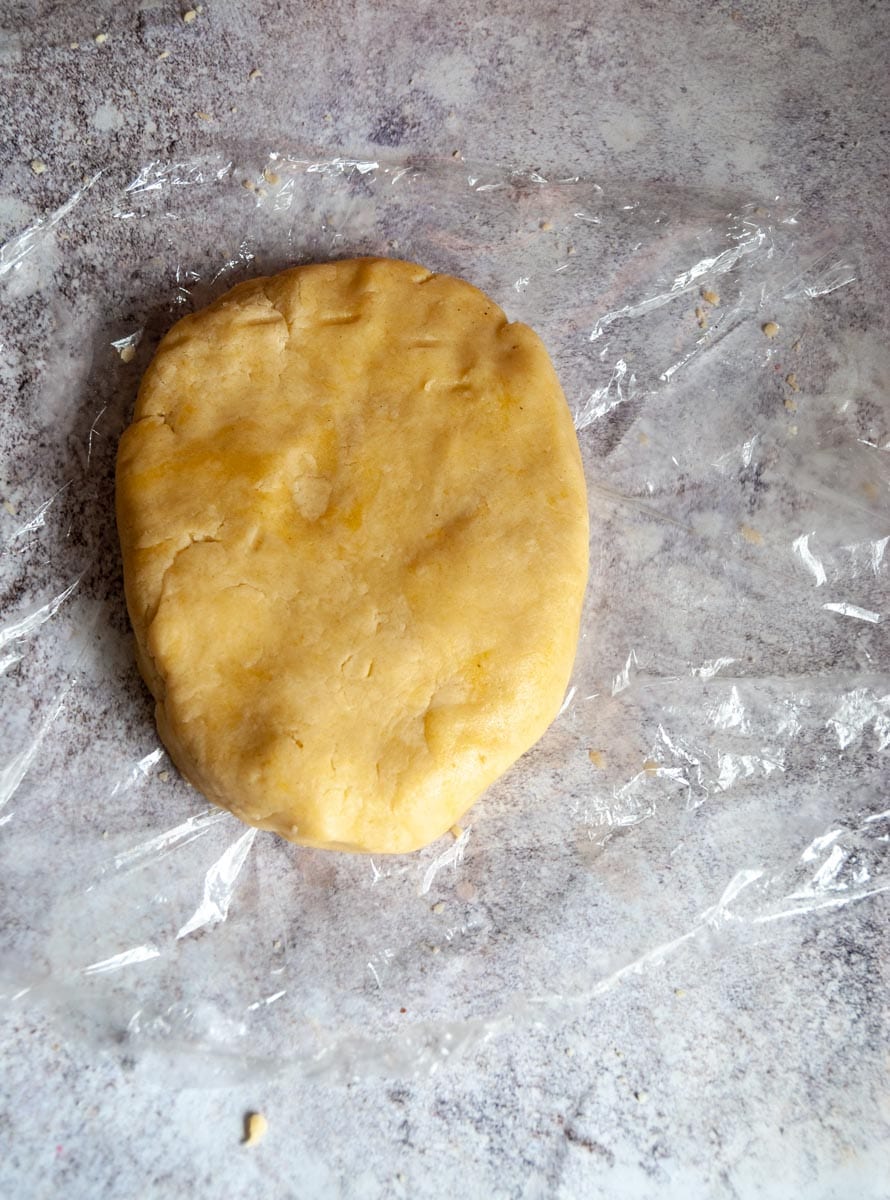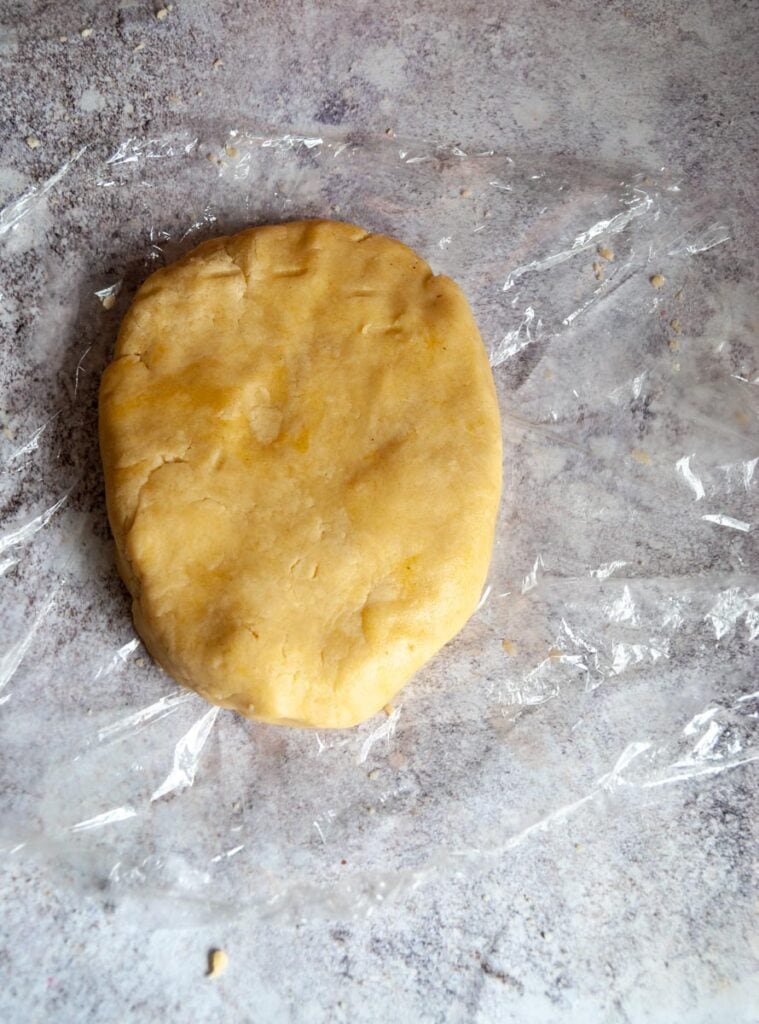 tips for making the lemon filling
The zesty lemon filling is basically lemon curd, but with cornflour added to thicken it up so it holds up when slicing the pie.
When zesting your lemons, make sure you don't grate down to the white part of the lemon (the pith.) This will make your filling quite bitter.
You're going to cook lemon zest and juice, caster sugar, water, egg yolks and a little cornflour together until the mixture begins to bubble. Turn down the heat to low-medium and continue to cook until it has thickened up enough to coat the back of a wooden spoon.
A lot of recipes (Delia's for instance) instruct you to add the egg yolks at the end, but I use this easier method every time and have honestly never had a problem. Just take care not to have the heat too high and the second the mixture begins to boil, turn the heat right down and stir like crazy until you have a smooth, creamy filling.
Spoon the lemon filling into the pre baked pastry case and bake for 8-10 minutes. This will guarantee the filling will be firm enough to slice when you serve the pie. This is not your typical method, but it worked very well for me so I'm sticking with it!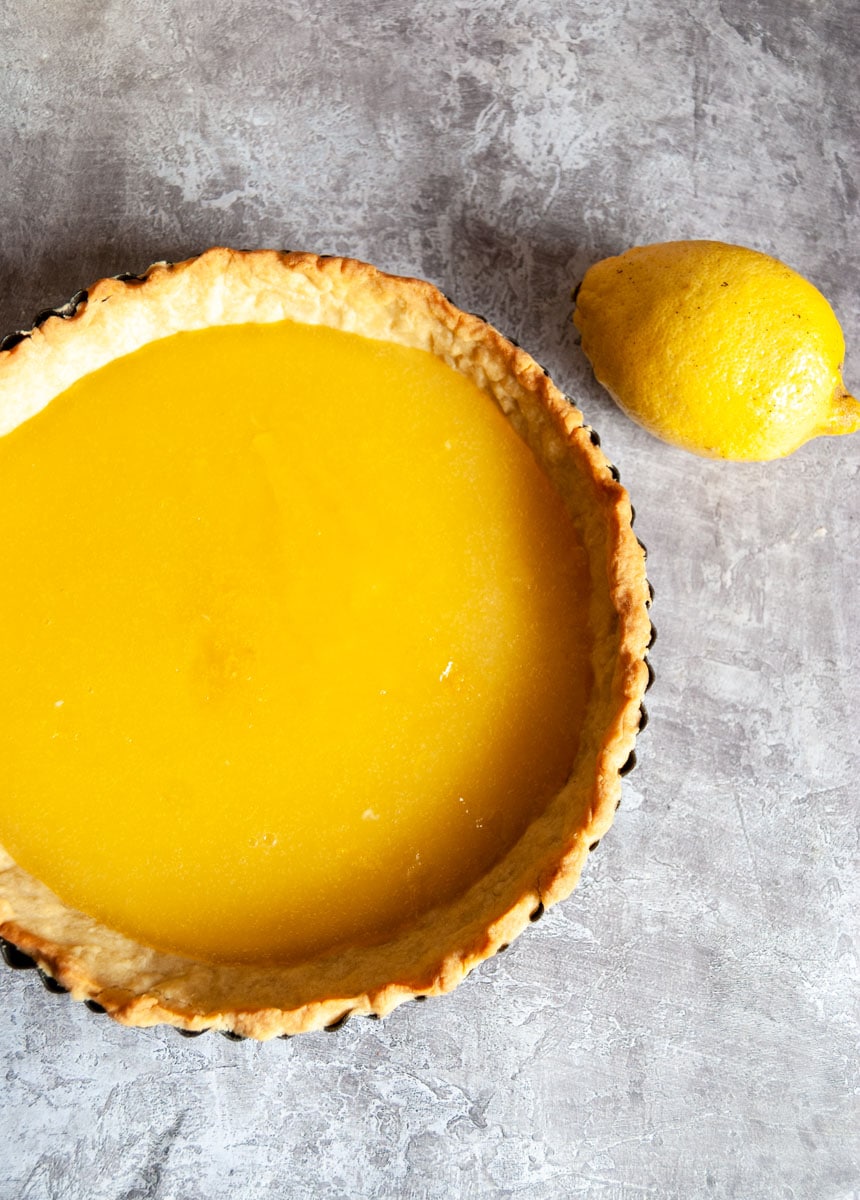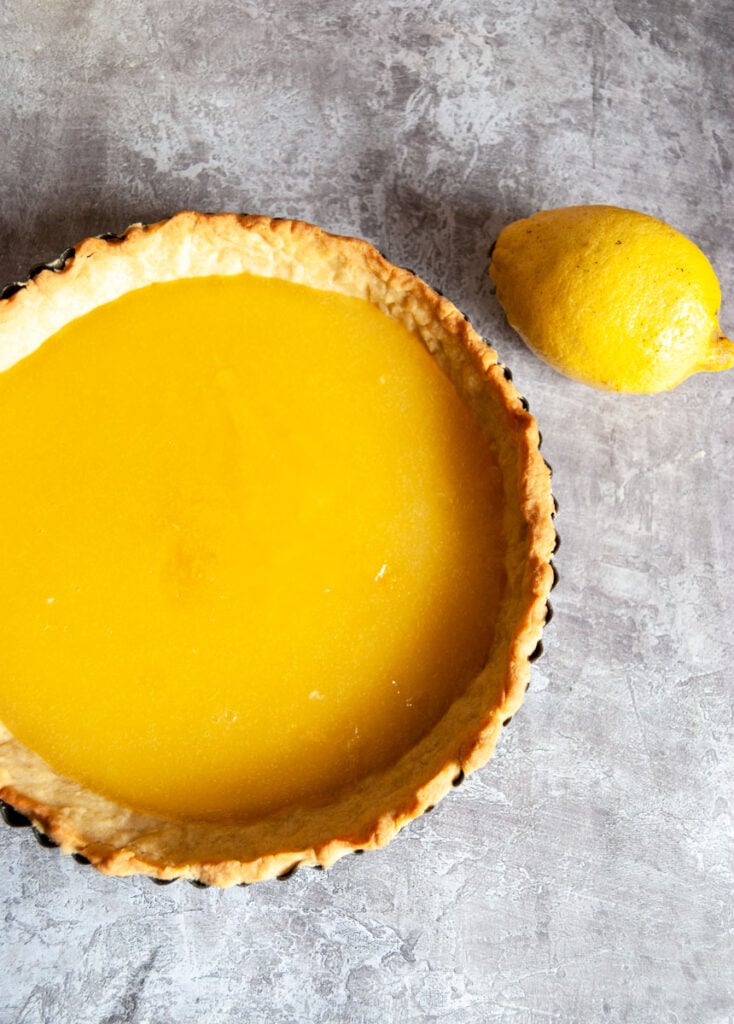 tips for making the meringue topping
Finally you make the meringue topping by whisking egg whites until they hold soft peaks, then gradually add caster sugar, a spoonful at a time, whisking constantly on high speed until the meringue holds stiff peaks.
When making meringue, always make sure that the bowl is spotlessly clean – even the tiniest speck of grease or residual washing up liquid will prevent the egg whites from whisking up to the desired volume.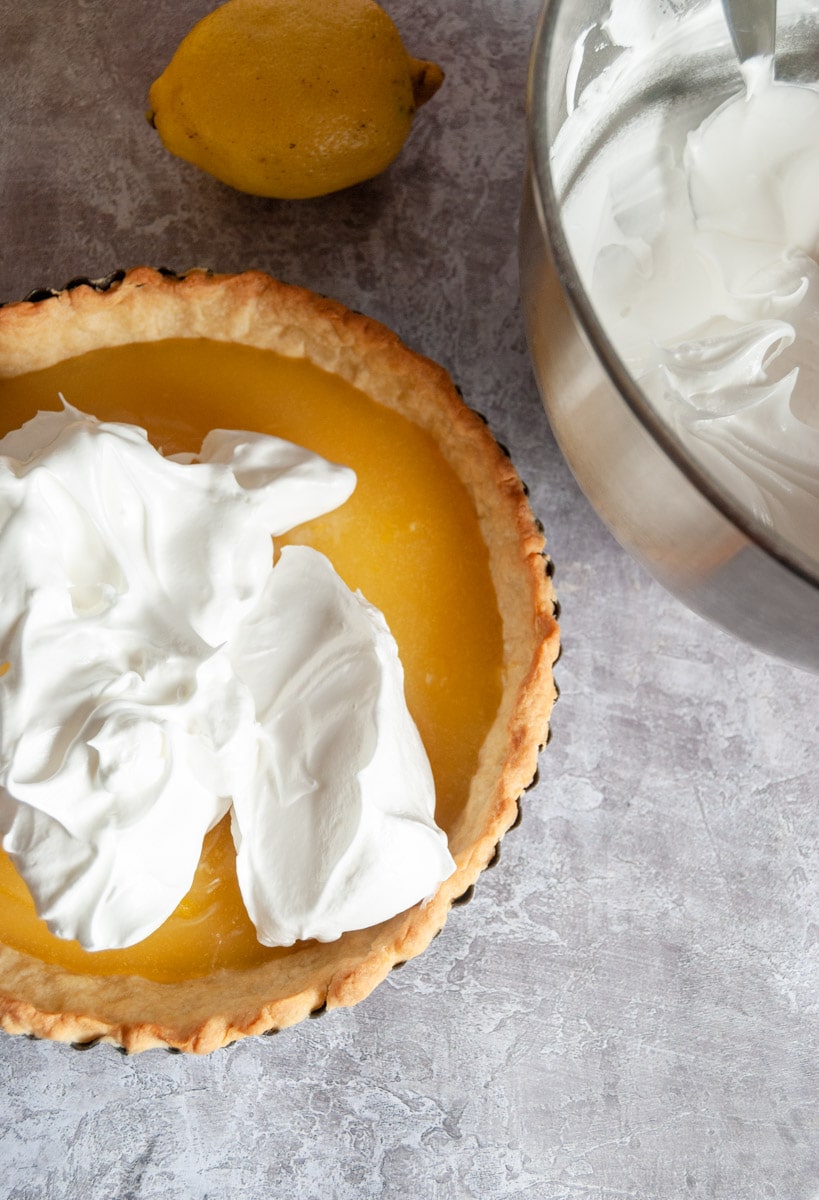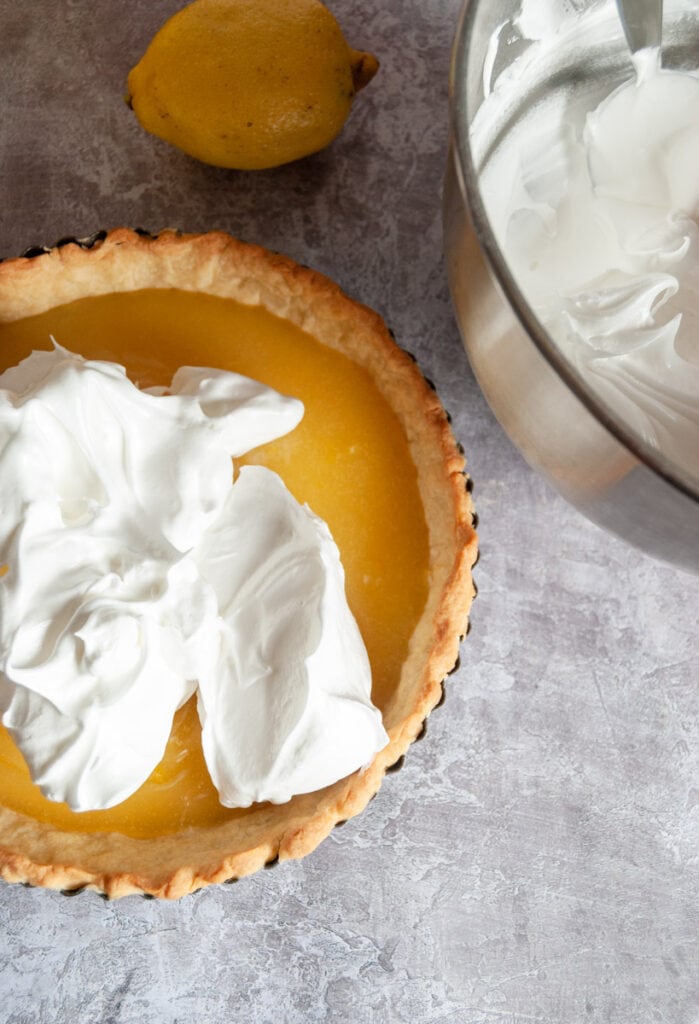 commonly asked questions and trouble shooting
How do you prevent a lemon meringue pie from weeping?
This is where I ran into some issues while recipe testing. The first pie I baked was perfect in almost every way – apart from the tiny issue of liquid running out when I cut into it!
After doing a little research, I decided that I shouldn't have allowed the pie filling to cool down completely before topping with the meringue.
When making pie number two I topped the pie with the meringue while the lemon filling was still warm. This is supposed to help "seal" the pie layers together and also begins to partially bake the bottom of the meringue, preventing any leakage. This certainly worked fine for me!
When spooning the meringue on top of the pie, start from the edges and work your way to the middle, making sure there are no gaps and the meringue is spread right out to the edge of the crust.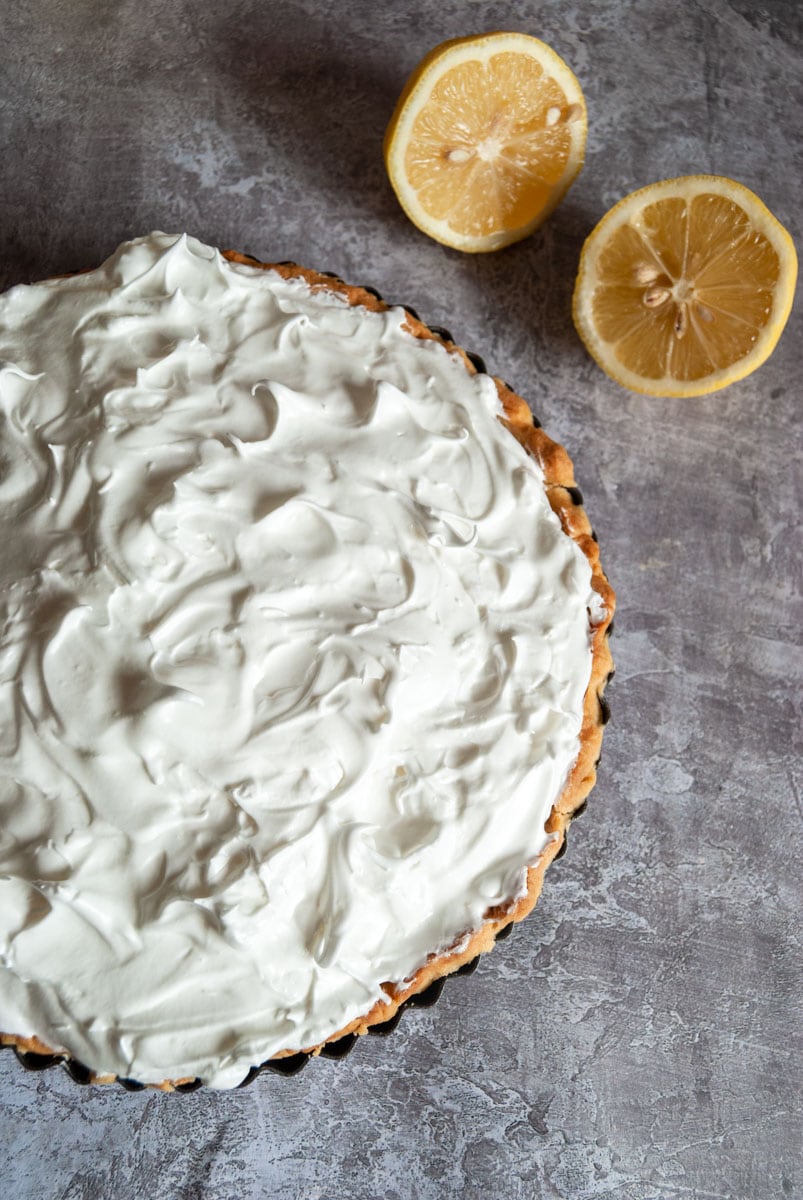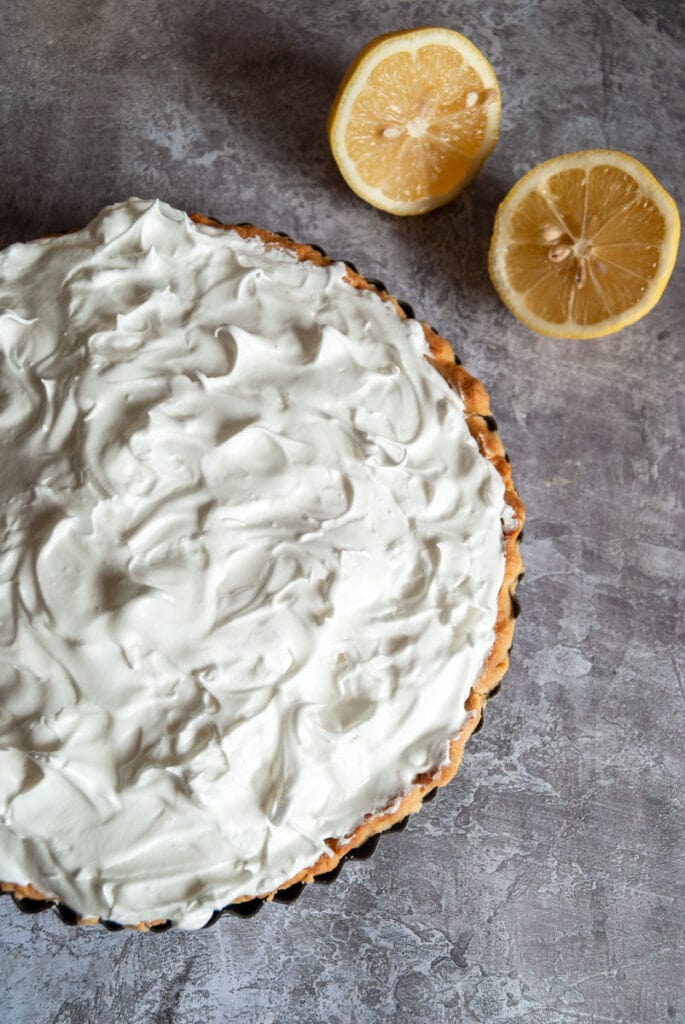 can you make lemon meringue pie in advance?
Lemon meringue pie is best eaten within 24 hours of baking. While it will still be perfectly delicious to eat, the meringue topping will begin to weep after a day or two in the fridge.
If you want to get ahead of time, you could make the pie dough and keep it in the fridge for up to 5 days. The lemon filling and meringue is best made/assembled as fresh as possible.
storage instructions
The pie will be fine sitting out at room temperature for around 3-4 hours. After that, any leftovers should be stored in the fridge and eaten within 3 days.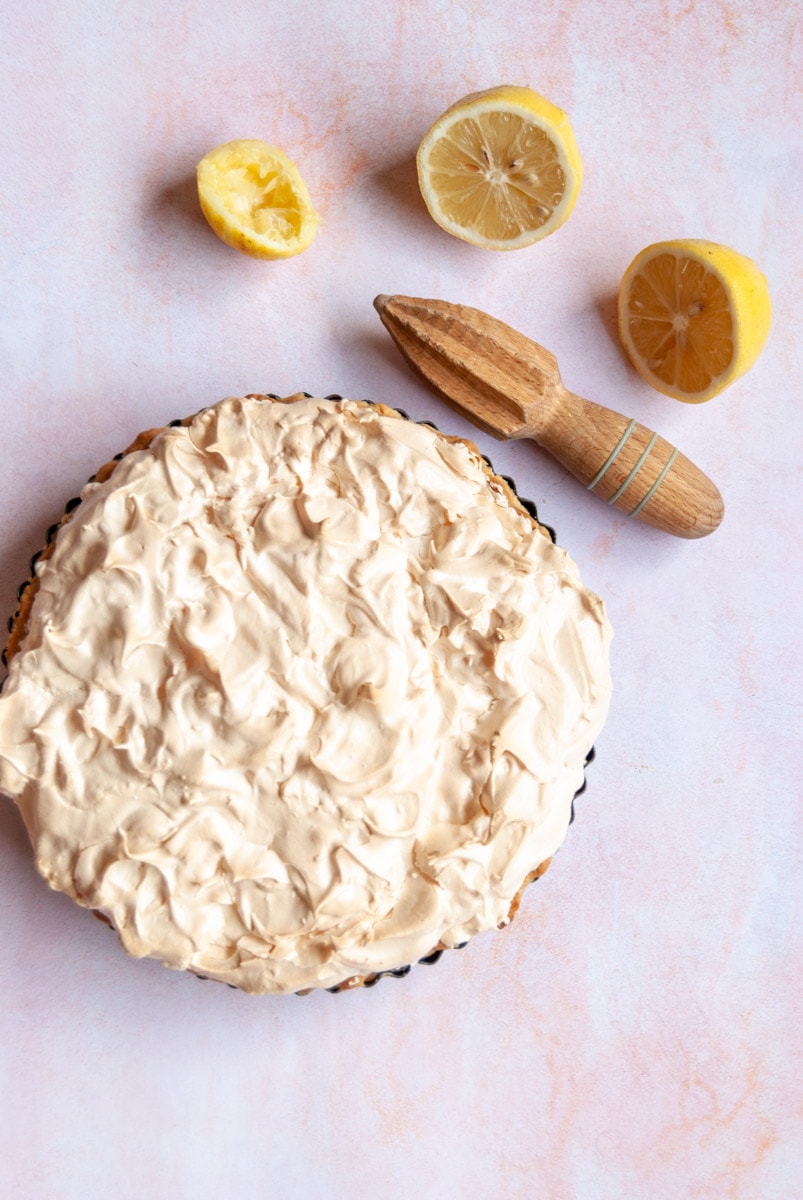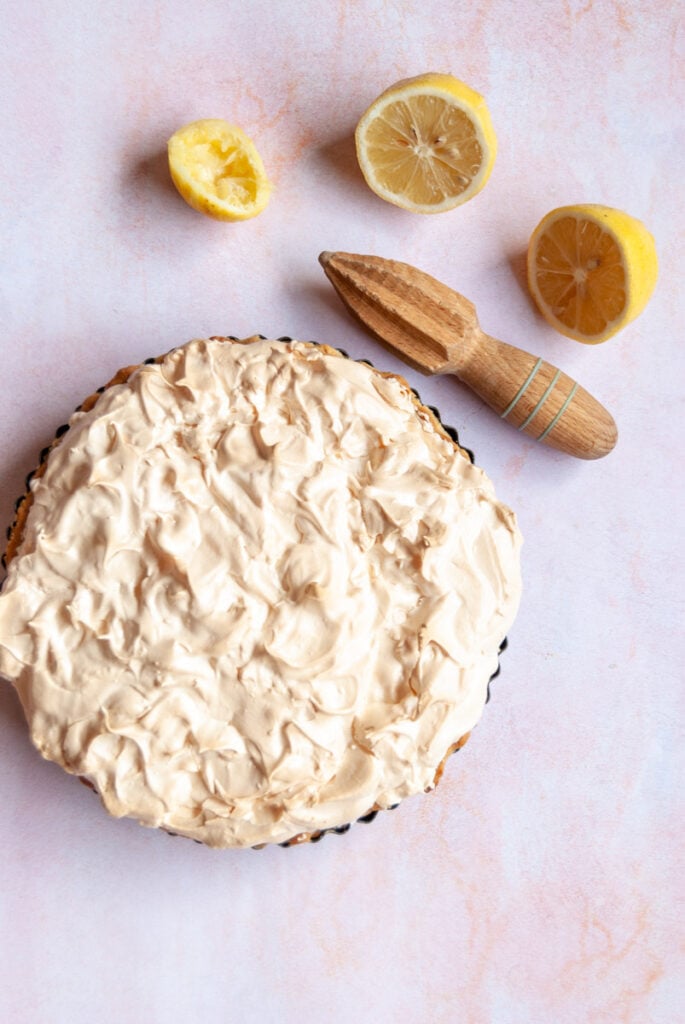 looking for more pie recipes?
did you make this recipe?
I really hope you loved it! Let me know what you thought by leaving a comment below and please rate the recipe by clicking on the stars in the recipe card below. If you have any questions about making the recipe, please just ask!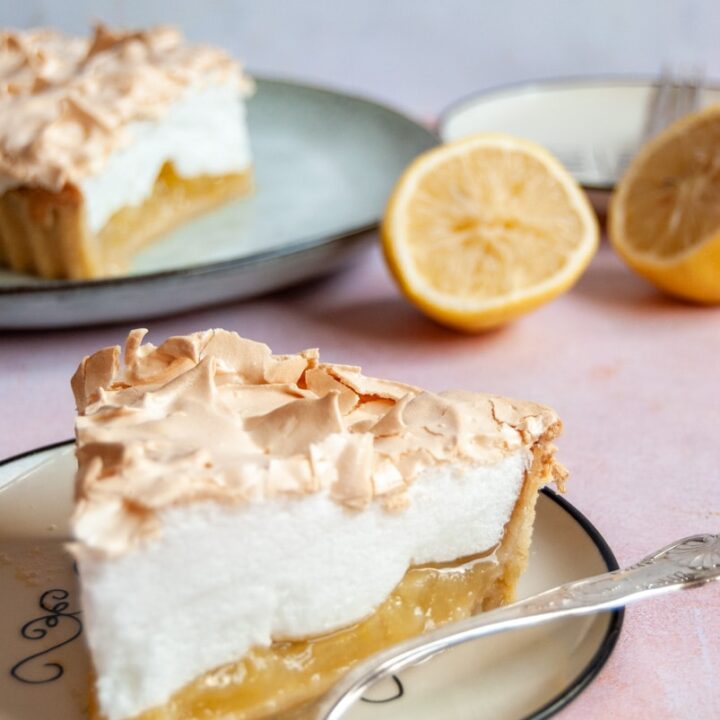 Lemon Meringue Pie
Additional Time:
30 minutes
Total Time:
2 hours
30 minutes
Lemon Meringue Pie is a classic dessert that is so hard to beat - crisp pasty, zesty lemon filling and a fluffy meringue topping. Give it a try - it's much easier than you think!
Ingredients
FOR THE SWEET SHORTCRUST PASTRY
250g plain flour
¼ teaspoon fine salt
40g icing sugar
125g very cold butter, cut into small cubes
1 large egg yolk
2 or 3 tablespoons chilled water
1 teaspoon whisked egg white, for brushing on the pastry case
FOR THE LEMON FILLING
150g caster sugar
2 tablespoons cornflour
100ml water
two large egg yolks, at room temperature
finely grated zest and juice of two lemons
FOR THE MERINGUE:
3 large egg whites, at room temperature
175g caster sugar
Instructions
Start by making the pastry. Place the flour, salt and icing sugar in a mixing bowl, stir to combine and place the cold diced butter on top. If I'm not in a massive rush I place the bowl in the freezer for about 10 minutes to make sure everything is nice and cold.
Rub the butter into the flour until the mixture resembles breadcrumbs. Add the egg yolk and two tablespoons of the water and mix until the dough starts to come together. If there are lots of dry crumbs and the mixture is coming together, add a little extra water. Form the pastry into a round, wrap in cling fim and place in the fridge for at least 30 minutes.
Preheat the oven to 180C/160Fan/350F. Remove the pastry from the fridge and roll it out in a circle that is large enough (plus around 1/2 inch extra) to fit a 23cm tart tin with a depth of 5cm. Peel the top layer of parchment off the pastry, flip it upside down and place inside the tart tin. Peel off the remaining piece of parchment (don't throw it away - you'll need it again soon.) Run a rolling pin all along the edges of the tin to trim off the excess pastry. Roll a small piece of the excess pastry into a ball and use it to push the pastry into the little grooves of the tin. At this stage you can chill the unbaked tart case for up to 5 days.
When you're ready to bake the tart case, place a piece of the baking parchment on top of the pastry, fill with baking beans or pulses and bake for around 12-15 minutes or until the pastry case looks almost fully baked and just starting to colour very slightly. Carefully remove the baking beans and parchment, brush with a little whisked egg white and return to the oven to 5-10 minutes or until the pastry looks light golden brown.
To make the lemon filling, whisk the sugar, cornflour, water, egg yolks, lemon zest and juice in a saucepan. Cook over a medium heat, whisking constantly until the mixture begins to bubble and thicken. Pour the filling into the pastry case and bake for 8-10 minutes. Remove from the oven and allow to stand for about 10 minutes.
To make the meringue, pour the egg whites in a scrupulously clean bowl. Using an electric mixer, beat the egg whites on medium speed until they are beginning to hold soft peaks, then gradually add the sugar, a tablespoon at a time, beating on high speed until the meringue is glossy and holding stiff peaks.
Starting from the edges of the pie, spoon or pipe on the meringue, making sure there are no gaps and the edges of the pie are completely sealed. Bake the pie for 20-25 minutes or until the meringue is starting to turn crisp and golden on top.
Leave the pie to sit for about 20-30 minutes before serving. It can be eaten warm or cold.
Notes
The pie can be served either warm or cold.
Lemon meringue pie is fine kept at room temperature for around 3-4 hours. After that any leftovers should be stored in the fridge and eaten within 3 days.
Nutrition Information:
Yield:

8
Serving Size:

1
Amount Per Serving:
Calories:

549
Total Fat:

20g
Saturated Fat:

11g
Trans Fat:

1g
Unsaturated Fat:

7g
Cholesterol:

160mg
Sodium:

309mg
Carbohydrates:

85g
Fiber:

2g
Sugar:

53g
Protein:

10g
Calories and nutritional information are provided by a third party application and should be viewed as indicative figures only.