This easy Potato and Egg Salad recipe make a perfect Summer side dish for BBQ's, picnics and salad. It's creamy, delicious and very easy to make!
A potato salad is one of my favourite side dishes ever. I make it constantly throughout the Summer months. It's a great dish for making in advance because it keeps very well – it tastes all the better for leaving it for a day or two in the fridge.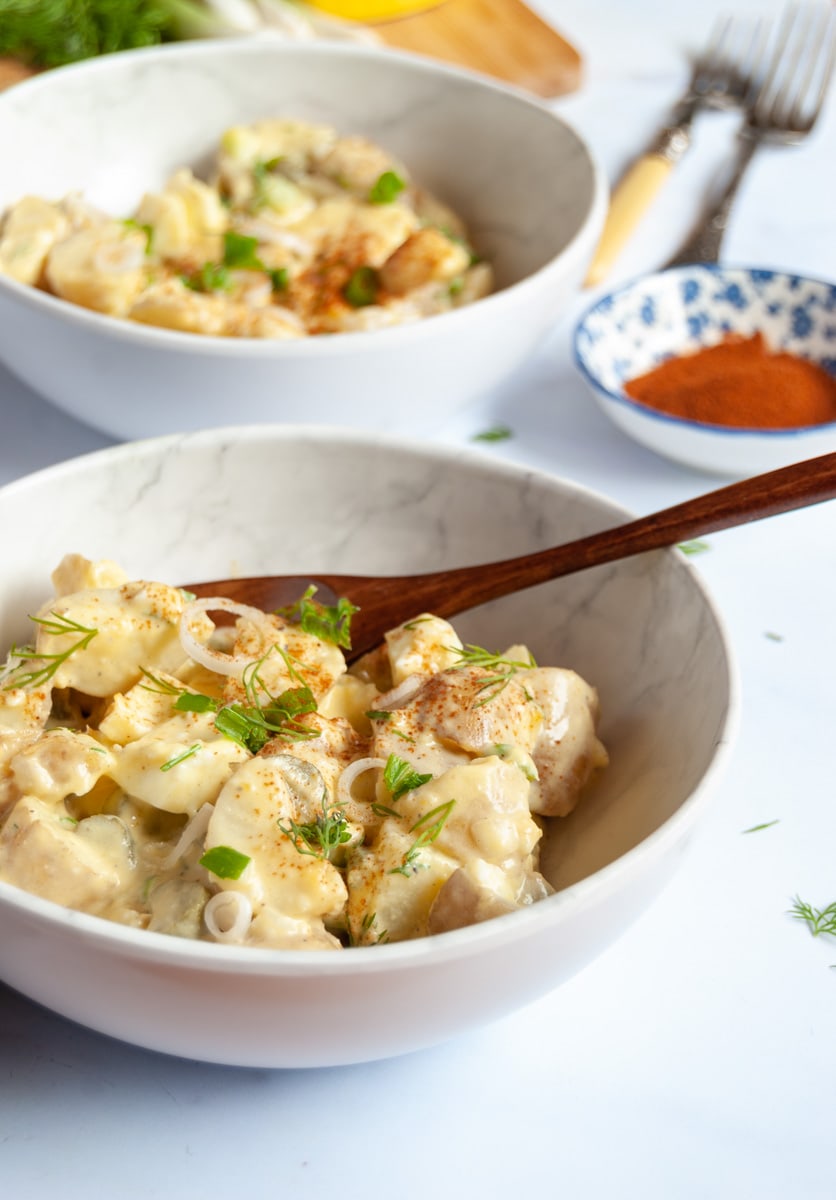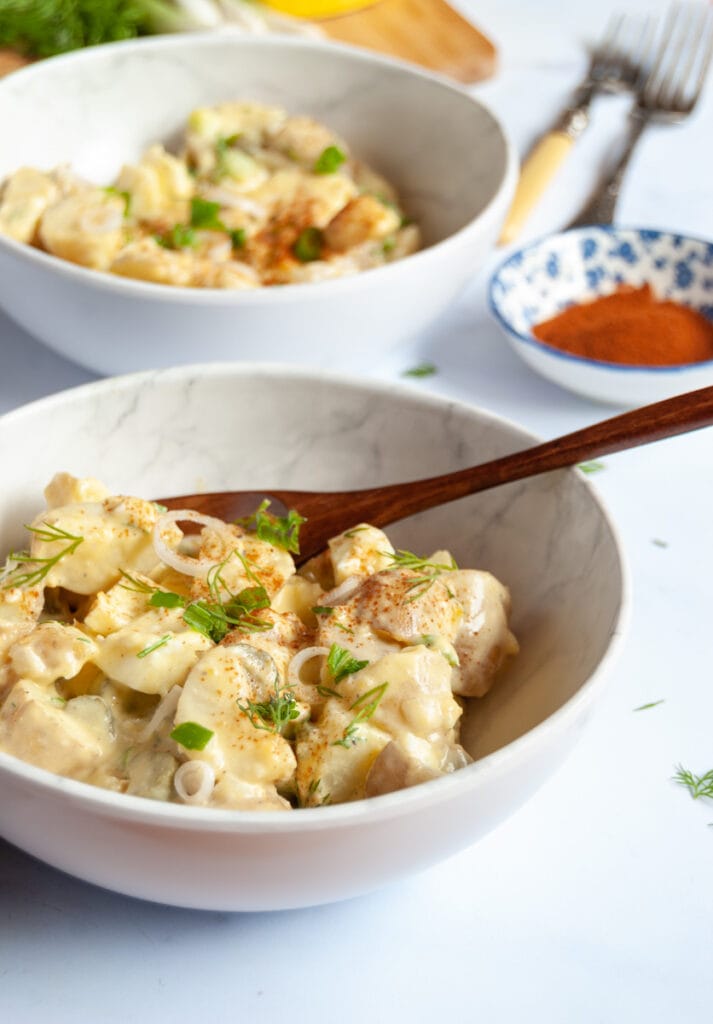 I love an egg salad just as much as I love potato salad, so I thought why not combine the two? Let me tell you, I will be making this forever – it's so good!
On a hot Summer's day when you really don't feel like cooking very much, just make up a big mixed salad, open up a packet or two of cold meat and serve with this potato and egg salad.
You might also want to include my roasted pepper orzo salad and Greek orzo salad recipes – they are both on constant rotation in my house all year round.
Another delicious potato salad recipe I love to make is this new potato salad with asparagus and radishes – the warm potatoes are coated in a lemon-mustard buttermilk dressing which is a must try.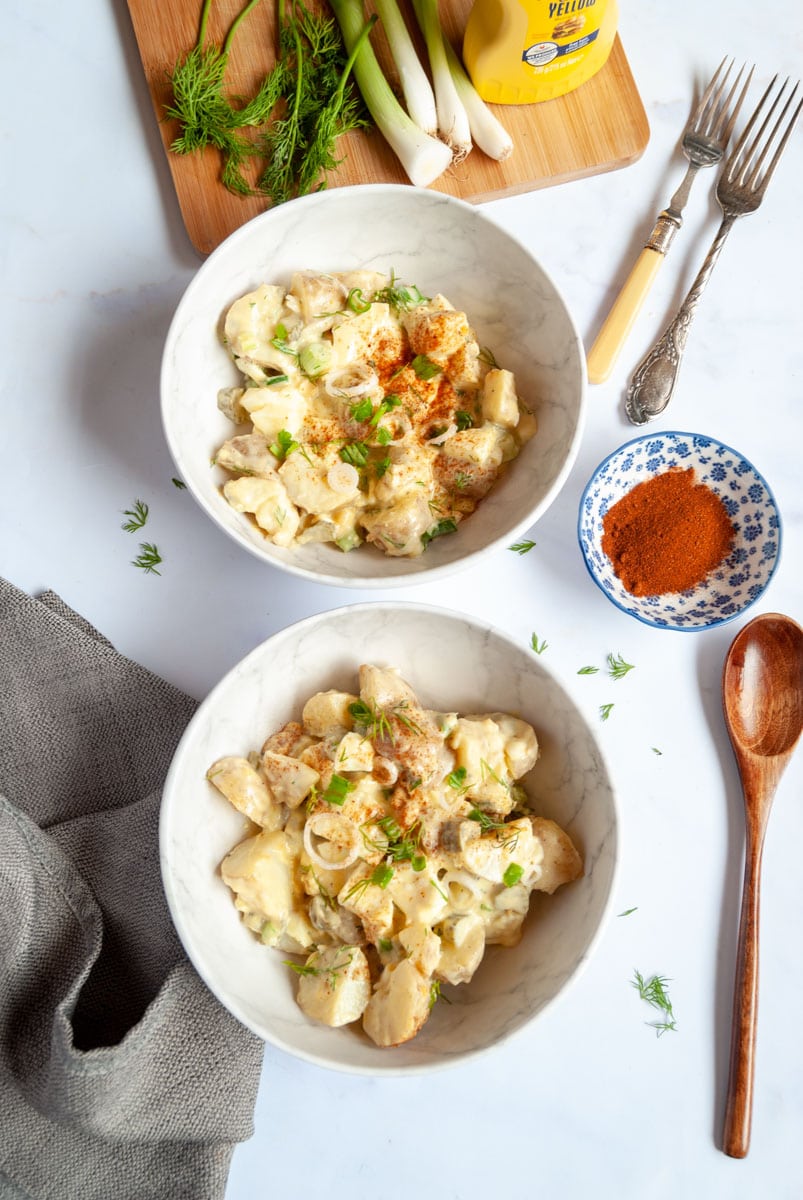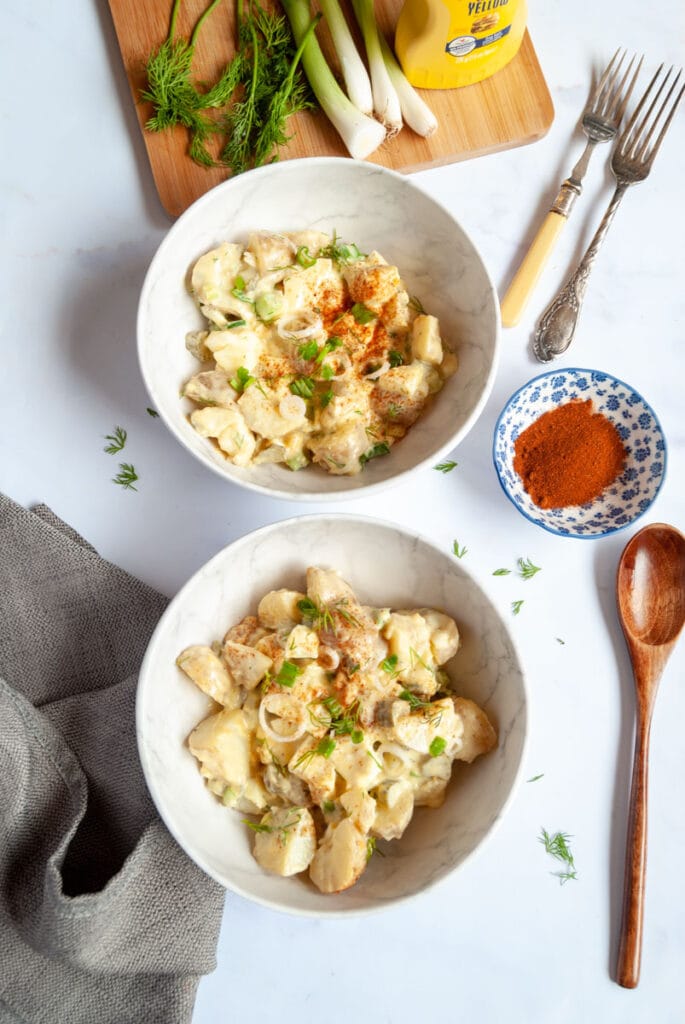 what are the best potatoes for potato salad?
Save your floury potatoes for making fluffy mash or roast potatoes. Waxy potatoes are best for making potato salad. They hold their shape well and won't collapse when boiled. Jersey Royals, Charlotte, Anya, Ayrshire or Desiree are all ideal (to name just a few.)
ingredient list
the mincemeat filling
New (waxy) potatoes such as Jersey Royals or Charlotte
Spring onions (scallions) – you could use a finely chopped brown or red onion instead if you prefer, but I love the mild flavour of Spring onions.
hard boiled eggs
Full fat Mayonnaise – you can use lighter mayo, but it's not quite the same! Full fat is best here.
salad cream. If you aren't in the UK and can't find salad cream, just add more mayonnaise. Salad cream does have a unique flavour that's unlike anything else I can think of though, so it's really worth using if you can.
gherkins (dill pickles) and a little of the pickle juice – sliced gherkins add a lovely crunch, while adding a little of the brine from the jar really elevates the flavour. When your gherkins are finished, don't tip the brine down the sink! There's so much flavour that's great for salad dressings and much more.
Yellow American style mustard works so perfectly here, but you can also use Dijon mustard. Wholegrain would give a different vibe but would still be good. The only mustard I would not recomend using in this recipe is hot English mustard. That would be too much. I am a self confessed mustard addict!
Celery salt – you don't absolutely have to add this, but it really helps to bring out the flavours. I use celery salt a lot in cooking – it's a useful ingredient to have in your storecupboard.
Sea salt flakes and freshly ground black pepper – use plenty of seasoning and taste as you go so you don't add too much at once.
Freshly chopped chives or dill – some people hate dill. I LOVE it and use it all the time. Chives are the classic choice for a potato salad. I love both, but use whatever you prefer.
paprika for sprinkling on top (totally optional, so please don't feel to have to buy it especially)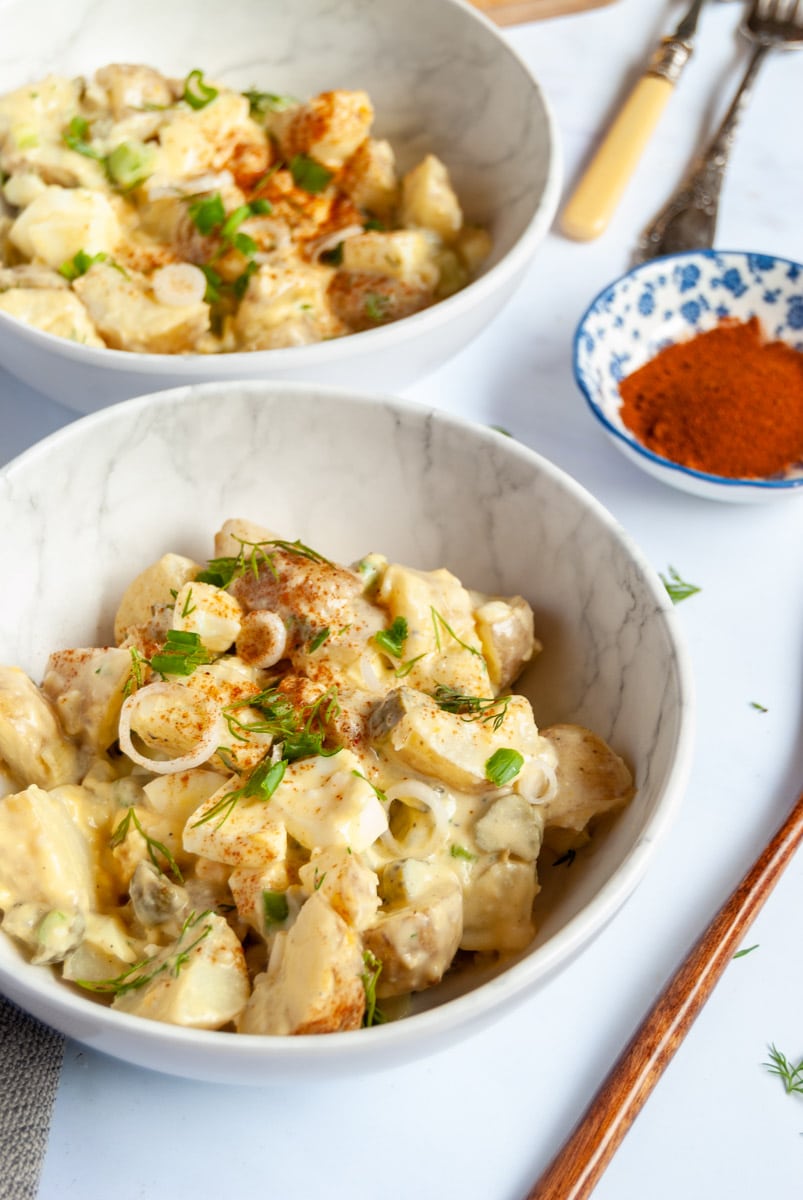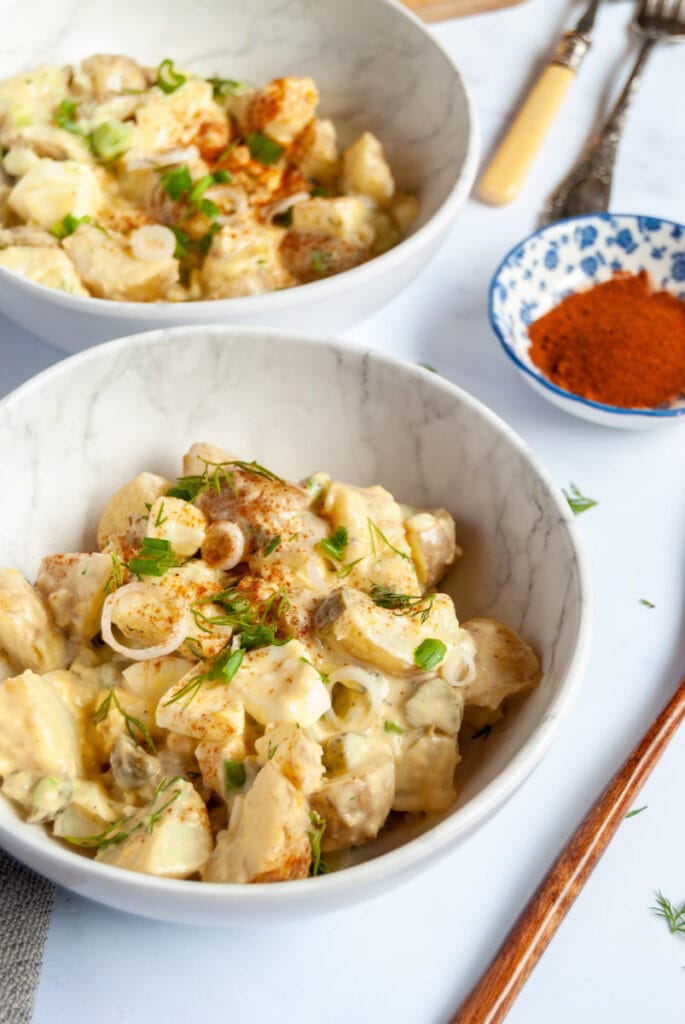 recipe tips
When boiling new potatoes, always bring the water to the boil first (don't forget to add salt) and then add the potatoes. This will help preserve all the nutrients and flavour.
Drain the potatoes well so they are nice and dry and allow them to cool down. As soon as they are cool enough to handle without burning yourself, cut them into halves or quarters. Don't worry if some of them break up a little – I think it makes for a more interesting salad if they are slightly different sizes.
Make the dressing for the potato salad in a separate bowl. Mix the mayo, salad cream, mustard, celery salt and seasoning until smooth and then pour over the potatoes, eggs and onions, mixing well until all the potatoes are well covered in the dressing.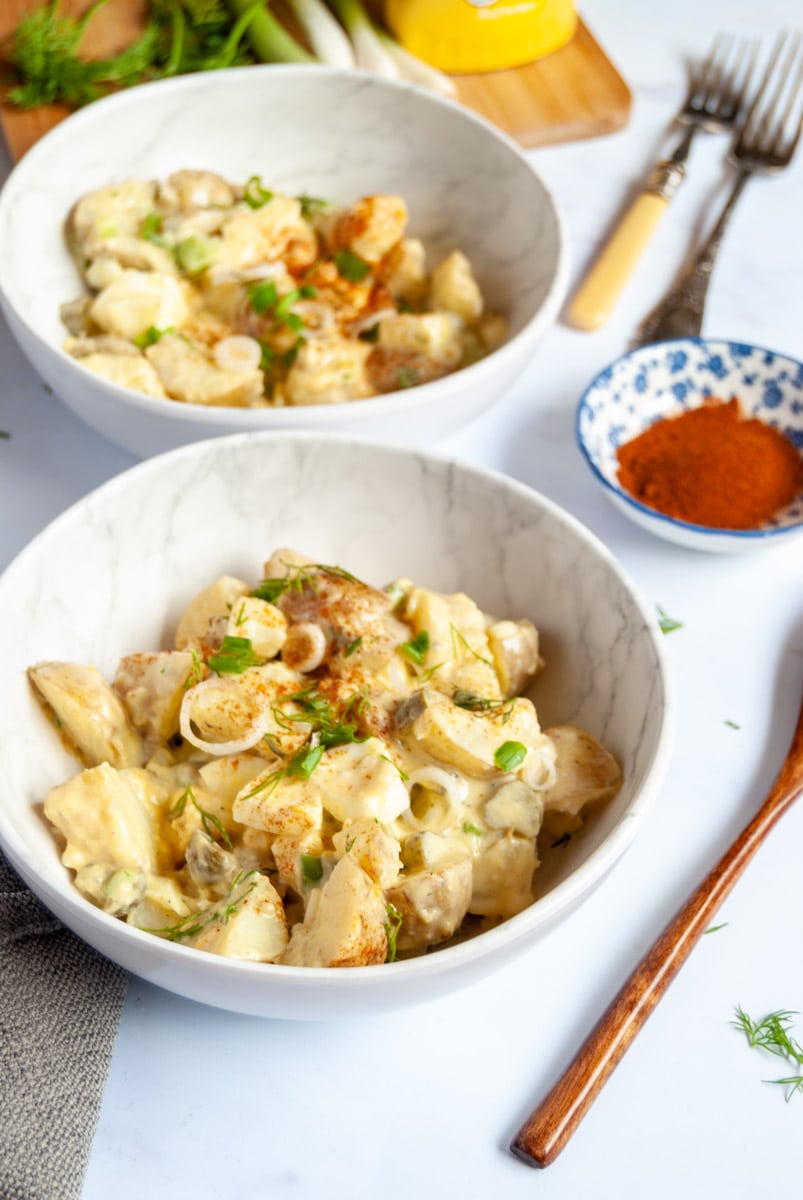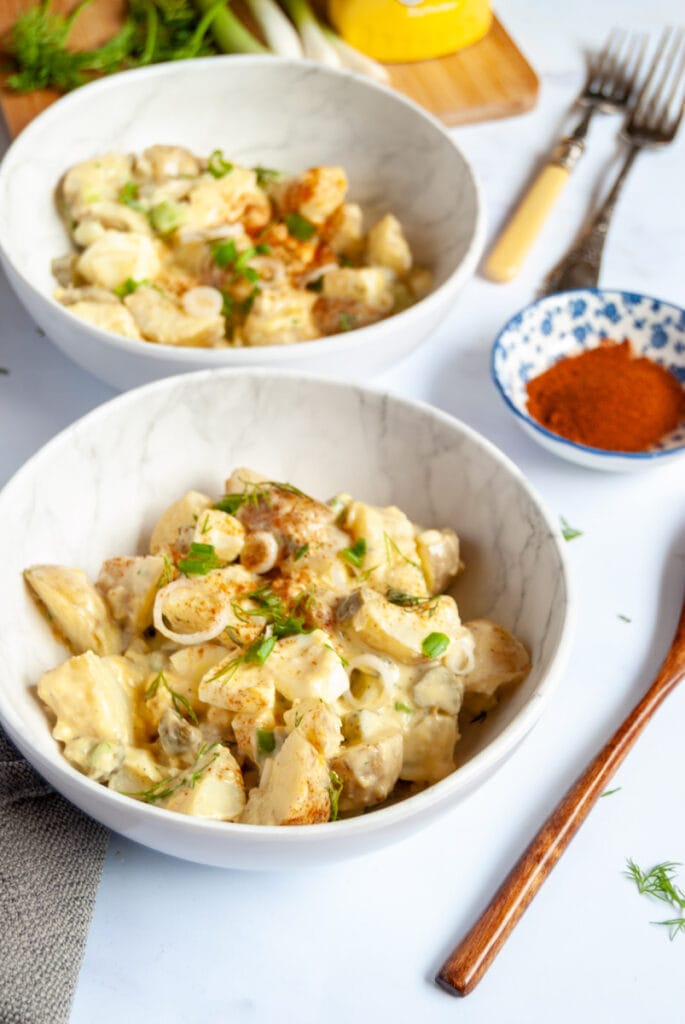 How long does potato and egg salad last in the fridge?
Potato salad will last for up to 3-5 days in the fridge. Store the salad in an airtight container with a well fitting lid. Unfortunately, potato salad does not freeze well.
make the recipe your own
Add some chopped diced celery
or some diced bell peppers
Throw in a handful of capers. I adore capers – they are little bombs of flavour!
Add some chopped up cooked bacon bits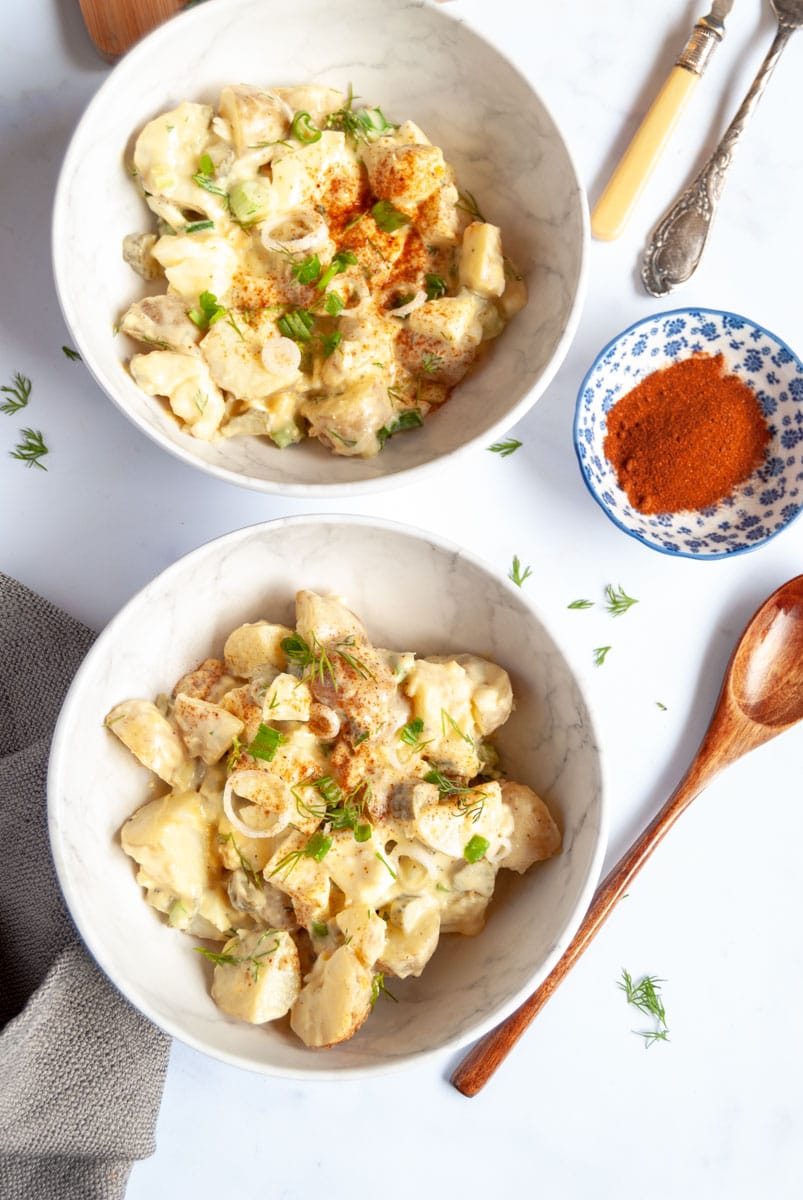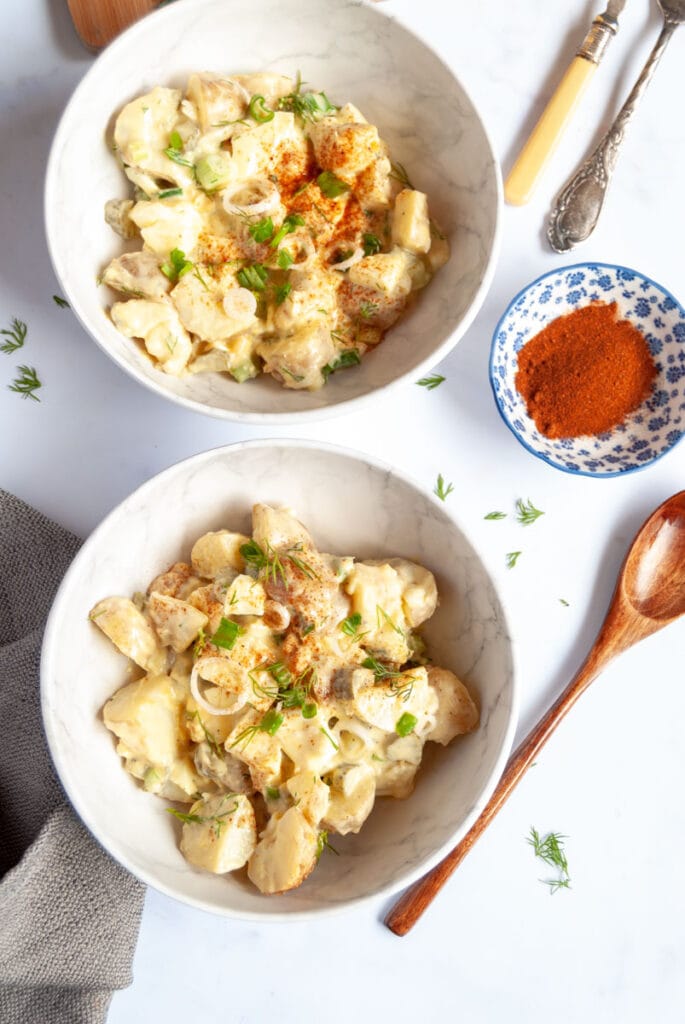 More recipes perfect for Summer
smoked mackerel and chickpea salad
watermelon, feta and mint salad
did you make this recipe?
I really hope you loved it! Let me know what you thought by leaving a comment below and rate the recipe out of 5 by clicking on the stars in the recipe card.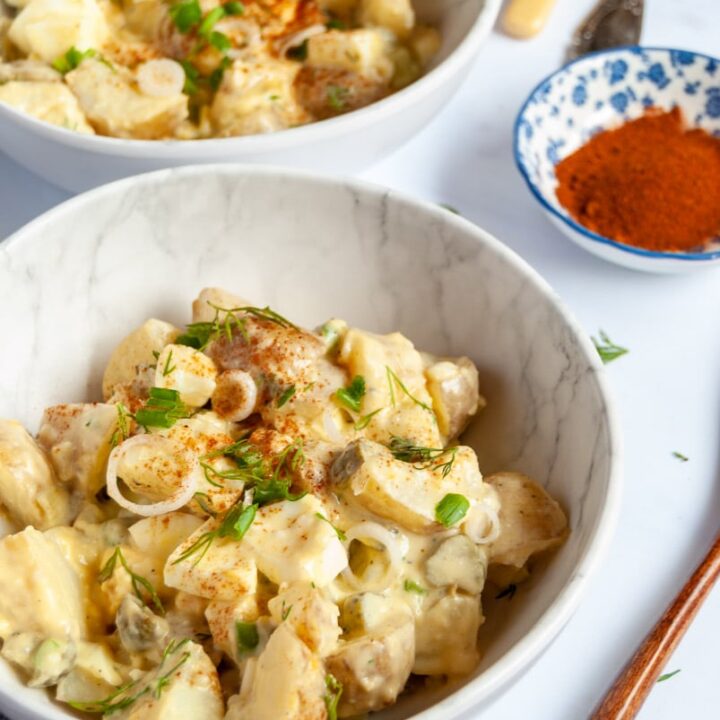 Potato and Egg Salad
Additional Time:
30 minutes
Total Time:
1 hour
10 minutes
This potato and egg salad recipe is fresh, creamy and tastes incredible! It can be easily made in advance for barbecues, parties or picnics.
Ingredients
400g new (waxy) potatoes, such as Jersey royals or charlotte
3 Spring onions, finely sliced or one brown/red onion, finely diced
4 large eggs
6 tablespoons full fat mayonnaise
4 tablespoons salad cream
1 tablespoon American style yellow mustard, or Dijon mustard
3 mini or one large gherkin (dill pickle), finely chopped
1 tablespoon of the gherkin juice
1/4 teaspoon celery salt
sea salt and freshly ground black pepper
1 tablespoon chopped fresh chives or dill
1/8 teaspoon of paprika, optional
Instructions
Bring a pan of water to the boil. Add a little salt and carefully tip in the potatoes. Turn the heat down slightly and simmer for 15-20 minutes or until the potatoes are fork tender. Drain the potatoes and set aside to cool down while you cook the eggs.
Bring a pan of water to the boil, add the eggs and cook on a fast simmer for 10 minutes. Remove the pan from the heat, drain and immediately run the cold water tap over the eggs for about one minute. turn off the tap and let the eggs sit in the cold water until you're ready to peel them.
When the potatoes are cold enough to handle, slice them into halves or quarters if they are quite large. Don't worry too much if they break up a little, it doesn't matter. Place the potatoes in a large serving bowl. Peel the cold eggs and chop into quarters. Add them to the bowl with the eggs along with the sliced spring onions (keep a few onions aside for garnish later).
Place the mayonnaise, salad cream, mustard, sliced gherkins, gherkin juice and celery salt in a medium bowl. Using a wooden spoon or spatula, mix well to combine. Add salt and pepper to taste.
Pour the dressing over the potatoes and eggs and gently mix to combine until all the potatoes and eggs are covered in the dressing. Stir in the chopped chives or dill, top with the reserved onions and sprinkle over a little paprika.
Notes
This potato salad recipe can easily be doubled.
The salad will keep for 3-5 days in the fridge. Store in an airtight container.
Nutrition Information:
Yield:

4
Serving Size:

1
Amount Per Serving:
Calories:

300
Total Fat:

23g
Saturated Fat:

6g
Trans Fat:

0g
Unsaturated Fat:

17g
Cholesterol:

203mg
Sodium:

520mg
Carbohydrates:

15g
Fiber:

1g
Sugar:

11g
Protein:

8g
Calories and nutritional information are provided by a third party application and should be viewed as indicative figures only.