Creamy Mashed Potatoes are THE classic side dish that will never go out of style! Homely, comforting and so delicious. Follow this easy recipe for the Best Mashed Potatoes ever!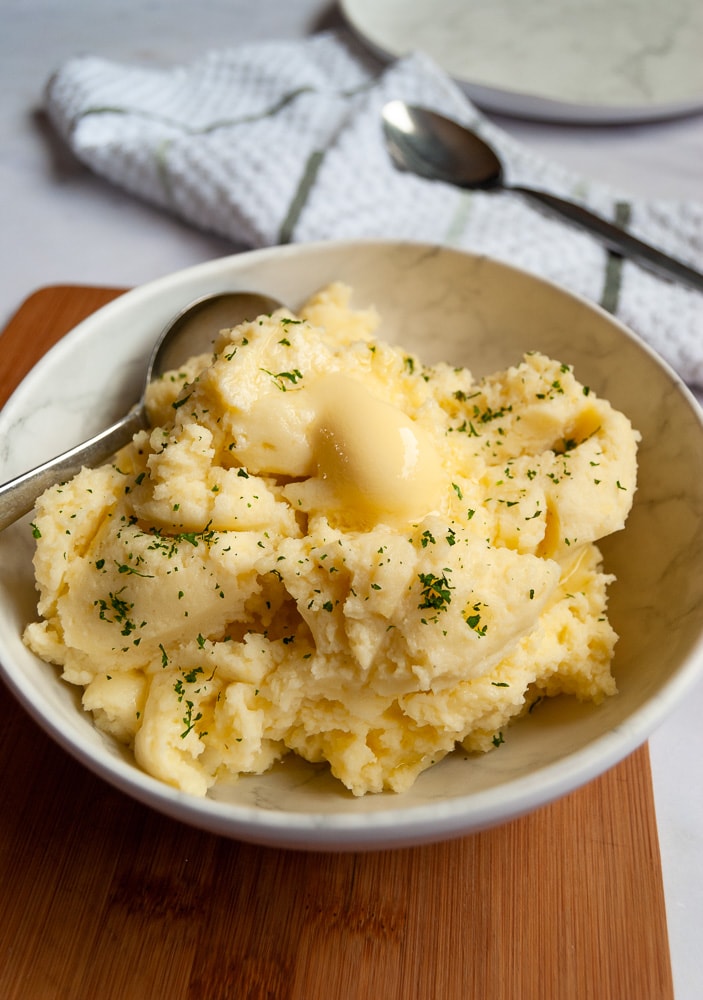 There is nothing more comforting and homely than a bowl of Buttery, Creamy Mashed Potatoes!
Whether it's alongside a Sunday roast, with Thanksgiving /Christmas dinner or served with a rich, hearty slow cooker beef casserole, mashed potatoes really are the definition of "comfort food."
BUT….there's nothing more disappointing than dry, lumpy, tastless mashed potatoes. Especially when you're craving them and they turn out…rubbish and bland.
I feel that if you're going to have mashed potatoes, you need to do it properly. And that means real butter and full fat milk. I would rather have proper mashed potatoes once a month than a "healthier" version once a week.
Follow this recipe and I promise you will be sold….buttery, creamy mashed potato heaven will be yours!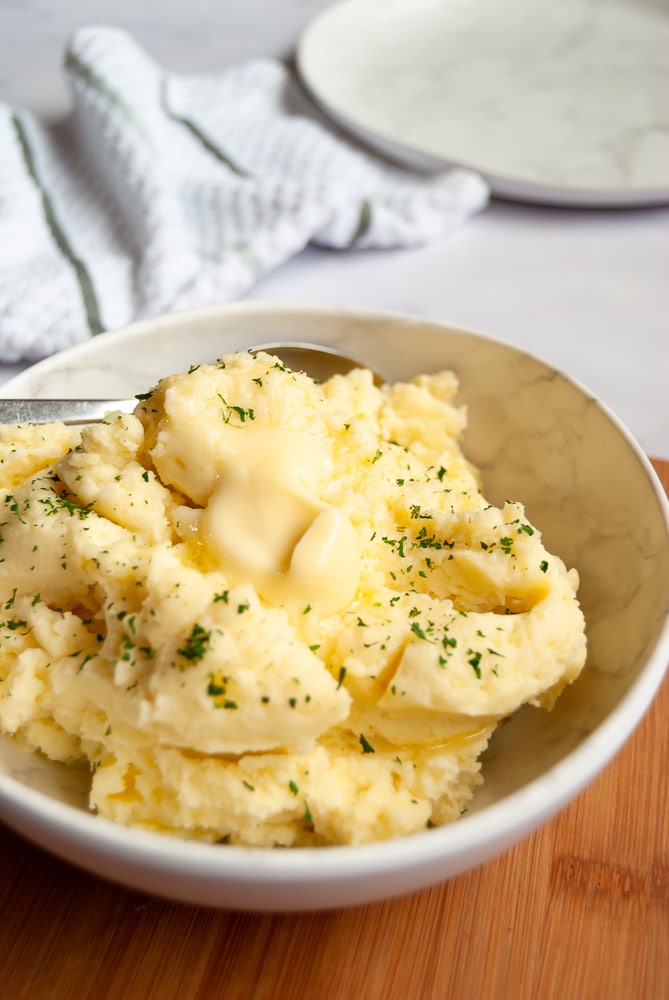 how to make creamy mashed potatoes
Start by washing, peeling and cuttiing your potatoes into evenly sized pieces. You don't want them too small or they might disintegrate – this size is about right!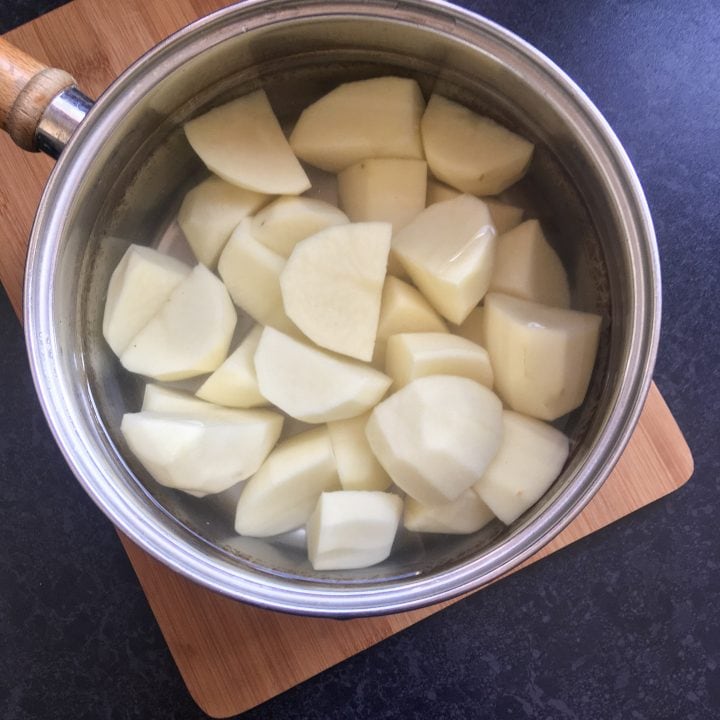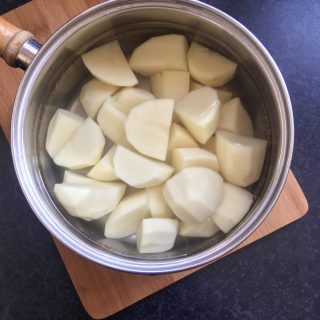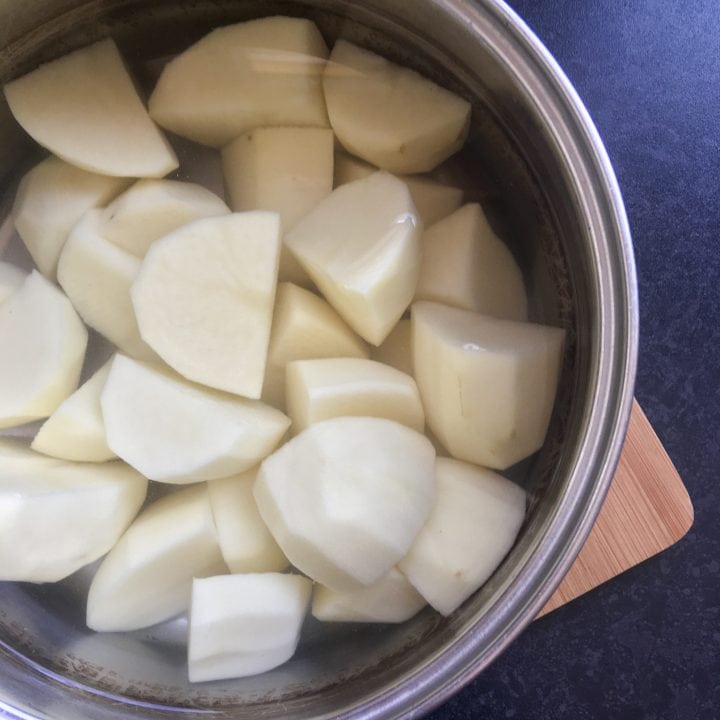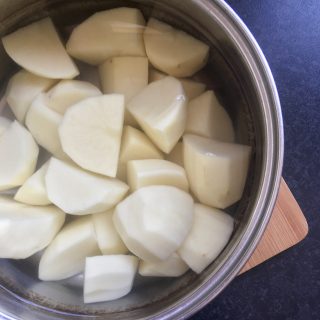 Place the cut potatoes in a pan and cover with enough water to cover them. Add 1 teaspoon of salt and place on the hob. Bring to the boil then turn the heat down to a low-medium simmer. Cover the pan with a lid and cook for about 20 minutes or until the potatoes are cooked.
If you pierce the potatoes with a knife, they should feel nice and soft.
Remove from the heat, drain well and using a potato masher, start to break up the potatoes, allowing the steam to escape.
Leave the potatoes to sit on the side for a minute while you warm up the milk.
Inspired by The Pioneer Woman's decadent creamy mashed potato recipe, I've also added cream cheese to this mash for a tangy, rich flavour. It really does make a difference – you should try it! But you can leave it out if you want.
Now it's time to add the butter, cream cheese and salt and pepper. Don't be shy with the seasoning.
If you like garlic, 1/2 teaspoon of garlic granules is a nice addition.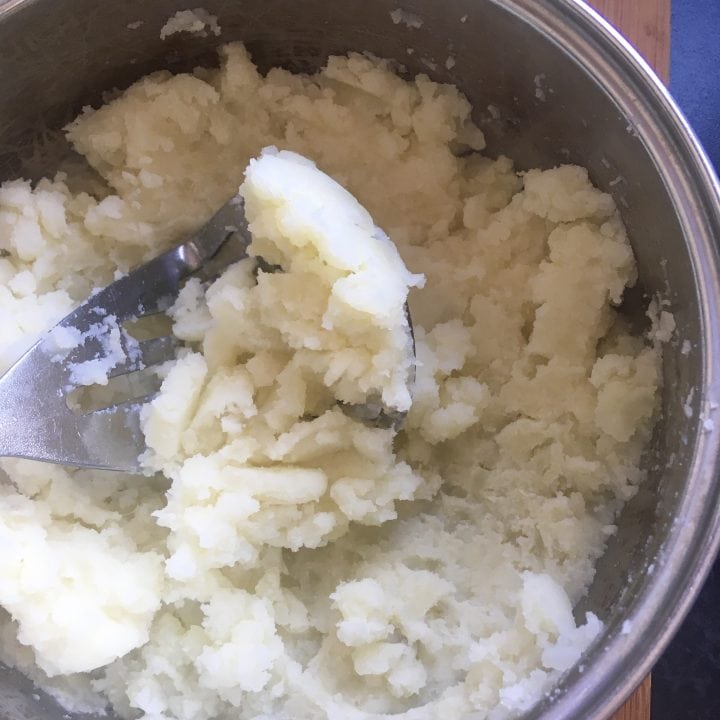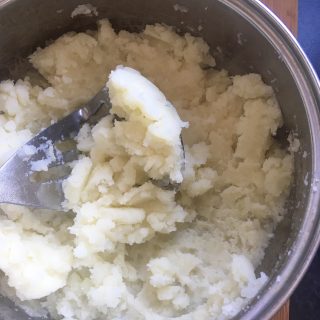 Now it's time to mash, mash, mash! Some people swear by a fancy potato ricer, but I find a humble, basic potato masher does the job fine for me.
When the potatoes look smooth, fluffy and lump free, I beat the living daylights out of them with a wooden spoon. This adds some air and fluffs the mash up beautifully.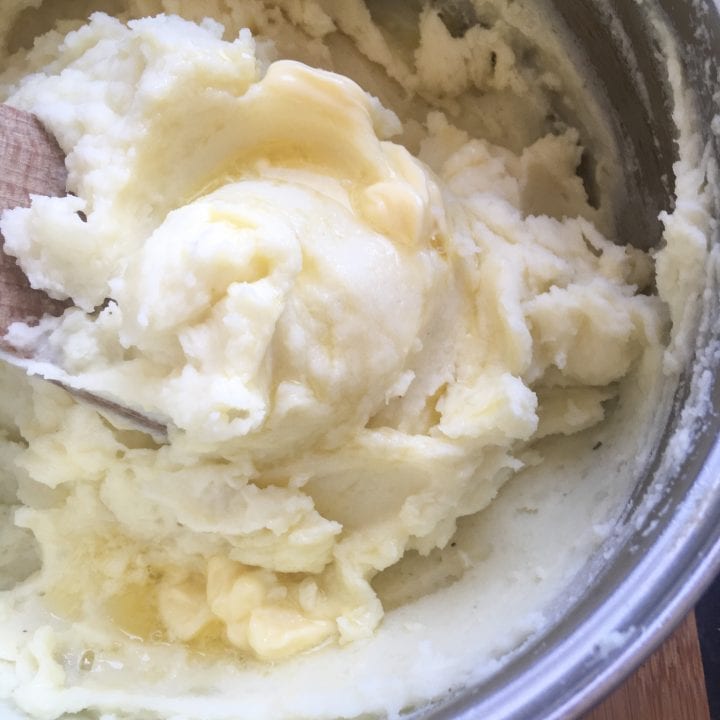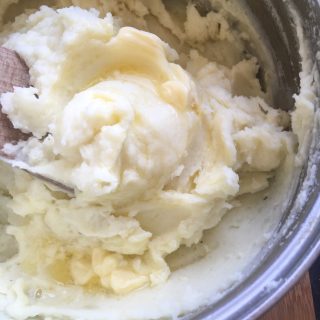 All that's left to do now is taste the mash to see if you want to add more seasoning, transfer the potatoes to a bowl and serve!
I like to add an extra pat of butter on top and let it melt into the mash (adding more butter is never a bad idea, right?)
Delicious add ins for mashed potatoes
Add 1 tablespoon freshly chopped chives for a mild onion flavour.
For cheesy mash (my favourite!) stir in 100g cheddar cheese. I love to use Red Leicester or Mature Cheddar. 75g freshly grated parmesan cheese is also really good.
For an Irish Colcannon, stir in cooked cabbage or kale and sliced spring onions.
Delicious recipes to serve with mashed potatoes
Easy Roast Lamb with Wild Garlic and Rosemary
And not forgetting the classic Scottish meal Mince and Tatties! Although I must admit I wouldn't add the cream cheese here – it just wouldn't seem quite right!
what to do with leftover mashed potato
Lots! Use it to top a cottage pie like this haggis, neeps and tatties cottage pie
Mix with flour, salt and pepper and leftover cooked veg to make potato cakes
Make Tattie scones – so good warm from the pan with lots of butter!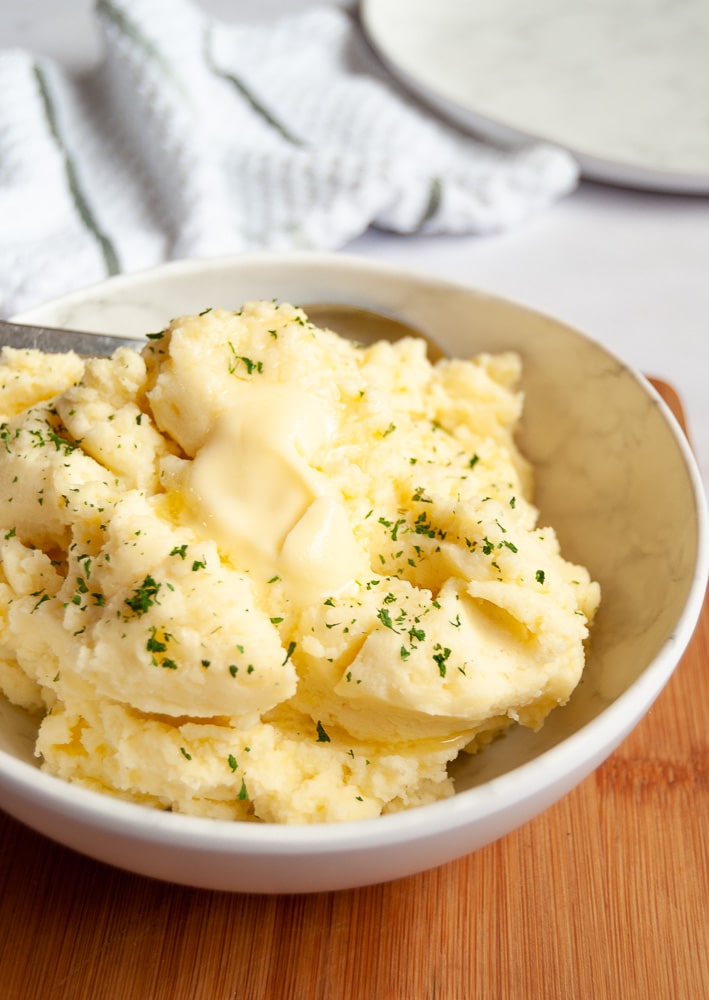 Looking for more side dishes?
Spring Greens with Lemon and Mustard Dressing
Honey Mustard Roasted Parsnips and Carrots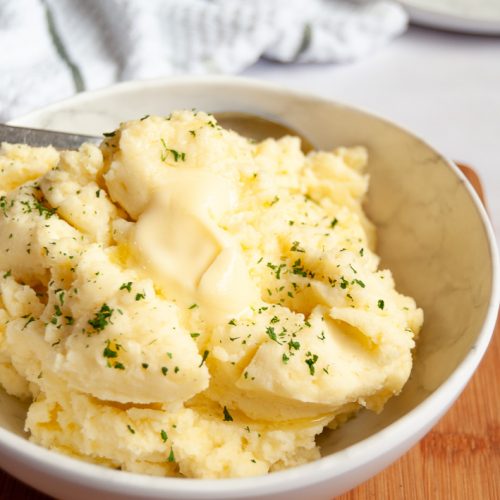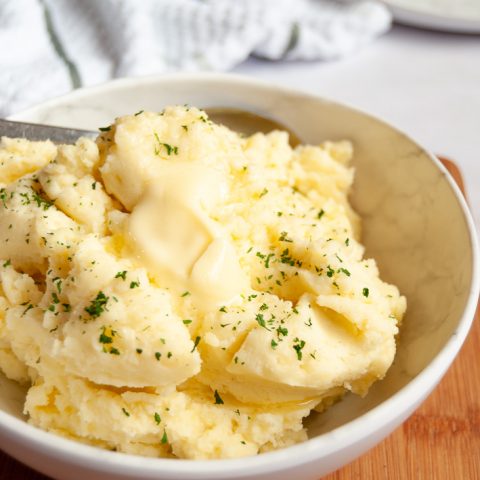 Creamy Mashed Potatoes
These buttery, creamy mashed potatoes are the ultimate comfort food! Potatoes are beaten with warm milk, butter and cream cheese for a deliciously tangy, flavourful mash.
Ingredients
1kg Potatoes, peeled and cut into even sizes
125g Cream Cheese
4 Tbsp Warm Milk 
50g Butter
Salt and Pepper
1/2 Tsp Garlic Granules (Optional)
1/2 tbsp chopped or 1/2 tsp dried parsley (optional)
Instructions
Wash, peel and cut the potatoes in to even sized pieces. Place in a large saucepan and cover with cold water. Add 1/2 teaspoon of salt.
Place on the hob and bring to the boil. Turn the heat down to a fast simmer, place a lid on the pan and simmer for about 20 minutes or until the potatoes are fork tender.
Drain the potatoes well and break them up, letting the steam escape. Warm the milk in the microwave or on the hob in a small saucepan.
Add the milk, cream cheese, butter, salt, pepper and garlic granules to the potatoes and mash, mash, mash until fluffy and lump free. Beat with a wooden spoon for a minute, then taste the potatoes in case you want to add more seasoning.
Transfer to a serving bowl and add a pat of butter and sprinkle with parsley if you like.
Notes
Mashed potatoes are best served as soon as they are made, but they can be kept warm in a low oven (add a little butter on top of the mash, place in a heatproof bowl and cover with foil) for up to 2 hours if necessary.
Nutrition Information:
Yield:

4
Serving Size:

1
Amount Per Serving:
Calories:

440
Total Fat:

22g
Saturated Fat:

13g
Trans Fat:

0g
Unsaturated Fat:

7g
Cholesterol:

60mg
Sodium:

286mg
Carbohydrates:

56g
Net Carbohydrates:

0g
Fiber:

6g
Sugar:

4g
Sugar Alcohols:

0g
Protein:

9g