Do you love mac and cheese? Did you know you can make it in the slow cooker? My easy recipe for creamy slow cooker mac and cheese will be become your best friend on a busy week night!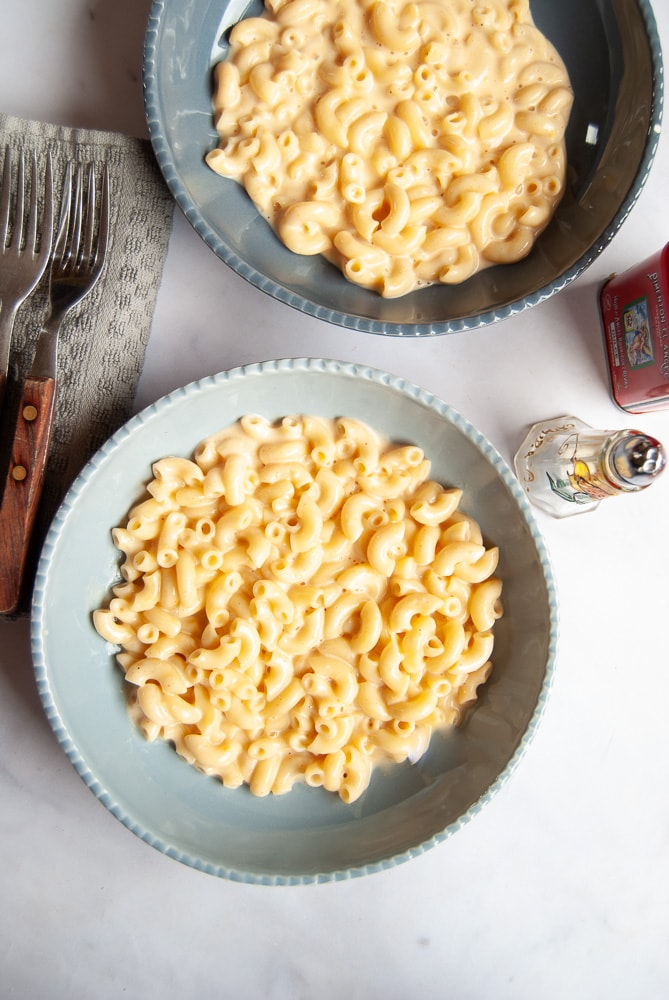 In the evenings when time is really up against us, a slow cooker really can be your best friend in the kitchen.
Up until recently, I was kind of skeptical of cooking pasta in the slow cooker – I was afraid it would become overcooked and stodgy. We all know there's nothing much less appetising than overcooked, mushy pasta.
But I am very happy to tell you that by following a few simple guidelines, it absolutely can be done!
This slow cooker/crock pot macaroni cheese is so comforting to eat. The cheese sauce is everything you want a cheese sauce to be – so rich and creamy!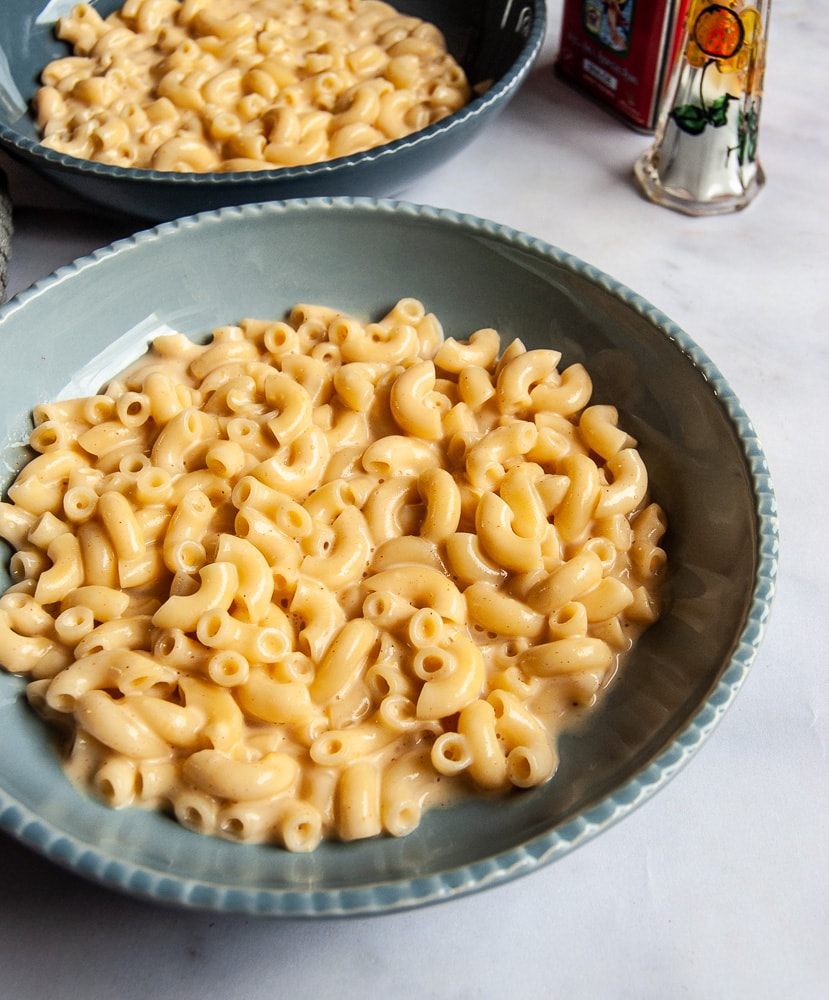 While this is not one of those slow cooker meals that you can simply leave in the pot for a few hours without it coming to any harm, it's a wonderful recipe for those nights when you get home and need something easy and fuss free for dinner.
Maybe you've come home from work or the school run at 3.30pm. You have approximately 15-20 minutes to prep something for dinner because you need to take your kids to the after school sport club/music lesson/drama club/delete as appropriate. You have to be somewhere else at 7pm, so you need something that:
Takes no more than 10 minutes to throw together
Ideally ready to serve up when you get back home.
This slow cooker macaroni cheese is the answer!
list of ingredients you'll need to make slow cooker/crock pot mac and cheese
Macaroni. I prefer to use elbow macaroni for this particular recipe – it soaks up the sauce beautifully.
Whole Milk
Sour Cream
Cheddar Cheese. I like to use a strong flavoured mature cheddar. You could also use a mixture of cheddar and Red Leicester.
Parmesan Cheese
Mustard – I use English mustard, but you could also use Dijon or Wholegrain (if you don't mind the seeds)
Salt and Freshly Ground Black Pepper
how to make mac and cheese in the slow cooker/crockpot
It's very easy to make slow cooker mac and cheese. Let me show you just how easy it is!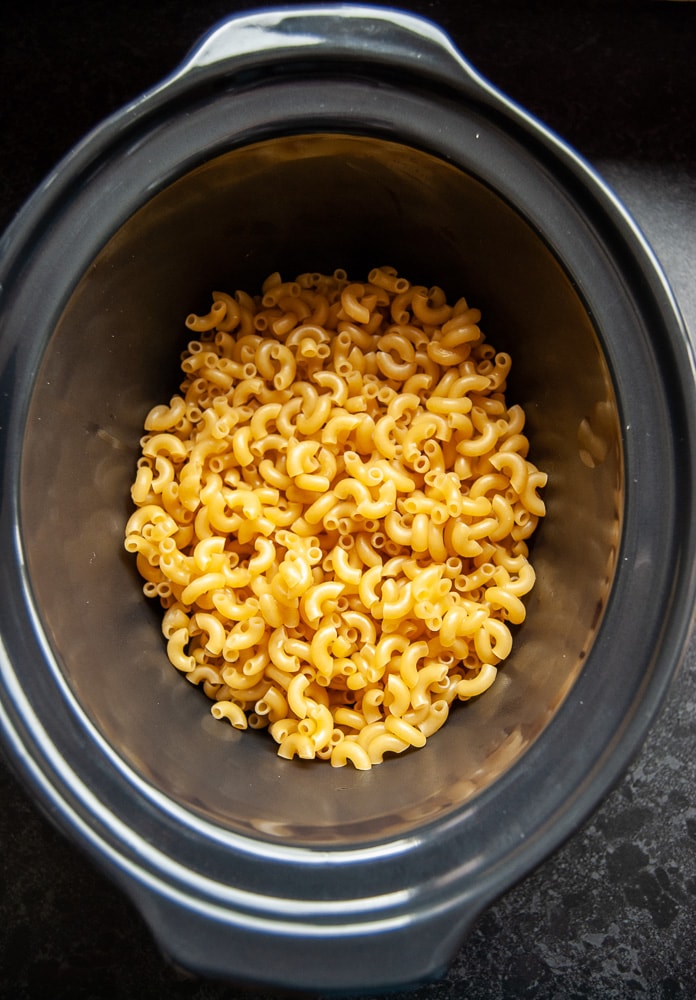 Rinse the macaroni in boiling water. This will remove some of the starch and help prevent it from sticking together while slow cooking.
Place the macaroni in the slow cooker. Add the milk, sour cream, cheddar and parmesan cheese, mustard, and salt and pepper. Stir well to combine. It won't look too pretty at this stage, but don't worry.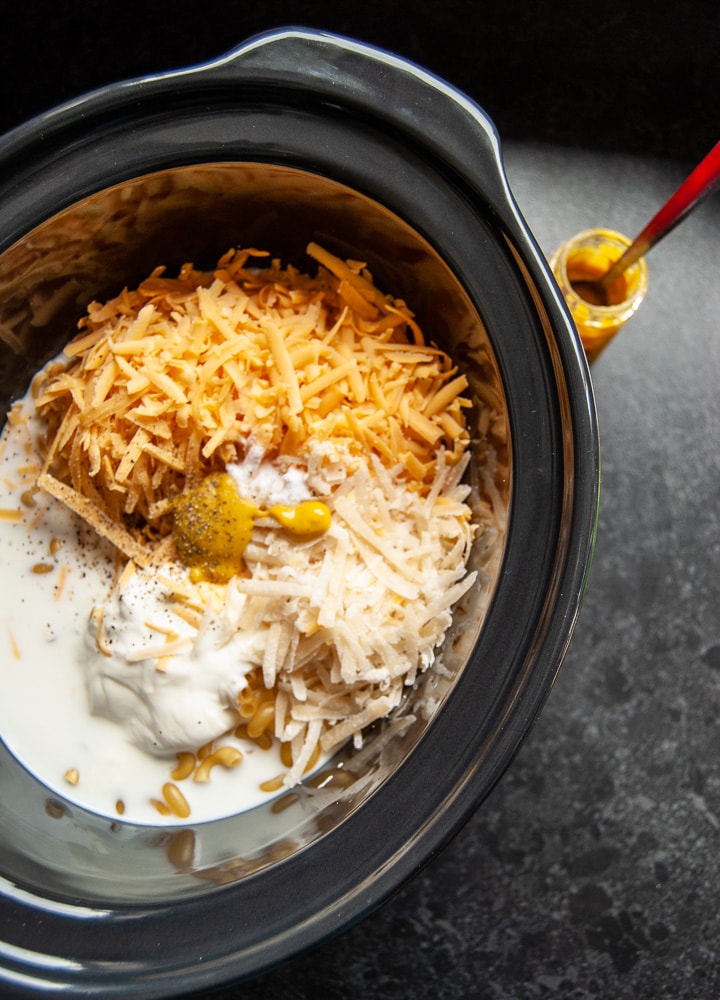 Place on a lid, set the cooker to LOW and leave for one hour. Once the hour has passed, stir well. The sauce will probably look thin at this stage. That's totally normal. IF the pasta is soft and the sauce is coating the pastas well, then your mac and cheese is ready. This will very much depend on your make and model of slow cooker! I own a 3.5L Crockpot.
So if the sauce is looking pretty thin at this stage, turn the slow cooker to HIGH and leave for no longer than 20-30 minutes. Stir well again. The sauce should have thickened up considerably.
The pasta should be nice and soft and the cheese sauce should be coating the pasta nicely. Serve immediately.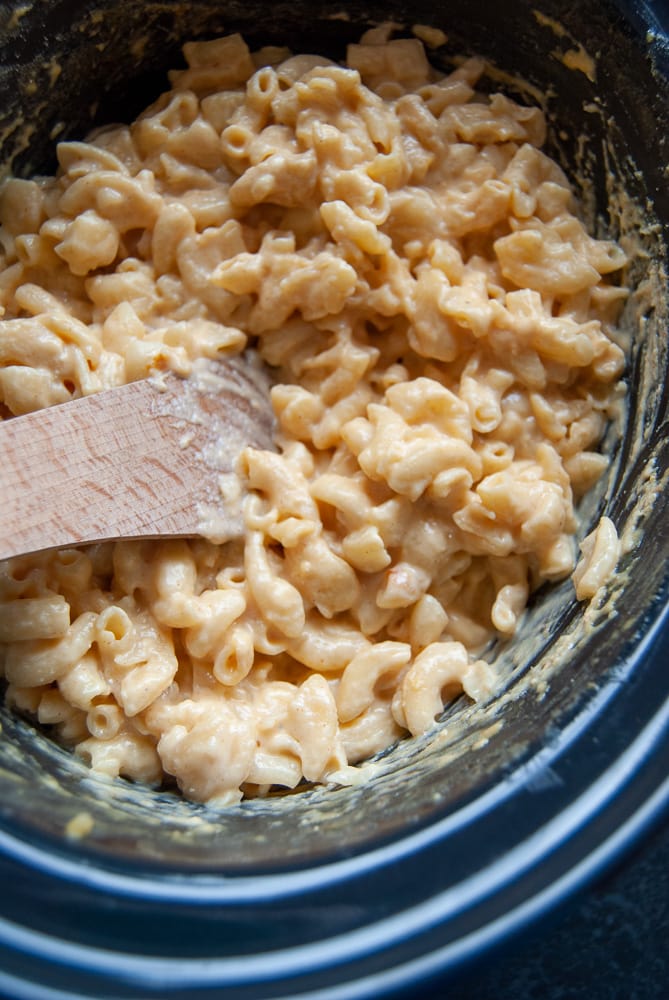 Can you make slow cooker mac and cheese in advance?
While this is a really easy recipe, it's unfortunately not suitable for making in advance. If left for any period of time, the pasta and sauce can go rather stodgy and claggy. i wouldn't recommend making ahead of time and reheating later.
However, it is a great recipe for those days when you have a short window of opportunity to prepare dinner – all you need to do is place all of the ingredients in the slow cooker, stir well to combine, set it on LOW and let it do its thing!
Then you can go and do the school run/ take the kids to their after school activities/run those errands safe in the knowledge that dinner will be ready and waiting for you when you get home!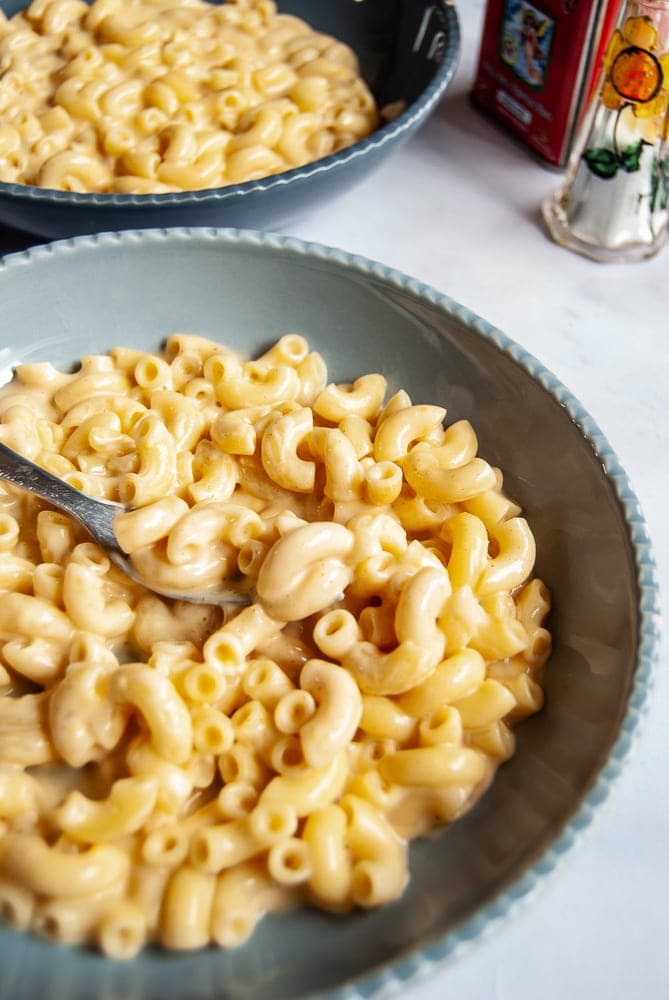 Delicious add-ins for your mac and cheese
At the end of cooking time, stir in cooked bacon pieces, cooked ham or sausage, fried soft onions, chilli flakes or hot sauce.
More Macaroni Cheese Recipes….
Roasted Pumpkin Macaroni Cheese
Pigs in Blankets Mac and Cheese
want to see more slow cooker recipes? Check these out….
Slow Cooker Butter Chicken Curry
Slow Cooker Beef and Chorizo Casserole
Did you make this recipe? Let me know what you thought by leaving a comment. If you have any questions, I'm here to help. Don't forget to hit the subscribe button in the sidebar to receive all my recipes right to your inbox! I'm also on Instagram and Facebook.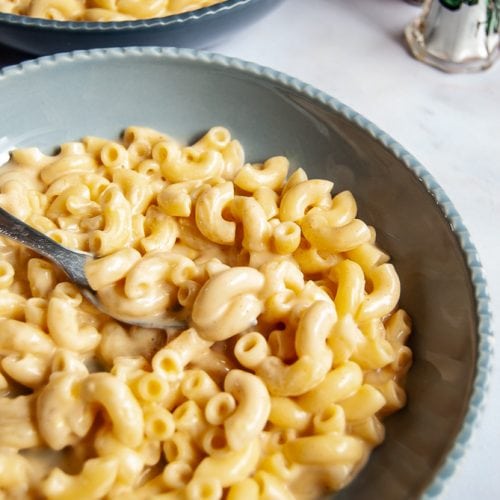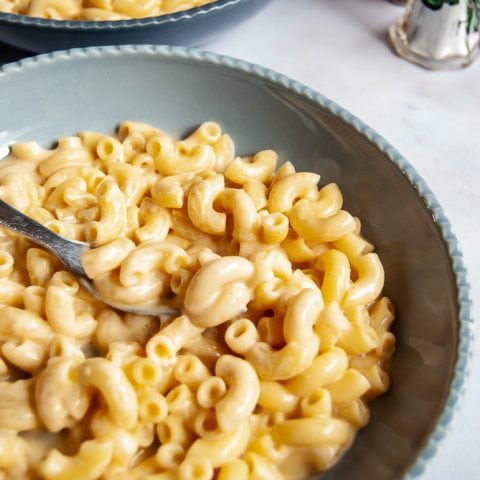 Slow Cooker Mac and Cheese
Cook Time:
1 hour
30 minutes
Total Time:
1 hour
40 minutes
This creamy slow cooker mac and cheese recipe will become a midweek dinner favourite!
Ingredients
400g elbow Macaroni pasta
700ml Whole Milk
50G Butter
100ml Sour Cream
125G Grated Cheddar Cheese
50G Grated Parmesan Cheese
1 Tsp Mustard
1/2-1 Tsp Sweet Paprika
1 Tsp Salt
1/2 Tsp Freshly Ground Black Pepper
Instructions
Preheat the slow cooker/crockpot to LOW, if necessary. Lightly grease the bowl of the slow cooker with butter.
Pour boiling water over the macaroni, then drain well and place in the slow cooker.
Add the milk, sour cream, grated cheeses, mustard, paprika and salt and pepper. Cook on LOW for 1 hour.
Once an hour has passed, stir the macaroni cheese well. It very much depends on your make and model of your slow cooker, but if the pasta is soft and you have a creamy, thick sauce, then its ready to serve. If the sauce looks quite thin and watery, turn the cooker to HIGH and cook for a further 20-30 minutes. By this time the sauce should be looking thick, creamy and coating the pasta nicely. Serve immediately.
Notes
When the macaroni is ready to serve, feel free to throw in some add-ins! Cooked bacon is a lovely addition! Fried mushrooms, fried golden onions, chilli flakes, chunks of ham or sausage all work perfectly with mac and cheese.
For the absolute best eating experience, serve the mac and cheese immediately. It doesn't like to hang around!
Nutrition Information:
Yield:

4
Serving Size:

1
Amount Per Serving:
Calories:

632
Total Fat:

36g
Saturated Fat:

20g
Trans Fat:

1g
Unsaturated Fat:

11g
Cholesterol:

100mg
Sodium:

1191mg
Carbohydrates:

53g
Net Carbohydrates:

0g
Fiber:

3g
Sugar:

11g
Sugar Alcohols:

0g
Protein:

25g