Super creamy, super cheesy macaroni with roasted cubes of earthy pumpkin in every bite, this roasted pumpkin macaroni cheese is a perfect Winter Warmer!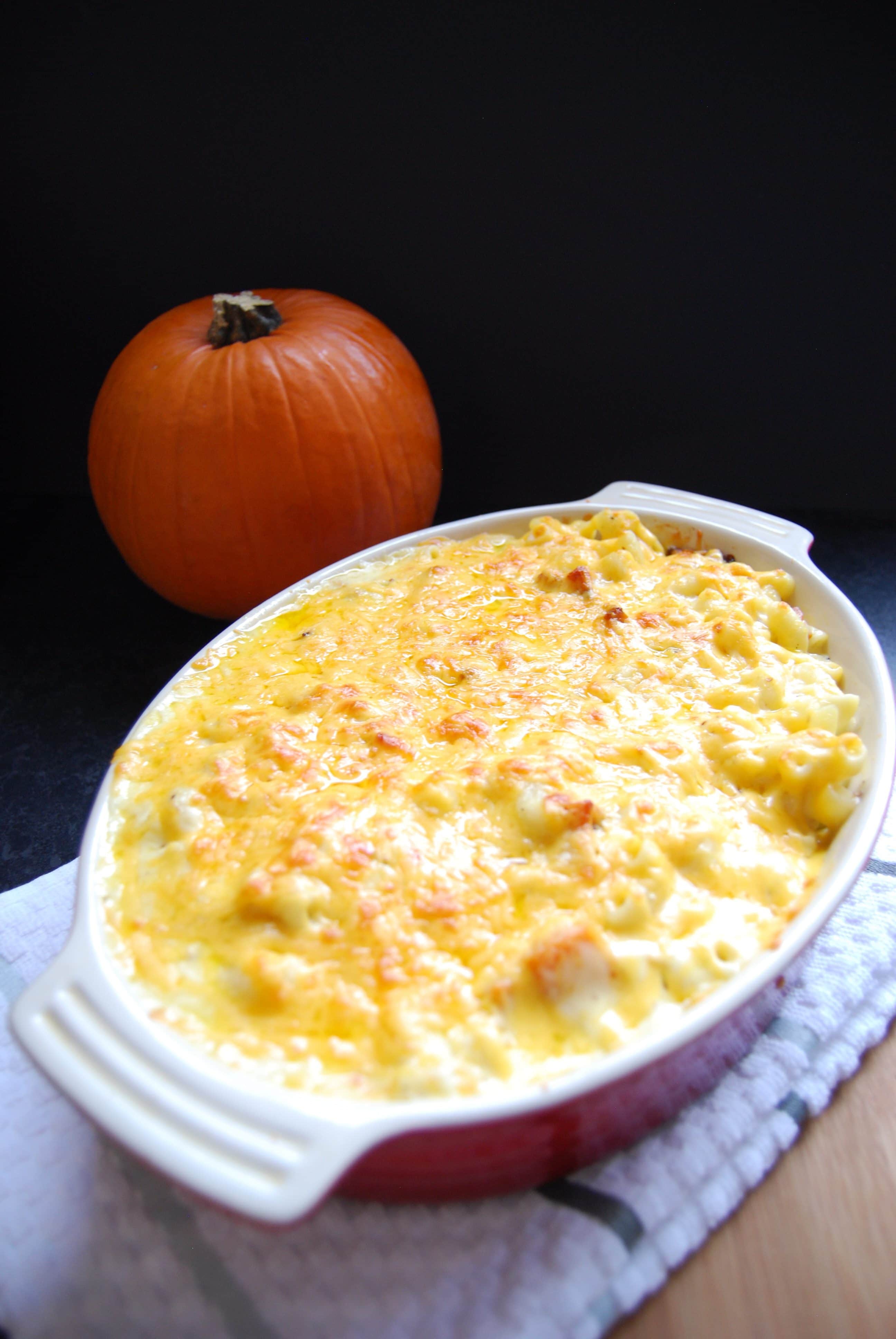 Can you believe it's the 1st November?? This year has flown past at an alarming rate. It kind of feels like we're in limbo between Autumn and Winter here in the highlands.
The last few days of October brought the first morning frost, yet the lush Autumnal colours of the leaves on the trees are still around.
We had some beautiful sunshine today, but you couldn't deny the icy chill in the air.
It's the time of year when we are all in need of some good old comfort food – and macaroni cheese is comfort food of the highest order.
Adding little cubes of roasted pumpkin adds a little sweet earthiness that goes so well with the creamy, cheesy pasta.
I usually prefer my mac and cheese with no added extras, but this is just so good.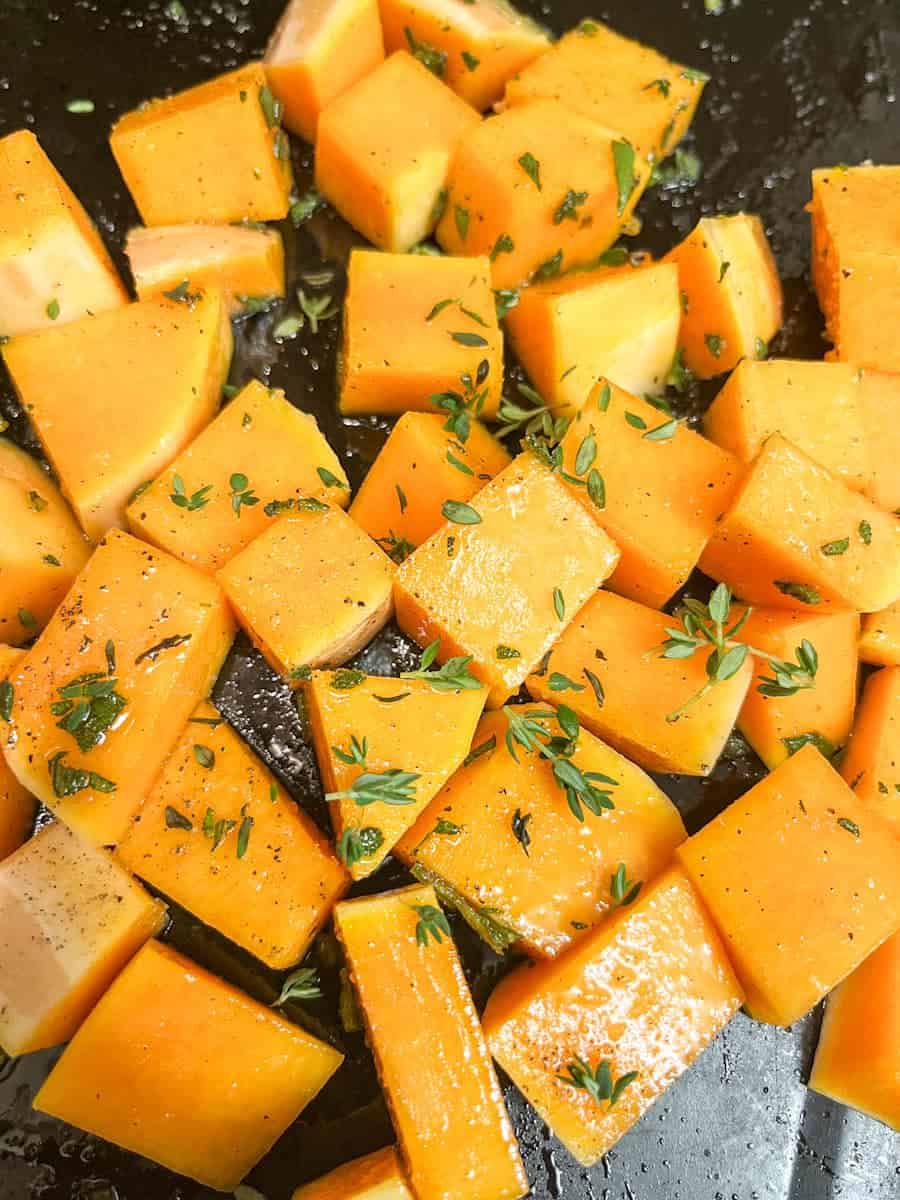 INGREDIENTS for PUMPKIN MACARONI CHEESE
A full ingredient list and detailed instructions on how to make this recipe can be found in the printable recipe card at the bottom of the post
Macaroni (obviously!) I like to use elbow macaroni – it sucks up all that delicious sauce beautifully.
1 small pumpkin or butternut squash, peeled and cut into small cubes, about 2cm. And I'm aware that squash is not a pumpkin, but it works just as well for this recipe!
bacon, cooked in a pan for a few minutes until slightly crisp (optional)
Olive Oil
A few stalks of fresh thyme or a tablespoon chopped sage leaves, or use 1/2 teaspoon of the dried equivalent.
Cheddar Cheese – I use mature cheddar for the best flavour. 
Butter and whole milk for the sauce 
Dijon or Wholegrain Mustard – I can't make a cheese sauce without adding mustard!  You don't have to, but it makes such a difference.
Salt and Pepper
how to make roasted pumpkin mac and cheese
Step one: Place the pumpkin cubes in a roasting tin.  Drizzle over some olive oil.  Add the stalks of fresh thyme or the dried thyme. Add a little salt and freshly ground black pepper.  
Step two: Roast the pumpkin in the oven at 200C/180Fan/400F for about 25-30 minutes or until the pumpkin cubes are tender but not mushy.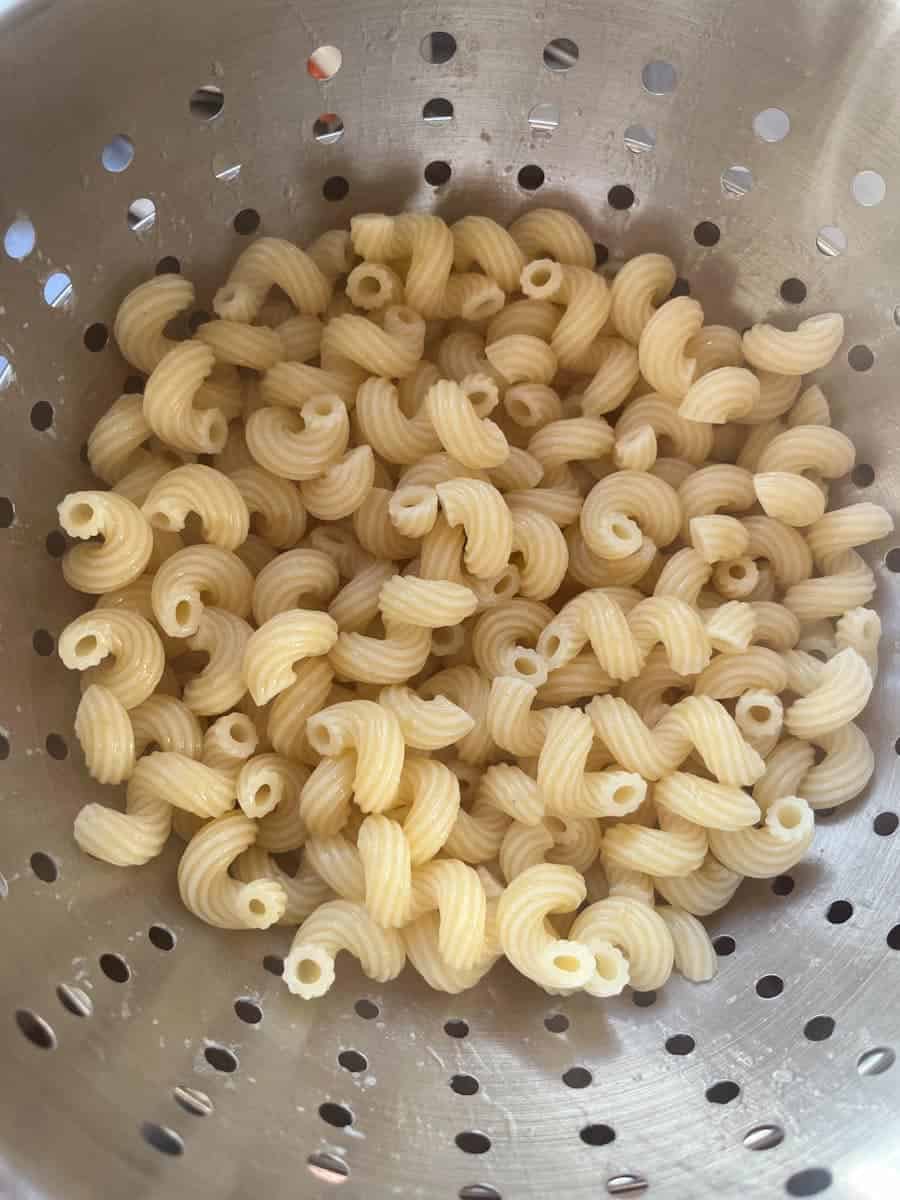 Step three: Make the macaroni according to the packet instructions.  Drain and set aside while you make the cheese sauce.
Step four: Combine the macaroni, cheese sauce, cooked bacon if using and roasted pumpkin in a large oven proof casserole dish.  Sprinkle over the grated cheese and place under a hot grill for 5-10 minutes or until the macaroni is bubbling and golden.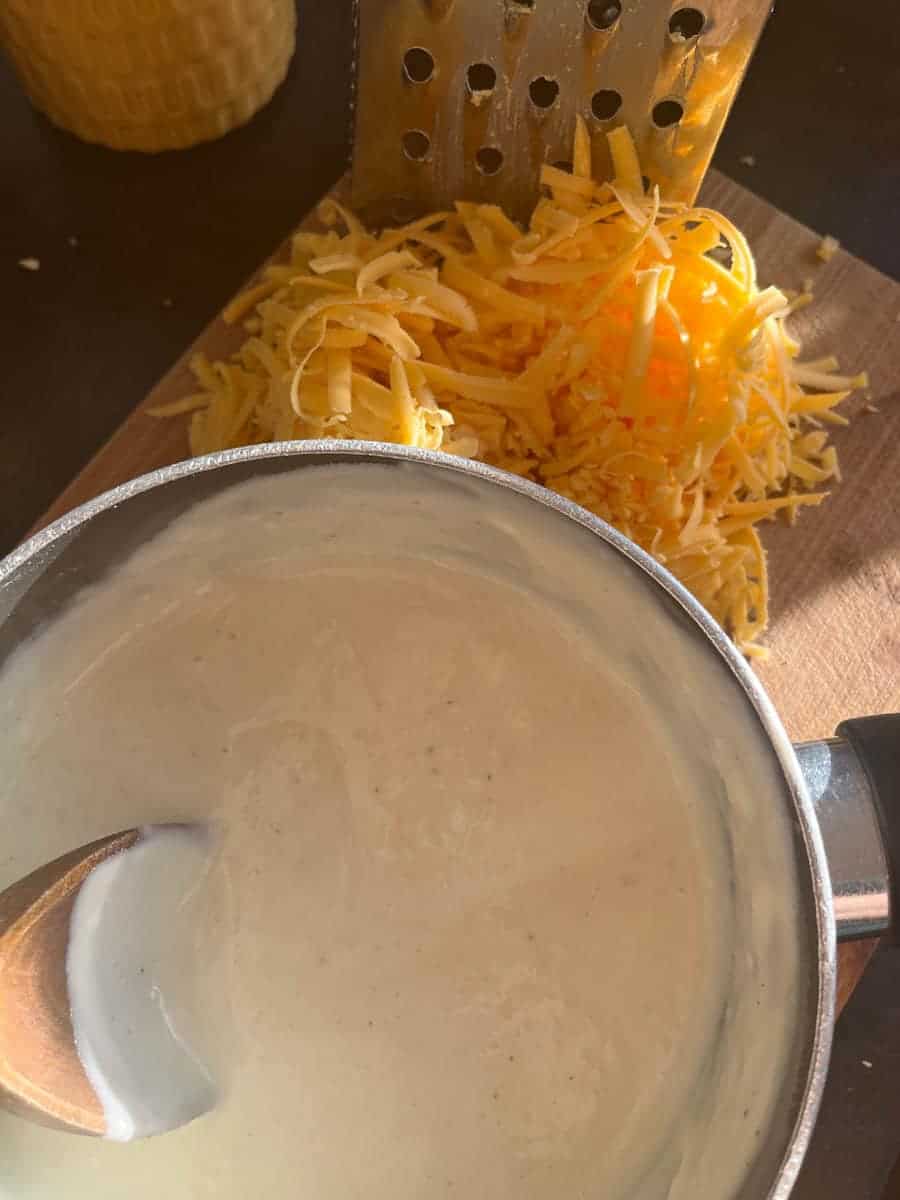 recipe TIPS
I don't bake my macaroni – I don't like the way the sauce thickens up in the heat of the oven. I don't want to lose any of that creamy sauce, so I just pop it under a hot grill for a few minutes until the gooey, cheesy top is melty and bubbly!
The photo below was taken just a few minutes after the macaroni was taken out of the oven. As you can see, it looks super creamy and delicious. If I baked it for 20-25 minutes, the sauce would have thickened up and the dish would have a slightly firmer texture.
variations
Sprinkle the top of the macaroni with grated parmesan before grilling if you like.  I never say no to extra cheese! 
You can also experiment with different cheeses – I've made this with a 50/50 combination of cheddar and Gruyere before with amazing results.
If you're a fan of blue cheese, a small amount crumbled over the top before grilling is really good.
If you're vegetarian, you can obviously omit the bacon. It's just as good without it.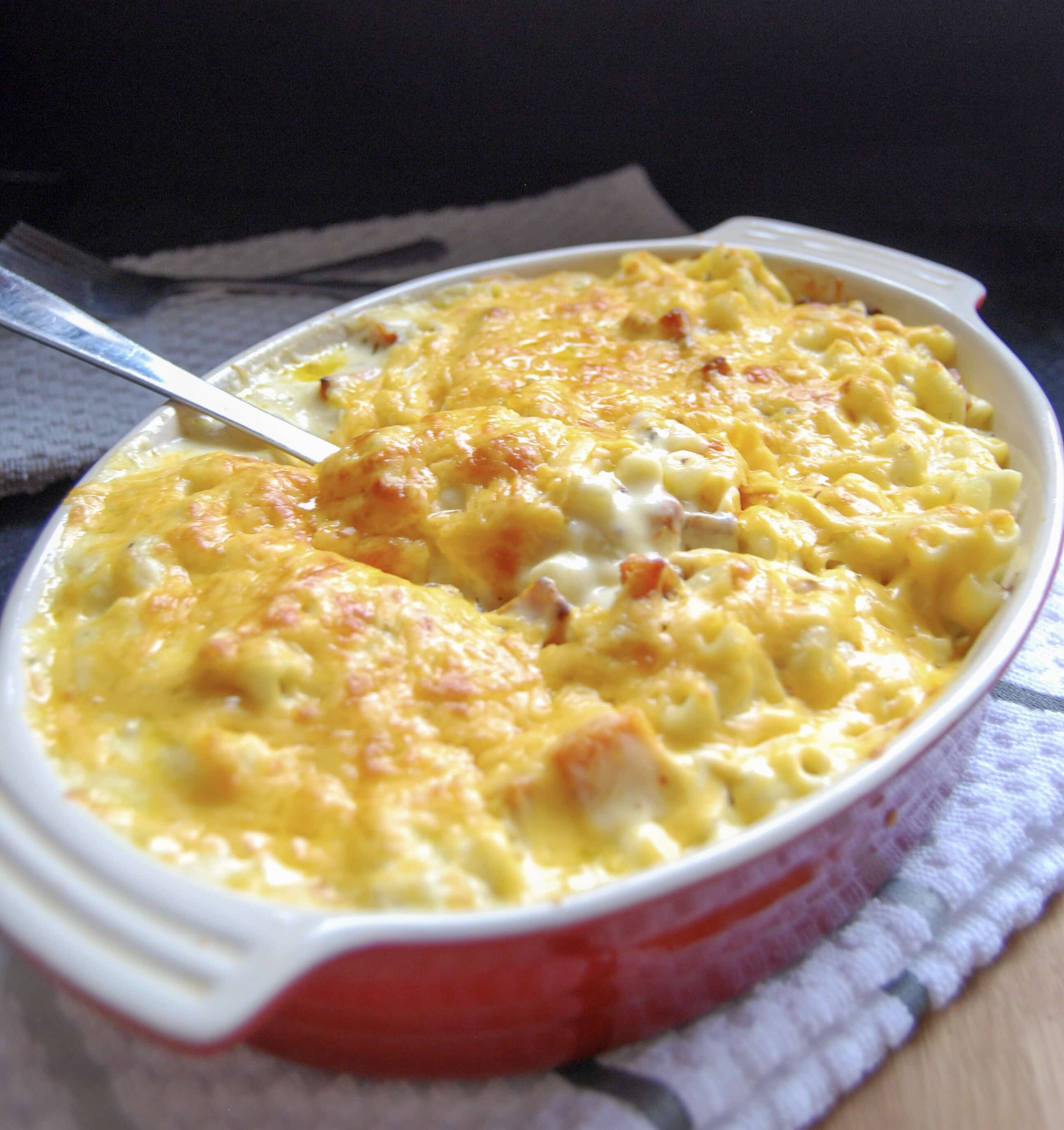 CAN YOU MAKE macaroni cheese IN ADVANCE?
You can make mac and cheese in advance – it's not quite as good as freshly made, but it can be done.  Simply mix the cooked and drained macaroni with the roasted pumpkin cubes and the cheese sauce. Leave to cool completely before covering and placing in the fridge for up to 3 days. 
However, I would not do the grill method if you're going to reheat the casserole from chilled.  When you're ready to cook the macaroni, sprinkle with cheese and bake in a pre-heated oven (200C/180Fan/350F) for 20-25 minutes or until piping hot.  
On a freezing cold night, I only want to be curled up on the couch in my pjs watching Netflix with a big bowl of this cosy roasted pumpkin macaroni cheese. My idea of heaven!
I often serve macaroni cheese with sausages, but it's honestly perfect just as it is.
MORE MACARONI CHEESE RECIPES YOU MIGHT ENJOY
savoury PUMPKIN RECIPES
sweet pumpkin recipes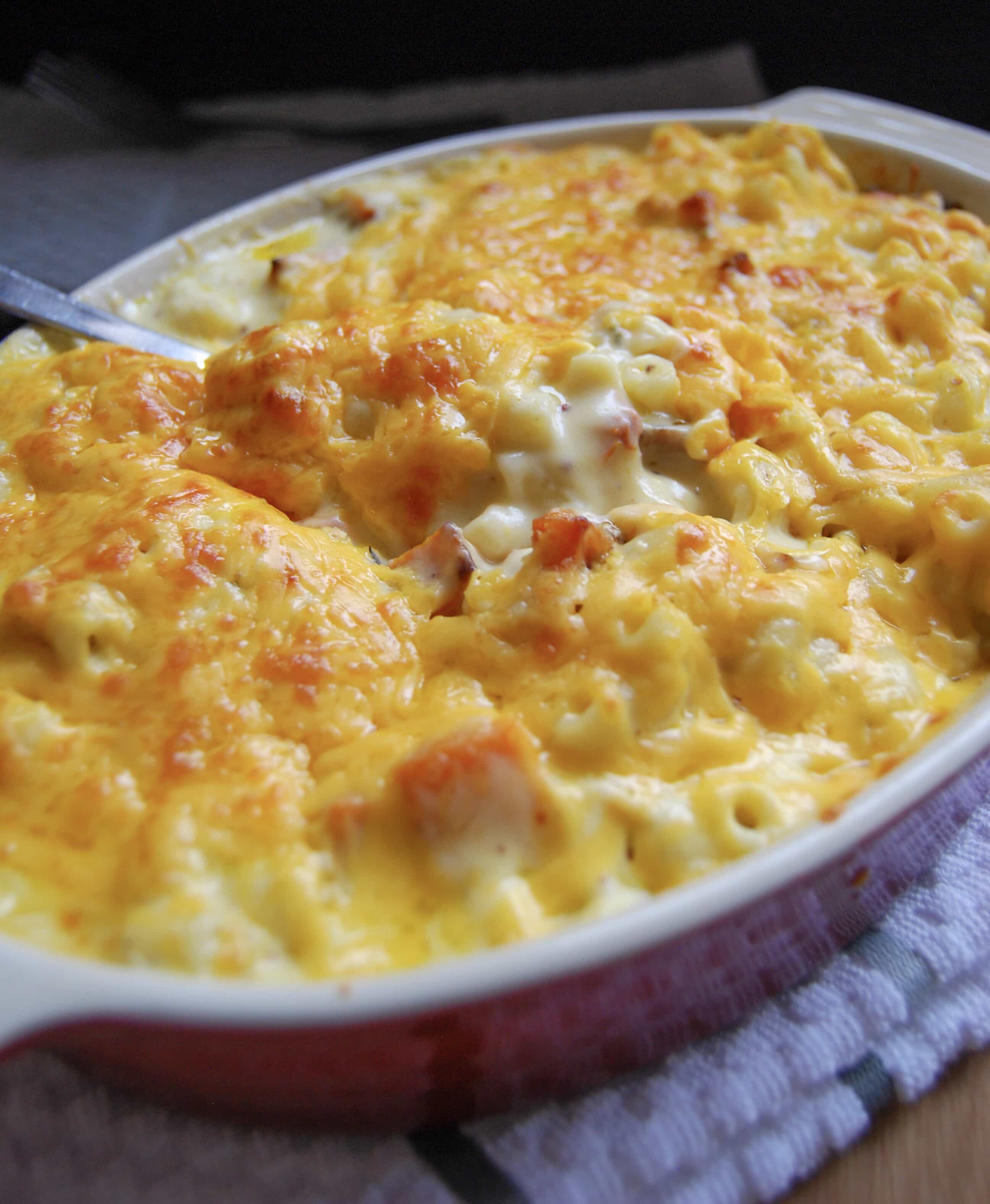 I'm sharing this post with #CookBlogShare, the weekly blog linkup hosted this week by Eb of Easy Peasy Foodie.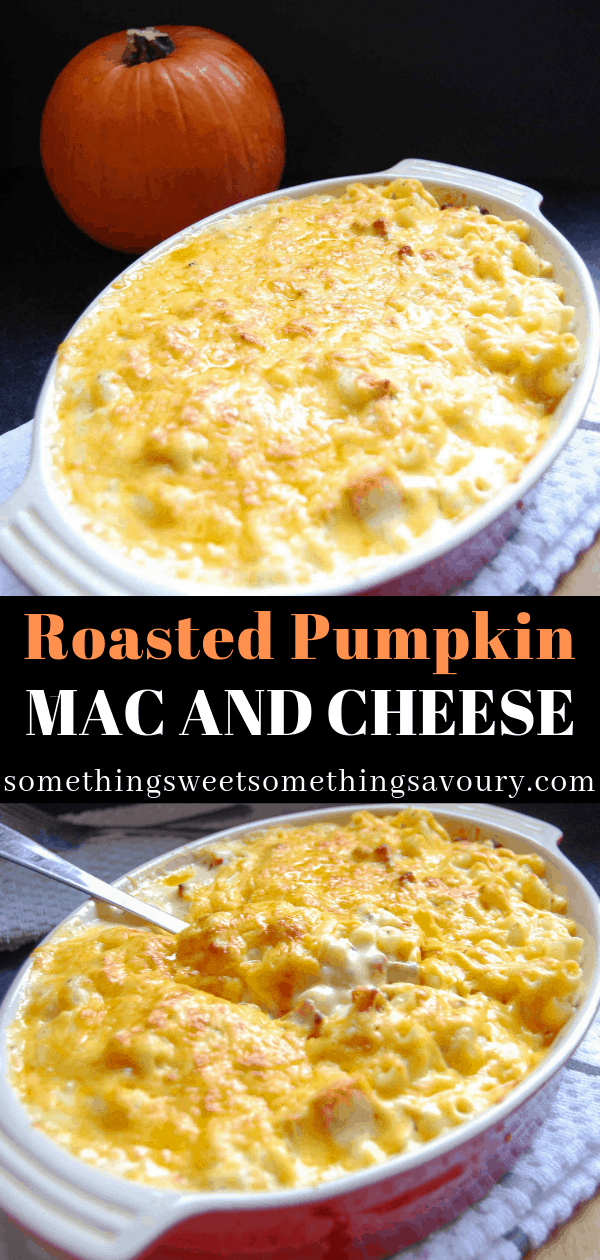 Did you make this recipe?
Let me know what you thought of it by leaving a comment below and rate the recipe out of five by clicking on stars in the recipe card.  Thank you!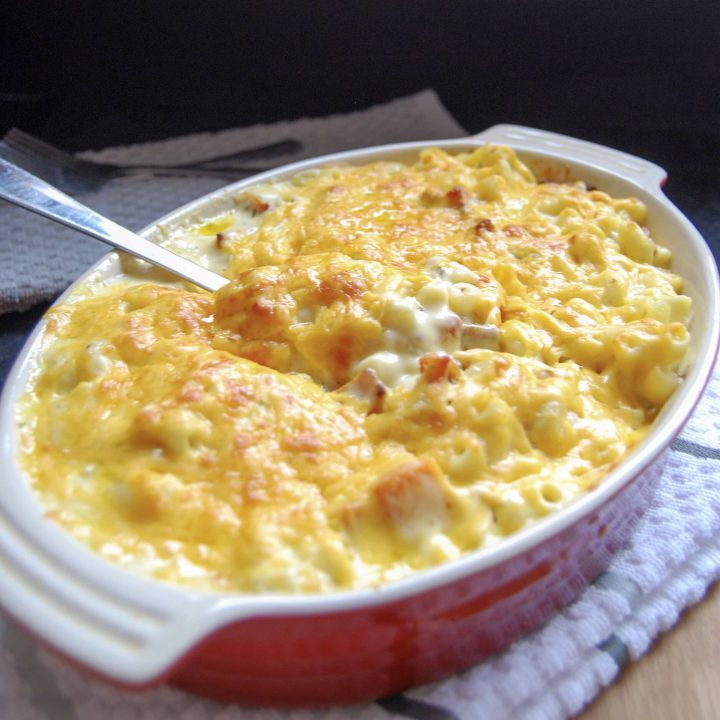 Roasted Pumpkin macaroni cheese
Total Time:
1 hour
10 minutes
This roasted pumpkin macaroni cheese is super creamy and cheesy - the ultimate cold weather comfort food!
Ingredients
1 small pumpkin or one butternut squash, peeled and chopped into small dice
3 stalks Fresh thyme, leaves picked, or 1 tbsp chopped sage (or one teaspoon each dried)
One tablespoon olive oil
Salt and freshly ground black pepper
125g back bacon or bacon lardons/pancetta (optional)
400g Macaroni
For the sauce:
50g butter
25g flour
570ml whole milk
2 teaspoons wholegrain or Dijon mustard
1/2 tsp fine salt
1/4 tsp freshly ground black pepper
250g mature cheddar cheese, grated plus 50g for the topping
Instructions
Place the pumpkin and fresh thyme in a roasting tin, drizzle the olive oil and a little salt and pepper over. Roast for 25-30 minutes or until the pumpkin is tender but not mushy.
Cook the bacon or pancetta in a little olive oil in a frying pan for a few minutes until it is beginning to crisp and turn golden. Remove the bacon from the pan and set aside on a plate.
Cook the macaroni according to the packet instructions. Drain well in a colander and set aside while you make the sauce.
Melt the butter in a medium saucepan. Add the flour and stir with a wooden spoon. Cook the roux for a minute or two, then remove from the heat. Switching to a hand whisk, slowly add the milk, whisking well after each addition.
When all the milk has been added, place back on the hob and cook on a low heat for about 10 minutes, stirring often. When the sauce has thickened, add the mustard, salt and pepper. Remove from the heat and add the cheese, stirring quickly until melted and smooth.
Place the drained pasta and roasted pumpkin into the sauce, stirring to mix everything together. Pour into a large heatproof dish and sprinkle over the remaining 50g cheese. Place under a hot grill until the cheese has melted and the top is bubbling.
Notes
Instead of using just cheddar cheese, you could use half cheddar half Gruyère or grated mozzarella.
If you're a fan of blue cheese you could crumble some over the top and let it melt before grilling!

Nutrition Information:
Yield:

4
Serving Size:

1
Amount Per Serving:
Calories:

635
Total Fat:

35g
Saturated Fat:

16g
Trans Fat:

1g
Unsaturated Fat:

16g
Cholesterol:

92mg
Sodium:

1194mg
Carbohydrates:

53g
Fiber:

5g
Sugar:

11g
Protein:

28g
Calories and nutritional information are provided by a third party application and should be viewed as indicative figures only.