Making apple butter is a total breeze with the Instant Pot – you don't even have to peel the apples! This small batch recipe makes 2x350ml jars.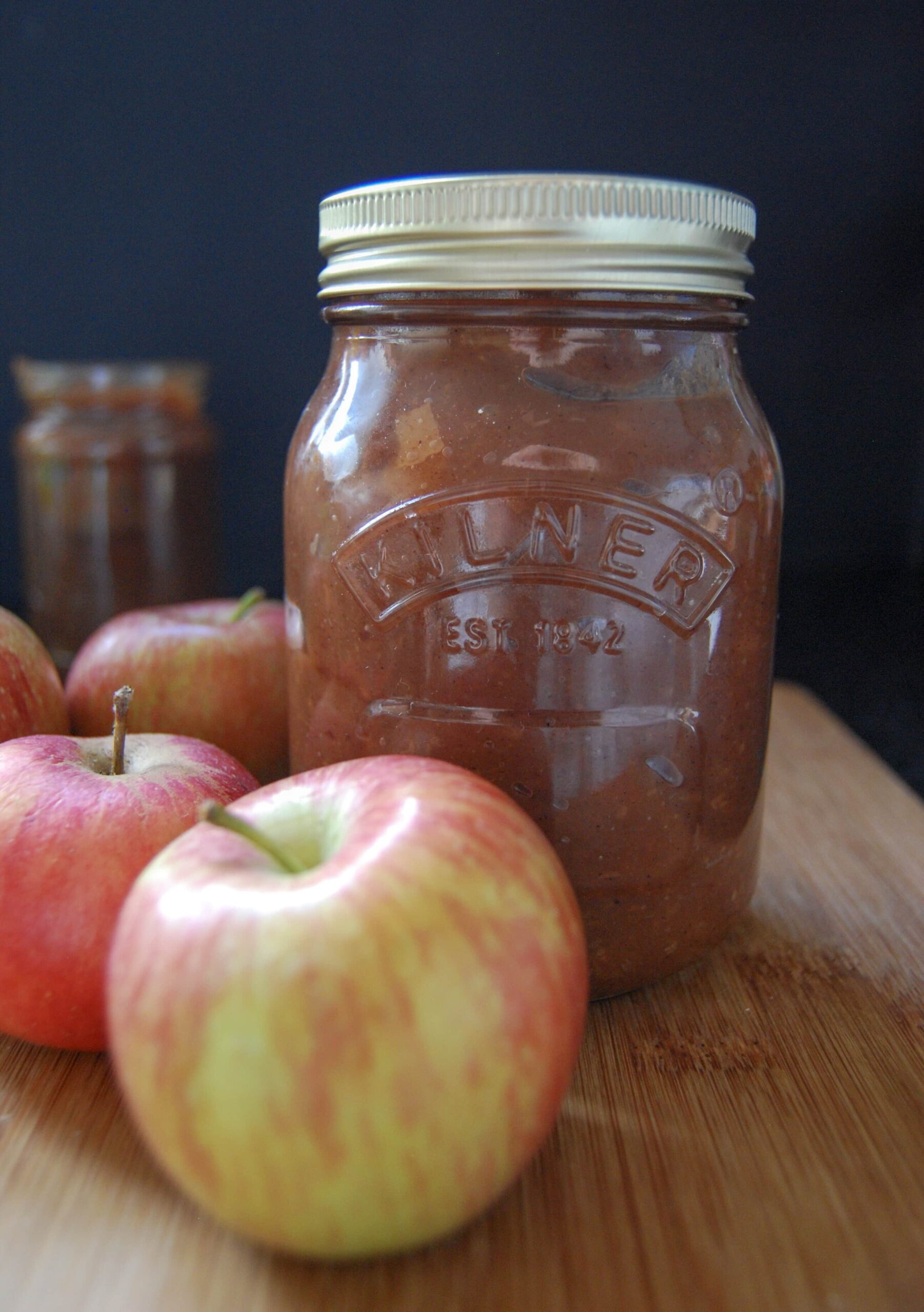 I'm going to start off by addressing the question that a lot of people ask me –
what is apple butter?
First of all, it doesn't actually contain butter. I know – confusing, right? Well, it is at least for people in the UK, where apple butter isn't exactly well known.
It's basically a reduction of apples with sugar, spices and liquid. Think of it as a thick, double concentrated apple sauce – but it's darker in colour than apple sauce due to the caramelisation of the apples and thick enough to spread on a slice of bread. The consistency is sort of similar to a fruit curd.
Americans tend to use apple cider to make apple butter, but I only recently learned that apple cider in America is actually unfiltered apple juice. The apple cider that we're used to in the UK is known as "hard cider" across the pond.
So if you're ever reading an American recipe book and see a recipe that calls for apple cider, they are talking about unsweetened apple juice.
I wanted to keep things as simple (and cheap) as I could for this recipe so i simply used water for the liquid, but do feel free to try it with 100% pressed apple juice. If you do, let me know how it goes!
what's the difference between apple butter and apple sauce?
The main difference between apple butter and apple sauce is the cooking method. While they are both cooked in pretty much the same way – with sugar, water and spices – apple butter is cooked for much longer, resulting in a super concentrated apple spread.
what can i do with apple butter?
So much! Use it as a spread, use it in baking such as this gorgeous double apple caramel bundt cake , mix with yogurt for breakfast to have with granola and for the best pork chops you'll ever eat, drop a spoonful of apple butter in the pan while the chops are cooking – it is SO delicious!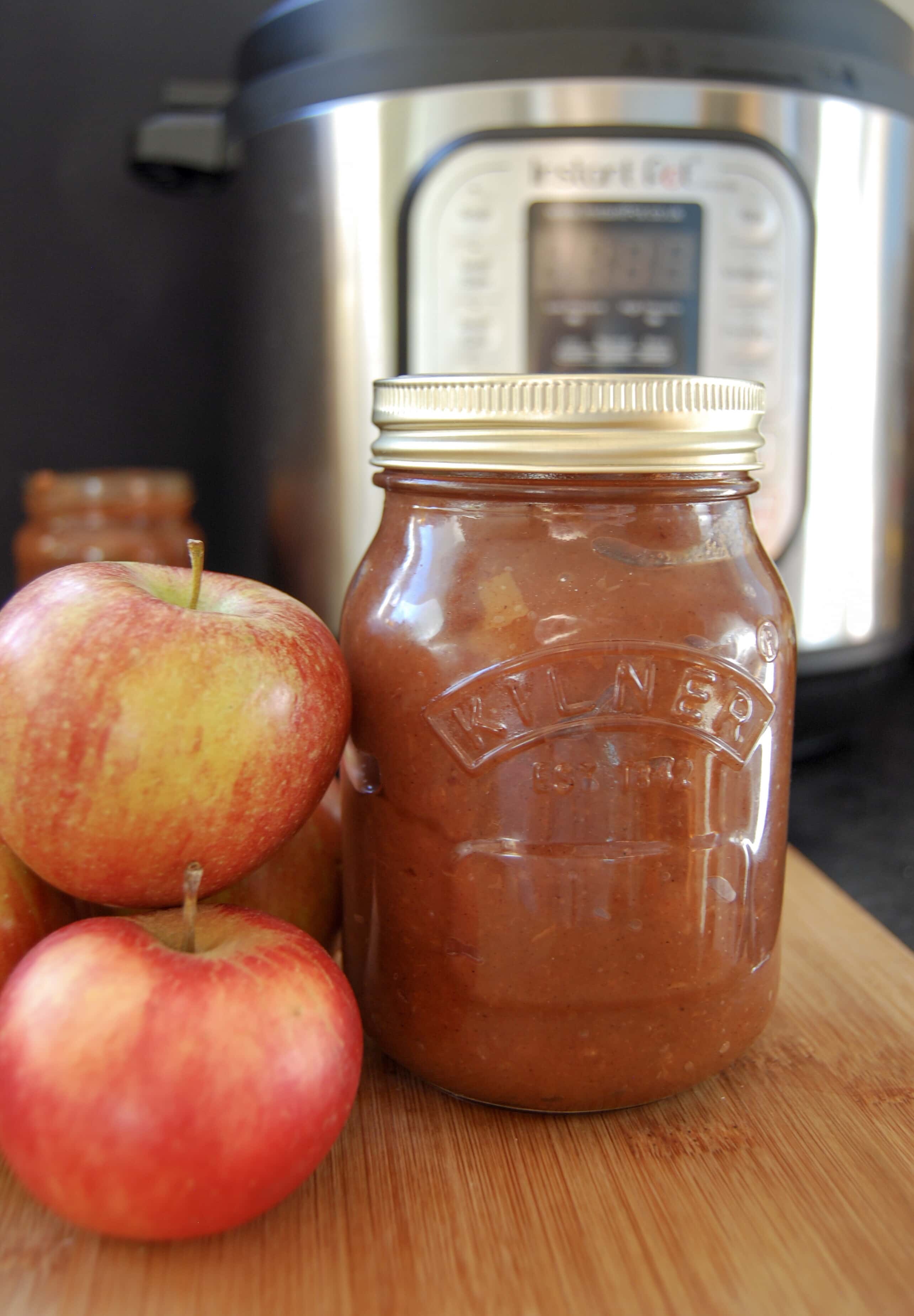 I've tried making apple butter a few different ways, but I found the Instant Pot method was by far the easiest way. When the pot comes up to pressure and the timer begins, it takes just 10 minutes.
tips for making Instant Pot apple butter
You don't even have to bother peeling the apples – obviously though if there are any bad bits on the apples, you'll need to cut them off.
Don't own an Instant Pot/pressure cooker? No problem. You can still make this recipe on the hob – just make sure you keep the heat low and you'll need to stir the apples fairly regularly to ensure they aren't sticking to the bottom of the pot.
You'll need a couple of sterilised jars for your apple butter – putting them in the dishwasher will suffice, but be careful not to put your finger inside one when taking them out – otherwise you'll have to sterilise them again!
If you don't have a dishwasher, give them a good scrub in very hot, soapy water. Place them in a very low oven (100C) to dry out.
I was lucky enough to be gifted a huge bag of apples recently that I used to make this recipe. I believe they were a mixture of Cox's and Braeburn's, but you can use any eating apples you wish.
My apple butter recipe is lower in sugar than many of the traditional American recipes – mainly because I didn't want it to be super sweet, but I also really wanted the flavour of the apples to shine through.
However, reducing the sugar does mean that this apple butter has a shorter shelf life. But my apple butter has never lasted longer than a couple of weeks anyway so I don't really see it as a problem.
I've added some of my favourite Autumnal spices in the form of cinnamon, nutmeg and ground allspice, which will fill your home with a warming, cosy, country kitchen aroma!
I really hope you try this apple butter – if you do make it I'd love you to tag me in a picture on Instagram!
Looking for more Instant Pot Recipes?
Instant Pot Salmon with Lime and Chilli Butter
Pin this Instant Pot apple butter for later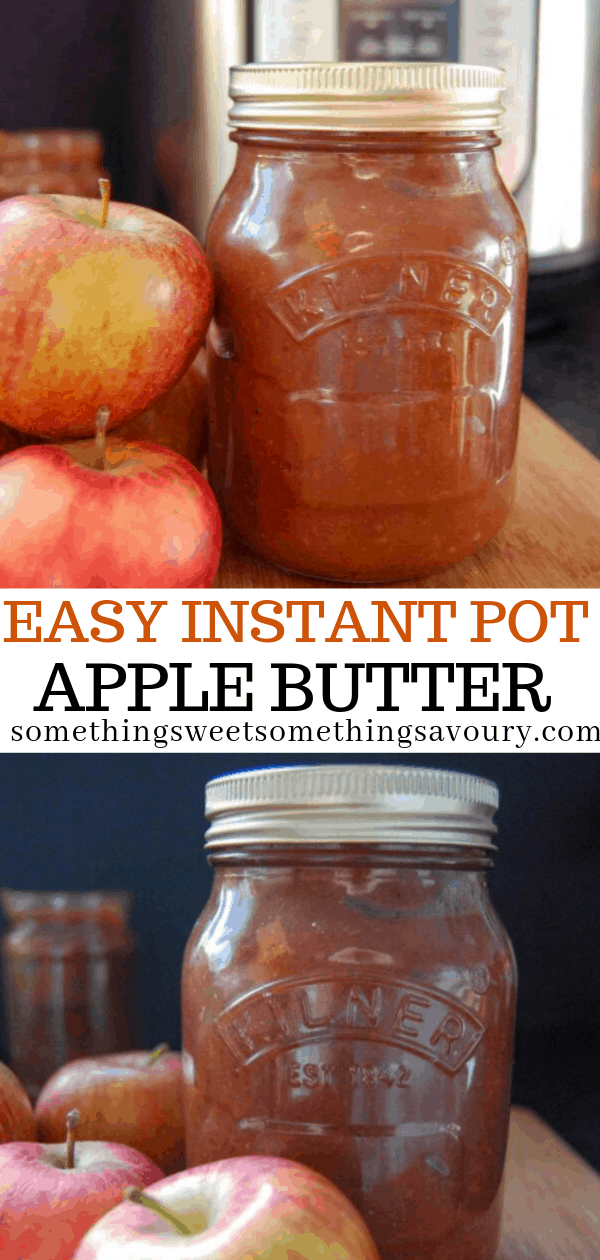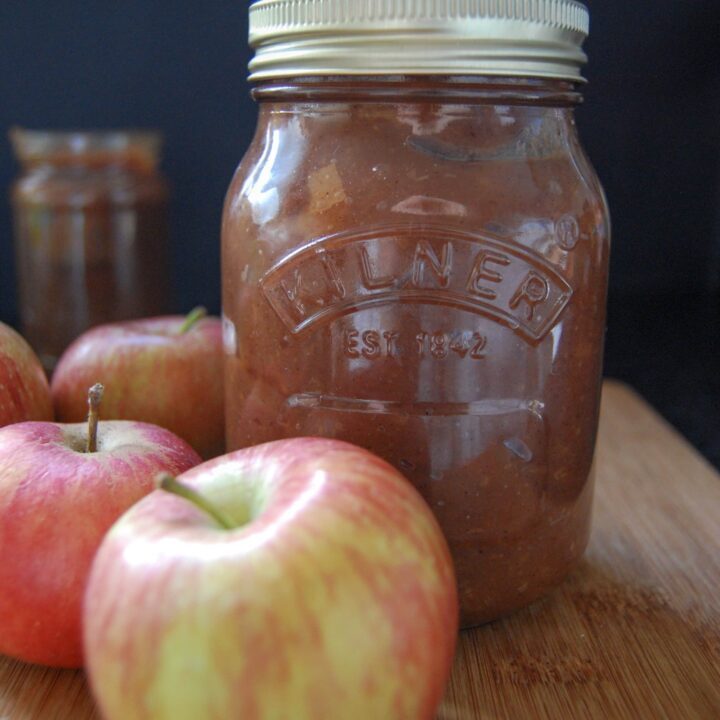 Instant Pot Apple Butter
Making apple butter is a total breeze with the Instant Pot - you don't even have to peel the apples! This recipe makes 2x350ml jars.
Ingredients
1 kg eating apples, washed, cored and chopped
100g soft light brown sugar
2 tsp ground cinnamon
1/4 tsp ground nutmeg
1/2 tsp ground allspice
1 tsp vanilla extract
1 tbsp Apple cider vinegar
150ml water
Instructions
Place all the ingredients in the Instant Pot.
Close the lid, set the pot to "sealing." Select manual mode and set to 10 minutes. When the timer is done, you can choose to either "quick release" or let the pressure release on its own. It doesn't really make much difference to this recipe, so do whatever it easiest for you. I was busy doing other stuff at the time of making this, so I left it for about 10 minutes.
When you're ready, carefully turn the vent to "venting" to release any extra pressure. Open the lid of the Instant Pot. The apples should be extremely soft.
Using a stick blender, blend the apples until they are smooth.
Spoon the apple butter into sterilized jars and seal.
Notes
This apple butter will keep well for up to one month in the fridge.
Makes just over two 0.5 litre jars - it wasn't worth using a new jar for the little bit remaining, so I kept it in a plastic tub in the fridge and used it up in a couple of days.
Nutrition Information:
Yield:

30
Serving Size:

1
Amount Per Serving:
Calories:

31
Total Fat:

0g
Saturated Fat:

0g
Trans Fat:

0g
Unsaturated Fat:

0g
Cholesterol:

0mg
Sodium:

2mg
Carbohydrates:

8g
Fiber:

1g
Sugar:

7g
Protein:

0g
Calories and nutritional information are provided by a third party application and should be viewed as indicative figures only.