Salmon couldn't be easier to make in the Instant Pot – these salmon fillets with lime and chilli butter are a great easy dinner that is so delicious and full of flavour!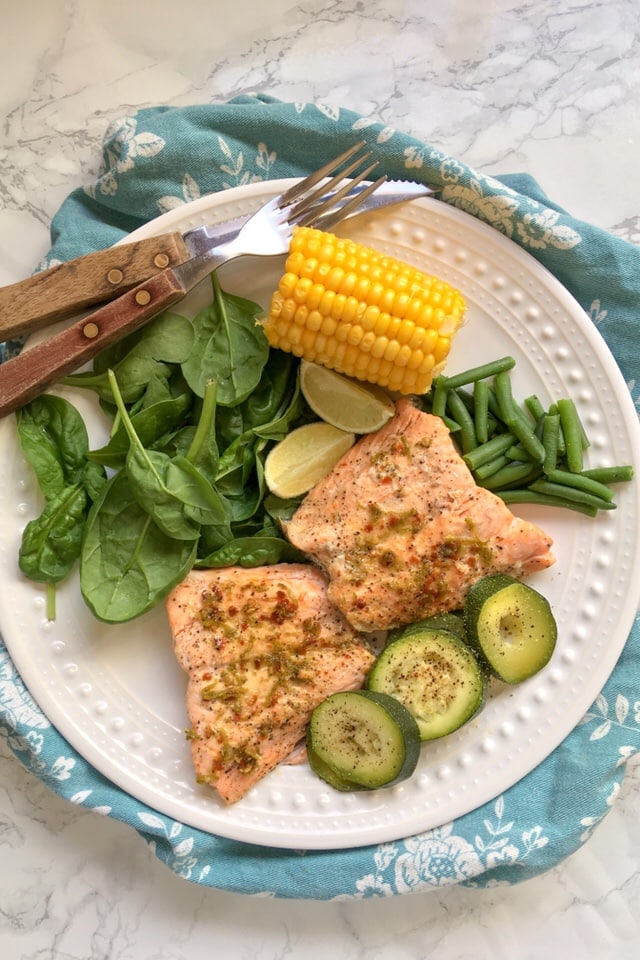 Once you've tried cooking salmon fillets in the Instant Pot, you'll never look back!
I've had my fair share of dry, overcooked salmon. I've often popped a couple of salmon fillets in the oven, gone to tidy up the living room/fold washing/scroll through Facebook/start watching a show on Netflix and forgotten all about them. The result?
Dry, tasteless salmon. Then I kick myself for being so easily distracted. BUT when you cook salmon in the Instant Pot, you don't have to worry about that at all! Using the steam function will give you the most tender, moistest salmon you've ever had. And if you do end up getting distracted, no problem! After cooking, the "stay warm" function will automatically kick in and keep your food at the warm temperature for up to 10 hours!
This is the thing I love the most about the Instant Pot – your food is ready whenever you are!
Now I have to admit that I wasn't initially bowled over by my Instant Pot. It was a bit of a slow burner for me. One of the things that slightly disappointed me was the fact that a few recipes out there will claim that your dish will be ready to eat in 15 minutes, but what many of them failed to mention was the additional time the Instant Pot will take to come to pressure and release.
Depending on what you're cooking and how much liquid you have in the pot, the extra time could range from just a few minutes or even 30 in some cases. For instance, if you have a lot of liquid in the pot or if you're using frozen ingredients, the pot can take up to 20-30 minutes to come up to pressure. But I got over this little bugbear once I realised how convenient the Instant Pot is.
I love that I can pretty much place the ingredients in the pot, press a few buttons and walk away. Sure, there are some recipes that require you to do a little more, like sautéing meat or thickening a sauce for example, but it's hardly difficult. And the fact that everything is all done in one pot is a bonus – less washing up is always a good thing in my book!
It took a bit of trial and error, but I've slowly fallen in love with my Instant pot. It's become an extremely useful cooking aid in my kitchen.
If you own an Instant pot but haven't cooked salmon in it yet, I urge you to give it a try – you'll never want to cook it another way again!
Want to see more Instant Pot recipes? Check these out…..
Pin this recipe for later….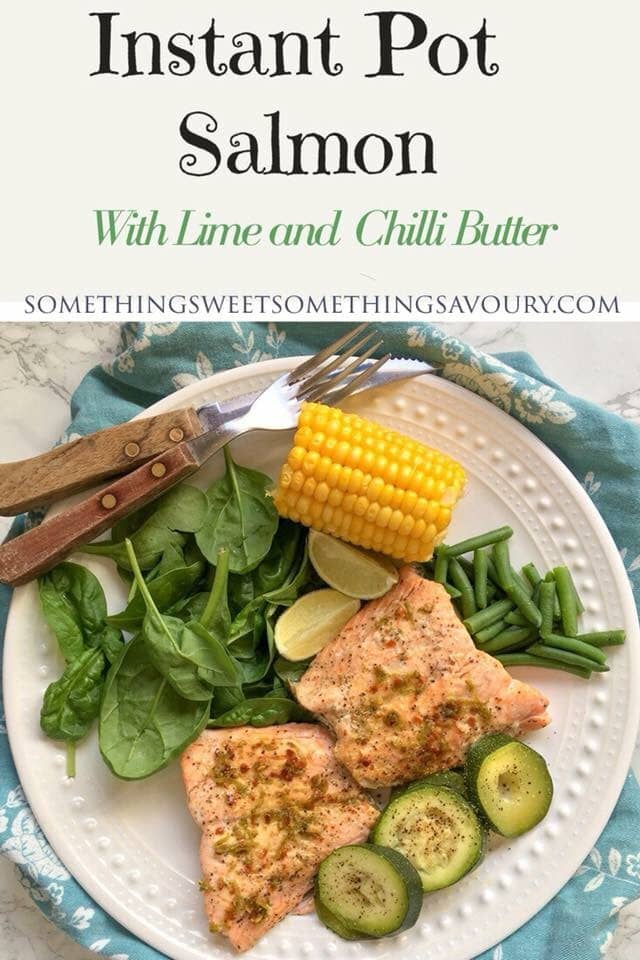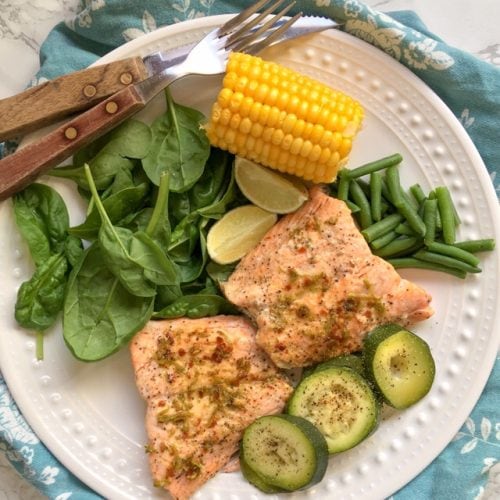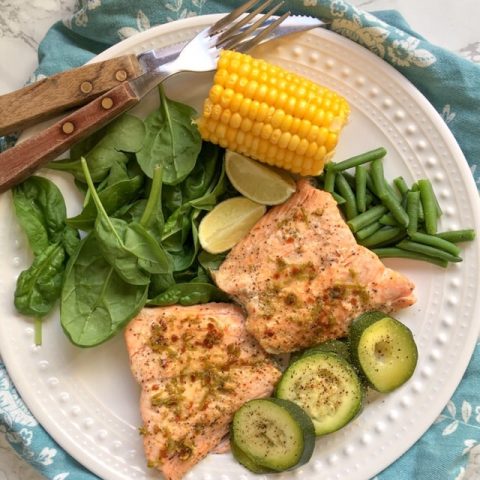 Instant Pot Salmon with Lime and Chilli Butter
These salmon fillets with lime and chilli butter are so quick and easy, perfect for a speedy, healthy midweek meal!
Ingredients
2x260g Salmon Fillets (Skin on)
50 g Soft Butter
Finely grated zest of half a lime
A pinch of chilli flakes
Salt and freshly ground pepper
Instructions
To make the lime and chilli butter, place the butter in a small bowl. Add the lime zest, chilli flakes and a pinch of salt and pepper. Using a spoon, mix thoroughly together. Work the butter into two small disc shapes and place in the fridge while you get on with prepping the pot.
Pour one cup (240ml) of water into the Instant Pot. Place the steam rack inside, making sure that the handles are extended upwards. Tear off a piece of baking parchment big enough to fit the salmon fillets. Place the salmon fillets on top of the parchment and place the butter discs on top of each fillet. Season the salmon with salt and pepper. Gather the sides of the parchment up over the salmon and scrunch the top pieces together to make a secure parcel (you don't want all that lovely butter to escape) Place the wrapped salmon on top of the steam rack.
Place the lid on the Instant Pot, make sure the vent is set to "SEALING" and press the steam button. Using the - or + buttons, set the timer to 3 minutes.
Once the timer has finished and the Instant Pot beeps, your salmon is ready. Using a pair of tongs or something similar, do a quick release pressure (turn the seal to "VENTING" taking care not to catch yourself on the hot steam that will be released (I wear a pair of oven gloves while doing this) Press the "KEEP WARM/CANCEL" button and carefully remove the lid of the pot. Carefully remove the salmon parcel from the pot and transfer to a plate. Serve with steamed new potatoes, veg of your choice and pour over all the lovely buttery juices.
Notes
The cooking time will vary depending on the thickness of your salmon fillets.  Mine was roughly 1 inch at its thickest end and was cooked to perfection in 3 minutes.
My Instant Pot took 9 minutes to come to pressure and the timer to start counting down, so I've accounted for this in the cooking time.
Nutrition Information:
Yield:

2
Serving Size:

1
Amount Per Serving:
Calories:

419
Total Fat:

34g
Saturated Fat:

16g
Trans Fat:

1g
Unsaturated Fat:

16g
Cholesterol:

125mg
Sodium:

379mg
Carbohydrates:

2g
Fiber:

1g
Sugar:

0g
Protein:

25g
Calorie and Nutrition information is provided by a third party application and are to be used as indicative figures only.