This slow cooker pulled pork is coated in a smoky spice rub mix and slowly cooked in apple juice for succulent, pull apart with a fork tender meat.
Slow Cooked Pulled pork has to be one of my favourite things ever.
Soft, tender meat that literally falls apart at the merest touch with a fork – I love stuffing the meat into a soft, fluffy Brioche burger bun.
Give me some BBQ sauce and coleslaw and I am one very happy girl!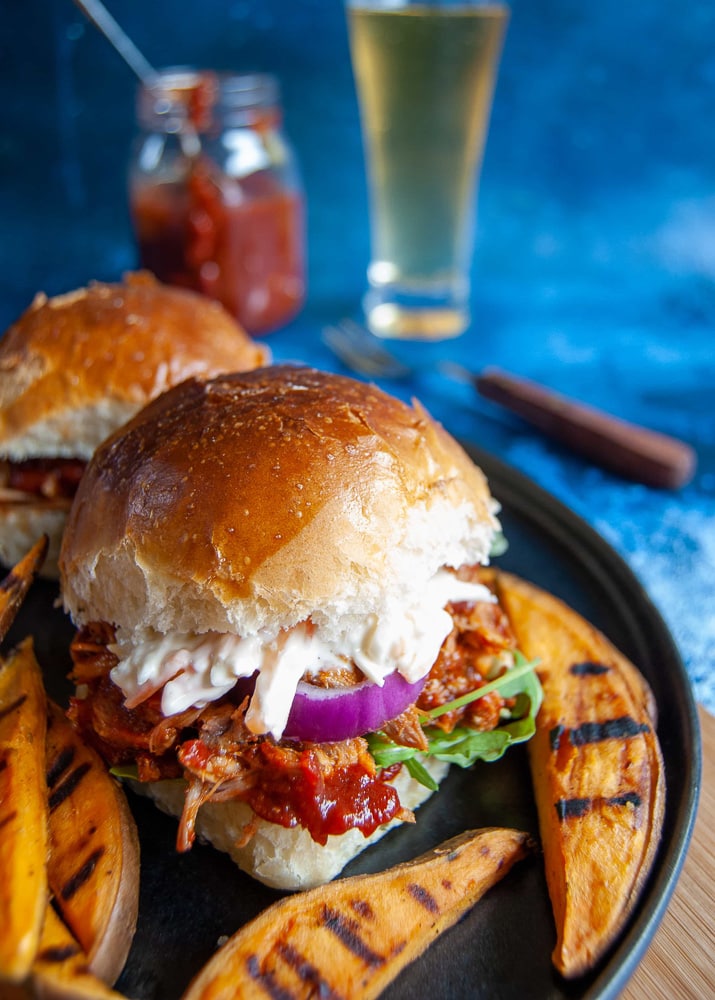 Slow cooking is by far my favourite method of cooking pork – that long, slow cook makes the meat incredibly tender and soft.
I also love the fact that you can just throw all the ingredients in the pot and forget about it for several hours!
The dry spice rub adds flavour and a hint of smoky spice.
ingredient list for the spice rub:
Soft Light Brown Sugar
Fennel Seeds (if you aren't a fan of the flavour of fennel, leave them out)
Chilli Powder (again, if you aren't a chilli fan you can leave this out, but it only adds a slight kick of heat)
Salt and Pepper
Slow cooking the pork in a little apple juice adds a slight sweetness and ensures the meat stays nice and juicy.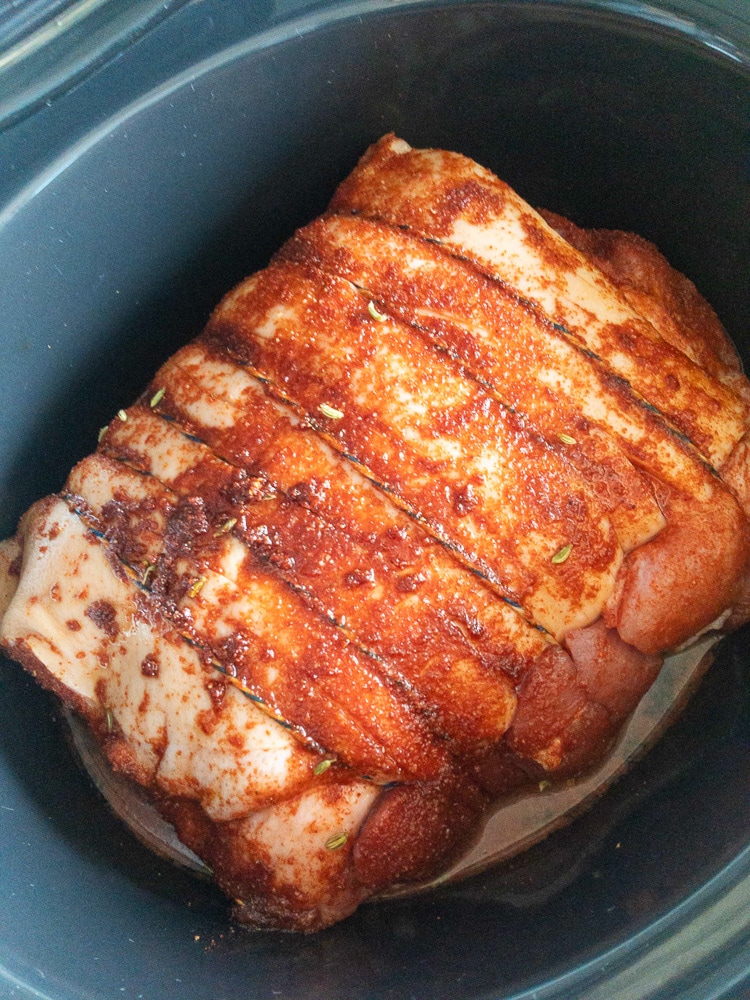 how long will pulled pork keep once cooked?
The cooked pork will keep for up to 3 days in the fridge. As soon as the shredded meat has cooled down completely, place in an airtight container and chill.
Top tip – Pouring some of the cooking juices over the pork before chilling will help keep it juicy and prevent it from drying out.
How to reheat pulled pork without drying it out
If you're intending to re-heat the pork, don't throw out those valuble cooking juices! They may not look very pretty, but they are the key to making sure your reheated pork stays juicy and flavoursome.
Pour some of the cooking juice over the shredded pork before chilling. The cooking juices will also keep in the fridge (in a separate container) for up to 3 days.
Then when you want to re-heat the pork, place the meat in an oven dish and spoon over a little more of the cooking juices you've saved.
Preheat the oven to 200C/180Fan/400F and cook for 30-35 minutes or until piping hot (I highly recommend using a meat thermometer – the safe temperature for re-heating pork is 165F/75 degrees.)
Don't re-heat cooked pork more than once.
For further information on safely storing and reheating pork, please check out this website.
Can you freeze pulled pork?
Yes! If you don't feel like eating pulled pork for a few nights in a row (I'll be giving you a few ideas for using up the leftovers at the end of this post), you can always freeze some for a future dinner. Store in an airtight container or wrap well in a double layer of foil and freeze for up two 2 months.
Easy dinner ideas using pulled pork
So your pulled pork is ready…but apart from serving it with BBQ sauce in burger buns, how else can you use it?
Here are some ideas…
On a pizza

In a ragu – add the pork to a herby tomato sauce and serve with pasta
In a baguette or soft roll with apple sauce
Make Quesadillas – fill flour or corn tortillas with the pulled pork, BBQ sauce and shredded lettuce
Piled on top of a baked potato (sweet potato or normal) with coleslaw or sour cream and a few chopped jalapeños
want to see more slow cooker recipes? Check these out….
Slow Cooker Butter Chicken Curry
Slow Cooker Beef and Chorizo Casserole
Slow Cooker Chicken Noodle Soup
Did you make this slow cooker pulled pork? Let me know what you thought of it by leaving a comment below and give the recipe a star rating.
Don't forget to follow me on Instagram and tag me #sweetsavouryblog in your photos. I love to see what you've been making!
pin this pulled pork recipe for later…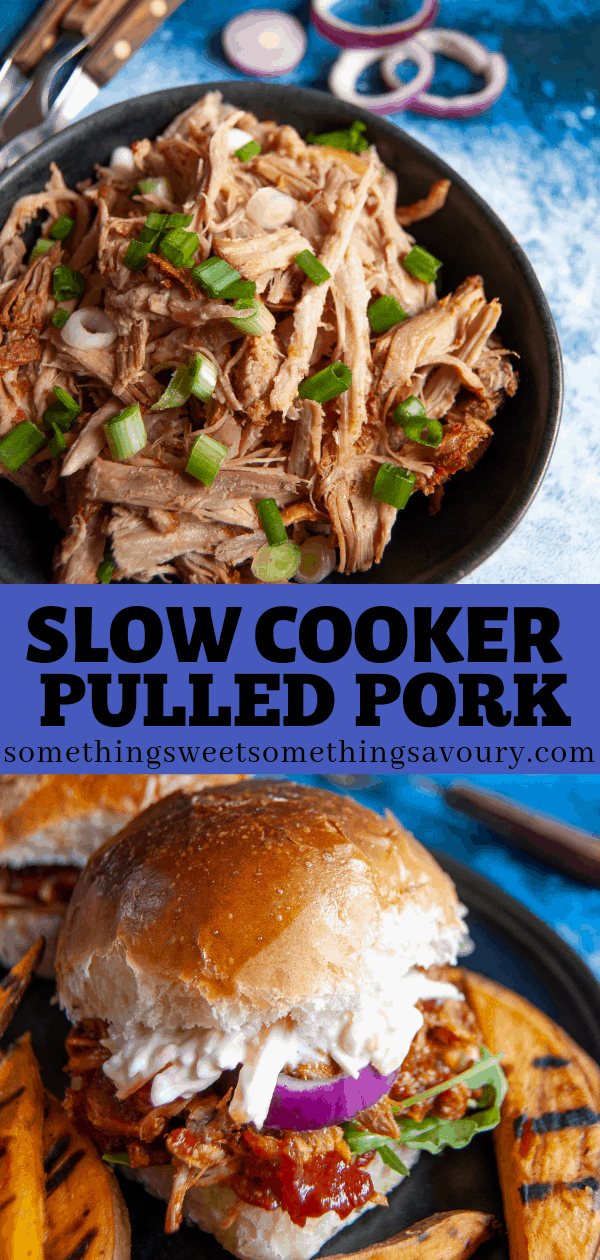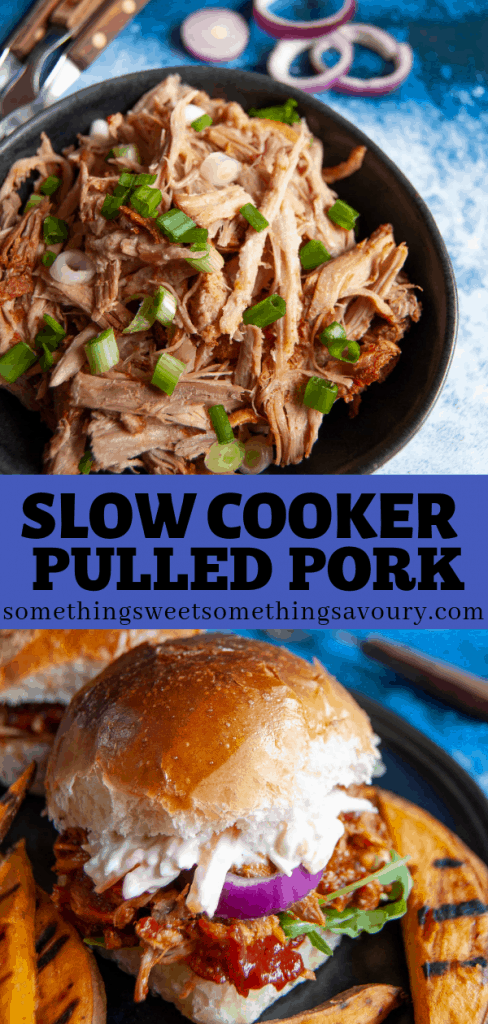 Slow Cooker Pulled Pork
Total Time:
12 hours
15 minutes
This Slow Cooker Pulled Pork is an easy and delicious way to feed a crowd. Pork Shoulder/Butt coated in spices and slowly cooked in apple juice for tender, juicy, flavoursome meat .
Ingredients
2 kg Boneless pork shoulder joint
3 tbsp soft light brown sugar
1/2 tsp Fennel Seeds
1 tbsp smoked paprika
2 crushed garlic cloves
1/2 tsp mild chilli powder, optional
1 tsp salt
Lots of freshly ground black pepper
150ml Fresh apple juice
Instructions
Set the slow cooker to slow.
In a small bowl, mix together the brown sugar, smoked paprika, fennel seeds, crushed garlic and chilli powder if using. Add 1 tsp salt and lots of freshly ground black pepper.
Rub this spice mixture all over the pork. If you want to, you can leave the pork in the fridge for a few hours or even overnight.
When you're ready to cook the pork, place the joint in the slow cooker and pour over the apple juice. Place the lid on top and cook for a minimum of 8 hours. It would do no harm at all to leave it cooking even longer - I've often left mine in the slow cooker for up to 12 hours.
Remove the pork from the slow cooker and when it's cool enough to handle, remove the thick layer of fat and shred the meat with a fork. It should fall apart at the merest touch.
If you're planning to re-heat the pork, don't forget to save the meat juices.
Nutrition Information:
Yield:

12
Serving Size:

1
Amount Per Serving:
Calories:

507
Total Fat:

36g
Saturated Fat:

13g
Trans Fat:

0g
Unsaturated Fat:

19g
Cholesterol:

150mg
Sodium:

310mg
Carbohydrates:

5g
Net Carbohydrates:

0g
Fiber:

0g
Sugar:

4g
Sugar Alcohols:

0g
Protein:

39g