These Brioche burger buns are light, fluffy and totally irresistible! They are perfect for burgers, sliders or split them open while they are still warm and spread with lots of butter!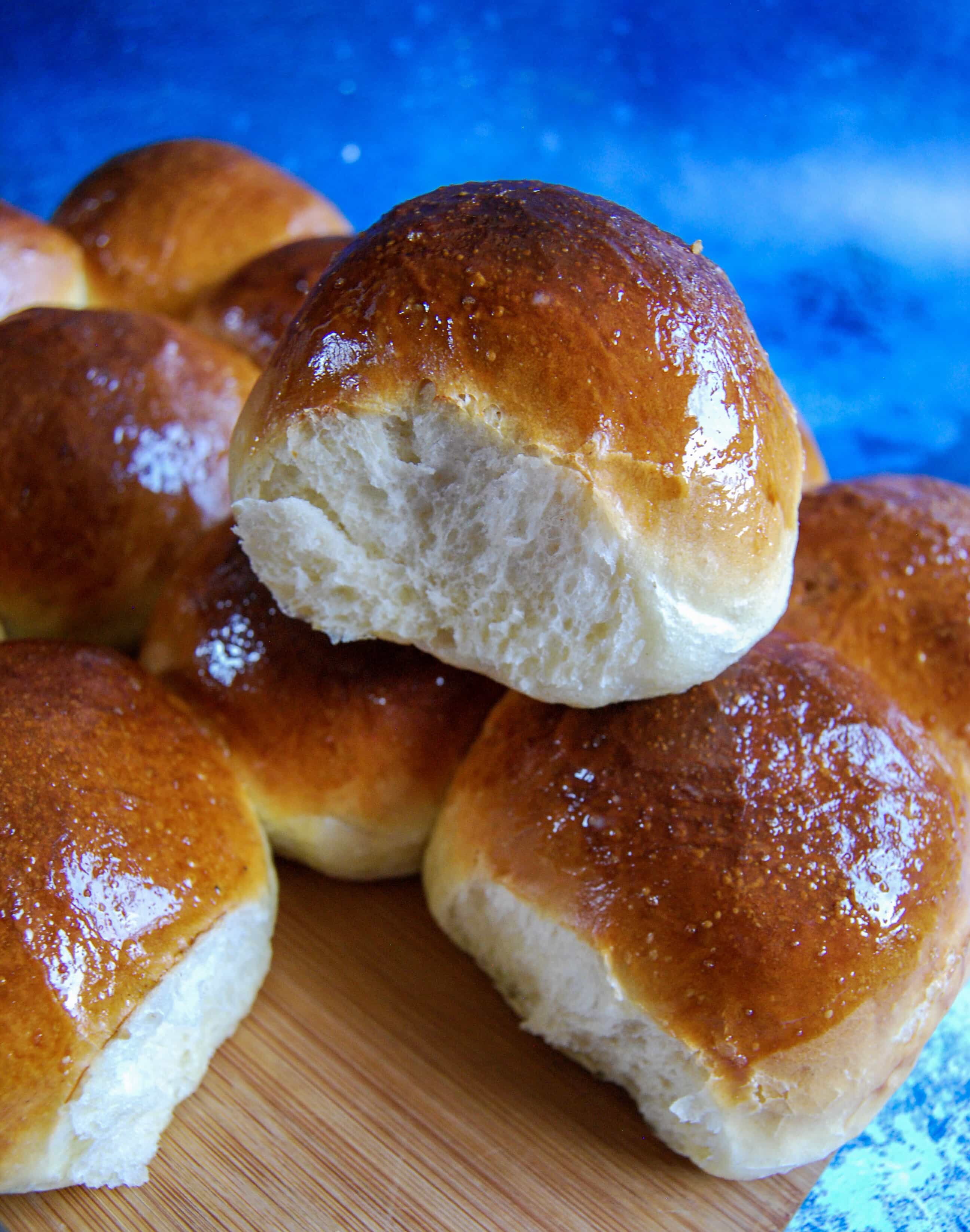 Listen up. These light and fluffy brioche burger buns are the business.
I first published this recipe way back in the early days of blogging.
I've given the recipe a few tweaks since then and I believe those little tweaks and adjustments along the way has only made the recipe even better.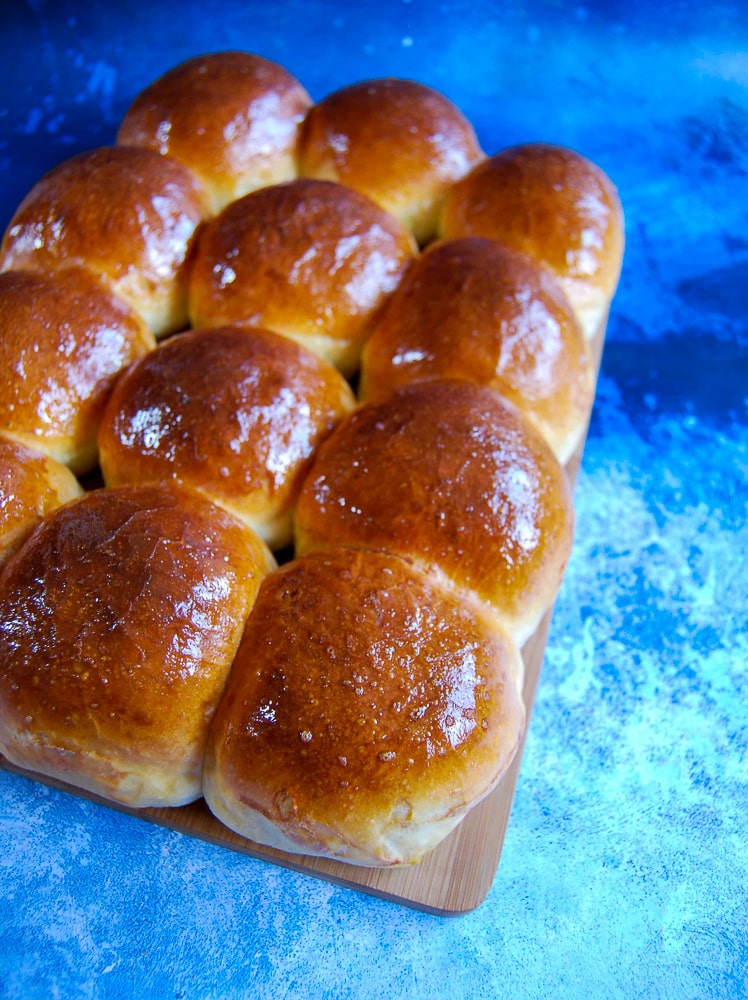 Your Summer bbq burger deserves these buns – trust me!
Brioche buns seem to be the vessel of choice for a gourmet burger these days. It's no surprise really – the combination of slightly sweet, buttery brioche and juicy meat really is a match made in heaven.
You just can't buy brioche buns of this quality in any U.K. Supermarket..believe me I've tried to find some!
Brioche buns are, obviously, perfect for burgers but they are also amazing with pulled pork, creamy coleslaw or BBQ sauce, ham and cheese sliders, Halloumi slices and salad, or simply split them open and spead with butter and jam.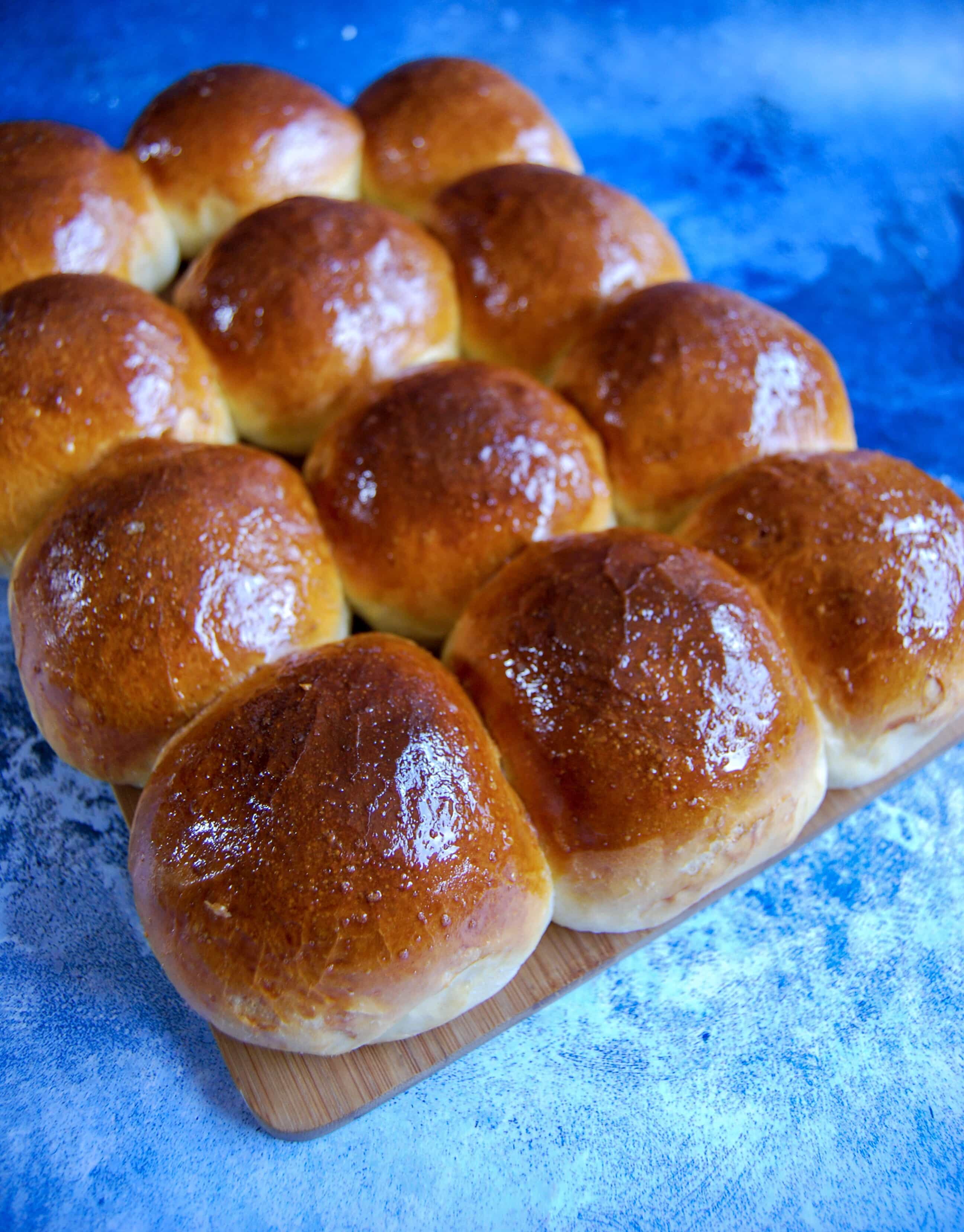 How do you make brioche burger buns?
Brioche buns are really no harder to make than normal bread rolls – the dough is definitely richer with the butter and eggs, but they aren't difficult to make at all. If they were, they wouldn't be on this blog, let's face it!
You just need a few basic ingredients to make these burger buns. You will need:
Plain (All Purpose) Flour. I've tested this recipe using strong bread flour, but I found that the buns are defintely softer and lighter using regular plain flour.
Instant (Fast Action) Yeast. As always, I use the instant 7g sachets. They just make life easier!
Unsalted Butter. Please don't even think of using anything but real butter!
Eggs
Water
Milk
Salt
Sugar
You start off by gently warming the water and milk in a saucepan.
Then you add the warm liquid, eggs, and soft butter to the flour, yeast, salt and sugar and knead, knead, knead! The dough will be sticky, but keep it going. If you have a stand mixer, I would definitely use it to save your arms!
When the dough is shiny, smooth and elastic, cover the bowl with a tea towel and leave to prove for around 1 1/2-2 hours or until doubled in size.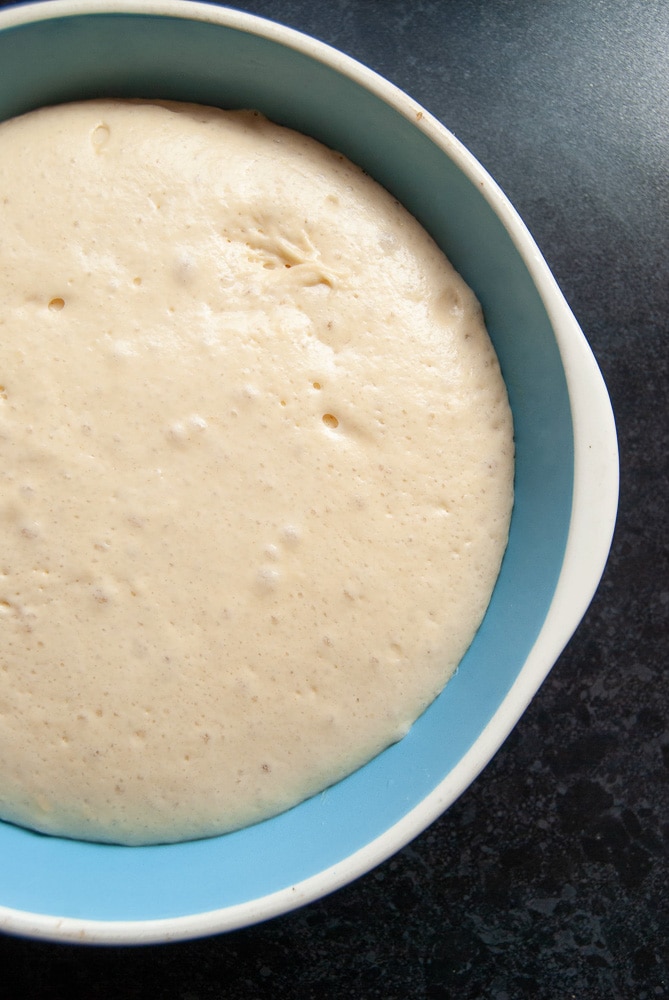 Now it's time to divide the dough into 12 equal sized portions. A metal dough scraper comes in very handy for this! I bought mine from Lakeland.
Roll the dough into equal sized balls – watch a handy tutorial here – and place them on a lined baking tray, remembering to space them apart to allow for rising.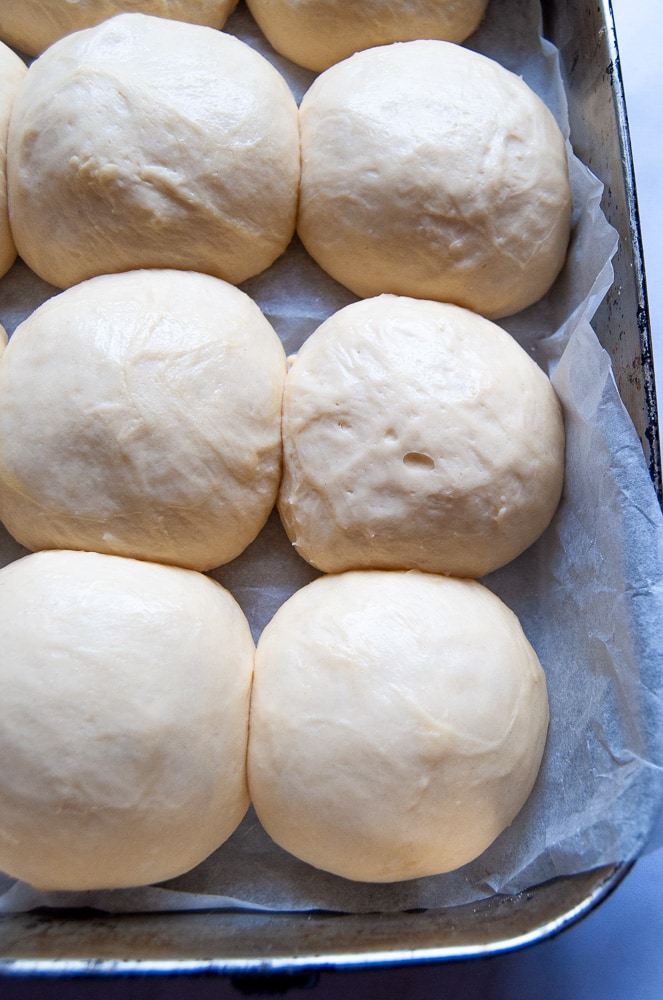 Leave the dough to rise for about 1 hour or until the buns have doubled in size. Brush with the beaten egg yolk and bake for around 25 minutes or until the top of the buns are golden brown.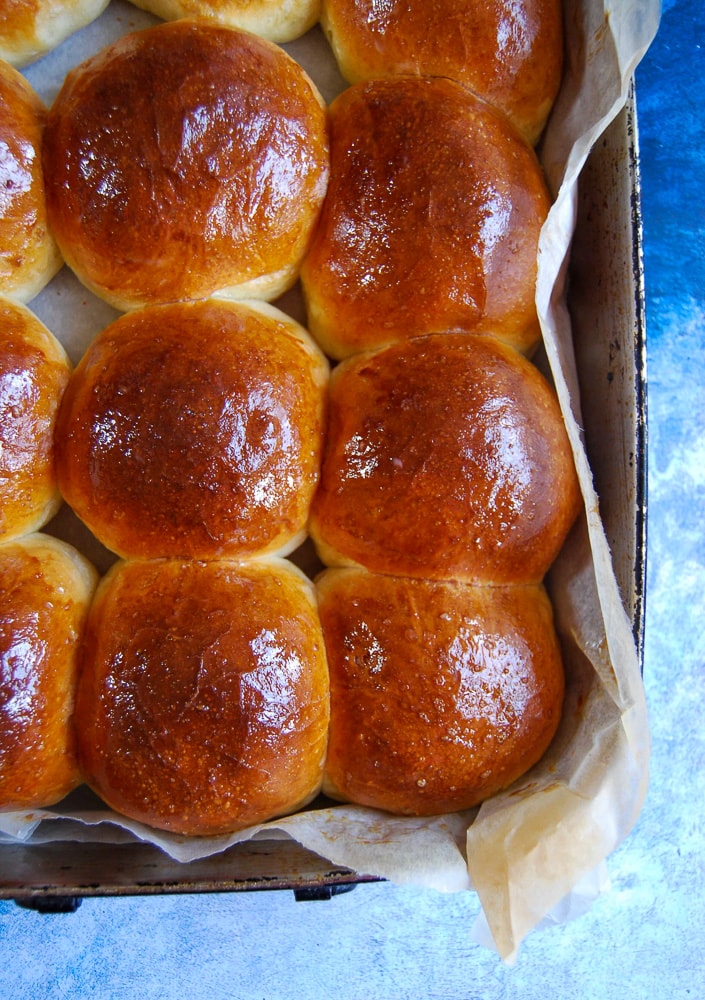 Tips for making perfect Brioche burger buns
I know this goes without saying, but the rising times I give you here are a rough guide only.
The length of time bread dough takes to rise is dependent on a number of factors – the temperature of your kitchen, the flour, quality of the yeast and even the weather can affect rising times.
The most important thing to keep in mind is don't rush things – if the dough hasn't doubled in size after an hour or two, give it some more time to let it do its thing. Enriched doughs (dough with butter, eggs and sugar) often take a little longer to rise.
Glazing the buns with egg wash before baking will help keep them nice and soft. It will also make them look even more golden and appealing.
Brush the top of the buns with a little soft butter when they come out of the oven – this will give them a beautiful shine.
If you happen to have an empty butter wrapper lying around, they come in very handy for this – simply brush the top of the buns with the wrapper and the remaining butter will instantly melt on top of the buns, creating a gorgeous sheen.
WANT TO SEE MORE BREAD RECIPES? CHECK THESE OUT…
Easy Focaccia bread with cherry tomatoes and fresh thyme
Pin this recipe for later….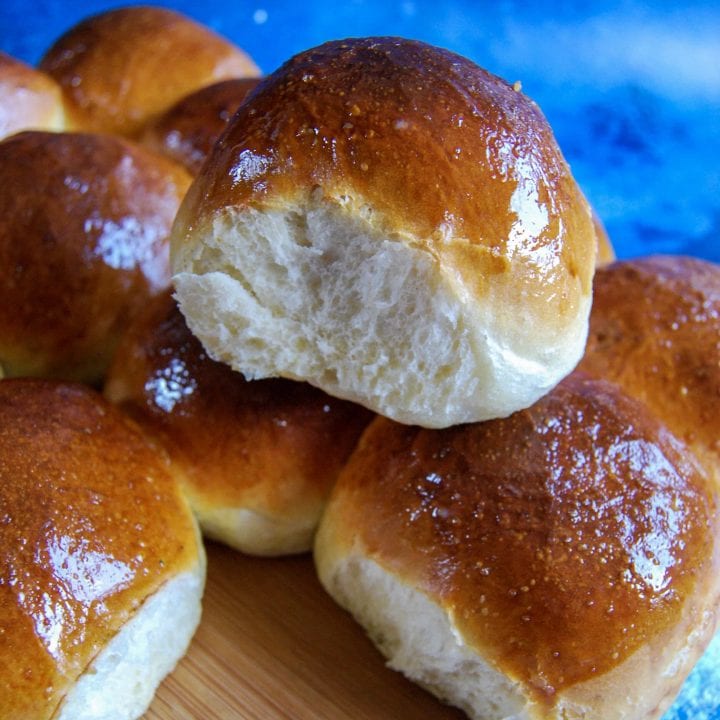 Brioche Burger Buns
Includes proving time:
3 hours
Total Time:
3 hours
45 minutes
These soft and fluffy brioche burger buns are miles apart from shop bought, and easier than you think to make at home!
Ingredients
250 ml warm water
50 ml milk
500 g Plain Flour
7 g Fast action instant yeast
2 tbsp white sugar
1 tsp salt
60 g (4 tbsp) Butter
2 Large eggs, beaten
1 Large egg yolk, for glazing the buns
Instructions
Combine the flour, sugar, yeast and salt in a large mixing bowl. Keep the yeast andsalt at separate sides of the bowl. Roughly mix to combine.
Make a well in the centre and add the water, milk, eggs and butter. Use your hands to mix to a dough. It will be very sticky and wet, but don't be tempted to add more flour. Verylightly oil your hands and work surface and knead the dough for a good 10minutes, or if you're lucky enough to own a food mixer, save your arms and use it!
When the dough is very smooth, soft, bouncy and elastic, it's ready. Place into anoiled bowl, cover with cling film and leave to prove for 1-2 hours, or untildoubled in size.
When the dough is ready, knock the air out by kneading lightly for 30 seconds or so. Divide the dough into 10-12 even pieces.
Roll the pieces of dough into balls (a lightly floured surface comes in handy here) and place on lined baking trays. Cover loosely with oiled cling film or a clean tea towel and leave for around 45 minutes -1 hour until the dough has doubled in size again.
While you're waiting, Heat oven to 200C and place a baking tray at the bottomof the oven.
When the buns have doubled in size, brush them all over with the beaten egg glaze.
Pour a cup of water into the baking tray you placed at the bottom of the oven earlier (this will keep the buns moist while baking and give them a lovely soft crumb.
Bake for 20-25 minutes or until nice and golden.
Nutrition Information:
Yield:

12
Serving Size:

1
Amount Per Serving:
Calories:

197
Total Fat:

2g
Saturated Fat:

1g
Trans Fat:

0g
Unsaturated Fat:

1g
Cholesterol:

62mg
Sodium:

235mg
Carbohydrates:

36g
Fiber:

1g
Sugar:

3g
Protein:

7g
Calories and Nutritional information is calculated by a third party application and should be used as an indicative figure only.