This easy Focaccia bread with cherry tomatoes and thyme is the perfect accompaniment to so many dishes – it's very simple to make at home.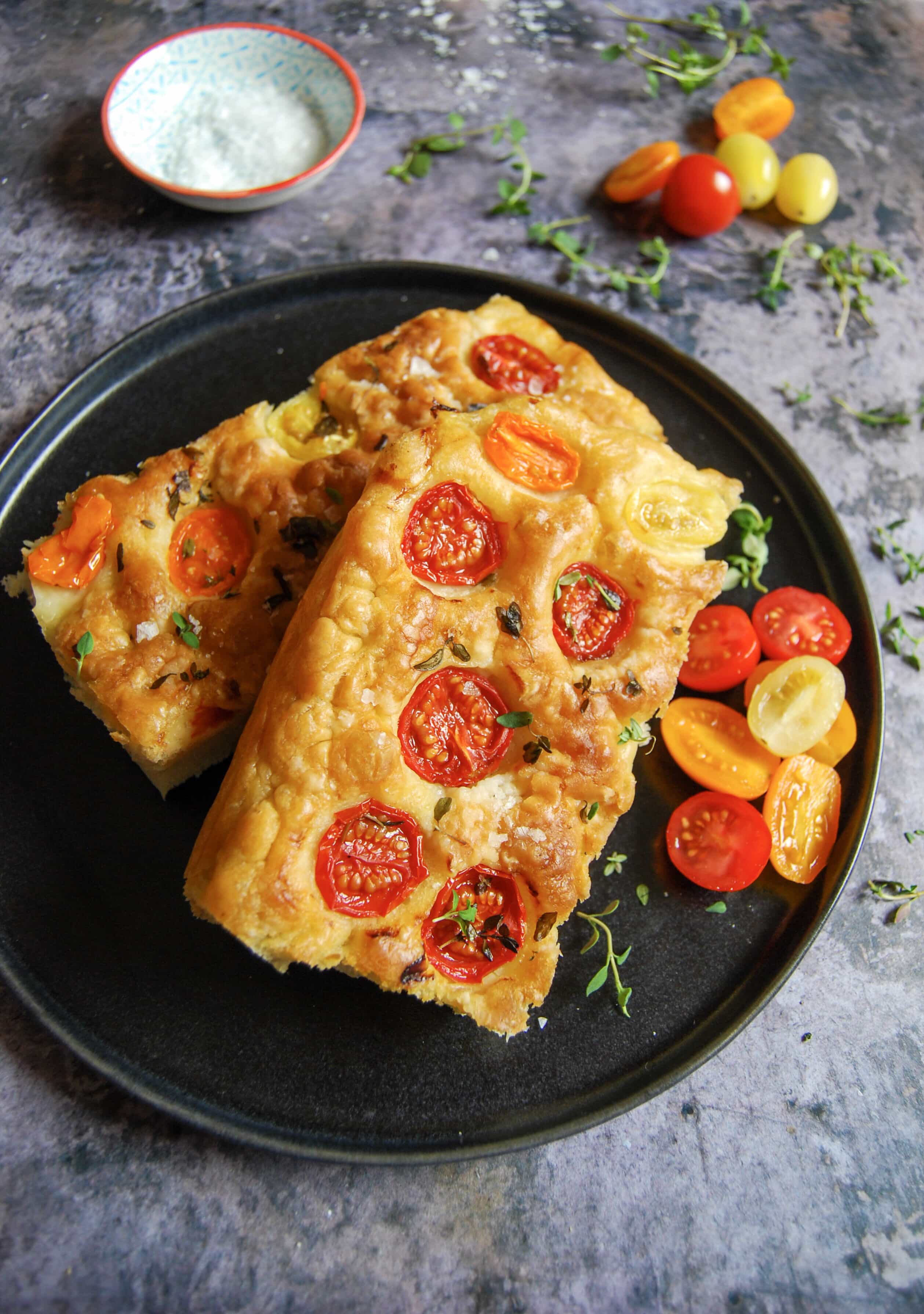 Focaccia is such a beautiful bread. It has a crisp, chewy crust and is completely unique in flavour to any other bread.
I used to think Focaccia was extremely difficult to make at home, but it's actually very easy.
The first time you make Focaccia, you will probably think you've made a mistake measuring out the ingredients. The dough is very wet, but it's supposed to be like that. You haven't done anything wrong!
I add lots of colourful cherry tomatoes and fresh thyme to my Focaccia bread. It looks so pretty and the tomatoes become so sweet and juicy in the heat of the oven.
I started making it this way years ago and my husband absolutely loved it.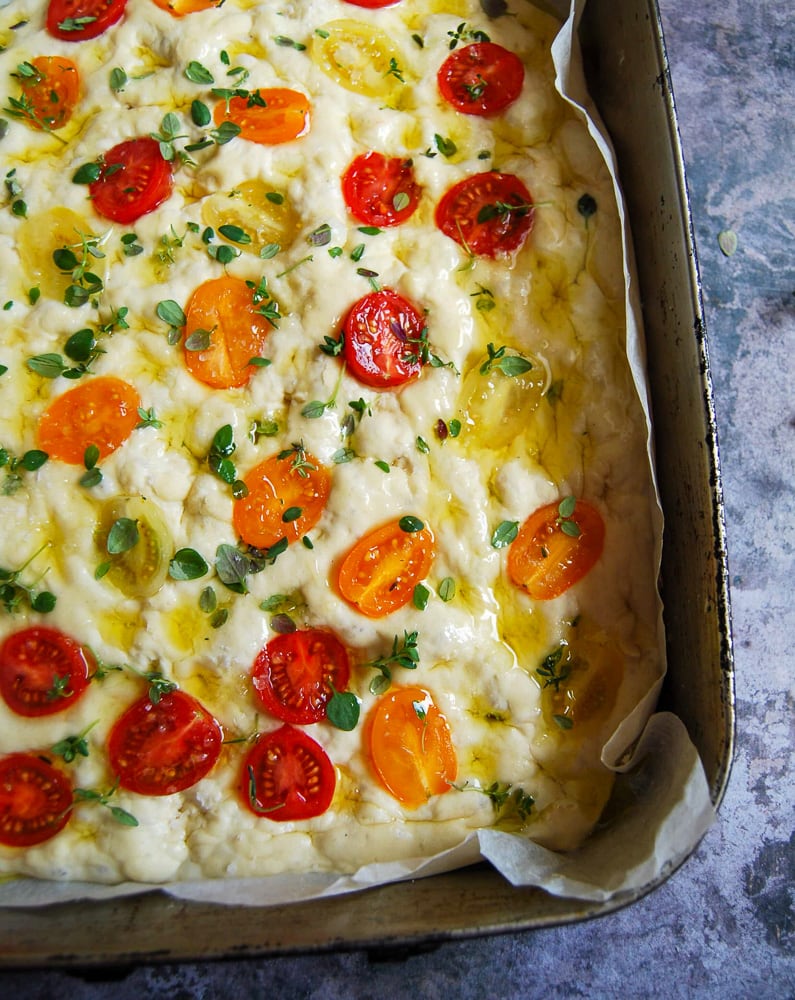 How to make easy Focaccia Bread
You just need a few very simple ingredients to make Focaccia bread.
Strong White Flour
Instant Yeast (I use the fast action sachets)
Water.
Olive Oil.
This is the basic, bare bones recipe but obviously you can add whatever ingredients to like to jazz it up. Instead of the tomatoes and thyme, you could add –
Thinly sliced red onion
Garlic
Rosemary sprigs
Anchovies
Olives
Tips for making Focaccia Bread
As I said above, the dough will be very wet – almost like a cake batter. It's a little tricky to work with at first, but once you get used to it, it's a breeze.
If you have a stand mixer I definitely recommend using it for this recipe.
Focaccia dough is very difficult to knead by hand. It can be done, but it will take you at least 10 minutes of vigorous kneading and your arms will feel like they're going to fall off!
Don't be tempted to add more flour – if you do, you risk changing the structure of the dough and it won't have the texture of a Focaccia bread.
For a crunchy base, sprinkle the bottom of the baking sheet with semolina.
what to serve with focaccia bread
Almost anything you like! it would be particularly good with this Italian inspired Chicken Milanese with Spaghetti or this meatball mozzarella pasta bake, but to be honest, I like it simply served on its own alongside bowls of extra virgin olive oil and balsamic vinegar for dipping.
Add a salad and some crunchy veg such as radishes and sliced peppers for a gorgeous starter or al Freco lunch. Perfect for Summer Time!
Focaccia also makes the best sandwiches!
Stuff thick slices with cooked chargrilled veg such as asparagus, peppers or courgettes with a basil mayo or cured meats like pepperoni or salami.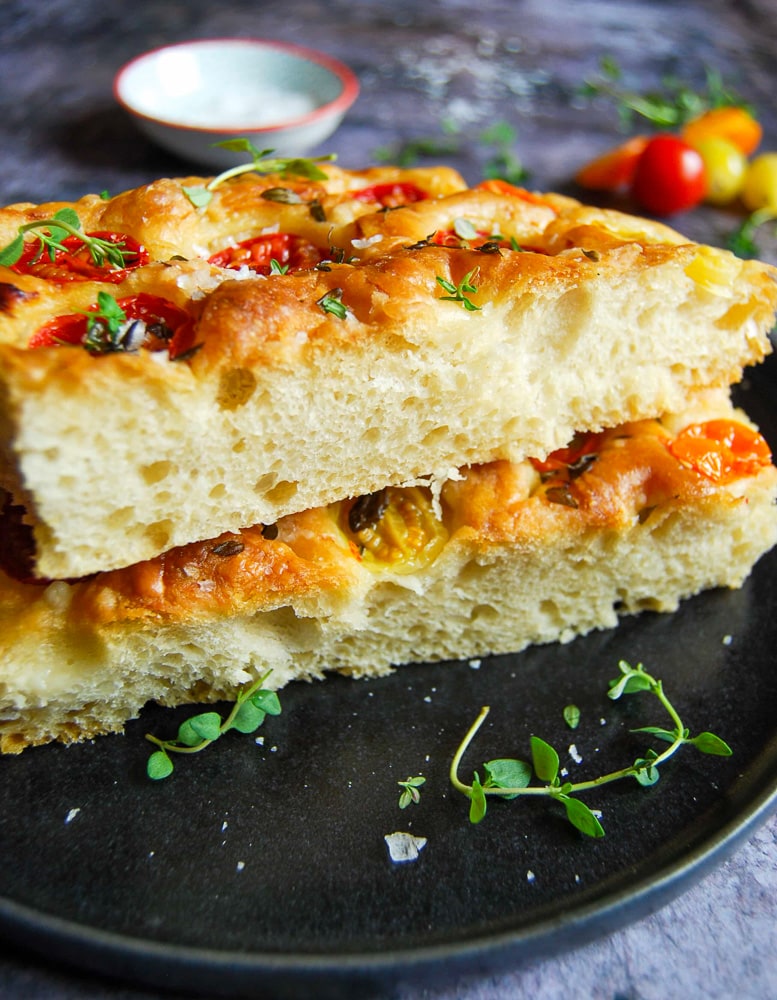 More Bread recipes…
Pin this recipe for later..
Easy Focaccia Bread with Cherry Tomatoes and Thyme
Focaccia bread is easier to make than you think - give the dough plenty of time to rest and you'll be rewarded with a soft, fluffy tear and share bread that no-one will be able to resist!
Ingredients
500

G

Strong White Flour

1

7G

Sachet fast action yeast

8

G

Salt

350-400

ML

Tepid Water

40

G

Garlic Olive oil,

Or regular Olive Oil

100

G

Fresh Cherry Tomatoes

A small bunch of Fresh Thyme

Leaves picked

More Olive Oil, for drizzling over the Focaccia

Sea Salt Flakes
Instructions
Place the flour in a large bowl. Add the yeast and salt at opposite sides of the bowl (Placing salt directly on top of yeast can stop it from working.)

Pour the water and the garlic oil over the flour and using your hands or a wooden spoon, mix together. It will seem far too wet and you may think you've added to much water, but don't worry! It's meant to be this way.

Once you have a very wet dough, cover the bowl with cling film and leave to rest for 30 minutes in a warm place.

Turn out onto a lightly oiled work surface and knead for at least 10 minutes. Sadly, my arthritic hands can no longer cope with kneading by hand, so I use my much loved KitchenAid.

Don't be tempted to add more flour - it will change the texture of the bread. Place dough back in the bowl and leave to rest for 1-2 hours or until almost doubled in size.

When the dough has almost doubled in size, tip out onto a large baking tray which you have drizzled with olive oil. The dough will start to deflate. Lightly oil your hands and fold the dough in half a couple of times. This should help it hold its shape a little. Flatten the dough out with your hands, trying, to get the dough to reach right to the edges of the tray. Cover with oiled cling film and leave to prove for 45 minutes or until doubled in size again.

Preheat the oven to 220/200Fan/425F/Gas mark 8.

When the dough has proved, poke dimples into the dough using your fingers. You need to press down quite firm - no need to be gentle! The more dimples, the better!

Place the halved cherry tomatoes into the dimples, scatter over the thyme leaves, drizzle with a little more garlic oil and scatter over some sea salt.

Bake for 35-40 minutes, or until golden on top and underneath.

Sprinkle over some more sea salt and drizzle with more olive oil before serving.
Notes
For a crunchy base, sprinkle the baking tray with semolina.