This Chicken Milanese with Spaghetti and tomato sauce is a delicious Italian inspired meal – prepare the chicken and sauce in advance to get ahead!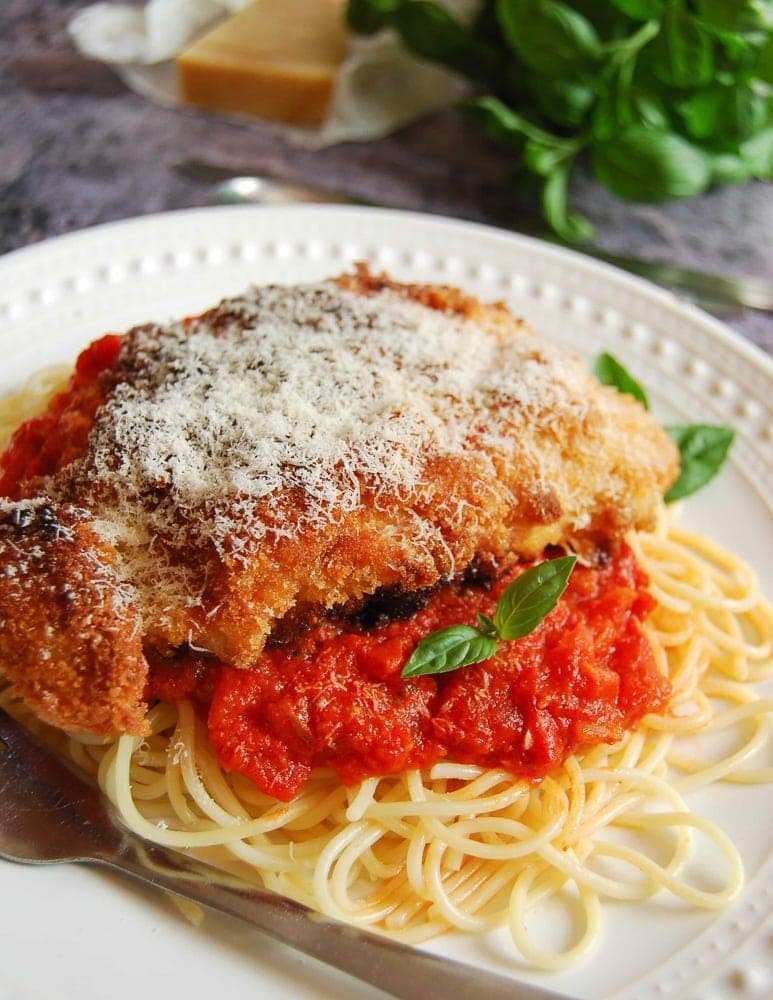 This chicken Milanese with spaghetti recipe is a real family favourite in my house.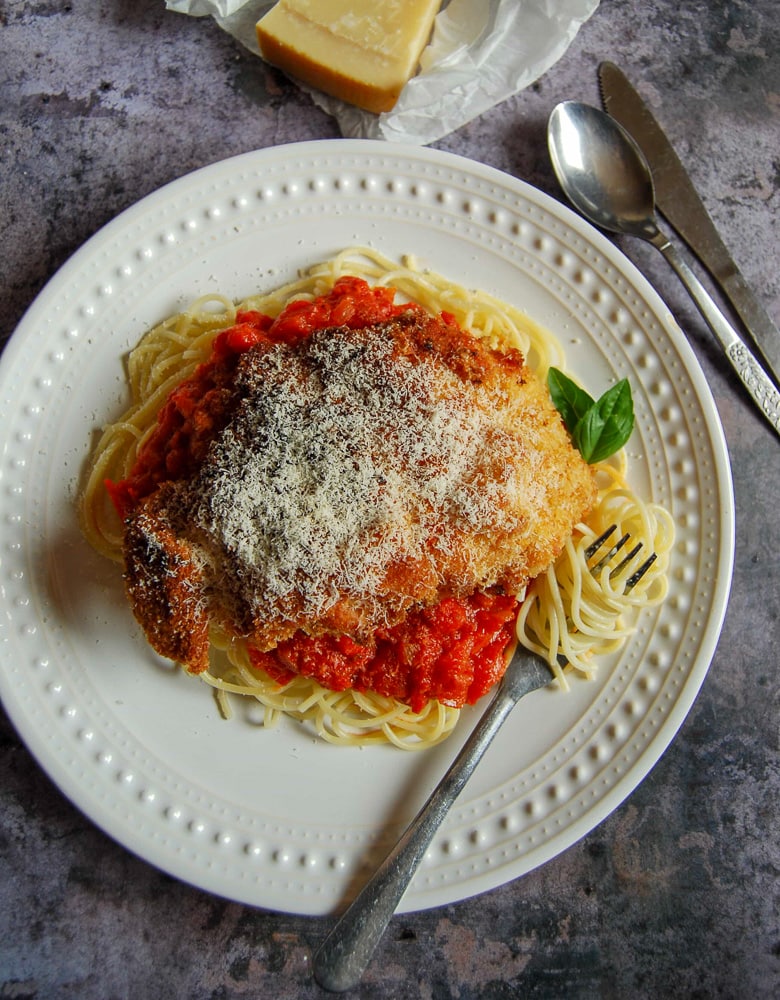 My boys have never been the type of children who would eat whatever was put in front of them, but this crunchy breaded chicken with spaghetti and tomato sauce is one of the few meals they will happily eat any night of the week.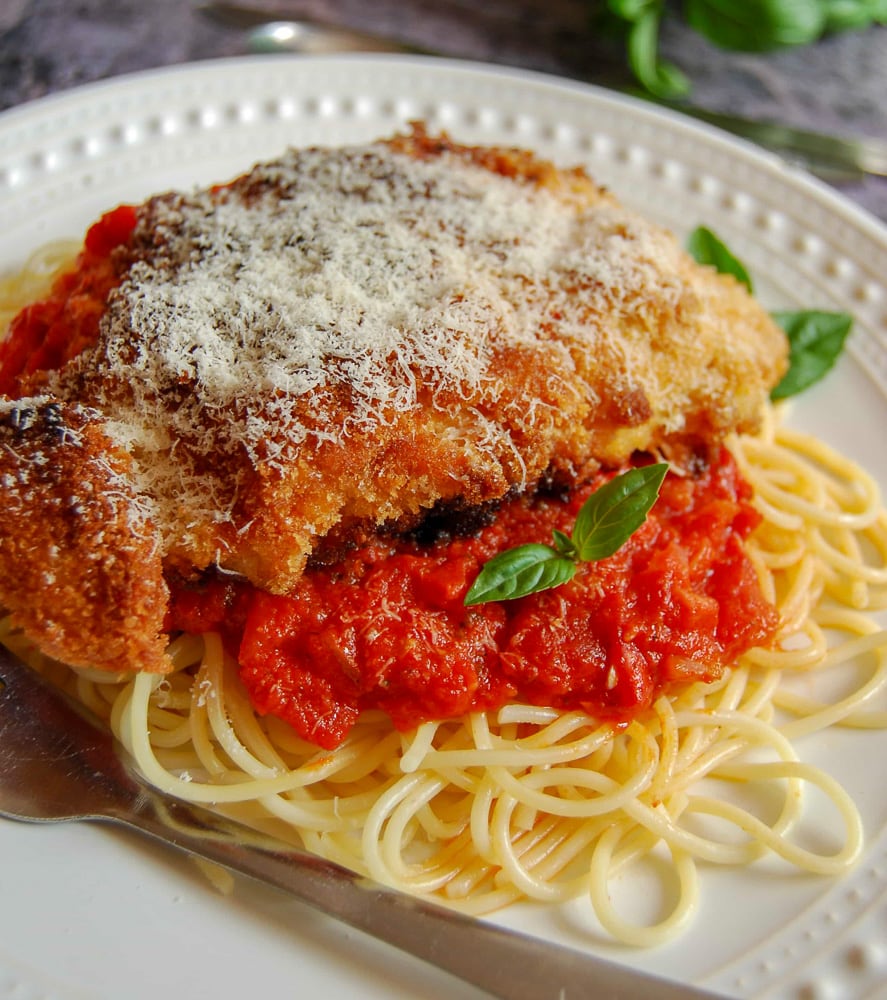 In fact, after taking the photographs for this post, not even 30 seconds had gone by before my 16 year old said "is that chicken going spare Mum?"
He then proceeded to demolish the whole lot before telling me that he loves having a food blogging Mum. You're very welcome, Son!
What is chicken milanese?
The term Milanese means a thin cut of meat (originally veal) coated in flour and breadcrumbs and fried.
It is usually served exactly as it is, apart from maybe a simple side salad and a wedge of lemon.
I serve the fried chicken pieces with Spaghetti and a simple tomato sauce because it's how my family prefer it.
It's based on a recipe I came across many years ago by an Italian chef named Georgio Locatelli. It's not in any way traditional Italian cuisine, but it's certainly delicious!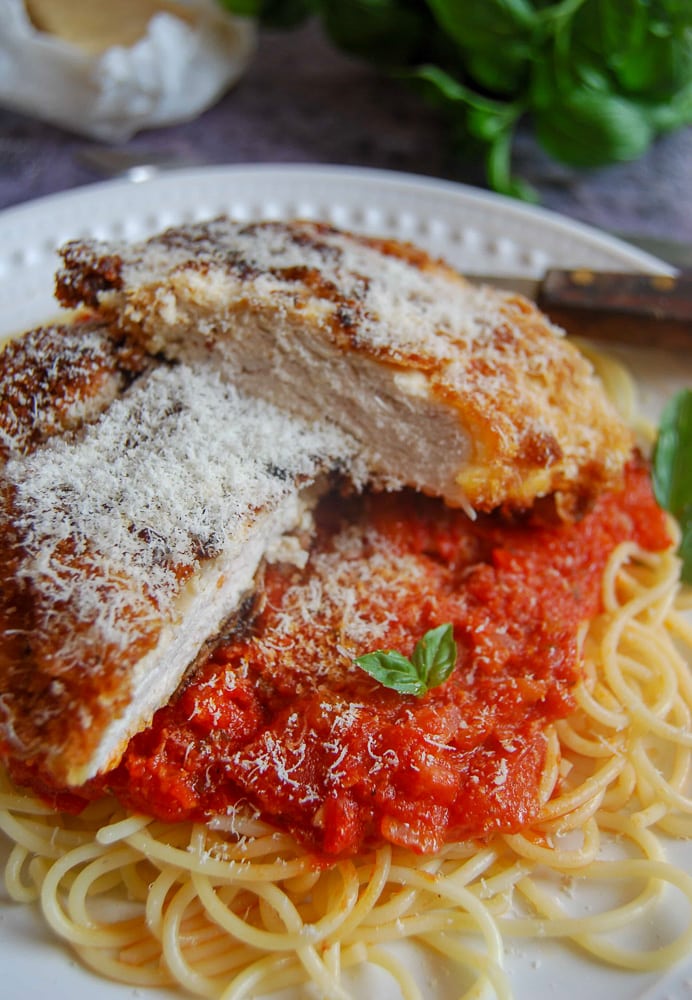 Can I make chicken milanese in advance?
Yes – prepping the chicken and making the tomato sauce in advance is a great time saver.
Once you've coated the chicken in the flour, egg and breadcrumbs it will sit quite happily in the fridge for up to one day.
I often prep the chicken the night before I'm going to make it. It definitely makes life a little easier the next day.
The tomato sauce might only take about 15-20 minutes to make, but it's definitely worth making a day or two before you need it.
Taking a little time to prep ahead means that when you have a hungry hoard, all you need to do is re-heat the sauce in a saucepan, make the Spaghetti and fry the breaded chicken.
did you make this recipe? Let me know what you thought!
If you make this recipe, I would love it if you would share your thoughts! You can let me know via my Facebook or Instagram – or simply just leave a comment below!
Looking for more chicken recipes?
Slow Cooker Chicken Noodle Soup
More midweek meal ideas
Quick Red Thai prawn and spinach curry
Aubergine, mushroom and lentil chilli
Meatball Mozzarella Pasta Bake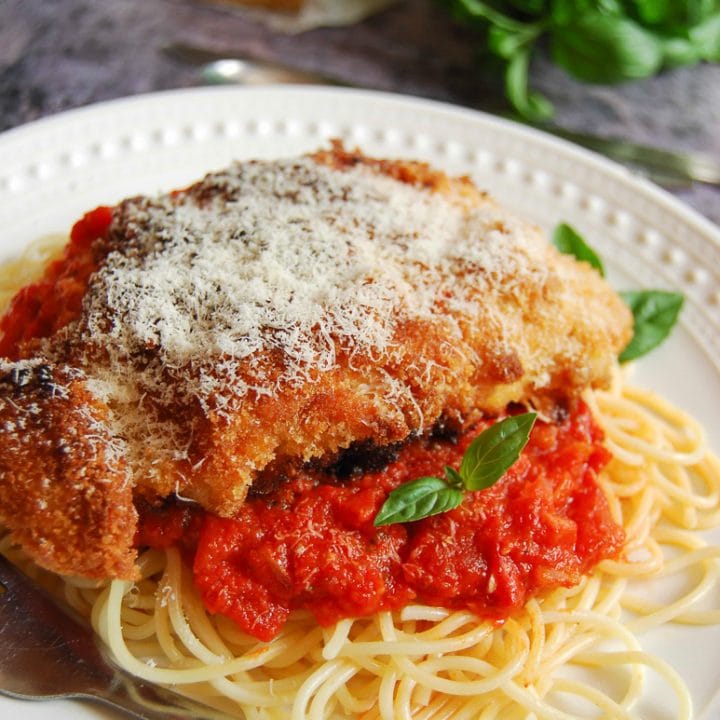 Chicken Milanese With Spaghetti
Crunchy, golden, breaded chicken breast served on a bed of spaghetti with an easy tomato sauce - prep the chicken in advance for an easy midweek meal that feels a little bit special!
Ingredients
4 Boneless, skinless chicken breasts
1 tbsp plain flour
2 eggs, beaten
125 g breadcrumbs
25 g freshly grated parmesan
FOR THE TOMATO SAUCE:
1 tbsp olive oil
1 onion, chopped
1 garlic clove, crushed
400 g can chopped tomatoes
1 tbsp tomato puree
salt and freshly ground black pepper
pinch of sugar
pinch of chilli flakes , (optional)
400 g Spaghetti
4-5 tbsp vegetable or sunflower oil, for frying the chicken
Freshly grated Parmesan, for serving
Instructions
PREP THE CHICKEN:
Place the chicken breast between 2 pieces of clingfilm and bash with a mallet or rolling pin until they are about 1/2 inch thick.
Place the flour and beaten eggs in separate shallow bowls. Combine the breadcrumbs and parmesan together and place in another shallow, wide bowl.
Dust the chicken pieces with the flour, shaking off the excess. Dip the chicken into the beaten egg, then into the parmesan-breadcrumb mixture, making sure the chicken pieces are completely covered in breadcrumbs.
Place the breaded chicken pieces on a large plate, cover and chill until you're ready to cook them. I often find it easier to do this part in advance.
MAKE THE TOMATO SAUCE:
Heat the oil in a medium saucepan, add the onion and cook on a low-medium heat for about 5 minutes or until the onion has softened but not coloured. Add the crushed garlic and cook for a further two minutes, then add the chopped tomatoes, tomato puree, salt, pepper, sugar and the chilli flakes, if using.
Bring to the boil, reduce the heat and simmer for about 15 minutes or until slightly thickened.
COOK THE SPAGHETTI:
Meanwhile, cook the spaghetti in a large pan of salted boiling water for 8-10 minutes.
COOK THE CHICKEN:
Heat the oil in a large heavy bottomed frying pan. Test the oil by placing a cube of bread in the oil - if the bread starts to sizzle straightaway, the oil is ready.
Add the chicken, one piece at a time. Cook for about 5 minutes on each side until golden and cooked through.
Drain the spaghetti well and place on your serving plates. Top with the tomato sauce and the golden, crunchy chicken.
Serve with lots of freshly grated parmesan.
Nutrition Information:
Yield:

4
Serving Size:

4 Servings
Amount Per Serving:
Calories:

699
Total Fat:

21g
Saturated Fat:

5g
Trans Fat:

0g
Unsaturated Fat:

14g
Cholesterol:

221mg
Sodium:

603mg
Carbohydrates:

65g
Net Carbohydrates:

0g
Fiber:

6g
Sugar:

8g
Sugar Alcohols:

0g
Protein:

59g