Aubergine mushroom and lentil chilli – a warming, smoky, spicy vegan chilli that is pure comfort food on a cold night!
If you're looking for a recipe that will make you feel all warm and cosy (and aren't we all in need of that right now) but full of goodness, then stop looking!
This chilli is packed full of lentils, beans and veggies. It's delicious and healthy!
I'm a big chilli fan and I can eat lots of this. I first made this recipe last March and it's become one of my favourite recipes – and that's saying something as I'm not a huge fan of aubergine!  
I've got to say, as a meat eater, I don't miss the meat one little bit. It's hearty, chunky and full of flavour.
In fact, I think I actually prefer this to a meat chilli. I am also a big fan of this sweet potato and black bean chilli.
I use dried chipotle chillies in this chilli. A chipotle chilli is a dried, smoked jalapeño. They have a rich, smoky flavour and a medium heat. I also use them in my classic beef chilli con carne recipe I posted a few years back.
Most supermarkets stock chipotle chillies now but if you can't get them, you can just use normal chilli powder instead.
I know the list of ingredients seem long, but it isn't really – it's just all the spices that make it seem that way.
how long does this aubergine mushroom and lentil chilli keep?
This chilli keeps really well in the fridge for up to three days or you can freeze it for up to three months in freezer bags or tupperware boxes.
did you make this reciPe?
I hope you enjoyed it! Let me know what you thought by leaving a comment below and rate the recipe by clicking on the stars in the recipe card.
If you've recently switched to a vegetarian/vegan diet, doing veganuary and looking for inspiration or, heck – you just love a decent chilli – I highly recommend you give this recipe a go. If you make it, let me know what you thought by leaving a comment below or you can contact me via my Facebook or Instagram.
Pin this vegan chilli recipe for later…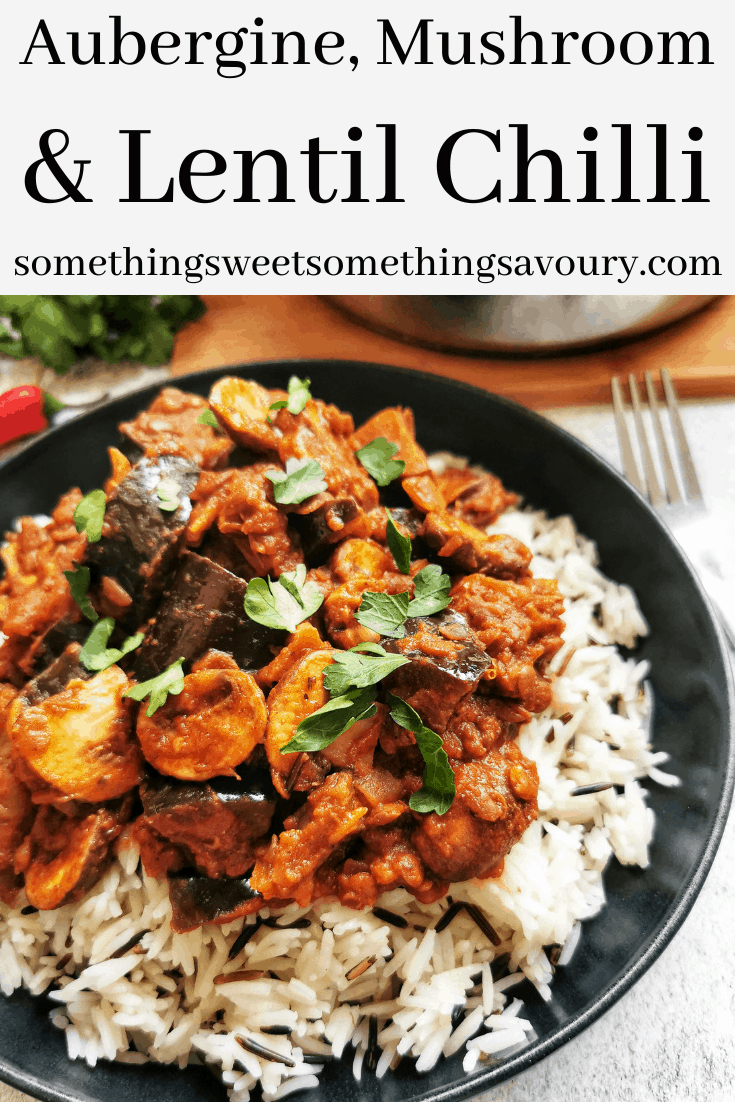 Want to see more vegan friendly recipes? Check these out…
Stuffed Pumpkin with mushroom rice and cranberries
Butternut squash and Sweet Potato Soup
Spicy sweet potato and lentil soup
sweet potato and red pepper soup
Spring greens with lemon and mustard dressing
Linking up to Cook once eat twice, hosted by Searching For Spice
Aubergine, mushroom and lentil chilli
Total Time:
2 hours
15 minutes
This vegan aubergine, mushroom and lentil chilli is packed full of smoky-spicy heat that will warm you up on the coldest night!
Ingredients
One tbsp oil
One large onion, diced
Two cloves garlic, crushed
One aubergine, chopped into 3-4cm dice
1 red pepper, diced
1 390g can green lentils, rinsed well
30 g red lentils, rinsed well
One small tin of kidney beans, roughly 200g
400 g tin chopped tomatoes
1 tbsp tomato purée
One dried chipotle chilli OR 1/2-1 tsp chilli powder, soaked in just boiled water for 10-15 to rehydrate then chopped very finely OR 1/4- 1/2 tsp chilli powder, depending on your chilli tolerance level!
2 tsp dried oregano
2 tsp ground cumin
2 tsp sweet smoked paprika
1 tsp ground coriander
1 cinnamon stick
400 ml vegetable stock
125 g mushrooms, halved
Instructions
Add the onion and a pinch of salt and cook on a low heat for about 10 minutes or until the onions have softened.
Add the garlic and cook for a few minutes, stirring. Stir in the ground cumin, smoked paprika, ground coriander, chilli powder or soaked and chopped chipotle chilli, dried oregano, and the cinnamon stick. Stir for a couple of minutes to release the fragrance of the spices.
Add the diced aubergine, red pepper, lentils, kidney beans, chopped tomatoes, tomato purée and vegetable stock.
Stir to combine, then pop on a lid and gently simmer on a low heat for about 1 1/2-2 hours, stirring occasionally.
Add the mushrooms in the last 30 minutes of cooking time. Once you're ready to eat, taste the chilli to check if you want to add any salt.
Serve over rice or potato wedges and the usual accompaniments if you like – I love it with sweet potato wedges, grated cheese, sour cream and avocado.
Nutrition Information:
Yield:

5
Serving Size:

1
Amount Per Serving:
Calories:

496
Total Fat:

18g
Saturated Fat:

5g
Trans Fat:

0g
Unsaturated Fat:

9g
Cholesterol:

41mg
Sodium:

1048mg
Carbohydrates:

59g
Net Carbohydrates:

0g
Fiber:

16g
Sugar:

13g
Sugar Alcohols:

0g
Protein:

29g