Everyone should have a good Guacamole recipe in their repertoire for parties, gatherings, BBQ's or even movie nights at home. This chunky Guacamole recipe is very simple to make and tastes miles better than anything you can buy in the shops!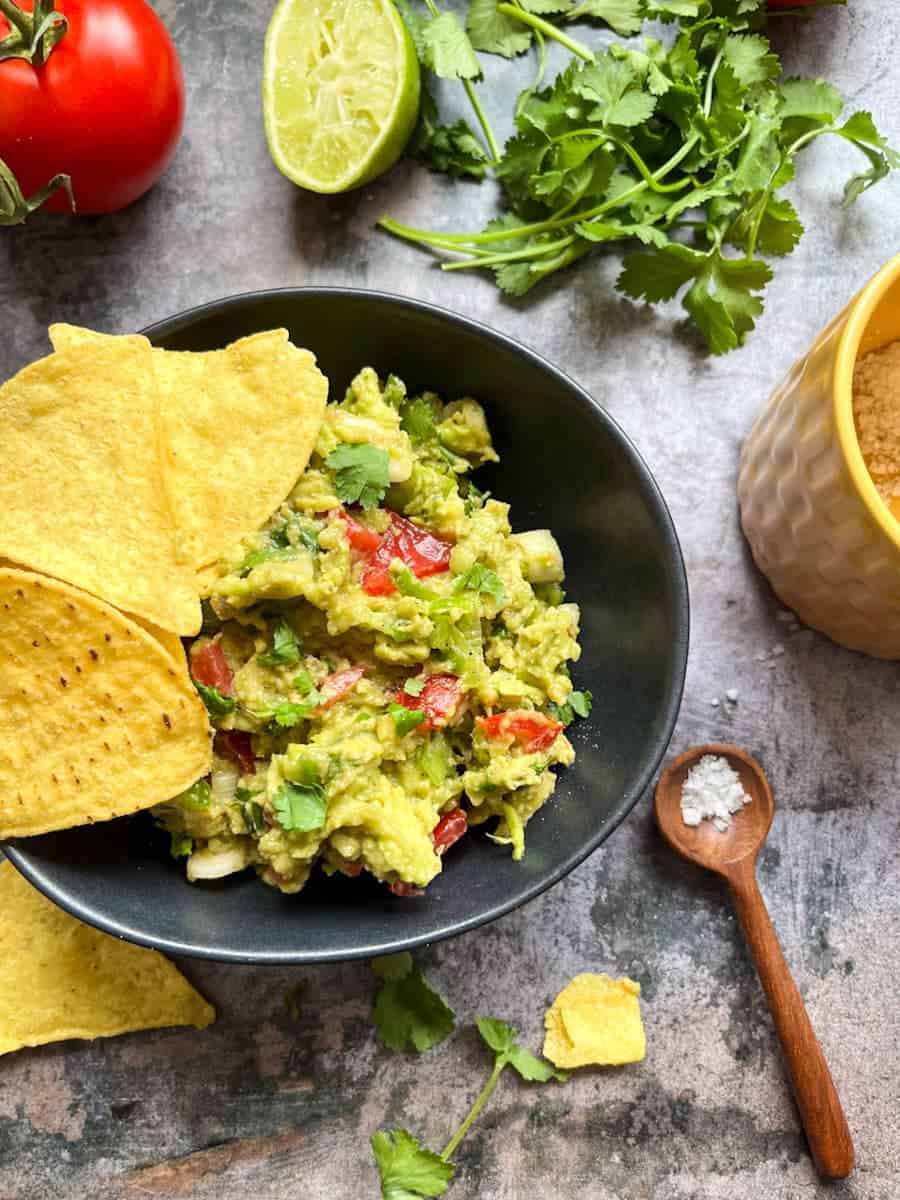 what is guacamole?
Guacamole is a creamy Mexican dish made from ripe avocados. It's usually mixed with other ingredients such as fresh diced tomatoes, onions, lime juice, spices, fresh herbs and salt and pepper. It's great served as a dip with tortilla chips or crunchy vegetables or as a side dish alongside Chilli Con Carne, fish tacos, vegetable chilli and so much more.
You can buy a tub of ready made Guacamole from pretty much every supermarket but let's be honest, it's never going to be as good as homemade Guacamole lovingly made by yourself.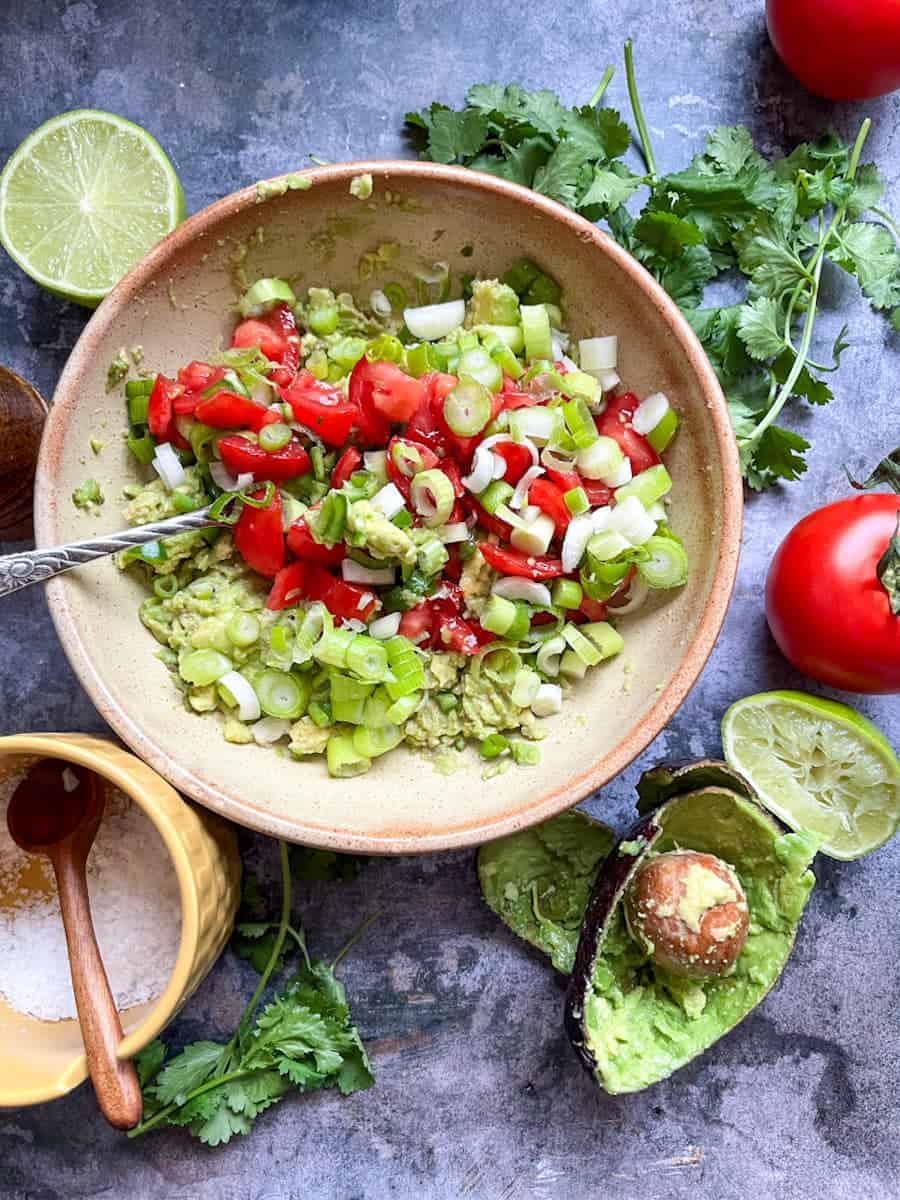 chunky guacamole recipe
There are countless Guacamole recipes on the Internet. Why should you try this particular one? Simply put, it's perfect every single time. Of course, the Guacamole you make is only going to be as good as the quality of your ingredients, so you must use ripe, creamy avocados and sweet, ripe tomatoes.
what kind of avocados for guacamole?
The best avocados for Guacamole are those that are ripe and have a creamy, almost buttery texture. Hass avocados are the most popular variety for making Guacamole due to their creamy texture and high oil content.
how to tell if an avocado is ripe
It's very easy to check if your avocado is ripe enough for Guacamole. Many people give them a gentle squeeze to check if they are soft and not firm and while this does work to an extent, it's difficult to know if the avocado flesh is bruised underneath the skin.
I found a very reliable way to check the ripeness of an avocado via Northwest Edible Life. You simply remove the small brown stem at the top of the avocado. If it comes away easily and you can see green underneath, that's a perfectly ripe avocado.
If it is brown, the avocado is overripe and is very likely to have brown or black spots.
If the stem can't be removed, the avocado is underripe. If this is the case, leave it for a day to two at room temperature. To speed up the ripening process, place the avocado in a brown paper bag with a ripe banana. Don't leave it for too long though – avocados are notorious for turning ripe in the blink of an eye, especially when you use this method!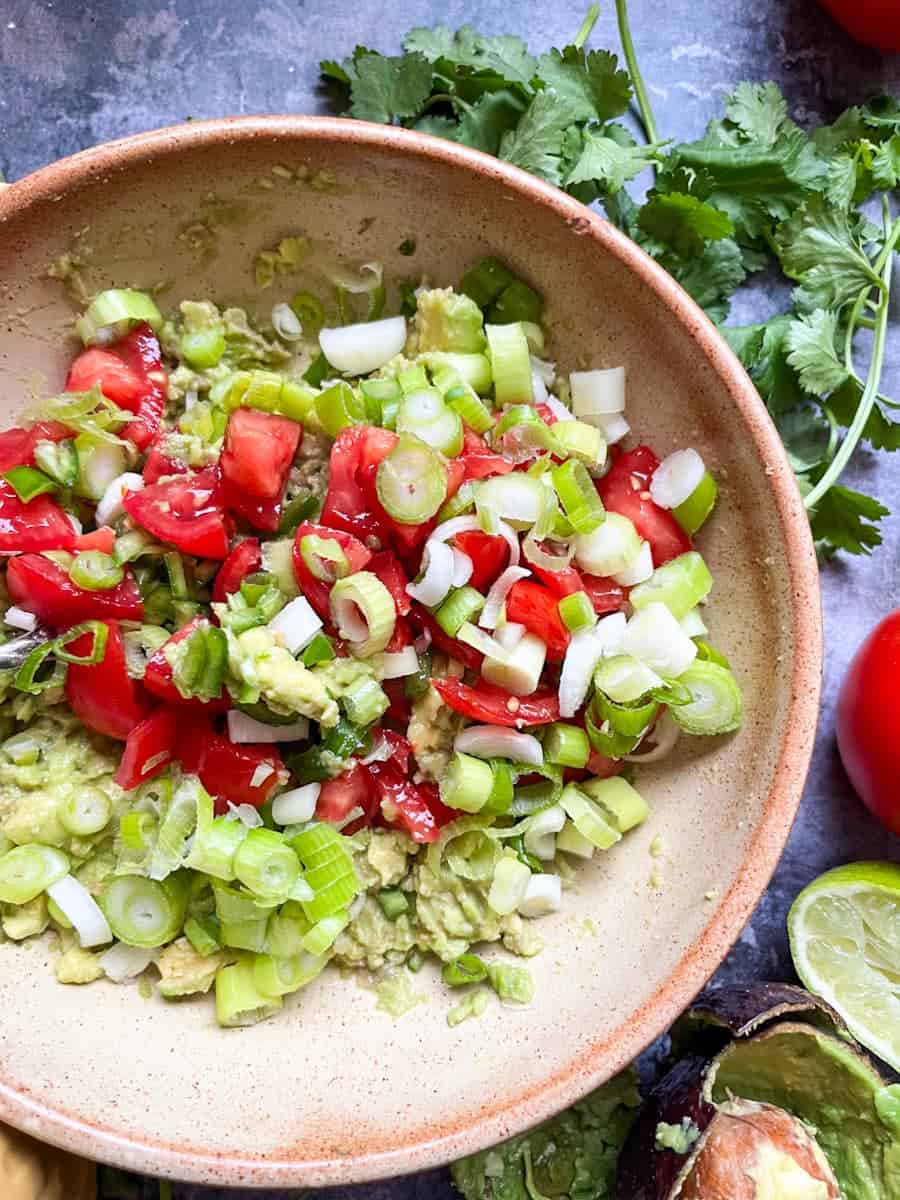 chunky guacamole ingredients
Here's a quick list of the ingredients you will need to have on hand to make this homemade Guacamole recipe:
Scroll to the bottom of the post to find the printable recipe card with ingredient amounts and detailed instructions!
Two avocados, of course! And at the risk of sounding like a broken record, they need to be ripe and soft, but not so ripe they are turning brown or black – that wouldn't appeal to anyone!
Spring onions, finely sliced.
Juice of one small lime
one small green or red chilli, finely chopped
one garlic clove, crushed
Ripe tomatoes, finely chopped (I like to remove the seeds)
fresh coriander
sea salt and freshly ground black pepper
optional ingredients – a pinch of ground cumin and a few shakes of Tabasco sauce
Guacamole With or without tomatoes?
Guacamole traditionally contains tomatoes, but some people prefer it without. Nigella's Guacamole recipe doesn't have tomatoes. It's simply a matter of personal taste. If you don't want tomatoes, just leave them out.

how to make chunky guacamole
Guacamole is one of the easiest side dishes you could ever make. Start by mashing your avocados. Quickly squeeze over the lime juice so the avocados won't discolour.
Stir in the spring onions, chopped chilli and garlic. Roughly mash with a fork, then stir in the chopped tomatoes and fresh coriander. Season to taste with salt and pepper. Add the ground cumin and Tabasco sauce, if using.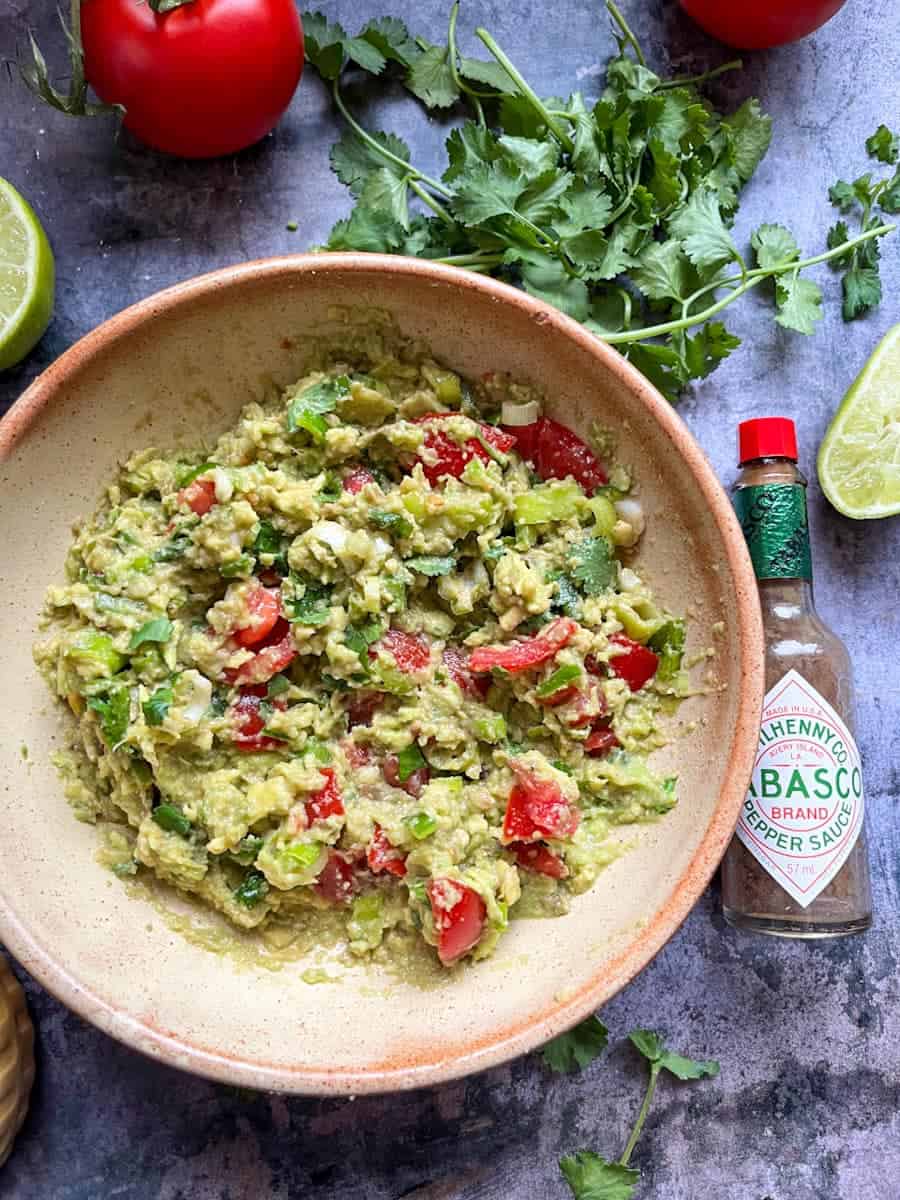 how to serve guacamole
with tortilla chips: Place the Guacamole in a big bowl and arrange the chips around it. This is the simplest way to serve Guacamole. It's simple and delicious.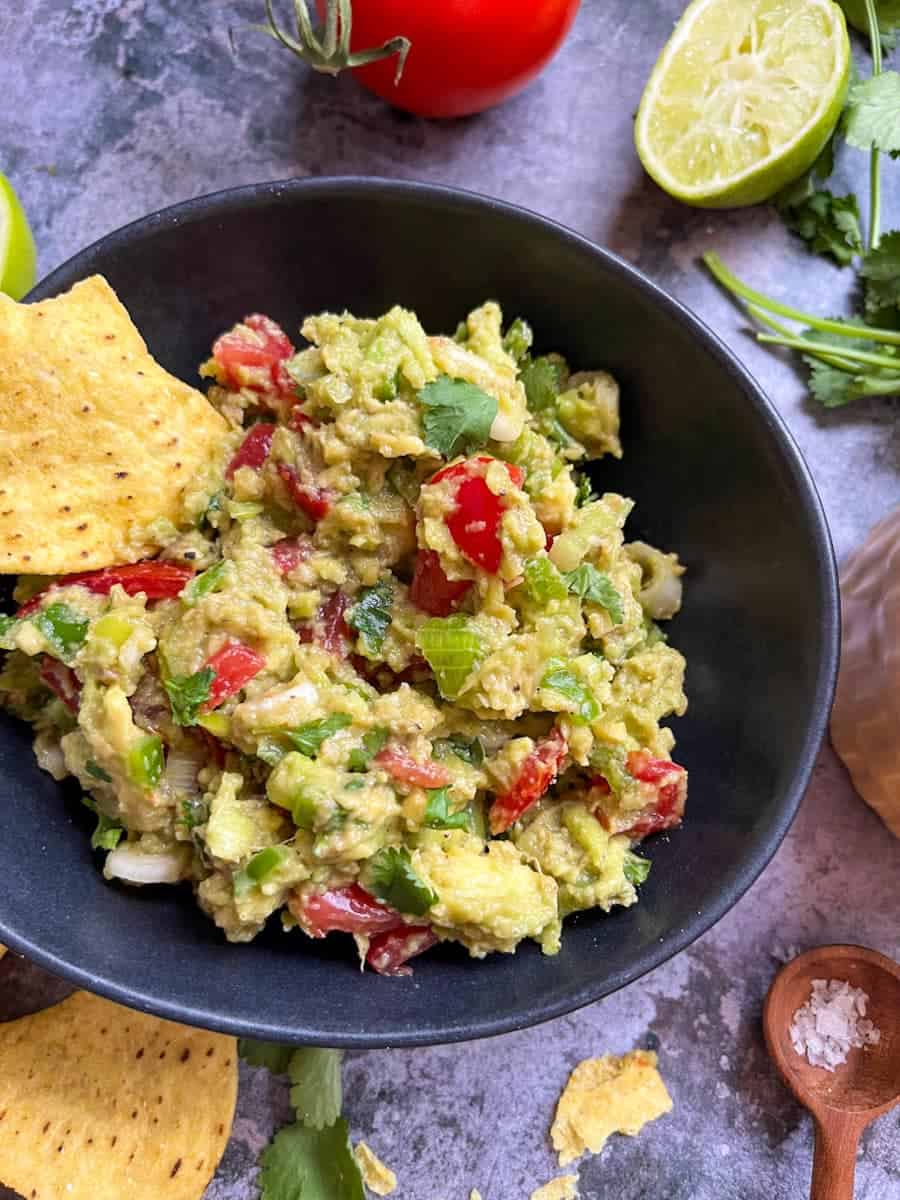 storing guacamole
If you're not serving the Guacamole right away, squeeze some lime or lemon juice over the top and cover it with a piece of cling film, making sure it is touching the top of the Guacamole. This will help minimise air exposure and prevent browning.
can you freeze guacamole?
Yes, you can freeze Guacamole. Place it in freezer bags, squeeze out excess air and flatten it out. This will take up hardly any room in the freezer. It will keep for up to two months. Defrost in the refrigerator.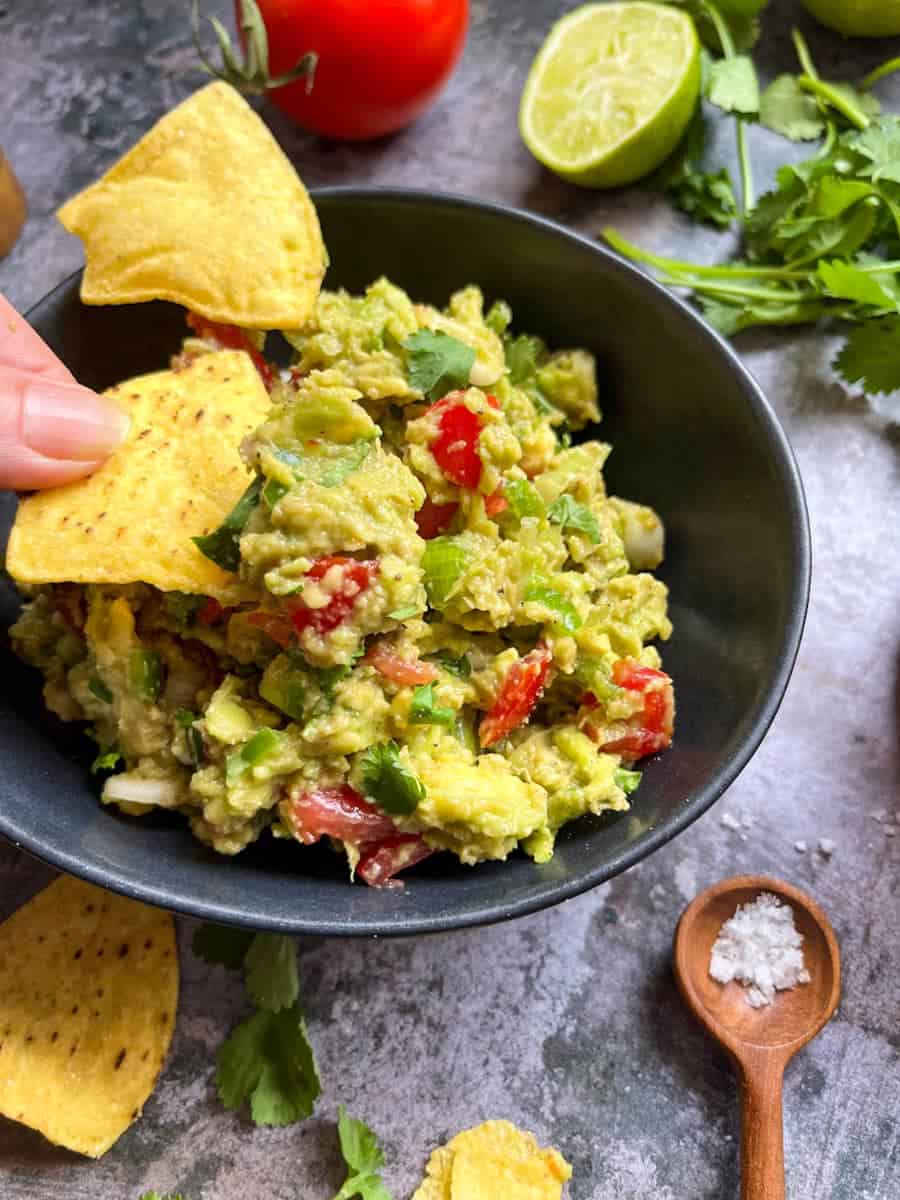 did you make this chunky guacamole recipe?
I hope you enjoy it! Let me know what you thought by leaving a comment below, and please rate the recipe by clicking on the stars in the recipe card.
LOOKING FOR MORE DIP RECIPES?
Try this creamy and refreshing Greek Tzatziki dip!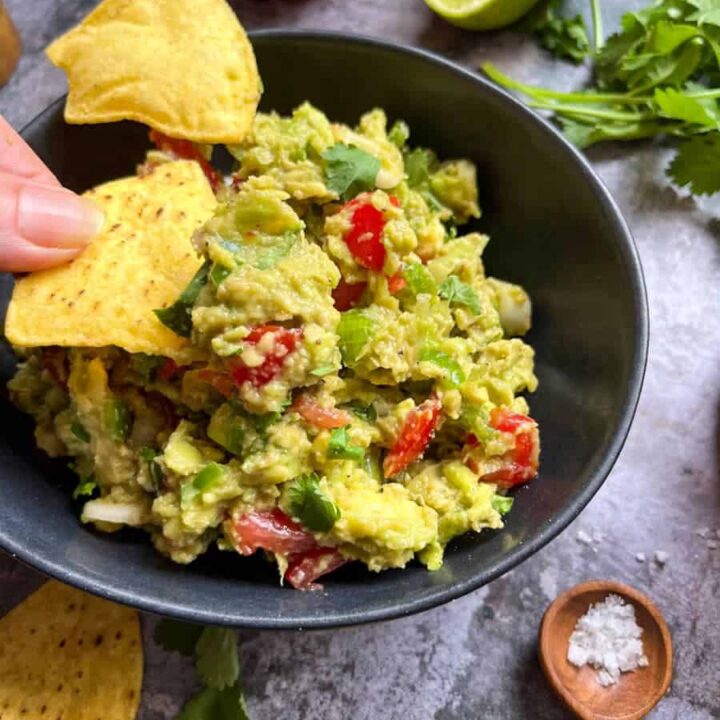 Chunky Guacamole Recipe
A chunky Guacamole recipe with creamy ripe avocados, diced tomatoes, spring onions and fresh coriander (Cilantro). A classic Mexican dip perfect for parties, movie nights or BBQ's!
Ingredients
Two ripe avocados
juice of one lime
3 Spring onions, finely chopped
1 small green or red chilli, deseeded and finely chopped
1 small garlic clove, crushed
75g fresh tomatoes, roughly chopped and drained of excess liquid (I remove the seeds, but this is personal preference)
small handful of fresh coriander, chopped
Sea salt and freshly ground black pepper, to taste
Optional - 1/4 teaspoon ground cumin
few shakes of Tabasco sauce
Instructions
Peel and chop the avocados. Place them in a bowl and squeeze over the lime juice to stop them from discolouring.
Add the spring onions, chilli and garlic. Mash roughly with a fork, making it as chunky or as smooth as you like (I like Guacamole with lots of texture). Stir in the tomatoes and fresh coriander.
Season to taste with salt, pepper and more lime juice if you think it needs more. Add the ground cumin and Tabasco sauce, if using.
Notes
This recipe makes two generous servings, but it can be doubled.
If making the Guacamole in advance, squeeze some lime juice over the top and cover the bowl with cling film, making sure the plastic is touching the top of the Guacamole.
Nutrition Information:
Yield:

4
Serving Size:

1
Amount Per Serving:
Calories:

449
Total Fat:

26g
Saturated Fat:

7g
Trans Fat:

0g
Unsaturated Fat:

16g
Cholesterol:

38mg
Sodium:

735mg
Carbohydrates:

43g
Fiber:

8g
Sugar:

27g
Protein:

15g
Calories and nutritional information are provided by a third party application and should be viewed as indicative figures only.