These crispy fish tacos with mango chilli salsa are a taste of sunshine! Crispy panko breadcrumbed fish fillets flash fried and served in warm tortillas with a sweet-hot mango chilli salsa. An explosion of flavours!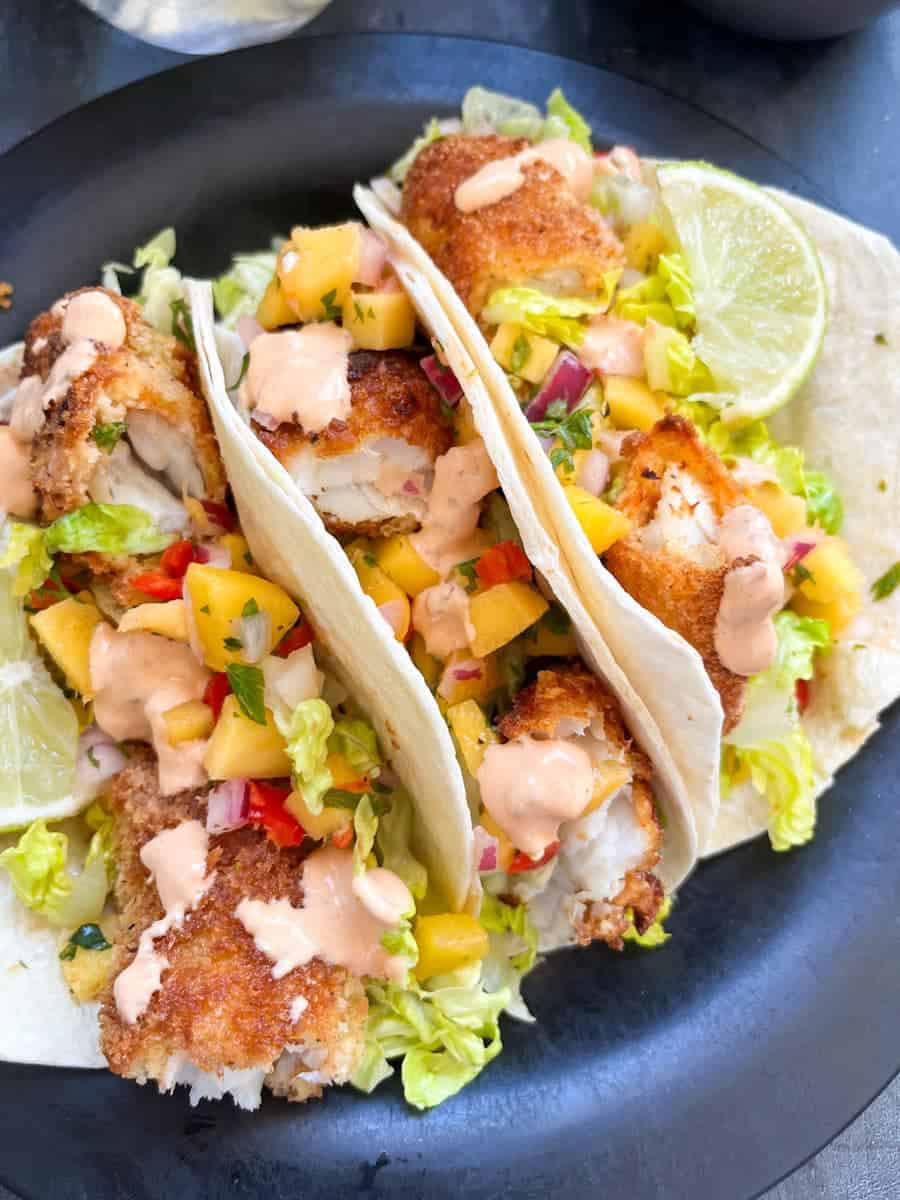 When I think of fish tacos, a few of my favourite things to to mind – sun, sandy beaches and salty sea air. But you don't need to travel to a beach cafe to enjoy this Mexican classic – with a little know-how, you can easily make them at home.
crispy fish tacos with mango chilli salsa
This recipe is inspired by the amazing fish tacos they serve at Strathnairn beach cafe, which is located in my home town of Nairn. They are incredibly popular with the locals and visitors and it's no wonder – they are really delicious.
The tacos are served with a choice of two salsas – verde (a spicy, herby green sauce) or mango. Both are very good but the mango is my favourite. If you're skeptical about the pairing of fish and fruit, all I can say is don't knock it until you've tried it.
Since I don't know the actual recipe they use at the beach cafe, this is merely my re-creation. I've made this quite a few times over the past few months and it's become a big favourite.
The combination of the flaky, tender fish goes perfectly with the sweet but slightly hot mango chilli salsa. I drizzle the tacos with a chipotle sauce that can be whipped up in less than one minute. You might think "hold on, that's a lot of flavours going on!" And you're right to think that. But it really works!
One word of advice though – don't over stuff the tacos with the toppings. You still want to taste the delicate flavour of the fish.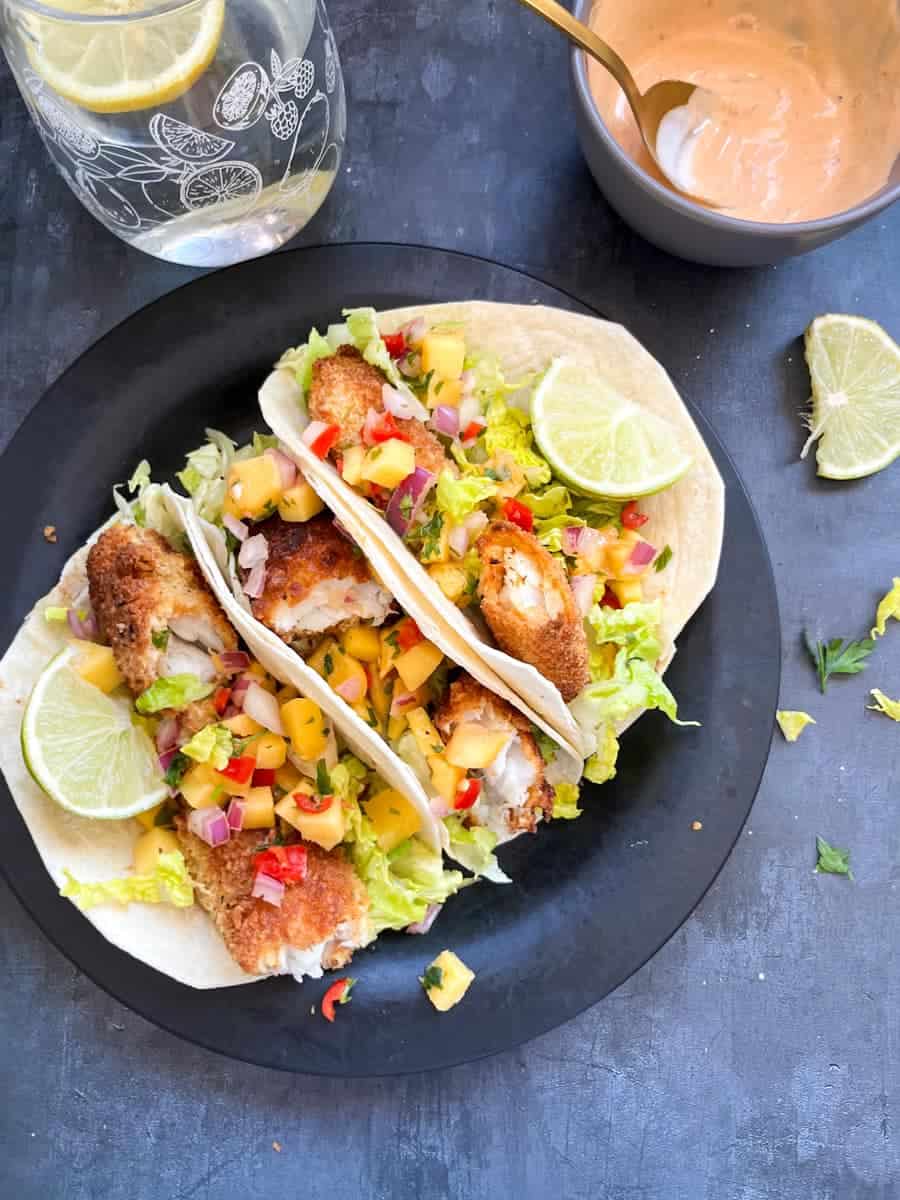 the best fish to use for fish tacos
I usually use cod fillets for tacos. Haddock, hake or basa are great for fish tacos. I think salmon might also work, but I haven't tried it yet. Whatever type of fish you use, please make sure it's as fresh as possible.
preparing the fish
You need to set up what I call a "crumbing" station (humour me). You'll need three shallow bowls – one filled with cornflour mixed with smoked paprika, ground cumin, garlic salt and freshly ground black pepper, the second with beaten eggs and the third is for the panko breadcrumbs.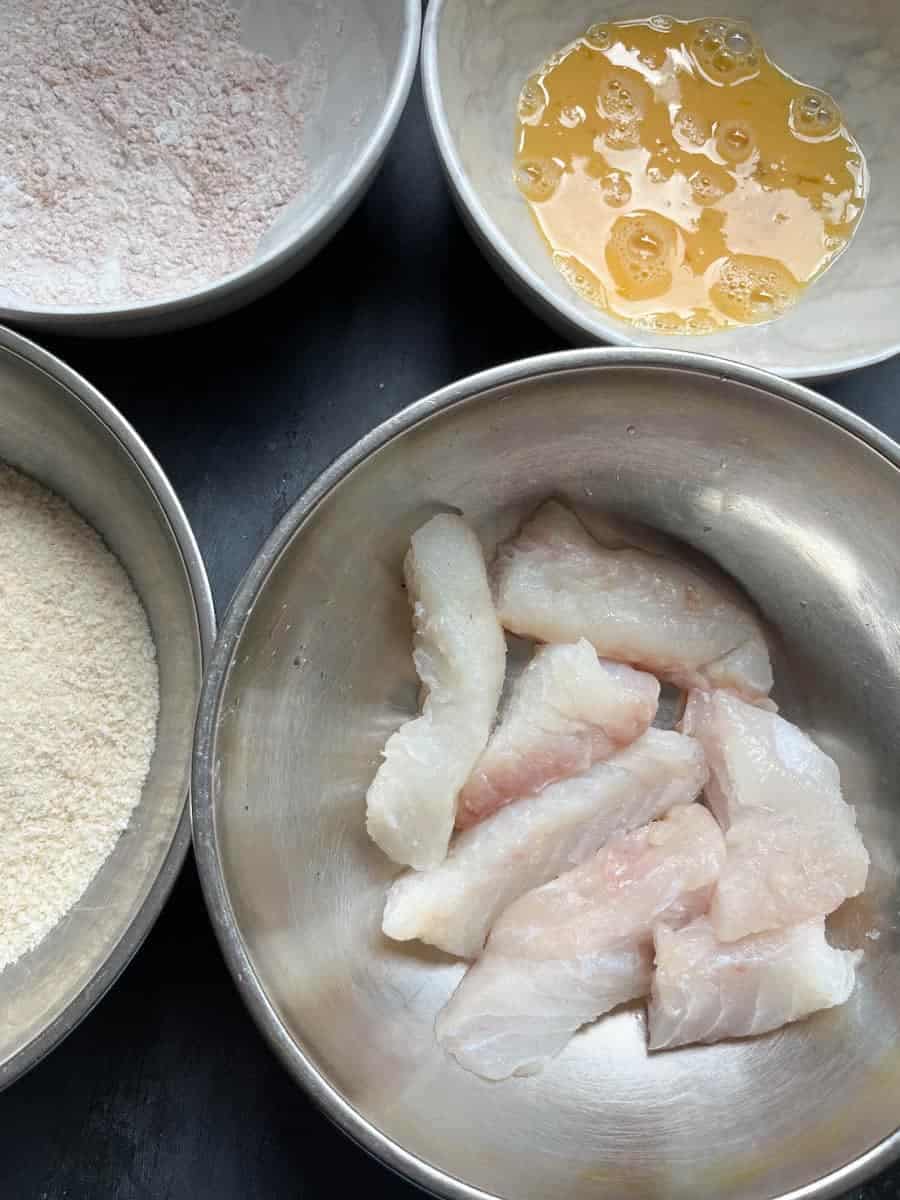 You need to cut the fish fillets into equal sized pieces (almost like fish fingers) and dip them in the flour, beaten egg and finally the breadcrumbs. Just as you would when making chicken Schnitzel.
Make it in advance – once you've breadcrumbed the fish pieces, you can place them in an airtight box and refrigerate for up to 24 hours, or no longer than the use-by date on the fish packet.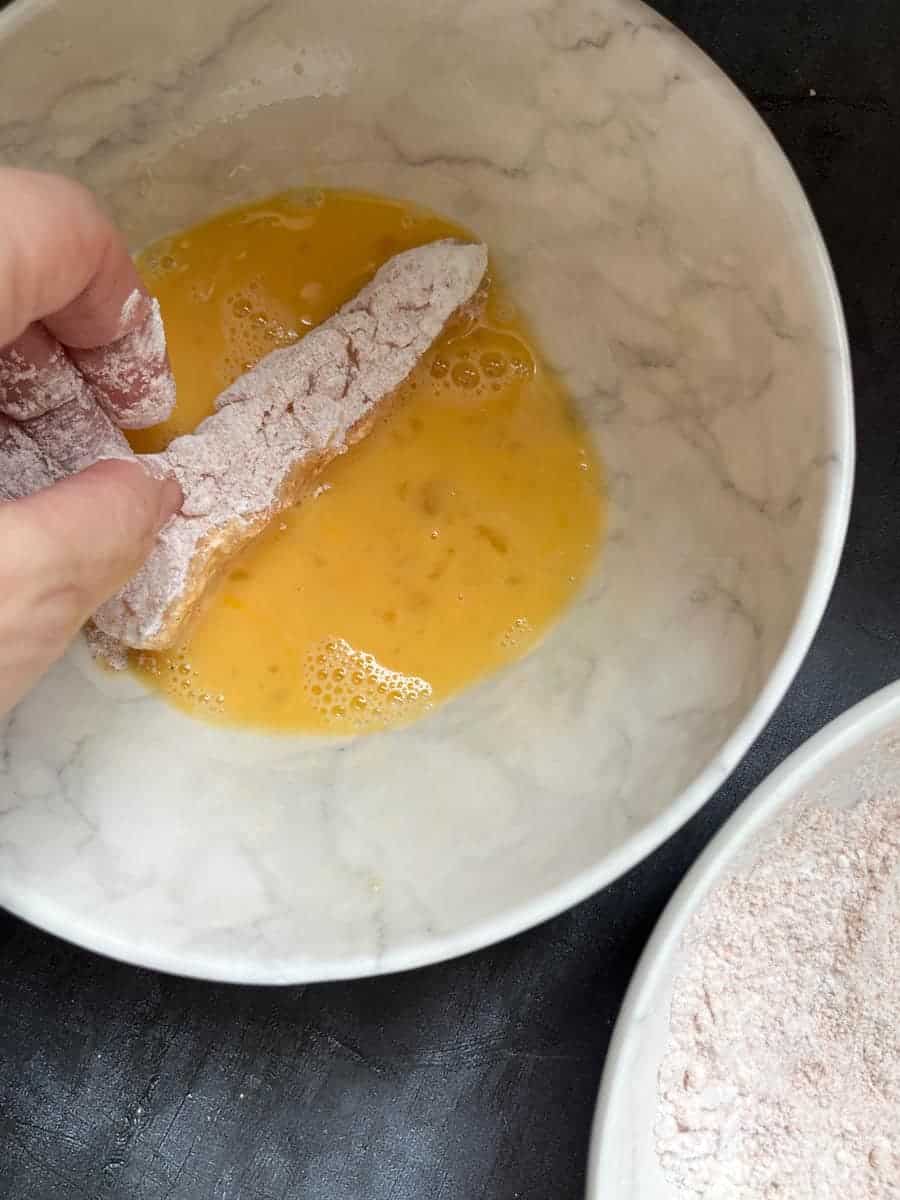 fry the fish
Heat some flavourless oil in a non stick pan. Vegetable, sunflower or a mild olive oil are the best choices. When the pan is hot, carefully place the fish pieces in the pan. If the pan is at the correct temperature, it will start to sizzle straight away. Cook for fish for 2-3 minutes per side until golden brown.
Check to see if the fish is ready by cutting a goujon open – the fish inside should be tender and flake easily when touched with a fork.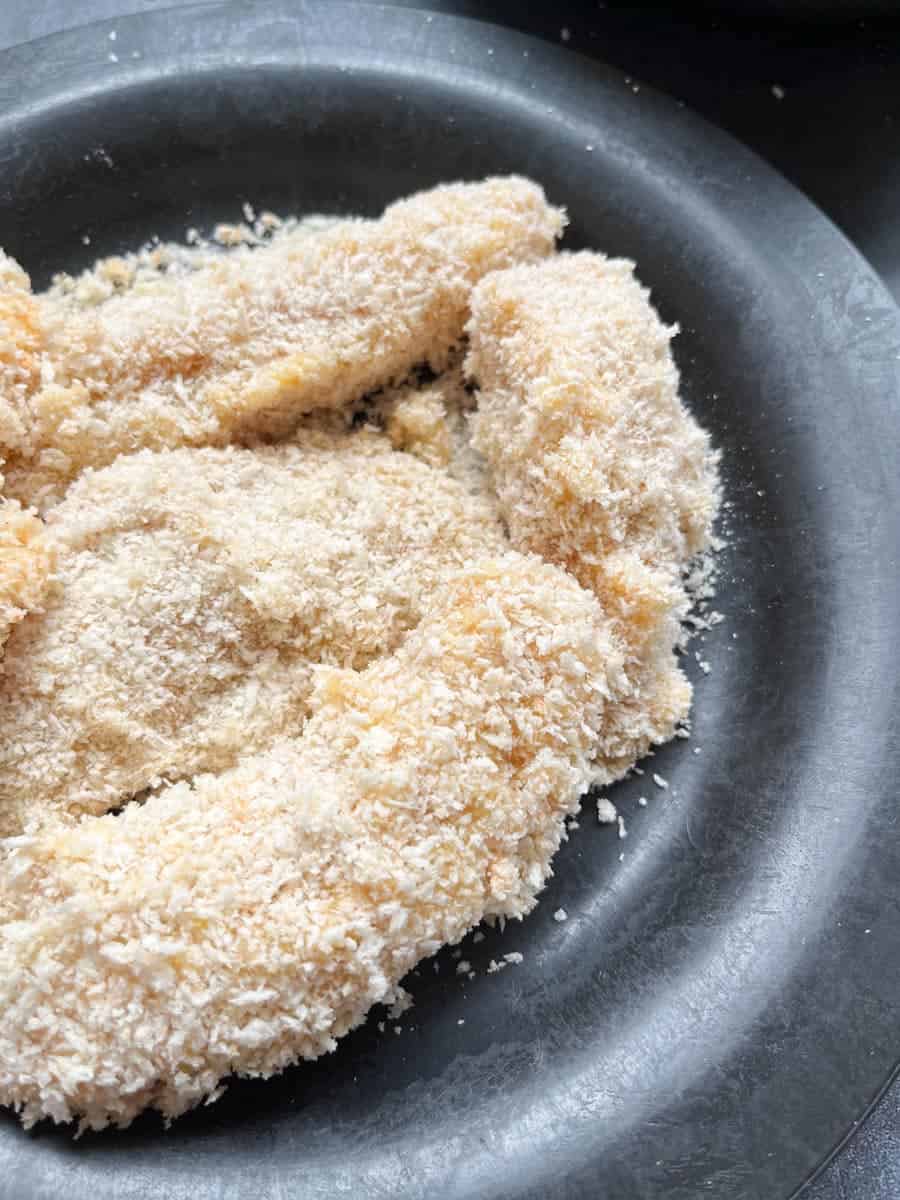 the mango salsa
Prepare the salsa by finely chopping the mango into small pieces. As a side note, it's pretty important to choose a nice ripe mango. I know that can be easier said than done in the UK! If the mangos in the supermarket are tough and rock hard, I sometimes end up buying a packet of diced mango.
Place the mango in a bowl, along with any juices and mix with finely diced red onion, freshly chopped coriander or parsley, a little red chilli and just a little bit of salt. Last but not least, a good squeeze of lime juice will bring all these vibrant flavours together. You've just made your salsa!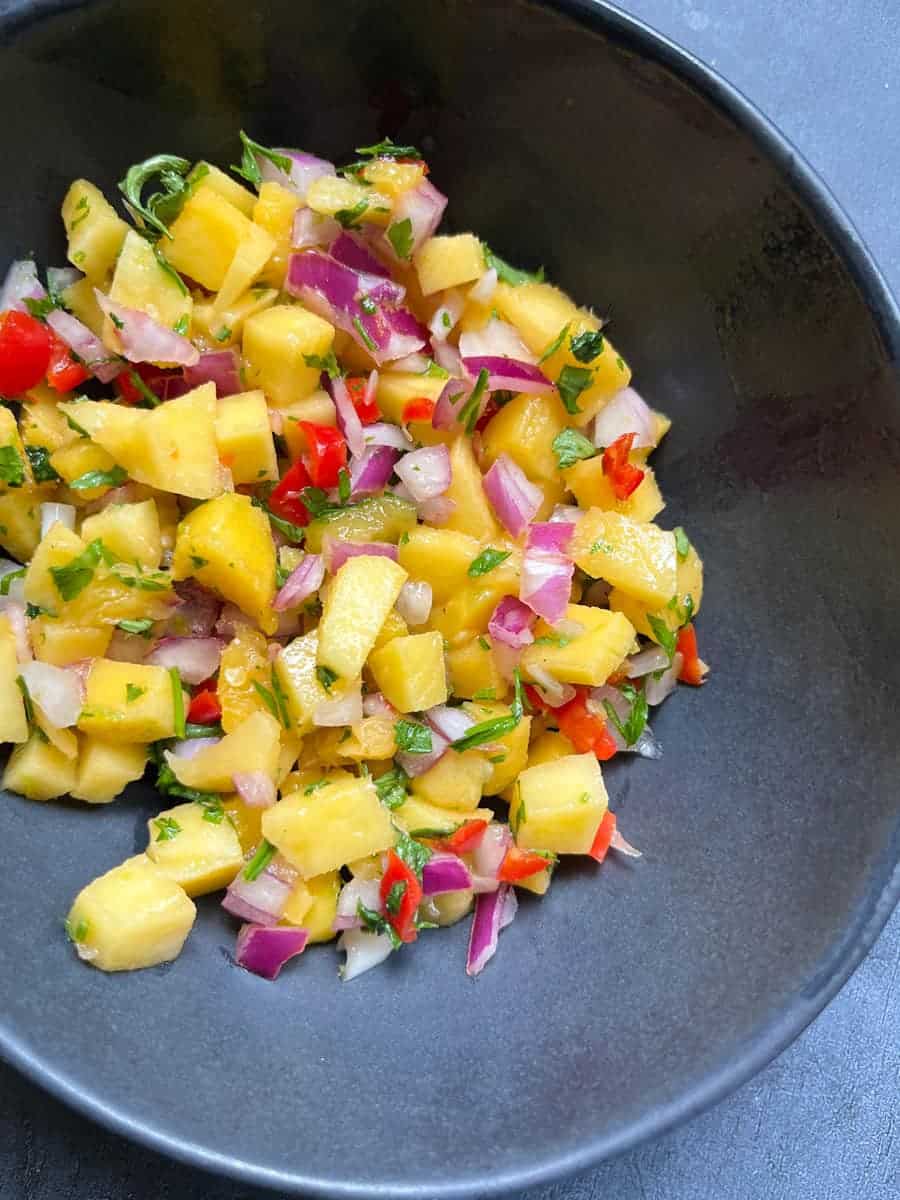 fish taco topping ideas
I like to serve these fish tacos in soft flour tortillas, but corn tortillas would also work a treat.
I can't recommend the Chipotle sauce highly enough. I simply mix mayo and Chipotle paste together with a little squeeze of lime – so good. Just a small amount of this sauce drizzled over the tacos is the perfect finishing touch.
Here are a few other ingredients that go perfectly with fish tacos: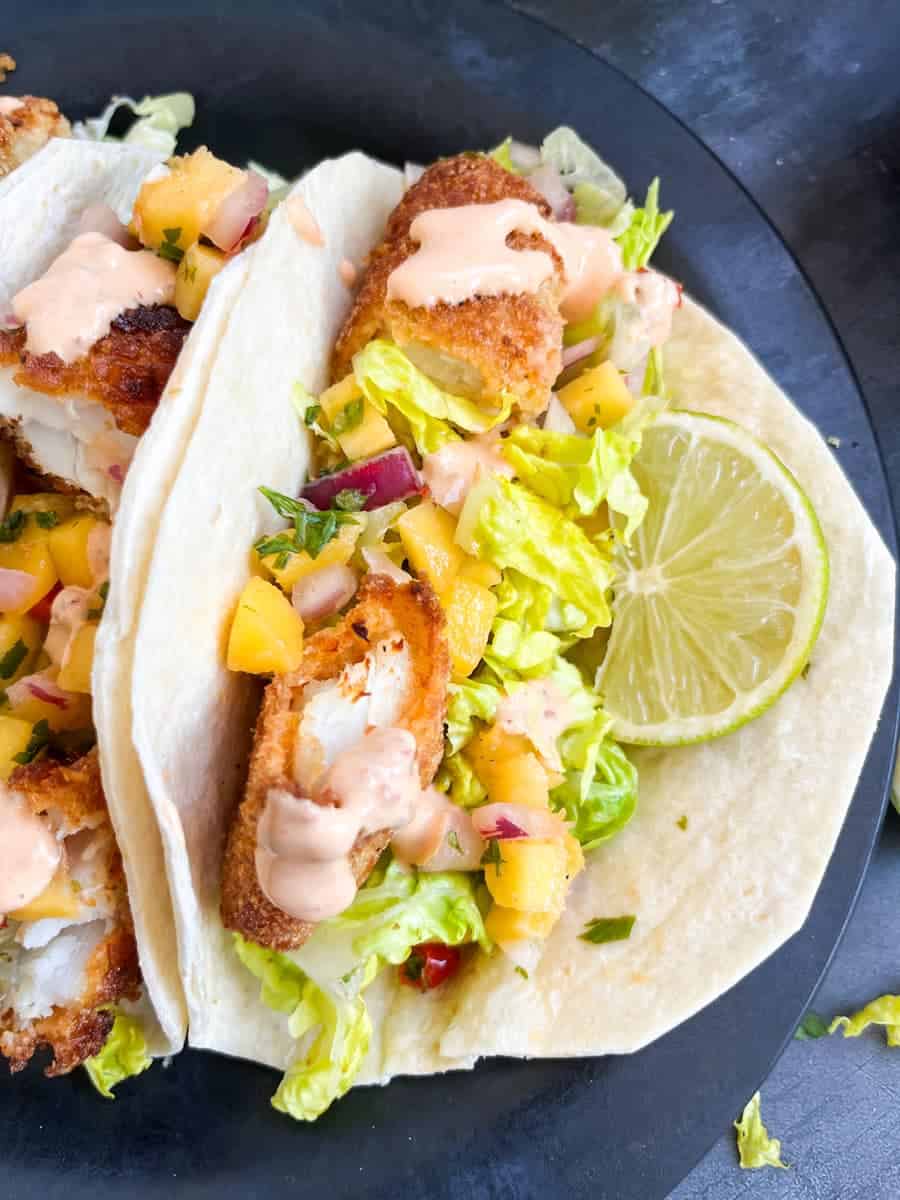 serving fish tacos
Fish tacos are messy to eat. As soon as you bite into the taco, the filling will drop out everywhere, so plenty of napkins will be needed! Just go with it. It's totally worth the mess. If you're going to go swimming, you might as well get wet, am I right?
And once you've made the tacos, they should be eaten immediately. If you make them up in advance, they will turn soggy and unappetizing. However, I don't think this will be an issue! If you're anything like me, you can't wait to dive right in.
more fish and seafood recipes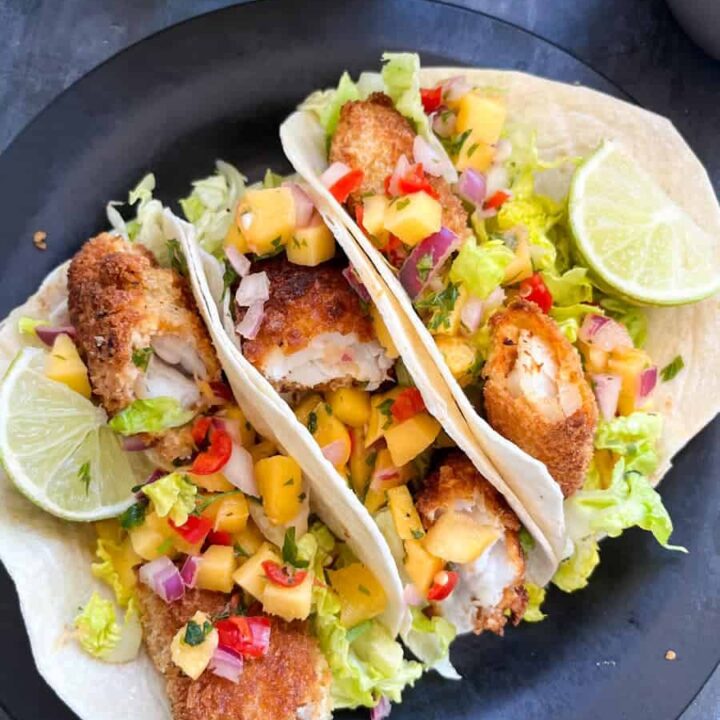 Crispy Fish Tacos with Mango Chilli Salsa
You'll love these crispy fish tacos with a zingy mango chilli salsa. White fish fillets are coated in panko breadcrumbs and flash fried, before being stuffed inside warm tortillas with salsa and a creamy chipotle-lime sauce.
Ingredients
FOR THE FISH
50g cornflour
1 teaspoon smoked paprika
1 teaspoon ground cumin
1 teaspoon garlic granules
¼ teaspoon black pepper
½ teaspoon fine salt
450g firm white fish fillets, such as cod or haddock
2 medium eggs, beaten
150g panko breadcrumbs
About 75ml flavourless oil for frying
FOR THE MANGO CHILLI SALSA
100g mango, chopped into small dice
¼ red onion, peeled and finely chopped
Zest of one small lime
2 teaspoons lime juice
1 tablespoon fresh red chilli, or less if you have a hot chilli
1 tablespoon fresh coriander or parsley, chopped
small pinch of salt
FOR THE CHIPOTLE MAYO
2 tablespoons mayonnaise
2 tablespoons plain yoghurt
1 teaspon chipotle paste
1 teaspoon lime juice (or more to taste)
Instructions
Prepare your "crumbing station" by taking out three bowls. Fill one with the cornflour, smoked paprika, ground cumin, garlic granules, salt and black pepper. Stir to mix all of the ingredients together. Break two eggs into the second bowl and stir well. Add the panko breadcrumbs to the third bowl.
Make the Chipotle sauce. Mix the mayonnaise, yoghurt and chipotle paste together in a small bowl, then stir in the lime juice. Set aside.
Make the Mango chilli salsa. Place the diced mango in a bowl and add the red onion, zest and lime juice, the red chilli and fresh coriander. Add a tiny pinch of salt, then stir well to mix everything together. Set aside.
Prepare the fish. Cut the fish fillets in half lengthways so you have fish fingers, then cut them in half again. Dip the fillets in the bowl of seasoned flour (you just need them thinly coated with the flour), then the egg, and lastly the panko breadcrumbs, pressing the fish firmly into the crumbs on all sides. For a super crunchy result, dip the fillets back in the egg briefly before adding them to the breadcrumbs for a second coating. If you do this, you might end up needing a few more breadcrumbs.
Fry the fish fillets. Heat the oil in a heavy based frying pan over a medium high heat. To test if the oil is hot enough, add a cube of bread. If it sizzles right away the the bread floats to the surface immediately, then the oil is ready. Carefully place the fish fillets in the oil and cook for 2-3 minutes per side. The breadcrumb coating should be crispy and golden. Check if the fish is fully cooked by cutting one of the fillets in half. The fish should flake apart at the touch of a fork.
Serve! Drain the fish fillets on paper towels before serving with warm tortillas, shredded lettuce, the mango salsa and the chipotle sauce. Lots of napkins will also be a good idea!
Notes
If you would rather bake the fish, place the breaded fillets on a lined baking sheet. Spray with a little oil and bake at 180C/160Fan for 12-15 minutes or until the fish is cooked all the way through. The batter won't be as crispy, but it still works.
Nutrition Information:
Yield:

8
Serving Size:

1
Amount Per Serving:
Calories:

519
Total Fat:

25g
Saturated Fat:

5g
Trans Fat:

0g
Unsaturated Fat:

17g
Cholesterol:

159mg
Sodium:

1024mg
Carbohydrates:

32g
Fiber:

3g
Sugar:

11g
Protein:

42g
Calories and nutritional information are provided by a third party application and should be viewed as indicative figures only.