Forget ordering that takeaway – save some cash and make this quick Thai red prawn and spinach curry in just 20 minutes!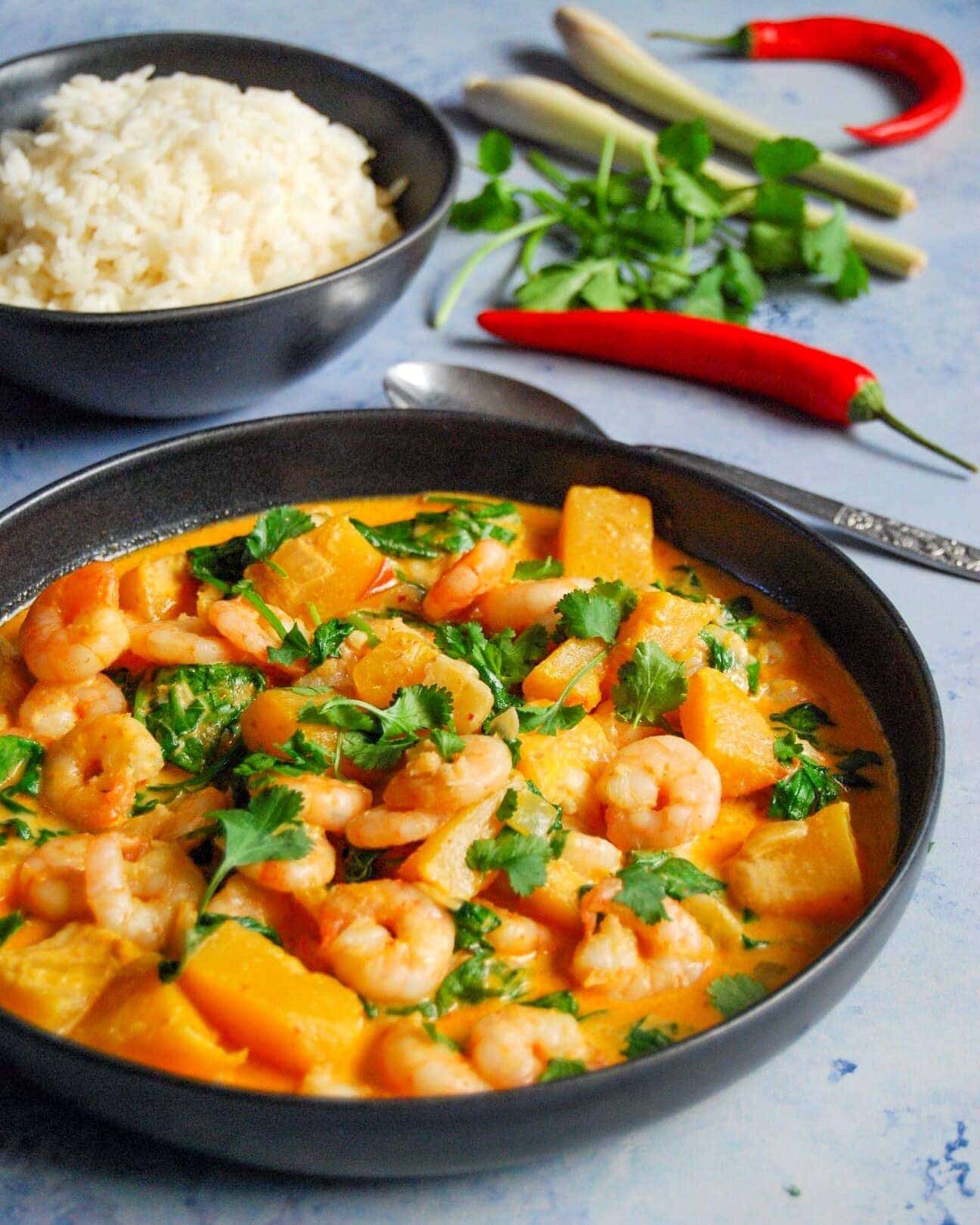 Just before Christmas, I put a question to my readers on my Facebook page – what kind of recipes would you like to see on here in 2019?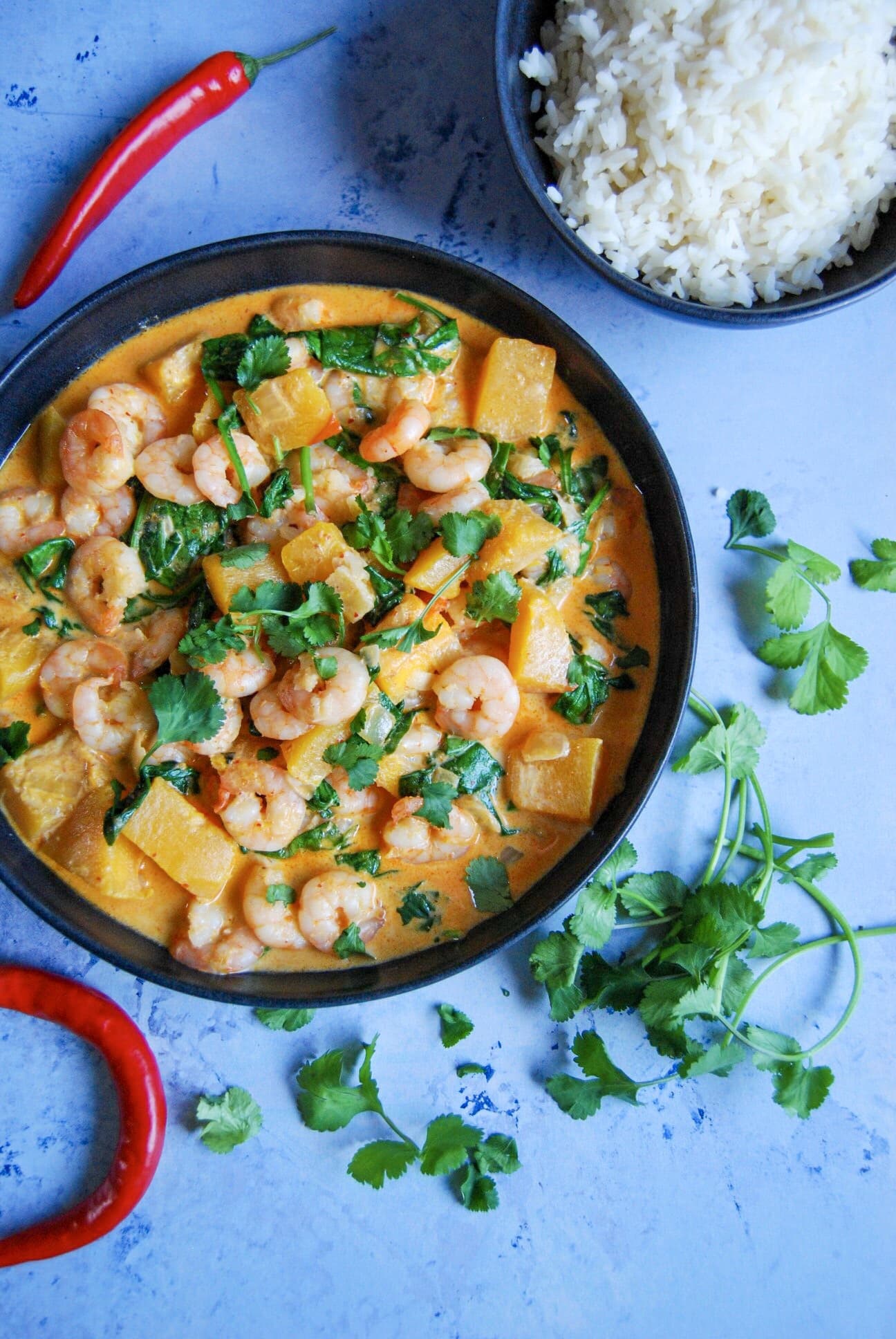 The resounding answer was quick, easy midweek dinner recipes that you can make with store cupboard ingredients.
Alright, I know that this Thai red prawn and spinach curry isn't made entirely from store cupboard ingredients, but it includes a few of my absolute favourite pantry staples.
essential ingredients you'll need to make a quick Thai red Curry
Thai red curry paste
coconut milk
fish sauce.
A fresh lemongrass stalk
I buy the Thai red curry paste in the World Food section in Tesco – the one I usually buy comes in big tubs and is called Mae Ploy.
Curry paste will keep very well in the fridge for a few months.
You can also freeze it – very handy for whenever a curry craving strikes!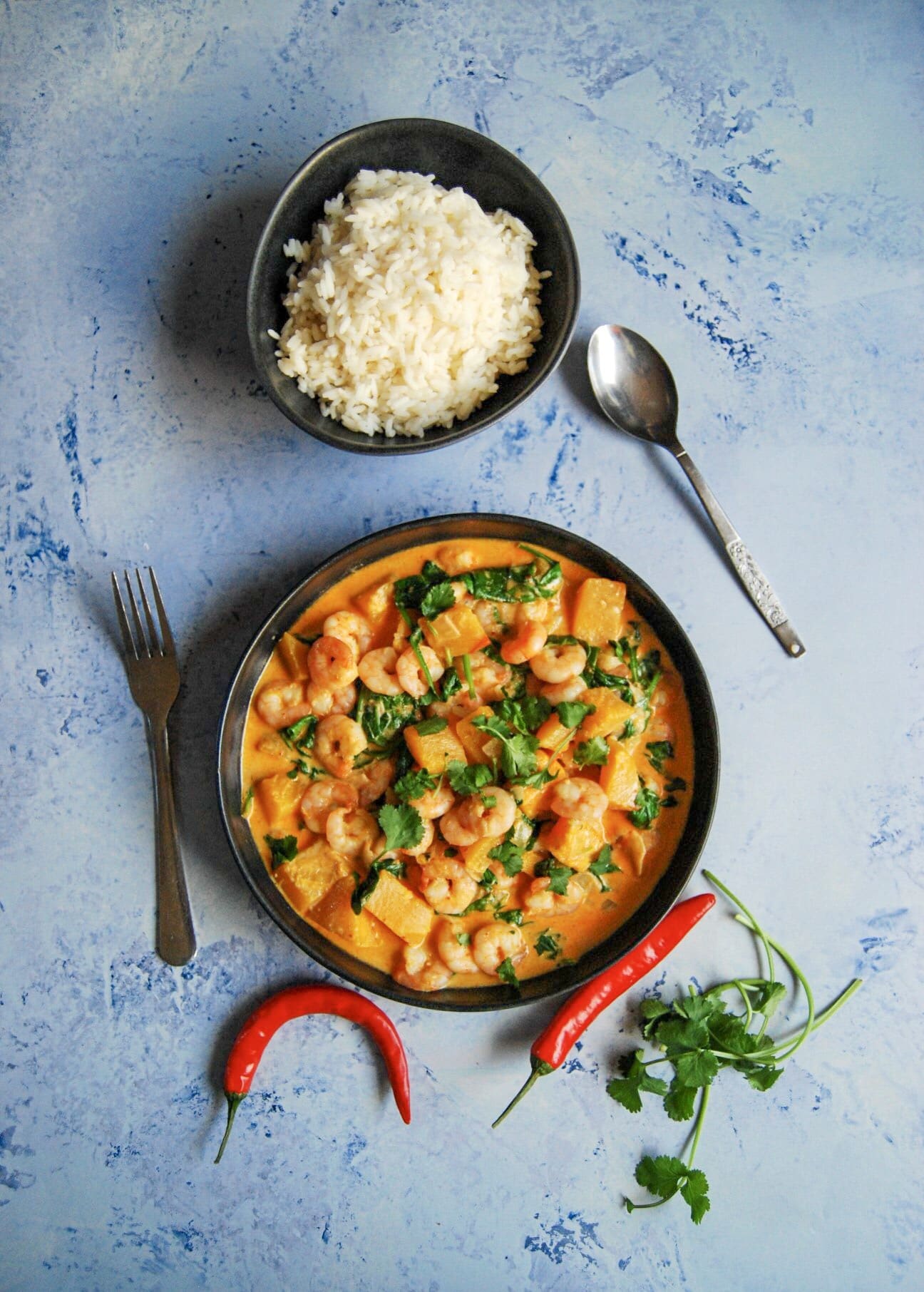 Curry pastes can really vary in strength and flavour – so if you're using a paste for the first time, it might be wise to add just one tablespoon of paste in case it's too hot for your liking.
If it isn't hot enough for you with one tablespoon, you could always add some chopped fresh chilli to spice it up. But if you're like me and love a bit of heat, you're probably safe enough adding the two tablespoons.
Don't worry though – while this isn't blow-your-head off hot, (the coconut milk cools it down a little) it does pack a wee punch.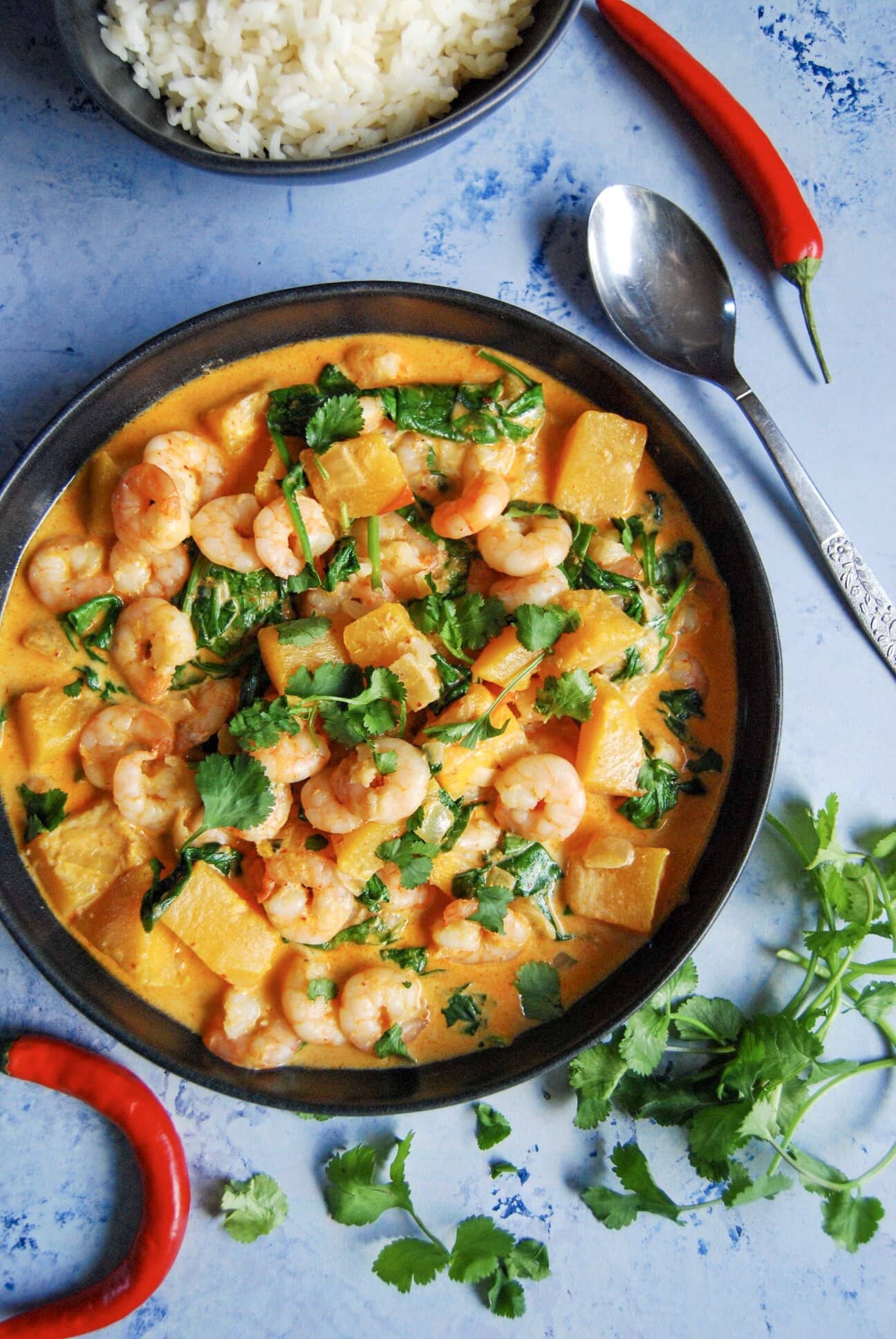 The fresh ingredients in this curry are cooked king prawns and diced pumpkin. Now, I know adding pumpkin to a curry might sound a bit unusual, but it really does work here – trust me!
I've also added a bag of fresh spinach for vibrance and extra nutrients (I badly need it right now!)
I've added a lemongrass stalk to the sauce – it has such a gorgeous, citrusy tang. To release all those gorgeous oils, bruise the stalk by either bashing it lightly with the side of a knife or the end of a rolling pin.
You really can't beat this spicy, fresh curry for a quick and easy dinner – if you try it, I would love to hear what you think – you can leave a comment below or you can contact me via Facebook or Instagram.
more curry recipes
Chickpea and Potato Curry (vegan and gluten free)
slow cooker butter chicken curry
More recipes for speedy meals
New potato salad with asparagus and radishes
Creamy sweet chilli pasta with smoked salmon and peas
Instant Pot Salmon With Lime and Chilli butter
Honey Sriracha Stir Fried Vegetables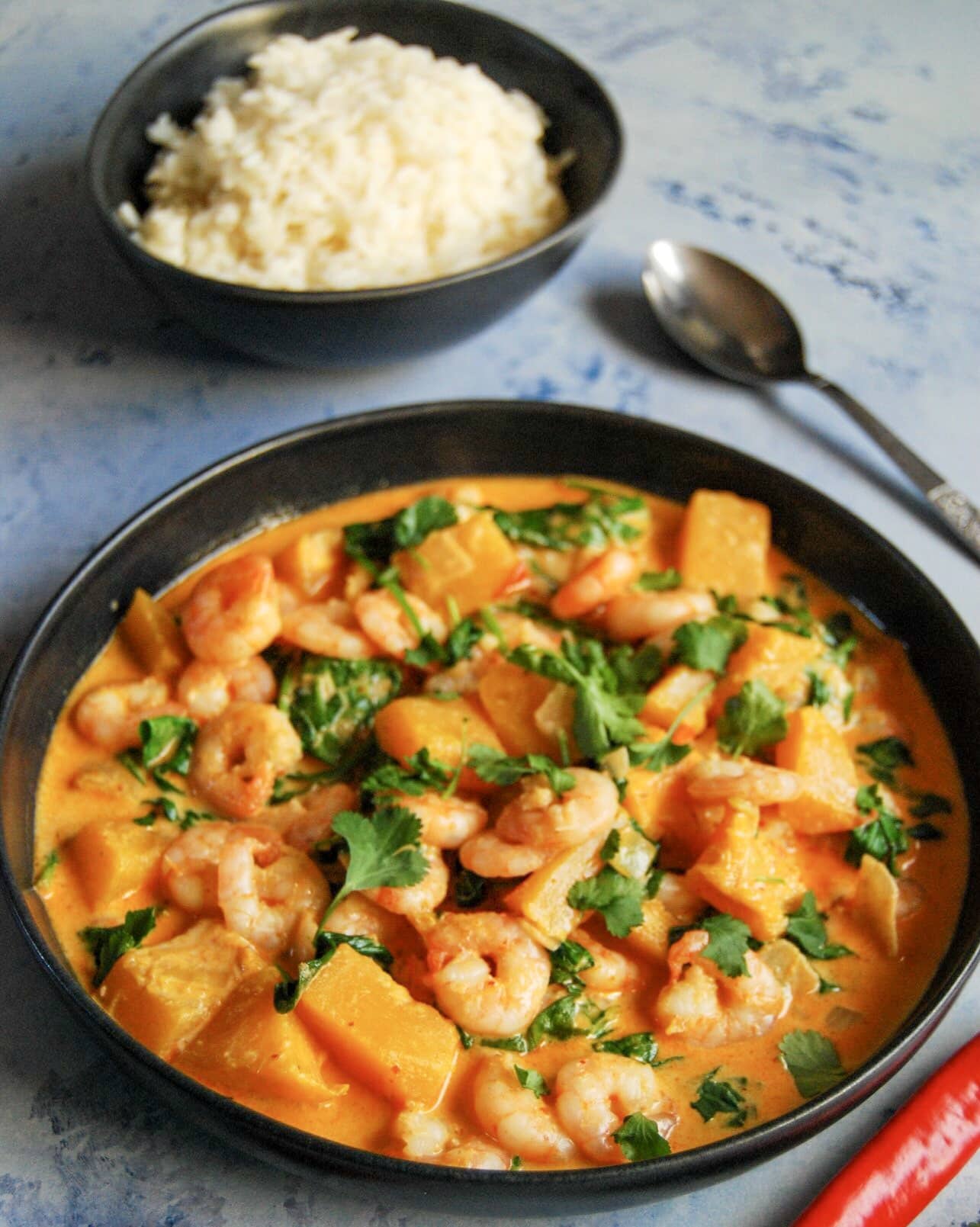 Pin this Red Thai King Prawn and Spinach Curry for later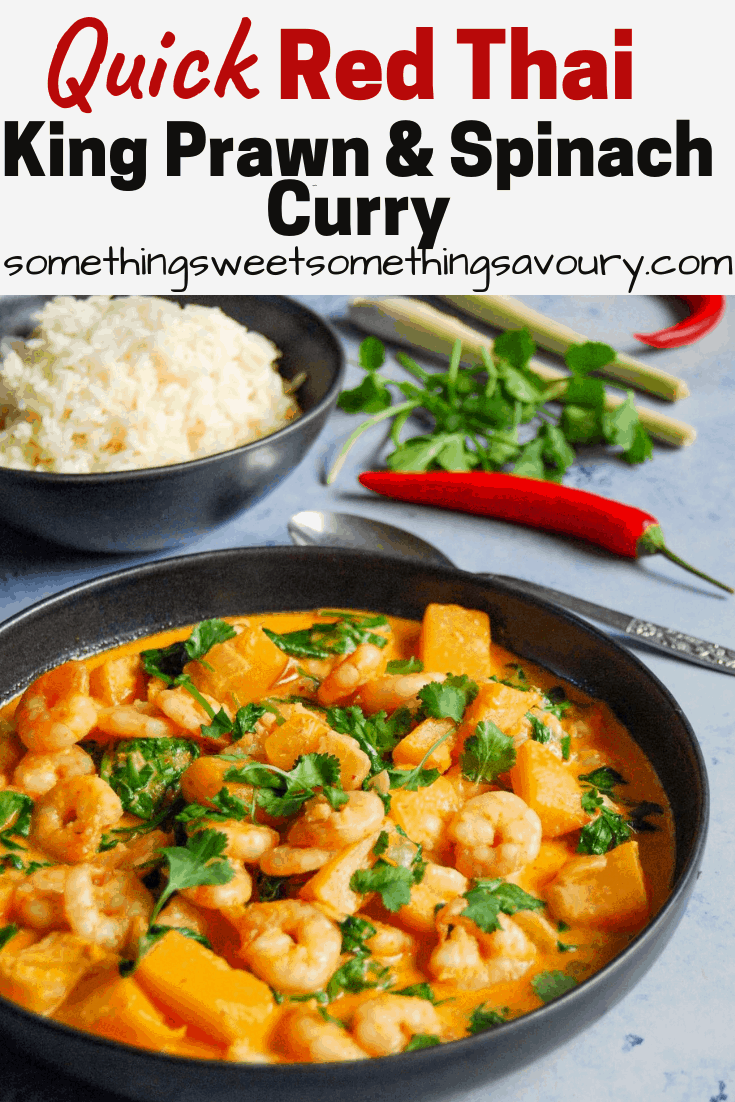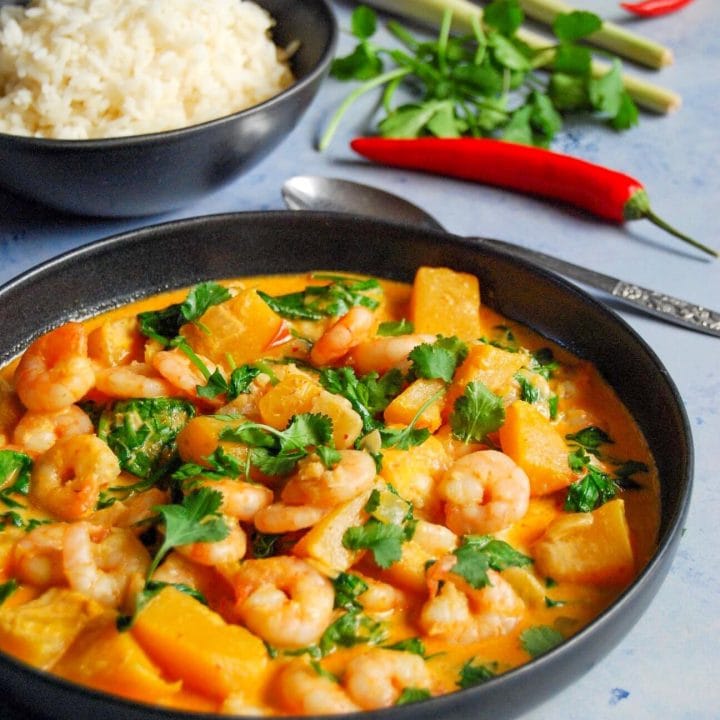 Quick Thai red prawn and spinach curry
Who needs an expensive takeaway when you can get dinner on the table in just 20 minutes with this spicy red Thai prawn and spinach curry!
Ingredients
1 tbsp vegetable or sunflower oil
1 onion, peeled and chopped into small dice
1-2 tbsp red curry paste
1 lemongrass stalk, bruised (I bash it with the end of a rolling pin)
400 ml coconut milk
1 tbsp brown sugar - Demerara or light brown
1 tbsp fish sauce
250 g pumpkin or butternut squash, peeled and cut into cubes
400 g cooked peeled king prawns, thawed if frozen
125 g fresh spinach
Fresh coriander, optional
Instructions
Heat the oil in a large pan. Add the onion to the pan, stirring for a few minutes. Add the curry paste and bashed lemongrass stalk and cook for a couple of minutes.
Add the pumpkin or butternut squash cubes to the pan along with 200ml of the coconut milk, the sugar, the fish sauce and a splash of water. Cook on a medium heat for 10-15 minutes or until the pumpkin cubes have softened. Add the remaining 200ml coconut milk and stir to mix.
Tip in the prawns and cook for about 3-4 minutes, until cooked through. Add the fresh spinach during the last minute of cooking, stirring until the spinach has wilted.
Remove from the heat and remove the lemongrass stalk. Sprinkle with the fresh coriander if using and serve immediately with rice, Naan breads and poppadoms, if desired.
Nutrition Information:
Yield:

4
Serving Size:

1
Amount Per Serving:
Calories:

426
Total Fat:

26g
Saturated Fat:

19g
Trans Fat:

0g
Unsaturated Fat:

5g
Cholesterol:

211mg
Sodium:

1519mg
Carbohydrates:

25g
Fiber:

4g
Sugar:

6g
Protein:

28g