This quick beef Stroganoff recipe makes a delicious meal for a busy weeknight – tender, juicy pan fried rump steak with onions and mushrooms in a creamy sauce.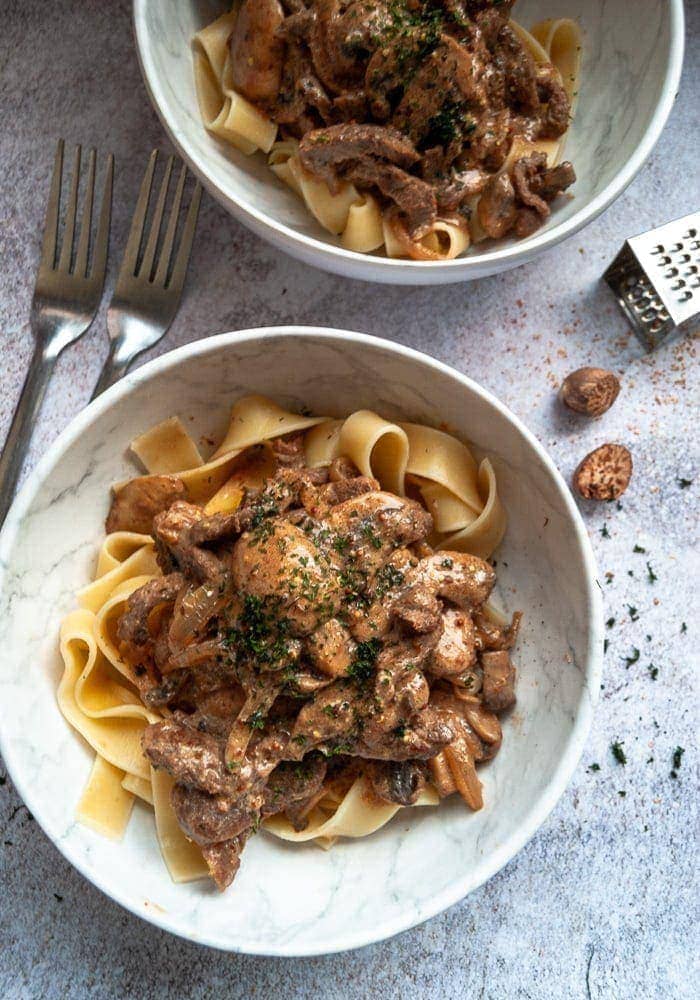 Beef Stroganoff is one of my all time favourite dinners. This method is so quick and easy but doesn't compromise on flavour!
I make this regularly for a quick weeknight dinner. The slow cooked version with casserole beef is also delicious, but this speedy version of a Stroganoff is by far my favourite way of cooking it.
Tips for making the best quick beef stroganoff
(scroll to the bottom of the post for printable recipe, but there's important information here before you scroll!)
What cut of beef is best for beef stroganoff?
I wouldn't advise using anything labelled "frying steak" or "minute steak." It's really worth using Rump or Sirloin steak. I know it isn't the cheapest option, but using proper steak makes the world of difference here. It's worth it!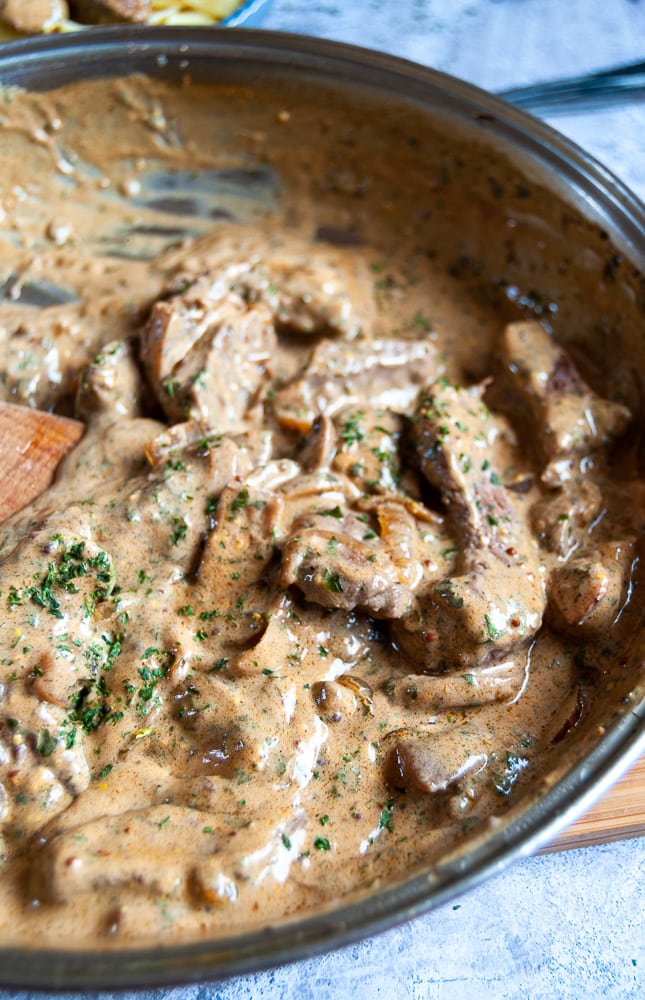 One of the trickiest things about making a quick beef stroganoff is making sure you don't over cook the steak. I get round this by searing the steak in a very hot pan first, then I remove it from the pan and transfer to a plate to rest (cover with foil but you don't need to keep it warm in the oven, if you do so the steak will overcook)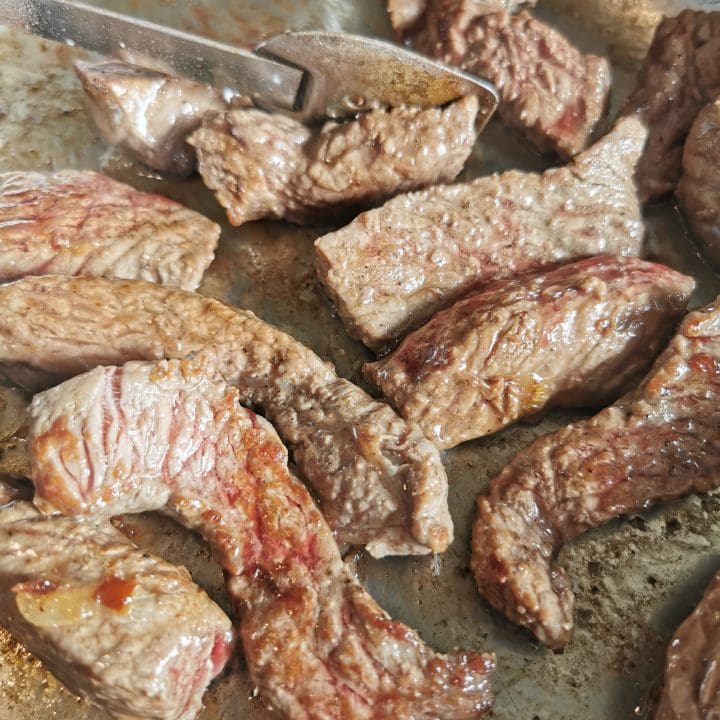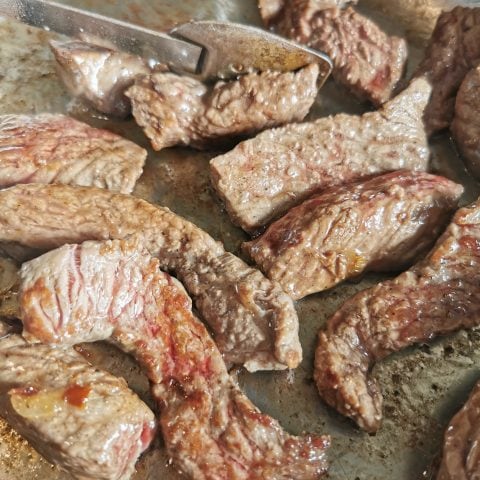 I like my steak rare-medium, so I cook it for about 60-90 seconds on each side. If you prefer steak medium, sear it for 2 minutes and 3 minutes for well done.
Then I turn down the heat, add a little butter to the pan and add cook sliced onion until very soft and light golden.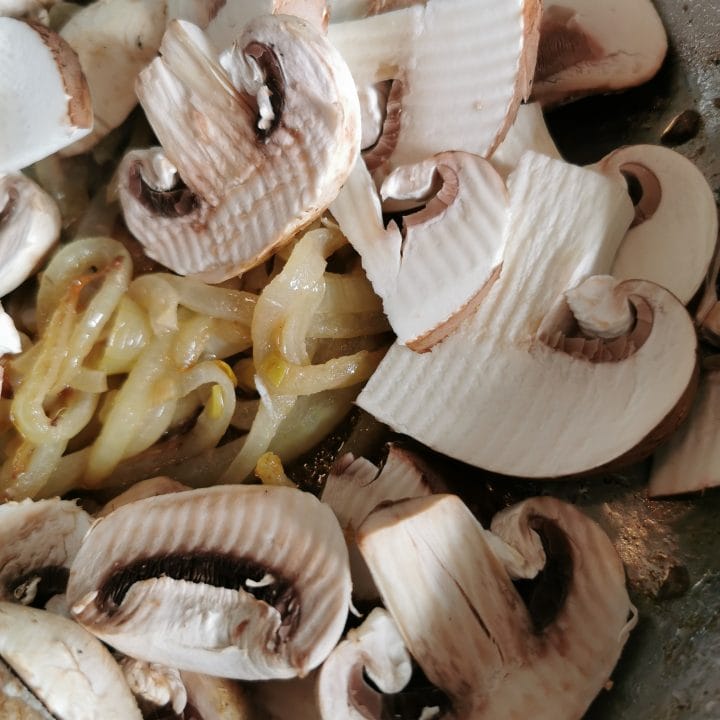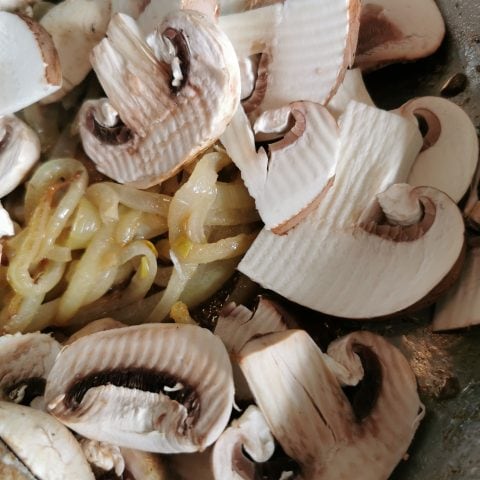 Add the mushrooms, turn up the heat slightly and saute the mushrooms for a few minutes until they are golden and cooked through.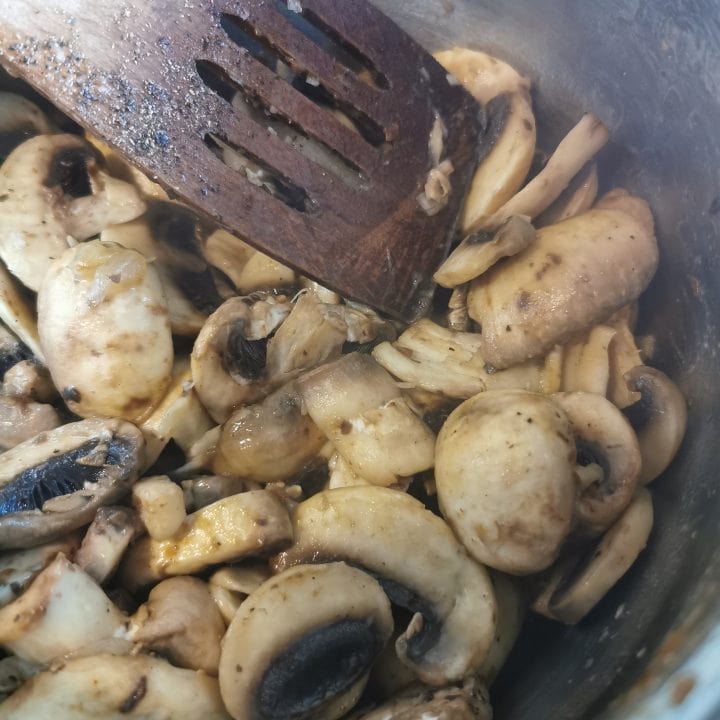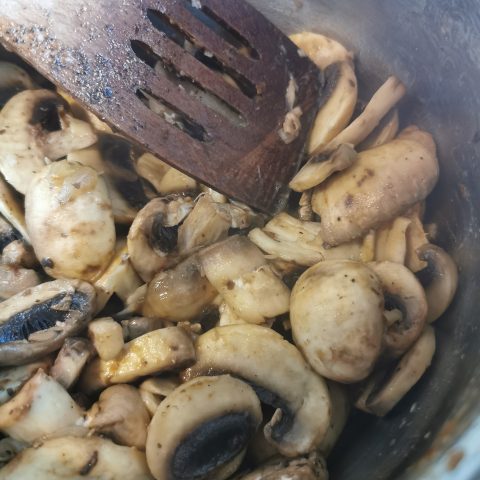 To make the sauce, pour in hot beef stock, dijon or wholegrain mustard, paprika, sour cream and a generous grinding of freshly grated Nutmeg.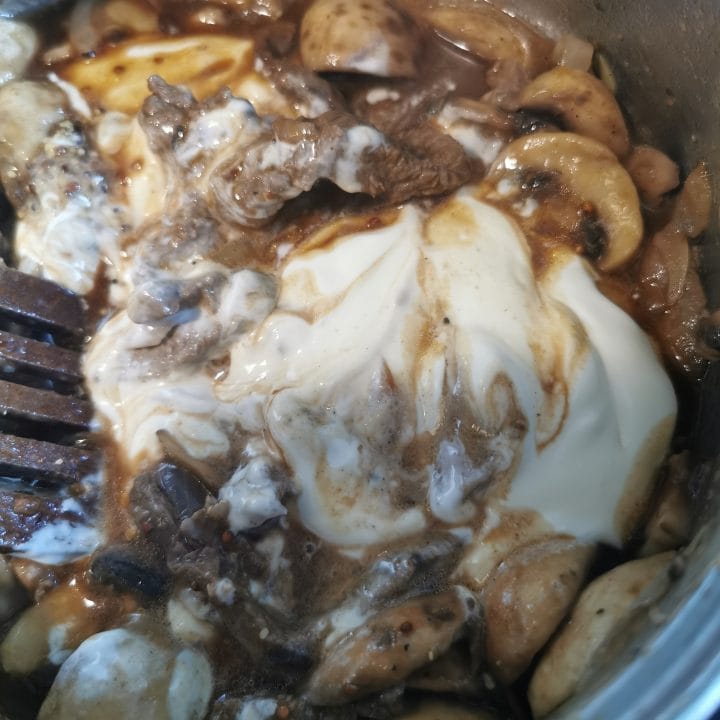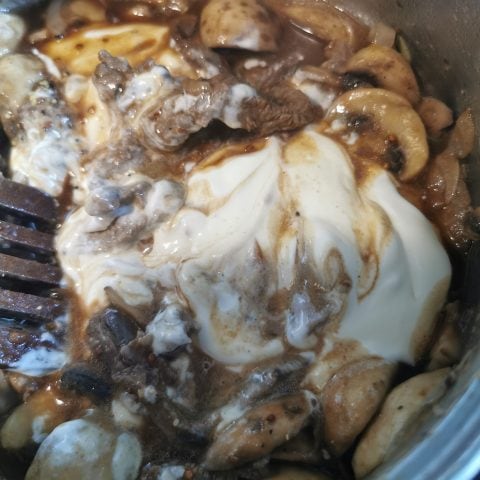 Stir to combine, add the steak strips and simmer for a couple of minutes before seasoning to taste and add freshly chopped parsley.
Serve with either boiled rice or pasta.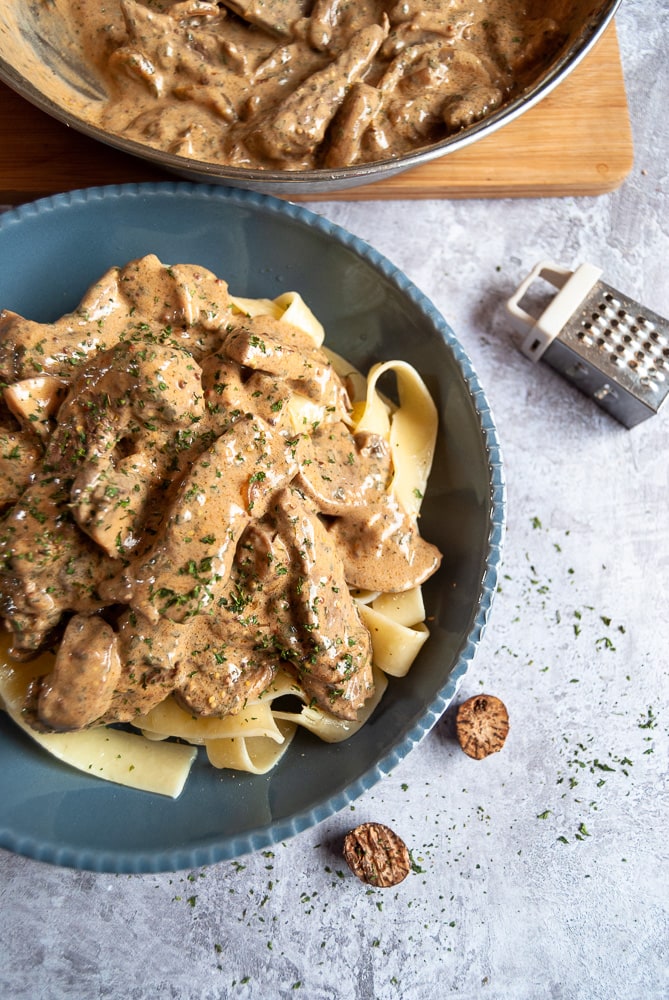 make it vegetarian
Simply swap the meat for more mushrooms – around 500g would be enough. Swap the beef stock for vegetable.
more quick and easy dinner inspiration
Chicken Milanese with Spaghetti
Quick Red Thai prawn and spinach curry
Sweet chilli pasta with smoked salmon and peas
More beef recipes
Old fashioned Scottish Beef stew
Smoky Chorizo and beef mozzarella stuffed meatballs
Slow cooker beef, Guinness and chorizo casserole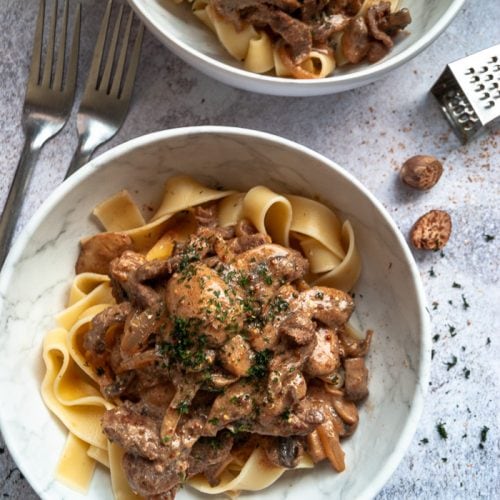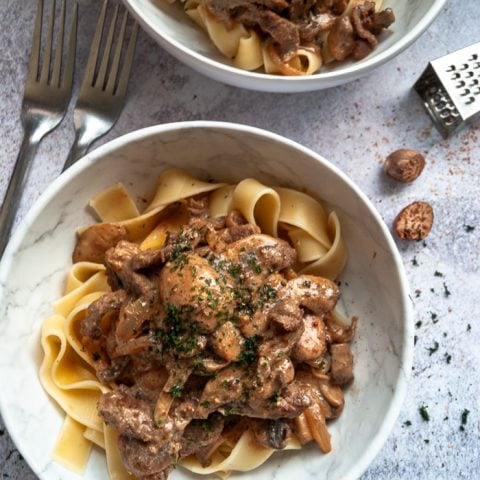 Quick Beef Stroganoff
This quick beef Stroganoff recipe with tender, juicy slices of rump steak, mushrooms and sour cream is so delicious and takes just under 20 minutes to make - perfect for when you want something special for dinner but are short on time.
Ingredients
1 tablespoon olive oil
Sea salt and freshly ground black pepper
450G Rump Steak, cut into thin strips
1 tablespoon butter
1 Large Onion, peeled and sliced finely
250g Mushrooms, sliced in half or quarters, if large
125ml Beef Stock
1 teaspoon paprika (not smoked)
2 teaspoons of wholegrain or Dijon mustard
300ml Sour Cream
A good grating of freshly ground nutmeg
Salt and freshly ground black pepper
1 tablespoon Freshly chopped parsley
Instructions
Heat the oil in a large saucepan (skillet.) Season the steak strips with sea salt and freshly ground black pepper.
When the pan is very hot, add the steak and sear for 1 1/2-3 minutes on each side, depending on how well cooked you want your steak. I like it very pink in the middle, so I go for 1 1/2 minutes each side.
When the steak is cooked to your liking, remove from the pan and transfer to a plate. Cover with a piece of tin foil.
Add the tablespoon of butter to the pan, turn the heat to low-medium and add the sliced onion, stirring to coat the onion in the buttery juices. Cook for about 10 minutes or until the onions have softened nicely.
Add the mushrooms to the softened onions (if the pan is dry add a little more oil or butter) and turn the heat up slightly. Saute the mushrooms for 3-4 minutes until golden.
Pour in the beef stock and let it bubble for a minute before adding the paprika, mustard, sour cream, a good grating of freshly ground nutmeg and the chopped parsley. Stir and allow to cook for a couple of minutes. Check the seasoning (you also might want to add a little more nutmeg.) and serve immediately with either boiled rice, pasta or thick egg noodles.
Notes
Instead of sour cream, you could use low fat Creme Fraiche instead.
Nutrition Information:
Yield:

4
Serving Size:

1
Amount Per Serving:
Calories:

445
Total Fat:

31g
Saturated Fat:

14g
Trans Fat:

1g
Unsaturated Fat:

13g
Cholesterol:

132mg
Sodium:

313mg
Carbohydrates:

10g
Fiber:

2g
Sugar:

5g
Protein:

31g