Stay warm and cosy with this old fashioned Scottish beef stew recipe. Tender chunks of beef with onions, carrots and turnips in a rich beef gravy. This is classic comfort food that's made with simple ingredients and is very easy to prepare.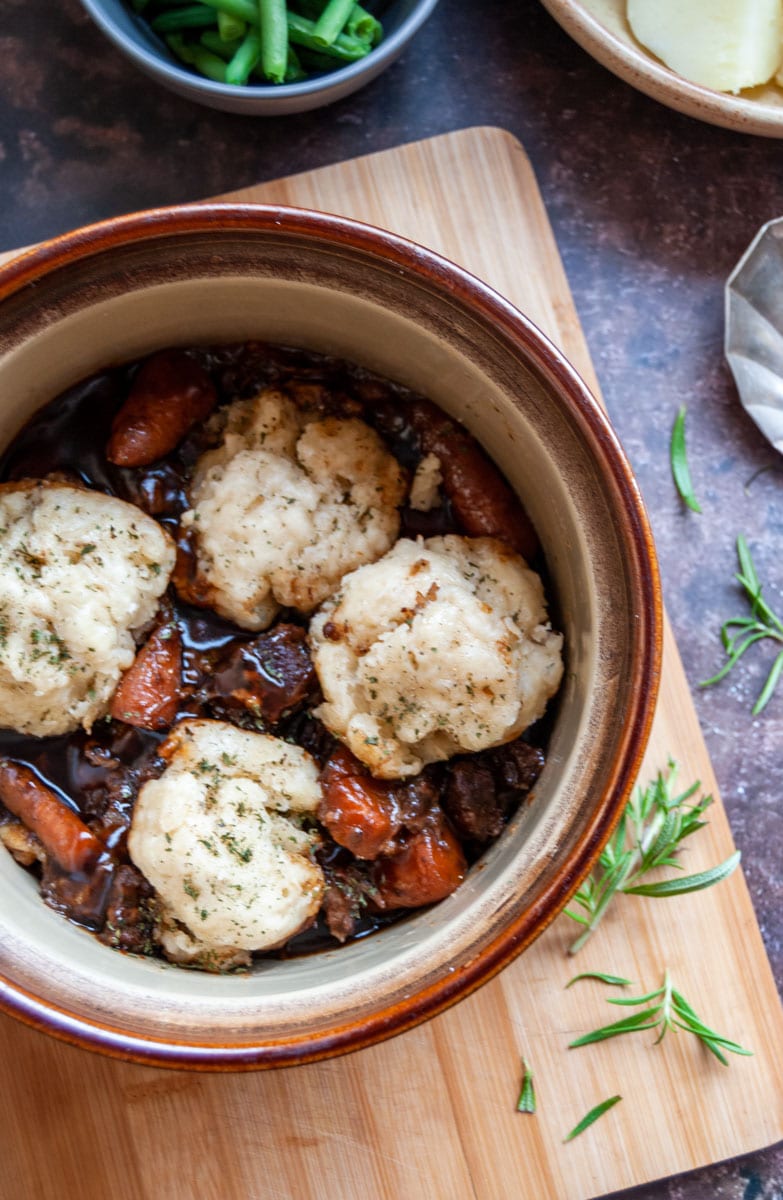 I've been making this traditional Scottish beef stew recipe for many years. Why have I not included it on this blog before? I'm honestly not sure.
I guess it's because, in my mind, I wonder if people really need a basic beef stew recipe. But the answer is yes, of course – someone somewhere will appreciate it!
After all, I said the same thing about my Scottish mince and tatties recipe and it's now one of my most popular posts! I guess we all crave the old fashioned classics. I know I certainly do.
beef stew and dumplings recipe
This is, like the title suggests, a good old fashioned recipe – just beef, onions, root vegetables and gravy. If you wanted to, you could deglaze the pan after browning the beef with a little red wine, but I like to keep things nice and simple here.
In my mind, no beef stew recipe is complete without a crown of fluffy dumplings. This is non-negotiable. I make my dumplings with Atora shredded suet for that delicious fluffy texture. I like the dumplings to retain a soft texture, but some people prefer to pop them in a hot oven for a few minutes to crisp them up a little.
more beef recipes to try
For more family meals that use beef, check out these recipes for slow cooker beef and chorizo casserole, slow cooker beef curry, quick beef stroganoff, Scottish steak pie, chilli con carne and slow cooked Bolognese sauce.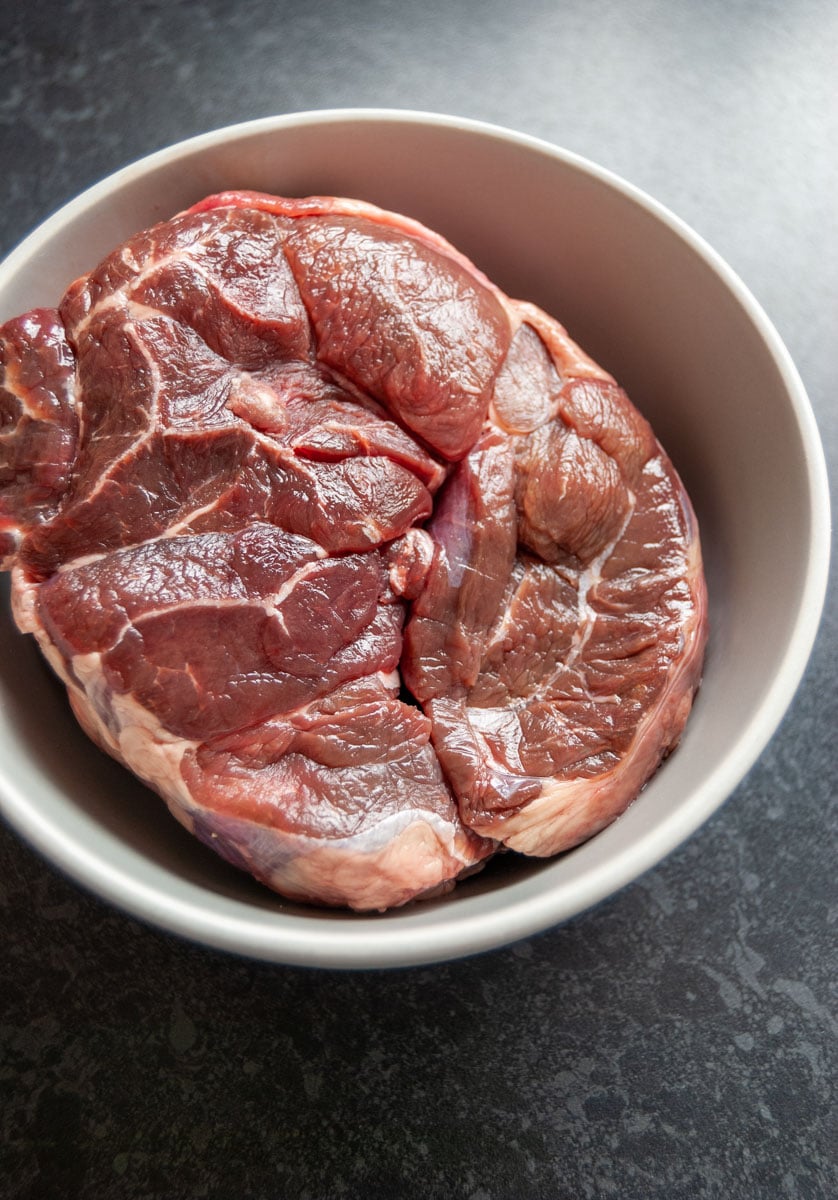 ingredient list
stewing beef or beef shin. Beef shin is a leg portion, so it requires a long, slow cook to break down the connective tissue and tenderise the meat. It makes a lovely rich gravy and when cooked for long enough, will fall apart at the touch of a fork. If you can't source beef shin, you can use beef stewing/braising beef instead.
Naturally, I always use Scottish beef – but just use the best quality meat you can get your hands on.
Coating the meat in a little seasoned plain flour before browning will help thicken the gravy.
For the best flavour, I use beef dripping. If you can get your hands on some, I highly recommend it – it makes such a difference. You can use oil, or half oil and half butter if you prefer.
Carrots and Turnip (swede)
Beef stock. I use stock pots or if I can find any, a good quality liquid stock.
Worcestershire sauce gives the gravy an extra tasty flavour boost and unique "tang" that only Worcestershire can do!
FOR THE DUMPLINGS
Atora suet – I usually use beef suet, but vegetable is also fine.
self raising flour
pinch of salt
finely chopped herbs – I use fresh rosemary. Fresh can be substituted for 1 teaspoon dried. Feel free to add a different herb, or skip them altogether.
HOW TO MAKE AN OLD FASHIONED BEEF STEW
Toss the beef in flour seasoned with salt and pepper.
Melt whatever fat you're using in a large pan. Add the sliced onions and cook over a low heat for 10-15 minutes or until they are very soft, light golden and translucent.
Remove the onions from the pan with a slotted spoon. Add a little more fat to the pan, turn the heat up slightly and brown the beef in batches. If you dump the meat in all at once, it will steam rather than brown. This step is crucial to adding flavour to the stew, so as tempting as it is to skip it, it's so worth doing properly.
Once all the meat has been browned, add the carrots/turnips, the beef stock and the Worcestershire sauce. Turn the heat down to a gentle simmer, place a lid on the pan and slowly cook for 2 1/2-3 hours, or until the beef is meltingly tender and the gravy is thick. Keep an eye on the stew while it simmers away in case it needs a top up of water or stock.
make the dumplings
To make the fluffy dumplings all you need to do is combine the flour, shredded suet, herbs if using and salt with a little water until you have a slightly sticky (but not too wet) dough.
Roll the mixture into little dumplings and pop on top of your stew. I do this about half an hour before the end of cooking time. Place a lid back on the pan and leave it for a good 25 minutes. When you open the lid, the dumplings should have almost doubled in size.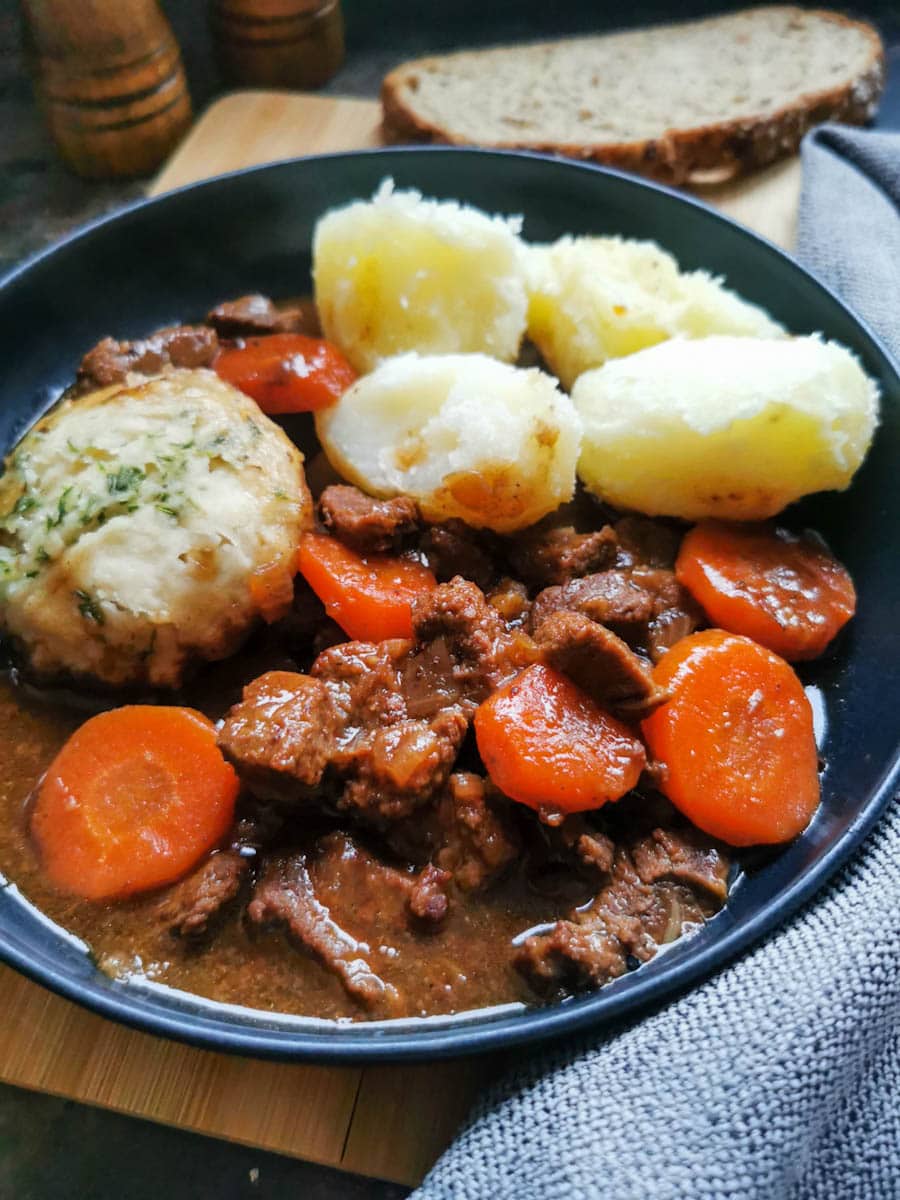 recipe notes and commonly asked questions
is it necessary to brown the meat for beef stew?
In my opinion, absolutely yes. For slow cooked recipes, browning the meat makes a massive difference to the flavour. Searing meat also gives it a more attractive colour (don't get me started on the debate of browning sausages for a sausage casserole – YES every time!)
Searing meat adds an extra depth of flavour that will make your stew taste so much better in the long run, so please don't be tempted to skip it. Just remember to brown the meat in small batches so it caramelises properly.
is it better to make beef stew in advance?
Actually, yes. Making the stew and leaving it to sit overnight in the fridge will allow all the flavours to develop, making it even tastier. I must admit though, I'm not usually that organised enough to do this!
If you are planning to make this recipe in advance, don't make the dumplings until you are ready to serve. I reheat the stew in a pan on the hob over a low heat for about 25 minutes (or until piping hot) then make up the dumplings. You might need to add a little extra water or stock on reheating.
What to serve with beef stew?
Potatoes are a must for soaking up all that lovely gravy. My family prefer boiled potatoes with stew, but I prefer creamy mashed potato every time! I also love stew with buttered garlicky kale, green beans or cabbage.
I know a lot of people love to eat stew out of a giant Yorkshire pudding – and I can't say I blame them!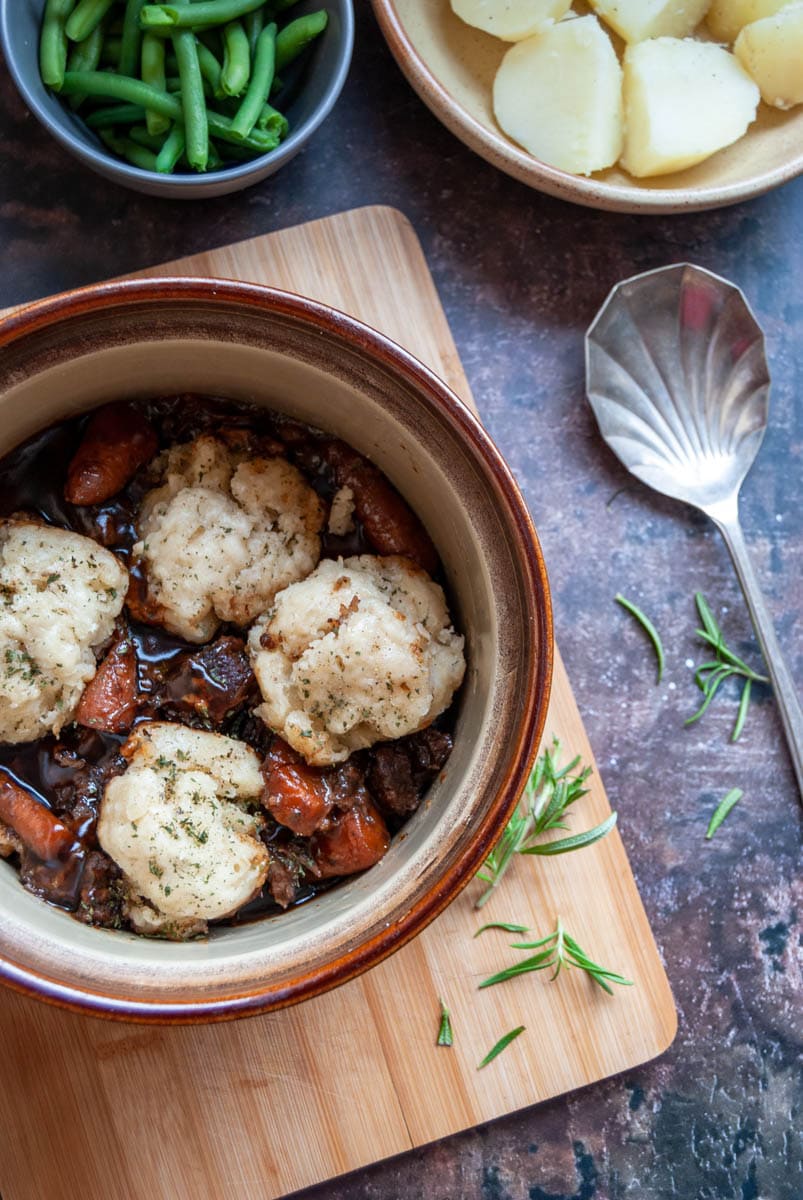 more comfort food classics
If you loved this recipe, you might also enjoy:
haggis neeps and tatties cottage pie
did you make this reciPe?
I hope you enjoyed it! Let me know what you thought of it by leaving a comment below and rate the recipe by clicking on the stars in the recipe card.
I hope you loved it! Please let me know what you thought by leaving a comment below and rate the recipe out of five by clicking on the stars in the recipe card.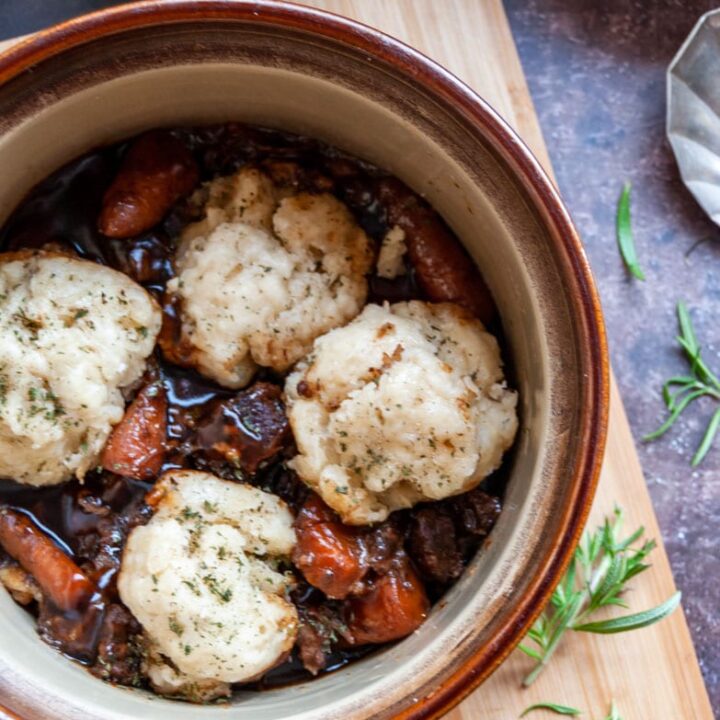 old fashioned scottish beef stew
Yield:
serves 4 generously
Total Time:
3 hours
15 minutes
A good old fashioned Scottish beef stew recipe. Meltingly tender beef with onions, carrots, turnip and a rich beef gravy. Pure Winter comfort food!
Ingredients
2 tablespoons beef dripping OR 1 tablespoon butter and 1 tablespoon flavourless oil (this helps to stops the butter from burning)
2 large onions, finely sliced
650g beef shin or braising/stewing beef
1 tablespoon plain (all purpose) flour
sea salt and freshly ground black pepper
2 carrots, peeled and roughly chopped into equal sized pieces
1/2 a turnip (swede) peeled and cut into the same size as the carrots
400ml good quality beef stock (I use stock pots)
1/2 tablespoon Worcestershire sauce
FOR THE HERB DUMPLINGS:
100g self raising flour
50g Atora suet (I use beef suet but vegetable is also fine)
1/2 tablespoon freshly chopped rosemary leaves (optional)
pinch of salt
about 5 tablespoons of cold water
Instructions
Melt one tablespoon of the beef dripping or butter and oil in a large saucepan. Add the sliced onions and cook on a low heat for 10-15 minutes, stirring often until they are soft, light golden and translucent. Remove the onions from the pan using a slotted spoon and transfer to a bowl.
Add the flour to the beef along with a grinding of salt and pepper. Turn the heat up, add the remaining tablespoon of beef dripping or butter/oil to the pan and once it has melted, add the floured beef in two or three batches and fry until the beef has browned, stirring often so the meat doesn't catch too much on the bottom of the pan.
Once the beef has browned nicely, return all the beef and onions to the pan along with the carrots, turnips, beef stock and Worcestershire sauce. Turn the heat to low, partially cover with a lid and simmer for 2 1/2-3 hours or until the beef is meltingly soft and tender, checking it every now and then in case you need to add more stock.
About 35 minutes before the end of cooking time, make the dumplings. Place the self raising flour, suet, rosemary and salt in a medium mixing bowl. Add 3-4 tablespoons of water to using your hands or a table knife, lightly mix to a dough. If it seems dry, add the remaining tablespoon of water. Once you have a dough that is slightly sticky but not too wet, flour your hands and roll the dough into little dumplings about the size of a clementine. Pop the dough balls on top of the stew, cover with a lid and gently simmer for 25-30 minutes, or until the dumplings have risen.
Notes
If you prefer plain dumplings, just leave the rosemary out. You could also swap the fresh rosemary for 1 teaspoon dried, or use thyme or parsley.
This stew tastes even better the next day, so it's perfect for making in advance. Cool completely, store in an airtight tupperware box and keep in the fridge for up to two days. Reheat in the oven or hob until piping hot. You might need to add a little more beef stock if it seems a little dry.
If you're planning to make this stew in advance, I wouldn't recommend making the dumplings until you are planning to serve - dumplings are best eaten fresh.
Nutrition Information:
Yield:

5
Serving Size:

1
Amount Per Serving:
Calories:

694
Total Fat:

45g
Saturated Fat:

19g
Trans Fat:

0g
Unsaturated Fat:

21g
Cholesterol:

146mg
Sodium:

636mg
Carbohydrates:

25g
Fiber:

2g
Sugar:

5g
Protein:

45g
Calories and nutritional information are provided by a third party application and should be viewed as indicative figures only.