Brandy Snaps are a classic British biscuit that have been around for many years. They are crisp, lacy, wafer thin cookies that taste so good filled with whipped cream.
They have a reputation for being difficult to make, but once you've mastered the basic method they really are very easy.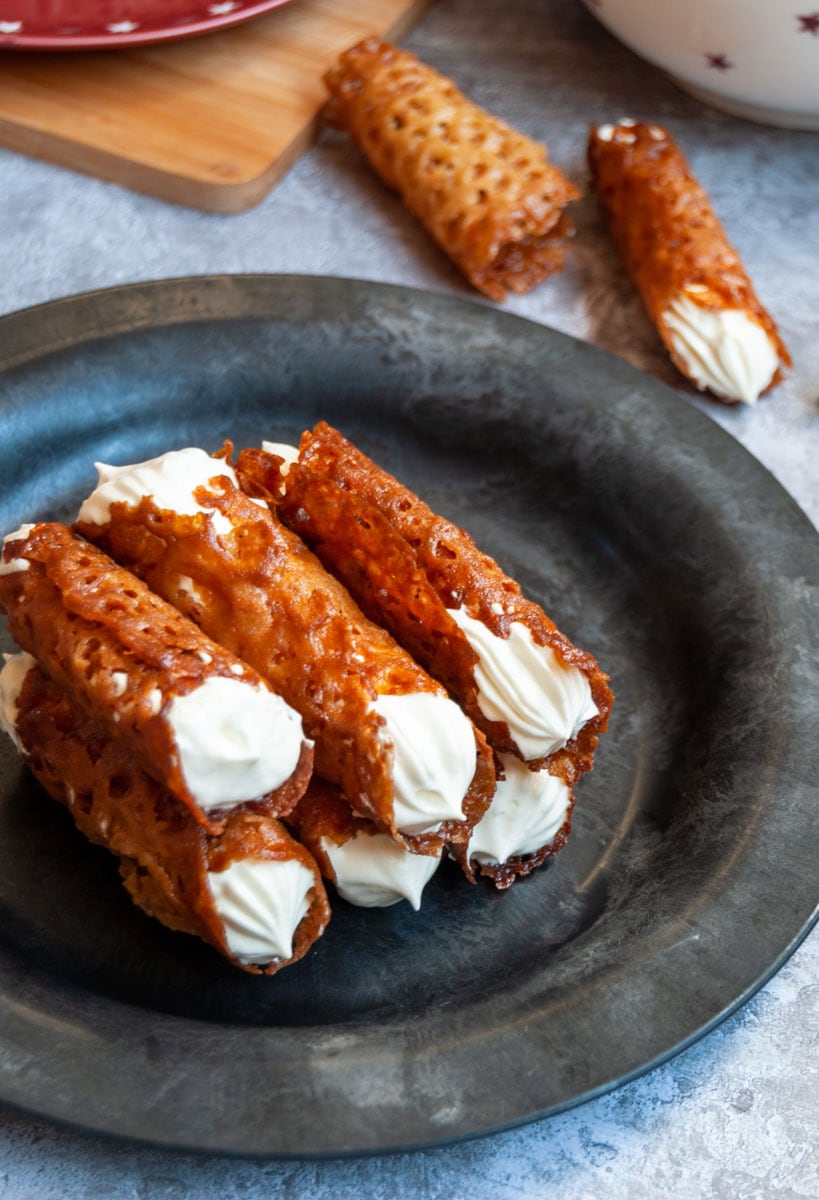 This week saw biscuit week on The Great British Bake off (episode two) – one of my favourites! Last week was all about cakes and I made a sticky malt loaf to celebrate the return of the show so many people love. I'm baking along with the show this year, so if you love all things GBBO, you're in the right place.
This week Paul and Prue challenged the bakers to make jammie dodgers and brandy snaps.
I've eaten lots of brandy snaps in my time, but I've never attempted to make them myself. They make me think of Christmas time for some reason. Maybe it's because the golden syrup and ginger aromas remind me of gingerbread, which never fails to put me in a festive mood.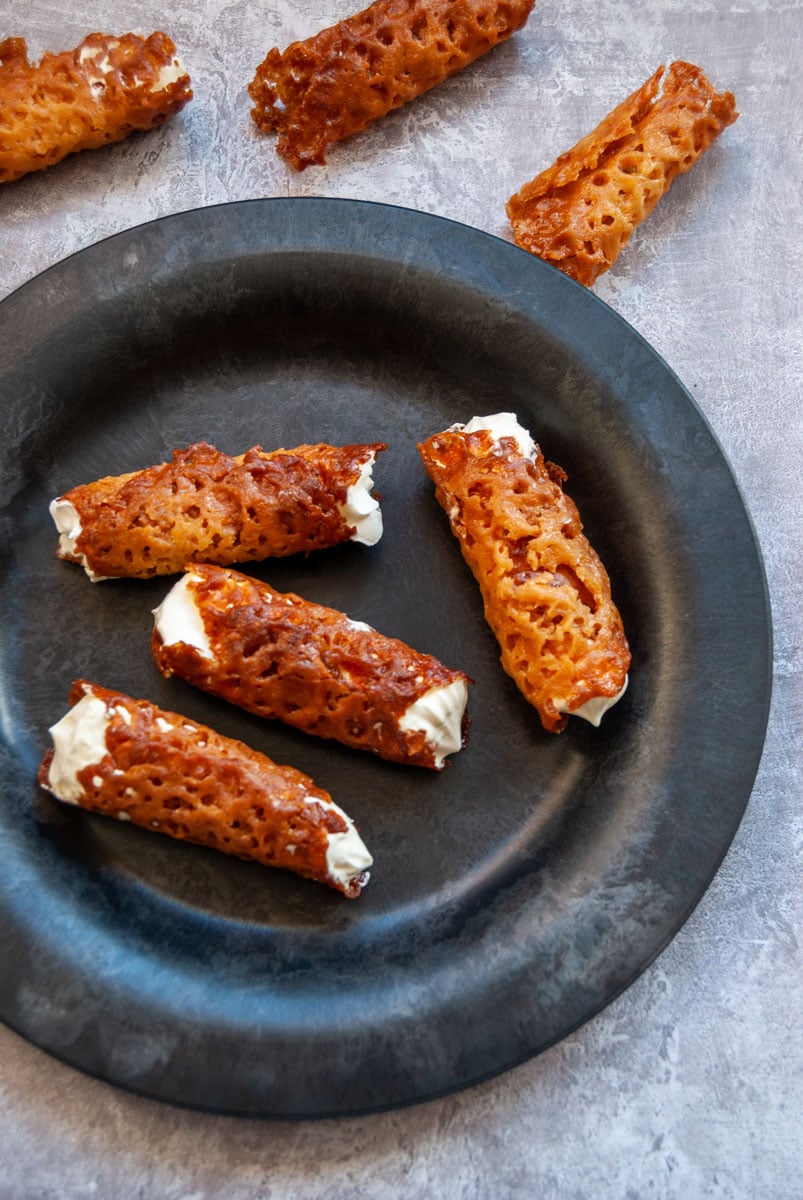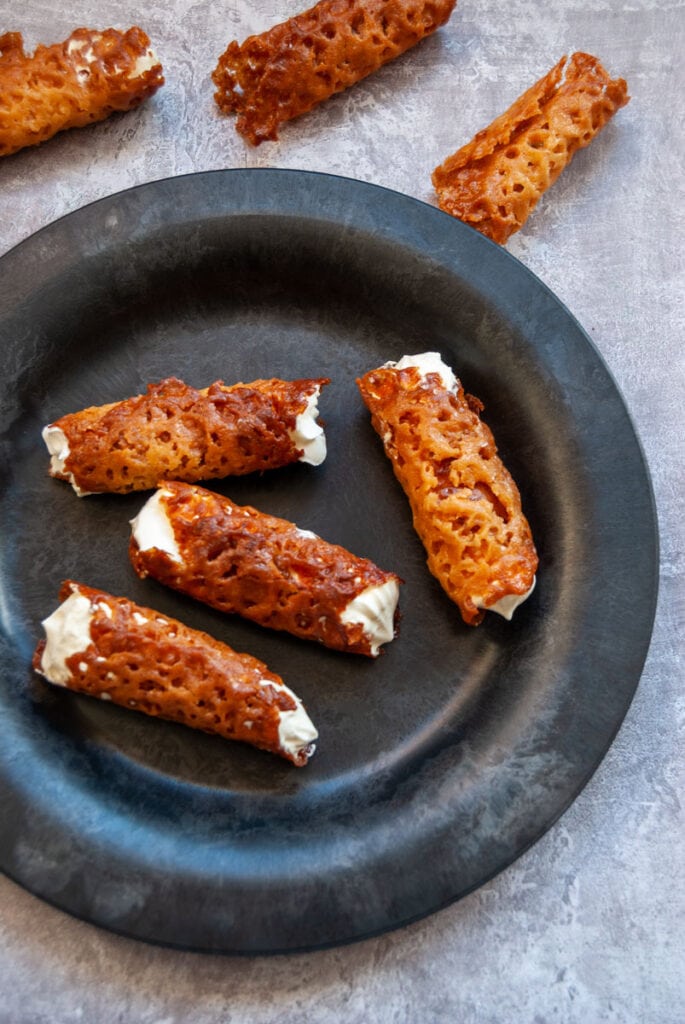 what are brandy snaps?
Brandy snaps are a classic English biscuit. They are wafer thin and delightfully crunchy. They taste buttery and have a lovely warming flavour from ground ginger and golden syrup. I looked through a few of my old cookbooks to find a little more information about where they originated from, but I had no luck.
A quick Google search brought up a few suggestions of first recorded mentions, the earliest one dating all the way back to 1854 in Hereford. Brandy snaps are made with equal quantities of butter, sugar, golden syrup and flour, so it's a very easy recipe to remember.
Funnily enough, brandy snaps do not typically contain brandy. Apparently, the "brandy" comes from the term "branded" or in other words, "burnt."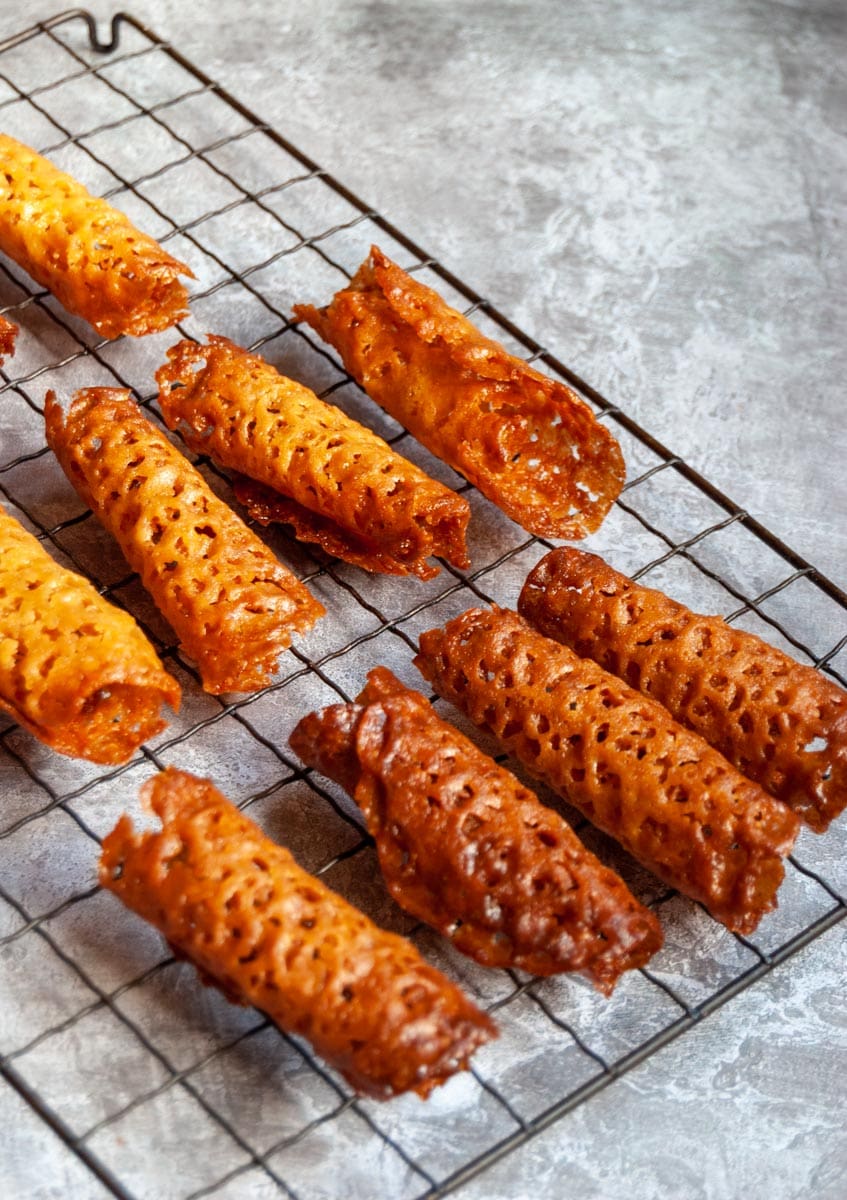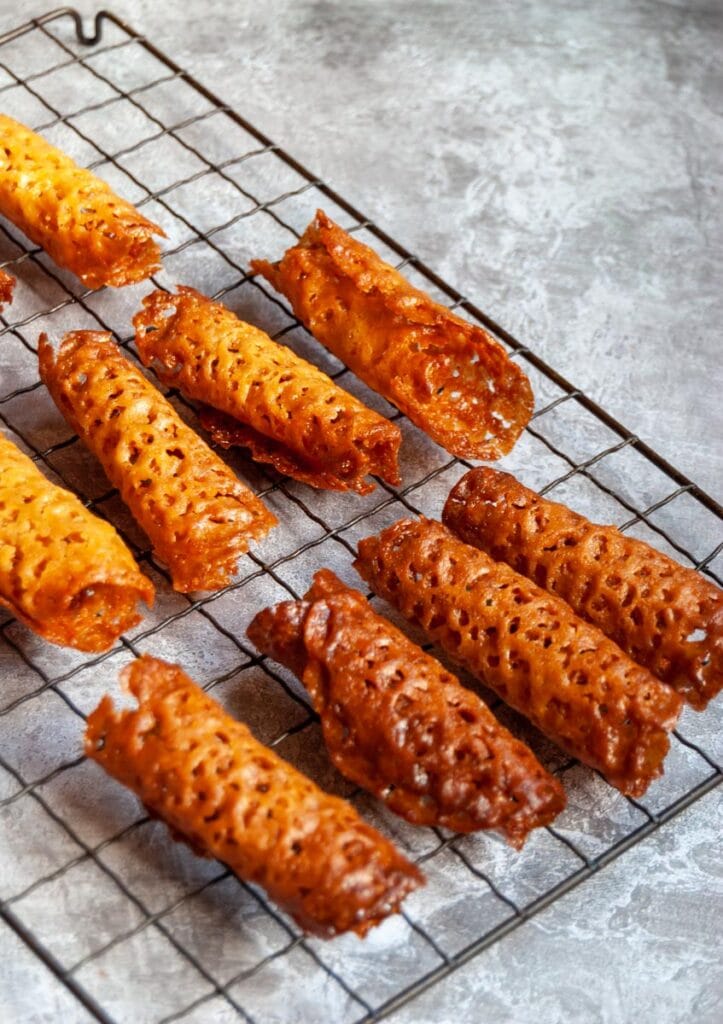 Brandy snaps have a reputation for being quite tricky to make, but providing you stick to a few basic rules, they are pretty straight forward. The key to making successful brandy snaps is mainly down to two things –
melting the butter and sugar together slowly so the sugar dissolves properly
waiting for the right moment to lift the baked biscuits off the baking tray – if you attempt to lift them too soon they will fall to pieces, but if you leave them for too long, they will become too brittle.
ingredient list
unsalted butter. Use real butter for the best flavour.
demerara sugar adds a lovely toffee flavour to the biscuits.
golden syrup – one of the best ingredients ever!
Plain (all purpose) flour
ground ginger gives the brandy snaps a lovely warm flavour.
lemon juice. I suppose you could swap this for brandy, although I haven't tried it myself yet.
step by step method
Slowy melt the butter, demerara sugar and golden syrup together in a large saucepan over a low heat. Don't stir the mixture – just give a pan a swirl every now and again.
When the sugar has completely dissolved, remove the pan from the heat and set aside to cool for a few minutes.
Stir in the flour, ground ginger and lemon juice. Stir the mixture until smooth and glossy.
Drop teaspoons of the mixture onto a lined baking tray – I did four at a time since they spread out a lot.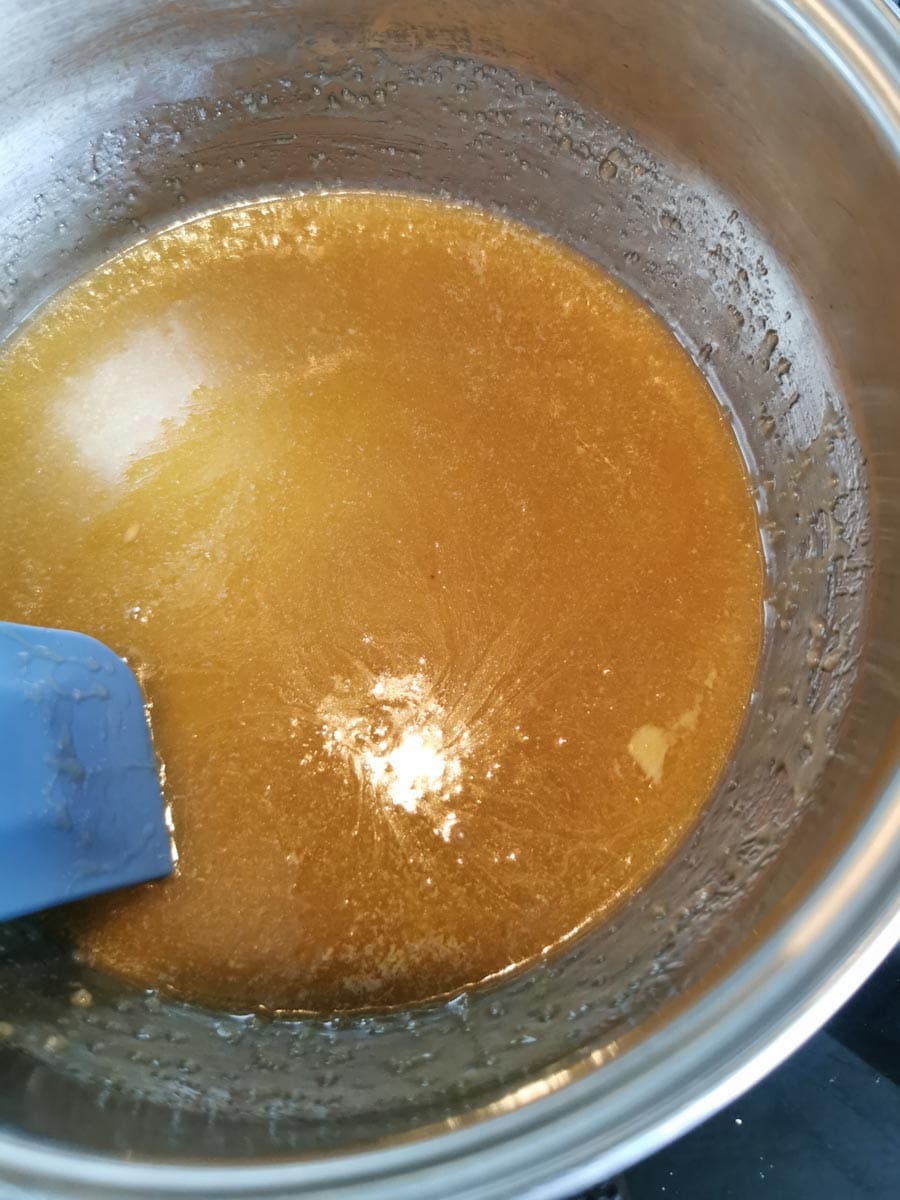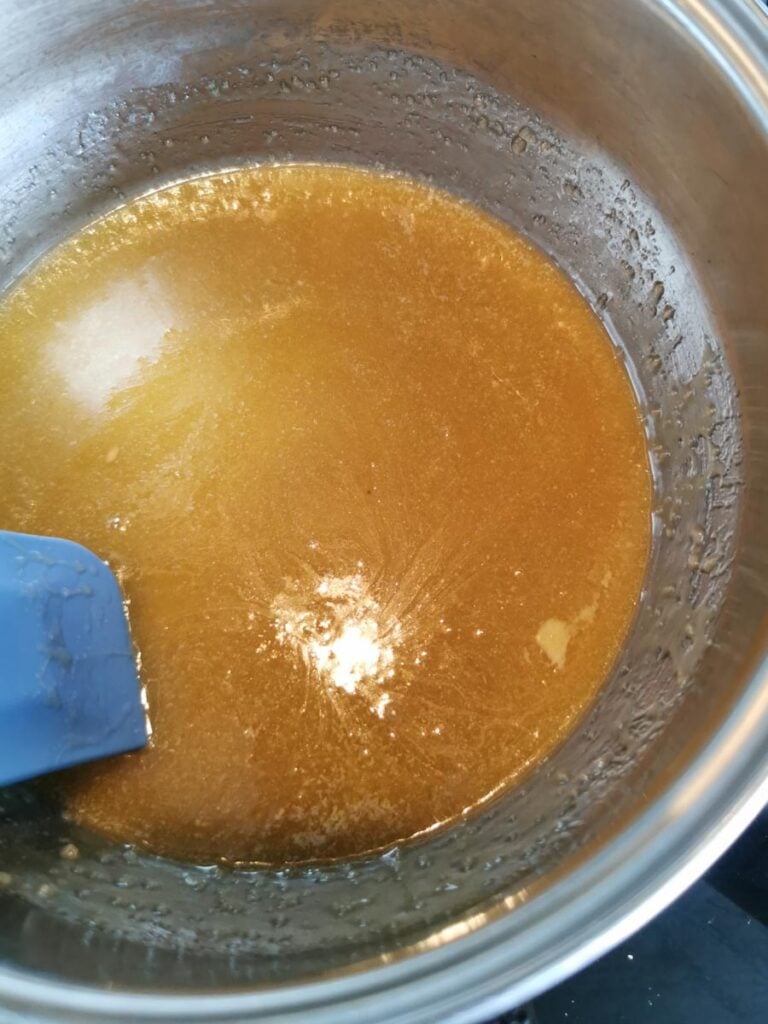 Bake for about 8 minutes or until they are lacy and golden. They will still be very soft, but will firm up rapidly a few minutes after taking out of the oven. Keep an eye on them – they burn so quickly!
This is the crucial point – don't try and lift the biscuits from the tray straight away or they will collapse. Leave them for a few secones before shaping. I found about 30 seconds was perfect. They will still be quite hot, but pliable enough to wrap around the handle of an oiled wooden spoon. You have to work quickly here!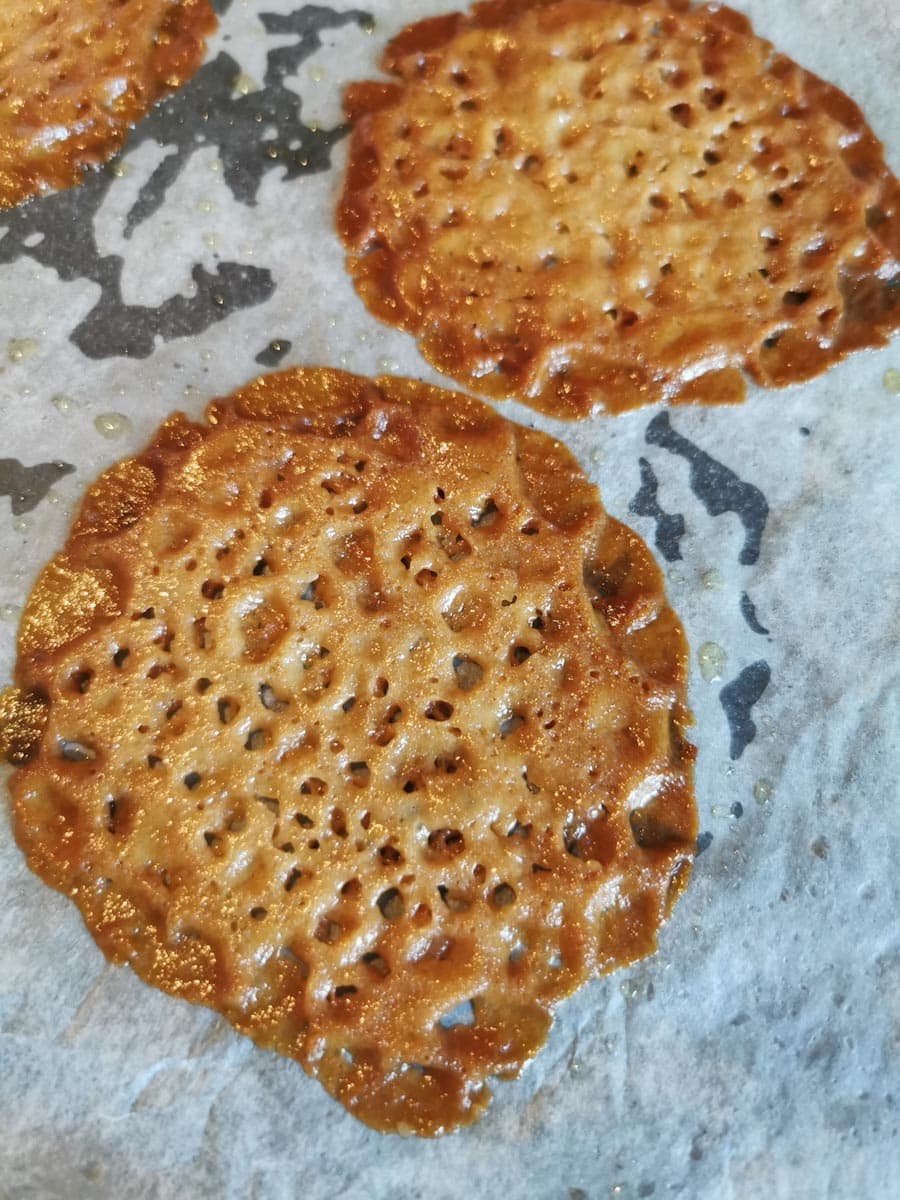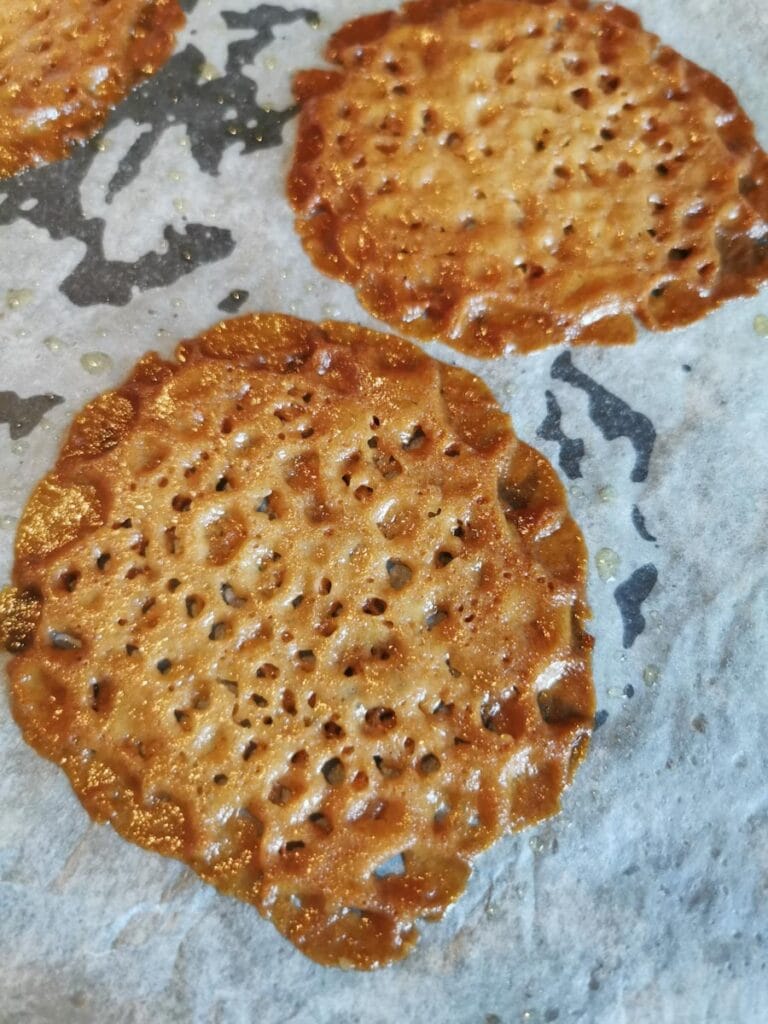 recipe notes
Since I have four wooden spoons, I baked the biscuits four at a time. You could also use a rolling pin to shape them if you don't have enough spoons.
You really need to work quite quickly – if you leave the biscuits on the tray for even just a few seconds too long, they will become impossible to shape.
To make brandy snap baskets, drape the biscuits over an oiled upside down muffin tin or ramekins. You could even use an apple or an orange!
You could just eat the biscuits plain if you wanted, but they really are so good filled with freshly whipped cream. You could make it even easier on yourself and use squirty cream from a can…..I would never say no!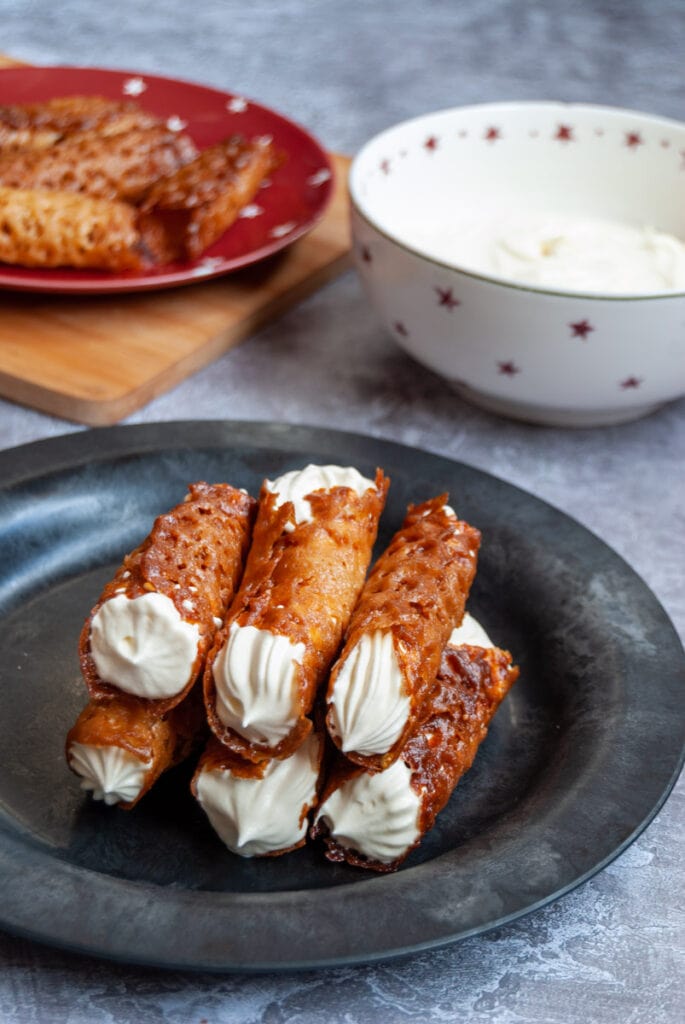 different filling ideas
Add a little Bailey's Irish cream, whisky, brandy or Amaretto to the whipped cream – delicious! For adults only, obviously!
For a zesty orange cream, fold the finely grated zest of half an orange into the whipped cream.
In Floyd's food, Keith Floyd suggests folding a little ginger marmalade into the whipped cream. I am all for that! Lemon curd would also be delicious.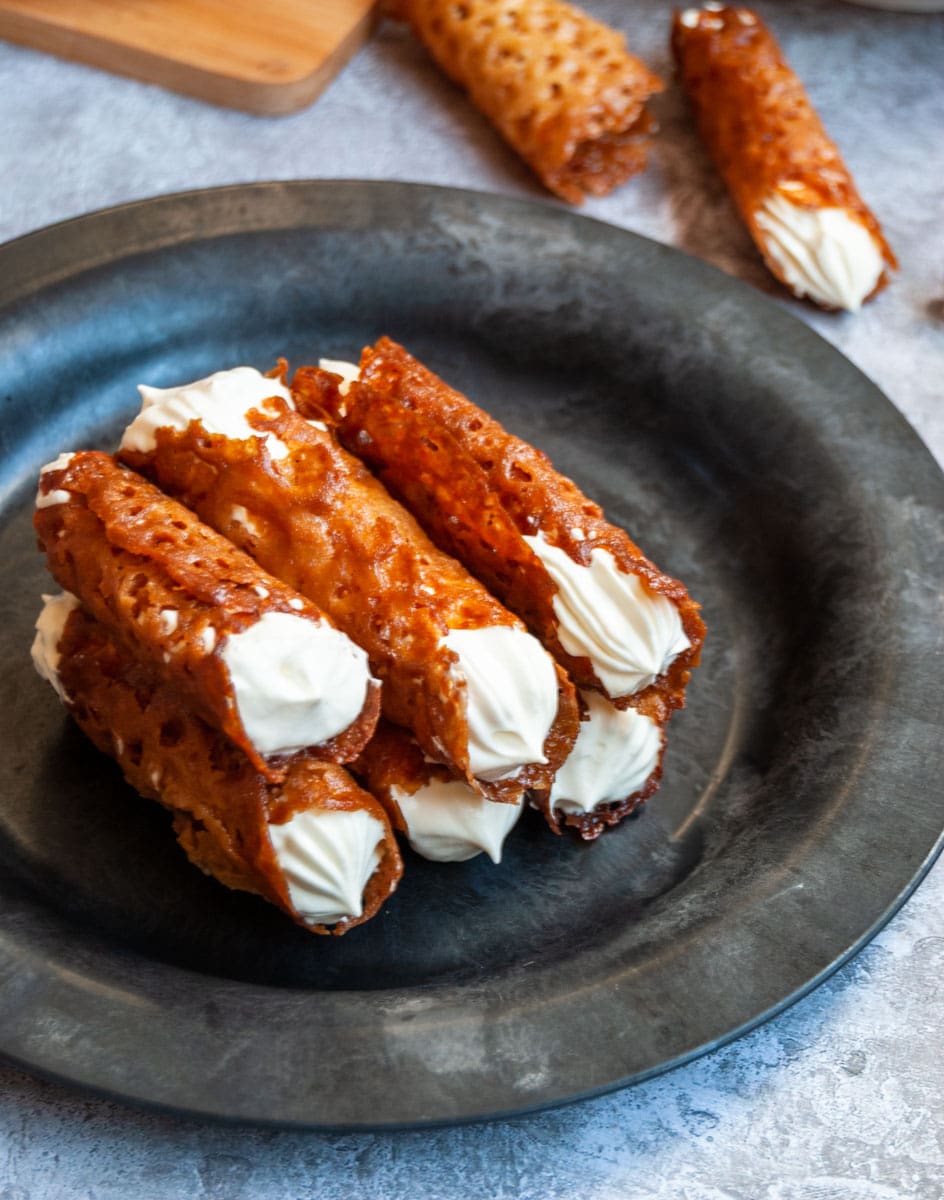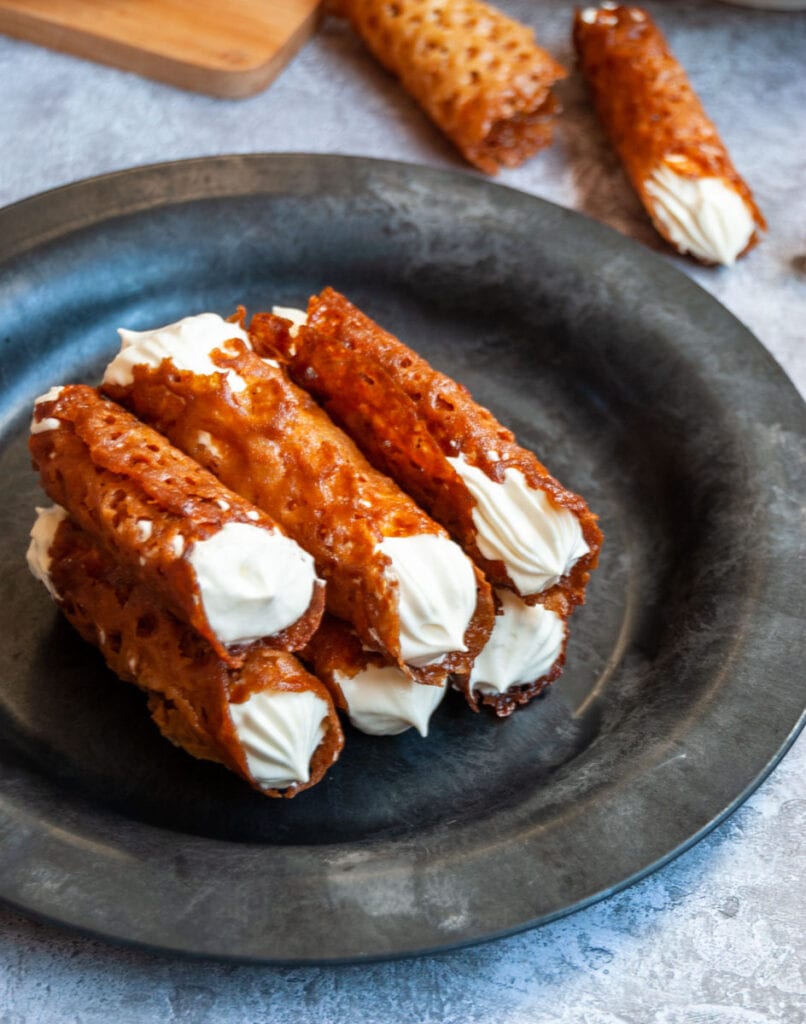 how long do brandy snaps keep?
The brandy snaps will keep in an airtight tin for up to one week. Due to the moisture in the biscuits, they do not freeze well at all – they would just disintegrate.
I'm really glad I gave these a try – they are fun to make and everyone absolutely loved them! I'm already getting requests to make them again.
More classic biscuit recipes to try
did you make this reciPe?
I hope you loved it! Please let me know what you thought by leaving a comment below and rate the recipe out of five by clicking on the stars in the recipe card.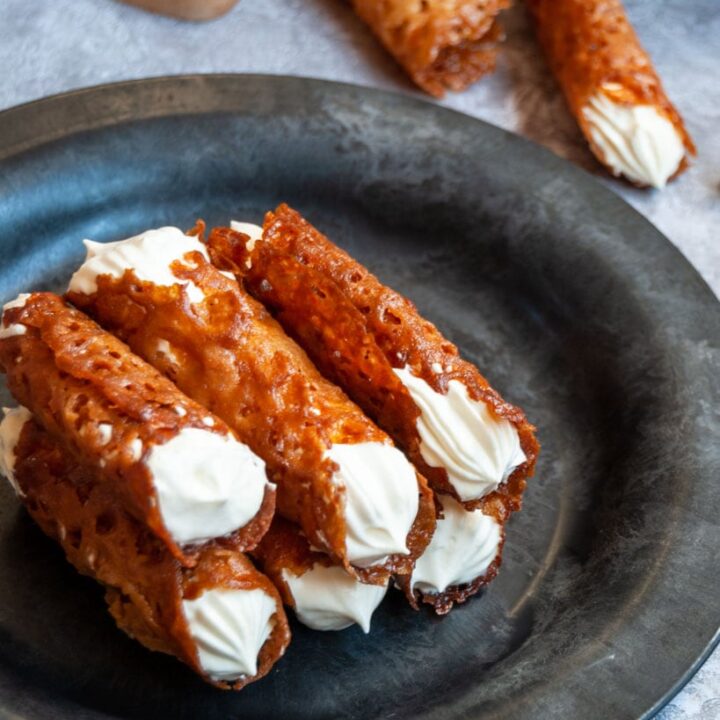 Brandy Snaps
Yield:
makes about 15 brandy snaps
Brandy snaps are classic British biscuits. They are light, crunchy, buttery and gingery. They are so pretty and taste absolutely delicious filled with whipped cream.
Ingredients
50g unsalted butter
50g demerara sugar
50g golden syrup
50g plain (all purpose) flour
1 teaspoon ground ginger
1/2 teaspoon lemon juice
FOR THE WHIPPED CREAM FILLING
150ml double (heavy cream)
1/4 teaspoon vanilla extract
1 teaspoon icing sugar
Instructions
Preheat the oven to 180C/160Fan/350F/Gas mark 4. Grease and line a large baking tray with baking parchment.
Slowly melt the butter, sugar and golden syrup together in a large saucepan over a low heat. Don't stir the mixture - just give the pan an occasional swirl.
When the sugar has totally dissolved, remove the pan from the heat and let the mixture cool down slightly for a few minutes.
Stir in the flour, ground ginger and lemon juice until the mixture is smooth and glossy.
Drop teaspoons of the mixture onto the lined baking tray. Bake for about 8 minutes or until the biscuits have spread out and look golden and lacy.
Let the biscuits stand on the baking tray for a few moments until they are pliable enough to handle - I found the "sweet spot" to be about 30 seconds or so. Drape the biscuits over oiled wooden spoons or a rolling pin. To make brandy baskets, drape them over oiled ramekins, an upturned muffin tin or even an apple or orange! The biscuits take just a few minutes to set. Carefully remove them and place on a wire cooling rack to cool completely.
For the whipped cream filling, whip the double cream, vanilla extract and icing sugar together to soft peaks. Place the cream in a piping bag fitted with a nozzle. Pipe the cream into the brandy snaps just before you are ready to serve them - they don't keep well once they have been filled.
Notes
For a boozy cream, you could add a little brandy, Baileys Irish cream, whisky or Amaretto - you get the picture!
The unfilled brandy snaps will keep in an airtight tin for up to one week. Don't fill them with cream until you're ready to serve.
Nutrition Information:
Yield:

15
Serving Size:

1
Amount Per Serving:
Calories:

54
Total Fat:

3g
Saturated Fat:

2g
Trans Fat:

0g
Unsaturated Fat:

1g
Cholesterol:

7mg
Sodium:

3mg
Carbohydrates:

6g
Fiber:

0g
Sugar:

5g
Protein:

0g
Calories and nutritional information are provided by a third party application and should be viewed as indicative figures only.