These cute little cherry topped retro biscuits are known as Melting Moments/Cornflake Biscuits. Whatever you call them, they are absolutely delicious and very simple to make. Old fashioned baking at its best.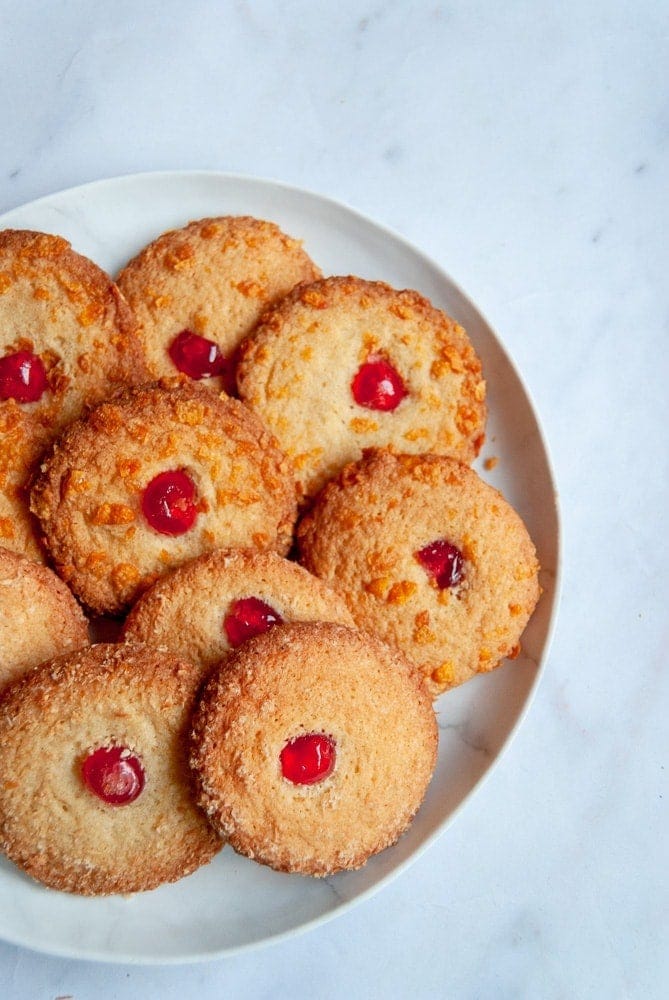 Whenever the conversation of old fashioned baking is brought up, one recipe that most people seem to recall fondly is melting moments, or cornflake biscuits.
The recipe is very simple and easy to make. I have no idea where the original recipe originated from, but I believe that I first came across it in the classic Be-Ro book of baking.
More recipes that spring to mind when I think of the Be-Ro book include Empire Biscuits, Swiss Roll, Cheese Scones, Rock Cakes, Carrot Cake and Gingerbread loaf cake. What recipes do you remember?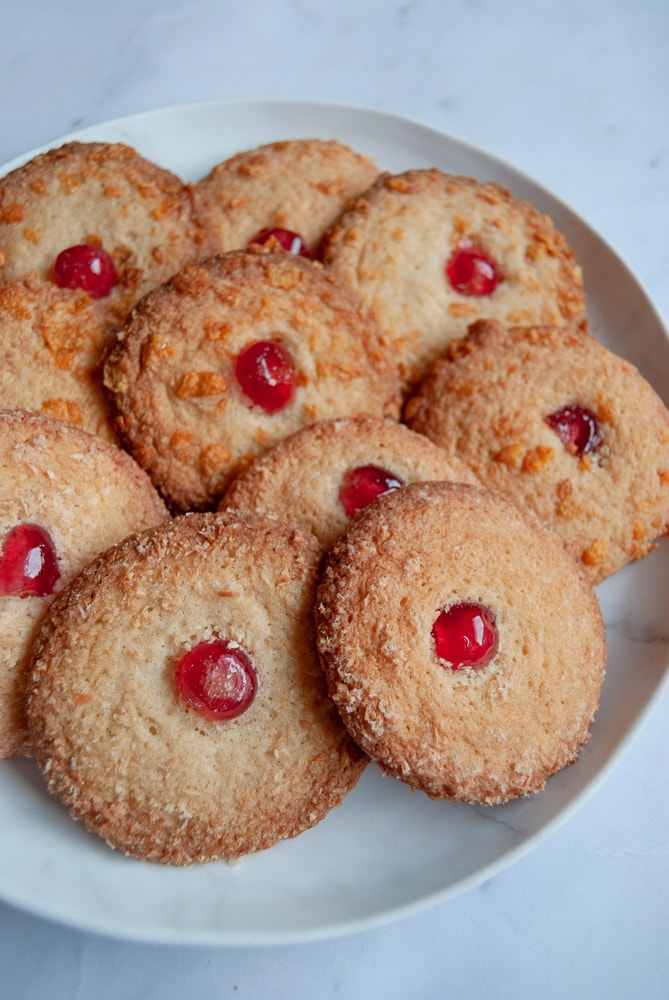 melting moments/cornflake biscuits
These retro biscuits are incredibly simple and quick to make and you just need a few basic storecupboard ingredients.
They are perfect for last minute bake sales, parties or just a rainy afternoon baking session with the kids.
step by step guide 
(printable recipe and detailed instructions are in the recipe card at the bottom of the post)
You start off by creaming soft butter and caster (superfine) sugar together in a bowl until the mixture is light and fluffy.
Beat in one egg and vanilla extract. Add self raising flour and mix until you have a soft dough.
Place spoonfuls of dough on a greased and lined baking sheet, flatten slightly and top with a halved glace cherry. Leave about 3-4cm of space between each bisuit – they spread out quite a lot.
Bake the biscuits for 10-12 minutes or until they are starting to turn golden brown around the edges. Keep an eye on them – they brown very quickly.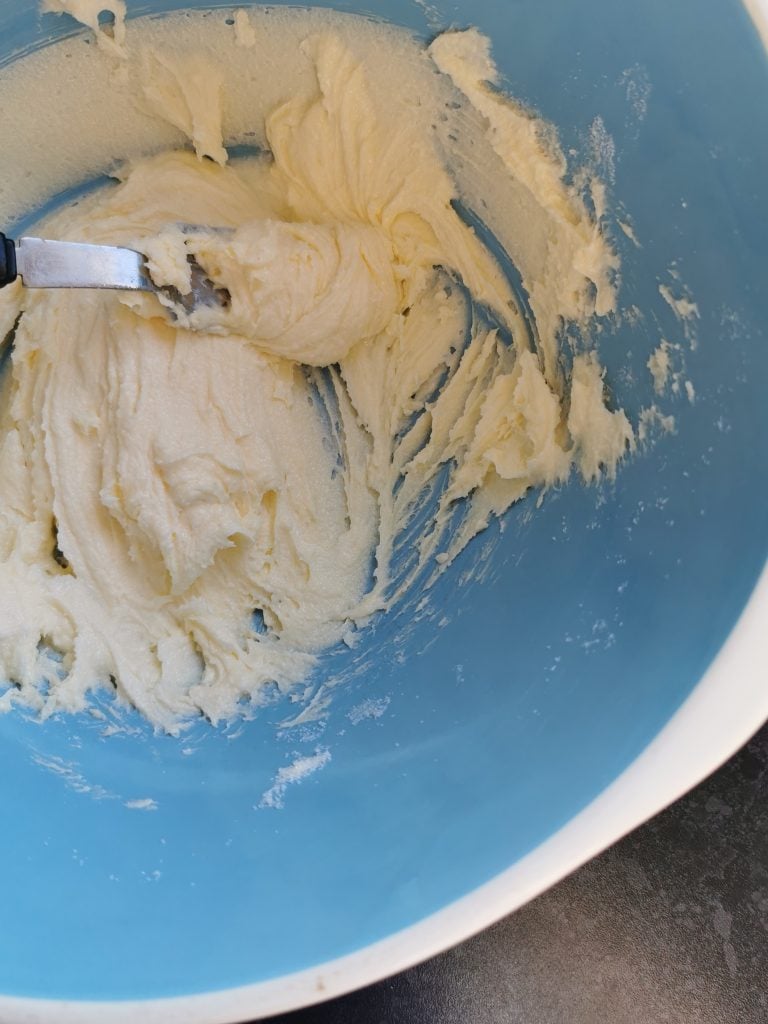 recipe notes
You might have noticed that some of the biscuits are actually rolled in coconut instead of cornflakes. This is how my gran made them – as "Melting Moments." Feel free to swap the cornflakes for dessicated coconut if you like.
I personally prefer them with the coconut, but the crushed cornflakes make for a lovely crispy coating so I shall leave the choice up to you. You could make half with coconut and half with cornflakes like I did – best of both worlds!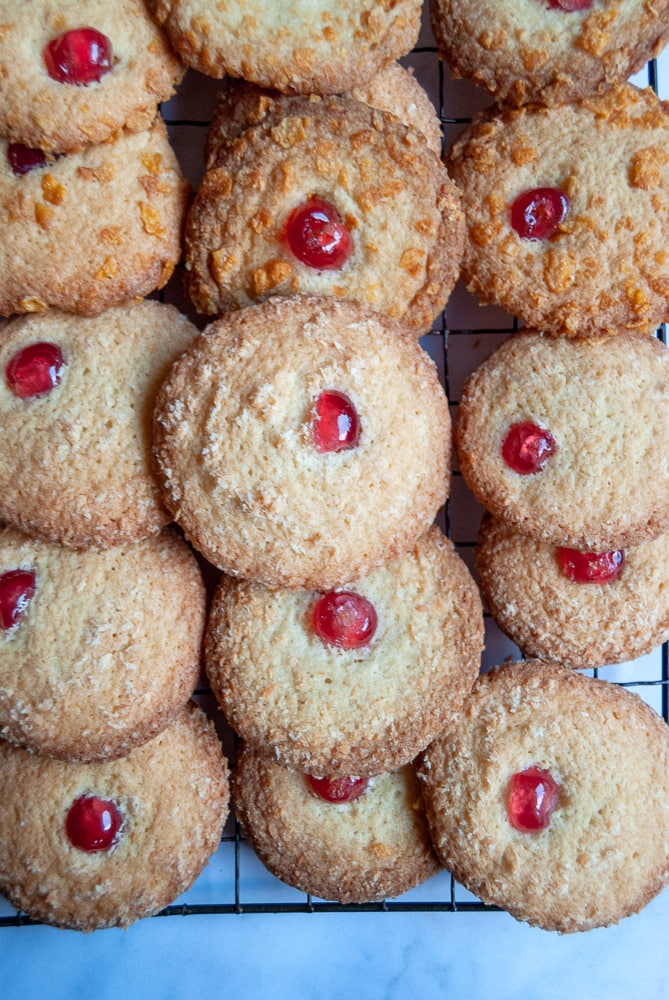 storage instructions
These biscuits will keep for up to three days stored in an airtight tin.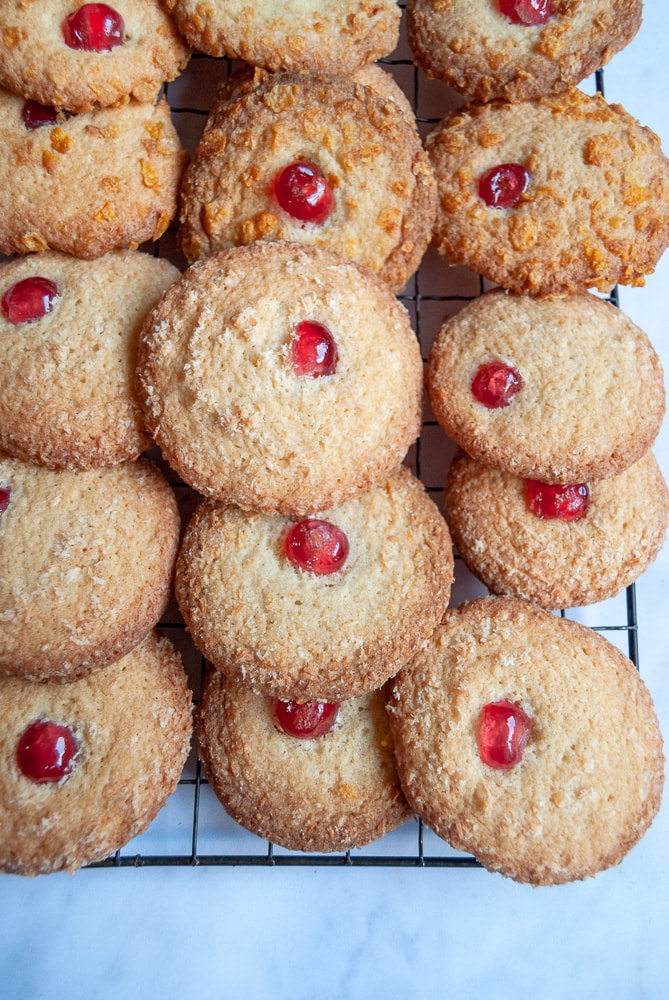 want to see more old fashioned baking?
If you can't get enough retro baking, take a look at my recipes for Treacle Scones, Coconut and raspberry jam loaf cake, Ginger Parkin, Lemon drizzle cake, vanilla custard bisuits, Fruity Flapjacks, Millionaire's shortbread and homemade jammie dodgers!
did you make this recipe?
I would love to hear what you thought of it – let me know by leaving a comment below and please rate the recipe by clicking on the stars in the recipe card.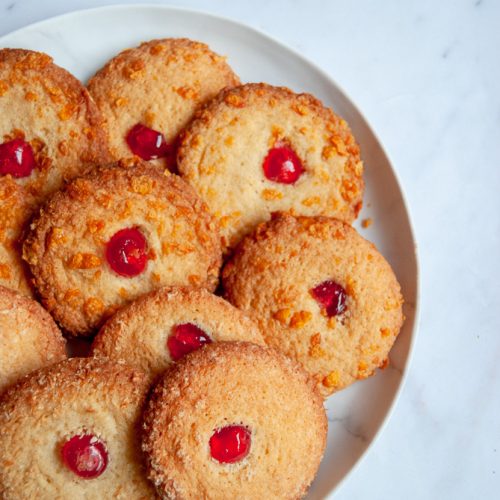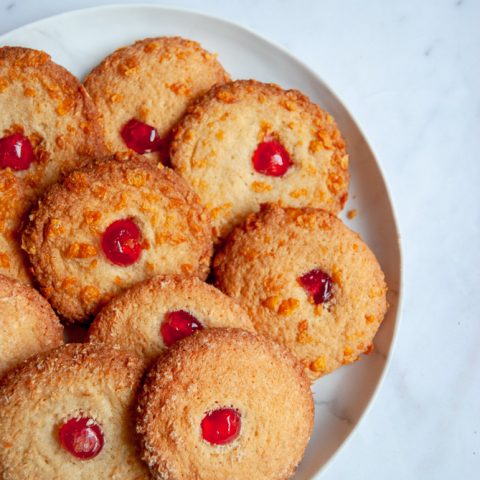 Melting Moments/Cornflake biscuits
These cute little biscuits are known as melting moments or cornflake biscuits. Whatever you call them, they are absolutely delicious and very simple to make!
Ingredients
150g soft butter
75g caster (superfine) sugar
1 medium egg, beaten
1 teaspoon pure vanilla extract
150g self raising flour
25g crushed cornflakes or dessicated coconut
7 glace cherries, sliced in half
Instructions
Preheat oven to 180ºC, 350ºF, Gas Mark 4. Grease and line two baking trays.
Cream the butter or margarine with the caster sugar until very light and fluffy. Beat in the egg and vanilla extract. Stir in the flour and mix well.
Roll walnut sized pieces of the mixture into balls and toss in crushed cornflakes.
Place the biscuits on baking trays (they will spread so leave 3-4cm of space between each one) flatten slightly and place a small piece of cherry on each biscuit. Bake for 10-12 minutes until golden brown around the edges.
Nutrition Information:
Yield:

14
Serving Size:

1
Amount Per Serving:
Calories:

157
Total Fat:

11g
Saturated Fat:

7g
Trans Fat:

0g
Unsaturated Fat:

3g
Cholesterol:

35mg
Sodium:

232mg
Carbohydrates:

13g
Fiber:

1g
Sugar:

3g
Protein:

2g